Liquor Stores Near Aria Las Vegas (Walking & Driving)
(This article may contain affiliate links. If you click through and make a purchase, we will receive a small commission at no additional cost to you. )
You've just settled in at your hotel on the Las Vegas Strip, and you're ready to get the party started. You know that Vegas has some of the coolest bars around, but you also know that buying every drink at a bar in Las Vegas will get expensive fast. Fortunately, if you're staying at Aria Resort & Casino, there are several nearby liquor stores where you can buy beer and alcohol for less.
The closest store to buy alcohol near Aria is the CVS Pharmacy, located just 0.2 miles (0.32 km) from the hotel. The pharmacy is a ten-minute walk away, so you can quickly purchase alcohol and easily carry it back to your room at Aria.
In this article, I'll list some of the closest liquor stores near Aria so you know where to go next time you're staying at this Las Vegas resort.
Compare and save! Check current ARIA room rates at TripAdvisor!
3 Places to Buy Liquor Within Walking Distance of Aria Las Vegas
Let's face it, buying alcohol at the hotel can be expensive. And you'll spend a significant portion of your vacation budget if you want to have multiple drinks in the casino or at one of Aria's best bars and lounges. Instead, you can head out on foot to one of these stores near Aria to get a bottle or six-pack at retail price and take it back to your room.
These stores are the closest and most convenient places to buy retail alcohol near Aria, but they are not dedicated liquor stores and, as such, will have a limited selection.
CVS Pharmacy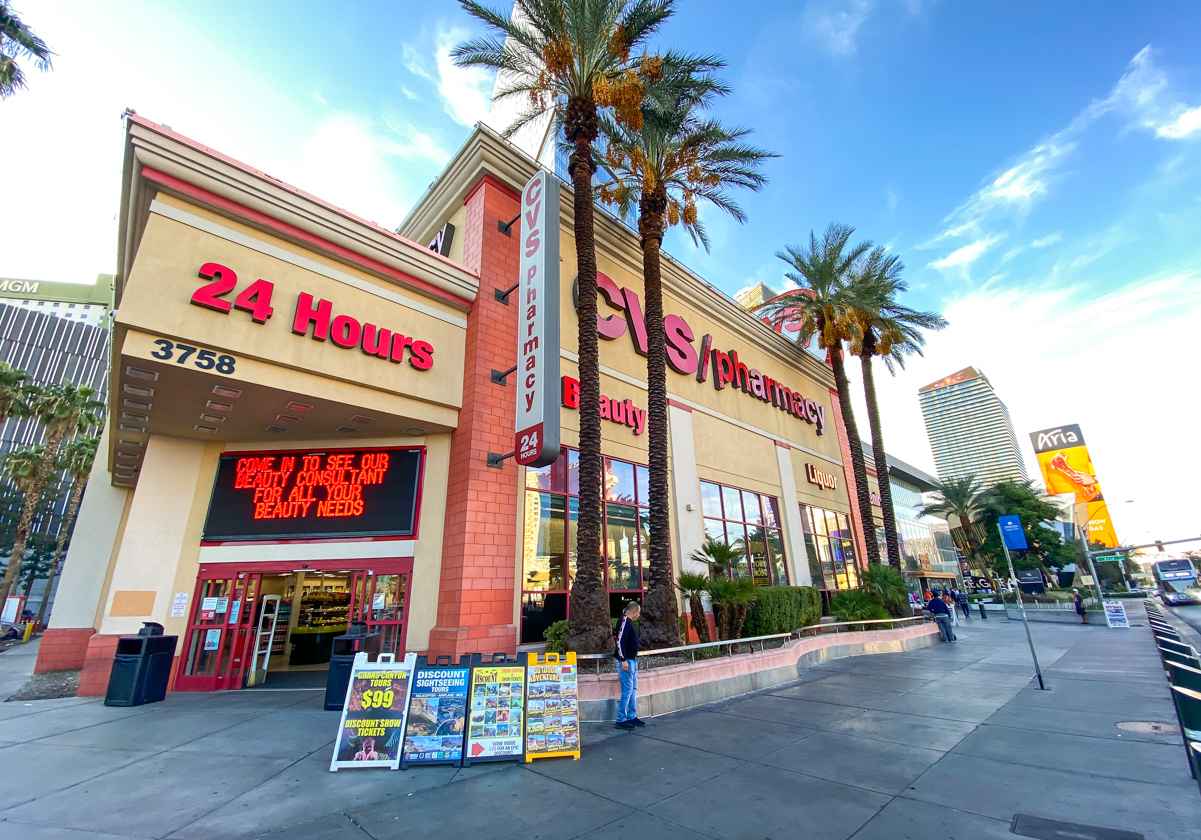 Yes, it's odd to have a shop with the title of 'pharmacy' selling alcohol, but this is Vegas! The CVS Pharmacy has seven different locations across Las Vegas Boulevard, close to most of the major hotels and casinos on the Strip.
Fortunately, you can find one within close walking distance from Aria, and a ten-minute walk should get you there (google maps). The CVS store sells beer, wine, and a few different kinds of liquor. 
However, remember that this is primarily a convenience store, so you may not get the exact alcohol you're looking for.
ABC Store (#104 Las Vegas)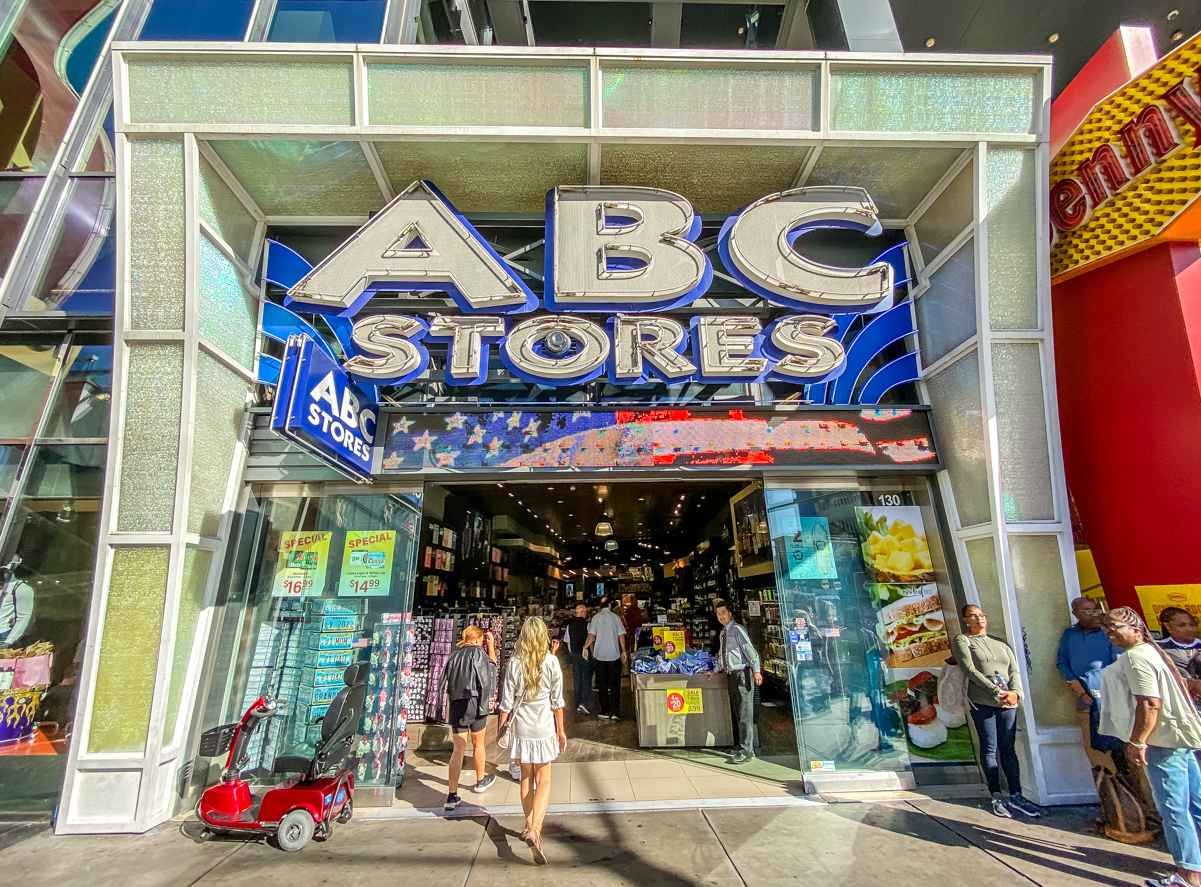 A few ABC Stores are located on Las Vegas Boulevard, and the one nearest to the Aria is just .3 miles (0.48 km) away. In fact, you can get there in seven minutes by crossing Las Vegas Boulevard from the hotel and heading south (google maps).
The store is placed in a convenient location. However, like the CVS pharmacy, this store also sells other items, like souvenirs and miscellaneous necessities. So, again, you may not find the exact alcohol you're looking for here.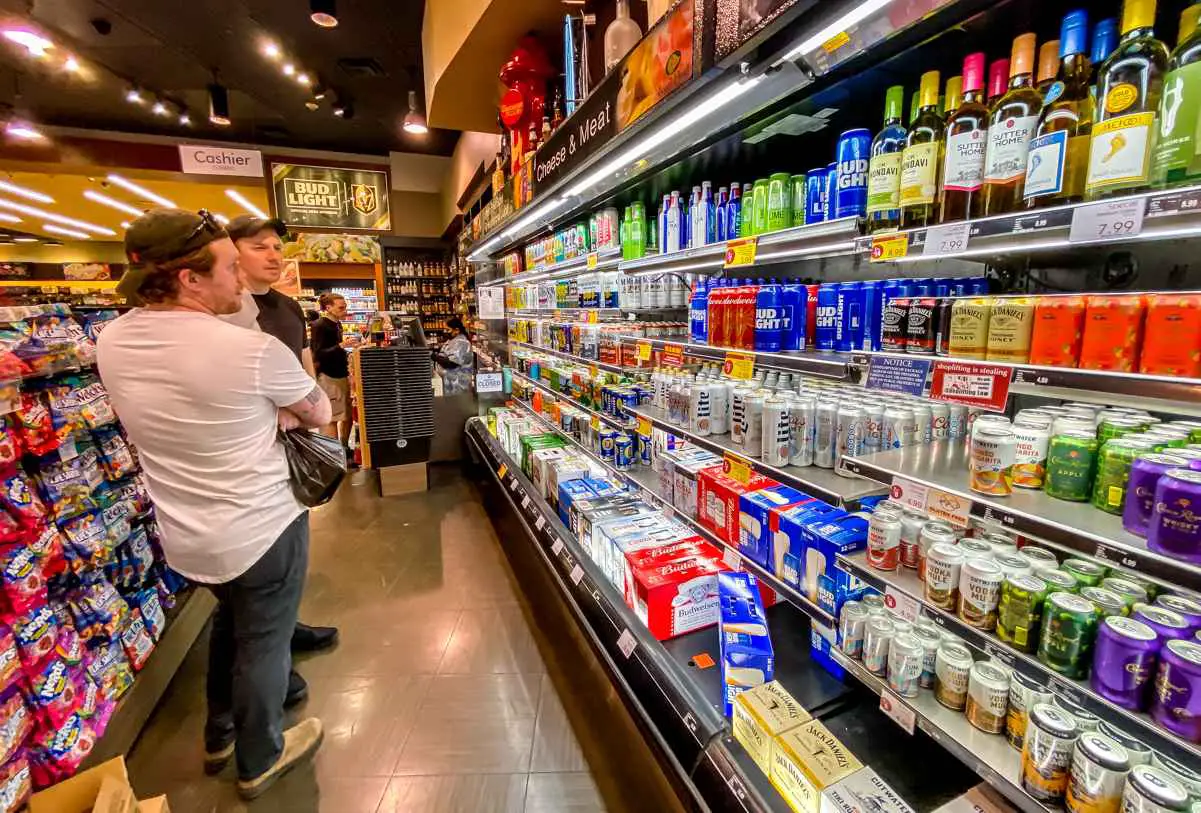 The advantage of visiting the ABC Store is that you don't need to worry about the excessive cost as the selection here is reasonably priced. So while you may not get what you're looking for, you're sure to spend a lot less than if you visit a bar on the Strip.
The Goods
The Goods is a little convenience store located 0.6 miles (1 km) from Aria inside The Cosmopolitan of Las Vegas. Here you can pick up a variety of different spirits, including the basics. The Goods also has a wide selection of vapes, cigarettes, and cigars in case you need a pack of smokes to go with your drinks.
Most customers love this store because it's a quick walk from the Aria and the staff here is friendly and quick to help. As such, you won't spend too long and can quickly return to your room to start the party.  
Dedicated Liquor Stores Near Aria (Driving Distance)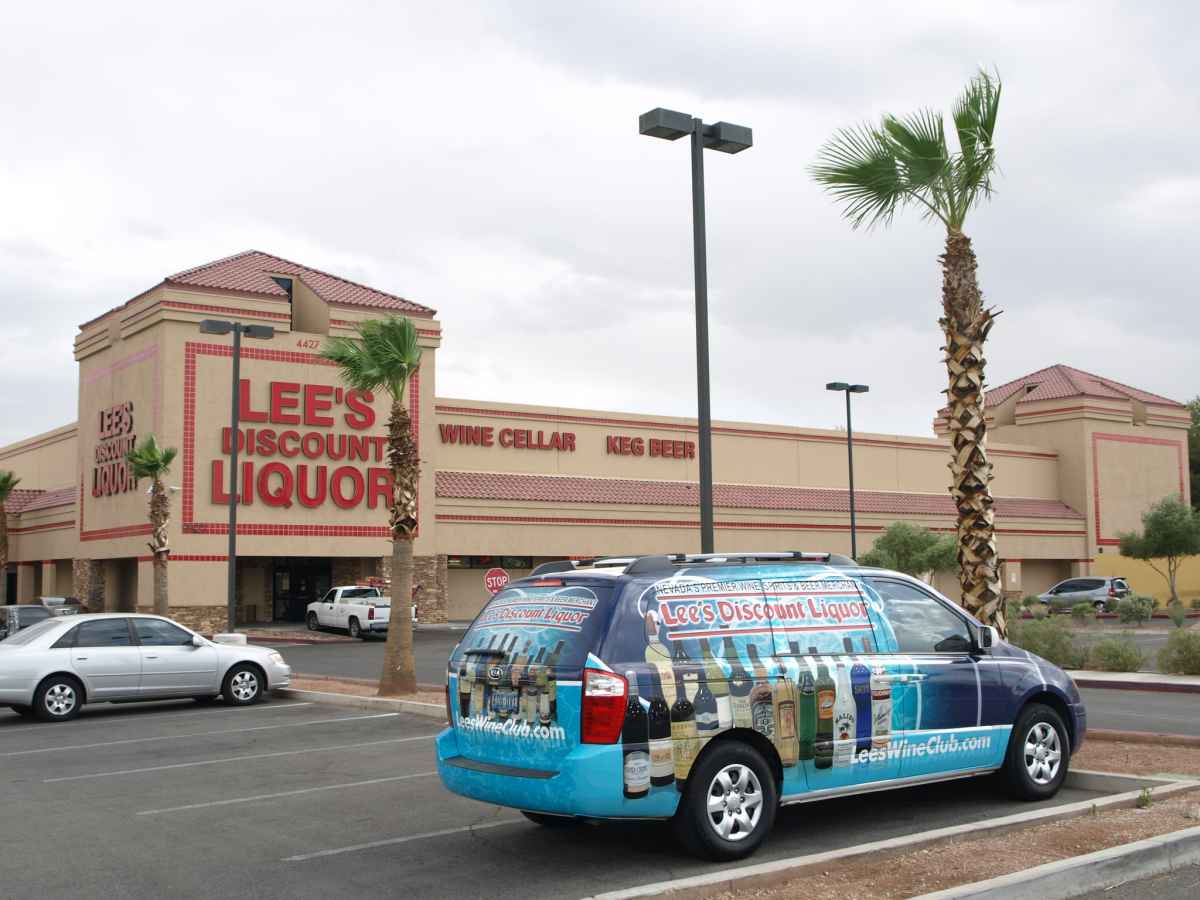 If having a limited selection of alcohol just won't do, then you'll need to head to a dedicated liquor store. If you're planning to head to one of these liquor stores from Aria, you'll probably want to grab a ride as they may be a bit far to walk.
Liquor World
There are maybe three or four Liquor World stores within a short distance of the Aria Hotel, the closest being the one a mile away on Tropicana Avenue (google maps). The best thing about this store is that it has a broader selection, and you may find specific drinks here that you won't find elsewhere.
However, while the store has a vast selection, it's a little cramped and may get stuffy in the evenings when guests from other hotels are rushing to pick up their night rations. So if you're visiting this store, consider going in the morning to get what you need.
Spirits and Spice
Spirits and Spice is a great place to visit if you're looking for a unique liquor store experience in the city. What makes this store unique is that in addition to liquor, they have a wide selection of oils and vinegars for use in cooking. Not what you were thinking, right?
However, their selection of alcohol is phenomenal, to say the least. They have a wide variety of whiskeys, liquours, tequilas, and brandies. You can try mixes like honey whiskey, old-fashioned bourbon, and their unique cream liqueurs. 
The best thing about Spirits and Spices is that the store wants customers to leave happy and satisfied with their purchases. As such, you get to taste the spirits, oils, and other products they offer before making a purchase.
You'll find Spirits and Spice about 1.5 miles north on the Strip inside The Venetian (google maps).
XO Liquor     
XO Liquor is located a little further away from Aria, with its closest store lying roughly 1.7 miles (2.7 km) away from the hotel (google maps). However, it must be included in this list considering its exotic liquor selection.
XO is a great place to shop for alcohol if you're having a party in your room. You can call them up and ask them about their selection. Once you have a list, you can ask them to set aside all the alcohol you need and pick it up once you reach the store.
The only drawback with this store is that the alcohol tends to be a bit pricier than many other liquor stores on or near the Strip.
Lee's Discount Liquor
If you're not so concerned about the distance from Aria and you want to visit the best and biggest retail liquor store in Las Vegas, then you want to hit up Lee's Discount Liquor. This store will have everything you want and more.
There are two locations that are about the same distance (about 5 miles) from Aria (located here and here).
Lee's Discount Liquor sets the standard for all liquor stores in Las Vegas.
Find the best deals on ARIA rooms and save big with TripAdvisor!
Final Thoughts  
Let's face it, drinks at bars in Las Vegas can get a little on the spendy side, and the bars at Aria are no exception. When you hit the resort, it's often a good idea to head to a nearby liquor store where you'll undoubtedly get more for less.
So, if you're planning to put away a few pegs, it's best to visit one of the alcohol stores near Aria mentioned in this list.