Wynn vs. Aria: Which Is Better? (Las Vegas)
(This article may contain affiliate links. If you click through and make a purchase, we will receive a small commission at no additional cost to you. )
When it comes to experiencing the finest accommodations that Las Vegas has to offer, few hotels are more luxurious than Wynn Las Vegas and ARIA Resort & Casino. Surround yourself in the quintessential Las Vegas atmosphere of Steve Wynn's signature resort or experience modernistic-themed opulence at ARIA; both of these resorts are amazing places to stay at, but which is better?
ARIA is less expensive than Wynn when it comes to price, and you'll find yourself located more in the heart of the Strip at ARIA. Wynn, however, has more to offer in the way of entertainment options and shows. Both resorts will wow you with their luxurious accommodations and overall level of service.
Category
Wynn
ARIA
Room Price
From $195 per night
From $119 per night
Resort Fees
$51.02 per day
$51.02 per day
Parking Fees
Free Parking
Self-Parking: $18 daily
Valet: $30 – $35 daily
Location
North of the popular mid-strip area
In the popular mid-section of the Strip
Major Shows
Ongoing shows and performances by visiting artists
None
Pools
Two full-size pools
3 full-size pools, 21 and older pool club at Liquid within the property
Nearby Attractions
– Lake of Dreams nightly show
– Fashion Show Mall
– ARIA Fine Art Collection
– The Shops at Crystals
– Bellagio Fountains (nearby)
– Close to many other major casino properties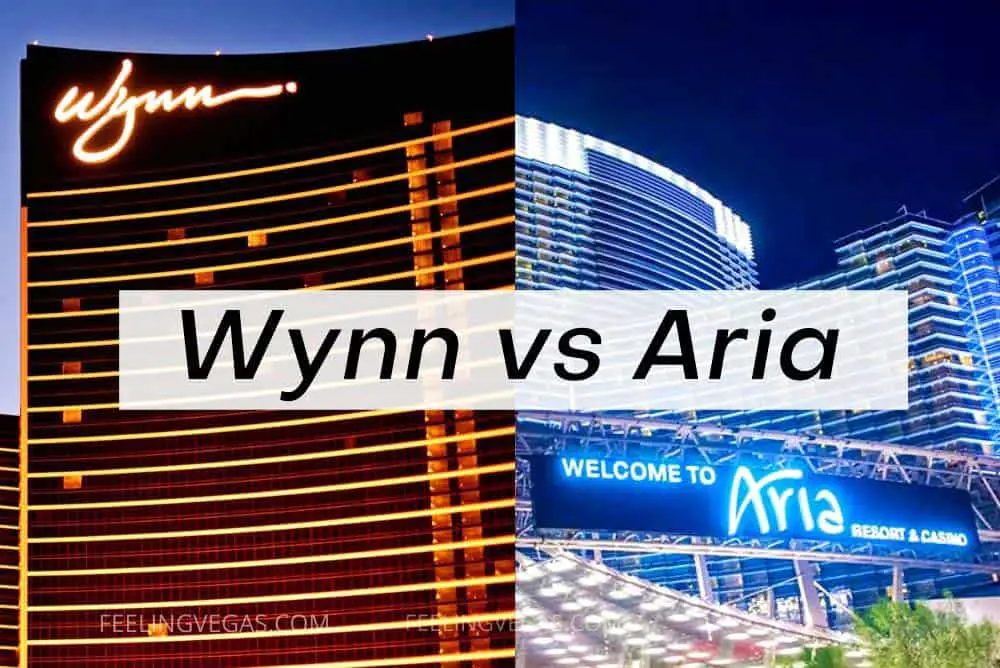 Name: Wynn Las Vegas
Address: 3131 S Las Vegas Blvd
Year Built: 2005
Casino Floor: 111,000 sq ft.
Number of Rooms: 2,716
Name: ARIA Resort & Casino
Address: 3730 S Las Vegas Blvd
Year Built: 2009
Casino Floor: 150,000 sq ft.
Number of Rooms: 4,004
Wynn Las Vegas and ARIA both showcase the innovative spirit that comes with Las Vegas class and elegance. With this in mind, there are some differences between the two resorts based on style and available amenities.
This article will serve as a guide to compare and contrast what makes each property unique to help you make a final decision when selecting which resort best suits your preferences. 
Standard Room Prices: Wynn vs ARIA
Wynn Las Vegas and ARIA opened in 2005 and 2009, respectively, which means that the decor and accommodations are modern as well as elegant. Being two of the newer resorts on the Strip, these properties are constantly in high demand; therefore, the room prices are going to reflect this fact. The room rates for both are fairly similar, yet you will likely find that the Wynn has more to offer to justify the price.
The standard room rate at Wynn Las Vegas is about $195 per night, with select villas running all the way up to $3,000-5,000 per night! Wynn Las Vegas prides itself on offering the most luxurious and swank surroundings on the Las Vegas Strip. The available amenities alone at this resort are breathtaking, which is why this hotel has received a 5-star rating from Forbes Travel Guide for years.
This five-star quality is found in every room choice at this resort. 
ARIA compares favorably to Wynn's superb reputation for luxury. The standard room rate at this resort starts at $119 a night, and the price continues to go up based on preferences for more luxurious suites. Technology and automation are some of the highlights of this resort, which is suggested in the ultramodern architecture on display both inside and out.
If you want to experience luxury at every turn, it is hard to deny a stay at Wynn Las Vegas. 
Wynn and ARIA Resort Fees
When factoring and comparing room rates in Las Vegas, it's important to take resort fees into consideration. Most resort properties in Las Vegas charge a daily resort fee in addition to the room rate. This fee covers amenities such as high-speed internet access, local phone calls, usage of the resort's fitness center, and pool access. These fees are mandatory, even if you don't intend to use the amenities.
Both Wynn and ARIA are currently charging a resort fee of $45 per day (plus tax). Without much in the way of differences in the amenities covered by the resort fee at these two properties, there is nothing here that really differentiates them.
ARIA vs Wynn Parking Fees
Although Wynn Las Vegas isn't winning any raves for their resort fees, when it comes to parking, this resort is one of the best on the Strip. Both self-parking and valet parking is free at this property. Actually, free parking is included in the resort fee at Wynn Las Vegas, but either way, this makes this resort clearly a better choice in terms of parking. 
ARIA charges $30 – $35 per day for premium valet parking, while self-parking is also available at a rate of $18 per day.
Wynn's free parking is certainly a stand-out feature if you'll have a car with you in Las Vegas and can help make up the difference in room rates somewhat.
Which Has the Best Location, Wynn or ARIA
The Wynn and the ARIA are both located on the Strip. However, the ARIA is in a much better location for walking and visiting many other nearby resorts, casinos, and attractions.
ARIA is located in the popular mid-section of the Strip, and even though it is set back from the Strip a bit, with just a short walk (10 – 20 minutes), you can be at The Cosmopolitan, New York-New York or the Bellagio. On the other side of Las Vegas Blvd, you'll find Paris, Planet Hollywood, and the MGM Grand are also easily accessible.
The ARIA also has a tram called the ARIA Express that will shuttle you for free between Aria, Bellagio, Park MGM, and the Shops at Crystals (more about the shops further below).
Download our Free Las Vegas Strip Map to see exactly where these two resorts are located on Las Vegas Boulevard.
The Wynn can be found a little further north on the Strip. It's removed from the majority of other resorts but is still within walking distance (13 min) of the Venetian and Palazzo hotels as well as Fashion Show Mall (12 min).
The Wynn also sits next to its sister property, Encore, which also has its own casino and can be reached by walking (10 min).
So ARIA comes out on top as far as location is concerned. However, if you don't plan to do much walking out on the Strip, it doesn't really matter. In other words, both the Wynn and ARIA are in great locations if you plan on driving to your next destination instead of walking.
One more quick point. Since the ARIA is set back a bit from the street, many of the rooms don't have as nice of a view of the Strip as you can get from some of the rooms at the Wynn. Something to keep in mind if you're looking for a room with a view.
Comparing Shows & Entertainment at ARIA and Wynn
ARIA is a resort that prefers to let its surroundings and accommodations be the main event, which is evidenced by the lack of available entertainment shows at the resort property itself. This isn't so much of a bad thing if you just want to relax and soak up the beauty of the resort.
It also keeps things quieter around the property, yet you can easily go out to nearby resorts to take in a show if ARIA is your preference. 
Wynn Las Vegas, on the other hand, frequently books artists and entertainers of all types in its lavish theatre. One of the resort's newest shows is Awakening. Awakening is a large production show which takes the art of Las Vegas spectacle to new heights. This stunning show features dance, music, and fantastical creatures. Words cannot do the show justice; it has to be seen to be believed.
Awakening is enough to make this comparison a clear choice for Wynn Las Vegas when it comes to entertainment options. 
Pools at Wynn vs ARIA
The pools at both of these resorts are stunning. Wynn Las Vegas features two full-size ultra-luxe pools in a beautifully landscaped outdoor garden setting with private cabanas and servers who are ready to meet your every need. Elegance and relaxation are guaranteed, no matter which pool you choose.
The three pools at ARIA are equally as breathtaking, with more of a party vibe depending on which pool you choose to relax by. LIQUID is the resort's most popular pool due to the combination of live music and a bar specializing in refreshing cocktails. If you want to experience a true Las Vegas dayclub pool party, ARIA has you covered. 
Comparing Nearby Attractions
Wynn's star attraction is the lush and tranquil Lake of Dreams nightly show. With over 4,000 lights and holograms in front of a 40-foot waterfall, this free attraction offers a great way to end an evening.
Also, nearby you'll find the Fashion Show Mall. Fashion Show is home to over 250 stores and 25 dining locations. On the weekends, the mall hosts runway-style fashion shows with dancing and live music all on a large retractable runway.
At ARIA, you'll want to wander the resort to see the ARIA Fine Art Collection. The collection offers one of the finest art displays in Las Vegas, and the pieces are spread throughout the entire property. 
Next door to ARIA, you'll also find the Shops at Crystals. Crystals is a swank retail shopping center with over 50 stores full of some of the finest luxury brands you'll find anywhere in the world. Whether you're into shopping or not, the Shops at Crystals are a must-see Las Vegas attraction in their own right.
Conclusion
Wynn Las Vegas is possibly one of the finest hotels on the planet, and its reputation as such confirms this. Luxury and superior amenities await its guests at every turn. If luxury is what you want, then the Wynn Las Vegas is your choice.
On the other hand, ARIA is a bit more hip and popular with younger crowds. If you want to maintain that upscale feel while having greater access to many other nearby properties on the Strip, then ARIA is the place for you!
Other Las Vegas Hotel Comparisons
Check out these other comparisons of Las Vegas Hotels.
Wynn vs Palazzo: Which is better? – Find out here!
Venetian vs. Wynn: Who's the best? – Article here
Aria vs. Bellagio: Which Las Vegas Hotel is Better? – Find out here
MGM Grand vs. ARIA: Who's Tops? – Article here