Wynn vs. Encore (Is Wynn or Encore a Better Choice?)
If you're planning a trip to Las Vegas and you enjoy the finer things in life, you'll definitely want to consider a stay at either Wynn Las Vegas or Encore at Wynn Las Vegas. These two sister properties are among the most luxurious hotels on the Las Vegas Strip. From opulent accommodations to fine dining and boutique shopping, these resorts have it all!
With each of these properties receiving such high praise, you may be asking yourself, is the Wynn or Encore a better Las Vegas vacation choice?
Wynn will be the best hotel choice if you want to have a refined, upscale experience with more onsite dining options and a larger casino. Encore, while equally luxurious, is the better choice if you came to Las Vegas to enjoy a lively party scene and exciting nightlife.
Of course, you'll want to choose the hotel that's best for you, but when it comes to Wynn vs Encore, there are some things you'll want to know before you can make the right decision. The table below will give you a quick overview of the two properties regarding amenities and pricing.
Category
Wynn
Encore
Room Price
From $208 night
From $208 night
Resort Fees
$45 per day plus tax
$45 per day plus tax
Parking Fees
Free self-parking
Free self-parking
Location
On the Strip (North end)
On the Strip (North end)
Shows
– Lake of Dreams
– Various live comedy & music shows
– Lake of Dreams
– Encore Theater
Pools
– 3 Pools
– Jacuzzi
– 2 Pools
– Hot Tubs
Nightlife
– Various Lounges & Bars
– XS Nightclub
– Encore Beach Club (EBC)
Attractions
– Wynn Golf Club
– The Spa at Wynn
– Fashion Show Mall
– Wynn Golf Club
– The Spa at Encore
– Fashion Show Mall
(This article may contain affiliate links, which means we might earn a small commission if you click and make a purchase. Thank you!)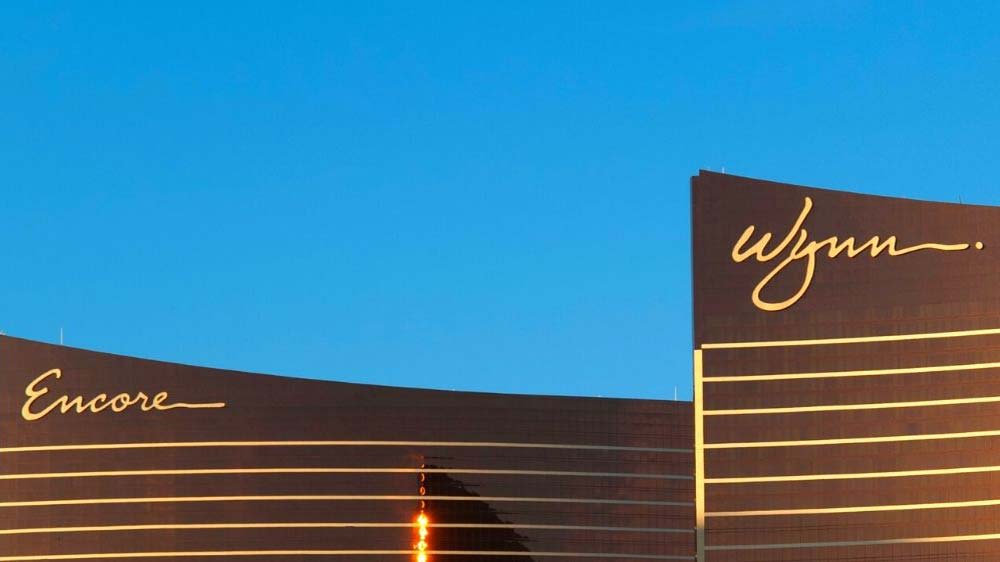 Name: Wynn Las Vegas
Address: 3131 S Las Vegas Blvd
Casino Floor: 111,000 sq. ft.
Year Built: 2005
Number of Rooms: 2,716
Name: Encore at Wynn Las Vegas
Address: 3131 S Las Vegas Blvd
Casino Floor: 80,000 sq. ft.
Year Built: 2008
Number of Rooms: 2,034
With Wynn and Encore being sister resorts located on the same property, there are many similarities between these two Las Vegas hotels, making the differences that much more important! Read on to find out how these two resorts set themselves apart and which one is the right choice for your Vegas vacation.
Location on the Strip: Wynn and Encore
The Wynn and Encore are located about 1.5 miles north of the center of the Las Vegas Strip. Though removed from the busiest and most congested area of Las Vegas Boulevard, there are still plenty of nearby resorts and attractions within easy walking distance. These resorts include:
Resorts/Attractions
Near Wynn & Encore
Distance
Walking Time
Fashion Show Mall
.2 miles
5 minutes
The Palazzo
.3 miles
6 minutes
Treasure Island
.4 miles
10 minutes
The Venetian

.6 miles
13 minutes
The Mirage
.7 miles
14 minutes
Harrah's
.8 miles
16 minutes
LINQ
.8
21 minutes
Resorts World
1.1 miles
23 minutes
So between the Wynn and the Encore plus all of these other huge nearby resorts, you could literally spend days exploring and never run out of things to see and do. Of course, there are even more resorts and attractions just a short drive or Uber up or down the Strip in either direction.
Our map of the hotels on the Las Vegas Strip will give you a good idea of what is close when you're staying at either Wynn Las Vegas or Encore.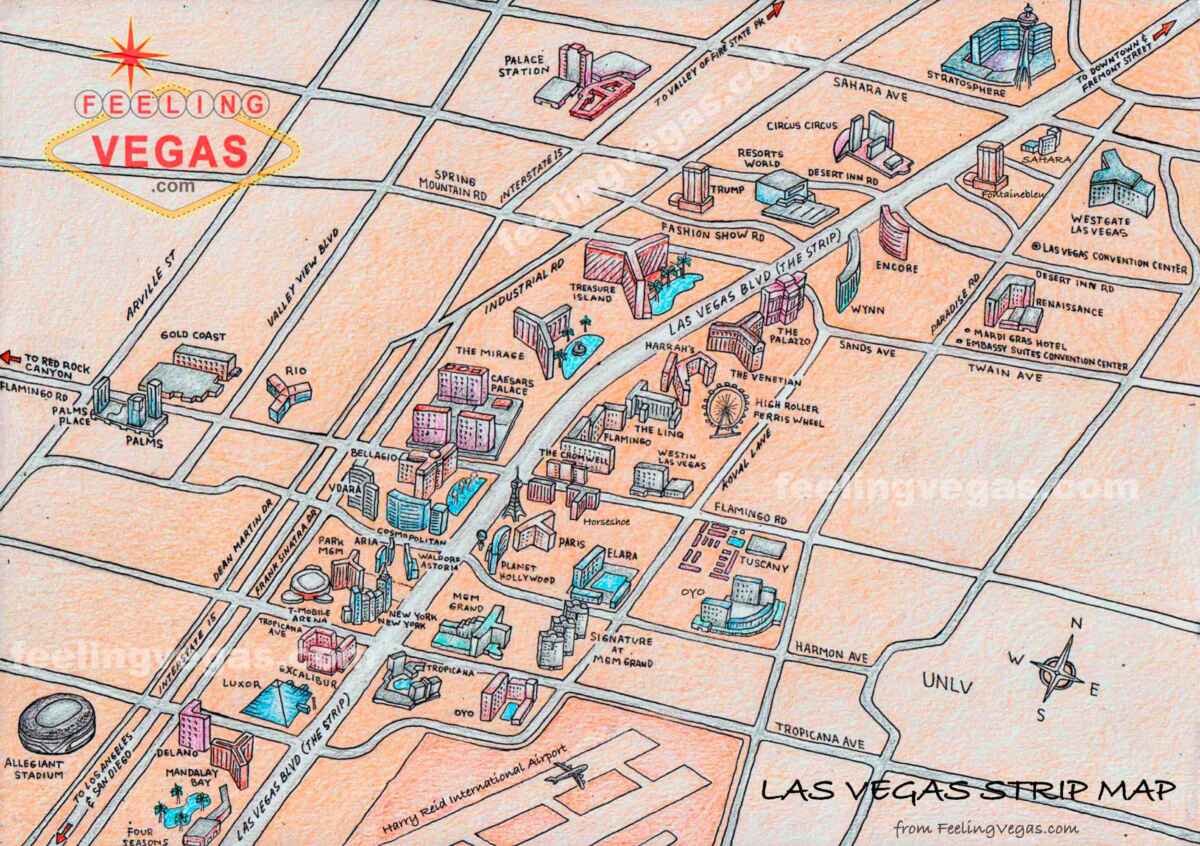 Download our free map of the Strip here.
Wynn Tower vs. Encore Tower: Standard Rooms Compared
As two of the poshest hotels in Las Vegas, rooms at the Wynn and Encore are not the cheapest accommodations in town. Even the least expensive rooms will be larger at the Wynn and Encore and contain more amenities than a basic room at many other hotels. In addition, Encore is an all-suite hotel, meaning that there is a living room that's separate from the bedroom.
(If you're looking for a more budget-friendly option check out our top Las Vegas hotel picks for every budget).
First, let's examine the standard Resort King rooms at each property to find out what you can expect.
Wynn Las Vegas
Encore
Wynn Resort King:

– 640ft² (59.5 m²)
– King bed or two Doubles
– 507-thread-count linens
– 55'' (140cm) 4K TV
– In-room wifi
– Mobile phone charging (Bedside)
– Touch-screen curtain, lighting,
room service, and privacy controls
– Separate living area (
– Floor-to-ceiling windows (view of Strip or Las Vegas Valley)
– Oversized marble bath, separate shower & toilet, 13″ TV, double vanity)
– Mini-bar
– Safe
– 3 person occupancy
Encore Resort King (suite):

– 745ft² (69.2 m²)
– King bed (or two Queens)
– High (507 thread-count) linens
– 55″ (140cm) UHD TV with swivel base
– Wifi
– Charging station
– Room controls via touchscreen (lights, curtains, etc.)
– Separate living room area (tv, sofa, table, desk, and chairs)
– Floor-to-ceiling windows (view of Strip, pool, or downtown)
– Luxury Bathroom (dual sinks, marble bathtub, 13″ TV, separate shower, separate toilet)
– Mini-bar
– Safe
– 3 person occupancy
As you can see in the table above, the Resort King room in the Wynn tower contains upscale decor and many amenities, including floor-to-ceiling windows, touch screen room controls, and a luxury bathroom. The Resort King room at Encore gives you all that plus 105 square feet of additional living space. In addition, the room is a suite, so the living area is separated from the bedroom.
Having a suite is nice because it gives you more room to move around and set out your things. Also, the television swivels between the living room and the bedroom for comfortable viewing from both areas, which is a nice touch!
As for a cost comparison between the rooms, believe it or not, the room rates are very similar and start from $162 per night. While the cost of the two rooms is similar, you can usually get a suite at Encore for a few dollars less than a standard room at the Wynn. This makes Encore the winner in my book when it comes to accommodations.
Also, remember that the rooms we've been discussing are just the standard resort rooms. Each property has a large variety of bigger and better rooms to choose from if that's what you're looking for.
Casinos at Wynn and Encore
The five-star luxury experience of the Wynn and Encore continues when you step into each hotel's lavish casino. Both casino entryways are filled with art and lush garden arrangements. In addition, the casinos themselves are nicely decorated with a refined touch.
The Wynn casino floor is 111,000 square feet, while the Encore's gaming floor is 80,000 sq. ft. Since you're free to roam between the two casinos regardless of which hotel you're staying at, that means you'll have over 190,000 sq. ft. of Vegas gaming located just steps away from your room.
Each casino has the latest in slot machines (over 1,800 slots combined between the two), including high-roller machines up to $1,000 per spin! In addition, both casinos have a full complement of table games including blackjack, craps, roulette, etc.
Encore Only: The Wynn Poker Room, oddly enough located at the Encore, is one of the top poker rooms in Las Vegas and is known for its superior playing experience.
Wynn Only: The Wynn is home to the only Race & Sports Book between the two properties. If that's where you're planning to spend your time, it will make sense to stay at the Wynn for added convenience.
Dining Options: Wynn or Encore
You'll never lack food options at Wynn or at Encore. From casual eats to the best in fine dining, there are over 20 restaurants to choose from. The Wynn and Encore have brought together some of the world's best chefs and their fine-dining restaurants, including;
Mizumi – Modern Japanese cuisine set among lush gardens and waterfalls.
Cipriani – Italian fine dining at its best.
Sinatra – Named after Ol' Blue Eyes himself, you can enjoy some of Frank Sinatra's Italian favorites.
Tableau – Serving breakfast, brunch, and lunch, Tableau is a modern restaurant with indoor and outdoor seating overlooking Wynn's pools.
Wing Lei – A Michelin star-winning Chinese restaurant serving Szechuan, Cantonese, and Shanghai cuisine.
SW Steakhouse – A fine selection of extraordinary steaks served on an upscale outdoor patio overlooking Wynn's famous Lake of Dreams.
For those meals where you're looking for more casual fare, the Wynn and Encore properties have a number of restaurants and cafes that will fit the bill, including;
La Cave – Intimate, small plate, indoor/outdoor dining with an impressive list of artisanal beers and wines.
Jardin – An American-style brunch featuring fresh seasonal meals served in an airy and bright conservatory.
Terrace Pointe Cafe – An indoor/outdoor eatery overlooking Wynn's beautiful gardens and pool, serving breakfast, brunch, and lunch.
The Buffet at Wynn – A classic but refined Las Vegas-style all-you-can-eat buffet.
Charlie's Bar & Grill – An all-American restaurant featuring appetizers, sandwiches, and burgers right in the middle of Wynn's Sports Book.
Red 8 – Cantonese-style noodles and Hong Kong influenced barbeque, in addition to dishes from Korea, Thailand, and Vietnam.
Because the Wynn is the larger resort of the two, you'll find the majority of restaurants are on the Wynn side of the property. That being said, all of the restaurants are conveniently accessible and a short walk regardless of which hotel you're staying at.
In addition to these eateries, The Fashion Show Mall is located right across the Strip. Here you will find dozens of additional restaurants and quick food items. So no matter if you're staying at the Wynn or the Encore, food can easily be found to satisfy all tastes and budgets.
Entertainment & Attractions: Wynn and Encore Compared
If you came to Las Vegas to party, then Encore will be the clear winner! Encore is home to both the XS Las Vegas Nightclub and the Encore Beach Club (EBC).
XS Las Vegas is Encore's premier nightspot featuring famous DJs set in an upscale but intimate environment. The indoor/outdoor club is set around Encore's European-style pool. XS is a pretty swanky place, and you'll want to dress to impress to see and be seen.
Encore Beach Club by day is a beautiful pool perfect for lounging. At night EBC turns into a refined entertainment space. Private tables, bottle service, and a mix of guest performers turn the pool area into an elegant nightclub.
Encore is also home to the Encore Theater. Here you'll find single and multi-night performances from some of the biggest names in music, including Justin Bieber and Brad Paisley. You'll also find comedians and production shows on the performance schedule (StubHub).
While Encore is definitely the party place, you'll find the famous Lake of Dreams show over at the Wynn. This free multimedia show combines lights, animatronics, lasers, and a powerful soundtrack to create an experience you won't soon forget!
Important Note: While you can enjoy all the entertainment that each property offers regardless of which hotel you're staying at, it's important to note that the Encore can get a little noisy (due to the nightclubs and performances) and more active in the evenings than the Wynn. So if you'd prefer a quieter room, the Wynn may be a better choice.
Pools: Wynn Compared to Encore
Las Vegas is known for its pools and the pool decks at the Wynn and Encore won't disappoint.
Wynn Pool – As befits an upscale resort, the pools at the Wynn are all about luxury and relaxation. The main pool is a Euro-style pool set in a well-maintained garden. The other two pools are the Resort Pool and the Wynn Tower Suites Pool.
Encore Pool – The pools at Encore consist of the Encore Beach Club (EBC) pool and the XS Lounge Pool. The EBC Pool is a multi-tiered pool that operates as a dayclub with live music during daylight hours and lights up at night to become a happening party place.
The European pool at XS Lounge is a nightclub and night swim pool where famous DJs spin tunes and the drinks flow. These two pools at the Encore are where the younger crowd flocks to at night.
Important Note: There is an important difference between the Wynn and Encore when it comes to their pools. Wynn's pools are available to all guests staying at either Wynn or its sister resort Encore, but Encore's pools are only available to Encore hotel guests.
If pools and parties are important to your Las Vegas vacation, then you'll have more options if you choose to stay at Encore.
Boutique Shopping at Wynn and Encore
The Wynn and Encore properties have three distinct shopping areas between them that are home to over fifty high-end brands. The following shows the name of each shopping area and a sampling of the stores you can find there.
Wynn Plaza Stores
Bottega Veneta
Saint Laurent
Stella McCartney
Hermes
Celine
Encore Esplanade Stores
Chanel
Brunello Cucinelli
Christian Louboutin
Rene Caovilla
Wynn Esplanade Stores
Prada
Cartier
Rolex
Philipp Plein
Dior
And if over fifty stores aren't enough to satisfy your shopping desires, you can head right across the Strip to the Fashion Show Mall, where you'll find more than two hundred additional brands and shops.
The Spa at Wynn vs. The Spa at Encore
As befits these two fine hotels, the spas available at each are a cut above. Each spa has received a Five-Star award from Forbes which is more than a little impressive, however, the decor and setting of each spa couldn't be more different.
The Spa at Wynn – Located in Wynn tower, The Spa at Wynn uses the color palette of nightfall to create a serene environment that relaxes both the body and mind. They offer a range of treatments that include their specialty Good Luck Ritual and Ultimate Facial. The spa also offers a range of customizable options so you can experience whatever suits your style.
The Spa at Encore – Aesthetically, Encore's spa couldn't be more different as the spa resembles an exotic-styled retreat. The treatments themselves are based on authentic cultural techniques from around the world. Popular treatments include the Nalu Body Ritual (from Polynesia), which provides a deeply relaxing experience, and the popular Encore Escape.
You really can't go wrong with these two award-winning spas. If you're staying at the Wynn or the Encore, you have the ability to try one today and the other one the following day.
Wynn Golf Club
Available to guests of both hotels, the Wynn Golf Club offers the only golf course located on the Las Vegas Strip. This 18-hole championship course is beautifully designed and can be reserved 90 days in advance for registered Encore and Wynn guests.
Wynn or Encore: Which of These Vegas Hotels Comes Out on Top?
There is little doubt that the Wynn and the Encore are two of the most luxurious hotels in Las Vegas. Being sister properties, they have many similarities and share most of their amenities and attractions.
Choosing which of these hotels is the right choice for your vacation come down to a few important differences, including;
Size of the Room – The standard rooms at Encore Las Vegas are all suites and are bigger than those at Wynn.
Casino Amenities – Remember the Race and Sports Book can only be found at Wynn, while the Poker Room is located at the Encore.
Nightlife – The hot nightclub spots are slightly more convenient when staying at Encore, but the rooms will typically be a bit quieter over at the Wynn.
Pools – The pools at Encore are only accessible to Encore hotel guests.
The fact is you really can't go wrong staying at either one of these Las Vegas hotel properties, but one or the other may suit your needs better depending on your individual tastes. No matter which you choose, you can expect to have the time of your life!
If you've got other Vegas hotels, you'd like to compare head on over to our Las Vegas Comparison Guide, where we've compared dozens of the best hotels in Vegas.
Some Other Wynn Las Vegas Hotel Comparisons
Check out these other comparisons of Las Vegas Hotels.
Wynn vs. Palazzo: Which is better? – Find out here!
Wynn vs. ARIA: Who comes out on top? – Article here
Venetian vs. Wynn: Which to choose? – We tell you here
Sources: