Looking to compare the MGM Grand and the MGM Signature for your stay in Las Vegas? Since the MGM Signature is an all-suite hotel, you're probably looking for a step up from what the average hotel room provides. Of course, the MGM Grand has suites as well, and you're doubtless wondering which option to go for.
The best choice will be the MGM Grand if you want easy access to all that Vegas has to offer without leaving your resort. However, if you relish having a tranquil retreat just a little ways away from the action, the MGM Signature may be just what you're looking for.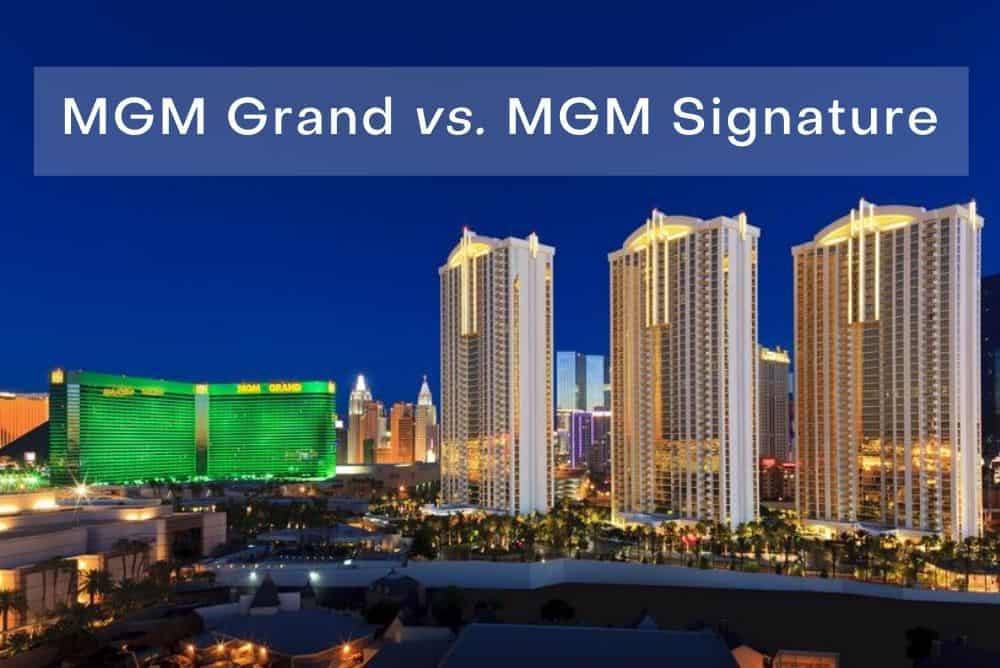 (This article may contain affiliate links. This means if you click on an affiliate link and make a purchase, we will receive a small commission at no extra cost to you)
Let's summarize what each has to offer, based on entry-level suites:
Category
MGM Grand
MGM Signature
Room Price
From $165 average/night for a comparable suite. Non-suite rooms start from $47 per night.
From $80 average/night  (entry level suite)
Resort Fees
$39 per day
$39 per day
Parking Fees
Self-Parking: $15 daily
Valet: $26 – $30 daily
Free valet parking for one vehicle
Self-parking available at MGM Grand
Location
On The Strip, at the southern end of the busy mid-Strip area
5 minute walk to the MGM Grand then out to the Strip
Major Shows
– KÀ by Cirque du Soleil
– Brad Garrett's Comedy Club
– Variety of other live events
None on site
Pools
4 pools, 3 whirlpools, lazy river, waterfalls in the 6.5 acre Grand Pool Complex
Each tower has its own pool, 3 pools total
Nearby Attractions
– The CSI Experience
– Topgolf
– Grand Spar & Fitness Centre
– MGM Grand Monorail station
– Virtual Reality Gaming Arena
– MGM Grand Pool Complex
– Topgolf
– MGM Grand Resort & Casino
Name: MGM Grand
Address: 3799 S Las Vegas Blvd
Year built: 1973
Number of rooms: 6,852
Name: The Signature at MGM Grand
Address: 145 E Harmon Ave
Year built: 2004
Number of rooms: 1,728
It's clear from the table above that the MGM Signature isn't a typical Las Vegas resort packed with entertainment, restaurants, and other amenities. But, if you're getting exclusivity and luxury instead, based on the above pricing, the MGM Signature looks like a great deal.  But, now you're wondering if it can possibly be that good at such a price, so read on to find out more.
Be sure to download our FREE map of the Las Vegas Strip so you can see where both hotels are located on Las Vegas Boulevard!
MGM Grand vs. MGM Signature – How Do They Compare?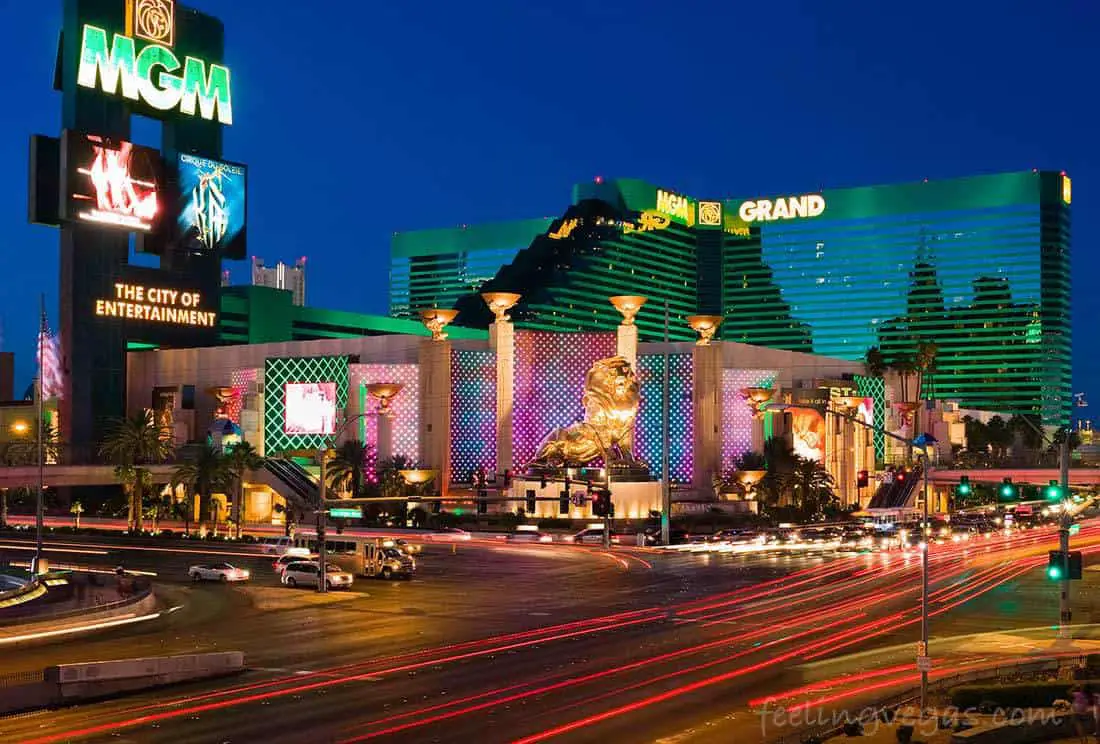 The MGM Grand and the MGM Signature are two very different animals. The MGM Grand is a giant beast of a resort that brings together pretty much everything you need for a fun-filled, action-packed Las Vegas experience. It caters to a whole range of budgets, with various room types and suites, giving it a broad appeal. 
The MGM Signature, on the other hand, is more like a traditional stand-alone hotel, with few on-site amenities. Although its suites cater to various budgets, its emphasis is on luxury and exclusivity.
If you look at the number of rooms each offer, you'll get the idea. The MGM Grand boasts 6,852 guest rooms while the MGM Signature has just 1,278 rooms in all of its three towers combined.
So, let's compare them to get a better idea of how they stack up against each other.
Suites Compared at the MGM Grand & MGM Signature
A good starting point is to look at what each offers for the price of the entry-level suite:
MGM Grand
MGM Signature
Executive King Suite:
– 675ft² (63 m²)
– King bed 
– Plush linens
– 40'' (101cm) Flatscreen HDTV
– In-room wifi
– Large seating area with L-shaped sofa-bed and one chair
– Glass-top desk with an executive-style chair
– Media hub
– Stocked minibar (at a charge)
– Bathroom with shower over, and separate shower
– Max guests, 4
Deluxe Suite:
– 550ft² (51m²)
– King bed
– Luxury linens
– 42''(107cm) Flatscreen HDTV 
– In-room wifi
– Separate sitting area with a queen-size sofa-bed, armchair, and table with two chairs
– Entertainment center
– Blackout curtains
– Coffee/tea maker
– Kitchenette with microwave, double stovetop, toaster, blender, and mini-fridge
– Bathroom with TV, a whirlpool spa tub, and separate shower
– Max guests, 4
As you can see, comparing the entry-level suites, you'll get more space at the MGM Grand, but the MGM Signature Deluxe Suite has a kitchenette. So, if you like the option of cooking for yourself, instead of going out to eat, it's ideal. You can head to the closest Walmart and grab a few things in order to avoid having to eat every meal out.
Apart from this, and the difference in space, both options seem to provide a high level of accommodation. So, on price, the MGM Signature Deluxe suite looks like outstanding value compared to the basic MGM Grand suite.
Additionally, you could go up a few grades at the MGM Signature and still pay less or not much more than the entry-level MGM Grand suite.
Whether you'd pay less, or a little more, would depend on travel dates. But, if you moved up to the MGM Signature's One-bedroom Balcony Strip View Suite, here's what you'd get:
MGM Signature
One-bedroom Balcony Strip View Suite:
– 900ft² (84m²)
– Separate bedroom with deluxe king bed and floor to ceiling windows
– Luxury linens
– 42''(107cm) Flatscreen HDTV 
– In-room wifi
– Spacious living room  with a queen-size sofa-bed, armchair and dining table and 4 chairs
– Entertainment center
– Blackout curtains
– Coffee/tea maker
– Full-size kitchen with breakfast bar and stools, oven, microwave, double stovetop, toaster, blender, and fridge
– Ensuite bathroom with TV, a whirlpool spa tub, and separate shower
– Separate shower room with toilet and sink
– Max guests, 4
Well, who wouldn't want that? So, it's when you start comparing like-for-like on pricing that you see the difference in what you can get for your money at the MGM Signature. 
Now, with that sort of accommodation available at a similar price to the MGM Grand's entry-level suite, you're thinking there's got to be a catch.
On-site Amenities at MGM Signature 
Well, yes, there is. As mentioned above, the MGM Signature has little in the way of on-site amenities.
Each tower has its own private pool for the exclusive use of guests. OK, there's no lazy river and waterfalls, but that just means a quieter, more relaxing environment.
MGM Signature guests also have free access to the Grand Pool Complex at the MGM Grand, a short 0.4 miles (0.64km) walk. That's probably closer than some of the rooms at the MGM Grand itself.
Feeling hungry? In Tower 1, you'll find a Starbucks, and a lounge bar serving drinks and light bites throughout the evening. In Tower 2, there's a gourmet deli serving breakfast and lunch.
However, this is quite limited. So, if you want access to more amenities, you'll need to head over to the MGM Grand.
Getting to the MGM Grand from MGM Signature
The MGM Grand is easily accessible via an indoor walkway, which includes several moving sidewalks, much like you'd see at an airport. So, you'll never have to step out into the Vegas heat. Journey time is about 5-6 minutes.
Amenities at the MGM Grand
Dining
The MGM Grand has numerous restaurants serving most international cuisines, so you won't be short of choices. Particularly popular are the restaurants of Joël Robuchon, Tom Colicchio, and Wolfgang Puck.
Shopping
You guessed it, there aren't shops at the MGM Signature. Again, you'd need to hop over to the MGM Grand for that. The MGM Grand's shops aren't extensive, although worth exploring if you want something a bit more individual or unique. 
For the best shopping experience, head over to one of the twelve amazing shopping malls on the Strip. Find out what and where they are in our article here.
Casino
With no casino on-site at the MGM Signature, your best option for gambling is the massive casino at the MGM Grand.
There's a sea of slots plus table games, a separate poker room, and a large sportsbook with 60 LCD and plasma screens. Fairly comprehensive, wouldn't you say?
Entertainment
As you saw in the table at the top, there's quite a variety of entertainment provided at the MGM Grand. Here's a more complete list of entertainment available.
KA by Cirque du Soleil
MGM Grand Garden Arena (various big name performers and shows)
Brad Garrett's Comedy Club (check out all the top comedy clubs in Las Vegas)
Virtual Reality Powered by Zero Latency
So whether you're staying at the Grand or the Signature you'll have access to a huge amount of entertainment!
Conclusion
So, if you don't mind a short walk to get to the action over at the MGM Grand and the Strip, the MGM Signature's suites are an excellent value. You'd get a peaceful luxury haven, but with easy access to the MGM Grand via the covered walkway.
However, if venturing off-resort isn't for you, then the MGM Grand will be perfect, putting you at the heart of its 24-hour, high-octane atmosphere.
Other Las Vegas Hotel Comparisons
Check out how these hotels stack up to one another:
MGM Grand vs. Venetian: Who's tops? – How to decide
MGM Grand vs. Mirage – How to decide?
MGM Grand vs Luxor – Read here
MGM Grand vs Park MGM: Which is Better? – Find out here
Paris Las Vegas vs MGM Grand: Who comes out on top? – Article here
MGM Grand vs. Mandalay Bay: Which Is Better? – Read Article
MGM Grand vs ARIA – How to decide