How Much is it to Ride the Monorail in Las Vegas? (Discounts!)
Las Vegas, Nevada is the seventh-most visited city in the U.S., averaging around 40 million visitors per year!  To ease traffic congestion and move out-of-town visitors to various locations along the Strip, the Las Vegas Monorail System was created.
The monorail is a great way for tourists and business travelers to get up and down Las Vegas Boulevard, and for the price will save you a lot of walking. So, how much does it cost to ride the monorail in Las Vegas?
A single-ride ticket on the Las Vegas Monorail costs $5. You can also purchase a 24-hour ride pass for $13. If you will be in Las Vegas for several days, you can buy multi-day monorail passes for different time periods between 2 days ($23) all the way up to 7 days for $56.
The following table shows all the pricing options for the Las Vegas Monorail.
1-Ride Ticket             $5.00
24 Hour Pass             $13.00
2-Day Pass                 $23.00
3-Day Pass                 $29.00
4-Day Pass                 $36.00
5-Day Pass                 $43.00
7-Day Pass                 $56.00
But as with any feature within a tourist-heavy venue, promotions, seasonal adjustments, and simple supply-and-demand practices alter the final ticket prices.  Opportunistic travelers should keep themselves informed of discounts and/or rate hikes. Plus, coupons good for discounts can be found online at a number of sites, a few of which are listed below.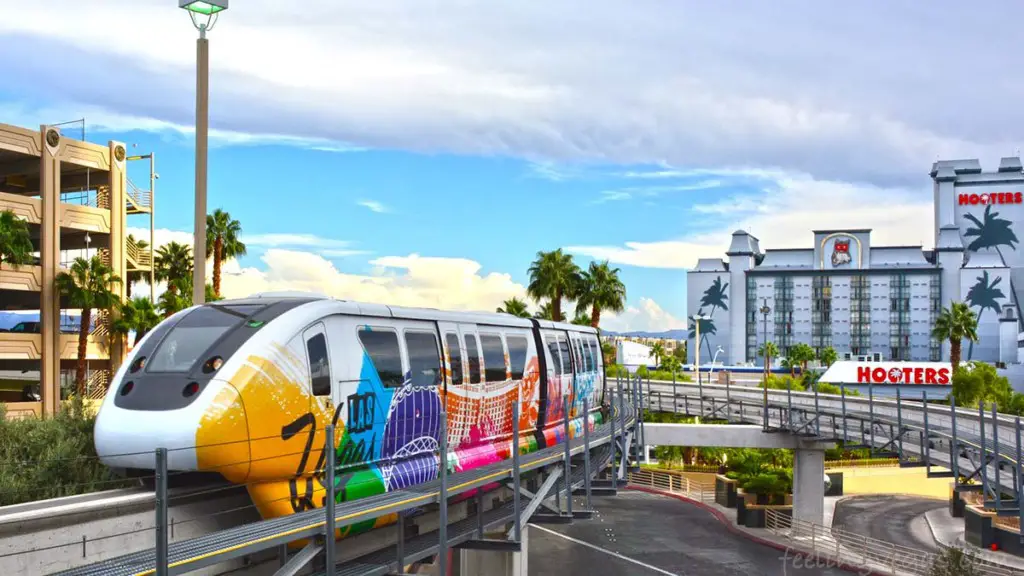 Las Vegas Monorail Discounts
When you look at the official price schedule for the Las Vegas Monorail, keep in mind that for savvy travelers, that's just the starting point. With discounts available from several sources – including the Las Vegas Monorail itself – there's hardly a time of year or any situation where you're going to be stuck paying full price for a ride.
Let's start with in-house promotions.
LV Monorail Discounts
The management of the Las Vegas Monorail system wants you to buy your tickets directly from them, and generally offer some sort of discount or special pricing.  The exact offer changes from time to time, and some offers have definite expiration dates, but it's practically a year-round season of promotions and discounts.
In an effort to persuade website visitors to order directly from them, the Las Vegas Monorail system frequently offers a 15 percent discount from their regular fare for tickets.  That particular offer may still be in place, or it may have been changed in favor of a different offer, so always check their website for the current promotions, discounts, and any notices affecting the routes.
If the monorail itself isn't currently offering any discounts I've included more options for discount tickets below.
Remember that with the great majority of websites, you can go part-way through the ordering process, review the current prices and decide whether to continue with the order or cancel without any obligation.  This is one of the best ways to discover what the current prices are at that moment in order to find the vendor with the current best discount.
Coupons and Promos For The Monorail
Coupons are what make the travel world go-'round, and so it is for the monorail in Las Vegas.  Coupons for discounts and deals for discounted rides are just a web search away.  As with the in-house promotions, these are subject to change, but when one coupon door closes, another one opens.
Here is a short – very short, compared to the total available – list of some coupon hosting websites that have coupons for the Las Vegas Monorail, and more are being added nearly every day.
Info.com
PromoCodeWatch.com
CouponOkay.net
CouponBirds.com
TravelinCoupons.com
Elisvermeiren.com
CouponsPlusDeals.com
Sometimes these coupon sites feel a little questionable. It's for this reason that I prefer to always use a direct source for buying monorail tickets.
Reliable Travel Websites Offering Monorail Discounts
While the above list shows sites that offer coupons and promo codes, these sites listed below have discounted tickets that you can purchase directly prior to your visit or once you're in town. The sites below are legitimate and reputable places to buy all sorts of travel and entertainment-related tickets.
Vegas.com (recommended)
Groupon (Discounted monorail tickets are not always available, if you see them, grab'em!)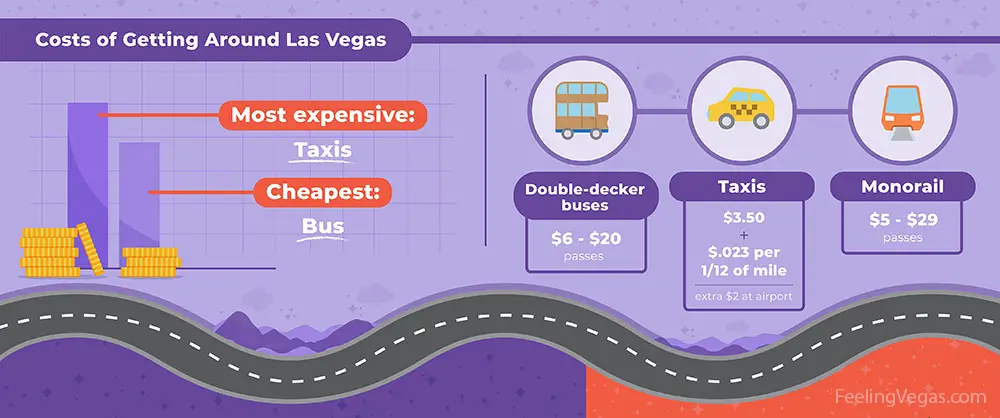 Where Does the Las Vegas Monorail Go? (Route and Map)
The Las Vegas Monorail is an approximately four-mile driverless monorail train system, connecting several large casinos and a number of popular tourist destinations.  There are seven stations along the way, and plenty of sites in between, or within easy walking distance. 
Essentially, the route covers the famous Las Vegas Strip, with its dazzling hotels and venues for, gambling, entertainment, shopping, and exploring.
Monorail Stop #1 – SLS Station
SLS Las Vegas is a 1600-room resort and casino in three towers with meeting spaces, five-star restaurants, bars, entertainment venues, and a large casino with over 600 slot machines and 50 table games.
Those seeking good food might never move on to the other stops.  SLS Las Vegas is considered the primary place in town for good dining, with restaurants for every taste, ranging from gourmet burgers to exquisite international cuisine.
The resort is home to The Foundry, a live-entertainment venue with seating for 1800.  Many up-and-coming music and comedy acts have performed here.
Monorail Stop #2 – Westgate Station
Westgate Las Vegas Resort and Casino is just a block from the famous Vegas Strip, but it has plenty going for it on its own, with dining and entertaining options at all levels.  Elvis Presley performed at 837 consecutive sold-out shows at the Westgate Las Vegas back in the 1970s.
There are eight different dining options, including The Buffet, a dining experience so robust that the venue doesn't need any other name; just The Buffet.
Monorail Stop # 3 – Convention Center Station
Visitors who drive to the Las Vegas Convention Center will find parking scarce and expensive.  But monorail riders don't have to worry about parking.  For week-long conventions, the monorail's unlimited ride pass represents real value.
Trains arrive every four to five minutes at the Convention Center, and there is no point anywhere on the monorail line that is more than 10 minutes from the convention center.
The Las Vegas Convention Center is a marvel of architecture and technology that would be a popular convention destination on its own, without all the shiny lights of the strip.  The facility has over three million square feet under roof.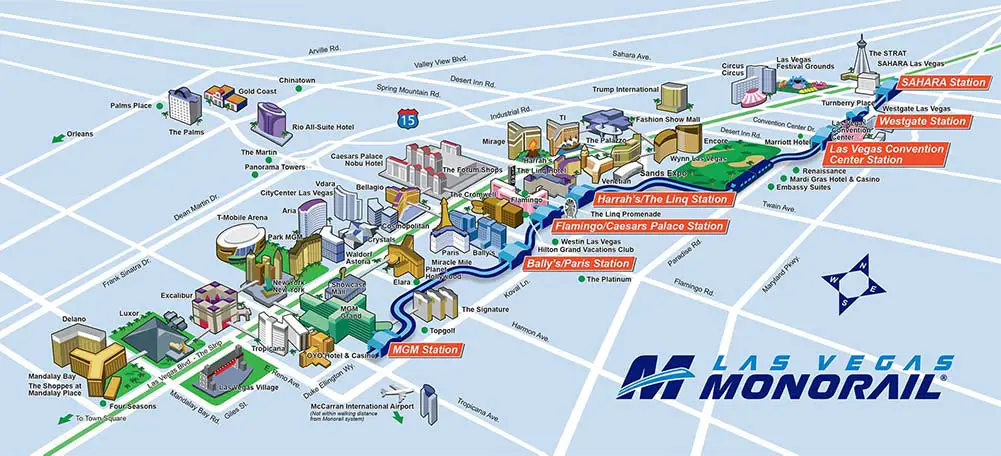 Monorail Stop #4 – Harrah's & The LINQ Station
Harrah's Las Vegas is one of the best known of the many Las Vegas casinos, and it is surrounded by some amazing dining and entertainment venues. 
At this stop – one of the most popular stops on the monorail line – visitors can find unique dining experiences, like Ruth's Chris Steakhouse and Guy Fieri's Vegas Kitchen and Bar; the Brooklyn Bowl, a music and bowling – yes, music and bowling – venue along the LINQ Promenade; and The High Roller, a 550-foot observation wheel, offering a commanding view of the city.
Monorail Stop #5 – Flamingo & Caesars Palace Station
Some of the biggest names in show business have played at Caesar's Palace, like Elton John, Rod Stewart, and Mariah Carey.  Not to be outdone, Flamingo Las Vegas has hosted Donnie & Marie Osmond, Olivia Newton-John, and many other big acts.
Some of the dining facilities are celebrity-owned and offer tasty entrees, and restaurants like the Bacchanal Buffet and Mr.Chow bring a truly international flavor to the table. Giada De Larentils' restaurant offers expertly prepared Italian cuisine.
Monorail Stop # 6 – Bally's & Paris Station
There's an Eiffel Tower that's not in Paris, France, but at the Paris Station in Las Vegas.  This is one of the don't-miss destinations in Las Vegas.
Elsewhere there is one of the largest shopping plazas in the west, and visitors can catch shows like The Jersey Boys at the theater.
Monorail Stop #7 – Station at MGM Grand
For entertainment, the MGM Grand is where you'll want to get off. Music, circus acts, magic shows – just about anything you can name – can be found at the nearby Grand Garden Area. Dining is top-notch, with restaurants bearing the names of Emeril and Wolfgang Puck drawing in visitors in droves.  Nightlife is perhaps at its best at the MGM Grand nightclub.
(If you'd like to learn about all the ways to get around Las Vegas without a car check out this article that Bryan wrote on our website here.)
Las Vegas Monorail FAQ
How Long Does it take to ride the monorail in Las Vegas?
The Las Vegas monorail route has 7 stops and you can complete the trip from one end of the Strip to the other in about 15 minutes including stops.
Does The Las Vegas Monorail Go to Fremont Street?
The Las Vegas monorail does not go to Fremont Street in downtown. The closest monorail stop, located at the Sahara Las Vegas hotel, is about 2.5 miles (4.02 km) away from Fremont Street. An Uber or taxi is your best bet to get to downtown Las Vegas.
Does The Monorail Go To Downtown Las Vegas?
The monorail in Las Vegas does not travel to the downtown area. You can ride the monorail as far north as the Sahara Las Vegas and from there catch an Uber or ride the bus to the downtown area.
Is The Las Vegas Monorail Wheelchair Accessible?
Yes, the monorail in Las Vegas is wheelchair accessible. The monorail system is 100% Americans with Disabilities Act (ADA) compliant and is available to transport those with walkers and motorized scooters as well.
Does The Monorail Have a Discounted Ticket Price For Children?
Children under the age of six can ride the Las Vegas monorail for free with a paid adult passenger. Children aged six and above must have a paid ticket. There are no price breaks for children six years or older.
Does The Las Vegas Monorail Have Discounts For Nevada Residents?
Residents of Nevada, with a current Nevada driver's license, can purchase discounted one-way tickets. These discount tickets are not available online and must be purchased at the customer service kiosk on the monorail platform.
Do Las Vegas Monorail Tickets Expire?
Las Vegas Monorail tickets expire after one year from the date of purchase.
Does The Las Vegas Monorail Go To The Airport?
Unfortunately, the Las Vegas Monorail does not go to or from the Las Vegas Airport (Harry Reid International Airport).
Conclusion
The Las Vegas Monorail is a fun and convenient way to get up and down the Las Vegas Strip. On top of that, it is pretty affordable with costs ranging from $5 for a one-way trip all the way up to a 7-day unlimited ride pass for $56.
The relatively small cost of a monorail pass will save a lot of wear and tear on your feet!
Other Las Vegas Articles You'll Love!