Will You Have To Do a Lot of Walking in Vegas? (Answered)
(This article may contain affiliate links. If you click through and make a purchase, we will receive a small commission at no additional cost to you. )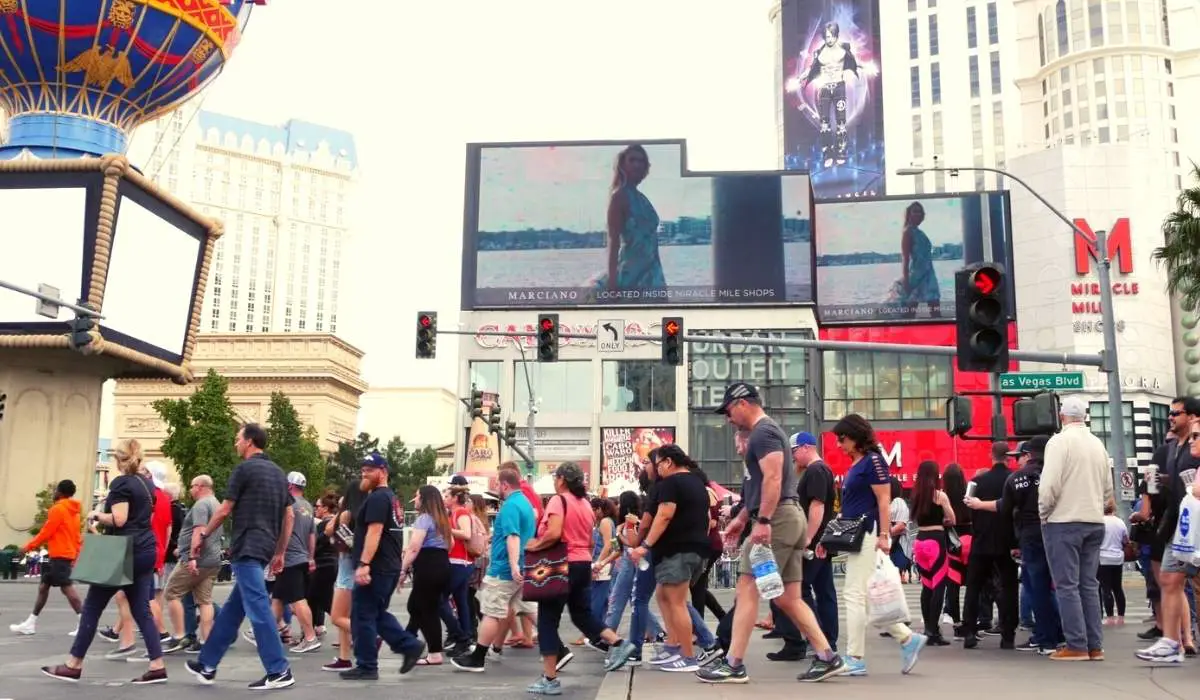 Vegas is filled with casinos, fabulous resort properties, and more attractions than any tourist could possibly visit during a single trip.
And even if you've been to Sin City several times, there's no shortage of new things to experience here. However, seeing and experiencing everything you want on your trip to Vegas will require a lot of walking.
Plan on doing a lot of walking if you really want to experience what Las Vegas is all about. While the Strip and downtown tourist areas are relatively compact as far as walking distances go, it doesn't account for the long distances you will need to walk to visit even a single resort property.
While there are several ways to move around Vegas, walking will allow you to take your time and experience what the city offers to the fullest.
In this article, we'll explore how walkable Vegas is, offer some walking tips, and share a few alternate ways to get around when you feel like you just can't walk another step.
The Walkability of Las Vegas
According to Walk Score, Vegas has received a walkability rating of 42. To put this number in perspective, SanFrancisco and New York scored 89 and 88, respectively. So, Vegas wasn't exactly designed with pedestrians in mind.
If you live in Vegas and need to run errands, it's best to have a vehicle to take you around the city. Most resident-related amenities, like grocery stores and community centers, are situated at odd locations, and it's not always possible to take a short walk to pick up the day's supplies.
However, if you're visiting Vegas for a few days and planning to take in all the city has to offer, walking is your best bet.
Since most everything is concentrated on the Strip, you likely won't need to go anywhere else. And if you're staying on the Strip and looking to spend time at the numerous casinos here, it's best to walk rather than take any other mode of transport.
RELATED: Can You Walk Everywhere in Las Vegas? (What You Need to Know)
Walking the Las Vegas Strip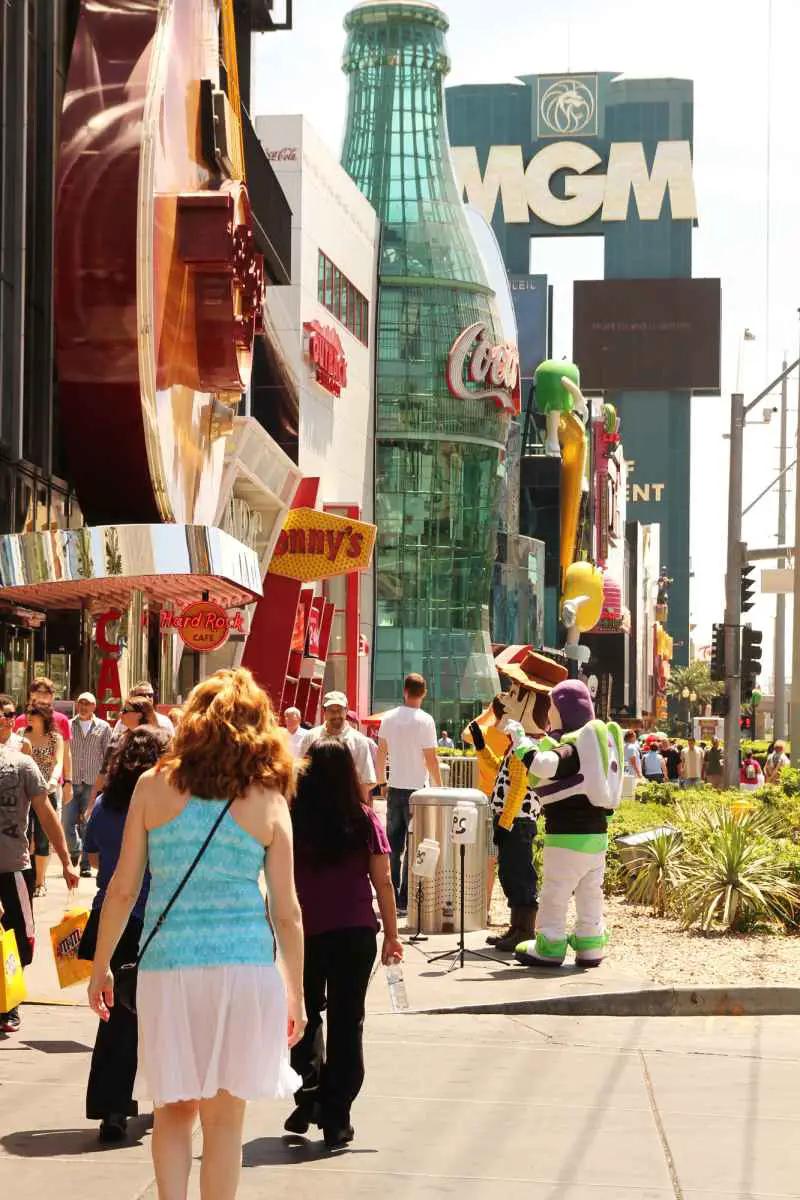 If you're staying off the Las Vegas Strip and plan to sightsee and visit the numerous resorts, attractions, and views the city has to offer, you're better off renting a car for a day or two. While you could walk, touring the entire city on foot isn't advisable as you're sure to get drained by the distances and the heat.
However, walking is the best way to move from place to place if you're staying on the Strip and want to enjoy the many sights and activities.
The entire Strip is roughly 4.2 miles (6.8 km) long and will take around ninety minutes to cover the distance end to end without stopping.
I've written a more detailed article on how long it takes to walk the whole Vegas Strip. Don't miss it.
You will want to walk here because you can take your time to enter each casino and stay for a bit if you feel the vibe. If you rent a car, you may not have the budget to stop at every destination and check it out, as parking fees will start to get expensive. (I've detailed some free parking areas on the Strip here.)
Additionally, the Strip is pretty crowded throughout the day, and you may find yourself stuck, inching forward at a snail's pace in your car through all the auto and pedestrian traffic. So while you may have to do a lot of walking in Vegas, it's also the most effective way to navigate the most popular areas of the Strip.
And if you restrict your activity to the Main Strip, then walking around should be easy, considering many of the best attractions are a stone's throw away from each other.
I've written a complete Las Vegas Strip walking guide with routes, maps, and stops you don't want to miss. Check it out.
Best Time To Walk in Las Vegas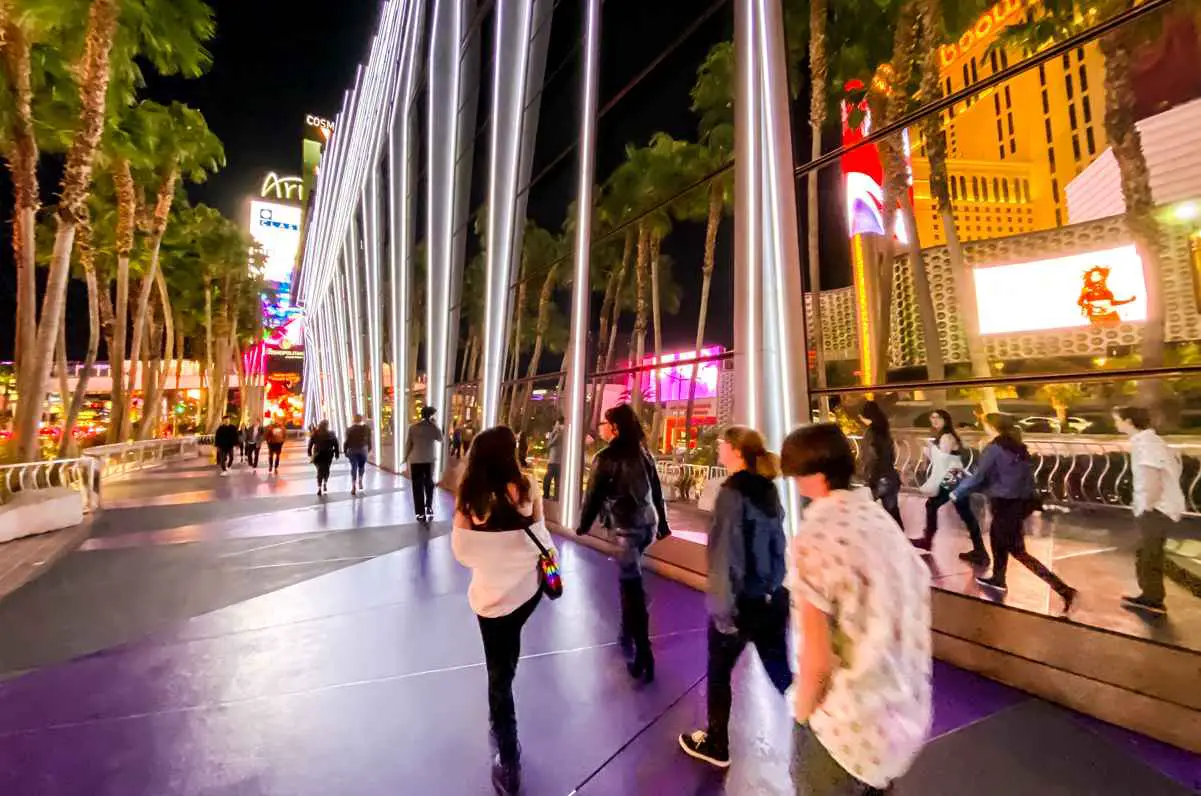 Those who have visited Vegas during summer are probably aware of how incredibly hot the city can get. Without a doubt, Vegas temperatures are the most formidable obstacle to walking around the city.
The heat can be punishing, especially around noon, so it's best to find a casino or bar to cool off in before venturing out into the heat again.
Alternatively, the Vegas Strip and Fremont Street areas are ideal for walking during the winter months as well as early Spring and late Fall. You can learn more about the best times of the year to visit Las Vegas in an article I wrote here.
No matter the time of year, evenings are one of the best times to roam around Las Vegas on foot as the city comes alive at night. The casinos, bars, and restaurants look even more inviting in the dark.
While evenings are much better for long walks, they can sometimes get crowded, boisterous, and suffocating. The Strip is less crowded during the day, but the true Las Vegas vibe comes out at night.
As such, there's no best time to walk in Vegas. You should choose the kind of experience you prefer and walk around Vegas at the time that suits you best.
Tips For Walking in Las Vegas
As a visitor to Las Vegas, you will likely find yourself walking several miles a day that you may be uncustomed to walking in your everyday life. So, I've put together a list of Vegas walking tips that will help you deal with the strain of additional physical activity.
Wear comfortable walking shoes – This cannot be overstated! Leave the fashionable dress shoes and high heels for the nightclubs. When walking in Vegas, a good pair of broken-in walking shoes will be your best friend.
Sun protection – The sun in Las Vegas is intense (even in winter). You'll want to protect yourself with a hat, sunglasses, and sunscreen if you're going to be walking outside.
Drink plenty of water – The desert that Las Vegas resides in is one of the driest deserts on the planet. Drinking plenty of water will keep you hydrated and will help to proactively reduce the effects of drinking too many adult beverages.
Walking at night – When walking the Strip or downtown at night, stick to well-lit areas and stay around other pedestrians. If you find yourself alone and in the dark, you should probably head back the way you came. This isn't really an issue in touristy areas. However, side streets leading into the dark are to be avoided. (See also: Is Las Vegas Safe at Night?)
How To Get Around Vegas Without Walking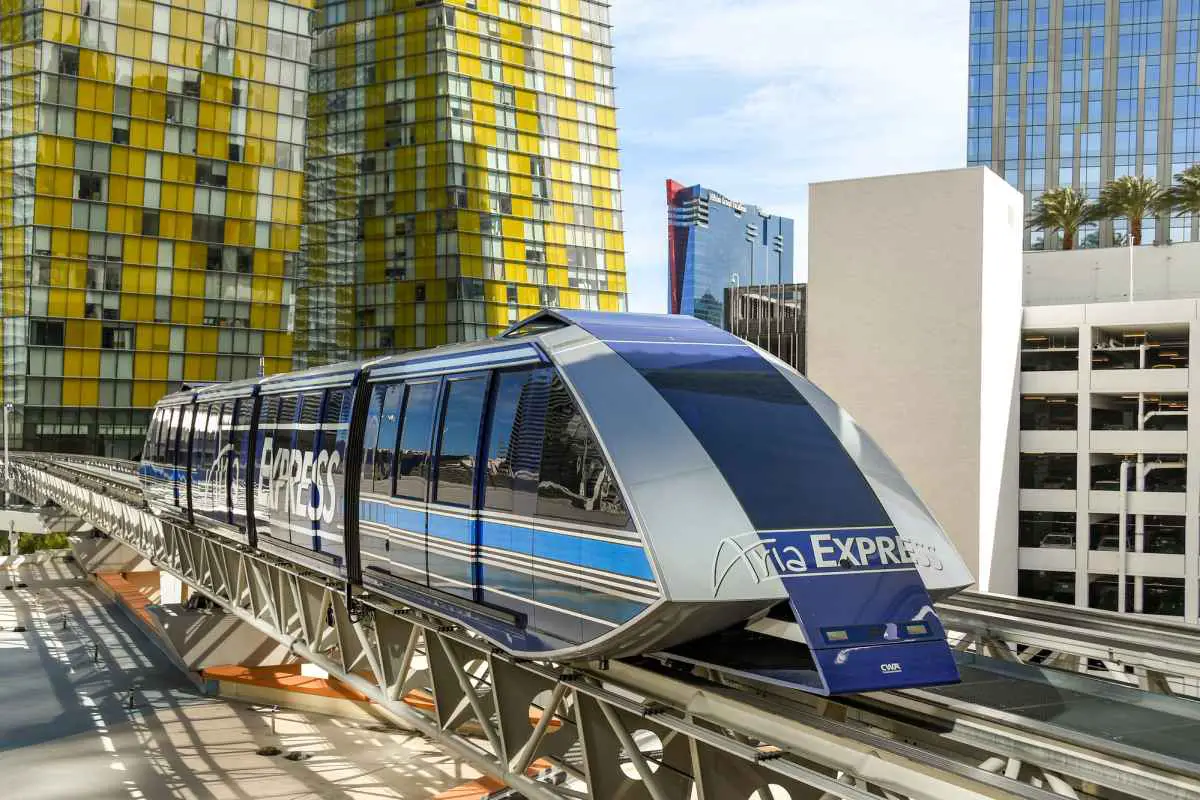 As mentioned earlier, there are other ways to get around the city that don't involve walking. Even if you're staying on the Strip, you may want to use one or more of these transportation methods to get you to the area you want to begin walking.
Here are a few different ways to move around Vegas that don't involve walking.
Local taxi. You can hire any cabs you find parked by the road. While they aren't as cheap as other forms of public transport, it's the quickest way to get where you need to go. (See: Taxi costs in Vegas.)
Uber or Lyft. If you can't find a cab to take you around, consider booking an Uber or Lyft using their app. This transport is cheaper, but you may have to wait longer due to high demand. (See: Cost of Uber & Lyft in Vegas.)
Municipal bus. This is the most feasible way to get around Vegas as the buses connect different parts of the city and are available 24/7. You're sure to find a bus that connects other parts of the Strip and takes you to and from the airport. (See: Duece Bus)
Las Vegas Monorail. This is the only mass transit system in Las Vegas and connects some of the major hotels on the Strip. It also has a station at the convention center, so this can be a great way to travel if you're visiting vegas for a conference. 
Free Strip Trams. Several of the big resorts on the Strip have a free tram to move you between properties. Learn more about riding the trams and monorail here.
Final Thoughts 
If you're in Vegas for the weekend and staying at your favorite casino, it's best to avoid taking cabs or Ubers and consider walking around the area. Many other casinos, eateries, and bars are generally close by, and walking will give you a better view of the city and its various attractions.
Besides, if you're in Vegas on vacation, you won't be able to resist the rich food the city offers. Walking a few miles over the weekend can help you burn those extra calories.