Here's How Much It Costs To Ride the Tram in Vegas (Monorail)
(This article may contain affiliate links. If you click through and make a purchase, we will receive a small commission at no additional cost to you. )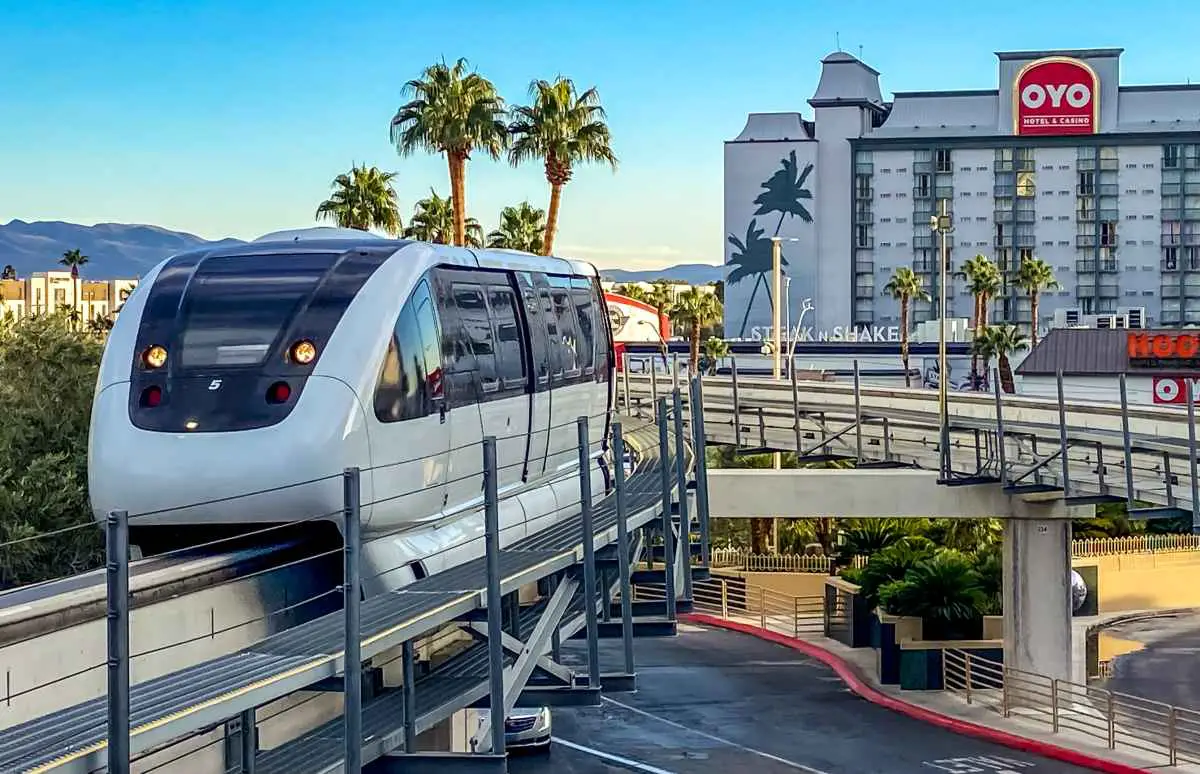 Although trams and monorails aren't particularly common modes of transportation in the US, you will find one available in Las Vegas. You can enjoy its relaxing, traffic-free rides up and down the east side of the Las Vegas Strip for a price.
A single-ride monorail ticket to any stop on the route costs $5. However, you can pay for an unlimited pass depending on how long you need it active. One-day access costs $13; two-day access is $23, while a seven-day ticket will cost $56. Children five years old and under can ride the tram for free. 
Keep reading to learn more about Las Vegas's fascinating tram system and ticket prices. I'll also discuss how/where to buy them, possible discounts available, the stations, operating hours, and more.
Las Vegas Tram Ticket Prices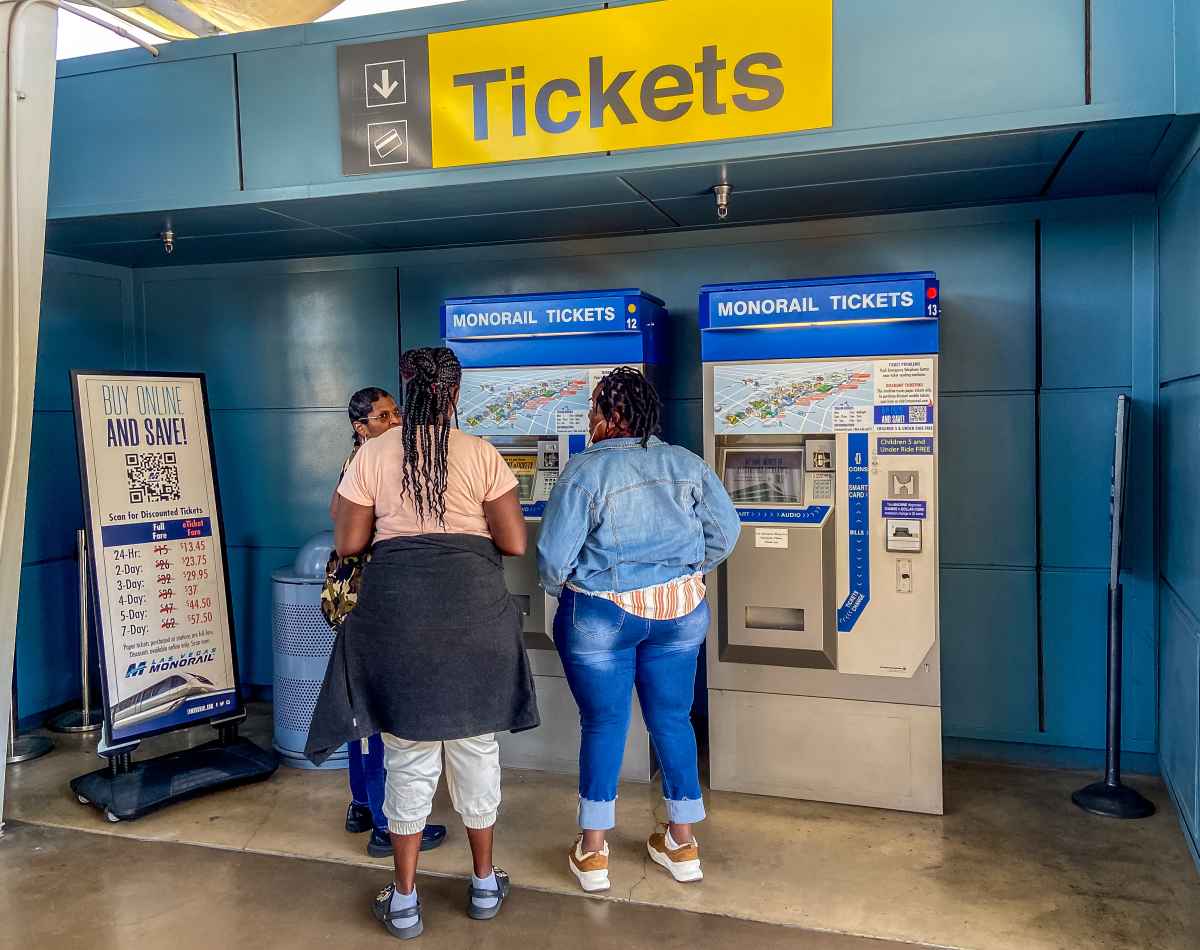 The Las Vegas monorail train (a type of elevated tram) was built in 1995 and covers 3.9 miles of the Las Vegas Strip (map). Once thought of as futuristic, the Las Vegas monorail is a bit aged today but still does a great job of getting visitors where they want to go on the Strip.
Here's a breakdown of what it will cost to ride the tram in Vegas:
Single-Ride Tickets ($5)
These tickets, which cost only $5 per individual, are perfect for visitors who just want the experience of riding on the tram once or twice. They are also the ideal option if you want to take just a single-way or round-trip ride.
Regardless of the distance that you're riding through the Vegas monorail route, the one-way price is constant. You'll pay another $5 to return, amounting to $10 for one round-trip.
Purchasing single-ride tickets, however, may be time-consuming because you must get a new one whenever you want to ride the tram. This may require standing in line to purchase your ticket from either a manned booth or an automatic kiosk machine.
It is also not the most economical option if you plan to take more than two daily trips. Even when you only take two daily trips for four consecutive days, there could have been a better ticket alternative, cost-wise.
Unlimited-Ride Tickets (Varies)
These tickets give you unlimited access to tram rides within a set number of days. They are available for one, two, three, and up to seven days, giving you free lifts whenever and wherever you are on The Las Vegas Strip to your destination.
Monorail unlimited-ride passes costs:
| | |
| --- | --- |
| Duration For Unlimited Pass | Price |
| 1 Day | $13 |
| 2 Days | $23 |
| 3 Days | $29 |
| 4 Days | $36 |
| 5 Days | $43 |
| 7 Days | $56 |
No unlimited tickets are available beyond one week, so you'll have to purchase another for the next period. There is also no 6-day pass, but you can opt for the 7- or 5-day one, depending on your plans.
One essential benefit of these passes over the one-ride ones is the convenience they provide holders. You don't need to wait in a queue or purchase new passes every time you want to ride. The ticket you get will work for repeated rides during the specified time.
Moreover, these tickets can be significantly cheaper than single-ride passes. For example, by your third ride of the day, you are already saving money over the cost of single-ride tickets when compared to the price of an unlimited one-day pass.
The cost becomes even cheaper when you purchase unlimited tram tickets for additional days.
Monorail Ticket Discounts
A few year-round discounts can subsidize tram ticket costs further if you are a Nevada resident or you have a large group.
Here are the terms of these two regular Las Vegas Monorail discounts:
Nevada resident discounts: These offer Nevada residents $1 per ride, and they must purchase tickets at one of the customer service ticketing offices. A valid Nevada Sheriff Card, Nevada driver's license, or State of Nevada government-issued ID is essential to qualify and you can only purchase 2 rides per day.
Group ticket discounts: When groups of at least 12 people desire tickets, they can purchase them online using the promo code 'LVMGroups.' All the passes must be of the same type, and the discount will apply to all of them individually.
You also need to visit one of the ticketing offices to redeem the online vouchers.
The Las Vegas monorail also sometimes offers discounts during large events. These discounts are harder to nail down, but you might luck out.
What You Should Know About Riding The Las Vegas Tram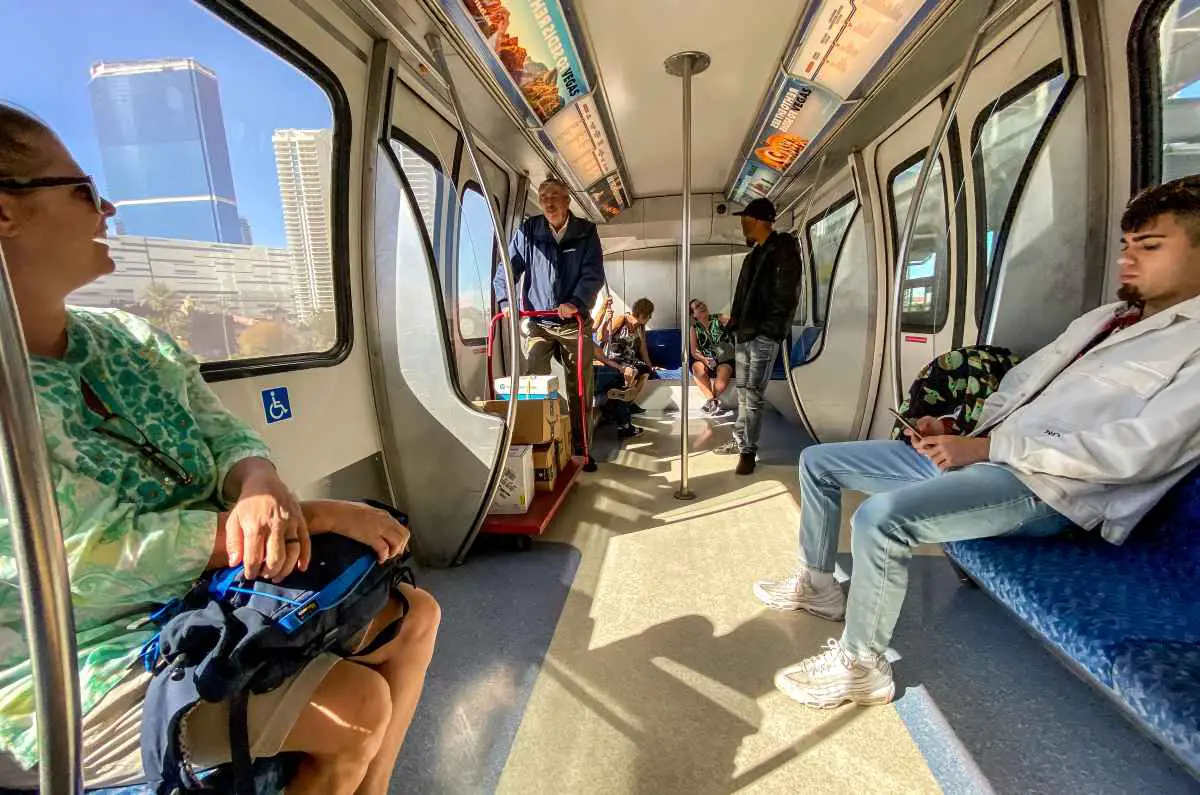 Typically, trams are rail vehicles like trains but resemble buses moving on public, busy streets. The monorail in Sin City connects the ends of The Strip, from SAHARA Las Vegas on the north end to the MGM Grand on the southern end.
Unlike most other fossil fuel-based trams, the tram in Vegas is 100 percent electric-powered, reducing emissions significantly in Southern Nevada. This also makes travel on the tram extremely quiet.
The monorail is also elevated, so it moves high above the street below, allowing riders to pass by the frequently heavy traffic in the area plus offers some unique views of the hotels, shops, and attractions located on and near the Strip.
Here are the seven major monorail stops along The Las Vegas Strip:
MGM Grand
Bally's & Paris
Flamingo & Caesars Place
Harrah's & The Linq
Las Vegas Convention Center
Westgate
SAHARA Las Vegas
Each of these stops is on the east side of Las Vegas Blvd. and is located at the back of each of these properties.
Unfortunately, if you're heading to a location on the west side of the Strip, you'll find that there is still a considerable amount of walking to do to get all the way through the station property and across the boulevard. This is possibly the only real down to the monorail in Las Vegas.
There are, however, three other trams in Las Vegas that operate on the west side of the Strip, and they're FREE! I've written an article all about them here.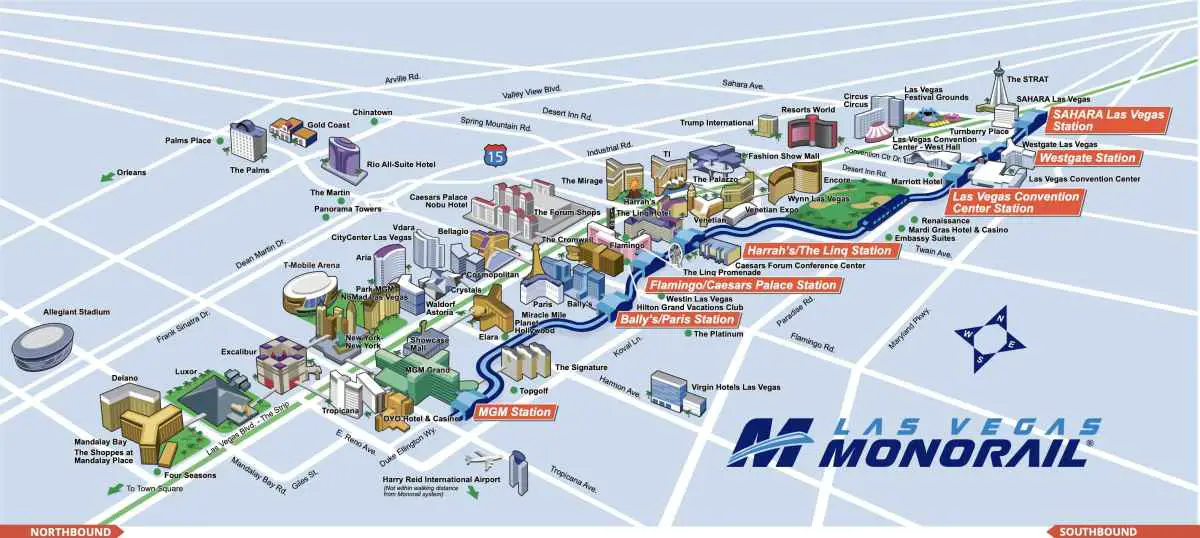 How To Buy Las Vegas Tram Tickets
When you are ready for a monorail ride in Las Vegas, you must purchase a ticket via the following ways:
Ticketing offices: They are available at all the stops except the Las Vegas Convention Center, open from 10 a.m.– 6 p.m. However, two at MGM Grand are available between 9 a.m. and 7 p.m, extending to 9 p.m. on Fridays & Saturdays.
Ticket vending machines: The machines are available at every monorail stop.
Google Pay: You can easily use this online payment method at any time and hold up your smartphone for passage through the fare gates.
Online ticket portal: It is straightforward to use this payment process for e-tickets here.
Unfortunately, alcoholic beverages aren't technically allowed on the monorail, but it's likely that you will see several people carrying drinks while riding the monorail. Learn more about bringing drinks on the monorail here.
Final Thoughts
Las Vegas monorail tickets cost $5 for a single one-way ride. Unlimited access starts from $13 to $56, depending on how many days you want to ride.
However, discounts and vouchers can subsidize the cost if you qualify, like the Group ticket discount and one for Nevada residents.