Can You Bring Drinks on the Las Vegas Monorail? (Revealed)
(This article may contain affiliate links. If you click through and make a purchase, we will receive a small commission at no additional cost to you. )
The Las Vegas monorail is owned and managed by the Las Vegas Convention And Visitors Authority (LVCVA) and can be a quick way to get to popular spots in Vegas. You've probably heard that alcoholic beverages are allowed on the Strip. But is it the same for the monorail?
You can't legally bring drinks onto the Las Vegas monorail except for some non-alcoholic beverages. It's possible to sneak a drink in if you aren't spotted by security, but you will be asked to dispose of it if caught.
In this article, I'll go over a few more details about drinking on the monorail, what's allowed, and mention a few of the spots in Vegas where drinking is allowed.
Why Alcoholic Drinks Aren't Allowed on the Vegas Monorail
People get the impression that Las Vegas is a city without rules and that anything goes. However, remember that aside from the casinos, clubs, and other attractions, the city is home to millions of local residents. And like any other city, some specific rules and conventions must be followed.
Drinking in public spaces is typically illegal in most cities; the same goes for most of Las Vegas. As such, consuming alcohol on the monorail isn't advisable.
That said, people bring alcoholic beverages on the monorail all of the time.
ALSO SEE: 18 Cheapest Bars on The Strip (Cheap Drinks & Happy Hours)
What Not To Bring on the Vegas Monorail
As mentioned earlier, drinks aren't allowed on the Las Vegas monorail unless you carry a non-alcoholic beverage. Of course, many visitors and residents violate this rule quite often, and the penalty isn't too high; in most cases, the security will ask you to get rid of the drink before you board the train.
However, some things could potentially get you in a heap of trouble.
Weapons of any kind
Marijuana (which is legal in Vegas but only in residential properties)
So when you visit Vegas, respect the city and its laws and enjoy the excitement it has to offer. You may need to compromise in specific spaces, but where else can you hang out and drink on a public road?
Should You Still Use the Las Vegas Monorail?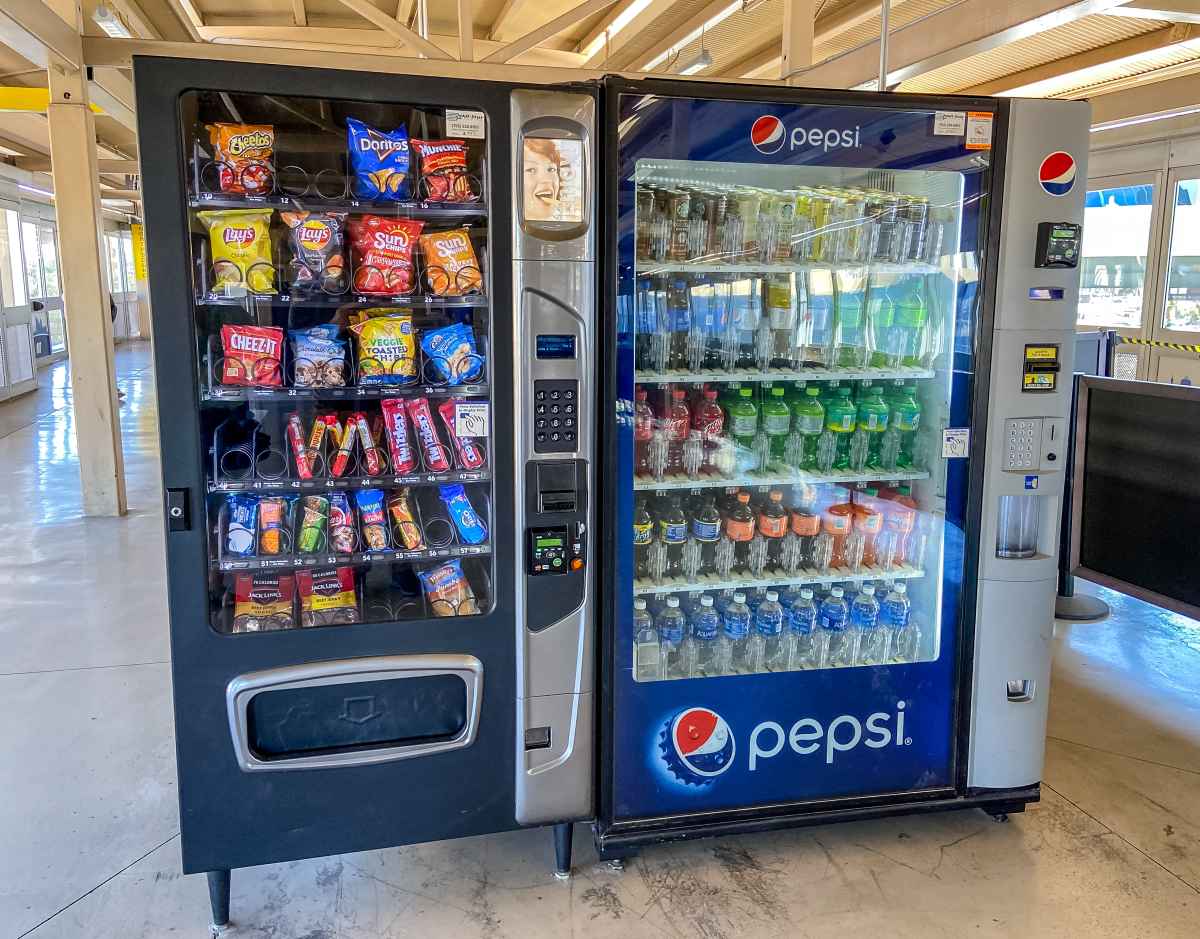 Now that you know you can't carry alcoholic drinks on the monorail, you might be wondering if the Las Vegas monorail is worth it. And I don't blame you! Part of the reason why Vegas is so much fun is that you're allowed to drink on the Strip, so wouldn't it be better to take a leisurely stroll with an ice-cold drink instead? 
While walking around will allow you to spend time at each destination you visit, some distances are entirely too long to travel by foot on a regular basis. Plus, the Vegas heat can be cruel, and public transport is better if you know where you're going. Instead of walking in 100ºF plus heat (over 37º C!), you can just take the monorail–which has AC!
These are the seven stations at which the monorail stops:
SAHARA Las Vegas Station
Westgate Las Vegas Station
Las Vegas Convention Center Station
Harrah's/The LINQ Station
Caesar's Palace Station
Bally's/Paris Las Vegas Station
MGM Grand Station
If you're going to these hotels or shuttling between places near these destinations, there's no better way to travel than the monorail. However, remember that the monorail train is limited to these spots alone, so it may not be the best way to get around if you have other places to be.
Assuming you're visiting these places (or spots nearby), the monorail is the most efficient way to get around. The Las Vegas Monorail tickets are also much cheaper than renting cabs on Uber or Lyft.
How Much it Costs to Ride the Tram in Vegas: (read my full article about monorail costs here)
A single ticket on the rail costs $5.
A 24-hour pass costs $13.
A two-day pass costs $23.75.
A three-day pass costs $29.95.
A weekly pass costs $57.50.
They also have options for four-day and five-day passes, so you can book tickets depending on how long you plan to stay. 
The monorail completes the entire circuit of all seven stations in just twenty minutes. So while you may miss out on some scenery, this is probably the quickest way to get up and down the Strip without spending a bundle and waiting for rides.
Where To Drink in Public in Las Vegas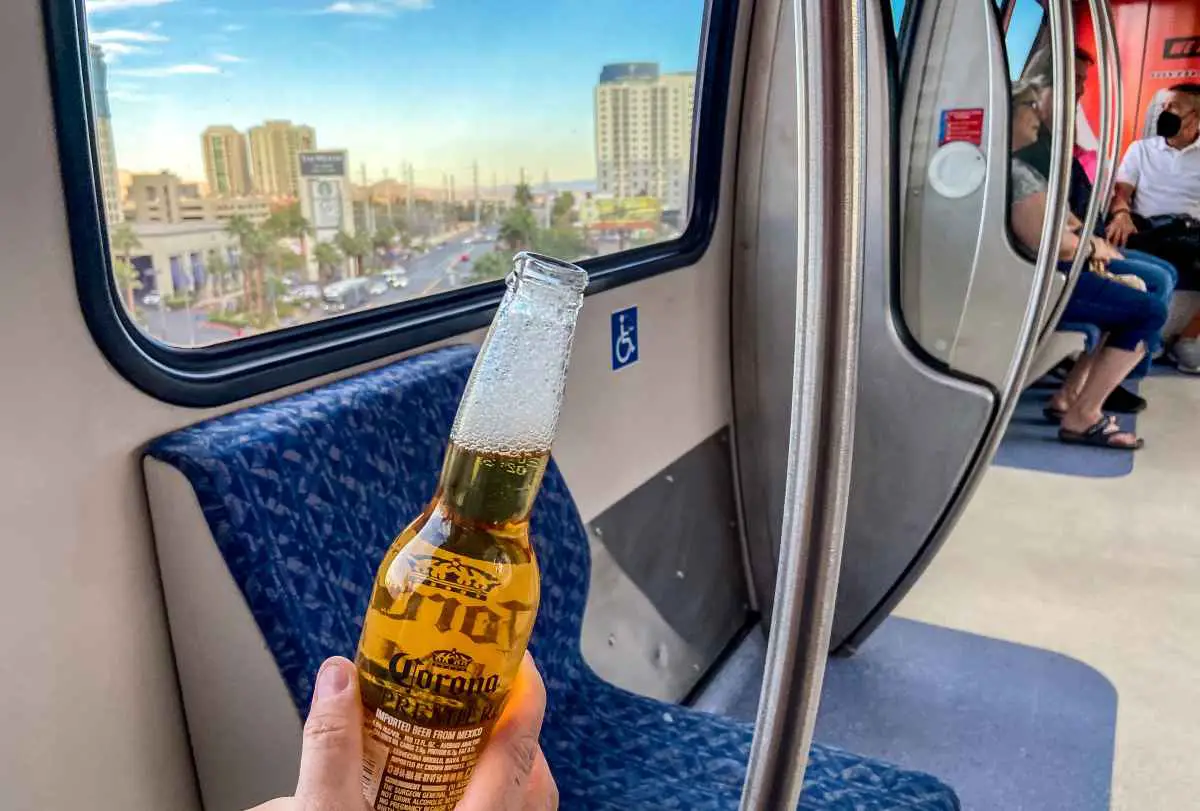 While Vegas is a residential city, it's also known as the world's entertainment capital for a reason. People flock to Vegas for unique experiences and the freedom to indulge in certain forms of entertainment. Most tourists also tend to go on a drinking binge when they're in Vegas, and fortunately, there are some spaces where drinking is allowed in public.
The Strip
The Las Vegas Strip is the most popular part of the city for tourists. The Strip is a stretch in Las Vegas, lined with massive casino hotels, entertainment venues, and some of the finest restaurants in the country.
Thanks to these attractions, the Strip is densely populated by tourists walking around the city and taking in their fill of what it has to offer. The Strip also happens to be the one place in Vegas where you can legally drink on the streets.
You can even buy a drink in one casino, head out onto the Strip, and walk into a different casino while holding your drink. Nobody will say a thing.
Fremont Street (Downtown)
Fremont Street and the Fremont Street Experience is another area of the city where you're allowed to stroll down the sidewalk with an adult beverage in hand.
In fact, it is almost weird to walk in this pedestrian-friendly area without sipping on an alcoholic drink.
Aside from these two spaces, you may be allowed to drink outside in some parts of the city. However, it's best to restrict public drinking to safe areas like these so you avoid getting entangled with the law.
The High Roller: A Vegas Attraction Where You Can Drink
The High Roller is one of Vegas' more popular attractions. It's the world's second-highest observation wheel that gives people a bird's eye view of the city of Vegas.
The wheel takes roughly thirty minutes to complete one revolution, and guests are allowed to drink during their time on the wheel. In fact, the wheel also offers special carriages with an open bar for those looking for a more private experience.
Note: You also can't bring your own alcohol into the High Roller and need to purchase drinks from their store.
RECOMMENDED: Find out if there is a "last call" at bars in Las Vegas.
Can You Bring Drinks on the Las Vegas Monorail – Final Thoughts 
Officially, you can't drink alcoholic beverages on the Las Vegas monorail. Having said that, unless someone stops you, it's unlikely you'll have a problem carrying a drink on the monorail.