Do Bars Ever Close In Las Vegas? Last Call in Sin City
If you're planning a trip to Las Vegas, Nevada, you probably have a lot of questions about the best sights to see and where to go to get a good bite to eat. But what about the bars? After looking up some options online, I discovered the city has some amazing choices when it comes to bars. Which brings us onto our next question…
Do bars ever close in Las Vegas?
Bars in Las Vegas are free to stay open 24 hours a day. Unlike in many states, the laws in Las Vegas and the state of Nevada do not limit bars to serving alcohol only between certain hours. Individual bars may or may not be open 24 hours a day but there is no law requiring a "last call" in Las Vegas.
You can get a drink in Las Vegas at any time of the day or night. The only question left is where to get it! This article covers the nitty-gritty details about bars in Vegas (both inside and outside casinos), as well as a few alternative activities to fill up your days before the real fun begins.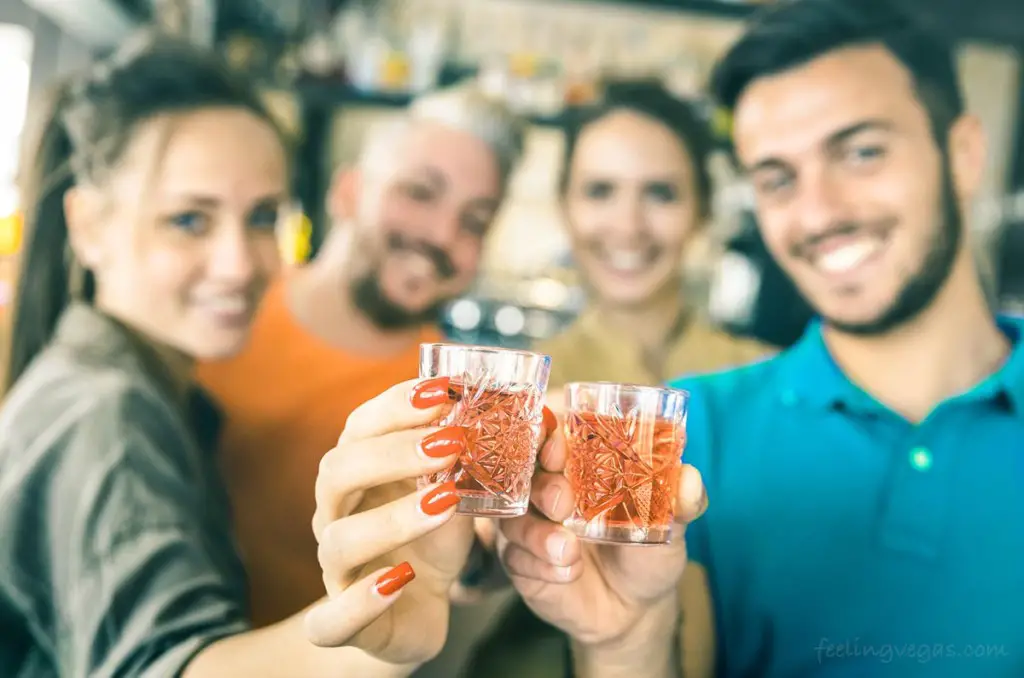 (This article may contain affiliate links, which means we might earn a small commission if you click and make a purchase. Thank you!)
Do Bars Ever Close In Las Vegas?
In short: sometimes. In Las Vegas, some bars never close (keeping the party going all day and night) while others do; it simply depends on the bar you choose to visit—as well as where it's located.
For example, if you plan on visiting a casino during your trip to Vegas, you will probably find there is a bar open at any time of the day. This is because casinos operate 24/7, and closing the bar means missing out on potential sales. It pays to have the bar open!
So there is no last call in certain Las Vegas bars located in casinos because they are open around the clock. If you are unsure of the hours of the bars, you can check online or ask the staff before you get ready for your fun night out.
On the other hand, if they are not located in a casino, bars will likely close (albeit for only a few hours). Some close as late as three or four in the morning! This means last call will be about half an hour before closing.
Before you go check out the bars around Las Vegas, check their hours online or give them a call to ask. Luckily, you never have to worry about finding a bar that's open somewhere in Las Vegas.
(Looking for a good karaoke bar in Las Vegas, then look no further! We've rounded up the top 10 karaoke bars in Vegas in our article here)
Drinking Age in Las Vegas, Nevada
The legal drinking age in Las Vegas and the state of Nevada is 21 years of age.
If you're under 21 don't despair. There are many fun things to do here if your underage. Check out our article about things to do in Las Vegas if you're under 21.
Can I Carry My Drink On The Street In Las Vegas?
In Las Vegas, the tourist and alcohol industry is a huge part of the ongoing party and a great revenue stream for the city. That's why you can openly carry and consume your drink on the Las Vegas Strip thanks to their open carry law.
However, there are a few things you need to be aware of. First off—avoid glass containers on the Strip. It keeps everyone safe because it prevents broken bottles and glass from littering the streets. This applies to any beverage (even if it's not alcoholic).
If you are unsure of the open container laws in a certain area of the city, check with your bartender. They are more likely to know the laws in the area. When in doubt, don't drink outside the bar.
Though you can drink on the street in Las Vegas, there are a few laws you should follow while doing so to keep yourself and others safe. We wrote an article on our site that gives you all the details you need to know about carrying open containers on the street in Las Vegas.
What Are Some Great Bars In Las Vegas?
There are countless bars to choose from in Las Vegas, so do some research of your own too,—that is if you're looking for someplace specific (such as a bar with a certain theme or style). Another great tip is to ask the staff of your hotel where they go; the locals always know the best bars.
If you're looking for a few options, check out the ones below.
Non-Casino Bars
Gambling isn't for everyone. Thankfully, there are plenty of local options for bars without casinos. We cover a handful of them here. Consider these bars on your trip to Las Vegas.
The Speakeasy (located in The Mob Museum) is a prohibition-era themed bar. Hours are 9:00 AM to midnight. They feature popular drinks from that era including gin and vodka, and they make creative cocktails. Souvenir moonshine bottles are also available for purchase (among other unique items). You can find their website here to purchase tickets to the museum.
Beer Park is a sports bar right on the Strip in Las Vegas. They are open from 11:00 AM to 2:00 AM. It's got a friendly atmosphere with green turf floors and boasts a large offering of beer (as well as cocktails). They also have great brunch events on the weekends You can visit the Beer Park website to learn more about them and upcoming events.
Oak and Ivy is known for their whiskey and whiskey cocktails. Hours here are from 1:00 PM to 11:00PM (or 1:00AM on weekends). They are listed as one of the top 50 whiskey bars in the United States of America. It's a must-see for any enthusiast! Their website has more information and even a blog to peruse.
These unique bars are only a few of hundreds of bars in this vast city, so be sure to visit these and others that might interest you.
Casino Bars
To get the full Las Vegas experience—complete with the casino vibe—be sure to check out some neat bar-casino duos. Consider the following options while on your trip.
Ghost Donkey is a tequila bar located in The Cosmopolitan Casino. The bar (open from 4:00 PM to midnight) specializes in gorgeous tequila cocktails of all kinds as well as several nachos varieties to accompany your drinks. You can find them (and their menu) online here.
The next duo on the list is Troy Liquor Bar in the Golden Nugget Casino in downtown Las Vegas. They're open Thursday to Sunday from "9:00 PM to Late Night." This bar/nightclub combo is known for early specials on bottles and have regular events at their location. Learn more about their offerings on the casino's website.
The View Lounge —open 24/7– is located in the Stratosphere Casino. It's open around the clock, has a casual dress code, and has a wonderful view overlooking Las Vegas in the casino tower. Learn more about it on the Stratosphere casino website.
The Tipsy Robot is a bar located in Planet Hollywood. The Tipsy Robot doesn't have human bartenders. All the drinks are made by robots. Place your order into one of the tablets at the bar and watch the robotic arm prepare your drink. This bar is open from 10:00 AM to 11:00PM (or Midnight on weekends)
These bars are only a few options available. Some casinos have more than one bar, too; plan accordingly!
Whether you're looking for a bar and a casino to get the party started or keep it going, there are countless options to get a great drink in Las Vegas.
Late night and early morning you will find at least one (more likely several) bars open in a casino.
Las Vegas Alcohol Sales Hours: Grocery and Liquor Stores
Since the State of Nevada has very few laws restricting the sale or use of alcohol, grocery stores, and liquor stores are able to sell beer, wine and spirits 24 hours a day as well.
There is never a time of the day or night in Las Vegas that you can't buy or consume alcohol. (Wow, it's kinda giving me a hangover just thinking about it).
What Else Is There To Do In Las Vegas?
Las Vegas probably has more cool themed bars than anywhere else in the world and you should definitely check some out. Having said that, there are plenty of other things to do here as well.
Give some of these activities a shot:
No matter what you do in this city, you're sure to have a blast. Remember to be safe while you enjoy the locale!
There is no doubt you can get a drink any time of day or night in Las Vegas, and there are countless options to do so in the city. After a long day of sightseeing, try out some of the bars listed above or find a cool one on your own. Wherever you go, it's bound to be fun.