Stage Door Casino Las Vegas: Cool Dive Bar Near the Strip!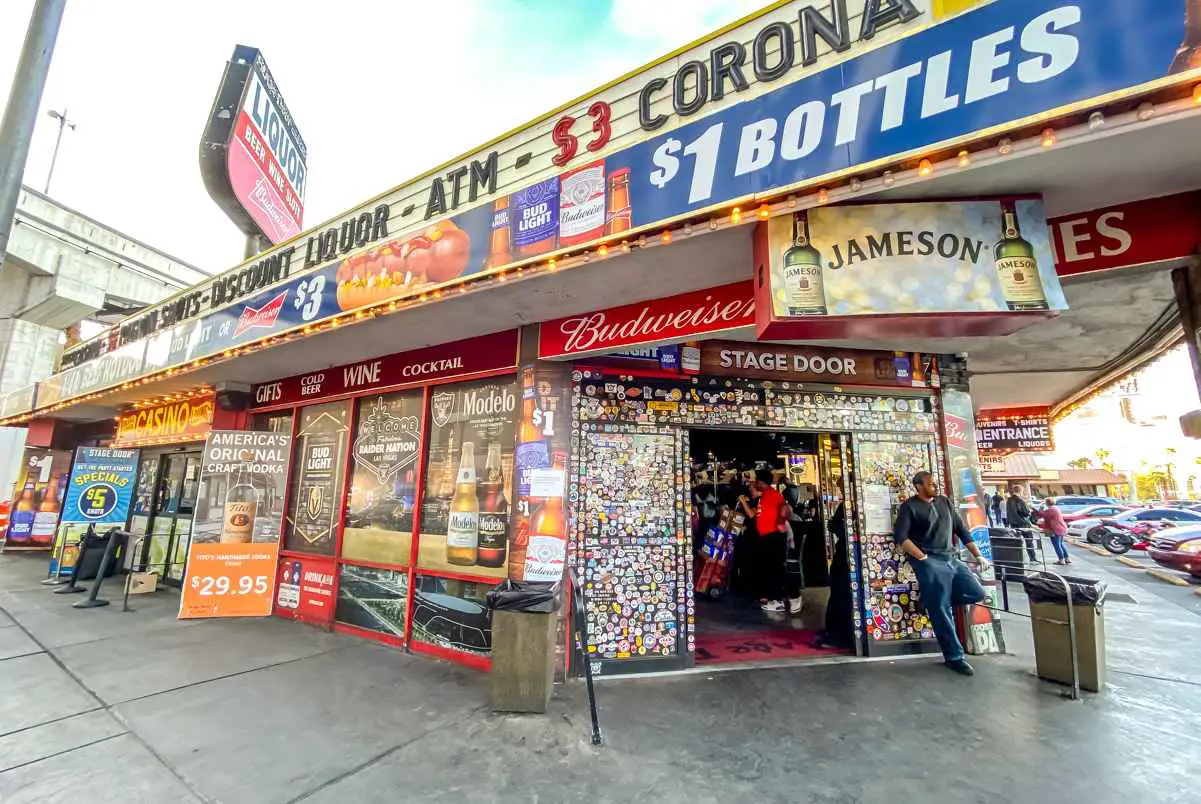 (This article may contain affiliate links, which means we might earn a small commission if you click and make a purchase. Thank you!)
Despite its name, the Stage Door Casino isn't just a place to gamble. If you look it up online, its website boldly claims that it's the "best dive bar on the Las Vegas Strip." True, this bar, liquor, and convenience store has more than a few awards under its belt, but is it really worth the hype? 
The Stage Door Casino has $1 Budweiser beers, the best hot dogs, a famous jukebox, casino sign-up bonuses, and is steeped in Las Vegas history — among other notable attractions. Not to mention Stage Door is located just a block off the Las Vegas Strip.
Let's take a look at why, when it comes to finding cool places to drink and have a good time in Las Vegas, there's no need to look any further than this Vegas dive bar.
Your Ultimate Guide to the Stage Door Casino in Las Vegas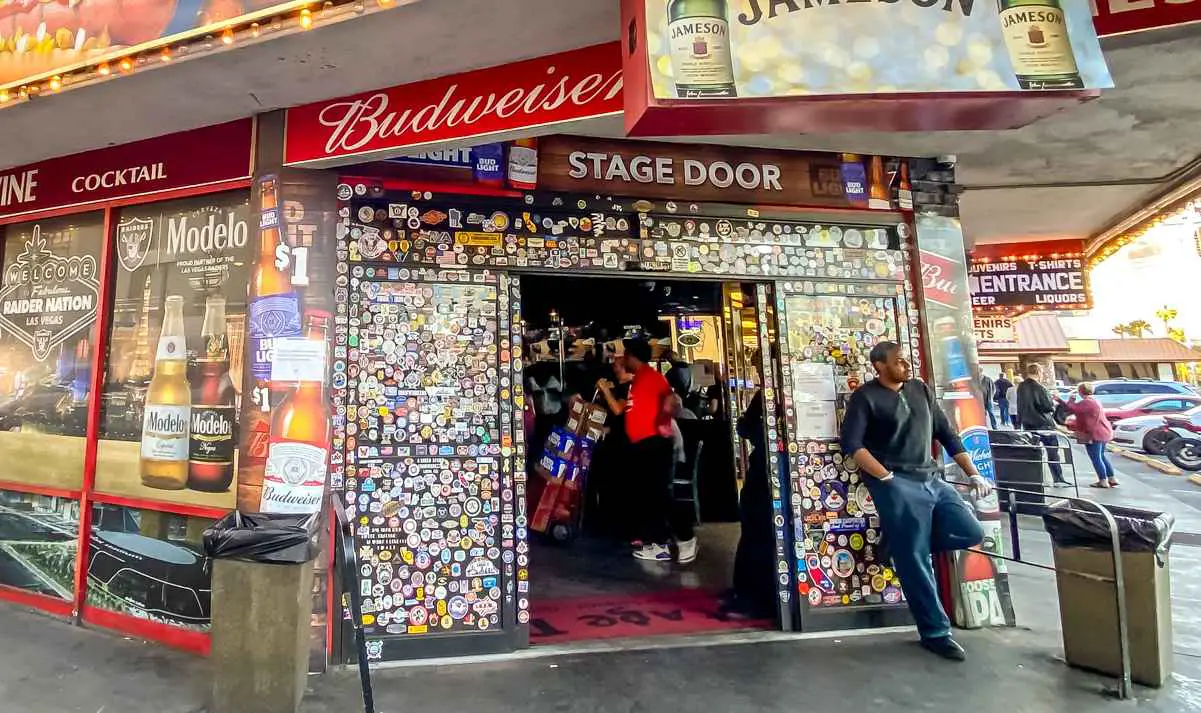 Although the Stage Door Casino is often touted as being right on the Strip, it is actually located a block off Las Vegas Boulevard at 4000 Linq Lane in Las Vegas, NV (google maps). It's been a popular destination for locals and visitors alike (including Frank Sinatra and Smokin' Joe Frazier) since opening its doors in 1976. The dive bar was the brainchild of Ron Markin, who envisioned the place as a homestay for the who's who of Las Vegas. 
Stage Door Casino is the perfect place to enjoy a cold beer or cocktail and listen to some music or catch a game while not emptying your wallet. The bar also doubles as an old-school gaming parlor, so you can try your hand at video blackjack, slots, or poker.
Overall, this place is awesome! It's a budget-friendly yet fun place to take (or make) friends and a great place to grab a cheap beer before heading to the land of $10 or more beers on the Strip. It's a great bar with an attentive bartender and is usually one of our first stops when heading to the Strip.
How To Get to the Stage Door Casino
If you're driving to the Stage Door Casino, you can reach it by turning east onto Flamingo Road from Las Vegas Boulevard. Once you spot the Horseshoe Las Vegas Hotel & Casino to your right, just look to your left, and you'll soon see the bar and casino. Don't expect a big flashy Las Vegas establishment. Remember, it's a dive bar.
The bar is also a ten-minute walk away from Caesars Palace. Just take the pedestrian sky bridge over to the other side of Las Vegas Blvd. and head south until you reach the corner of E Flamingo Rd. Turn left at the corner, walk a short bit, and the bar will be on your left.
Another way to get there if you're walking is to do what we usually do and cut through the LINQ Promenade. If you head to the base of the High Roller (the giant Ferris wheel-looking thing), you can exit out the back of the promenade and turn right on Linq Ln. Stage Door will be down about 100 yards on your right.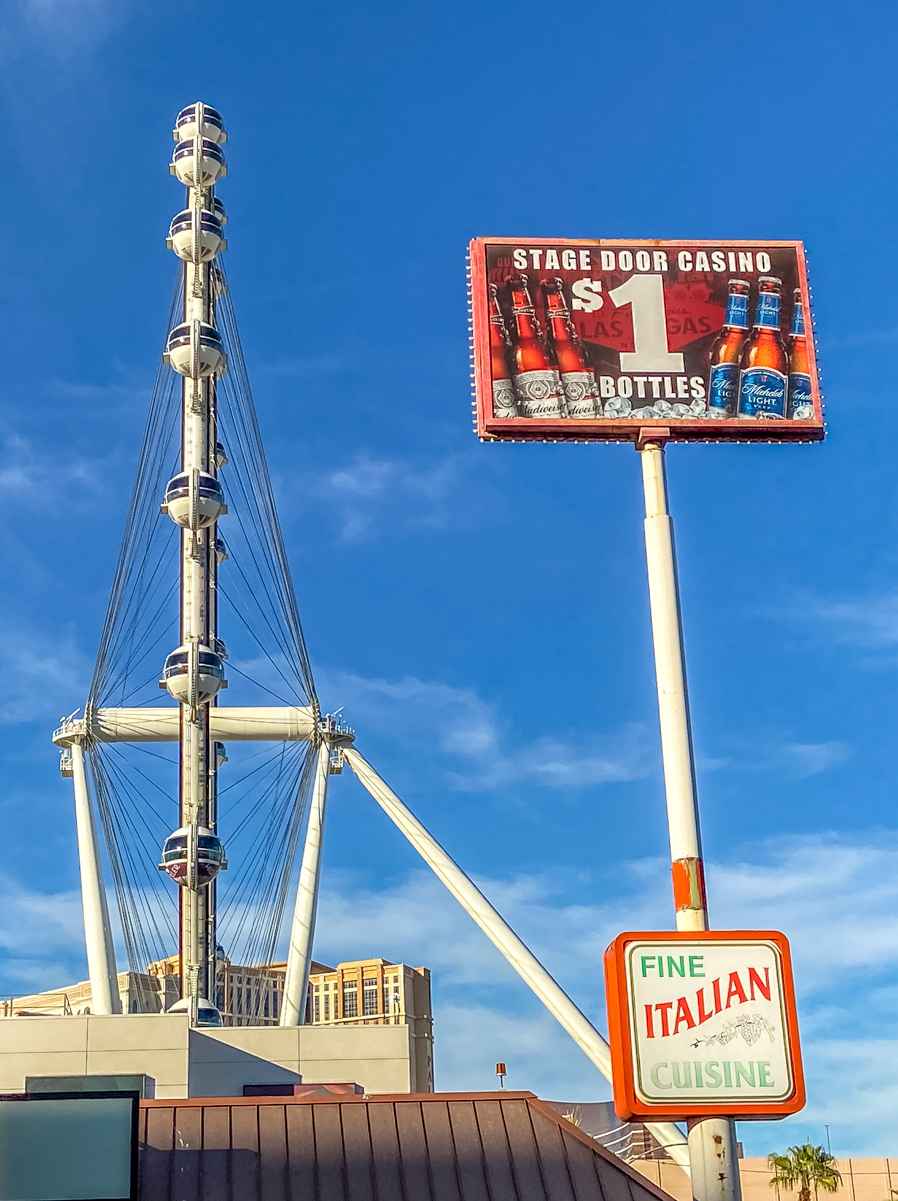 Heck, you can even take the Las Vegas Monorail. Just get off at the Horseshoe/Paris Station and head north on the Strip till you cross Flamingo Rd. then turn right. You'll find it right behind The Cromwell.
No matter how you choose to get there, you'll find that it's a worthwhile trip.
Stage Door Casino Food and Cheap Drinks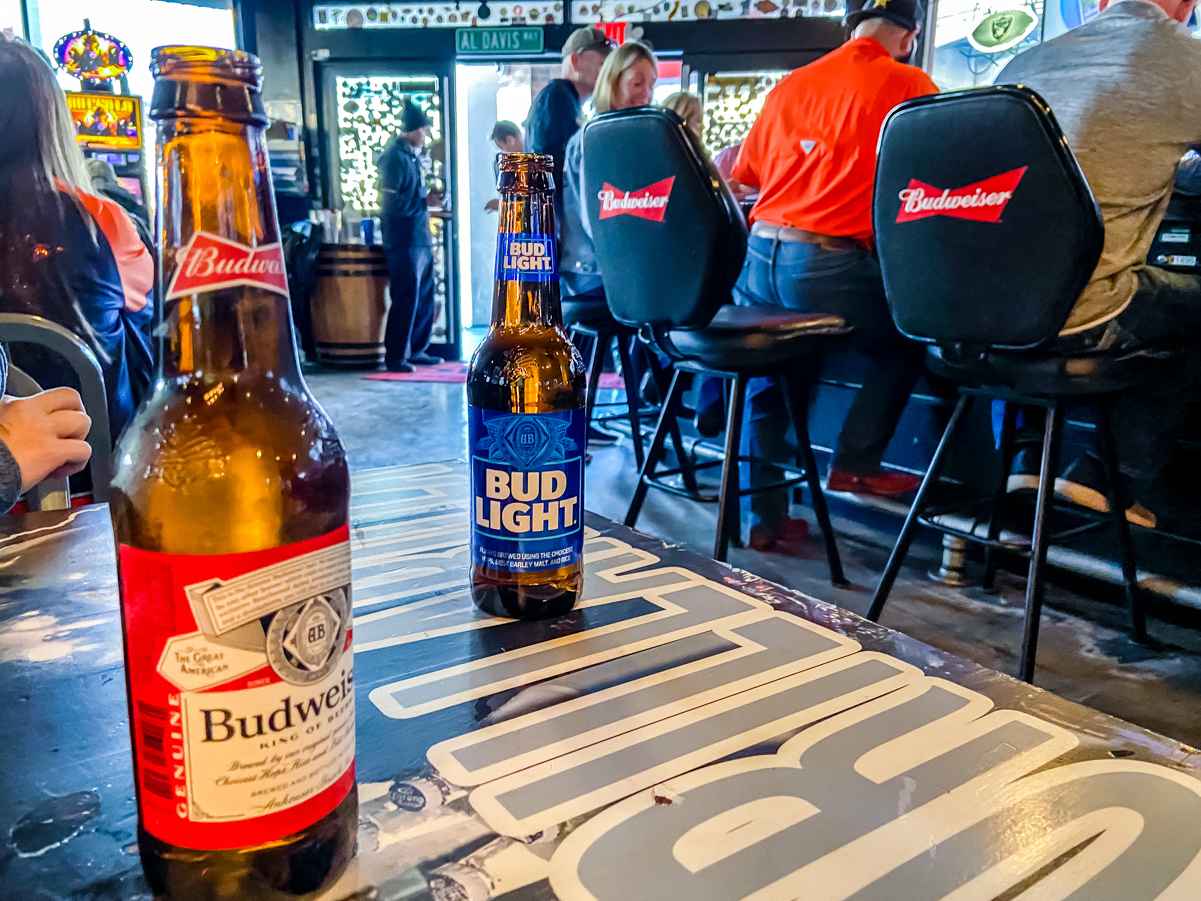 Inside Stage Door Casino, you'll find everything you need to feel right at home, much like your grandma's kitchen. The only difference is your grandma probably doesn't serve ¼ lb (0.11 kg), all-beef hotdogs 24 hours a day, seven days a week. Juicy, tender, and cooked just right, their certified gold hot dogs pair well with almost any alcoholic beverage. 
Known as one of the cheapest bars in town, Stage Door Casino offers an extensive selection of drinks at the bar and delivery service. In fact, the bar won silver in the Best of Las Vegas Awards for Best Martinis in 2021.
Here are some of the bar's featured cheap drinks from their menu: 
Budweiser: $1
Budweiser Light: $1
Busch Light: $3
Captain and Coke: $5
Corona: $3
Hennessey Shot: $10.00
Jack and Cole: $5
Long Island Iced Tea: $10
Malibu Pineapple: $5
Michelob Ultra: $3.50
Vodka and Soda/ Cranberry: $5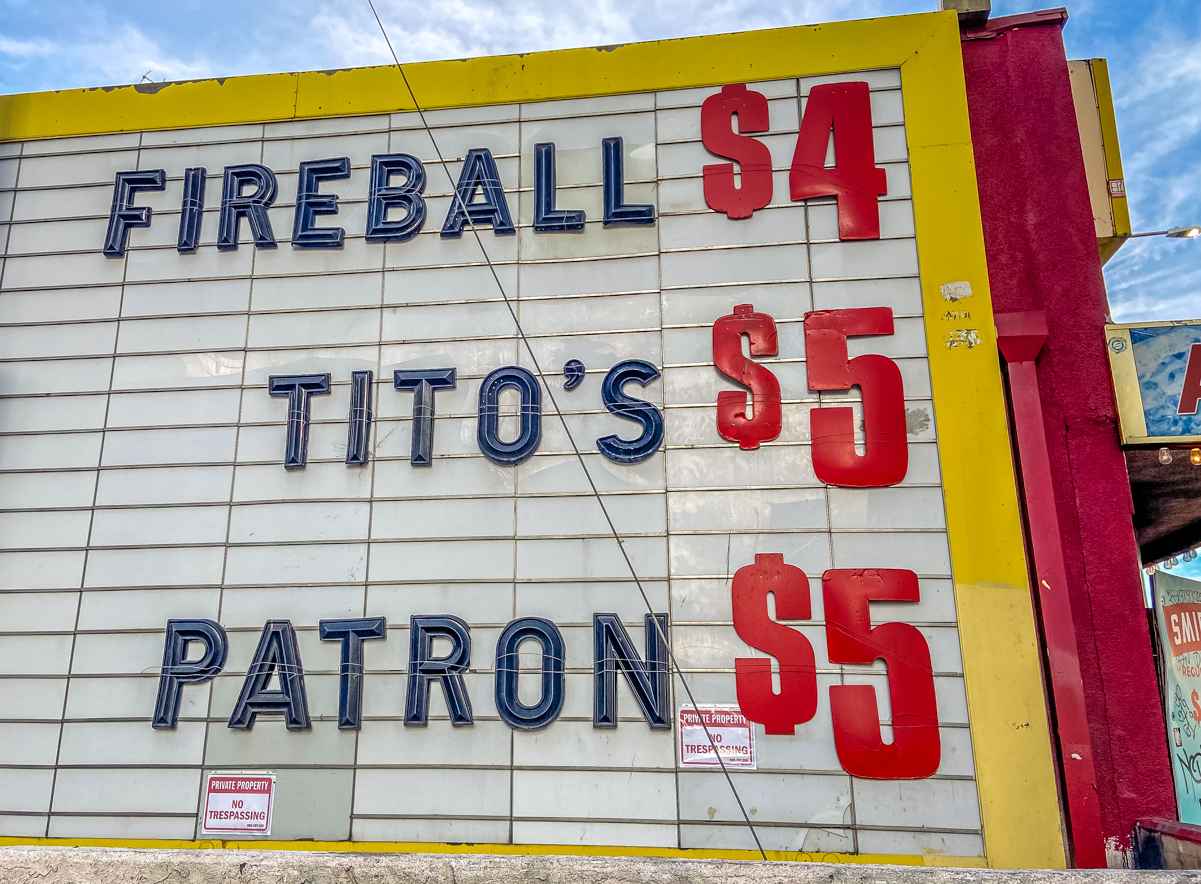 A $2 hot dog and a $1 bottle of bud, who says you can't visit Vegas for cheap!? Compared to the other establishments around the area and nearby on the Strip, the prices at the Stage Door Casino are well within reach no matter what your budget. That's rather refreshing for a Las Vegas joint, isn't it?  
Stage Door Casino Gambling
The Stage Door Casino has a fair selection of slots for you to try your luck on, including a $20 sign-up bonus and other promotions, with more than $100 million in payouts since opening. 
Whether you're a classic slots fan or looking for something new and exciting, they've got you covered. You can grab a stool and try your luck with their video poker straight from the bar.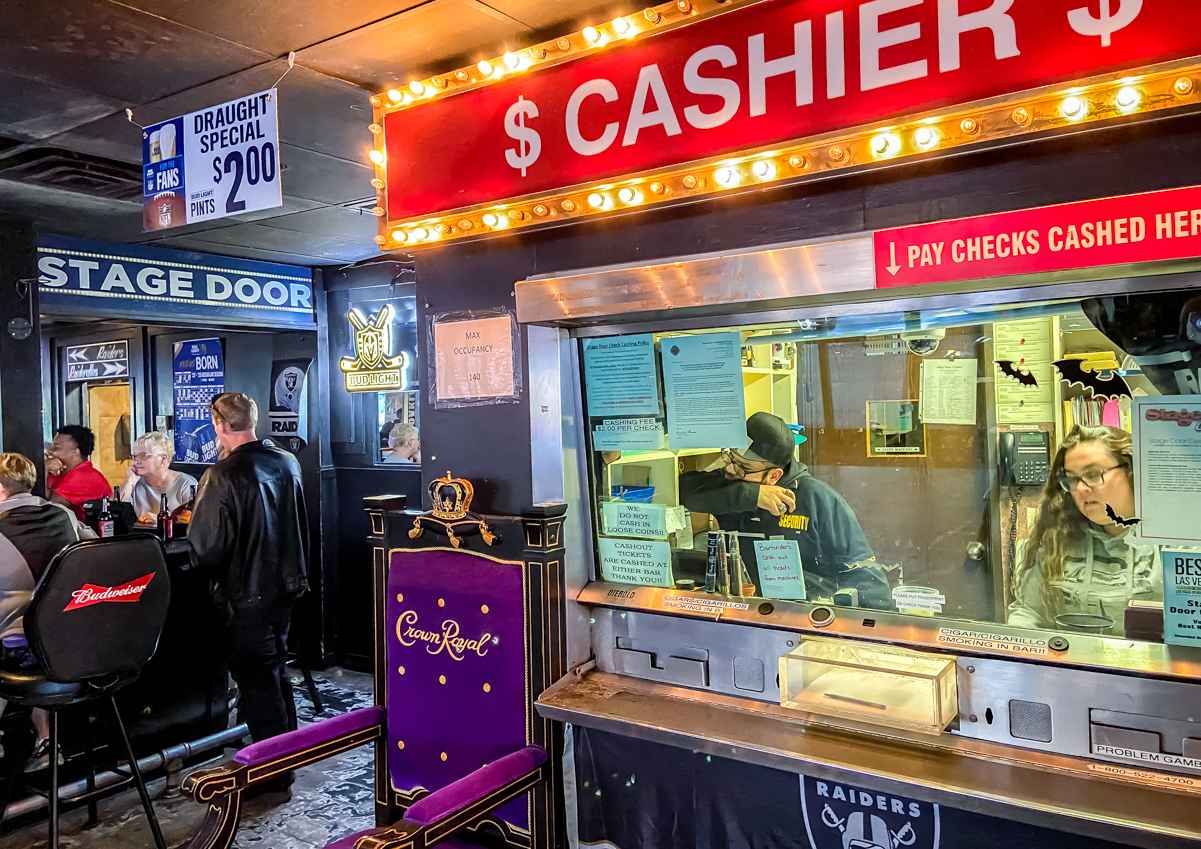 Plus, their slots are available 24/7, so you can play anytime. Some of the most popular among their 40+ collection include: 
Pixie Power
Dumb and Dumber
Betty White
Jurassic Park
Da Vinci Diamonds
Age of Aurora
Stage Door Casino Sports Bar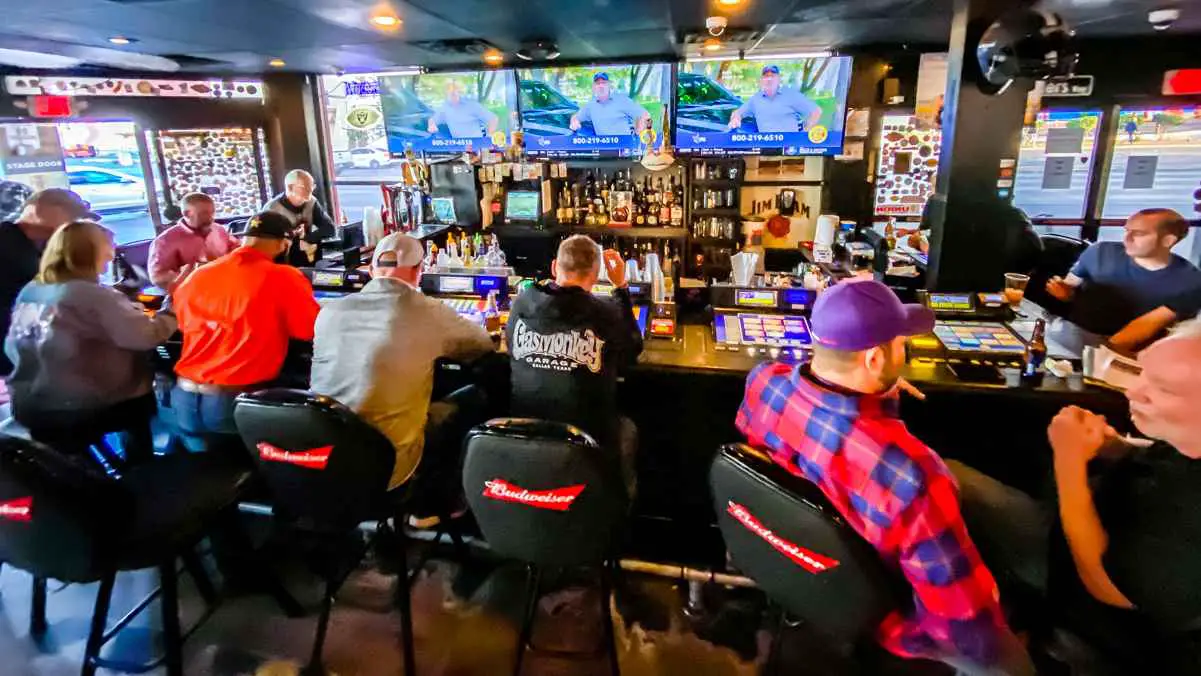 After you've had your fill of slots, the Stage Door Casino sports bar is the perfect place to catch all the biggest games. With multiple TVs, a menu full of food and drinks, and a friendly staff, they're the perfect place to cheer on your favorite team. 
They always have all the major sports playing, so you can be sure to catch your game. Besides, their pre-game parties are all the rage. That's especially true when it comes to home teams like the Las Vegas Raiders or Golden Knights.
Stage Door Casino Liquor Store
The connected Stage Door Casino Liquor Store is also an excellent place to stock up on your favorite drinks to go. Their shelves are stacked with an extensive selection of affordable beer, wine, and spirits. 
Some of their most popular and cheapest drinks include: 
Tequila: Jose Cuervo, Patrón, Clase Azul
Bourbon: Pappy Van Winkle, Woodford, Maker's Mark
Whiskey: Jack Daniels, Jameson, Glenfiddich
Cognac: Hennessy (VSOP, V.S., X.O), Dusse, Courvoisier
Rare Finds: Gran Patrón Burdeos, Don Julio 1942, Blanton's George T. Stagg
Daily promotions include one liter (0.26 gallons) of Smirnoff for $10
Stage Door Convenience Store 
The Stage Door convenience store is right next door to the bar. Because it's open 24 hours a day, you can get what you need any time you need it — like a quick snack, drink, or anything else you may have forgotten.
Plus, it's not your run-of-the-mill store. It won bronze in the 2021 Best of Las Vegas Awards under the Gas Station/Convenience Store category. 
This store offers a wide variety of items, including:
Sundries
Snacks
Fresh Produce
Water
Refreshments
Milk, eggs, and meat
Other essentials 
Inexpensive drinks, cheap food, music, snacks, and tons of atmosphere. Stage Door is a dive bar, a liquor store, a casino, and a convenience store all rolled into one!
RELATED: How Much to Budget for Food in Las Vegas (Average Cost to Eat!)
Reviews of Stage Door Casino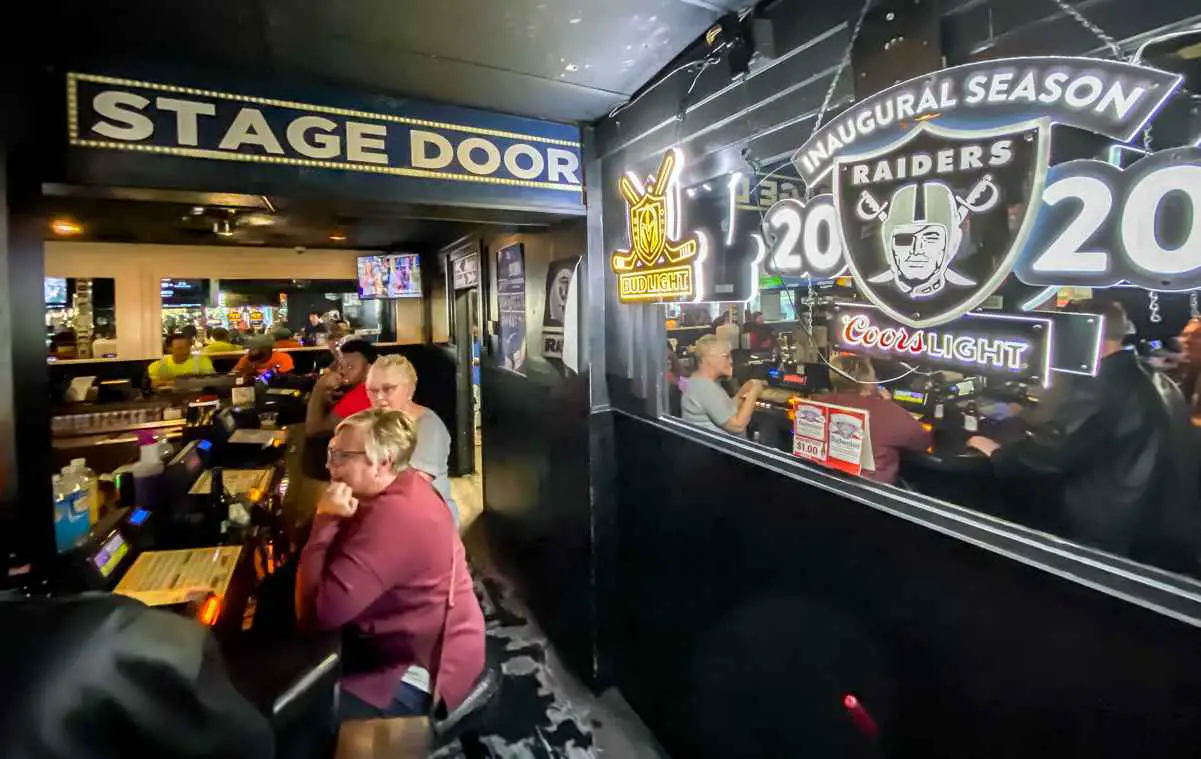 While I myself highly recommend a visit, let's take a look at what some other patrons have to say:
"Where else in Las Vegas can you get 2 large hotdogs and three beers for $7?"
"The store has a good selection of liquor, wine, beer, and groceries…"
"One of my most favorite dive bars in all of Las Vegas"
I actually had a tough time finding a review that had something negative to say, but thanks to the dark reaches of the internet, I found a guy who thought the place was "too ghetto." To each their own. It is, after all, advertised as a dive bar, and if you're only accepting glitz and glamour during your Vegas vacation, I'll agree it's not the place to go.
Conclusion 
The Las Vegas Stage Door Casino is unlike any other dive bar you've probably ever been to. It has a retro-future aesthetic, complete with that all-important casino ambiance and drinks that cost as little as 1 dollar. Unlike many other Las Vegas establishments, the vibe doesn't feel intimidating at all. 
And if you get hungry, they have award-winning hotdogs, a convenience store, and a liquor store right next door. 
Don't forget to grab a photo or two while you're there.