Things to Do in Las Vegas With Kids (44 Vegas Family Attractions)
(This article may contain affiliate links. If you click through and make a purchase, we will receive a small commission at no additional cost to you. )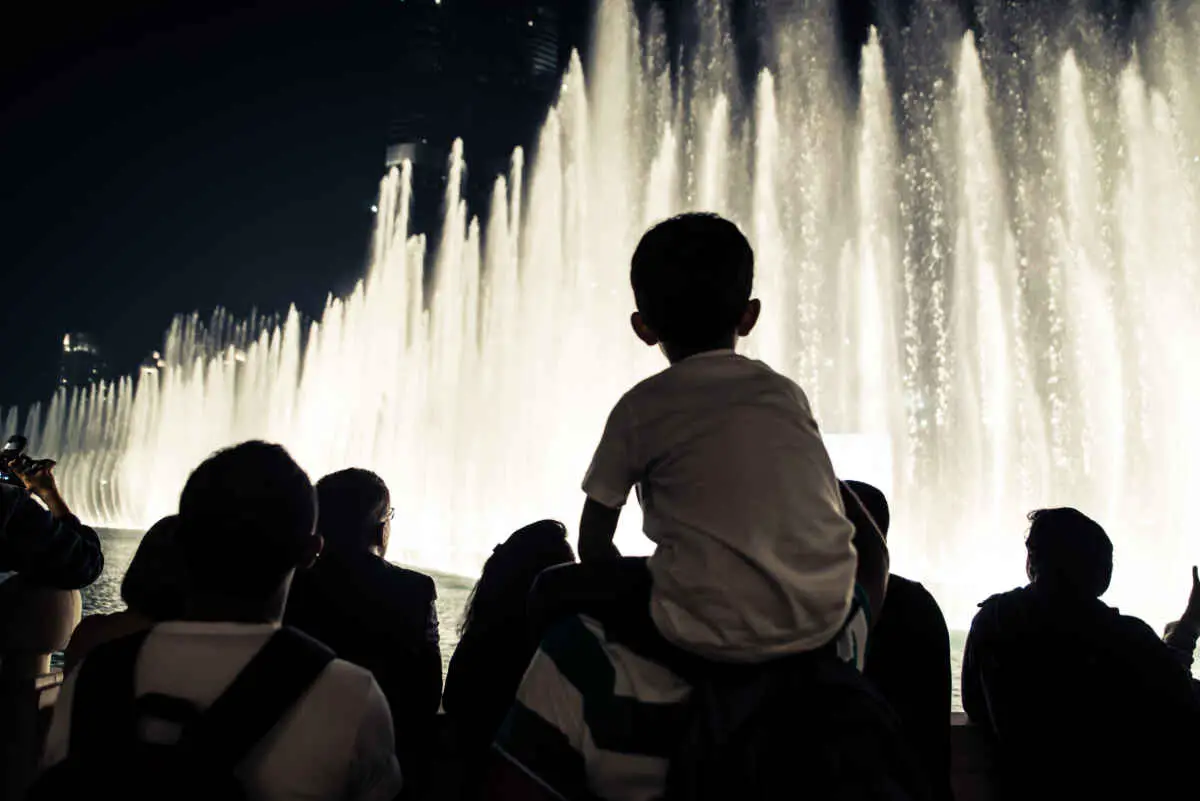 Once upon a time, Las Vegas was known only as a playground for adults and was not the most family-friendly of destinations. In the last couple of decades, however, Las Vegas has transformed itself into a playground for people of all ages.
Everyone knows that there's no shortage of fun activities in Vegas, but a lesser-known fact is that there are plenty of amazing things to do in Las Vegas for kids and families.
What things can kids and families do in Las Vegas? There are plenty of museums, attractions, shows, and other family things to do in Vegas. Here are 44 of the best things to do in Las Vegas with kids:
* Click a link above to jump down to that section of the article.
If you are planning a vacation with the family to Las Vegas but just aren't sure of finding enough to do for the kiddos, have no fear!
Or, if you just want to find out what to do that doesn't involve gambling and other Vegas things for the 21+ crowd, we've got you covered. I've got some helpful hints on how you can do Sin City, minus the sin.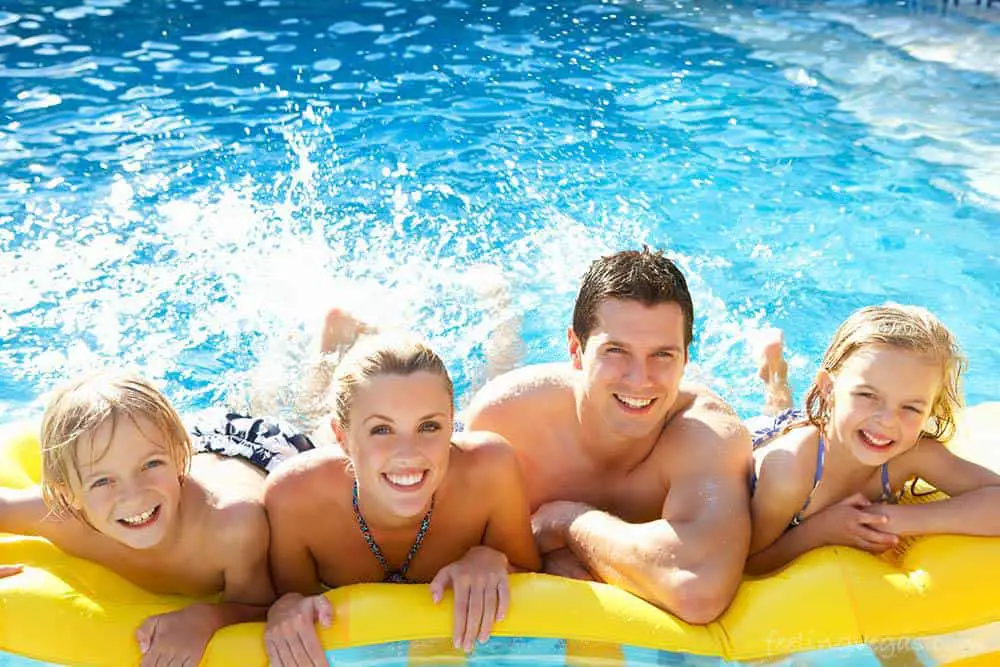 Also, I recommend taking a look at the Las Vegas Sightseeing Pass. It has over 30 activities and activities you can do in Vegas for a single discounted price.
It's a big list, so let's get started!
Things to Do in Las Vegas For Kids (For Thrill Seekers…)
Even children love a good adrenaline rush. Vegas is home to plenty of places that offer an action-packed outing to entertain the whole family. These hot spots aren't for those that like to sit back and relax.
Keep in mind that some of these might have height and or weight requirements and might not be ideal for the littlest members of the gang.
1. High Roller Observation Wheel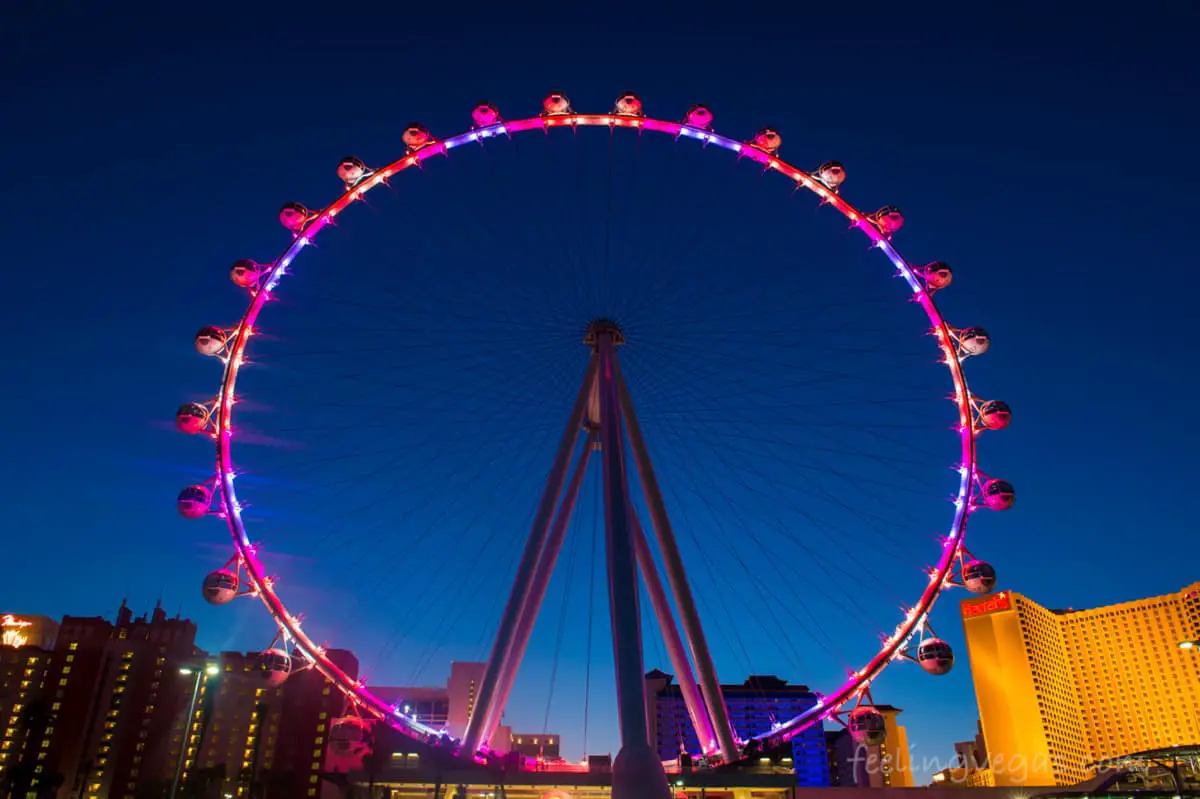 Catch a view of the entire city and the unique surrounding landscape from 550 feet in the sky. While enjoying the 30 minutes that it takes to make one complete rotation, you can relax inside one of the cabins and lounge in the very comfy seating. Get tickets and more info here.
2. Fly LINQ Zipline
The High Roller isn't the only way to see the city from above. Serious thrill-seekers can see the city lights while soaring through the sky via zipline. This is the only zipline directly on the Las Vegas Strip, making it the ride of a lifetime. Discount tickets available here.
Check out all the Best Las Vegas Ziplines in our article here.
3. Las Vegas Indoor Skydiving
Have all the fun without the danger! Las Vegas Indoor Skydiving offers just that. They also have all kinds of different packages that you can customize to fit your family's activity needs.
Anyone over 40 pounds can learn to fly at LVIS, so this is an ideal activity if you have a family with a wide age range. For more info on indoor skydiving in Vegas check out our article here.
4. The Ultimate 4D Experience at Excalibur
The big screen at Excalibur features 4D movies with in-seat special effects, making for a full-body experience. There are shows all day long, and with the shorter film times, this is a perfect way to include an indoor break from the hot Vegas weather.
If it turns out that the whole party enjoys the show, you can even pick up a package that allows you multiple viewings. Find tickets and showtimes here.
5. The STRAT Observation Deck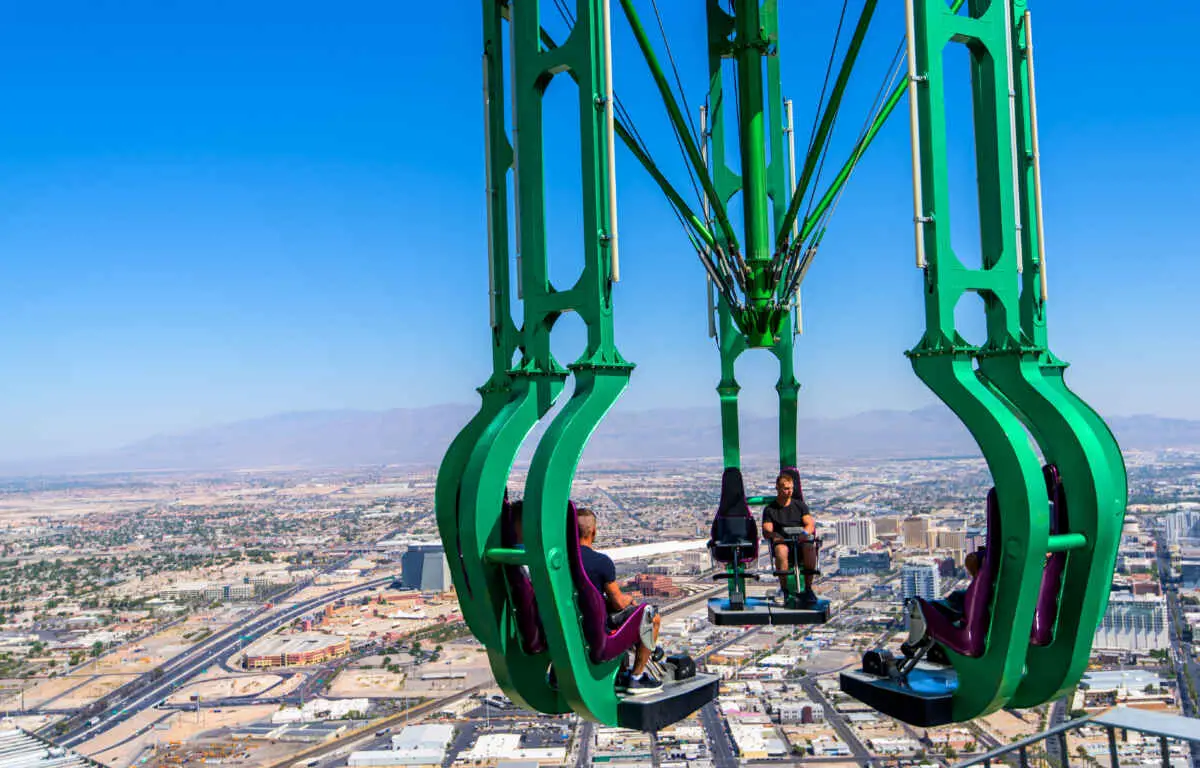 If heights don't bother you, take an elevator all the way to the top of The STRAT Tower, a total of 1,149 feet in the sky. You can venture out onto the Skypod Observation Deck and feel like you're literally on top of the world.
You can just enjoy a great view OR The STRAT has a few rides in store at the top for anyone that wants to get a bit more radical.
Anyone 14 and older (with parental permission if under 18) can jump from The STRAT at 850 feet up. This "controlled descent" can be viewed by the whole family but done by only the brave… or crazy!
As if The STRAT Tower isn't exciting enough, you can level up on your adventure by skyrocketing into the air on the last 160 feet of the tower. Flying high at 45 MPH, riders will at least be strapped in while they're catching these scenic views… as long as you can keep your eyes open.
Picture yourself on a giant teeter-totter at the edge of The STRAT, waiting for your turn to fall off the edge. You can hear the other riders' screams as they take the plunge, but as their turn comes to an end, you know yours is next. It's the ultimate ride for any adrenaline junky.
It's like the Tilt-o-Whirl, only 800 feet in the air. You'll actually be at the same height as anyone taking a helicopter tour! Anyone over 52" can ride and get a perfect hands-on science lesson in centrifugal force.
RELATED: How Much Does It Cost To Go on Top of The Stratosphere?
6. Gene Woods Racing Experience
No family vacay is complete without some sort of go-karting experience. As with most things in Vegas, these go-karts are a souped-up version of the traditional models. Gene Wood's racing carries the title of "Las Vegas' Best High Performance Go Kart Attraction."
And, for your convenience, there are two off-Strip locations, so you can choose whichever one fits best into your plans. There's a good chance to find discounted tickets on Groupon.
7. ATV Hidden Valley
Part of the Vegas mystique is that it's a giant city located right in the middle of the desert. An ATV tour allows you to get out and roam the Mojave Desert on four wheels, with a knowledgeable guide.
For six hours, riders get to see parts of the desert that can only be reached by ATV. But, be sure to book ahead, these tours fill up rather quickly.
8. AdventureDome Theme Park
AdventureDome is, well, adventure in a dome. Under the big top of Circus Circus at the north end of the Vegas Strip (you can download a free map of the Strip on our site here), you'll find five acres of indoor amusement park fun, ready for you and your family.
Here you'll find all the rides and games you need to keep your family busy for as long as you want (website).
Things to Do With Kids in Vegas (For Sightseers…)
Las Vegas is full of sights to see, there's no doubt about that. But, as you can imagine, not all of the sights are ones that you'll want your children or family to see. These options are great for all audiences, young and old.
9. Shark Reef Aquarium at Mandalay Bay
In typical Vegas style, this is a large-and-in-charge exhibit, packed into the convenience of a hotel along the Strip. This 1.3 million gallon aquarium is home to over 2,000 animals, including a few endangered species that you won't be able to see anywhere else.
Top that off with 30 huge sharks of different species and walkthrough aquarium tunnels, and you've just had an experience you'll never forget. There are also several touch pools and even interactive experiences for anyone interested in actually diving with or feeding the sharks! Find hours, prices, and tickets here.
10. Eiffel Tower Experience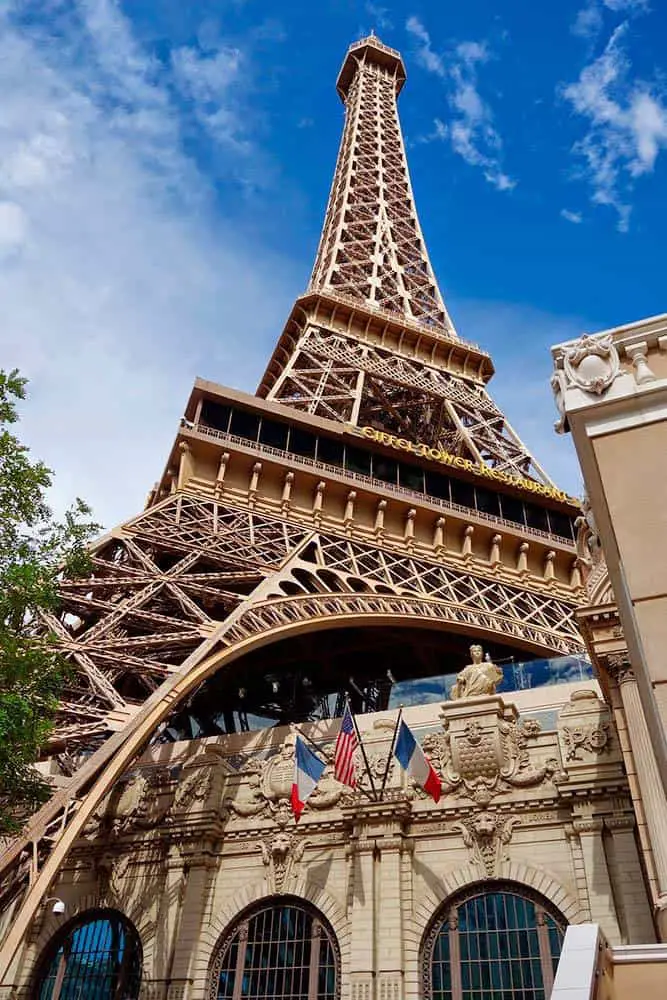 This viewing deck is only 460 ft. high, so it's perfect for anyone that wants a scenic view of the Strip without extreme heights. If you go after the sun sets, you'll be able to catch one of the light shows that happen every 30 minutes. This one can get sold out so be sure to book ahead of time.
11. Hoover Dam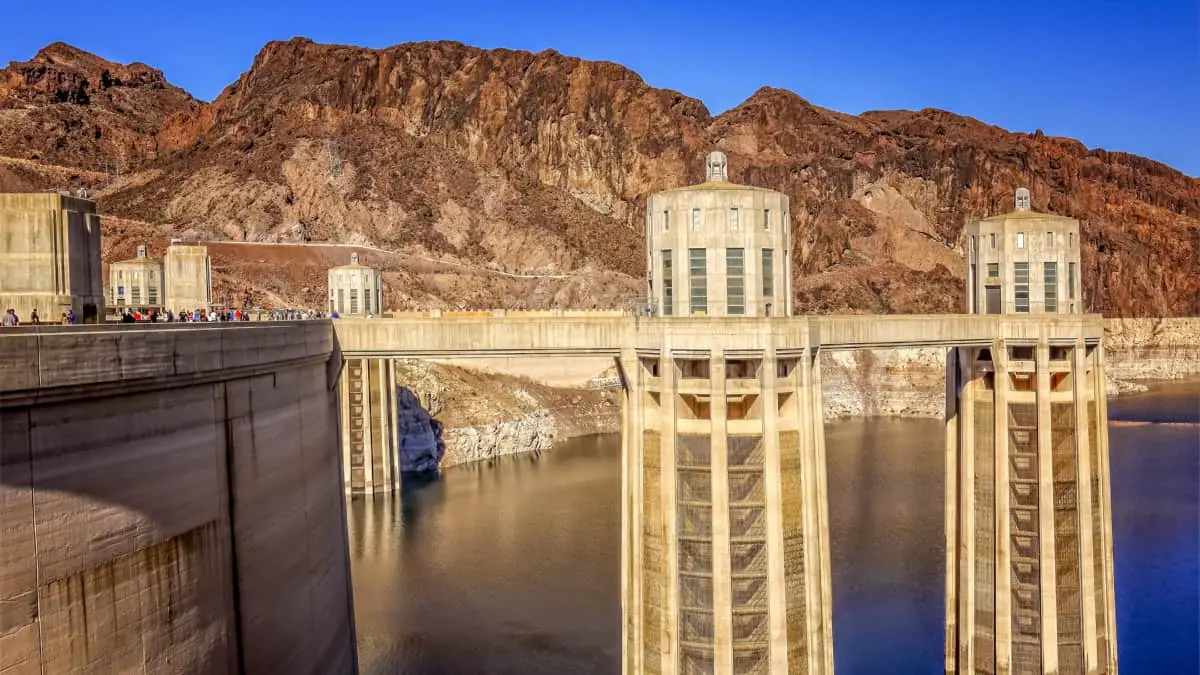 This is one I might keep on the list for "thrill-seekers" since it involves some pretty serious heights. The dam is just a short trip from The Strip, but the tours are a perfect way to venture out of the city for views of the Hoover Dam and Lake Mead that are unparalleled.
And, not only is Hoover Dam a spectacle to be seen, but it's also a place that has quite a rich history, all of which you can learn about with a tour guide, or by asking one of the staffers on site. Find out the best ways to get to Hoover Dam in our article here.
12. Container Park
Downtown Las Vegas is now home to some unique restaurants and shops, thanks to this fairly new addition. The entire open-air shopping center is built out of recycled shipping containers! There's also a treehouse and park that's great for any children that need to have a little freedom to let some energy out.
Parking is affordable, and it's free to just roam and check out the landscape. Plus during the evening hours, there is a giant praying mantis out front that talks to you and shoots fire out of its antennae. The kids will love it!
13. Fountains of Bellagio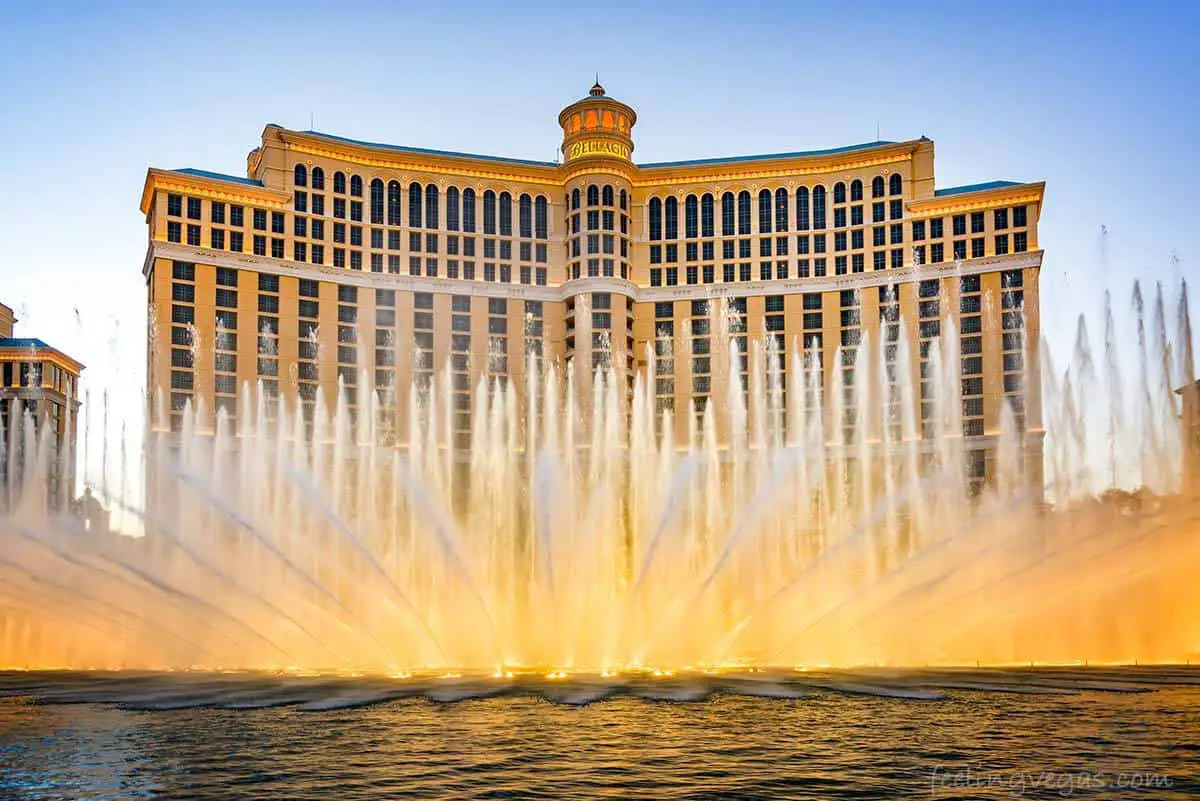 The iconic Fountains of Bellagio have been a part of many movies, so they're kind of a must-see. And, bonus points for being another free option! The fountain show runs almost every 30 minutes during the week, and even more frequently on weekends and evenings.
The fountains are beautiful during the day, but even better at night. Check out the Bellagio Fountain schedule and a complete song list here.
14. Gondola Rides at The Venetian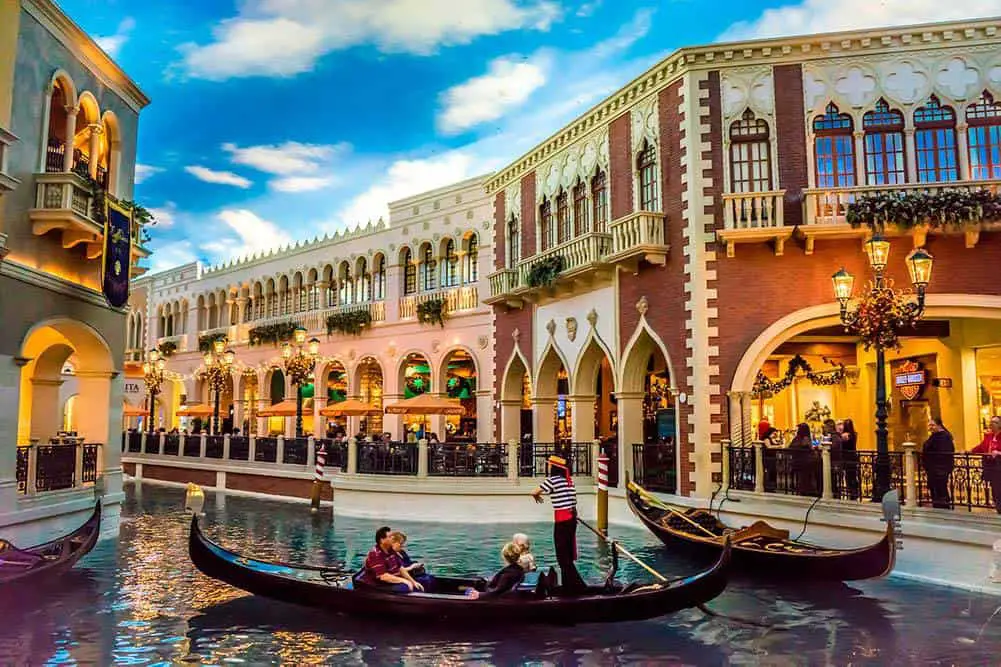 This is just about as close to Venice as some of us might ever get, and the gondola rides are the real deal. While you're floating down the Grand Canal, you'll catch a glimpse of cafes, bridges, and storefronts that make you feel like you're actually in Italy, not in the middle of a casino in the desert.
If you can, try to visit this attraction to catch The Gondolier March, at 9:50 am or 4:20 pm. You'll see all of The Venetian gondoliers as they make their way to the gondolas while singing. It's quite cool!
15. Erupting Volcano at The Mirage
This is about as close to a volcano as anyone should ever get! Every night, on the hour, starting at 6:00, you'll be able to catch the explosive eruption right outside the main entrance to The Mirage Hotel and Casino. It's quite a spectacle, but also, it's free!
Things to Do in Las Vegas For Kids (For History Buffs…)
It might not seem like the best place for a history lesson, but where else can you visit a medieval castle, see a piece of the Roman Empire, and a few of your favorite celebs (cast in wax, of course) all in one day?! Las Vegas, of course! And what a great way to include a little education into the family vacation.
16. Tournament of Kings
Both a show and a meal, all rolled into one. This combo is always ideal when traveling with children. The entertainment features knights in shining armor and fair maidens of the land, and actual horses. And, as if that wasn't enough, you'll be served a three-course meal.
Sidenote… this is an all-in experience, and the meal is very authentic to medieval times, so there's no silverware. While it's a little different for grown-ups to have to eat with their hands, the kids will be fully engaged.
And, without silverware, nobody can get inspired by the sword fighting and try to do it with the silverware…maybe that's just a bonus in my family! Some good discounts on tickets can be found here.
17. Cirque du Soleil's "Beatles LOVE"
This is a true one-of-a-kind, Vegas original. It's so much more than just dancers and Beatles' songs. The Grammy Award-winning show literally has artists swinging from the rafters. Well, they're trained aerialists and acrobats, so not just regular people, but it's still incredibly exciting to watch.
The costumes, songs, and choreography all work together seamlessly for the show of a lifetime. Even the younger generation can appreciate the sounds of The Beatles. Showtimes and tickets here.
18. Madame Tussaud's Wax Museum
You can catch so many of your favorite celebrities and historical figures right here in Madame Tussaud's Wax Museum. Introduce the family to Beyonce and Muhammad Ali. Even take a selfie with Tupac, Britney Spears, or Brad Pitt.
The whole museum is interactive, so you're free to take a photograph with anyone you "meet." There's plenty of pop culture for the young people to enjoy, while they get their selfies on. Visit Madame Tussaud's website here.
19. Titanic: The Artifact Exhibit
Near, far, wherever you are…even in Las Vegas, you can learn about the Titanic. And, see actual artifacts from this major event in history, up close and personal. Upon entry, you'll find yourself inside of a full-scale, recreation of the Grand Staircase. The pieces on display will take you back and allow you to experience the "floating palace" firsthand. Find out more and get tickets here.
RELATED: 14 Best Family Pools in Las Vegas (Kid-Friendly!)
20. Fremont Street Experience
This is the ultimate place to see all of the neon lights that make you think of old-school Vegas. There's plenty to do and see for the entire family on this pedestrian street, and just walking up and down the street is free. The bright lights of Fremont Street also make the perfect backdrop for family photos. And, it's home to "Vegas Vic," the giant cowboy that lives outside of The Pioneer Club.
A word of warning: There may be some things happening on this street in regards to the street performers you won't want your kids to see. If that's the case, try visiting during the middle of the day to avoid some of the debauchery.
21. Neon Museum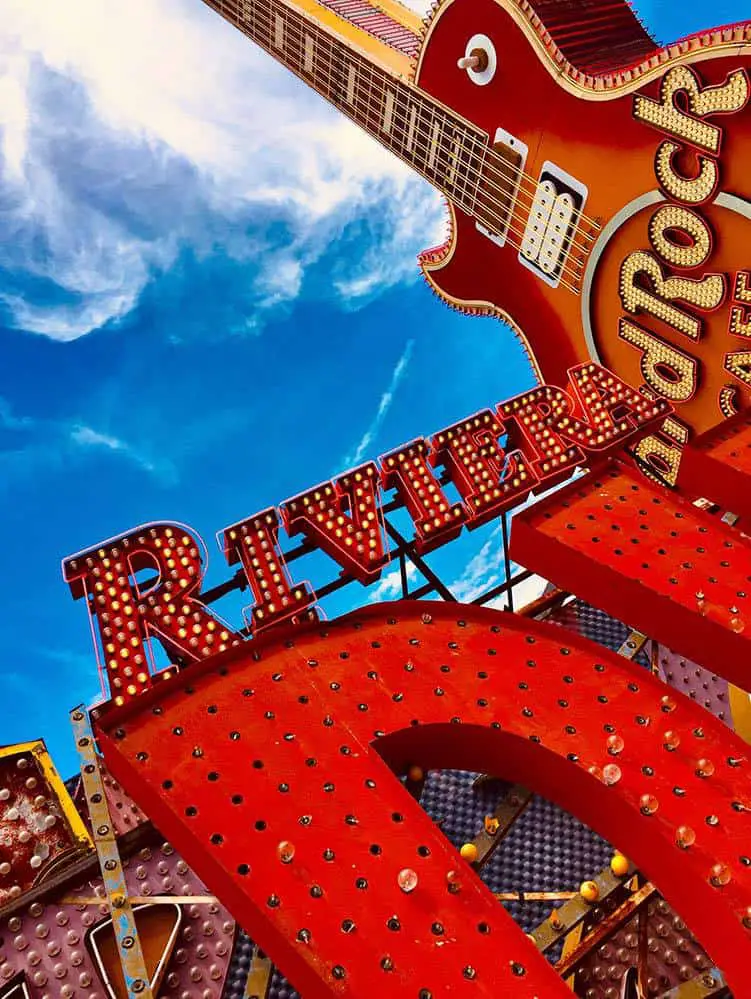 Where old neon signs go to live on. This is a museum dedicated to the history of Las Vegas, including the classic neon signs. The visitors center is in the mid-century modern La Concha hotel, which is a historic location in and of itself. You'll be escorted by a Museum Interpreter, back in time as you explore the outdoor sign boneyard with your very own eyes.
If you're wondering if it's better to visit the Neon Museum by day or by night? You can find out the pluses and minuses of each in our article here.
22. Caesars Palace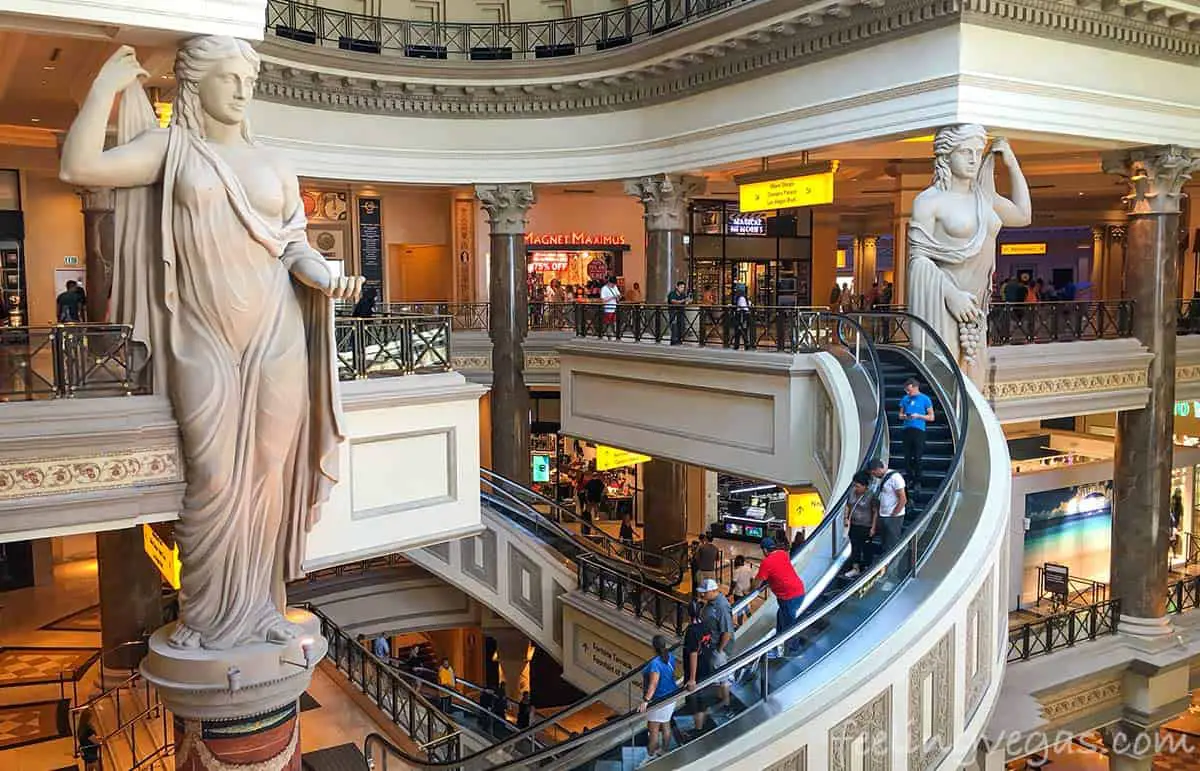 Just stepping inside the doors of Caesars Palace will put you in Ancient Rome. The statues, the architecture, and even the staff are all there to make the experience as authentic as possible, with modern amenities such as restaurants and shops, of course. But, just walking through the hotel and casino is free.
While you're there check out the Caesars Palace Forum Shops. Fun for the whole family, the shops feature roman architecture, a giant aquarium, and the Fall of Atlantis animatronics show. The best part is that the show and aquarium are free.
Family Things to Do in Las Vegas With a Kid (For Movers & Shakers…)
Some like vacations to be full of rest and relaxation, while others need to get up and go. Being an observer isn't for everyone; some need to be on the move and part of the action, and these options are for those family members.
23. Springs Preserve
Located right in the city is this 180-acre park that's full of room to hike, bike, and learn. Springs Preserve hosts exciting events that focus on science and conservation, delivering a nice break from the Strip for anyone that wants it.
This is an excellent option for families with children that need room to run. Check out the Springs Preserve website.
24. Topgolf
Here, you can play golf without having to lug your bag around the course or spend a small fortune on a golf outfit. You get to practice your swing on a climate-controlled platform, while you drive the ball into a giant, netted area. And, there's someone to bring you snacks and drinks.
Since you're in your own space, you don't have to worry about children getting too loud, that's something I always appreciate.
But Topgolf is a whole lot more than just a driving range. They host birthday parties, have a restaurant, a swimming pool, and offer golf clinics for kids. Check out TopGolf here.
25. M&M's Store
Everyone loves M&M's! So grab the kids and head on over to the M&M's Store on the Las Vegas Strip. The store features M&M exhibits, collectibles, and plenty of M&M candies. As an added bonus, the M&M's Store is right next door to the Coca Cola Store and across the street from Hershey's Chocolate World! Find out all about the M&M's Store here.
26. Brooklyn Bowl at LINQ
An offshoot of the original Brooklyn Bowl, this one is located inside a Vegas hotel far far away from New York. You can call ahead to reserve one of over 30 lanes for you and the family. They also have a full menu of delicious comfort food, including the fan-favorite, Rock, and Roll Fries. One of the most Rockin bowling alleys you've ever seen! Find out more here.
27. Cowabunga Canyon
Pack your swimsuits and take the plunge at this Vegas water park. It's the perfect way to cool down when the temperature is hot in Vegas. Lots of families visit when the weather's warm and I recommend getting there right when it opens to experience all the park has to offer.
It also scores mega bonus points for being clean and having great food to keep you fueled throughout the day. Fun for the kids (adult kids too)! Find more info on their website here.
28. Cowabunga Bay
What's better than one Vegas waterpark? How about two Las Vegas waterparks! Cowabunga Bay is another nearby water park located in Henderson (east side of the valley), with water slides framed by the desert mountains.
There are endless options, activities, and water slides to choose from, so there's no doubt there's something here that everyone can enjoy. And, as if one lazy river wasn't enough, this place has a wave pool, a giant splash pad, and well over a dozen slides. Visit their website here. A great place to cool off and chill!
29. Discovery Children's Museum
This entire museum is designed for kids to wander through while they experience hands-on learning. While many museums have a lot of no-touching rules, this place wants you to touch it all. Kids can fully engage all of their senses as they learn through play. You'll be able to spend hours here, without hearing anyone saying, "I'm bored." Their website is here.
Vegas Shows & Attractions For Kids (For Vegas Purists…)
There are some things that you just have to do when you're in Vegas. These attractions are some of those, the things that are true Vegas originals. But, at the same time, they can be appreciated by a wide age range, so they're great spots for families.
30. Fun Dungeon at Excalibur
The Fun Dungeon at Excalibur is a popular attraction for children visiting Las Vegas. It's an arcade-style game room that features over 200 games, including classic arcade games such as Pac-Man and modern favorites like Guitar Hero. The Fun Dungeon also has carnival-style games, such as skeeball and basketball, where kids can win prizes.
The Fun Dungeon is located inside the Excalibur hotel and casino, which is designed to look like a medieval castle. This immersive environment adds to the overall experience and can make kids feel like they're on a real-life adventure.
Overall, the Fun Dungeon at Excalibur is an exciting destination for kids in Vegas. With a wide variety of games and activities, there's something for everyone to enjoy.
31. Blue Man Group
"I didn't like that show," said no one ever, after seeing the Blue Man Group. This Las Vegas staple has been a long-time favorite for audiences of all ages. The entire show is dedicated to all of the senses, with music, color, and texture all around. The performance art merges music, painting, and comedy, from artists that are….well….you know, blue!
We tell you how to find the best seats for the Blue Man Group in our article here.
32. David Copperfield
You can't go to Vegas without experiencing some sort of magic show, and David Copperfield is the quintessential magician. His tricks never cease to amaze, and audiences are always on the edge of their seats, wondering, "how did he do that?!"
Often referred to as "The Greatest Illusionist of our Time," David Copperfield puts on a great show for the whole family. Check here for showtimes and tickets.
33. Penn & Teller
Another Vegas original, Penn and Teller, have perfected the comedy and magic combo. Their show is full of surprises and laughs. Their long-running show has a lot of fans that keep coming back, time, and time again.
Part of the fun is that Teller, even with a name like that, doesn't actually say anything. He doesn't speak the entire show, which is just another level of fun that adds to the overall appeal of the show. Find tickets here.
RELATED: Find all of our kid and family-friendly Las Vegas articles here.
34. Popovich Comedy Pet Theater
The show is pretty great on its own since it features animals. But these aren't just any animals. They were all rescued from different animal shelters. It doesn't really get any cuter than that.
Each one of these animals, from cats and dogs to parrots and a mini horse, was given a second chance, and a starring role in this original show. Probably the most popular animal show in Las Vegas. Find showtimes and tickets here.
35. Cirque du Soleil's "Mystere"
The aesthetics of this show will have everyone in the whole family fully enthralled. There are jokes, special effects, dancing, and flying through the air, as the show takes everyone on an adventurous tour of the imagination.
One of the most popular production-quality shows in Vegas. And this one's appropriate for the whole family. Look for discounted tickets and showtime information here.
36. Watch a Golden Knights Hockey Game
Something about the weather in Vegas makes a hockey game sound extra appealing. So, take a break from the heat and cheer on the Las Vegas Golden Knights, the city's very own NHL team.
You won't want to wear your stocking cap outside but be sure to pack one to put on once you get in the arena, because it's nice and chilly in there. You can find the Golden Knights schedule and tickets here at ticketmaster.
37. Terry Fator Show
Be prepared for laughs; this guy will have you cracking up. Or, this guy and his friends, I should say. Terry has several puppets that join him on stage during his comedy and ventriloquist show.
Terry Fator won "America's Got Talent" and was given a show in Las Vegas and hasn't looked back since. Check showtimes and ticket prices here.
38. Carnival Midway
Inside Circus Circus, you'll find this gem that's home to a carnival and circus. The carnival midway has new arcade games and old carnival games, and one of the most affordable places to grab a snack.
Also, starting at 11:30 every day, you'll be able to see live circus acts performed at The Midway.
39. Battista's Hole in the Wall
This restaurant is located slightly off the Strip and has been around for years. They serve delicious, traditional Italian dishes to guests while they sit in burgundy booths, under hundreds of photos of those that have visited the restaurant.
The authentic trattoria vibe has brought in famous clientele for a long time and is a local favorite that's home to a lot of Vegas history. Visit their website here.
40. Catch a Raiders Game
Vegas is now home to an NFL team, the Las Vegas Raiders! This sporting activity is something that families are coming to from miles around to enjoy. Be a part of sports history by checking out the brand new Allegiant Stadium and watching the Raiders football team play in their new home. The stadium website is here.
41. Eat at a Buffet
No trip to Vegas is complete unless you've eaten at a buffet. And, these are the ideal spot for families to dine. Not only can you sit back and relax, and eat at your own pace, let your food digest, and then get up for round two, but there's actually something for everyone.
Every single human in the entire family will, without question, find something to eat at a Las Vegas buffet. Your hotel will most likely have a buffet, but there are plenty all around town if you want to venture out. Here's a list of all of the casino buffets currently open in Las Vegas.
42. Glass Ceiling at the Bellagio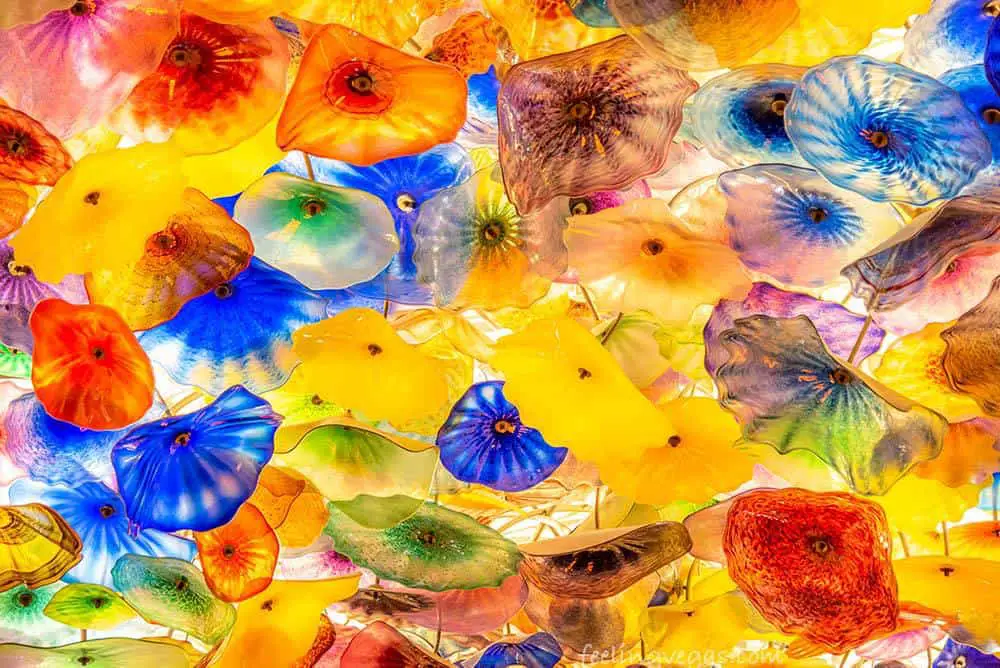 Just inside the Bellagio Hotel's lobby, you'll be able to see some of the most incredible artwork done by glassworks artist Dale Chihuly. One of the most well-known, modern-day artists, Chihuly is known for his hand-blown glass sculptures.
When you enter the lobby, just look up at the ceiling. It's covered with over 2,000 of Chihuly's original glass flowers. Beautiful!
43. Conservatory & Botanical Gardens at the Bellagio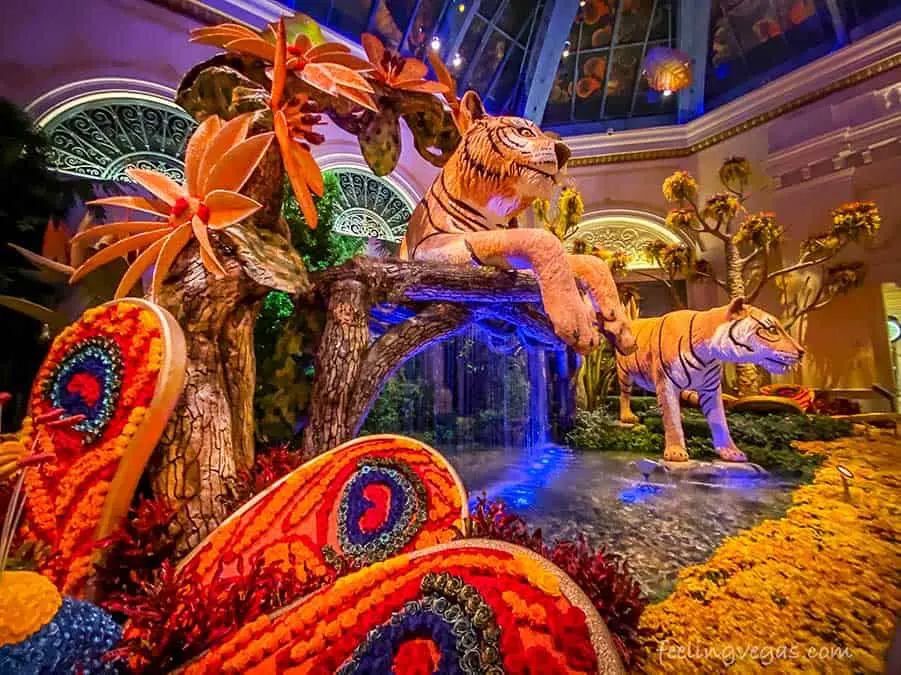 Just a few steps away from the Bellagio Hotel lobby, you'll find the entrance to the Conservatory & Botanical Gardens (it's free to enter). Here you'll find an amazing seasonal display made entirely out of flowers.
They create a different magical display for each one of the four seasons. Your senses will be overwhelmed…in a good way of course!
44. Pinball Hall of Fame
No less magical but a whole lot noisier is the Pinball Hall of Fame. This "living" museum is full of dozens of classic and fully restored pinball machines that you can actually play. The Pinball Hall of Fame is free to enter, but you'd better bring a pocket full of quarters!
(Looking for more family-friendly things to do in Vegas? Find the best movie theaters in Las Vegas. These aren't your average cinemas!)
Final Thoughts
So as you can see there is no shortage of things to do in Vegas with kids. No matter what the age, there are plenty of family things to do in Las Vegas.
Las Vegas has become a playground destination full of kid and family-friendly activities.
More About Las Vegas With Kids
If you found this article helpful, please SAVE THIS PIN to your Travel boards on Pinterest 😎
Our Most Popular Las Vegas Guides
– Where to Park for Free on the Las Vegas Strip – Complete List and Map
– How to Get Around Las Vegas Without a Car [Ultimate Guide]
– Is Las Vegas Safe at Night: The Complete Guide
– Tipping Etiquette in Las Vegas: Ultimate Vegas Tip Guide
– How Long Should You Plan on Staying in Las Vegas – The Ultimate Guide