14 Family-Friendly Hotels in Las Vegas (Off The Strip)
(This article may contain affiliate links. If you click through and make a purchase, we will receive a small commission at no additional cost to you. )
Las Vegas is home to many family-friendly hotels located away from the Strip, which can provide accommodations more geared for parents and children. These hotels offer plenty of kid-friendly things to do away from some of the more questionable adult activities found on the Strip.
Some off-Strip Las Vegas resorts and hotels, however, are more family-friendly than others. The best hotels include, or are located near, family-targeted venues that provide excellent shopping, entertainment, recreation, and dining opportunities for the whole household.
To that end, I've created a list of the best family-friendly hotels in Las Vegas off the Strip (in alphabetical order):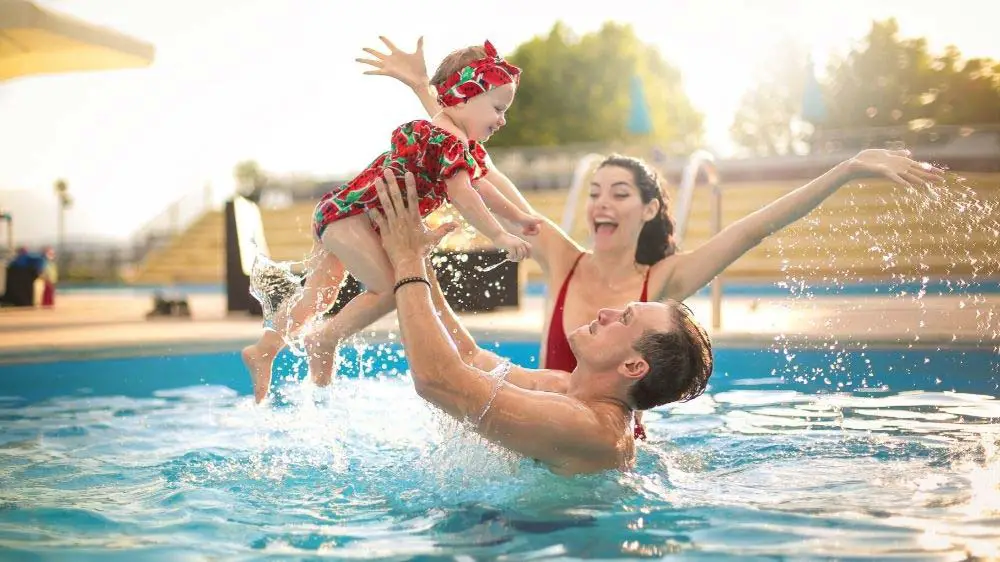 Aliante Casino, Hotel & Spa
The rooms at Aliante Casino, Hotel & Spa are spacious and perfect for families looking to stay in the North Las Vegas area. Though the pool is simple and elegant, it is very family-friendly. There are plenty of lounge chairs, nestled in a majestic oasis, surrounding the pool where you can relax in the water or soak up some sun.
There are multiple restaurants at the hotel, including everything from family favorite national chains, to more specialized dining options. Families can also enjoy the on-site movie theater.
This hotel is located in North Las Vegas, near many attractions, including outdoor recreation areas, such as Floyd Lamb Park and Craig Ranch Regional Park. The resort is also close to Las Vegas Motor Speedway and the Aliante Golf Course. If you don't mind taking a short drive, head south a little to the Las Vegas Museum of Natural History.
Boulder Station Hotel and Casino
Boulder Station Hotel and Casino provides families with modern comfort at an affordable price. This resort has many amenities families love, including an 11-screen movie theater, an arcade, and a supervised kids play area.
The pool is warm and inviting, with loungers and a no-fuss atmosphere, it's perfect for cooling off and splashing around. In addition, Boulder Station is home to many top-rated restaurants, including everything from Mexican to sizzling steaks and formal dining to casual dining options.
Cancun Resort Las Vegas
The Cancun Resort Las Vegas is a kid friendly Mayan-themed resort just south of the Las Vegas Strip. As with most family-friendly resorts, the pool area is the focus of the hotel. The two pools at this resort have a large Mayan temple standing tall in the middle, along with a waterfall and four water slides.
On-site activities include football, billiards, table tennis, and video games. Rooms are apartment-style with full and partial kitchens, offering families all the comforts of home while on vacation.
There are several dining options available at the resort itself, plus there are many more within a short drive to nearby shopping venues and along the Strip.
Desert Rose Resort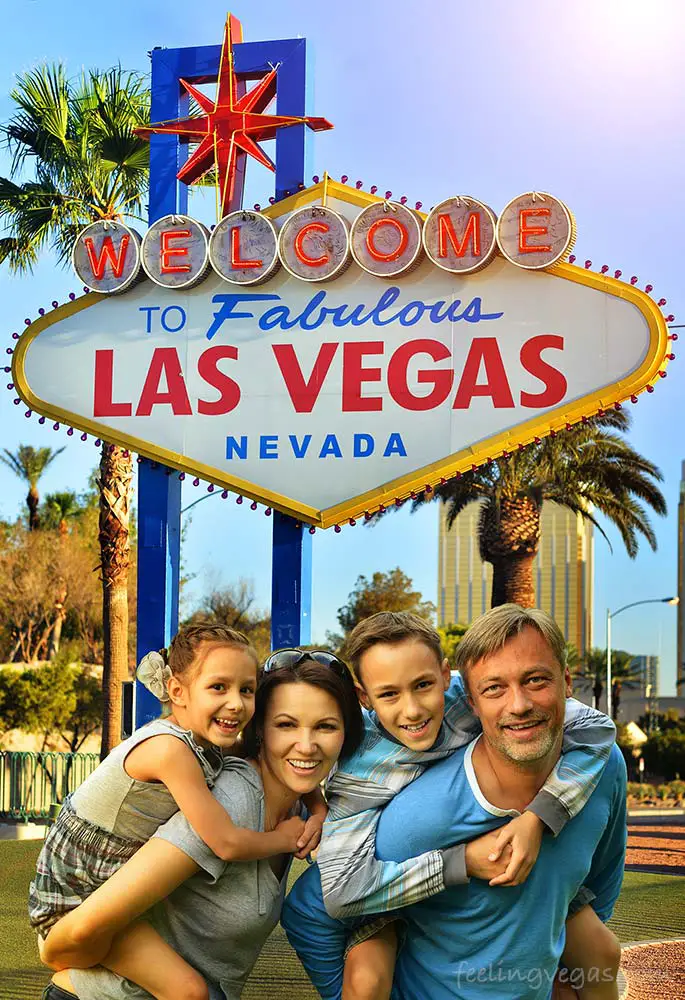 The Desert Rose Resort is perfect for families wanting a simple hotel experience with few amenities because their plans include spending most of their time nearby on the Las Vegas Strip.
Rooms are one and two-bedroom condo-style suites with fully equipped kitchens, living and dining areas. The pool is simple but provides a quiet place to cool off and relax.
Green Valley Ranch Resort & Spa
Located a bit further away from the Las Vegas Strip than most other hotels in the area, Green Valley Ranch Resort & Spa offers families a rewarding experience in a beautiful setting. One of the most extraordinary things about this resort is the child-friendly pool environment, complete with sandy bottom beach-entry pool. The kids will screech as they run into the water because they feel like they are at the beach!
In addition, there is an assortment of on-site choices for dinner, including formal steakhouse dining, casual restaurants, quick-service options, and The Bake Shop, which is a must if you have a sweet tooth!
Kids will love spending time at Kids Quest, an on-site service where the kids can enjoy supervised play with other children while parents enjoy exploring the resort.
Cyber Quest provides fun for the entire family in an arcade setting, where kids can win prizes. Green Valley Ranch Resort & Spa is also home to a multi-screen movie theater.
Additionally, this resort is located in Green Valley Ranch, which has plenty of family-friendly shopping, dining, and entertainment options nearby.
JW Marriott Las Vegas Resort and Spa
Another popular place for families to stay off the Las Vegas Strip is the JW Marriott Las Vegas Resort and Spa. This resort offers guests an isolated oasis filled with many things for families to enjoy together.
This resort may be a luxurious experience, but it remains a family-friendly hotel experience, especially for families who love spending time at the pool. There are also many restaurants available on-site, including various styles of cuisine plus both formal and casual dining options.
Nearby, in Downtown Summerlin, you will find many shopping, dining, and entertainment options that are perfect for families.
Red Rock Casino, Resort & Spa
Located near Red Rock Canyon, about 25 minutes from the Las Vegas Strip, is the Red Rock Canyon Casino, Resort & Spa. This resort offers everything for families to enjoy, including bowling, arcade games, movies, shopping, and entertainment.
Kids can spend time away from their parents by climbing and sliding all over the play structure at Kids Quest, which provides supervised playtime.
Families can choose from various dining options that include everything from quick eats to formal dining. In addition, the three-acre Backyard Pool offers the perfect area for kids and adults to splash around and keep cool on a warm day. The pool area consists of wading pools, multiple other pools, and a large sprinkler fountain in the main pool.
Nearby, you can enjoy a visit to Red Rock Canyon, which offers many hiking trails for all skill levels. In addition, the Red Rock Canyon Visitors Center provides educational opportunities for families to learn more about the local ecosystem and see some native animals up close.
After spending time at Red Rock Canyon, you'll want to stop at Cactus Joes, a nursery way out in the desert where families will have a blast exploring the large grounds filled with all sorts of cacti and succulents. There is also a labyrinth to navigate, plus bins full of petrified wood and obsidian to dig through.
Sam's Town Hotel & Gambling Hall
Sam's Town Hotel & Gaming Hall is located east of the Las Vegas Strip and is home to family-friendly accommodations, activities, and amenities.
Hotel guests can kick back at the free-style swimming pool and enjoy the aesthetically pleasing scenery. Dining options include quick-service meals, poolside service (provided by TGI Fridays), plus fine and casual dining choices.
In addition, there is an on-site movie theater, arcade, bowling center, and lots of shops for entertainment. Mystic Falls Park at Sam's Town is an indoor garden area that families can explore while listening to the sounds of the nearby waterfall and the soft chirping of birds. At night, Mystic Falls lights up with entertainment and laser shows.
Families who enjoy camping will like the KOA Campground at Sam's Town, located right next door, keeping them close to all the excitement at the resort.
Silverton Casino and Hotel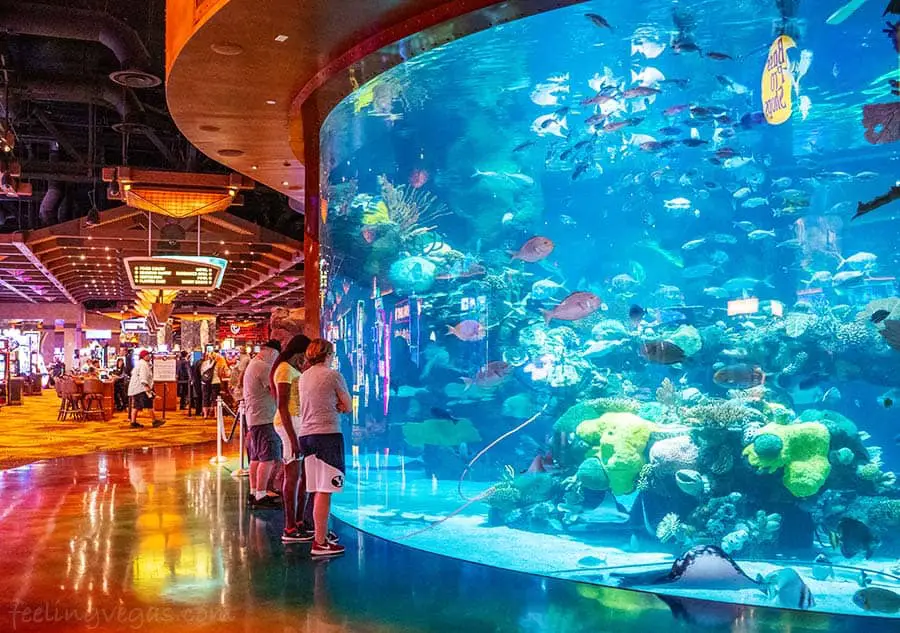 The best thing about staying at the Silverton Casino and Hotel is being able to experience the best free attraction in Las Vegas — the resort's giant saltwater aquarium! Families will enjoy seeing the fish swimming around the 117,000-gallon reef aquarium, which is also home to live, daily mermaid shows.
Dining opportunities for families include everything from upscale restaurants to quick bites and everything in between. The rooms at this resort are spacious and comfortable, perfect for families to relax after a long day exploring.
The Silverton Village provides guests of the hotel access to nearby food and shopping venues. Enjoy some pizza, subs, or specialty coffee drinks available in the village. Additionally, the Silverton Casino and Hotel is located right off I-15, which will quickly get you to the Strip and the many other things to see and do in Las Vegas.
One more thing. The Silverton Casino is right next door to one of the biggest Bass Pro Shops in the world! If you and your family like the outdoors, you'll really enjoy all the exhibits, indoor waterfalls, and the huge freshwater aquarium. The kids will love it!
South Point Hotel, Casino & Spa
Located several miles south of the Las Vegas Strip is South Point Hotel & Casino, which provides families plenty of fun and entertainment all under one roof. This family hotel is home to a 64-lane bowling center, 16-screen movie theater, and an arcade.
The pool area is kid-friendly and includes a freeform pool, a wading pool, and a poolside deli perfect for a quick bite to eat.
Additionally, the resort has multiple restaurants located on the property that have everything from casual eats to formal dining. On top of that, the South Point Arena & Equestrian Center hosts several family-friendly events all year long. This horse arena is really cool because it's located inside the giant resort!
Sunset Station Hotel and Casino
Families staying at Sunset Station Hotel and Casino will enjoy the festive atmosphere and incredible value. There is something at this resort for everyone in the family, including unbeatable entertainment and tasty dining options.
Families with children will love the 13-screen movie complex, the bowling alley, arcade, and the all-new swimming pool. Recently renovated, the pool at this hotel offers daybeds, private cabanas, and a cool place for families to unwind while on vacation.
Sunset Station Hotel and Casino is in the heart of Henderson across the street from shopping, dining, and entertainment at the Galleria at Sunset mall. Staying here puts you just 30 minutes away from several local attractions, such as the Clark County Museum and the Hoover Dam.
Tahiti Village Resort
There is a Tahitian-themed resort just a few miles south of the Las Vegas Strip, where families can enjoy a fun, festive atmosphere. This family-friendly resort is the Tahiti Village Resort & Spa.
The main attraction at this resort is the pool, which includes a shallow beach entry pool, complete with a lazy river, fountains, and waterfalls.
Rooms are spacious at this resort, ranging from one bedroom with kitchenettes to one and two bedrooms with full kitchens, living rooms, and balconies. The in-room kitchens make it possible for families to make meals in their room while relaxing after a long day of playing.
Other family-friendly activities at this resort include dining options, an arcade, and an activity center.
Nearby families can enjoy shopping at the Las Vegas Premium Outlets or stop by Town Square Shopping Center, where there are plenty of family-friendly stores, restaurants, and activities to enjoy.
The Orleans Hotel
Less than two miles west of the Strip is The Orleans Hotel, a fun, family-friendly destination for those seeking entertainment relaxation, and entertainment.
This resort has a 70-lane bowling center, an 18-screen movie theater, a supervised multilevel jungle gym, and an arcade.
The pool, nestled among a lush tropical garden, provides families with a place to enjoy time relaxing or splashing around. The pool area offers both a spacious sundeck and a kiddie pool for smaller children.
In addition, the Orleans Hotel offers various restaurants, which makes it possible to sit down for dinner or a quick meal to eat on the go. On-site, you'll also find The Orleans Arena, which hosts many concerts, events, sports, and entertainment options families will love (schedule of upcoming events).
This Las Vegas hotel is perfect for families wanting a kid-friendly environment while still being close to all the entertainment, shopping, dining, and excitement of the Vegas Strip.
The Westin Lake Las Vegas Resort & Spa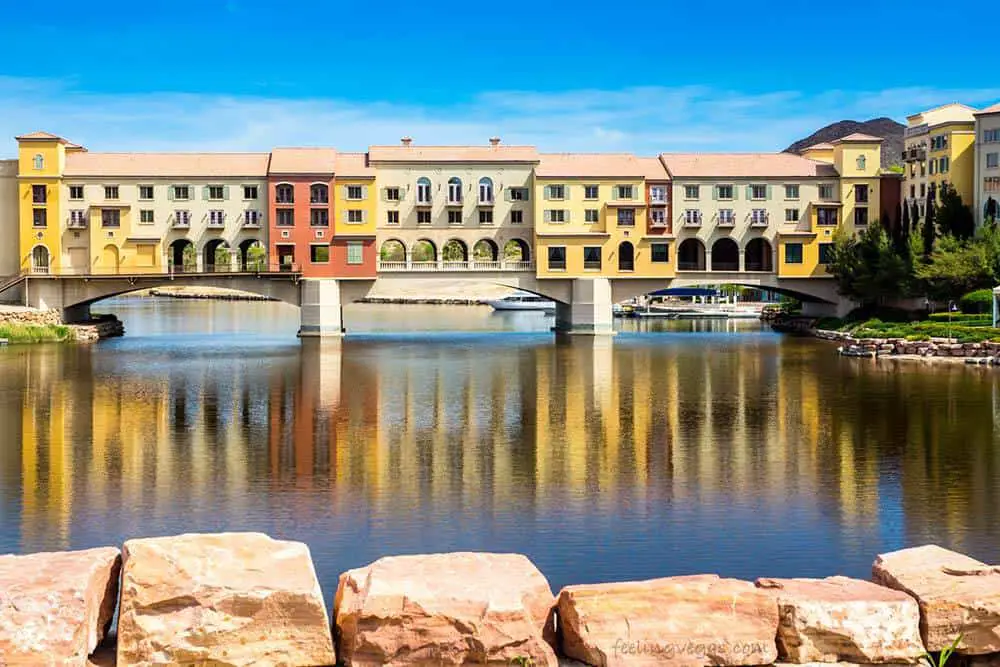 The Westin Lake Las Vegas Resort & Spa provides families with luxurious and spacious rooms, providing plenty of space for everyone to get ready, relax, or take a nap.
On-site, this resort offers multiple dining opportunities, including everything from formal to casual dining restaurants. In addition, the three pools provide an outdoor experience like no other where you can enjoy the beautiful desert views surrounding the lake.
What makes this resort one of the best family hotels off the Las Vegas Strip is its location in nearby Henderson.
Lake Las Vegas is a community packed with family-friendly shops, restaurants, and entertainment. At the marina, you can rent kayaks, paddleboards or even enjoy a cruise on the lake. Families can also cool off and play at the inflatable aquatic park, plus on Friday evenings, your crew can enjoy watching outdoor movies lakeside.
Conclusion
As you can see, you don't have to stay on the Strip to have a good time in Vegas with the kids. There are many family-friendly hotels in Las Vegas off the Strip. Each of the hotels listed above provides families with plenty of entertainment, food, and activities both on-site and nearby.
Choosing one of these best off-Strip family hotels will ensure that your family vacation to Las Vegas is not only kid-friendly but fun for the entire family!
More Family-Friendly Las Vegas Articles