15 Things to Do in Las Vegas Under 21 (Ultimate Guide)
(This article may contain affiliate links. If you click through and make a purchase, we will receive a small commission at no additional cost to you. )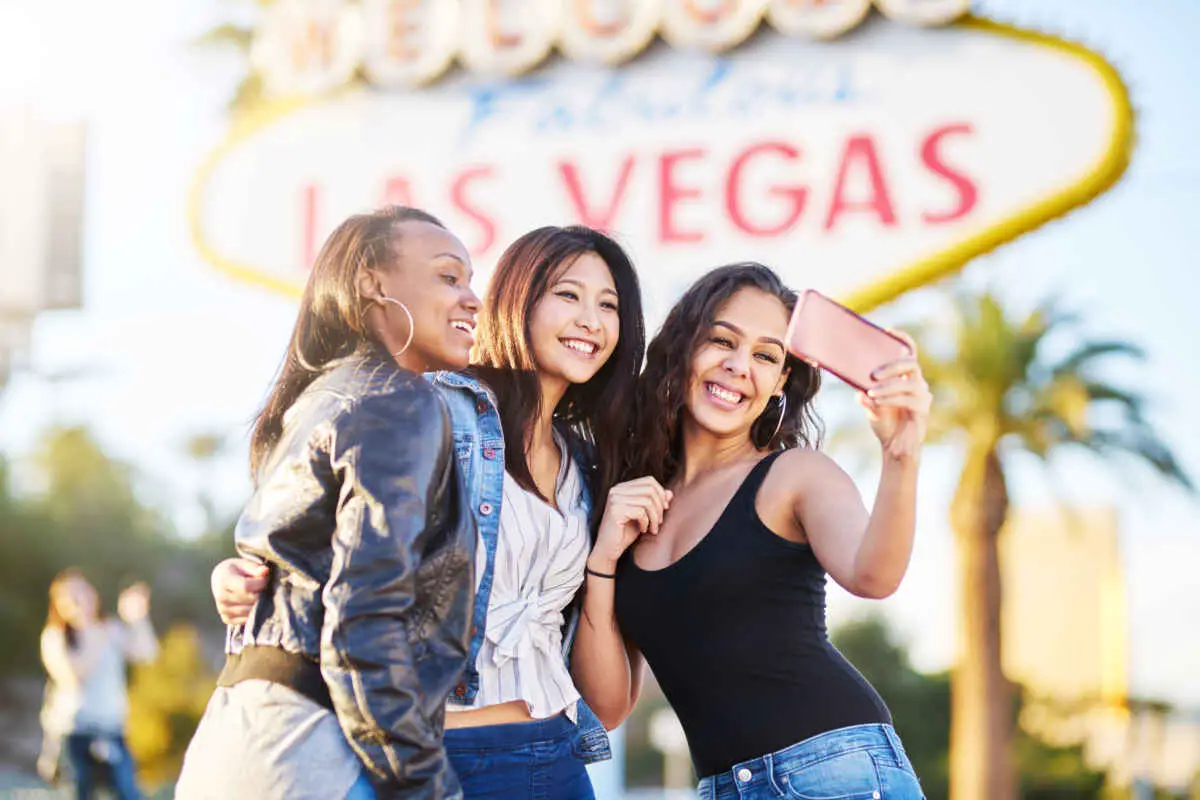 Las Vegas is known for being one of the top party capitals in the world. While this may be super exciting for most visitors, it may seem a bit limiting for those under 21 years of age. Many of the popular activities, including gambling and drinking, are reserved for those over 21 years old. Even though these Vegas travel experiences are off-limits, there are still a ton of fun things to do in Las Vegas if you are under 21 years old.
AWESOME Things To Do In Las Vegas Under 21:
High Roller Observation Wheel
Bellagio Fountain Show
Walking The Strip
Big Apple Roller Coaster & Arcade
Omega Mart at AREA 15
Gondola Rides at The Venetian
Shows, Shows, and more Shows!
Shop Till You Drop
Cool Restaurants
TopGolf
Swimming Pools
Pro Sporting Events
Fremont Street
Museums – These aren't your average everyday museums!
Best Under 21 Tours
Despite being under 21 years old, there are plenty of things you can do in Las Vegas beyond gambling and drinking. The city has lots of great activities to offer that will be fun and available to all ages.
Keep reading to learn more about what to do in Vegas if you're under 21. After the list, I'll share with you some specific things to do if you're under 21, but over 18.
15 Fun Things to Do in Vegas When You're Under 21
I've pulled together some of the best activities you can participate in if you are under 21. It includes a vast range of things to do, making it appealing to almost all young people. Many of these things you can enjoy doing with your friends or family on your next trip to Las Vegas.
     High Roller Observation Wheel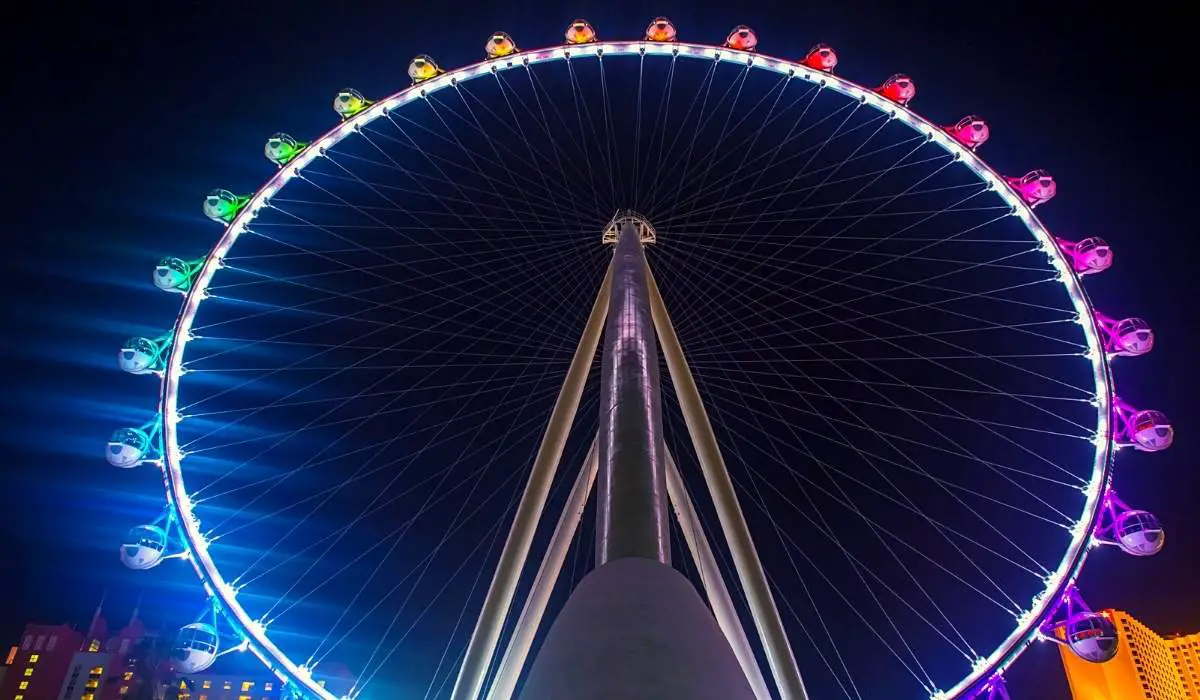 Taking you 550 feet into the air, you'll be able to see the Las Vegas Valley and The Strip from the world's tallest observation wheel, known as the High Roller. You will be placed in a spacious bubble-like cabin that gives you a 360-degree view of the area. This large wheel takes 30 minutes to make one full rotation, giving you plenty of time to see the surrounding areas.
You can purchase tickets for the observation wheel during the day or at night to get different views of the city. If you want to see The Strip lit up in all its neon glory, check out the High Roller Observation Wheel (vegas.com) at nighttime.
The more natural features of the surrounding area, such as the surrounding desert and mountain landscapes, are best observed during the day.
The High Roller is found at The Linq Promenade and is a very popular attraction. Each cabin can hold 40 people, making it an excellent time for you and a bunch of your friends. This attraction is particularly attractive during the summer as the cabins offer air conditioning. If you are a local, check for discounts!
To find out everything you need to know about riding the High Roller, check out our article: High Roller Ferris Wheel (Cost, Tips & Discounts)
     Bellagio Fountain Show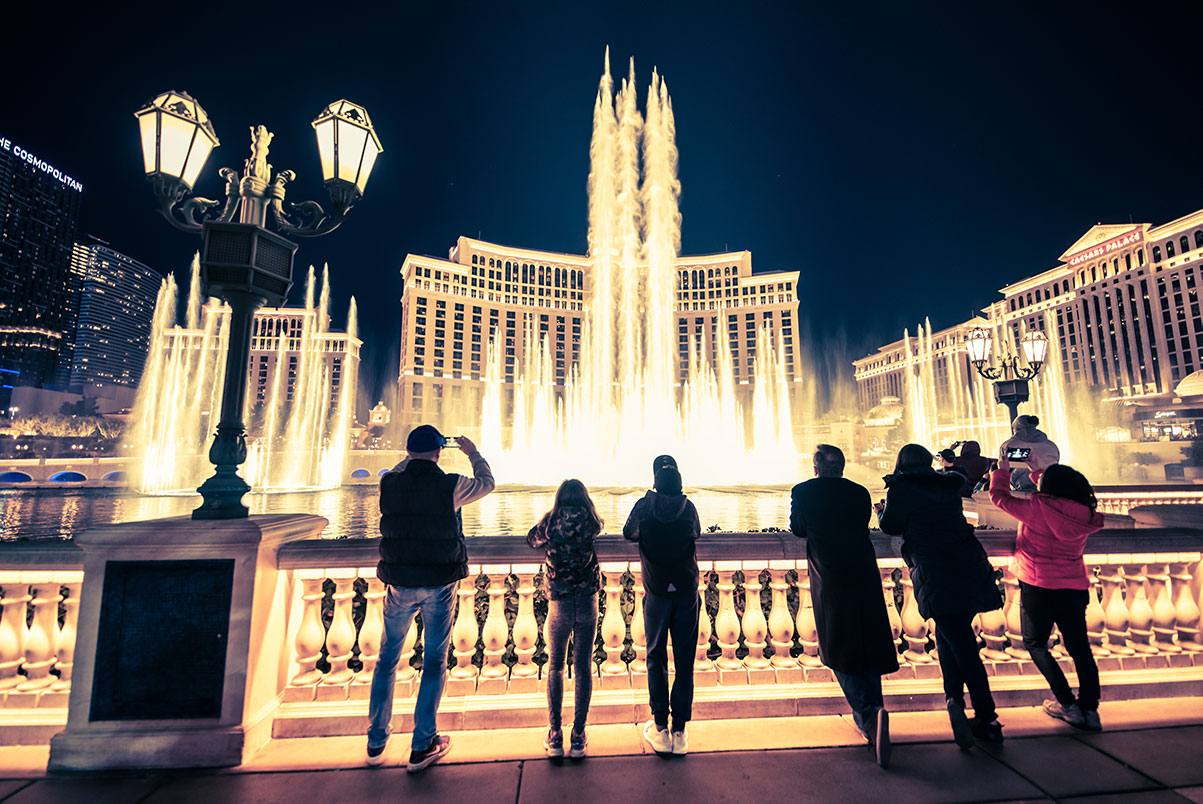 Arguably one of the most popular free attractions on the Strip, the Bellagio Fountain is a show you will not want to miss for a quintessential Vegas experience. The combination of water, music, and lights creates an experience in itself. Located immediately in front of the Bellagio Hotel and Resort, the choreography ties in nicely with the beautiful hotel backdrop.
With changing shows and music, there is always something new to see each time you visit. There are over 1,000 fountains that shoot water up to 460 feet in the air. Designers and choreographers have worked hard to make this an enjoyable event for all visitors to the city.
Shows go on every day and night. Here is the Bellagio Fountain schedule, so make sure you stop by:
Monday through Friday: Every 30 minutes from 3 pm to 8 pm and every 15 minutes from 8 pm to midnight.
Weekends & holidays: Every 30 minutes from 12 pm to 8 pm and every 15 minutes from 8 pm to midnight.
Weather conditions may cancel shows (unlikely), and schedules may fluctuate in special circumstances. But with the many opportunities to see the show, you'll at least be able to see it once, but try to catch it both during the daytime and again at night. 
I've written an article detailing everything you need to know about seeing the Bellagio Fountains, including the schedule and exact song list. Be sure to take a look.
     Walking the Las Vegas Strip
Being 4.2 miles long, walking the entire length of The Strip may be more than you want to tackle (source), especially when the best action takes place within a few main areas. That being said, there are large areas of The Strip that are prime for pedestrians to walk.
With hotels, casinos, restaurants, and stores on each side of Las Vegas Boulevard, there is plenty here to keep you occupied for a long while.
The best times to walk The Strip are in the morning when it isn't too hot or crowded yet and in the evening when all the lights turn on. The busy sidewalks and lights of at night make for great people-watching, enviable selfies, and excellent memories.
You should keep these in mind when walking The Strip:
Wear comfortable shoes: For any activity that requires a lot of walking, you'll want to be comfortable.
Bring water: Because it is often warm, you should regularly drink water so you do not become dehydrated.
Stick to the pedestrian areas: Because visitors may walk down the street with alcohol, they have created very specific sidewalks and pedestrian footbridges that prevent anyone from being in the middle of the road near cars. Stick to these areas for safety no matter the time of day.
You will want to walk through many of the Vegas hotels and casinos as you make your way down The Strip. Minors may walk through a casino's gaming floor as long as they are not stopping or loitering. However, there is so much more going on inside the Strips resort properties than just gaming.
Make sure to walk through many of the themed hotels to see the beautiful architecture and designs within. This is also a great way to get some air conditioning and cool off if it's hot outside.
Some of the best hotels to see on The Strip include:
The Venetian: Transports you to Venice, Italy, without leaving the United States. Here you can ride a gondola along the indoor and outdoor canals (there's more information about gondola rides below).
New York-New York: Go through the "city that never sleeps" with arcades and plenty of pizza parlors.
Bellagio: This is one of the most iconic hotels with lots of shops inside, plus a Conservatory and Botanical Garden.
Paris: With a French theme, it is fun to walk through and see the blue skies with wispy clouds.
Cosmopolitan: One of the more modern hotels on The Strip, check out the big chandelier and beautiful interior.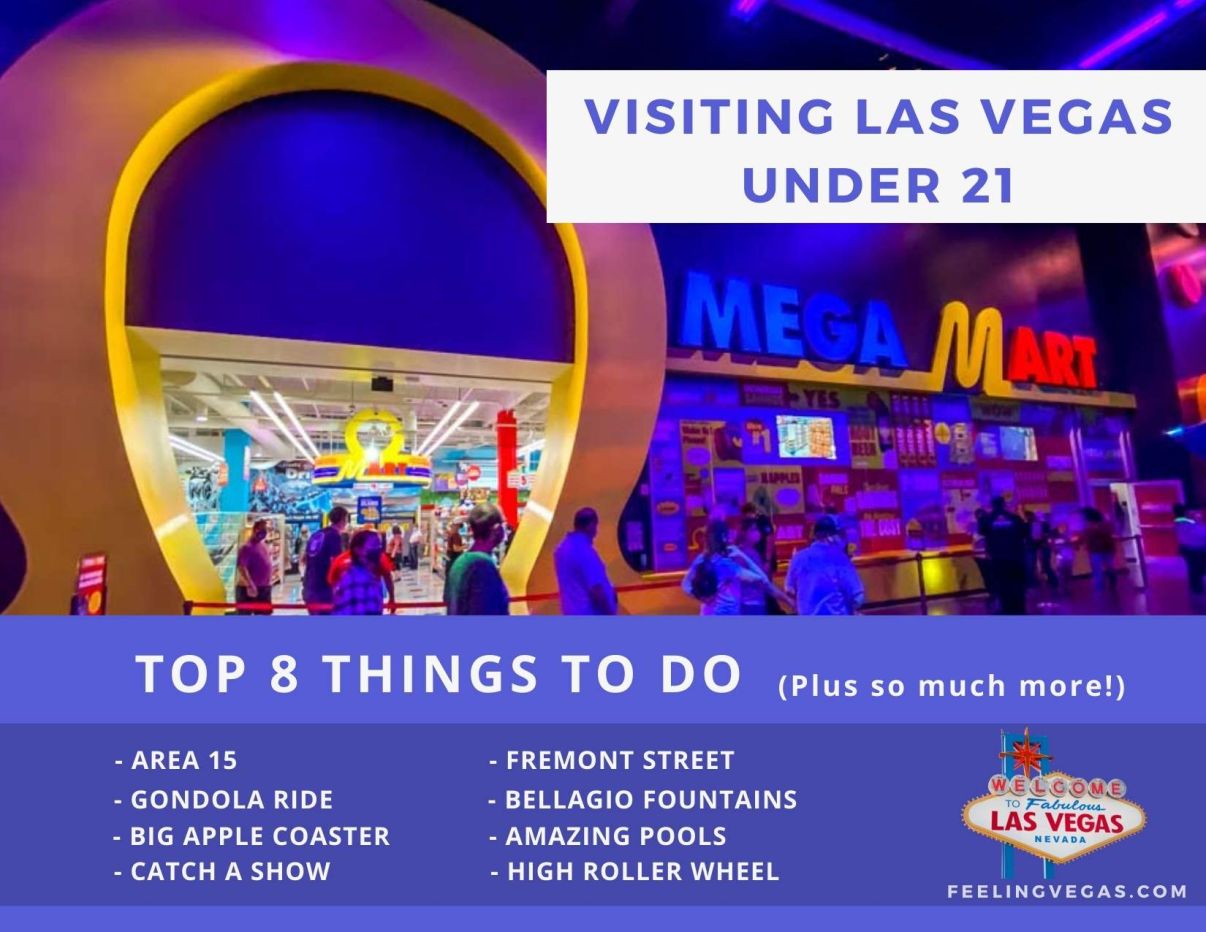 Almost all of the hotels will be impressive, but guests love visiting these for their unique themes and iconic status.
Download our free map of the Las Vegas Strip to see where every major hotel is located, or check out our free Vegas Strip walking tour guide.
     Big Apple Roller Coaster & Arcade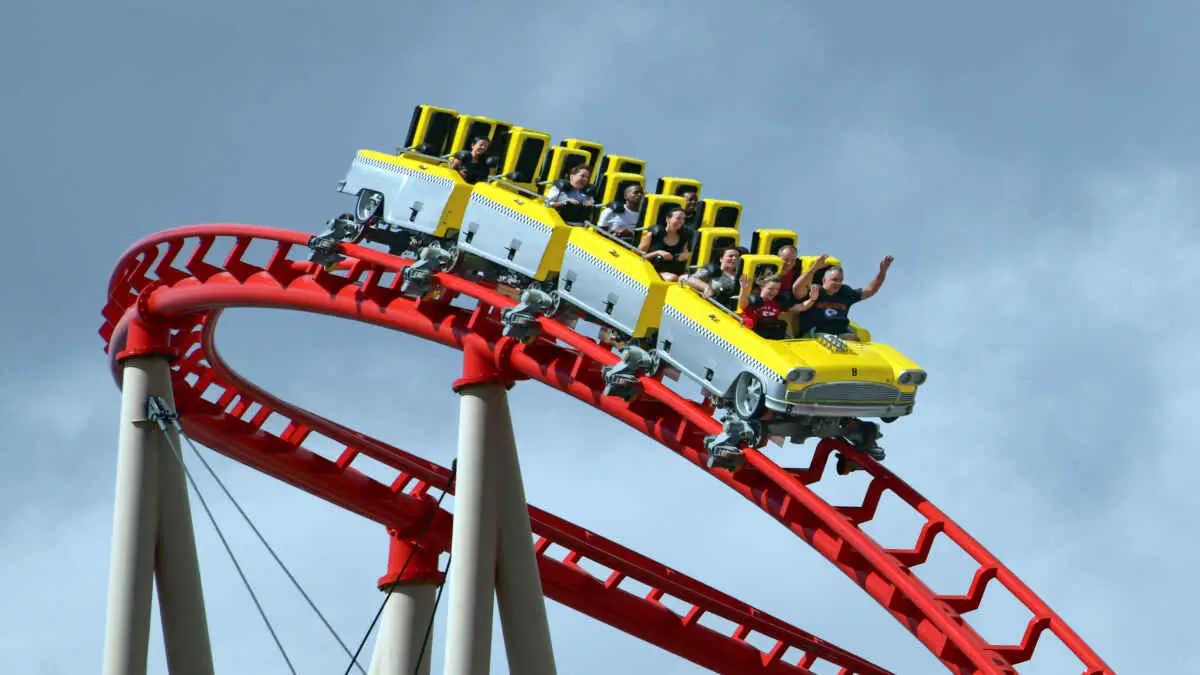 If you are a fan of roller coasters and arcades, head to the Big Apple Coaster at New York-New York. The theme of the coaster is New York taxi cabs, making it a full New York City experience.
The roller coaster itself is tons of fun, but now you can also add a Virtual Reality (VR) component to the ride. You'll ride the coaster while wearing virtual reality goggles that will make it look like you're flying through the streets of New York City while battling aliens and monsters! It's crazy fun!
If you plan to go on the ride multiple times during the day, I recommend checking out the all-day pass, which will save you some money instead of buying multiple tickets. (Nevada residents and military personnel can receive discounts on the ride.) After you hop off the coaster, make your way to the arcade. It's full of games and a popular photo booth!
From high atop the roller coaster, you will catch views of The Strip and get your adrenaline fix! Head to the second level of the New York-New York hotel and casino to access the ride!
Find out everything you'll want to know about the Big Apple Coaster in our article: Ride the Big Apple Roller Coaster at NYNY
Omega Mart at AREA 15
If you like black lights and cool, trippy art displays, then you'll absolutely want to visit AREA 15. Omega Mart is just one of a dozen or so attractions you'll find inside. Omega Mart is a grocery store, well, kinda. Maybe a better way to describe it would be to say that it's an immersive and mind-blowing exhibition of art that takes the form of a surreal supermarket.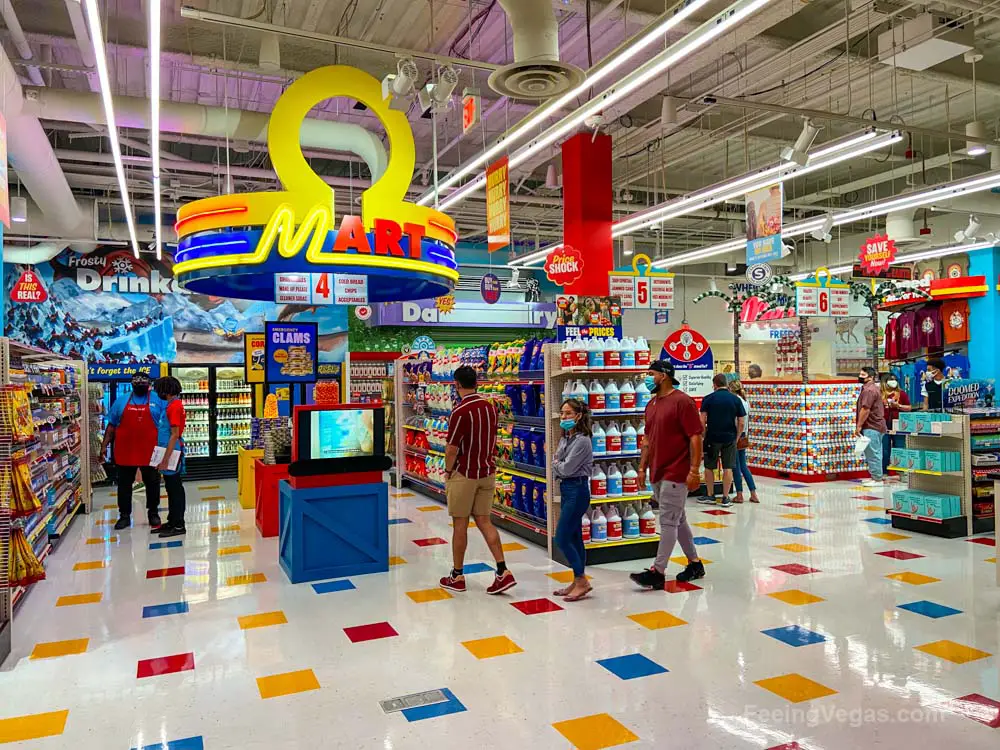 You'll have to see it to believe it. In fact, just walking around AREA 15 is more than worthwhile. The whole place is pretty wild.
Check out AREA 15 in our article: What Is AREA 15? (9+ AMAZING Things To See & Do)
     Gondola Rides at The Venetian
Step into The Venetian to be taken to the canals of Italy's Venice. You can take a gondola ride along the Grand Canal as you pass by Venetian architecture and the shops of the hotel. It'll take you past cafes and under bridges if you choose the indoor ride or give you views of The Strip outdoors. Both the indoor and outdoor gondola rides are enjoyable and should be dependent on preference as well as weather.
The gondolier (person who rows the boat) plays the part very well with the full outfit and singing. The ride is not super long given the price but is a cool experience that is enjoyed by visitors from around the world. If you don't mind paying a bit of money for the experience, it is an enjoyable break from walking around!
Discover everything you need to know about riding the gondolas in our article: Gondola Rides at The Venetian (Cost, Tips, Worth It?)
    Shows, Shows, and More Las Vegas Shows!
While some Vegas shows require you to be 21 years old, there are many fantastic shows open to all ages. Going to a show while you're in town is a must as we have some of the most iconic performers in the world. Many artists have residencies, meaning they will be performing for months at a time, so there are plenty of opportunities to see them.
The best shows in Las Vegas include:
Blue Man Group: Known for their blue face paint, this is a very popular show that features music, art, and comedy. The show is held at the Luxor Hotel and Casino. The Blue Man Group is an iconic show and should certainly be on your bucket list.
Cirque du Soleil: Enjoy the impressive acrobatics and musicality with the multiple shows that run in Vegas. Some of my favorites include "Mystére" (the original Las Vegas Cirque du Soleil production), "O" (an aquatic-inspired show), and "Love" (inspired by the music of The Beatles). There are seven Cirque du Soleil shows in the city, each with a unique theme and twist. 
Penn and Teller: The longest-running comedy magic show in town, Penn and Teller are iconic magicians who are known to put on an eventful and entertaining show. Find out what makes a Penn and Teller (tickets) show so fun at the Rio.
Residencies: See which of your favorite musicians and singers are going to be in town when you plan on visiting. Performers from Adele, Usher, Miranda Lambert, and Maroon 5 are performing, which creates for a memorable night.
There are so many shows to check out, making it hard to narrow down a list. Depending on the type of show you want to see, you'll be able to find lots of excellent options.
See the list of the best shows now playing in Las Vegas (vegas.com).
     Shopping in Las Vegas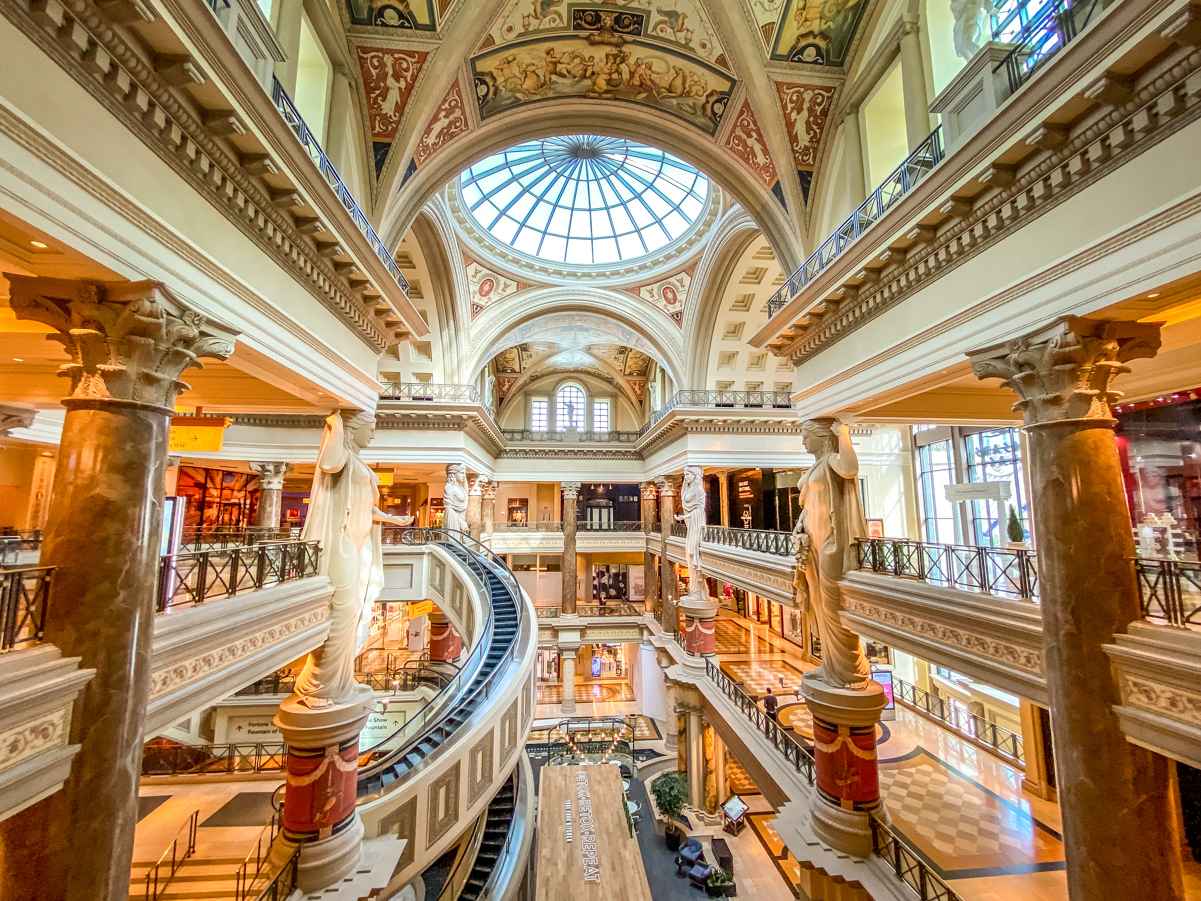 Shopping on the Strip
Las Vegas is known for its excellent shopping! There are shops in all of the hotels as well as along The Strip and downtown. In the hotels, you can expect mostly high-end designer stores, but the malls and stores themselves are a feast for the eyes.
Definitely explore the Forum Shops at Caesars Palace. The whole mall is designed to look like a Roman city. This can be a wonderful place to shop, or at least window-shop if you aren't planning on spending very much money.
There are more options for shopping at the Miracle Mile, which is located at Planet Hollywood. This shopping center boasts over 200 stores with popular clothing brands for all consumers. Fashion Show is a mall that is also located on The Strip, featuring over 250 stores. They host weekly fashion shows, which are a lot of fun to watch.
If you are looking for some retail therapy, Las Vegas offers world-class shopping for all ages and budgets!
Learn all about the 12 amazing malls on the Las Vegas Strip in our article here, so you don't miss a thing!
Shopping at the Las Vegas Outlet Malls
What shopper doesn't love some outlet shopping? Check out the two outlet malls in Las Vegas. They are:
Las Vegas North Premium Outlet – 540,000 square feet of outlet shopping. Stores include Kate Spade, Dolce & Gabbana, Coach New York, The North Face, Tommy Hilfiger, and Tory Burch, among others.
Las Vegas South Premium Outlet – 140 stores of household and designer brands. Stores include: Under Armour, Calvin Klein, Vans, Movado, Michael Kors, and many more.
Find out more about Outlet Shopping in our article here.
     Cool Las Vegas Restaurants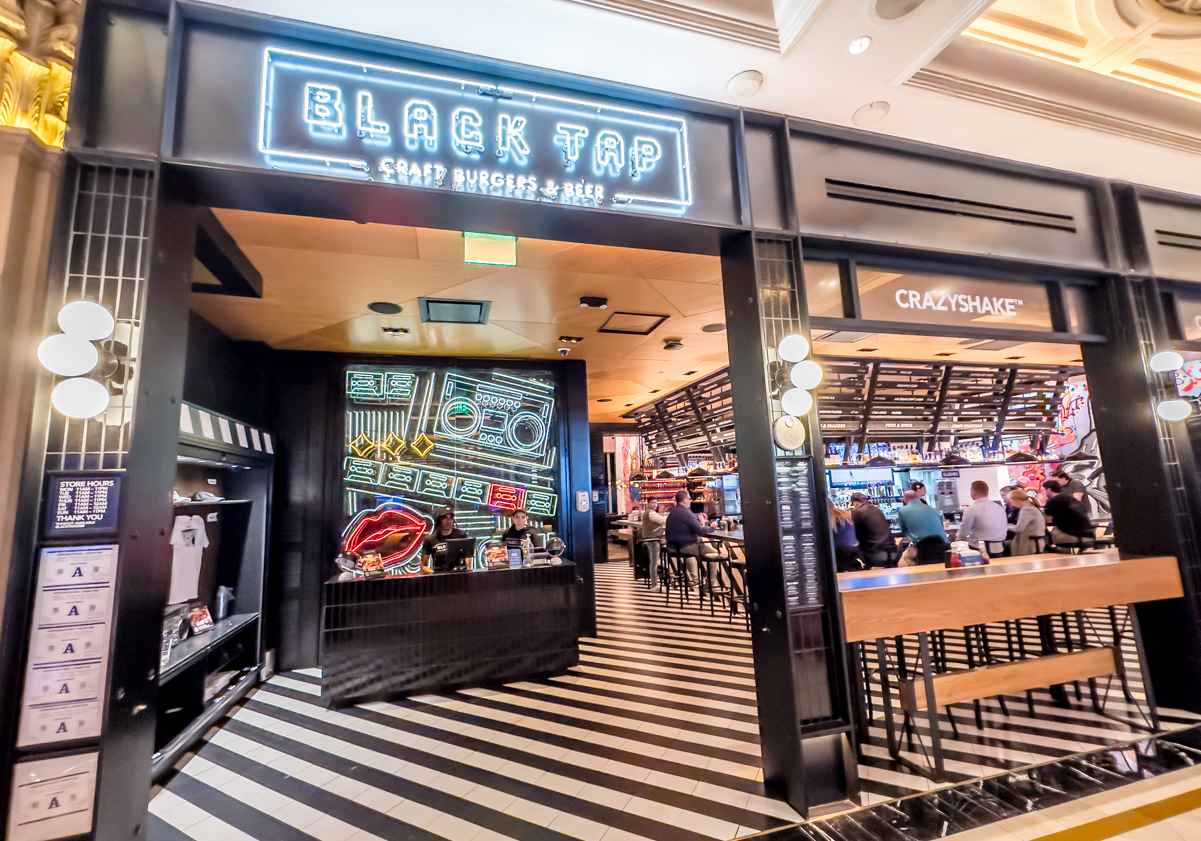 Las Vegas is also home to some of the world's most renowned restaurants. These, of course, are open to all age groups (excluding most bars). Options range from fine dining to quick bites both on and off The Strip. You can check out Michelin-rated restaurants or opt for something a bit more low-key.
While restaurant recommendations will depend on your food tastes and preferences, here are some really fun food stops on your trip.
Black Tap: Originating in New York City, head to the Venetian for burgers and the most over-the-top milkshakes you'll ever have. It's almost like art.
Milk Bar: Created by famous pastry chef Christina Tosi, try the corn cookie. This bakery is a must-see with tasty treats, and the cereal milk soft serve rocks. You can find it at the Cosmopolitan.
Chinatown: Okay, this isn't a restaurant, but head to Chinatown for an amazing meal. With many highly regarded options, you'll find Kabuto or Raku, both notable restaurants off The Strip.
Hell's Kitchen: Check out Gordon Ramsey's restaurant at Caesar's Palace. The beef Wellington and burger are notable items on the menu to try.
La Strega: Head here for a nice Italian meal. It is a favorite among foodies, both visitors and locals. Their pesto dishes and pizzas come recommended by many food writers.
This is in no way a comprehensive list. Las Vegas has become a leader in the culinary scene and is home to dozens of elite restaurants operated by celebrity chefs. Check out these for a unique culinary experience or stumble upon many of the great restaurants on and off The Strip as you go.
RECOMMENDED: 16 Cheap Places To Eat on the Strip (Map)
     TopGolf Near The Strip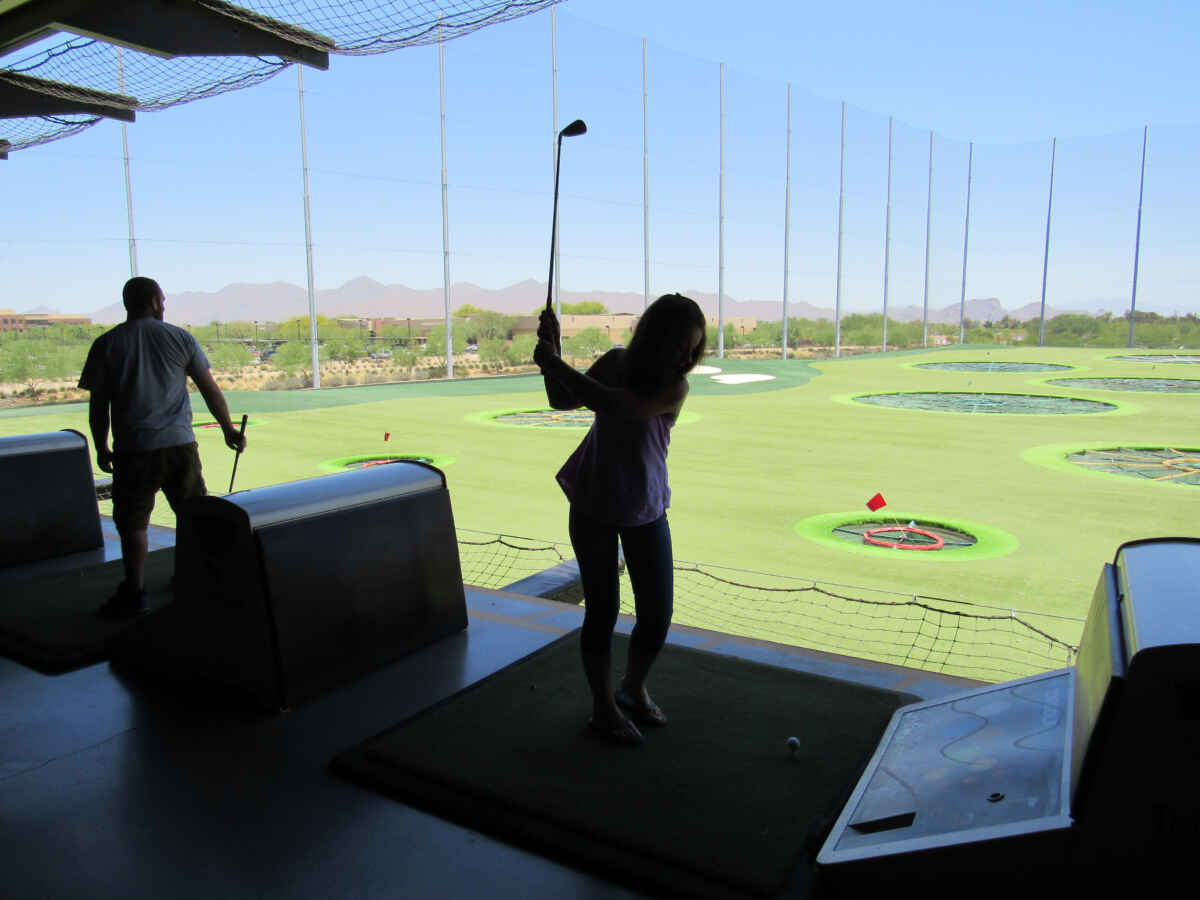 TopGolf is a driving range where you can hit golf balls, hang out with friends, and order food. This driving range is accompanied by high-tech systems for optimal play and over ten games with different goals and targets.
The range has targets throughout, allowing you to keep track of points and compete against your friends.
You can also take lessons from pros on staff, play pool, swim in two pools, enjoy the many lounge areas with food and drink, and go to concerts in their 900-seat venue. There are shuttles that will take you from the MGM Grand on The Strip to TopGolf daily. With lots of TVs, you also won't miss out on any big sporting events!  
This is a bit more of an active (or relaxing if you choose) option for your trip to Vegas. It'll give you something unique to try and is appealing to all ages and golf skill levels.
  Swimming Pools in Las Vegas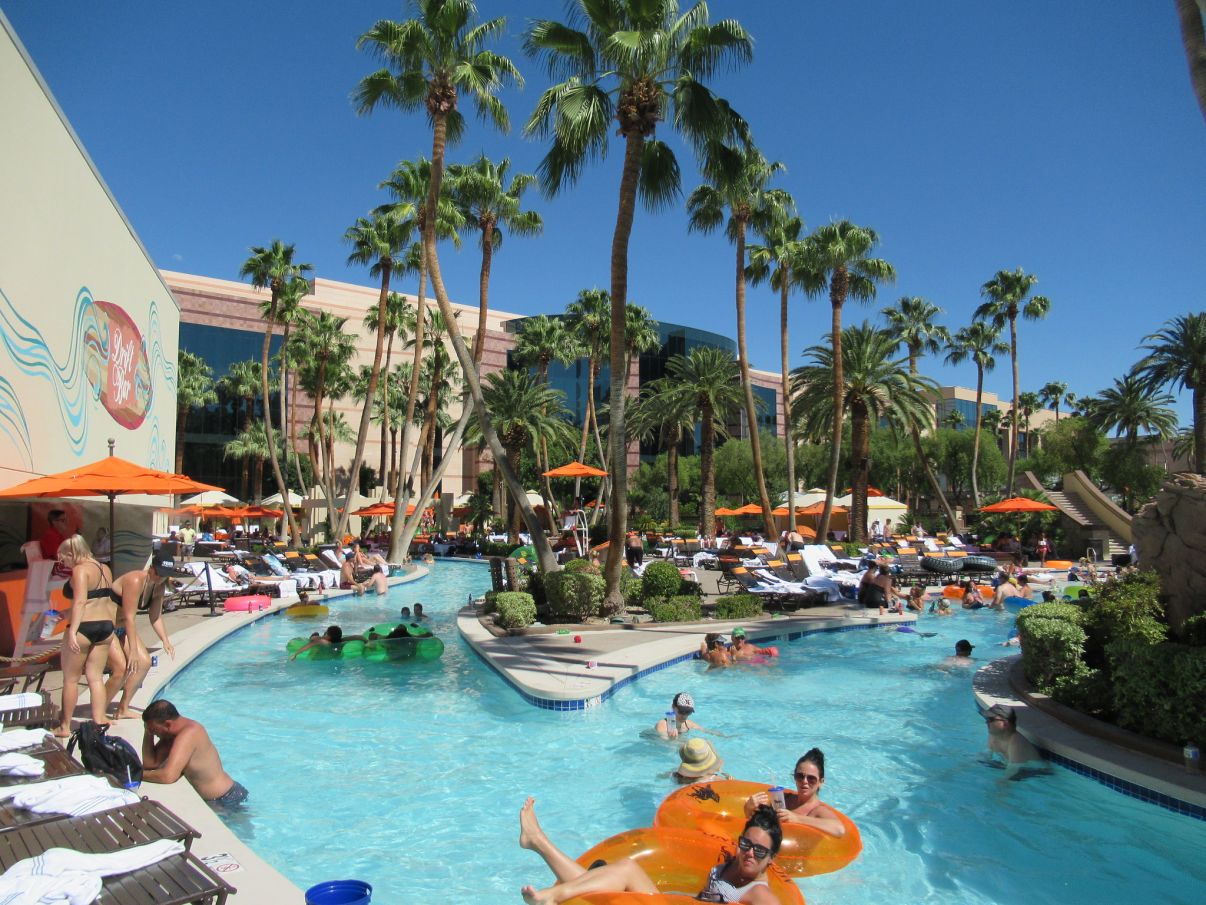 With the hot temperatures almost all year, you'll want somewhere to cool off. All of the hotels, at least on The Strip, offer multiple pools for you to enjoy as a guest. If you're planning to stay on The Strip, be sure to take advantage, as these are some of the best swimming pools in the world!
There are day clubs that will be off-limits to those under 21, but there are lots of other pools to choose from.
When planning your stay in Las Vegas with those under 21, check out these hotels for their awesome pools:
The Beach at Mandalay Bay: With lots of sand and a lazy river, their pool is perfect for all guest types and is usually a bit tamer than other pools on The Strip. There a lot to do at this pool, including a huge wave pool and plenty of room for lounging.
The Pool at The Bellagio: This is a lot more relaxed than your typical Vegas pools, making it an upscale oasis for guests. Head here for a relaxing Mediterranean-style pool day. Find out more about the Bellagio pool here.
The Tank at Golden Nugget: Located in "Old Las Vegas" on Fremont Street, you can enjoy swimming in a pool with a huge shark tank in the middle. You'll be paddling alongside fish and sharks, and the waterslide even goes through the tank!
The Pool at The Mirage: Another oasis, head here for the year-round heated pool. Many of the resort pools are not open year-round, but this one is! If you are traveling in the winter and want an island escape, the Mirage is your spot. (We created an article with a complete list of all the pools open and heated during the winter months. You can find it on our website here).
The Venetian Pool Deck: Choose from 8 pools, surrounded by beautiful Roman statues and a quiet escape within the limits of the amazingly tall Venetian and Palazzo hotels.
Here are some of the Best Pools in Las Vegas – See our complete list (Tip: You don't even have to be a guest of the hotel to visit!)
  Pro Vegas Sporting Events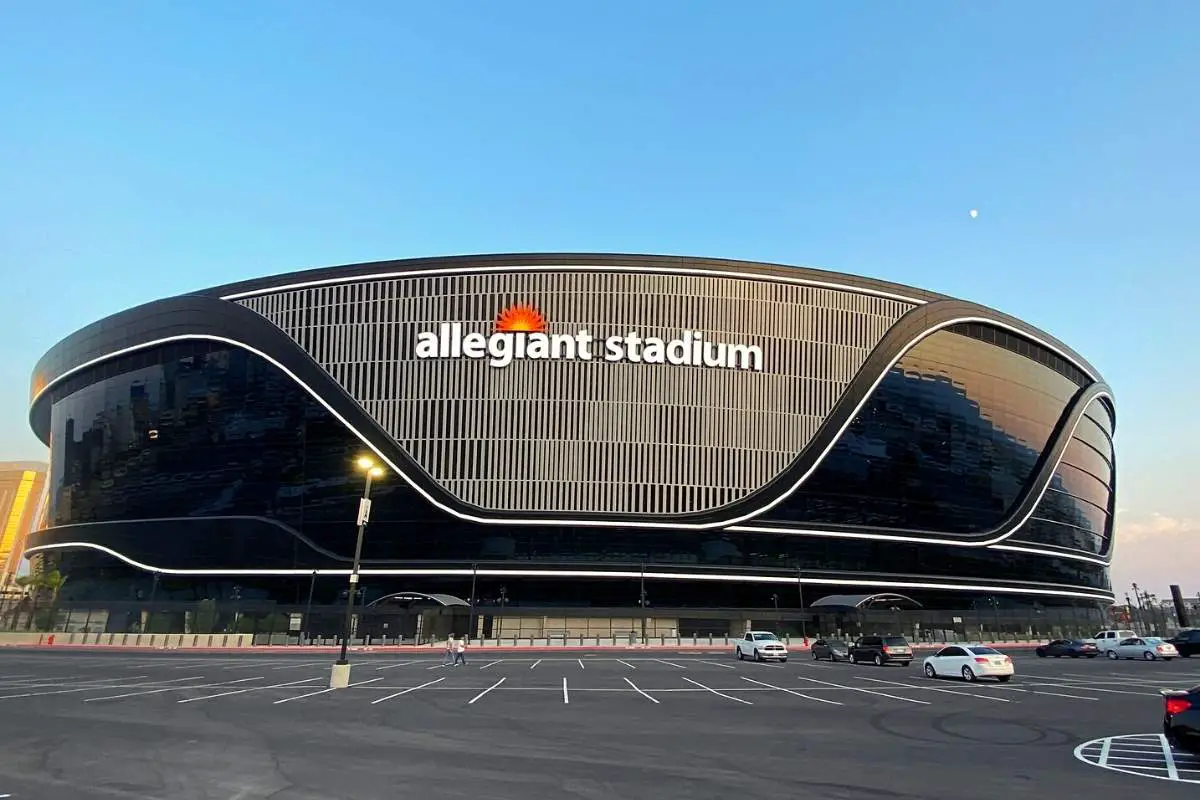 Not only do plenty of people come to Las Vegas to bet on sports, but they also come to watch. The city has become a major attraction for some of the biggest sporting events in the country. There is no age limit for catching a game at Allegiant Stadium or T-Mobile Arena, and this can be a really fun experience for all!
The NHL Las Vegas Golden Knights have risen as a top contender in the hockey league, making a trip to T-Mobile Arena, one of the top sporting attractions in the city. Only being a few years old as a franchise, they've already made their mark by reaching the NHL playoffs during their first year in the league.
(Find out why the Golden Knights are so good in our article here)
Boxing matches and UFC fighting is also a massive draw for visitors to Las Vegas. Throughout the year, you are bound to find fights that will be bringing big names to town.
Many people also head to the city for bull riding, rodeos, NASCAR, NFL games (Raiders), and plenty of college sports. The Pac-12 Basketball Championships are held in Vegas annually.
The University of Nevada, Las Vegas (UNLV), also has plenty of sporting events year-round if you want to check out any of their collegiate sports! (website)
  Fremont Street in Downtown Las Vegas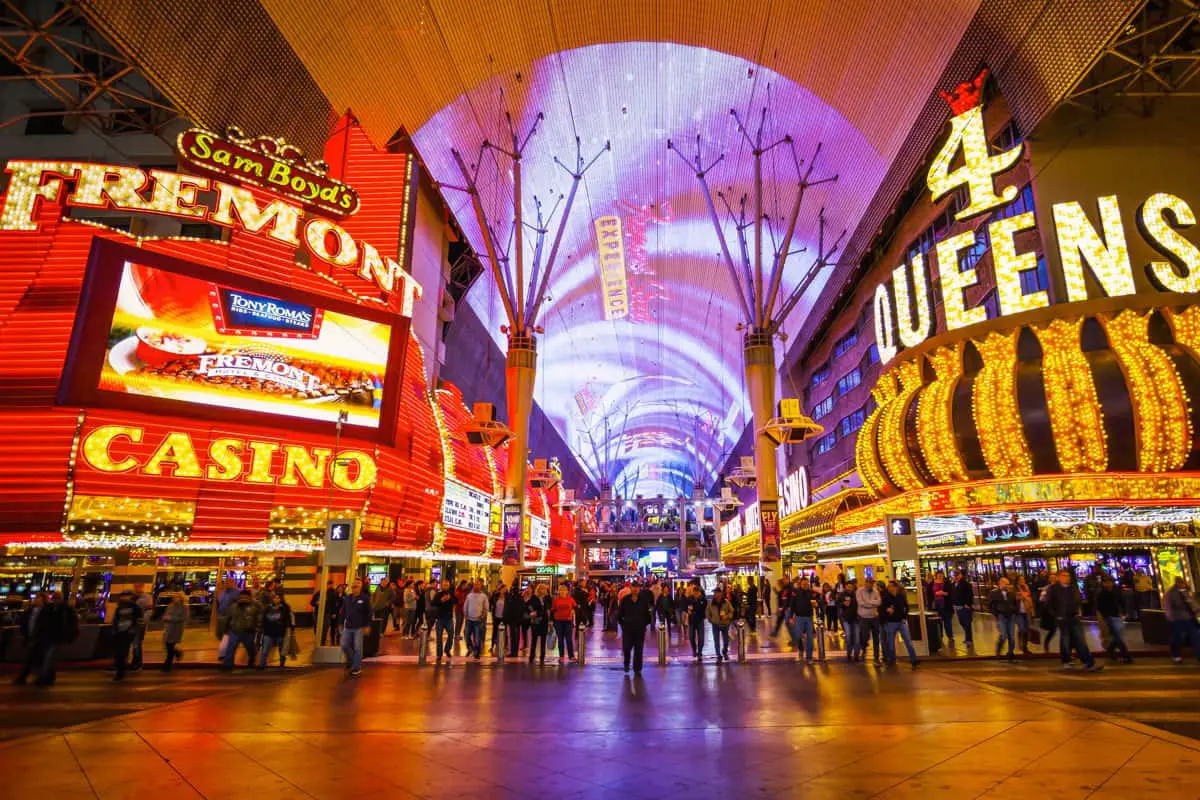 Known as 'Old Las Vegas,' Fremont Street is located in downtown Las Vegas, making it a popular destination away from The Strip. This is where several of the older hotels and casinos are located, giving you an idea of what the city must have been like years ago.
The downtown area has been completely revitalized, and you do not want to miss the Fremont Street Experience. The Fremont St. Experience is a covered pedestrian area filled with lights, street performances, restaurants, and free live music.
The Viva Vision light show runs hourly in the evenings and hosts an impressive visual display accompanied by a variety of musical artists. These shows vary, and they are always working on bringing new shows to visitors.
The Golden Nugget Hotel and Casino is home to a 200,000-gallon shark tank and sits along the pedestrian walkway with all the lights. You can also get a photo-op with the giant Vegas Vic cowboy. You'll definitely get more of a vintage Las Vegas feel when visiting Fremont Street.
There is so much fun stuff to see and do. Just check out our list of the best 19 things to do in downtown.
In my opinion, it's one of the coolest places you'll find in Vegas, especially on a Friday or Saturday night! This is a must-see spot for walking around and experiencing the downtown area.
Is it worth going to downtown Las Vegas? You bet it is! Find out why right here.
  Weird Museums (Pinball Hall of Fame Anyone?)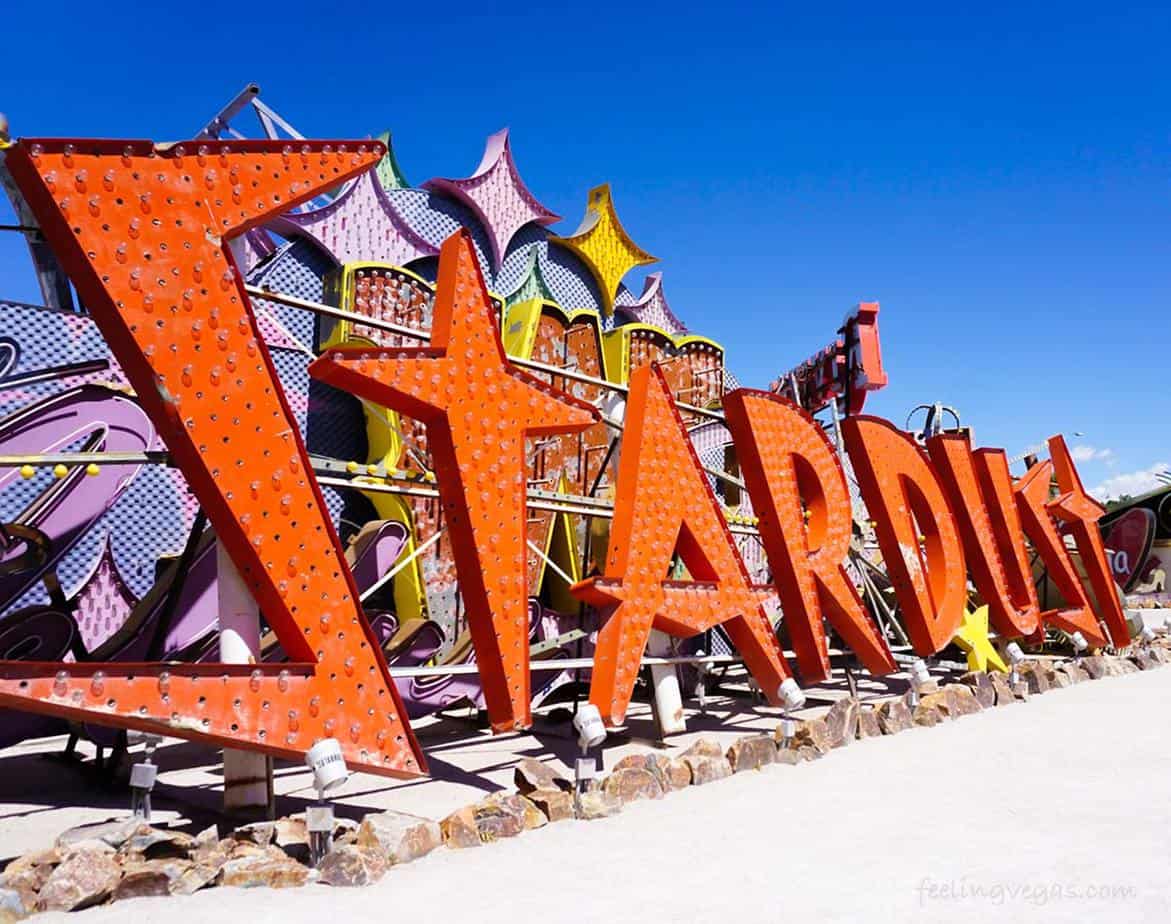 Neon Museum
While you are downtown, check out the Neon Museum. With over 2 acres of signs from old casinos and businesses, you'll be able to see Las Vegas throughout the years. You can enjoy the museum during the daytime or in the evening for a more luminescent experience.
The museum hosts a variety of different exhibits that aim to cherish and display the history and art of the area. They also host special modern exhibits throughout the museum. This is a unique way to experience a different side of Las Vegas!
We've written an article all about visiting the Neon Museum, check it out here.
Pinball Hall of Fame
The Pinball Hall of Fame is not some stuffy museum where you get to view vintage pinball machines behind a glass barrier. The 10,000 sq. ft. museum is a hands-on experience packed with dozens of fully functioning classic and restored pinball machines from the 1950's thru the 1990's.
Even better…it's free to visit! You'll just need to bring quarters for the pinball machines. The games cost between .25 and .50 cents per play. The Pinball Museum is located on the Strip across from the Welcome to Las Vegas Sign (another not to be missed attraction) and opens at 10 am 7 days a week.
Mob Museum
If you want to see what made this town what it is today, then you'll want to check out the Mob Museum. The National Museum of Organized Crime & Law Enforcement, as it's officially called, lays out all the sorted stories of crime and mob bosses in Las Vegas' distant and not so distant past.
Travel back in time and discover what a Prohibition-era Speakeasy saloon looked like and learn how a secret moonshine business operated. Then you can visit the firearm training simulator where you can try your hand at being a local law enforcement officer. Located downtown near Fremont St. (website)
Tom Devlin's Monster Museum
If you're a fan of horror movie make-up and effects, you'll want to visit Tom Devlin's Monster Museum in Boulder City (about 30 min from the Strip). The museum includes full creature suits and props from monster movie history.
They also offer a Midnight at the Museum RIP Experience. You'll be picked up at your hotel in a custom hearse and go on a private tour of the museum with Tom Devlin himself! (website)
National Atomic Testing Museum
If the last tour wasn't scary enough, how about visiting the National Atomic Testing Museum. This museum tells the history of the United States nuclear testing program.
For years America tested nuclear weapons at the nearby Nevada Test site. It used to be a fun day for the locals to travel out into the desert and watch these atomic test explosions. Yikes! Learn everything there is to know about the history of America's nuclear testing program. (website)
Zak Bagans' Haunted Museum
Visit a paranormal museum that Las Vegas Weekly called "Las Vegas' Scariest Attraction" (source). The museum is found in a 1938 haunted mansion and contains 30 rooms of some of the world's spookiest artifacts.
Featured on the Travel Channel's show Ghost Adventures!, you'll be able to view well-known haunted artifacts such as the Dybbuk Box (called the world's most haunted object) and the "Death Van" of Dr. Kevorkian. Many spooky things have been seen here during tours by both the curators and the guests. (website)
Believe it or not, these are just a few of the many interesting museums you'll find near the Strip.
  Best Las Vegas All-Age Tours (Off The Strip Vegas Travel)
Red Rock Canyon Las Vegas
Let's take a trip out of the city center and move our legs! Las Vegas has plenty to see indoors, but it is also in a valley that boasts some beautiful natural landscapes. Located in the Mojave Desert and still within the Las Vegas city limits, this conservation area is known for its sandstone peaks and a panoramic 13-mile scenic drive.
Surrounded by the mountains, The Red Rock Canyon National Conservation Area (website) can be experienced on a variety of great hikes. As the name suggests, you'll be able to experience the vibrant colors of the red rocks from either hiking trails or a leisurely drive through the park.
Make sure you have proper shoes, clothing, and water to stay hydrated. Desert settings are especially warm in the summer months, making it dangerous to be dehydrated and exercise in high temperatures.
Try to keep your hikes to the morning or before the sun goes down when the sun is not at its highest point. Spring, fall, and winter are the perfect seasons to explore the park.
Enjoy the great outdoors on your trip to Vegas in one of the coolest conservation areas in the country!
Find out much more about visiting Red Rock Canyon on your own, including directions, hikes, and stops along the way, in our article here.
You can also take an organized tour to Red Rock Canyon, where you will be picked up at a hotel on the Strip. Choose from a day of hiking and exploration, or hop on a motorized scooter to tour the park (links to Viator).
Hoover Dam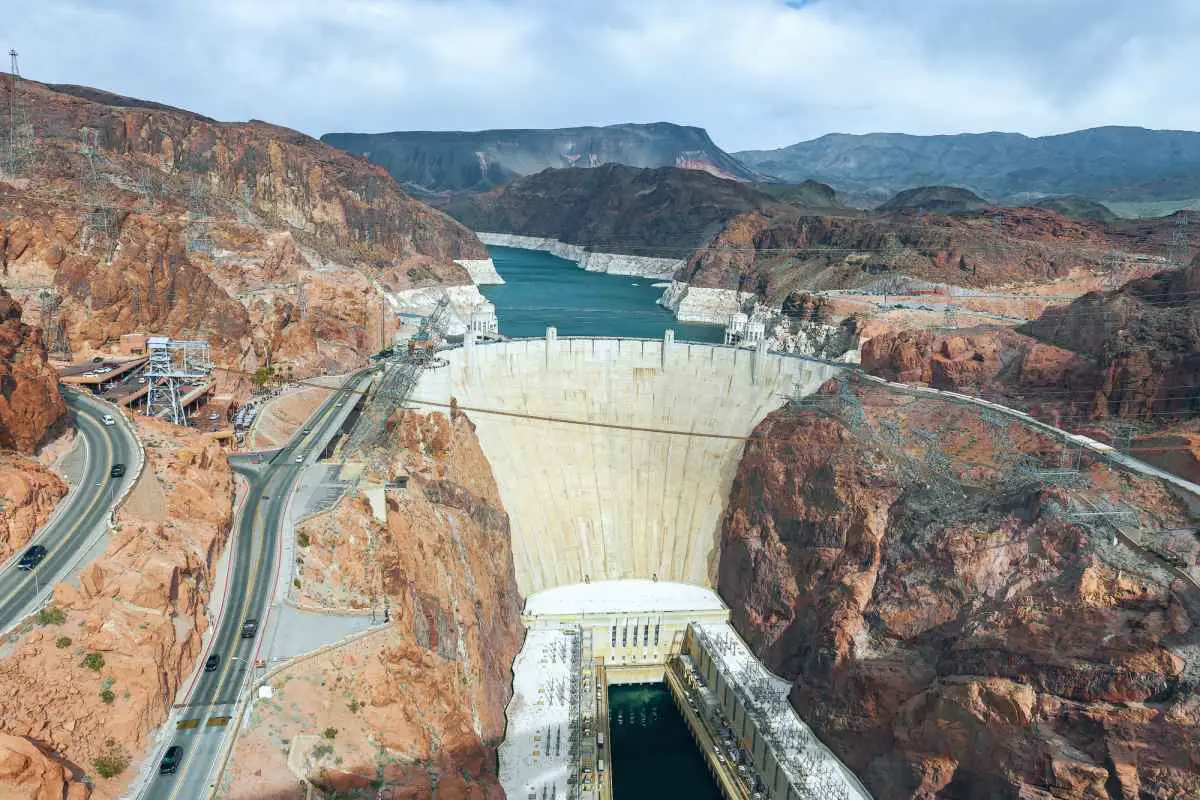 This trip will require a car, but if you have one, it's worth it! A 45-minute drive from the resorts on Las Vegas Blvd, Hoover Dam is one of the most popular destinations in the American southwest, and it sits between the border of Nevada and Arizona on the Colorado River.
The dam is known for its innovative design, and millions of people and cars cross the dam each year. If you don't have a car, you may want to take one of the many guided tours that visit the dam.
While there, also be sure to take a walk across the Mike O'Callaghan – Pat Tillman Memorial Bridge. The arched bridge, at a height of 886 feet, will give you a perfect birds-eye view of the Hoover Dam down in the canyon below.
Find out everything you need to know about visiting the Hoover Dam in our article here.
ATV Hidden Valley Tour
How about taking an ATV tour in the Mojave Desert? Head out into the desert on your own ATV. You'll get a quick safety presentation, then a chance to gear up.
After that, it's two hours of blazing trails in Hidden Valley. You'll have a blast out in the middle of nowhere, along with some gorgeous desert views. Check pricing and schedules here (vegas.com), for ages 16 & up.
Find out about the top desert ATV and off-roading tours in our article here.
Exotics Racing
Here's your chance to drive an exotic car on a real racetrack. This tour takes place at the Las Vegas Motor Speedway, where you'll get one-on-one training with a professional driver. These seriously powerful cars and your instructor will teach you proper steering techniques, acceleration, and braking strategies, as well as how to run a proper race line.
You can choose to either drive (you'll be driving a Porsche Cayenne) or be a passenger, where a professional driver will take you on the ride of your life in a 707-horsepower Dodge Hellcat. Your driver will show you what drifting is really like!
I was surprised at how inexpensive this tour is (vegas.com). You must be 18 years or older with a valid driver's license from any country in order to drive. Under 18 can ride, however.
Grand Canyon
If you've never been to the Grand Canyon, now's you're chance. You'll find Grand Canyon West just a couple of hour's drive from your hotel. Here you'll have a chance to not only see the canyon but you'll have the opportunity to walk out over it on a glass bottom bridge!
If you don't have a car, not to worry, there are plenty of tours available that will pick you up at your hotel.
Places to Go in Vegas if You're Under 21, But Over 18
What if you're visiting Las Vegas and you're over 18 but not yet 21? What can you do in Sin City at 18? Don't worry, you're in luck because there are some activities that are perfect for 18 to 20-year-olds.
Cloud 9 Hookah Lounge – A popular hangout for those 18+, the Cloud 9 Hookah Lounge has a dimly lit lounge atmosphere with, yep, you guessed it, hookahs! It's a comfy place to hang out with a vibrant atmosphere. Plenty of good music, dancing, food, and mocktails to serve the over 18 but under 21 crowd. Cloud 9 has a nightclub vibe.
18 and Over Shows – Sin City being what it is, there are plenty of risque shows that you must be 18 or older to get into. Adult-only shows include Fantasy, Magic Mike, Zombie Burlesque, Rouge, X Country, and plenty more! Click here to see a complete list of 18 and over shows.
Tours & Activities For 18+ – Since you are considered an adult in the state of Nevada at the age of 18, there are a number of attractions and tours you can enjoy because, as an adult, you are old enough to sign your own release waiver. For instance, you can drive a Hellcat at Exotics Racing (mentioned above), take a helicopter ride over the Strip, go on an ATV tour in the desert, enjoy a sunset horseback ride, try an escape room, or any number of tours that require an adult's signature to participate.
A Few Other Cool Attractions, No Matter Your Age
RELATED: Can You Check Into a Hotel in Vegas if You're Under 21?
A Word of Caution if You're Under 18
If you're under the age of 18 in Las Vegas, it's important to note that the city has a curfew law in place for the Strip and Downtown areas. The curfew goes into effect each night at 9 PM. These rules are in place to keep packs of wild teens and pre-teens from running through the streets of Las Vegas late at night.
These rules, however, don't apply if those under 18 are with a parent or legal guardian.
Frequently Asked Questions
Can you have fun in Vegas at 18?
Yes, there are plenty of fun things to do in Vegas if you're 18! While some activities like gambling and drinking may not be available to those under 21, there are still plenty of options. You can go to 18+ clubs like House of Blues, go hiking, enjoy theme park rides, see live shows, eat at restaurants, play carnival and arcade games, and more.
Can a 20 year old do anything in Vegas?
There are many things to do in Las Vegas for 20-year-olds, including visiting attractions like the High Roller Observation Wheel, the Neon Museum, or the Bellagio Fountains. There are also many shows and concerts in Vegas that are open to all ages. Additionally, 20-year-olds can enjoy activities like shopping, dining, and hanging out at some of Vegas's incredible hotel pools.
What are the rules for under 21 in Vegas?
Las Vegas, while often considered an adult playground, still has strict laws regarding individuals under the age of 21. Here are a few of the key rules:
No Alcohol: It is illegal for anyone under the age of 21 to consume alcohol. It's also illegal for anyone to provide alcohol to someone under 21. Violations can lead to hefty fines and potentially even jail time.
No Gambling: Anyone under the age of 21 is not allowed to gamble. This includes slot machines, table games, poker, sports betting, and more.
Casino Floors: Generally, anyone under the age of 21 is not allowed to loiter on casino floors. They may walk through casinos to get to restaurants, shows, and other attractions, but they should not stop or slow down on the gaming floor.
Nightclubs and Bars: Almost all clubs, bars, and lounges in Las Vegas require patrons to be at least 21 years of age.
ID Checks: Be prepared to have your ID checked. Las Vegas establishments are rigorous about checking ID for both alcohol and gambling.
Hotel Booking: Most hotels require at least one person of the booking party to be 21 or over. This can vary from hotel to hotel, so be sure to check the specific hotel's policy.
Remember, while Las Vegas has plenty of fun to offer for all ages, the laws are there to protect everyone. It's always best to follow them to ensure a fun and trouble-free visit to the city.
Are all clubs in Vegas 21+?
Most nightclubs in Las Vegas have a minimum age requirement of 21 years old to enter and consume alcohol. However, there are some nightclubs that allow guests under 21, but they are usually limited to certain nights or events.
It's important to note that nightclubs are extremely strict with IDs, so it's best not to try and use a fake id if you're underage in Las Vegas.
Vegas Activities For Those Underage – Final Thoughts
As you can see, there are plenty of options for fun things to experience in Las Vegas, even if you're under 21 years of age. Travelers of all ages will find the items on this list exciting. I recommend coming up with a game plan before your visit and making necessary reservations if you plan to see shows, go to crowded restaurants, stay at hotels on The Strip, or for tours.
Las Vegas is a place that everyone should visit at least once in their life. Even if you can't participate in the 21+ activities the city is known for, you can still get the full Las Vegas experience.
The city is known for its opulence in all categories, from shows to shopping to restaurants. So don't shy away from coming to Las Vegas if you are under 21. You'll find that there are plenty of entertainment options to keep you busy during your stay. Enjoy your trip!