Is it Worth Going to Downtown Las Vegas? YES – Here's Why!
(This article may contain affiliate links. If you click through and make a purchase, we will receive a small commission at no additional cost to you. )
Downtown Las Vegas was once the main attraction when visiting the neon lights of Vegas, but it has since become a somewhat overlooked part of town by tourists since the rise of The Vegas Strip. Since most visitors try to book their stay on the Strip, Fremont Street or Downtown Las Vegas are easy areas to miss unless you make a special plan to visit. 
Is it worth going to Downtown Las Vegas?
Yes. Depending on how long you're staying in Las Vegas, visiting the Downtown area can be a great way to see more of the city and avoid the higher prices found on the Strip. Fremont Street and the downtown Las Vegas area have a lot of attractions, entertainment, food, history, and gambling options for you to enjoy in classic Las Vegas style.
Downtown Las Vegas has a lot to offer both day and night, so if you're looking for the old school Vegas experience, downtown is where it's at!
The city of Las Vegas has evolved a lot over the years, and it has slowly become a fun vacation spot for all ages. There is a seemingly endless number of different activities to enjoy during your Vegas visit. Downtown is one part of the city that you don't want to miss.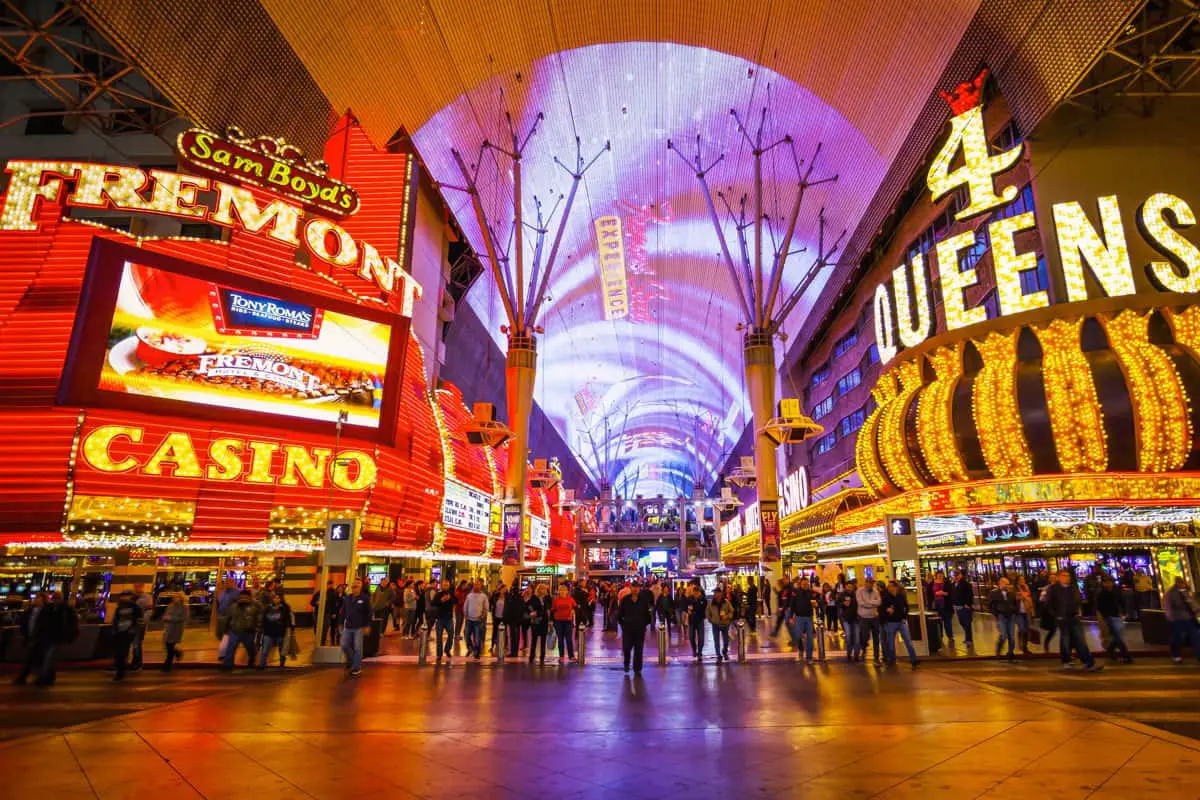 Visiting Downtown Las Vegas
Just a couple of miles away from the Las Vegas Strip is the historic downtown area of Las Vegas. Many of the businesses are old and original so they won't have quite the same flash and grandeur as the casinos on the Strip. Still, they have a lot of history and character. 
In recent years, Las Vegas has made more of an effort to showcase the arts and entertainment in the downtown area by hosting an array of festivals and nightly light shows on Fremont street and beyond. Not only that, but many of the restaurants, casinos, and museums are far less crowded and provide better service to all their guests, not just the high rollers. 
Many downtown visitors recommend taking a walk in the evening when Fremont street when the sun goes down and the lights come up. Nighttime is when the live bands and street performers come out to play.
It's worth a word warning that if you're visiting Las Vegas with your family, it might be best to take them to the downtown area during the day.  This is particularly true in regards to the Fremont Street Experience as many of the street performers there are scantily clad in the evenings.
However, during the day, there is a wide array of free and inexpensive experiences that the whole family can enjoy. So, no matter if you visit during the day or at night, you will be able to find something to enjoy in Downtown Las Vegas. 
Download our free Map of Downtown Las Vegas.
Must-See Attractions in Downtown Las Vegas
There is a wide variety of experiences to be had when visiting Las Vegas. Many people strictly picture casinos and Vegas shows, but beyond that, there are incredible museums, art districts, foodie tours, adventure rides, festivals, and much more. 
Fremont Street Experience
Many first-time visitors to Las Vegas wonder: "Is Fremont Street worth visiting?" The answer to that question is an absolute yes!
The Fremont Street Experience is, without a doubt, the jewel of the downtown district. This pedestrian-only area of Fremont Street is the entertainment hub of downtown. Originally known as "Glitter Gulch," this historic part of town has been completely revitalized and in the eyes of many locals (myself included) is one of the highlights of Las Vegas.
Filled with bars, casinos, restaurants, street performers, live music, and shopping this is where my wife Wendy and I like to go when we're looking for a fun evening out on the town.
The entire pedestrian area of Fremont Street is covered with a huge canopy full of LED lights. The canopy is really just a big monitor with lights and graphics playing non-stop.
Every hour, on the hour, they dim the lights on the street, and a light show (Viva Vision Light Show) is played on the canopy above along with popular music to really get the place Rockin!
You can walk and drink openly on the street here and in fact, there are bars located on the street itself so you don't even have to go inside for a drink. The Fremont Street Experience is basically a big, outdoor street party! From here, it is just a short walk to all the other downtown attractions I'm going to talk about below.
Things to Do in Downtown Las Vegas
There is plenty to do when visiting Downtown Vegas beyond gambling. Some activities are even free! You can't get much better than that. 
SlotZilla:

(google maps) at the Fremont Street Experience: A zipline will take you flying over Fremont Street. Choose from a shorter zipline (77ft) or take the Zoomline (114ft) for the entire length of Fremont Street all the way to the Golden Gate Casino. 
Binions Gambling Hall:

(google maps) There are obvious reasons to visit a gambling hall, but one of the primary reasons visitors check out Binion's is to get a chance to take a free photo with $1,000,000. Yes, a real stack of one million dollars in cash. This is one of the best souvenirs you can get in Las Vegas. (For all the top Vegas souvenirs check out our article here).
Mob Museum:

(google maps) Inside a historic post office and courtroom, you will learn the secrets of the mob, not only in Vegas but around the world. With exhibits dating back to the prohibition era, you will have a chance to walk in the shoes of famous mobsters and the detectives that locked them up. (Tickets and info here).
Neon Museum:

(google maps) As one of the primary reasons to visit downtown Las Vegas is to see all the flashy neon lights, take some time to visit the nearby Neon Museum. Basically, it is a neon sign graveyard that's filled with old neon signs dating back to the 1930s. Many of the signs are for establishments that no longer exist, but you've probably seen in movies. Learn more about the Neon Museum in our article here.
Zak Bagans Haunted Museum:

(google maps) Take a supernatural tour in this famously haunted 1930s mansion. This museum has some well-known haunted attractions, such as the Dybbuk Box and the staircase from the Demon House in Indiana. You can decide for yourself if the place is haunted as you walk through the dark corridors of this one-of-a-kind tour. (Discount tickets here)
Circa Las Vegas:

(google maps) If you're over 21, then you'll definitely want to visit downtown's newest major resort. Circa Las Vegas is an adults-only casino/hotel that's full of modern amenities while still retaining the old town Las Vegas charm of downtown. In fact, if you're considering staying overnight, Circa is likely the best place to stay in downtown Las Vegas.
(Mostly) Free Things to See in Downtown Las Vegas
If you're looking for sight-seeing opportunities that are mostly free, then downtown is the place to be! Downtown Las Vegas has slowly become somewhat of an art and culture haven over the years, so there are more than just flashy lights to see. 
Container Park:

(google maps) This open-air shopping center is constructed completely of old shipping containers giving it a unique, industrial feel. You will also be greeted by a giant metal praying mantis. If you visit at night, it will talk to you and shoot fire out of its antennae…no joke! There are plenty of shops and food in the retail center, and there is even a wedding chapel for a unique Vegas-style ceremony. (Learn the benefits of getting married in Vegas in our article here.) Cost: Free
Life is Beautiful Murals:

Starting in 2013, the Life is Beautiful festival hosted in downtown Las Vegas celebrates art and beauty. See some of the past murals painted by world-renowned artists as you walk the downtown area. This festival was created to remind everyone that life is beautiful, and has turned downtown Las Vegas into an amazing outdoor art gallery. Cost: Free
18b Arts District:

(google maps) Just south of the Fremont district is the Art District which spans 18 city blocks. The Arts Factory (galleries, shops, and food) is in the middle, with ever-expanding experiences of pop culture, contemporary art, photography, and all types of artistic expression. Take a walk to enjoy the art and stop in the shops to support local artists along the way. Cost: Free
Viva Vision Light Show: (google maps) As I mentioned above in the Fremont Street Experience section, the light show is one of the absolute must-see attractions on Fremont Street, this nightly show is one you can't miss. Walk beneath the canopy ceiling for a different show at the top of every hour. Each show lasts about five minutes. Cost: Free
Vegas Vic:

(google maps) Have you seen photos of the iconic neon Vegas cowboy? Well, that's Vegas Vic. Get your picture with him just outside of the Pioneer Gift Shop and next to the Golden Nugget Casino. Cost: Free
Old Las Vegas Mormon Fort:

(google maps) Dating back to the mid-1880s, this is the first living structure constructed within the city. It was built 50 years before Las Vegas was founded. The fort covers a 3-acre lot and was built to protect early Mormon settlers from Native American interaction. This is truly old town Las Vegas! Cost: $3
Best Food and Drink in Downtown Las Vegas
Along with the rest of the city, downtown has plenty to eat and drink, as well. Throughout the downtown area, there is an abundance of interesting and unusual places to fill your stomach and wet your whistle.
Atomic Liquors:

(google maps) Visit Las Vegas's oldest freestanding bar. Appropriately named after nuclear testing that was done from 1950 to 1962 at the nearby Nevada Test Site, this retro bar will give you a blast from the past.
Heart Attack Grill: (google maps) Humor, fun, and hearty food packed into one heart-stopping restaurant with burgers of the highest calorie count imaginable. Know before you go… if you can't finish it, don't order it (just kidding). No sharing allowed! And there's a scale. So, if you weigh more than 300lbs, you eat free.
Donut Bar:

(google maps) These, one-of-a-kind, donuts can only be found in Las Vegas and San Diego. Feast on donut varieties such as a Big Poppa Tart or Butter Beer donut. You'll want to get here early to be sure they aren't sold out!
Commonwealth Prohibition Bar:

(google maps) Inspired by the prohibition era, sit inside or on top of this speakeasy-style bar and watch the nightly Fremont Street light show.
The D Las Vegas and Golden Gate Flair Bartenders:

(google maps) If you're looking for a cocktail and a show, just stop by one of these bars. These "flairtenders" will serve up an unforgettable show, all while making you a perfect cocktail.
Lip Smacking Foodie Tour:

This self-guided tour is a foodie vacation must. Visit three of the top indie restaurants in downtown Vegas. This is a walking tour, so fill up on signature dishes with fun and local insights between restaurants. (Check for discount tour tickets here)
Fremont East Entertainment District:

(google maps) Some bars and restaurants listed above can be found here, and if you're not sure what you want to eat or drink, just take a walk around the East Entertainment District to find a number of high-end establishments for your choosing.
Best Places to Gamble in Downtown Las Vegas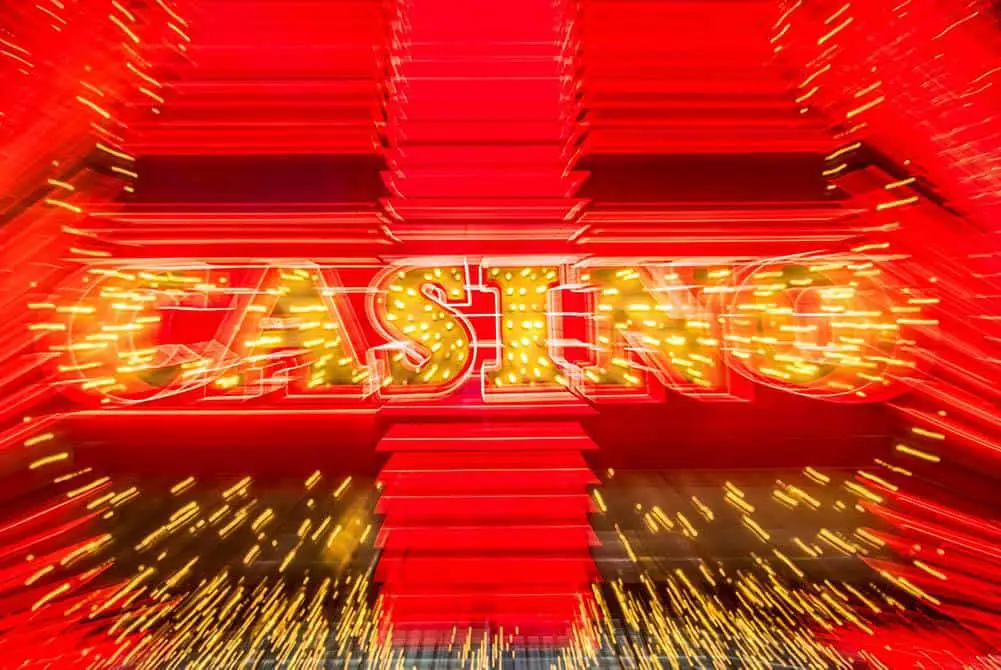 The Strip has long taken over the gambling scene with flashy slots and video machines, but if you aren't a slot fanatic or a high roller and are still looking for some good quality table time in the casinos, head to downtown. Though many of the casinos in the downtown area are smaller, with fewer people in an out throughout the night, you can ensure your experience will be more intimate with much better odds. 
City of Las Vegas Downtown Casinos Include:
Golden Nugget
California
Main Street Station
Fremont
Four Queens
Binion's
The D Las Vegas
El Cortez
Plaza
Las Vegas Club
Stratosphere Las Vegas
Of these casinos, the Golden Nugget, Binion's, and El Cortez are the most popular for historical reasons (all three are located near each other on Fremont Street).
Many of the casinos listed have entertainment values of their own beyond gambling, so no matter what you're looking to do, you'll be able to find it downtown. 
Is Downtown Las Vegas Cheaper Than The Strip?
A large number of casinos and resorts in Downtown Las Vegas makes it a great option for an extended stay. You will have comparable excitement and entertainment options as the Strip, but for a fraction of the price. So, yes, downtown Las Vegas is cheaper than the Strip.
Once downtown, many of the other area attractions are within walking distance. However, to get to the Strip, you will have to drive or get a ride. Visit our resource guide to see our recommendations for the best places to book a hotel in Las Vegas.
Downtown Las Vegas Neighborhoods
There has been an influx of annual events and regular attractions added to the Fremont area by the city of Las Vegas over the last few decades in order to attract more visitors to the downtown area.
There is still a historical flair to downtown, but it has begun to reflect a more modern style in certain areas.
When many visitors think of Downtown Las Vegas, they picture Fremont Street as the original Vegas Casino District. However, Downtown is an expansive area allowing for many activities and entertainment options beyond gambling. 
Fremont Street Casino District
Fremont Street was the first road paved in Las Vegas (the first stoplight too) but was established many years before when the city itself was born. Fremont Street, aka Glitter Gulch, will be the area that you are familiar with from movies dating back to 1964, like Viva Las Vegas with Elvis Presley.
It is now more widely known as old Vegas and is the city's historic center and original gambling district.
Fremont Street East Entertainment District 
The eastern corridor of Fremont Street came along much later and is now a pedestrian-friendly six-block retro corridor. Although there are plenty of neon lights in the East District, the original Vegas experience is on the Westside.
The Eastern side of Fremont Street will be where you can find more modern casinos, restaurants, and bars. 
Other Downtown Las Vegas Neighborhoods
While Fremont Street remains at the forefront of Downtown Las Vegas, there are a number of other neighborhoods worth exploring in the downtown area, especially if you are seeking out more art, history, and culture. 
The Arts District:

(google maps) Officially known as 18b, the Las Vegas Arts District is an 18 block run of art galleries, studios, and stores. 

Symphony Park:

(google maps) Once an old railroad park, the city of Las Vegas has turned it into the new City Hall and the Smith Center for Performing Arts. 

Las Vegas Medical District:

Not necessarily a reason for site-seeing, but this medical district is home to an expanding 200-acre health-care district. 

Financial District:

Another area primarily filled with government and business buildings, this area of downtown is home to several bank headquarters. 
Is Downtown Las Vegas Cheaper Than the Strip
Downtown Las Vegas is certainly a fantastic time, but don't be surprised when you start to see your bank account begin to dwindle. Las Vegas, for many reasons, can be an expensive place to visit. This is due to all of the attractions, high-end restaurants, casinos, and so on.
Having said that, many visitors prefer going to downtown Las Vegas instead of the Strip. One of the reasons for this is that prices are definitely cheaper downtown than they are on the Strip. Less expensive hotels, food, and entertainment. Not everything is cheap, but you can still find some deals downtown that are reminiscent of the old days in Las Vegas.
One of Wendy's and my favorite things to do on Fremont Street is to have steak and lobster at Tony Romas (google maps). Located inside the Fremont Casino, between the hours of 9pm and 11pm you can get a steak and lobster tail dinner for just $11.99. They also have an $8.99 prime rib special from 4:30pm to 6:30pm. Tip: Go in a little ahead of time and put your name on the waitlist.
Regardless, it's always best to ensure that you overprepare your budget rather than be underprepared, especially when taking a trip to "Sin City." If you plan on gambling, then you may really want to hike up your budget, as it is easy to get lost in the moment, considering the environment.
If you'd like to know how much money to bring to Las Vegas, you'll want to take a look at our handy guide here.
Final Thoughts
From the flashy neon signs to the unforgettable food and an endless amount of people watching, visiting downtown Las Vegas might be the most unforgettable part of any Vegas trip or vacation.
While the Strip offers a great experience, nothing can beat the original Las Vegas vibe found on Fremont Street. Teeming with excitement, entertainment, good eats, and culture, downtown has a lot to offer and should not be overlooked. 
Whether you are there with the kids, on your honeymoon, or taking a night out with your friends, downtown Las Vegas has something everyone can enjoy. While any part of Las Vegas will be crowded with people, the service and hospitality cater to a smaller crowd in the downtown area so you can have a more personalized experience and stay. 
You can spend weeks in Downtown Las Vegas and still not have time to see or do it all. The events and festivals each week will keep you busy, not to mention the long-standing original restaurants and casinos that have become fixtures in Old Las Vegas.
You may come Downtown for a party, but you will stay for the food, art, and culture.
RELATED: 19 Best Things to Do in Downtown Las Vegas (Must See!)