Downtown Las Vegas Map 2023 (Free Printable PDF)
When people think of the glittering neon lights and the old-school casinos of Las Vegas, they're thinking of Vegas's downtown area. Downtown Las Vegas, or "Glitter Gultch," as it was once known, is where you'll find vintage Vegas, and the best way to get your bearings is to grab our free Downtown Las Vegas Map!
Downtown Las Vegas is where it all began! It's where you'll find the oldest casino in Vegas, as well as tons of funky shops, restaurants, attractions, and activities. It's also where you'll find the Fremont Street Experience, the world's most exciting street party!
We've created this gorgeous, hand-drawn map of Downtown Las Vegas just for you! Download the PDF and view it on your phone when visiting, or print it out to use as a handy reference when planning your next Vegas vacation.
Downtown Las Vegas Map (Free Downloadable PDF)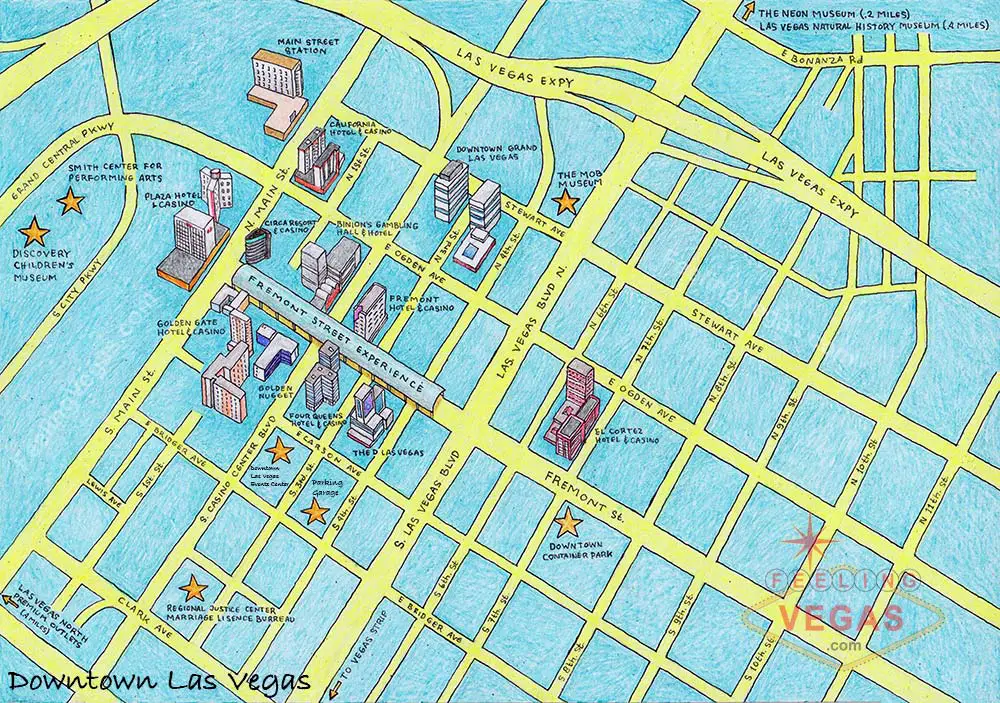 (This article may contain affiliate links, which means we might earn a small commission if you click and make a purchase. Thank you!)
Download Downtown Las Vegas Map PDF (993 KB)
Downtown Vegas Map (Hotels & Attractions)
Many visitors to the Strip wonder if it's worth heading to downtown Las Vegas? The answer: You bet it is!
The downtown area of Las Vegas is the pedestrian street party you've always dreamed of! Fremont Street (where you'll find the majority of the fun) is at the center of the activity, and it's where you'll find most of the downtown casinos, hotels, and attractions.
Downtown Las Vegas is home to a dozen popular hotels and casinos, including Binions, The D, Four Queens, Golden Nugget, and the newest gem, Circa! Not only are these hotels and casinos close to the action, they are also generally more affordable than many of the hotels found on the Strip.
Downtown Vegas also has several prominent attractions within easy walking distance of Fremont Street, including Container Park, the Neon Museum, the Arts District, the Mob Museum, and the Smith Center of Performing Arts.
Psst, If you want to know a secret….downtown is where most of us locals like to hang out!
Downtown Las Vegas Hotels Featured on the Map
The downtown area has plenty of modern and classic hotels to stay at or explore. The most popular hotels in downtown Las Vegas are:
You can click the hotel links for photos, reviews, and current room rates at TripAdvisor.
Also, be sure to download our free Las Vegas Strip Map!
Interactive Downtown Las Vegas Street Map
Click, drag, and zoom in on the interactive downtown Las Vegas street map below. As you explore this google map, you'll find many new points of interest in the downtown area. Click on the "view larger map" link on the map to choose a destination and get turn-by-turn directions (driving or walking) to wherever you want to go from your present location.
One of the great things about hanging out in downtown Vegas is that it is very walkable. Most points of interest are close by and will only take a few minutes of walking to get to. Oh, and did I mention that you can walk on the street with an open container? So ditch the car, grab a beer, and hit the streets!
With nine casinos along Fremont Street and several more nearby, you can easily visit more casinos in one evening than you can on the Strip, where everything is spread much further apart.
Top 10 Things to Do in Downtown Las Vegas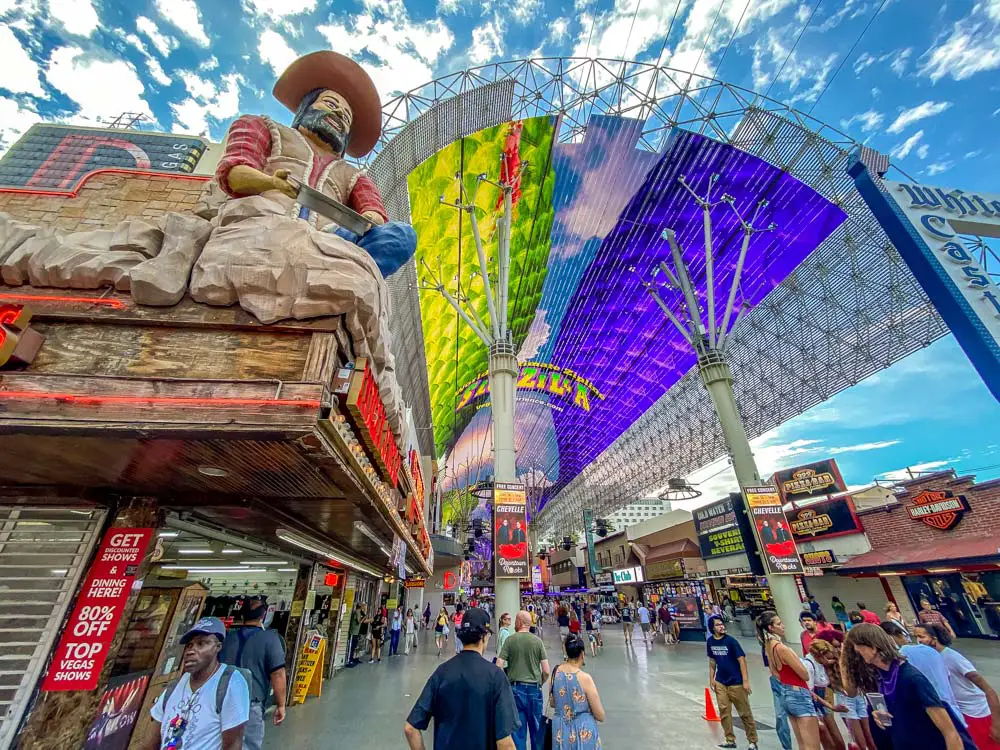 There is a tremendous amount of things to do and see in downtown Las Vegas. Casinos, ziplines, bars, restaurants, shopping, museums, live concerts, and of course, the Fremont Street Experience. Let's take a quick look at the top 10 things to do in downtown LV.
Viva Vision Light Show – Watch the light show that plays every hour on the canopy that covers Fremont Street.
SlotZilla Zip Line – Ride a zipline down Fremont Street from atop the world's biggest slot machine.
Neon Museum – Take in all the historic signs from old Las Vegas past.
Circa Resort & Casino – Visit the newest casino in downtown Las Vegas. Wow, it's cool!
Vegas Vickie – While you're inside Circa, look for Vegas Vickie. She's a huge neon sign that's an old-school Vegas icon.
The Mob Museum – Las Vegas has a shady past, and The Mob had more than a little to do with it. Visit the Mob Museum to get all the details.
The Tank – Check out the swimming pool with a giant live shark tank in the middle, and a water slide that runs right through it. You'll find it inside the Golden Nugget Casino.
World's Largest Golden Nugget – I guarantee you've never seen a chunk of solid gold this big! It's also at the Golden Nugget Casino.
Play Coin Slots – If you have a hankering to play vintage coin slot machines while you're in Vegas, downtown is the place to do it!
Container Park – Visit an entire shopping center made out of shipping containers. Also, don't miss the giant mechanical Praying Mantis out front!
Check out our complete list of the Best Things to Do in Downtown Las Vegas.
Distances From Downtown Las Vegas to Other Nearby Attractions
If you're thinking about staying in downtown Las Vegas, it will be helpful to know how far the hotels on and around the Fremont Street Experience are from some of the other major attractions in Las Vegas. This table will help put the distances into perspective and let you know if they are walkable or not.
Location
Distance (Miles) From
Fremont Street Experience
Walk / Drive
Downtown Las Vegas
Events Center

.2 miles
Walk
The Mob Museum
.3 miles
Walk
Container Park
.4 miles
Walk
Neon Museum
.7 miles
Walk or Drive
Smith Center For Performing Arts
.8 miles
Walk or Drive
Natural History Museum
.9 miles
Walk or Drive
Discovery Children's Museum
1 mile
Walk or Drive
North Premium Outlets
1 mile
Walk or Drive
Old Mormon Fort
1.1 miles
Walk or Drive
The Stratosphere (North Las Vegas Strip)
2 miles
Drive
Las Vegas Convention Center
3.4 miles
Drive
Springs Preserve
3.8 miles
Drive
Bellagio (Center Las Vegas Strip)
6.9 miles
Drive
Mandalay Bay (South Las Vegas Strip)
8 miles
Drive
Harry Reid International Airport
(formerly McCarran Airport)
8.1 miles
Drive
Red Rock Canyon
21 miles
Drive
Seven Magic Mountains
26 miles
Drive
Hoover Dam
37 miles
Drive
Mt. Charleston Lodge
39 miles
Drive
Distances are calculated from the Fremont Street Experience.
A Few of Our Personal Favorites When Visiting Fremont Street Experience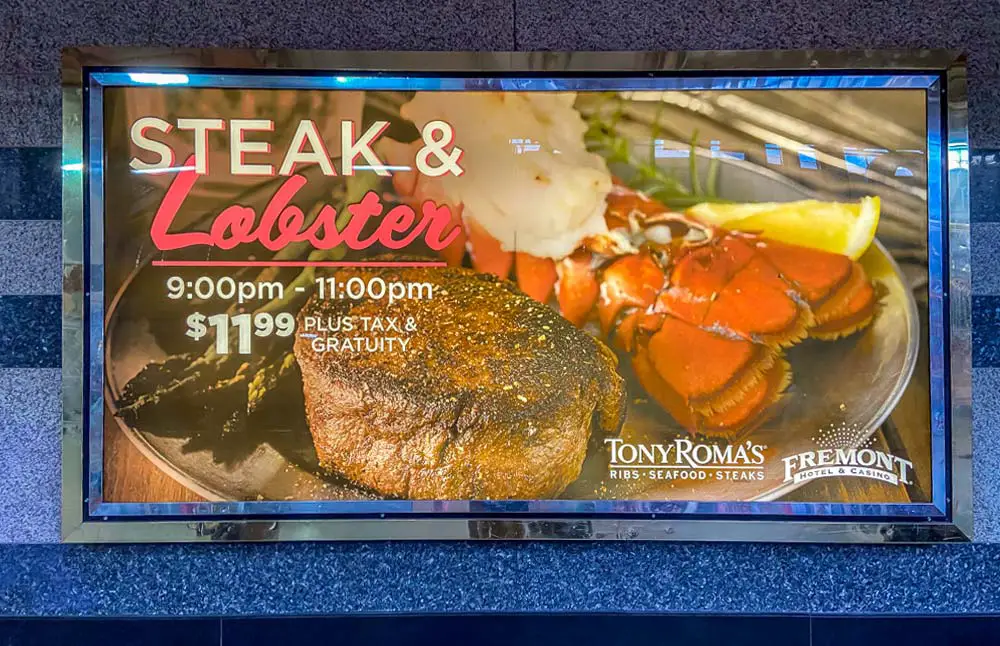 While we enjoy going to the Strip, our hearts belong to downtown Las Vegas. It's the place we go when we want to have a night out on the town. Here are a few of our favorite things to do at the Fremont Street Experience in Downtown Las Vegas.
Steak & Lobster at Tony Roma's – Every night between 9 – 11 pm Tony Roma's restaurant (inside the Fremont Hotel & Casino) serves up a steak and lobster tail special for just $11.99.
$5 Shots of Patron – The Fremont Casino is also where we like to get $5 shots of Patron Tequila.
Golden Gate Casino – Walk through the Golden Gate, Las Vegas's oldest casino.
Live Music – The Fremont Street Experience has three stages where you can enjoy free live music and performances.
People Watching – We love to people watch, and Fremont Street has the best concentrated people watching I've ever seen! From the talented street performers to the visitors whooping it up in Sin City, there is no shortage of entertainment.
Downtown Vegas Map 2023 – Conclusion
And there you have it! Download our Las Vegas downtown map and prepare yourself to have an amazing time downtown, where Las Vegas was born!
Sources: