The 8 Newest Hotels in Las Vegas (2023)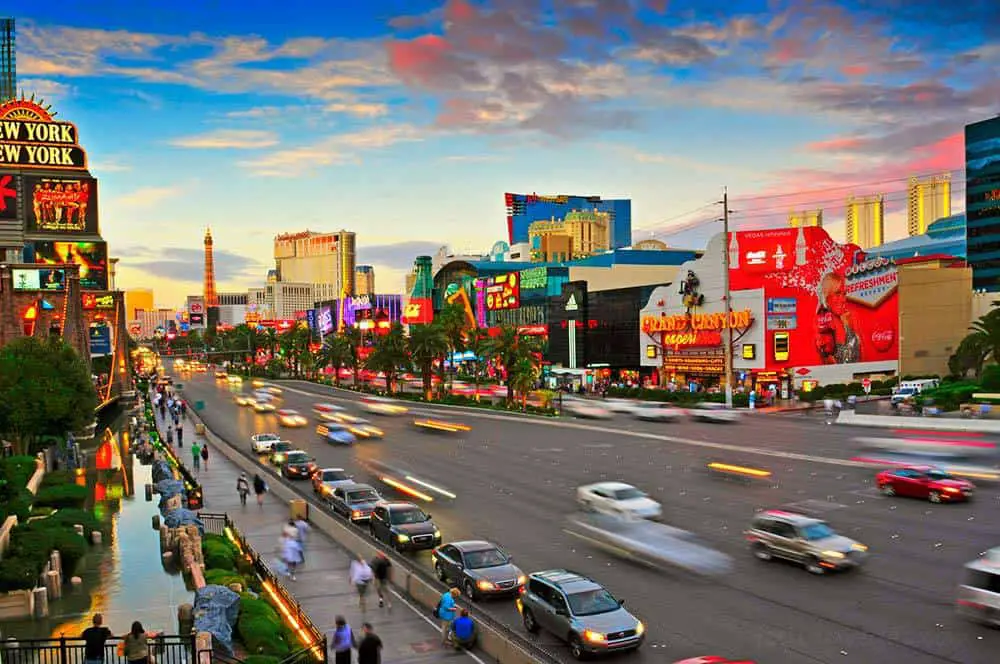 (This article may contain affiliate links, which means we might earn a small commission if you click and make a purchase. Thank you!)
Las Vegas is full of many amazing hotels primed for your entertainment and pleasure. Deciding which hotel to stay in can be a difficult task. With all the available resorts to choose from, many people like to make their decision by choosing from one of the newest hotels on the Strip or in the downtown area, knowing that a new or newly renovated casino will make their visit to Las Vegas the best it can be.
The 8 newest or newly remodeled casinos in Las Vegas are:
NoMad
Park MGM
Sahara Las Vegas
Virgin Hotel
The Strat
Circa Resorts
Resorts World Vegas
Fontainebleau Las Vegas (scheduled to open in Q4 2023)
There are some new or newer casinos to choose from in Vegas that are sure to deliver an amazing stay, as well as a resort that will be opening soon. We'll go over each hotel on the list and provide insight into what each has to offer so you can choose the one that will make your Vegas trip one to remember.
While we're at it, be sure to download our free Las Vegas Strip map here, showing where each of these hotels is located.
8. NoMad Las Vegas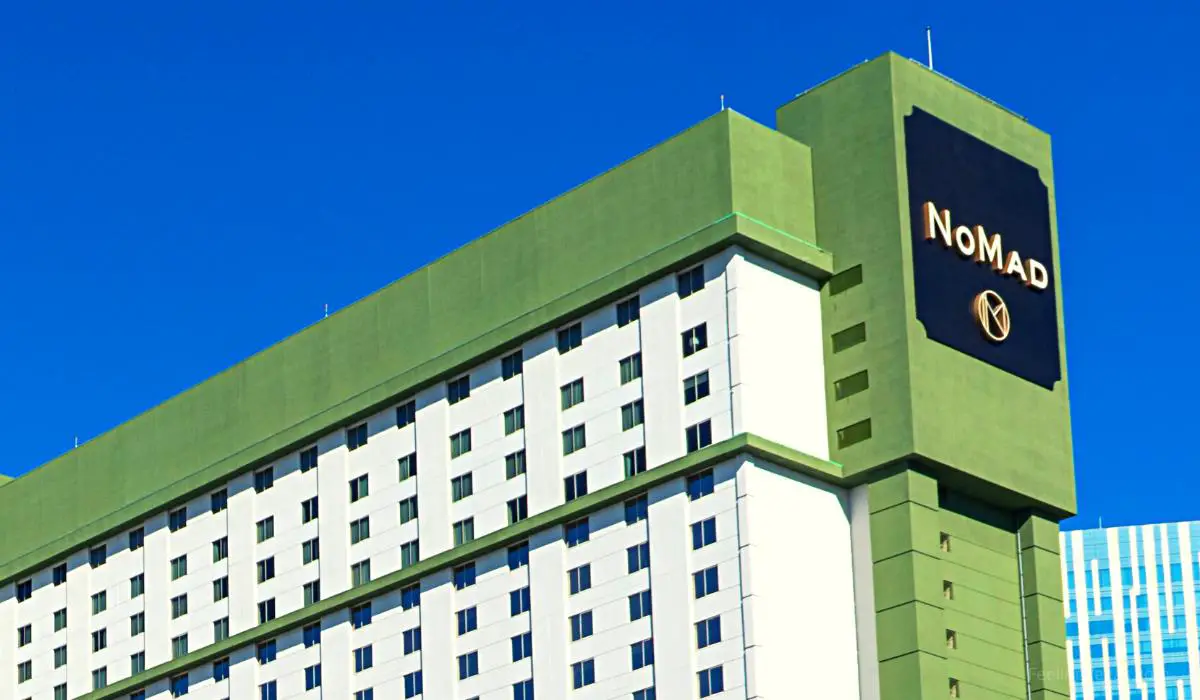 NoMad Las Vegas is an upscale MGM property that is actually a hotel within a hotel.
The NoMad is located inside the Park MGM hotel (the next property on our list) and occupies the top four floors. The posh rooms offer complimentary wifi and smart TVs, while the suites have separate living quarters and different combinations of amenities, including private pools, dining areas, and pool tables.
The exclusive NoMad Restaurant and Bar provides a one-of-a-kind experience with wonderful cuisine. NoMad has refined its establishment to enhance the Las Vegas experience further.
At NoMad's small, high-limit casino, the iconic Tiffany glass ceiling is something to behold. Providing an intimate, refined gaming experience separates NoMad's casino from others on the Strip. They have channeled the atmosphere of European casinos to give their establishment an added touch of sophistication.
And the intimate feeling doesn't stop there. The 293 rooms were designed by French interior designer Jacques Garcia. His design gives the rooms a residential feeling that brings a touch of New York City to the hotel.
The NoMad Restaurant was inspired by the Library Bar in New York with its vast space and voluptuous menu. So if you are in the mood for a few cocktails before joining your friends for dinner, head to the NoMad Bar.
NoMad also features some private amenities to offer each of their guests. I suggest you visit the spa for some much-deserved relaxation time after working up a good sweat at the fitness center.
And if you feel like getting done up before hitting the town, an upscale salon is available for your every need.
7. Park MGM Las Vegas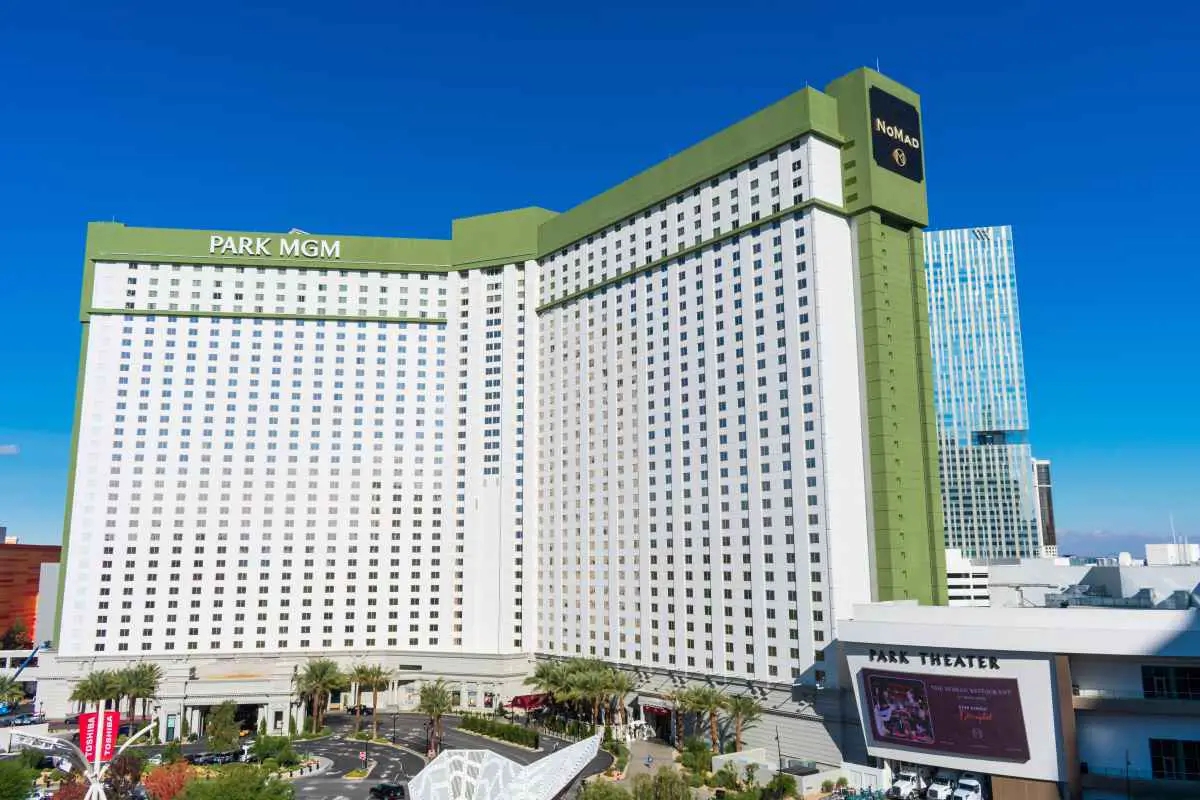 In 2018, Monte Carlo was remodeled and rebranded to Park MGM. At Park MGM, you get less of the boutique feel of NoMad (the property found on the top floors of Park MGM) and more of the high energy, fun feel of a huge hotel that's right in the center of the Strip.
Boasting a count of 2,992 rooms, there is so much to do in and around the Park MGM that you'll likely run out of vacation time before running out of things to do.
When it comes to the entertainment side of the spectrum, Park MGM is the place to go. Some of the biggest names in show business make their way through the hotel and put on world-class shows.
Jonas Brothers, Maroon 5, Bruno Mars, and Usher are only a few of the huge names currently playing at Park MGM. And don't forget fight night for the boxing and MMA fans just across the strip at the MGM Grand Garden Arena!
There are also a plethora of restaurants to choose from, and they are all highly reviewed as amazing places to eat. You can't go wrong! Eataly is the world's largest Italian marketplace with restaurants included, and it has arrived at Park MGM in Vegas.
Or, if you have a taste for Korean BBQ, Best Friend is a perfect choice to get your fix. In addition, Bavette's Steakhouse and Bar has you covered if you feel like slicing into a tender cut of beef.
Finally, how about a great breakfast option? Primrose is the place to go for those morning cravings.
Note: Park MGM is a smoke-free hotel.
6. Sahara Las Vegas
The Sahara has gone through some changes over the years, evolving into its current form. Originally built in 1952, the property went through a $415 million renovation in 2014 and reopened with 1,600 guest rooms as the SLS.
It was sold again in 2018 and renamed once again Sahara. Along with the accommodations offered for guests comes a large casino that's sure to please the gamblers.
In addition, the hotel boasts numerous award-winning restaurants. Guaranteed to satisfy any craving, restaurants like Bazaar Meat and Prendi provide delicious options that will leave you more than satisfied.
Sahara also offers tons of entertainment every night of the week. Comedian Eddie Griffin performs multiple times per month (showtimes). The hotel is also home to Magic Mike Live, which is a regular crowd pleaser.
5. Virgin Hotels Las Vegas
In 2020, Richard Branson purchased The Hard Rock Hotel and Casino and rebranded it to the Virgin Hotel Las Vegas. Closing its doors for four whole months to renovate, every square inch of the hotel and casino has been remodeled to become a completely new establishment.
The hotel, along with the bars and restaurants, have all been made anew to create a brand-new experience that every patron is sure to enjoy.
The Virgin resort provides a one-of-a-kind experience for visitors. A redesigned exterior, a remodeled pool, an expanded casino, and a sports book-themed experience are all available inside Virgin Hotel in Las Vegas.
With locations already established in San Francisco and Chicago, the new Virgin Hotel in Vegas keeps the same vibe that's present at other Virgin Hotels but with a special touch of Vegas fun. Aiming to give the sportsbook theme a strong presence, the newer hotel has kept the former music venue of the Hard Rock.
Before the Hard Rock closed, it included a five-acre pool party area that tons of people had enjoyed for many years. But not to worry, the pool area has been completely made over and remodeled to accommodate the new hotel.
And finally, the Virgin Hotel is home to several new dining experiences as well, including Kassi Beach House, One Steakhouse, Todd English's Olives, and Nobu, to name just a few.
Name: Virgin Hotel Las Vegas
Address: 4455 Paradise Rd (map)
Date Remodeled: 2020
Number of Rooms: 1,500
Check current room rates (TripAdvisor)
4. The Strat Hotel, Casino, & Skypod
Formerly called The Stratosphere, The Strat aims to keep the well-known rides and entertainment of its former establishment completely intact. But in an effort to give the hotel a complete overhaul and create a new place in Vegas to visit, The Strat has recently spent $140 million dollars to undergo a complete renovation.
The full name of the new hotel is The Strat Hotel, Casino, & Skypod.
What is a skypod, you say? The top three levels of The Strat will be considered the "skypod" and rightly so. One of the most enticing parts of The Stratosphere was the amazing view one could behold at the top of the hotel. With an amazing view of all of Las Vegas, patrons love to go to the top and take it all in.
Now, The Strat provides that same experience but with an entirely new look and feel. The newly remodeled hotel also includes a brand-new casino geared towards younger visitors.
A gastro brewery is also part of the enjoyment, along with a steakhouse sure to pique any meat eater's interest. The iconic Top of the World Restaurant is still there and remains one of Vegas' more well-known restaurants. Also, a bar called 108 Drinks opened its doors along with the new renovations.
Most importantly, the Strat's recent renovation included a remodel of all of its hotel rooms, providing guests with a fresh new feel.
3. Circa Resort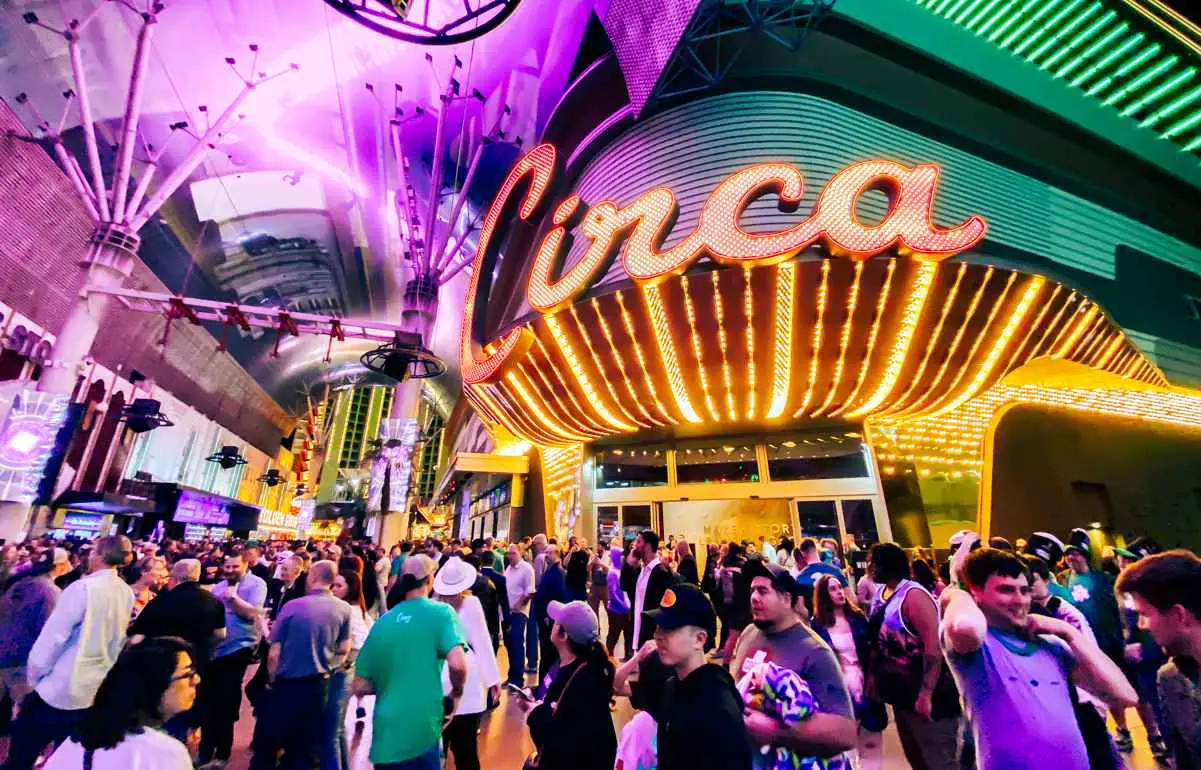 Circa Resort is one of Las Vegas's newest hotels and casinos having recently opened in late 2020. Having a location on Fremont Street in downtown Las Vegas, the towering building is 44 stories tall with 777 rooms for visitors. The new Circa Resort is impressive, takes up an entire city block, and is the newest hotel in downtown Las Vegas in decades.
The hotel is the first built from the ground-up resort in downtown Las Vegas in over 40 years.
Circa is a modern hotel and casino with a completely vintage vibe. Among all the updated goodies that Circa has to offer, perhaps one of the most impressive is the largest sportsbook that can be found anywhere in Las Vegas.
Vegas Vickie, the historic and iconic neon sign showgirl, is also on display in one of the resort's bars.
A number of delicious restaurants are included as part of the makeup of the new hotel. From Barry's Downtown Prime, which provides a great range of American fare, to 8 East, with its Asian pan offerings.
Also, Project BBQ (located in front of Circa) is the first permanent food truck experience on Fremont Street.
One of the best aspects of the Circa Resort experience is its rooftop pool amphitheater experience known as Stadium Swim. With six rooftop pools open 365 days a year and a massive 14-million-pixel screen installed above the pool deck makes this one of the best pool experiences in Vegas.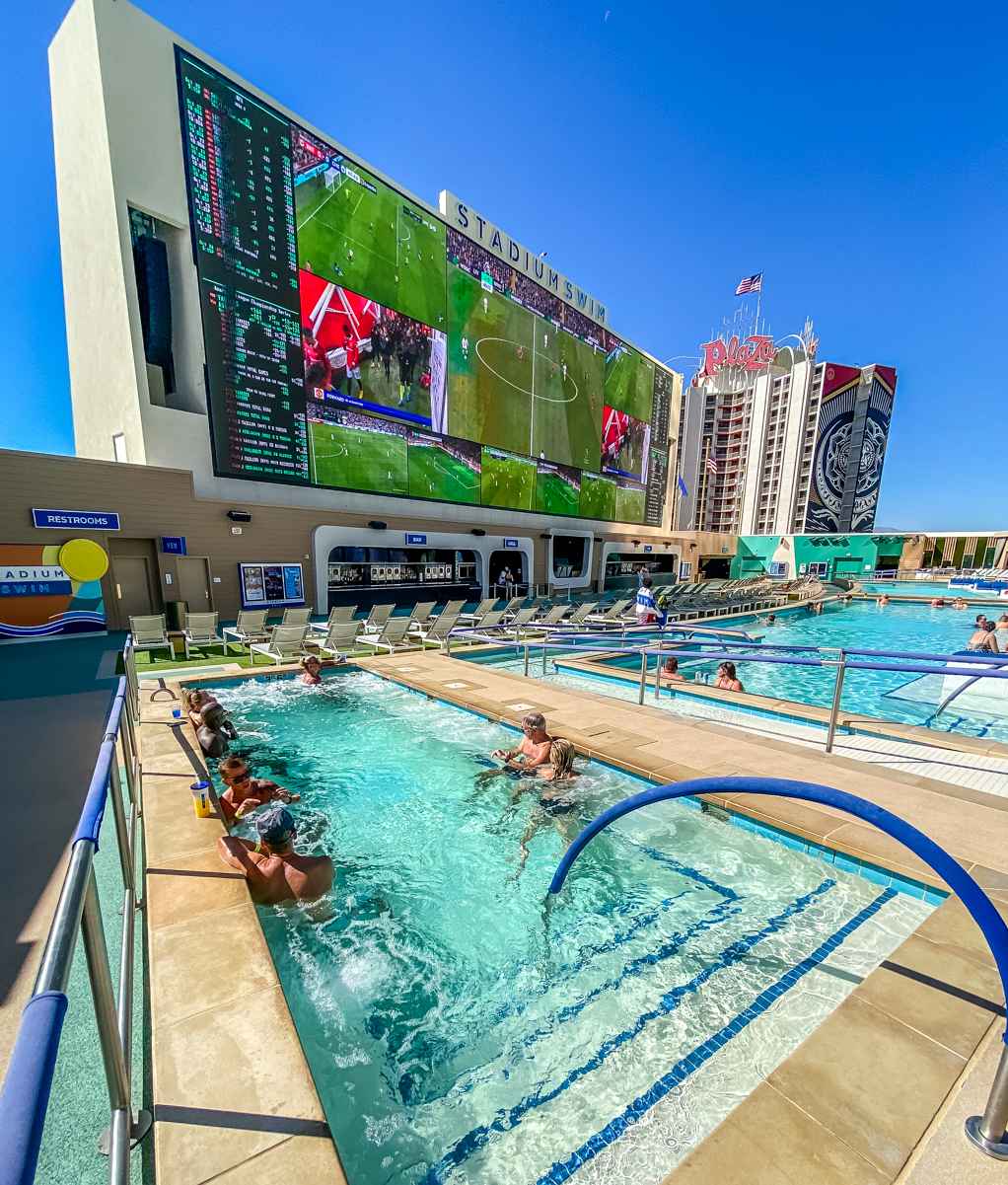 The biggest sporting events will be aired live while you get to hang out and take a dip. Circa Resort wanted to do everything to utilize the beautiful, sunny Las Vegas weather.
RELATED: Find out everything you want to know about the Circa pool (aka Stadium Swim) in our article here.
2. Resorts World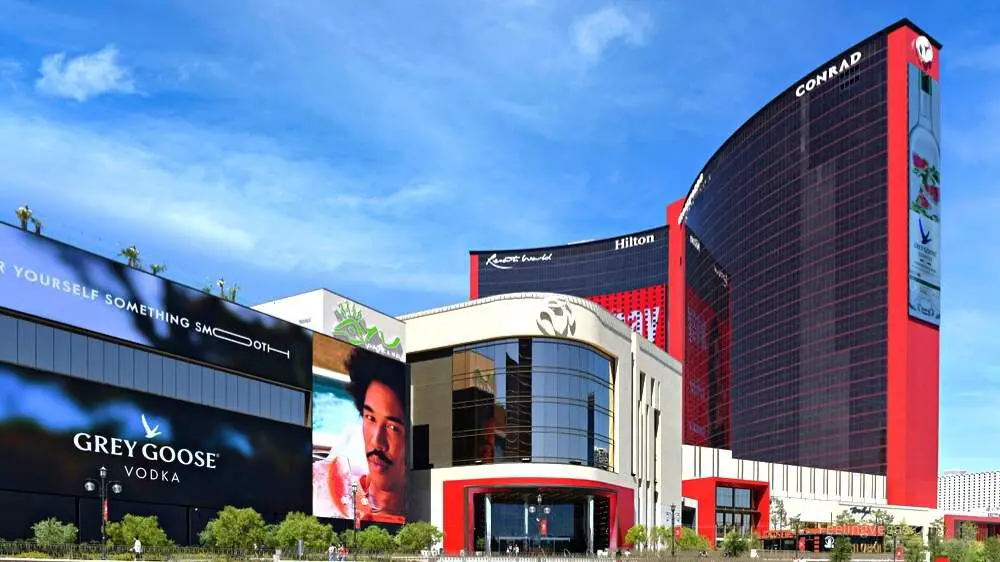 Resorts World is a huge new property on the Las Vega Strip that houses three unique hotels, including Conrad Las Vegas, Las Vegas Hilton, and Crockfords Las Vegas.
Residing on 87 acres of the former Echelon and Stardust, the multi-billion-dollar project houses 3,400 guest hotel rooms, numerous restaurants, and is within easy walking distance of the Las Vegas Convention Center.
Resorts World Vegas offers high-end technology, the best guest services imaginable, and a luxury hotel experience with Asian-inspired touches. Traditional and modern architecture is combined to create a resort unlike any other on the Las Vegas Strip.
In addition, a beautiful outdoor pool oasis is inviting for everyone staying at the hotel.
A rustic texture, along with bold accents, will adorn every area of Resorts World with an interior color palette of creams and warm golds to provide an inviting feel to the resort.
Each visitor room will have a unique feel that provides every guest with a one-of-a-kind experience, with each room having its own personality.
(Wondering if you should stay on the Strip when you visit Vegas? Read our article here to help you find out)
1. Fontainbleau Las Vegas
Scheduled to open in October of 2023, the Fontainebleau Las Vegas will be the newest hotel on the Las Vegas strip. The beautiful, blue-tinted tower looks amazing as construction continues on this long-planned resort property.
Fontainebleau will be a massive hotel featuring nearly 4,000 rooms and towering over the Las Vegas Strip at 60 stories. With half a million square feet of convention and concert space, there are sure to be many amazing entertainment acts that will be making their way through the establishment.
Being a Vegas property that has gone through many years of planning and re-planning, the project has finally been nailed down, and construction is nearing completion.
In 2010 the property was purchased for the purpose of creating a new hotel but solidified plans did not come into play until 2018. Fontainebleau is located on a 24.5-acre plot of land formerly occupied by the historic El Rancho Vegas (see our article here for a bit of Las Vegas history).
The new project will be sure to please all comers. The hotel has plans to host some of the biggest names in music and entertainment, in addition to having all the casino games one can handle. Although the project still has a little further to go before the doors open, Fontainebleau is sure to stake its own claim in Las Vegas and become the newest, most exciting hotel and casino to open its doors on the Vegas Strip.
Name: Fontainebleau Las Vegas
Address: 2777 S Las Vegas Blvd (map)
Opening Date: 2022
Number of Rooms: 3,780
Check current room rates (Coming in 2023)
The 8 Newest Hotels in Las Vegas (2023) – Final Thoughts
One thing is for sure, Las Vegas never sits still. With brand new casinos popping up all the time, plus the extreme renovations being done to existing properties on a regular basis, you'll never have to settle for an out-of-date hotel in Las Vegas.
You can choose from one of these 8 properties with confidence, knowing that you'll be staying at one of the newest casinos in Las Vegas.