Is Fremont Street Air Conditioned? (Beat the Heat)
(This article may contain affiliate links. If you click through and make a purchase, we will receive a small commission at no additional cost to you. )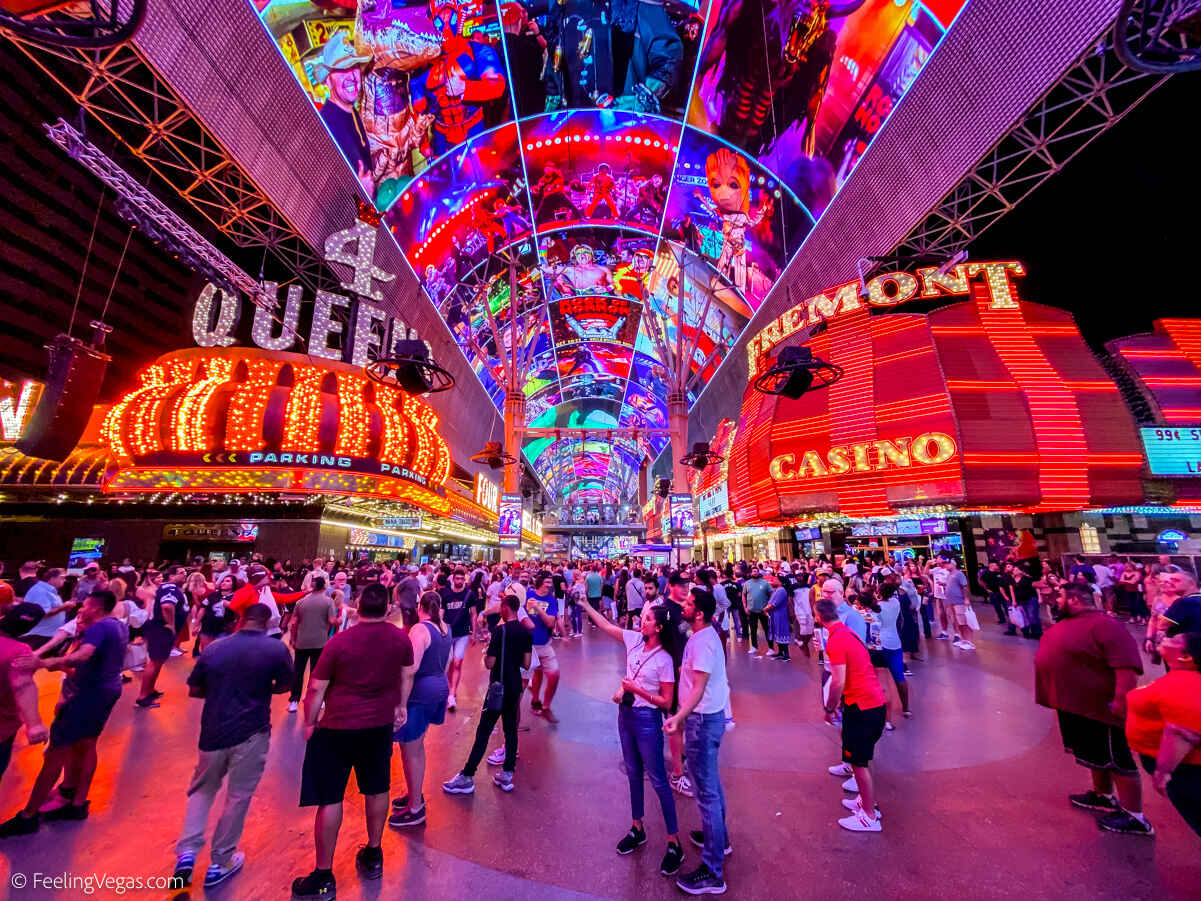 Pedestrian-friendly Fremont Street is one of the best outdoor entertainment areas in Las Vegas. The problem is that outdoor venues can get extremely hot in Vegas during certain times of the year, which may make you wonder if Fremont Street has air conditioning.
Fremont Street does not have air conditioning, as it is outdoors. There is, however, a canopy over most of the street to keep the sun from shining directly on you during the day. If you need a break from the heat on Fremont Street, head into one of the shops or casinos for some cool air.
This article has everything you need to know about Fremont Street, including how hot it is and why there are no air conditioners to keep it cool. I will also share some tips to help you stay cool while on Fremont Street and the best time to visit, especially if you want to escape the heat. 
Compare and save! Check room rates at downtown Las Vegas hotels at TripAdvisor.
How Hot Is Fremont Street in Vegas?
The weather in Las Vegas varies depending on the time of day you are out and what time of year you visit. Fremont Street is outdoors, so, unfortunately, it is subject to the temperatures in Las Vegas, even when it is well over 100 degrees Fahrenheit (38 degrees Celsius). 
However, there is a large canopy structure covering the most popular part of Fremont Street, known as the Fremont Street Experience. This cover keeps the sun from shining down on the street, which thankfully keeps things a little cooler. You will generally feel around 10 to 15 degrees cooler under the canopy. 
For example, in July, when the average high temperature in Las Vegas is 105 degrees Fahrenheit (41 degrees Celsius), Fremont Street will feel slightly cooler at 90 to 95 degrees Fahrenheit (32-35 degrees Celsius).
Also, as long as you are not surrounded by too many people, which makes it feel hotter thanks to everyone's body heat, you will feel cooler under the canopy.
You should also remember that running along both sides of Fremont Street are shops, bars, restaurants, and casinos, all of which are air-conditioned. So, unless you plan on staying outside on Fremont Street the entire time, you will be in and out of the air conditioning, and every time you visit one of these establishments, you will have a chance to cool down.
On the other hand, in January, when the weather is much cooler, and the average high temperature is just 58 degrees Fahrenheit (14 degrees Celsius), you will likely be chilly on the covered area of Fremont Street as you won't be in direct sunlight during the day and, of course, it gets even colder at night. 
So if you visit in winter, you'll want to bring a jacket and/or bundle up a bit.
RELATED: 19 Best Things to Do in Downtown Las Vegas
How To Stay Cool on Fremont Street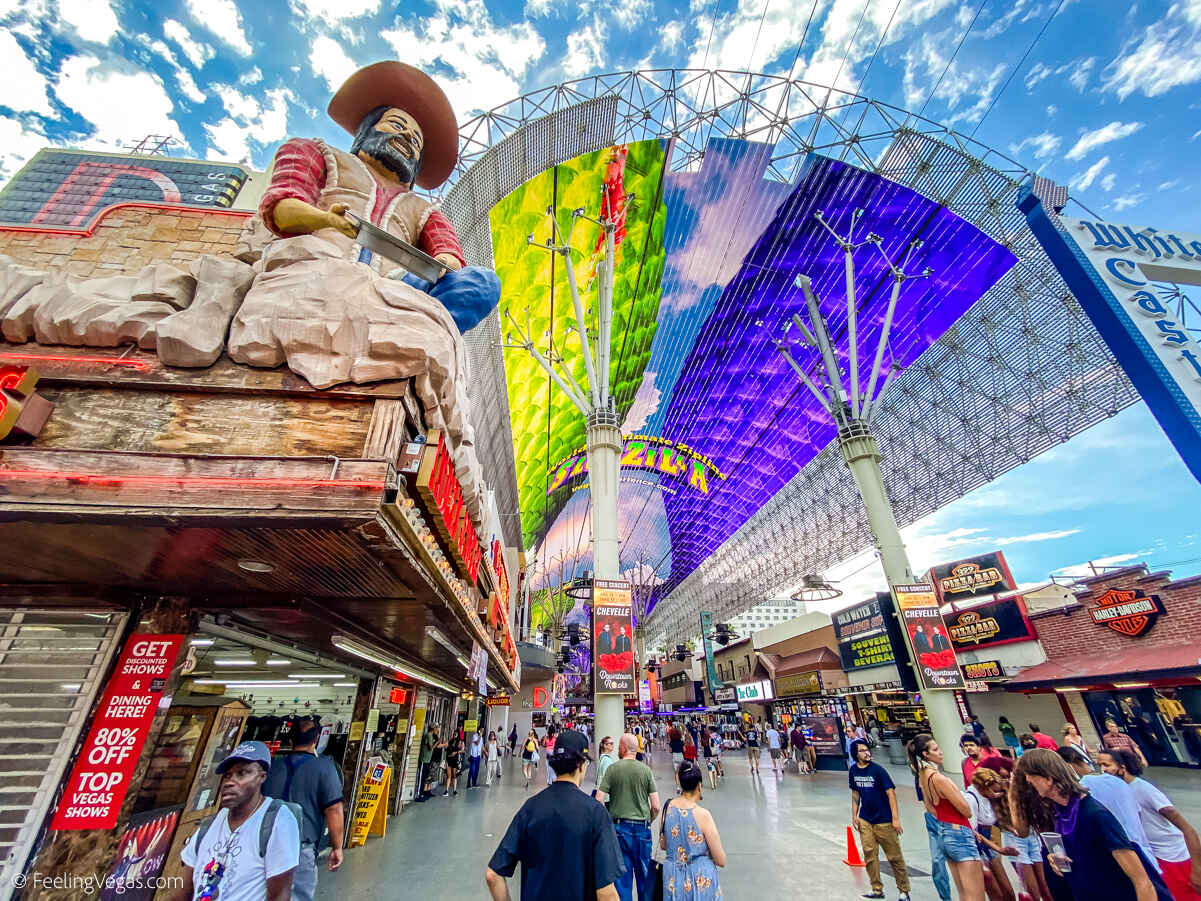 Even though there is no air conditioning on Fremont Street itself, you will not be too hot, as there are plenty of ways to stay cool. Use the tips below to keep cool when shopping and drinking on Fremont Street or anywhere else in Las Vegas.
The air conditioning is inside. There are a lot of places to visit on Fremont Street where you can eat, drink, shop, and gamble. You are likely doing these activities anyway during your visit, so take advantage of your time in these places to cool down. You can still step into a store or casino anytime to cool down, even if you are not shopping or gambling.
Dress in lightweight clothes. Ensure you are not wearing anything too heavy, and avoid dark colors. Dark colors will make you feel even hotter outside on Fremont Street. 
Bring water and a handheld fan. Drink plenty of water, especially if you visit Las Vegas in the summer. You can find bottled water at several stores on Fremont Street. Also, bring a handheld fan if you have one to feel cooler. 
Stay away from crowds. Finally, stay away from big crowds, which tend to gather around street performers and live music. They are interesting to watch, but if you are in a crowd for too long, you will feel everyone's body heat, making it hotter than it already is. 
Best Time of Year to Visit Fremont Street
If you want to visit Fremont Street without sweating or freezing the whole time, there are better times to visit than others. 
Las Vegas has average high temperatures over 100 degrees Fahrenheit in June, July, and August, which means Fremont Street still feels like it is 90 degrees or hotter, even with the canopy. If you can avoid these super hot months, you'll avoid sweating during your visit to Fremont Street. Or, head to Fremont Street at night when temperatures drop.
RELATED: Is Las Vegas Too Hot in June?
Between November and February, average high temperatures are in the 50s and 60s, so if you visit during these months, it is more comfortable to go to Fremont Street during the day, but it might get chilly at night. 
If you visit Las Vegas and Fremont Street between March and May or September and October, you will have good temperatures to visit most days and nights. But the closer you visit toward summer, the hotter Fremont Street will be.
Also see: Is Las Vegas Too Hot To Visit in the Summer? (Nope, Here's Why)
Is It Better To Visit Fremont Street at Night or During the Day?
I recommend visiting Fremont Street at night, if possible, as that's when the party really gets going. Plus, you can enjoy the light show and all the live music at night. It is also much cooler after dark if you're visiting during the warmer months. 
However, a day visit, even in the summer, won't be terrible as long as you stay hydrated, wear lighter clothing, and spend time in the shops, casinos, and restaurants to cool off.
Find the best room deals on downtown Las Vegas hotels and save big with TripAdvisor!
Final Thoughts
Fremont Street does not have air conditioning, but the canopy covering the pedestrian street does provide shade and makes the street feel cooler than if you were standing in the sun.
The best times to visit Fremont Street are during spring and fall, so you can enjoy this fun street in the most comfortable temperatures.