Why You Should Get Married in Las Vegas (8 BIG Benefits!)
(This article may contain affiliate links. If you click through and make a purchase, we will receive a small commission at no additional cost to you. )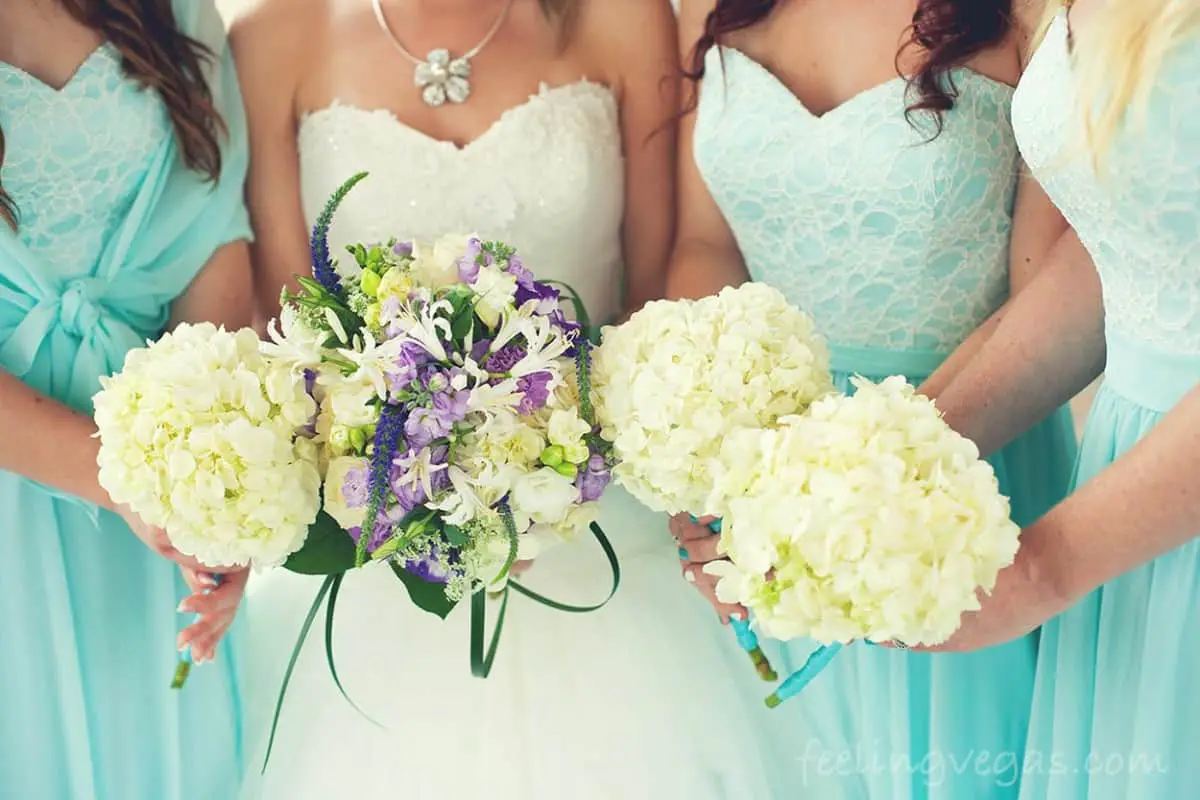 As a professional photographer for the last 25 years, I photographed my fair share of weddings early in my career. So I know a thing or two about weddings and meeting a bride's expectations. So I thought I'd combine that knowledge with some research on the wedding market here in Las Vegas and share what I've learned with you.
What are the benefits of getting married in Las Vegas?
There are many benefits of getting married in Las Vegas, including:
It's Easy to Get Married in Las Vegas
Large Choice of Venues, Styles, and Themes
All-Inclusive Wedding Packages
Convenient for Family and Friends
Less Stress for the Bride and Groom
Best Place for Bachelor and Bachelorette Parties
Can Be Very Affordable
Perfect Honeymoon Destination
Las Vegas may have a reputation for spur-of-the-moment weddings, but I can assure you that Las Vegas has what you need to plan everything from a low-key ceremony to the biggest and fanciest wedding you can imagine.
Las Vegas is a wonderful place to have a wedding. With an abundance of wedding resources available, every desire and budget can be accommodated. The benefits of getting married in Las Vegas should not be underestimated. Below I'll share with you why you should consider having your wedding in Las Vegas.
1. It's Easy to Get Married in Vegas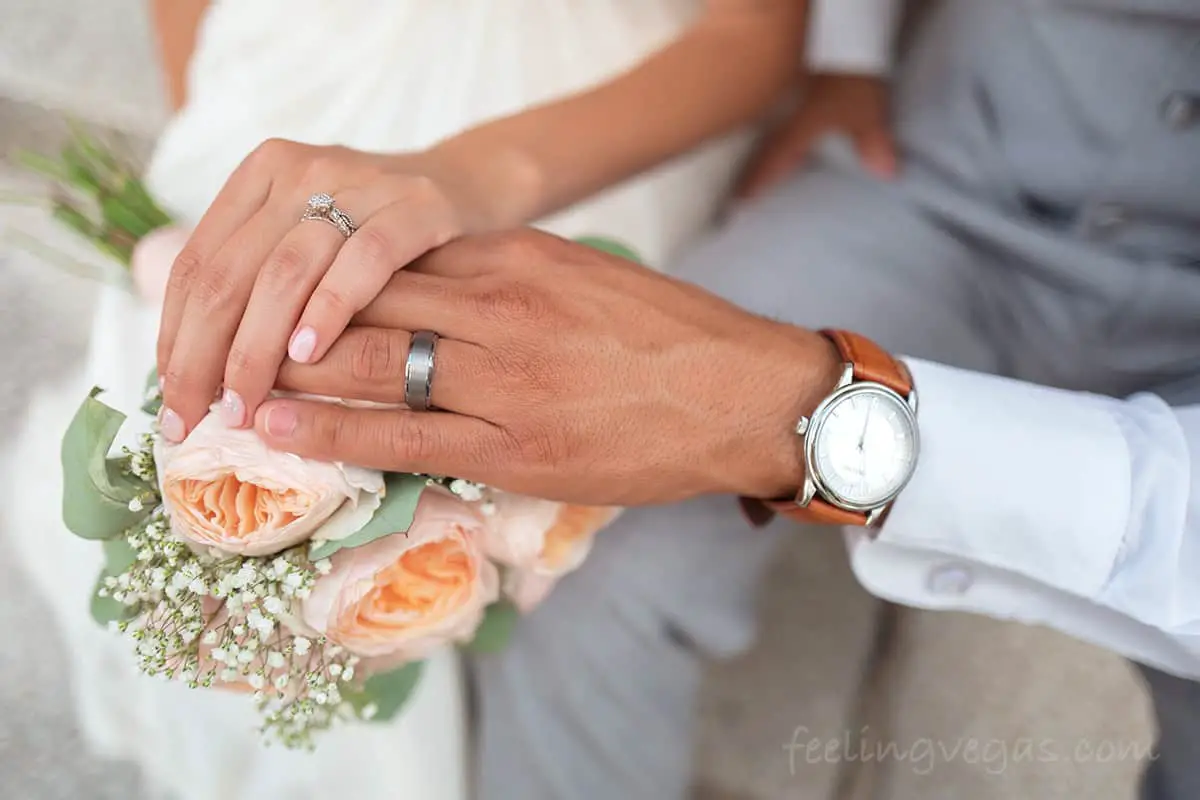 The state of Nevada is well-known for the ease with which a couple can get married. While many states in the U.S. require blood tests, waiting periods, and large amounts of paperwork, Nevada has a very streamlined process.
While it's this easy process that allows for same-day weddings, having a simple process and a minimum of paperwork also makes things that much easier for the bridal couple that's planning an elaborate wedding weeks or months in advance.
Furthermore, a wedding performed in Las Vegas is just as legal as a ceremony performed in any other U.S. state, and weddings performed anywhere in the United States are legally recognized by most countries around the world.
Here are the 7 steps to getting married in Las Vegas, Nevada, that you'll need to follow.
2. Vegas Has an Abundance of Wedding Venues, Styles, and Themes
While in some cities, you might be lucky to have a couple of dozen choice locations to host a ceremony, Las Vegas has literally hundreds of wedding venues. From dedicated wedding chapels, churches, casinos, gardens, scenic locations, bars, and museums, as well as numerous attractions and iconic locations around the city, there is no lack of locations to host the perfect wedding ceremony.
You can see our list of recommended wedding providers here.
Interested in a themed wedding? This town can't be beat! If you want to get married by Elvis or even Mini-Elvis, you can do it here. As far as themed weddings go, getting married by Elvis is considered somewhat commonplace on the uniqueness scale. The fact is you can get married by just about any kind of themed minister you can think of.
Want to get married by a pirate? Yep, you can do that here! How about a Zombie? Check! What if a regular zombie's not good enough? How about zombie Elvis? Yeah, no problem!
I've seen options for western themes, flower child themes, rock and roll impersonators, star wars characters, and even the Grim Reaper. Really, the Grim Reaper?!!! To each their own, I guess.
From the elegant to the absurd, Las Vegas has the wedding venue and style for you.
Find out all the best places to take wedding photos in Las Vegas in our article here
3. All-Inclusive Las Vegas Wedding Packages
If planning a wedding down to the most minute detail isn't your thing, most, if not all, Las Vegas wedding venues have all-inclusive wedding package options available.
Let's face it, finding the right wedding venue, coordinator, florist, photographer, cake maker, decorator, and banquet provider one by one is exhausting and expensive.
If you're hoping to relax a bit and enjoy the process, choosing an all-inclusive package might be the best option. Having one contact person that's in charge of everything can really cut down on your stress level.
Selecting an all-inclusive package doesn't mean you can't have everything just the way you want it. Even with an all-included package, there will still be plenty of decisions and individual options to choose from to make your wedding day the special occasion you've always dreamed of.
Going the all-inclusive route also means that you'll only have one bill to pay to cover the event, and in addition, you're likely receiving the benefit of a substantial discount (compared to negotiating and paying each vendor individually) because you're having all your services bundled together under one provider.
On a personal note: My wife Wendy and I got married (wow, has it been 18 years already?) on a cruise ship using an all-inclusive package from the cruise line, and it made our day so much nicer.
As our wedding date approached, we still had a lot of things on our plate to deal with, and knowing that the wedding coordinator on the ship was taking care of the ceremony, officiant, food, photographer, flowers, etc., was a huge relief to us both.
The same can be said for having an all-inclusive wedding in Las Vegas.
4. Las Vegas is a Convenient Destination for Family and Friends
A nice plus for planning a Las Vegas wedding is that Vegas is the perfect destination for friends and family to come together to celebrate your special day from anywhere in the USA (or the world, for that matter).
It's relatively inexpensive to fly to Las Vegas compared to many other cities in the U.S., and there are a ton of domestic and international flights coming into Harry Reid International Airport (formerly McCarran Airport) (LAS) every day.
Non-stop flights to Las Vegas from many places are not difficult to find. In addition, your guests will have a huge choice of hotels and entertainment to meet their needs, whatever their budget might be.
I mentioned earlier that Wendy and I got married on a cruise ship, and it couldn't have been more perfect for us.
Our out-of-state guests were planning to fly and stay in hotels no matter where we got married, but by getting married on a cruise ship (an inexpensive 3-day Mexico trip), they also had a nice mini-vacation with plenty of activities and non-stop food for days.
All for the same cost or less than coming to our hometown (we lived in Oregon at the time) and staying in a hotel. It was a much more relaxing and fun experience for our guests without costing them any extra money.
Las Vegas offers many of the same benefits as a cruise ship but with WAY more to do, see, eat and enjoy for every one of your guests. We're kind of kicking ourselves now that we didn't think of Las Vegas at the time (how did we not think of this?)
5. A Las Vegas Wedding is Less Stressful for the Bride and Groom
I've already talked about how going the all-inclusive route can really help reduce the stress experienced by the soon-to-be newlyweds, but there is another major stress-reducing benefit of getting married in Las Vegas.
An often overlooked aspect of a wedding is the level of responsibility the bride and groom feel to accommodate, entertain and feed their family members and friends in the days before and after the ceremony. Especially those that have traveled from out of town to be there.
This is a BIG benefit of a Las Vegas wedding that cannot be underestimated. Vegas will take care of your friends and family for you! With so much to do and see, no one will be bored or go hungry in this town. The bridal couple won't be solely responsible for entertaining their guests before or after the wedding.
If I haven't made it clear by now, I'm all about the bridal couple enjoying and truly experiencing their big day. I've heard many stories about couples that were so completely rushed, overloaded, and overwhelmed that the whole wedding day became a blur. They barely remember the ceremony, don't remember eating, can't remember if they said hello to cousin Benny, etc.
A Las Vegas wedding experience will provide the couple plenty of time to experience everything, visit with family and friends in a relaxed manner as well as create great memories that will last a lifetime.
6. The Best Bachelor and Bachelorette Parties Happen in Vegas
What better place to have your wedding than a town famous for its bachelor and bachelorette parties? If all your family and friends are getting together in Las Vegas for your wedding already, why not also have the pre-wedding festivities take place here too?
There is no better place than Las Vegas to host a bachelor or bachelorette party. Fortunately, you're not responsible for planning these events. That will be up to the Best Man and Maid of Honor, but why not give them a leg up on planning the best bachelorette and bachelor parties ever?
The only problem with Las Vegas is that there might be too many options.
Bachelor Party Ideas
Rent a private suite or penthouse at one of the mega-casinos on the Strip. These ultra-luxurious themed hotel rooms come equipped with options like private pools, bowling alleys, and basketball courts!
Fly a fighter jet over the Mojave Desert and have an Air Combat Experience.
Go on a beer crawl through the mico brew bars in downtown Las Vegas.
Catch a Golden Knights hockey game at T-mobile Arena.
Rent a Lamborghini or race one at Las Vegas Motor Speedway.
Bachelorette Party Ideas
Get VIP table service at one of the hottest nightclubs in the country (we have several).
Go to an EPIC Las Vegas pool party (try the pools at the Cosmopolitan, Mandalay Bay, and the Cromwell).
Have a spa day at one of the many luxury spas in town, including massages, manicures, facials, and even yoga (try the spa at the Venetian)
Rent a party limo and cruise the Strip in style
Watch the men strut their stuff at an all-male revue show like Thunder Down Under.
These are just a few of the literally hundreds of top bachelor and bachelorette party activities available in Vegas. The bottom line is that you can't go wrong by having an EPIC pre-wedding party in this town!
7. Affordable Las Vegas Weddings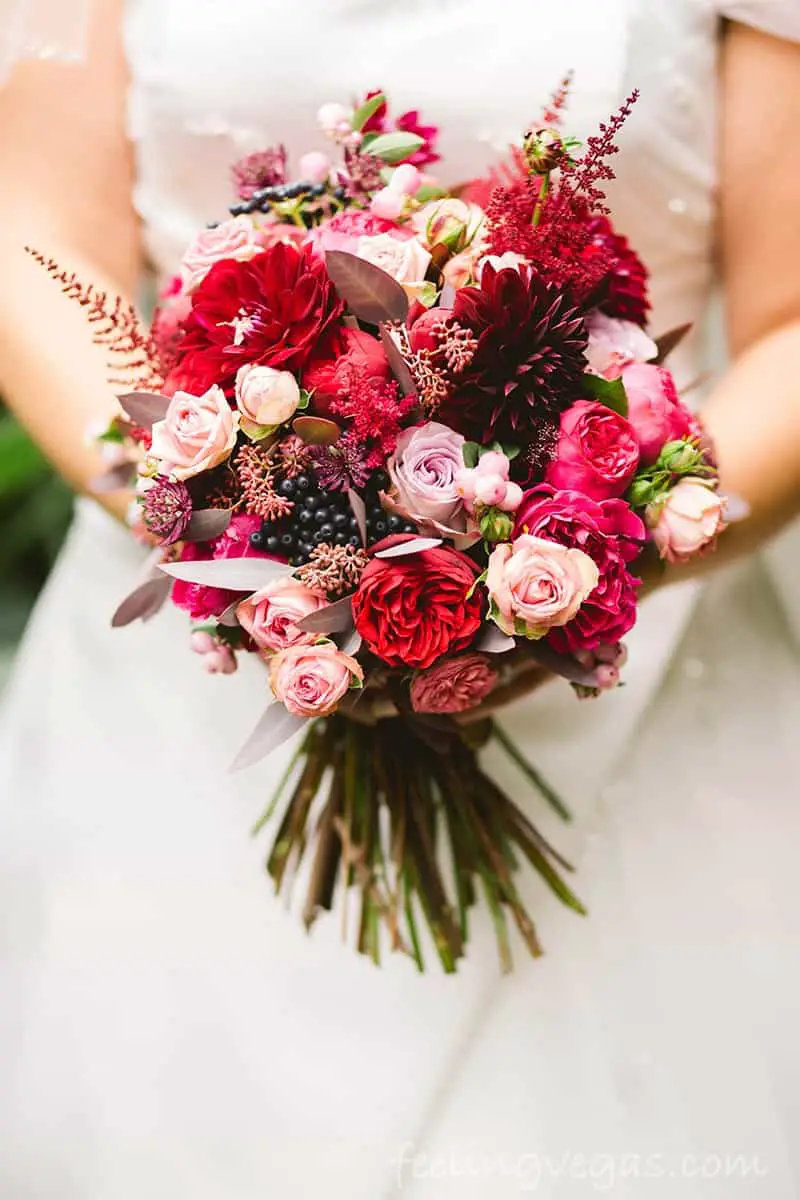 With many couples today routinely spending $30,000 or more on their wedding, it's easy to think that bigger and fancier is always better.
If your dream is to have a big expensive wedding, and you have the funds available to do it, then I say go for it! I would, however, caution against going into debt to pay for the wedding. Starting a new life together as a couple in debt is something you should avoid.
Las Vegas to the rescue!
Couples often want to know if it's possible to have an affordable wedding in Las Vegas.
Yes, it is very possible to have an affordable wedding in Las Vegas. Ceremonies can cost as little as $99. A wedding with guests and a mid-range all-inclusive package will run between $1,000 and $2,000 dollars (USD).
If it's just the two of you, there are many intimate wedding packages available for between $200-$1,000.
So affordable weddings are completely possible here, and the truth is you can pretty much spend as much or as little as you want on your Las Vegas wedding, depending on your budget and wishes.
8. Honeymoon in Vegas!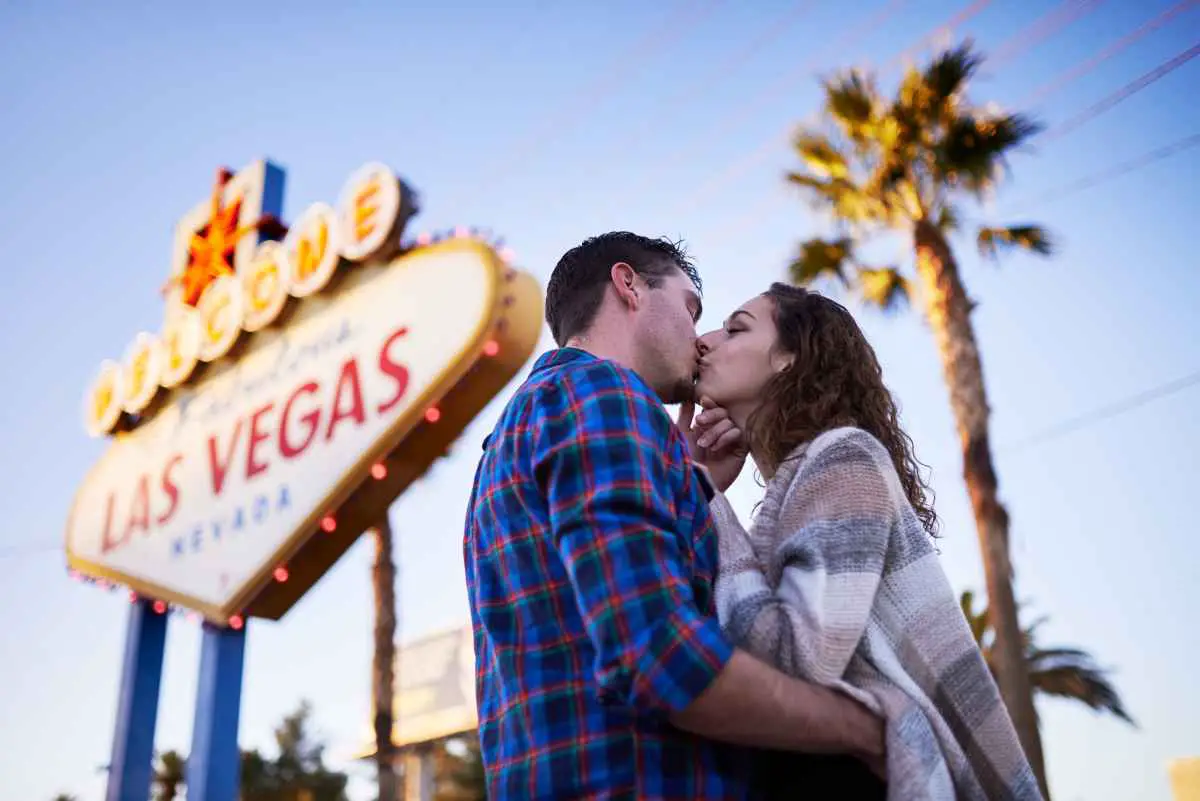 At this point, you've had your bachelor and bachelorette parties, rehearsal dinner, wedding ceremony, and reception, all in Las Vegas. What an awesome time it's been, but the best is yet to come. It's time for the honeymoon!
Your first days together as husband and wife should be spent together having fun and basking in the glow of your new marriage. Once again, Las Vegas can provide you with whatever it is you're looking for.
Maybe in the pre-wedding rush, you didn't have a chance before the ceremony to see and do everything you wanted to in Las Vegas. This would be a perfect opportunity to switch hotels, book the honeymoon suite and leave your guests behind.
All of the casinos on the Strip have honeymoon suites and packages available. In conjunction with the idea of an all-inclusive wedding, many of the large hotels offer all-inclusive honeymoon packages as well.
Las Vegas offers many romantic locations and activities. From the outdoor Bellagio Fountains to the romance of a gondola ride on a Venetian canal, you won't be at a loss for things to do with your new hubby or wifey.
If you're ready to leave the Strip behind, you may want to honeymoon at a luxury resort like the Hilton Lake Las Vegas Resort & Spa or Green Valley Ranch Resort and Spa (check room rates) in nearby Henderson.
Another honeymoon option altogether would be to rent an RV in Las Vegas and head out to explore some of the gorgeous scenery of the American southwest.
With the west rim of the Grand Canyon just 2 1/2 hours away and jaw-dropping beautiful national parks of southern Utah starting about 4 hours north, there is a lot to discover without going very far from the glittering lights of the Strip.
And finally, after having your wedding, you may just want to use Las Vegas as a jumping-off point to an amazing honeymoon elsewhere. Las Vegas has direct flights to Europe, Mexico, the Caribbean, Hawaii, and many more honeymoon-worthy destinations.
Final Thoughts
I hope you can now see that there are many benefits to getting married in Las Vegas. From convenience and affordability to fun and entertainment, Las Vegas has everything you need to create your dream wedding.
All in one shiny package!
Are Las Vegas weddings legal? Find out more in our article here.
Related Questions:
How much is a Nevada marriage license? Most Nevada marriage licenses cost between $50-$100, depending on the county. A marriage license in Las Vegas costs $102, and the Clark County Marriage license Bureau takes cash, credit cards, money orders, and more.
How long is a marriage license good for in Nevada? A marriage license in the state of Nevada is legally valid for one year from the date it was issued. If you don't use it within the year and wish to get married after it has expired, you will have to apply and pay for the license again.
UP NEXT: How To Elope TODAY in Las Vegas (Simple Step-by-Step)