Are Vegas Weddings Legal? (Everywhere?)
Las Vegas is famously known as the unofficial wedding capital of the world. People from all over the planet flock to Las Vegas due to the ease and quickness of getting a marriage license and getting married.
Because the process is so easy and satirized in popular culture, many wonder: "Are Vegas weddings legal?"
A Las Vegas wedding is a valid and legally binding marriage between two people. Although Las Vegas weddings can be quick and easy, it is still a legal contract that is valid and binding for both US citizens and foreigners. Las Vegas weddings are legally recognized around the world.
It is entirely valid to wonder if a Las Vegas wedding is the real deal, and it is normal to ponder the question due to the lavishness and quirky atmosphere that surround some Las Vegas weddings.
Not only is a Las Vegas wedding legal, a Vegas wedding is legal everywhere in the world if you follow the proper steps. This quick guide will seek to put this question to rest, as well as offer insights into all of the particulars surrounding a real Las Vegas wedding.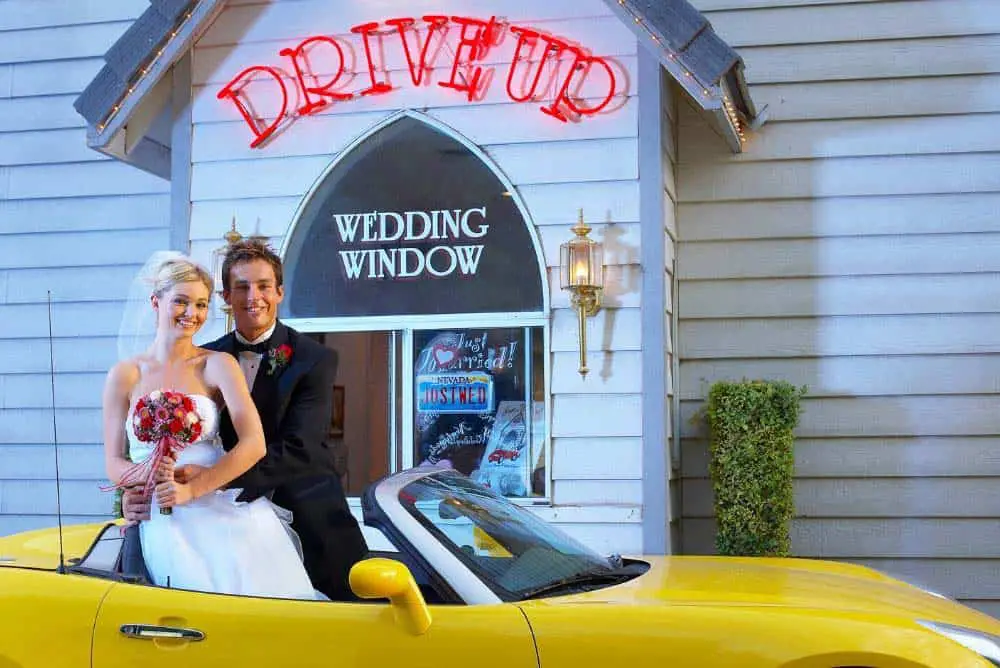 (This article may contain affiliate links, which means we might earn a small commission if you click and make a purchase. Thank you!)
Find out the 8 Benefits of Having a Las Vegas Wedding in our article here.
Fact vs. Fiction: Are Weddings in Vegas Legal?
The official stance of the State of Nevada and Clark County states that couples are free to marry as soon as they secure a marriage license. The cost is generally $77, and the only caveat is that an official marriage ceremony must be conducted within one year of securing the license.
The rules and regulations regarding a Las Vegas wedding are generally pretty easy to follow, granted the two marrying individuals have proper forms of ID.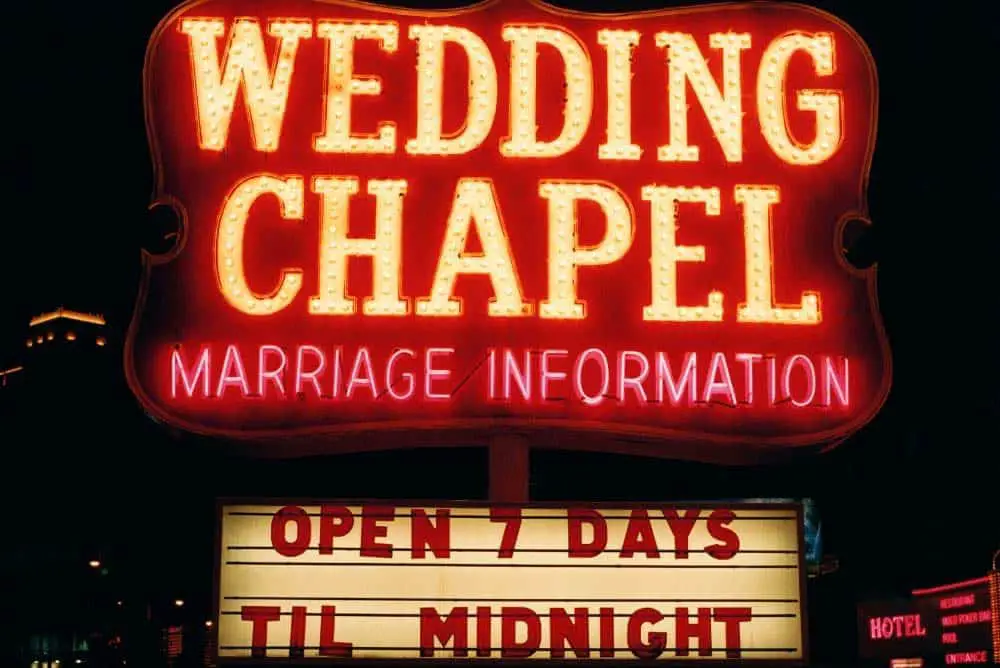 Because Las Vegas weddings are sometimes conducted on the spur of the moment or, let's face it, when potential elopers are partying, this frequently collides with the general perception that Las Vegas weddings are not real.
It is true to say that some skepticism is warranted due to so many Las Vegas marriage participants not taking the ceremony seriously, and this is only natural since Las Vegas weddings are just plain fun! However, the marriage is very real.
The legalities behind the process are some of the simplest within the US. The only part of the process that could remotely be considered time-consuming is getting a marriage license.
This is easy to accomplish if you have proper forms of ID, are aged 18 and older, and are unrelated (Clark County grants in excess of 80,000 marriage licenses every year). If you meet the requirements at the license bureau, you are free to get married in as little as an hour or two.
If you'd like to know the exact step-by-step procedure for getting a marriage license in Las Vegas, check out our article here "How to Get Married in Las Vegas: 7 Steps to Getting Hitched". It will tell you everything you need to know, including how to apply for a marriage license online.
Once the license is in hand, just choose a venue and theme of your choice and you'll be ready to experience a classic Las Vegas wedding. You can choose a traditional wedding if you want elegance, a church wedding, or you can choose a novelty wedding, such as the popular option of having an Elvis Presley impersonator officiate your union.
This unique selection is part of what makes a Las Vegas wedding so appealing. It's easy and it's fun!
If you want to skip all the legal stuff you can always just get fake married in Las Vegas instead. Find out all about it in our article here.
If You Get Married in Vegas Is It Legal Everywhere?
A wedding performed in Vegas is considered legal everywhere in the world. So not only is a Vegas wedding legal in the State of Nevada, it will be legal when you return to your home state or anywhere else in the world you reside.
Do You Have to be a U.S. Citizen to Get Married in Las Vegas?
In a word, no. Thousands of non-citizens and foreigners get married in Las Vegas every year. Not only is a Las Vegas wedding considered legal in the United States, but weddings performed in Vegas are also recognized and legally binding all around the world.
The only difference for foreigners wishing to get married in Las Vegas are the forms of ID required. The forms of acceptable ID are basically the same (passport, driver's license, birth certificate, etc.) but they must be issued by a universally recognized country.
Note: A foreign birth certificate in another language will need to be translated and notarized.
Las Vegas Marriage License Requirements
There are only two requirements after securing a Nevada marriage license.
The first is that the license must be used within one year somewhere in the state of Nevada (it doesn't have to be in Las Vegas). This gives the couple up to one year to plan the wedding. If no wedding takes place within the year a new license will have to be obtained.
The second requirement is that the union must be officiated by an approved type of officiant, according to NRS 122.050.
Since federal law grants each U.S. state the right to set marriage standards to their own accord, Nevada has chosen to make the process as simple and streamlined as possible.
Can a Las Vegas Wedding Be Annulled?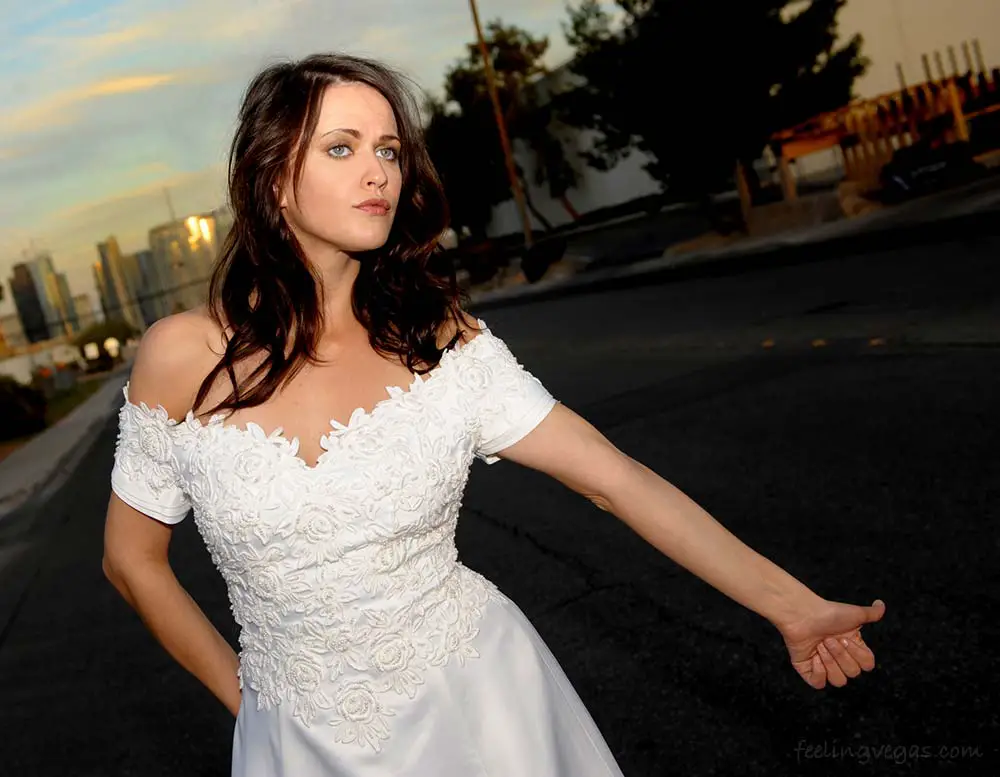 There are numerous instances where a Las Vegas wedding is, in fact, a rushed decision between two people. Las Vegas is undoubtedly a party city and it regularly happens that couples get caught up in the moment.
What may have seemed like a good idea at the time, may not still seem like a good idea in a matter of hours, days, or weeks.
If this is the case, filing for an annulment of the marriage is possible based on some of the frequently cited reasons that Las Vegas divorcees experience in spur-of-the-moment situations. 
Filing for an annulment of a Las Vegas wedding does have some requirements that must be met. NRS 125.290 has a full list of requirements that must be met for an annulment, yet some of the main reasons are:
Blood relation
Already married
Intoxication during the marriage process
Not being of sound mind and body
Getting an annulment of a Las Vegas marriage is an easy process if the two parties meet the requirements. There is no need to return to Nevada to seek an annulment, granted the two individuals meet the requirements, and both parties are not contesting the annulment.
An attorney will be necessary to file the annulment to have the best possible legal representation in the matter, but the process can usually start online with required court costs. 
If you feel you've made a bad mistake in regards to a Las Vegas wedding, the process is just as easy to annul as it was to get married in the first place. Not all quick marriages are for the best. 
The Bottom Line: A Las Vegas Wedding Is a Legal Wedding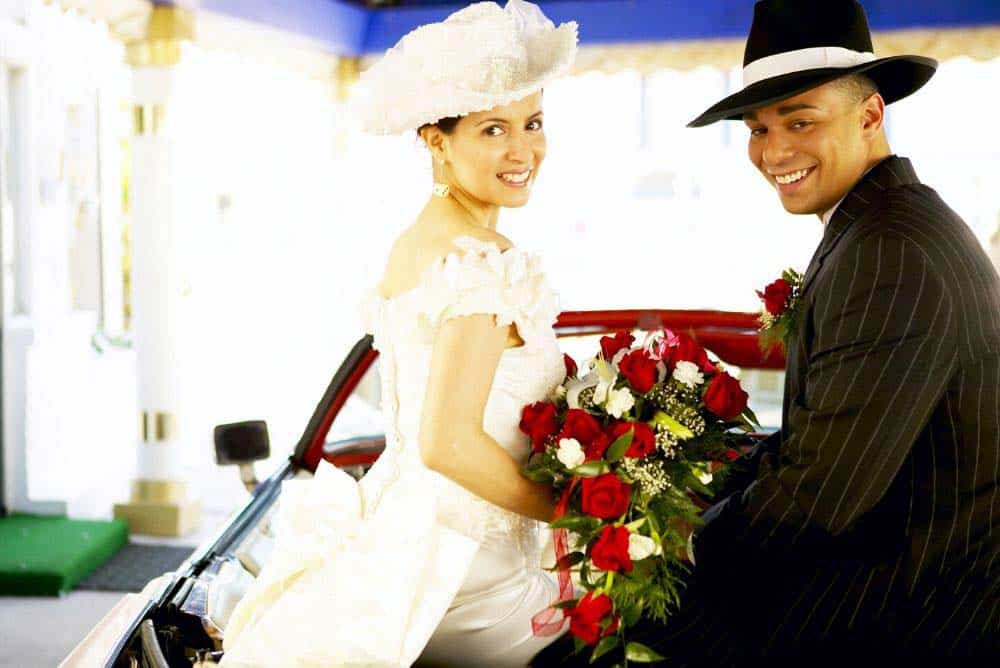 There is nothing quite as unique and fun as a traditional Las Vegas wedding. The themes for your ceremony are endless, and the process of securing the required license to marry is efficient and quick.
What started as a growing trend is now part of the culture of Las Vegas, and thousands flock to Sin City each year to experience a one-of-a-kind wedding.
Note: A Clark County marriage license is required to get married in Las Vegas. 
Las Vegas weddings can be subject to popular misconceptions but you and your spouse are legally married in the eyes of the United States government and governments of other countries worldwide.
If it doesn't work out or, it was a mistake to begin with, an annulment is generally easily granted if you and your accidental spouse meet the requirements. 
The bottom line to remember is that, yes, a Las Vegas wedding is a real and legally-binding marriage contract between two people. Never assume that the process is fake or for comic relief–even though you can choose a wedding theme that is quite comical. Apart from that, Las Vegas is an amazing place to get married. 
Find out the Best Places for Wedding & Engagement Pictures in Las Vegas!
Vegas Wedding FAQs
Are Vegas marriages real?
Yes, you are legally married if you get married in Vegas as long as you have first secured a Nevada State Marriage license and submit the paperwork after the ceremony.
Can you just walk into a chapel in Vegas and get married?
No, you can't just walk into a chapel in Vegas and say, "I do." Before getting married in Las Vegas Vegas, you must have an official marriage license from the State of Nevada. Fortunately, you can get a wedding license in Las Vegas in a matter of hours and then get married on the same day.
Can I get married in Vegas if I live in another state?
You can get legally married in Vegas even if you live in another U.S. state or even another country.
Is a Las Vegas wedding legal in UK?
A Las Vegas wedding is legal and formally recognized in the UK.
Do you need divorce papers to get married in Vegas?
You do not need to have your divorce papers to get remarried in Las Vegas. When getting your marriage license, you will just need to indicate that you are legally divorced.
Can you get married drunk in Vegas?
Believe it or not, getting married while drunk in Vegas is technically illegal. Tipsy marriages happen all the time, but if you show up to get married and you're two sheets to the wind, any Las Vegas wedding chapel will refuse to perform the ceremony until you've sobered up.
Do you need a witness to get married in Vegas?
You will need one witness in order to get married in Vegas but that doesn't mean you have to bring one with you. Every Las Vegas wedding chapel can provide a witness capable of signing your documents.
Conclusion
A Vegas wedding is, in fact, legal. A Las Vegas wedding is, in and of itself, an exciting concept to consider. If you're ready to take the leap, make sure that you meet the following requirements:
Be of the legal age of consent in the US, which is 18
Pay $77 for a marriage license
That's it! Those are the two main criteria apart from being able to prove who you are with proper ID. With the legalities out of the way, the sky's the limit on the type of Vegas wedding you choose.