Get Fake Married in Vegas! (The Ultimate Practical Joke)
(This article may contain affiliate links. If you click through and make a purchase, we will receive a small commission at no additional cost to you. )
Everyone knows it's easy to get married in Vegas (maybe a little too easy!). If you're heading to Las Vegas and have suffered through all the jokes about not getting hitched while you're here, it's time for a little payback. You can freak your friends and family out by getting fake married in Vegas!
Just like a real wedding, getting fake married in Las Vegas can have all the perks (flowers, pictures, and ceremony) of a real wedding without the legal paperwork and the "til death do us part" crap. You can even have serious wedding photos taken with your "spouse" at the alter.
Now that's a super devious prank! Keep reading to learn how to have a faux wedding when vacationing in Sin City.
What Makes a Fake Las Vegas Wedding Fake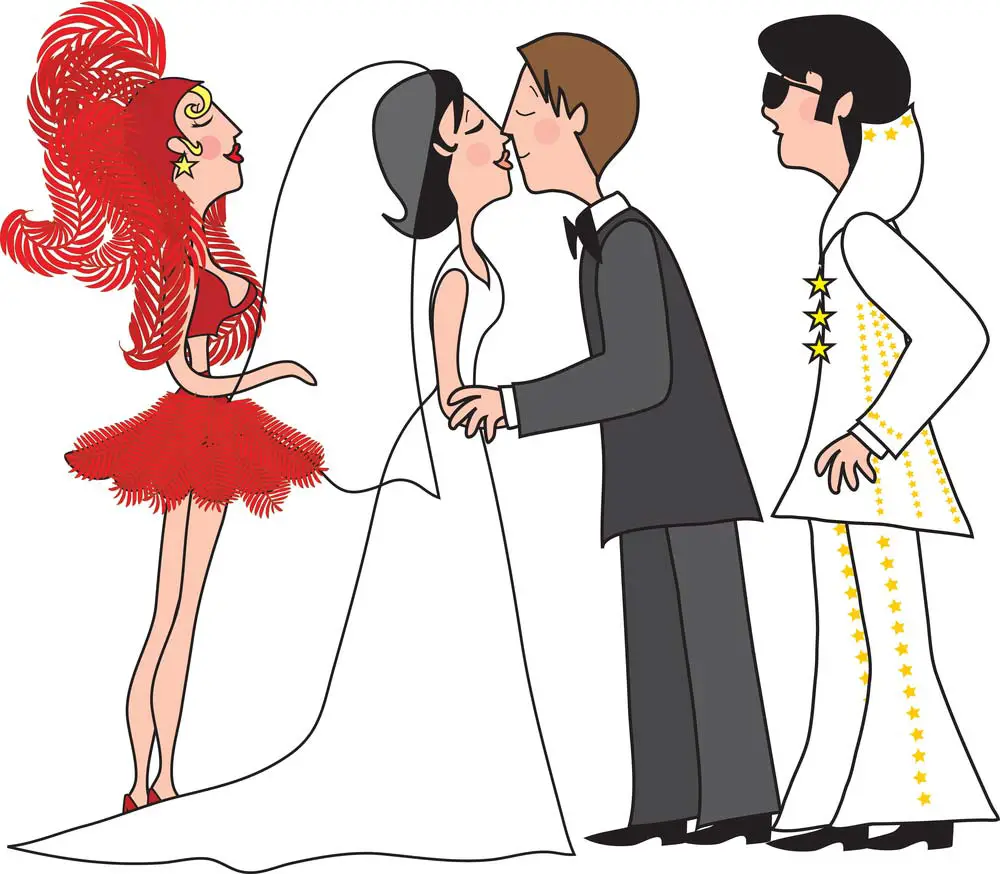 A pretend wedding in Las Vegas is a fun way to have a ceremony without all the legalities of officially getting married. Some people use fake Vegas marriages to freak out friends and family, while others use it as a commitment or re-commitment ceremony.
Pretend weddings in Vegas are similar to real weddings; however, there are a few differences.
In Vegas, you can get fake married to your longtime partner, your best friend, that guy your dad hates, someone you just met, or even your pet rock. Having a make-believe wedding is a cinch in Vegas!
Fake Vegas Weddings are Similar To The Real Thing
Some similarities between a fake wedding in Vegas and an actual marriage include the following:
You walk down the aisle towards the person (or thing) you are marrying.
The venue plays traditional wedding music during your ceremony (or not, a little AC/DC works too).
Elvis, the Pope or somebody marries you (hey, this is Vegas, right?)
You can write and exchange special words to say to one another, read a dirty limerick or follow traditional vows of love and promise (yawn, boring).
You exchange rings to symbolize your love for one another (rings made from gum wrappers are acceptable).
You are pronounced as a committed couple (until you don't want to be anymore).
You get to seal your love with a kiss (if you want to kiss your pet rock or that guy or gal you just met, now is the appropriate time).
Afterwards, you sign and receive a "commitment certificate" to take home with you (Yay, a souvenir!).
Fake Wedding Photos in Las Vegas
Of course, no joke wedding would be complete without an "official" wedding photo. After all, it's the picture of the happy couple with the words saying "Just Married in Vegas" underneath that really seals the deal on your little prank. 
The wedding photo is where the rubber meets the road. As your wedding pictures spread across social media and land in your parent's email inbox, it's time for you to reflect on what you've done (did you really want to give your dad a heart attack?)
Now pinch yourself, and take a moment to remember that you're not actually married. Cool!
How Fake Weddings in Vegas Are Different
As real as they can be made to seem, there are some important things that separate a fake Vegas marriage from a real Las Vegas wedding (in the legal sense of the word). Some of those differences include:
No legally binding paperwork (whew!).
You are not pronounced as a married couple (you can't do that unless it's a legal ceremony).
You receive a commitment certificate instead of a marriage license (it's really the paperwork that makes a marriage legal or not).
The Pretend Las Vegas Wedding Ceremony
Upon your arrival at the wedding chapel, your bouquets and/or boutonnieres will be ready and waiting for you. Additionally, your ceremony coordinator will greet you and walk you through the steps of the entire ceremony process. Finally, a professional photographer will capture the precious moments of your pretend wedding, and an officiant will help make your bogus ceremony one to remember.
Your faux wedding can run through all the motions of a traditional wedding. You walk down the aisle toward your future life partner, exchange vows, and seal your commitment with a kiss.
You get everything you would expect in an actual wedding ceremony without the hassle (or commitment) of signing a legal marriage certificate. Once you are fake married, you are free to "honeymoon" and get crazy on the Las Vegas Strip in any way you desire.
The best thing is, you will have all the experience of getting married without all the "promise to love and cherish for all the days of your life" stuff.
Marriage License Not Needed (Why Would It Be…It's Fake!)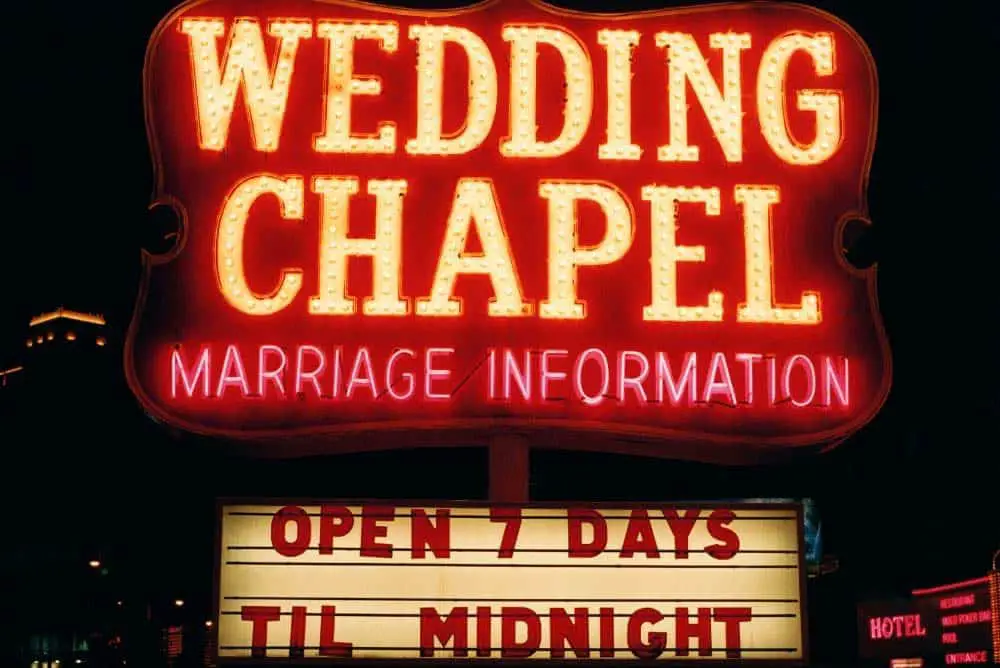 When having a pretend wedding, there is no marriage license required. Play ceremonies, unlike actual ceremonies, are performed for symbolic purposes only. Both parties involved must understand and agree the ceremony performed has no legal standing and must sign a waiver stating this fact. 
**Important Note: Because it's pretty easy to get an official marriage license in Las Vegas, it's a good idea to make sure that your partner-to-be hasn't, in turn, tricked you by getting an actual legally binding marriage certificate! (Just a friendly reminder that drinking excessively in Vegas may be detrimental to your well-being!)
How to Get Fake Married in Vegas
So you're in Sin City drinking, having a blast, and you think, "Wouldn't everyone back home totally freak out if I got married in Vegas"!
But where do you go? How do you get fake married in Vegas? Whoa, hold on! There are a couple of things you'll need before saying your "I Do's." 
First, you'll need that special someone (or something) with whom you're willing to spend the rest of your life with…eh, or maybe just a day or two.
Then you'll need a location. Being the Wedding Capital of the World, Las Vegas is home to many wedding chapels. When you go to a chapel, ask for a commitment ceremony or one that does not require a marriage certificate. 
Once you find a location that offers fake marriages (most of them do), pick a date and time. After that, you are all set to get "married" in Las Vegas.
Where to Have a Fake Wedding in Las Vegas
In Las Vegas, it seems that every corner you turn, there is a wedding chapel or wedding venue. With so many options available, there should be no problem finding a place to get fake married. Remember, not all venues call these weddings "fake," but instead refer to them as commitment ceremonies.
Locations in Las Vegas that offer commitment ceremonies include:
There's a whole lot more, but this list will get you started!
The Cost of a Pretend Wedding in Vegas
Just like a real wedding ceremony, the cost of a fake wedding can run the gamut from cheap to over the top expensive. Depending upon the package you want to purchase, your phony wedding costs may start as low as $49 and go up from there.
Additions, such as extra flowers, bigger photo packages, having an Elvis impersonator sing to you, or other wedding extras can increase the cost of your fake wedding. 
For exact prices, you'll want to speak with a wedding consultant at the wedding chapel or venue of your choice.
Bogus Las Vegas Wedding Pictures
If you want to make your friend's jaws hit the floor without the cost of a wedding ceremony, there is another option. 
Some wedding chapels or hotels offer "Just Married" photo opportunities for as low as $34.99. 
For these photos, the bride wears a veil, and the words "Just Married" are printed on the border of the picture. Other photo options include having a fraudulent wedding photo taken with Elvis as the officiant.
Are you ready to seriously surprise your friends and family? If so, make your plans now to get fake married the next time you're in Las Vegas.
Remember, while it's fun to say "I do", it will be even more fun to say "I don't anymore" whenever the mood strikes!
How to Get Married in Las Vegas For Real
If you're interested in getting married in Las Vegas for real, you'll want to check out these articles where we'll tell you everything you need to know to begin planning your perfect Las Vegas wedding.
UP NEXT: How To Elope TODAY in Las Vegas (Simple Step-by-Step)