Renting Golf Clubs in Las Vegas (Cost & Where To Rent)
(This article may contain affiliate links. If you click through and make a purchase, we will receive a small commission at no additional cost to you. )
A trip to Las Vegas is a great opportunity to explore the many upscale golf courses located around the city, and it's also an excellent opportunity to try out that new set of clubs you're considering upgrading to. 
Renting golf clubs in Las Vegas is convenient and can often be cheaper than you think, with good-quality rental clubs starting from $30 per set for the first day. Of course, you need to know where to rent from because prices and specifications vary drastically.
Leave your golf clubs at home and avoid the hassle of damaged, missing, or overpriced luggage fees, using this handy Las Vegas golf club rental guide.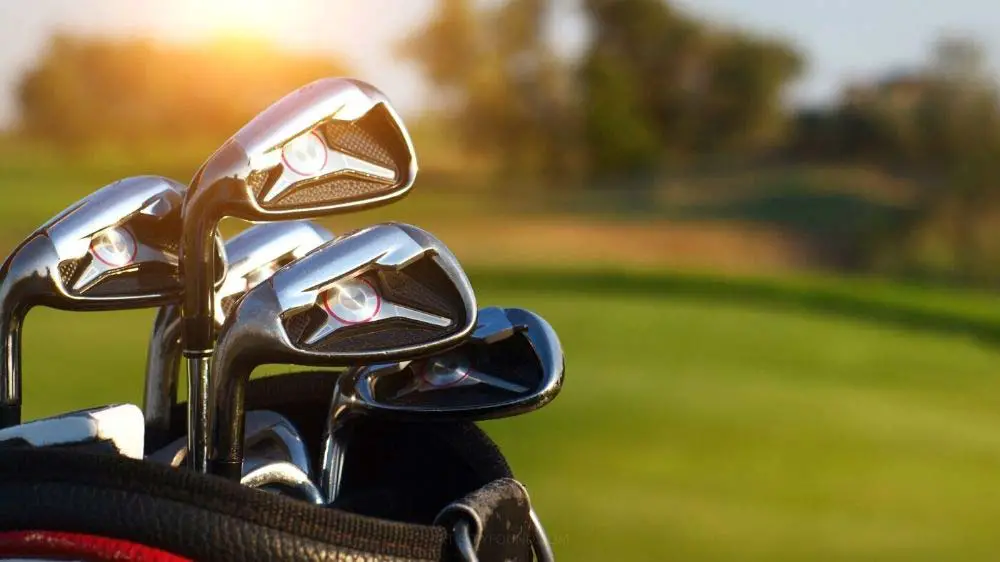 Can You Rent Golf Clubs in Vegas?
Yes, you can easily rent golf clubs in Las Vegas. Golf club rentals are available at most golf courses in town. You also have the option to rent clubs from a local golf rental shop or online and have a rental set of golf clubs delivered to your hotel.
Vegas has more than its fair share of quality golf courses, and most clubhouses or course shops will be able to offer a selection of good-quality clubs for men or women who play either left or right-handed. 
Most of the time, rental clubs will come with a golf bag and stand, although some golf clubs are offered with a trolley bag if you're not planning on renting a golf cart.
How Much to Rent Golf Clubs in Las Vegas?
Golf clubs in Las Vegas can be rented for between $30 and $80 a day on average. You can save on the cost of a rental set of clubs by renting them for multiple days at a time through a local Vegas golf store or online. Multi-day club rentals will drop the daily cost to between $20 and $60 per day.
Similar to the wide variety of quality golf courses in Las Vegas, there are rental clubs available for every budget. From the prestigious elite golfers attracted to places like Shadow Creek Golf Course to more affordable public golf courses, there's a wide range of pricing options available.
The price for golf club rentals in Las Vegas will depend on the quality of the clubs and where you choose to rent them.
Related: Can You Golf Year-Round in Las Vegas?
Where Can I Rent Golf Clubs in Las Vegas?
Let's look at four popular Las Vegas golf courses and their club rental options. Then, in the next section, we will review specialist club reservation services that can be booked easily online. 
Las Vegas National Golf Club
With a history that spans over 50 years, the Las Vegas National Golf Club offers hassle-free golf club rentals and features the hottest Taylor clubs available. With many club rental sets available, they offer regular, stiff, and senior flex shafts, and they also carry ladies and left-handed clubs. Most notably, they offer one of the cheapest golf club rental options in and around Las Vegas. 
Receiving rental clubs is easy and can be booked when scheduling your tee time by calling them directly at (702) 889-1000.
Rental golf club pricing at Las Vegas National Golf Club:
Taylor Made M6 family of irons and woods $49 per set. 
The twilight club rental rate after 12:00pm is $39.
Desert Pines Golf Club
With more than 60 rental sets available, Desert Pines Golf Club has a great range of rental clubs in a variety of combinations. Choose from top branded golf clubs such as Versa Putters, Rogue Hybrids, Callaway Rogue Irons, Rogue Drivers, Rogue Hybrids, and Mack Daddy 2 Chrome (60 degree). 
Rental golf club pricing at Desert Pine:
Rental Package (Premium) $80 – Includes two sleeves of golf balls and a glove. 
Rental Package (Standard) $65 – Includes two sleeves of golf balls.
Royal Links Golf Club
With views of the famous Las Vegas Strip, Royal Links Golf Club is a popular course offering golfers a great experience not far from Las Vegas Blvd. and has been crowned by multiple golfing publications as the best golf course in Las Vegas. 
Royal Links offers excellent quality Callaway Golf rental sets, including the award-winning Epic Flash Driver, Rogue irons, and Exo Putters. 
Rental golf club pricing at Royal Links:
Rental golf clubs are $65 per set. 
TPC Las Vegas
Offering a wide range of the latest clubs in a variety of configurations, TPC Las Vegas provides golf club rentals from their club shop and can be reserved when booking your tee-off time. 
Depending on the time you are planning to play, TPC Las Vegas has five different brands of golf clubs available for rental, and all rental golf club sets include six golf balls. 
Rental golf club brands available:
Taylormade: M5/M6 Driver, woods, and irons (regular/stiff flex), Milled Grind 56 degree wedge, Spider Tour Red putter.
Titleist: TST Driver, TS2 3 wood, 818H2 Hybrid club, 718 APH1 Irons, Vokey SM7 Wedge, Scotty Cameron GOLO 3 Putter.
Callaway: Epic Flash driver and 3 wood, Rouge 3H hybrid, Rouge Irons, Mac Daddy 4 56 wedge, Odyssey O-Works Red putter. 
Cobra: 0811XF/0341X Driver, King F7 Fairway Black 3 wood, 0317X Hybrid, 0311XF/0311P irons (regular and stiff flex options), King Pur wedge, Cobra putter. 
Ping: G3 Driver (regular and stiff), G fairway 3 wood, G hybrid club, G Irons 4-LW (regular) or i200 4-UW (stiff), Glide 2.0 wedge, Sigma G Anser/Darby putter.
Rental golf club pricing:
Rental sets are $80 during peak season.
$60 per set out of season (June, July, August). 
RELATED: 7 Best Las Vegas Golf Courses (Maps, Rates & Photos)
Specialist Golf Club Rentals in Las Vegas NV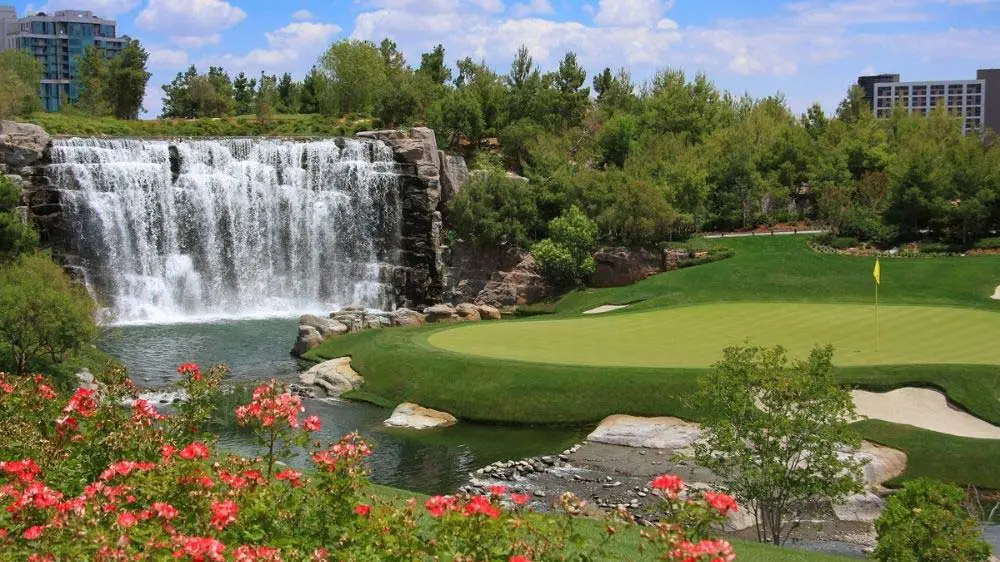 Using a specialist club rental service is a great way to rent golf clubs over several days while on vacation in Las Vegas. This also provides the advantage of allowing you to get a good amount of fairway time using the same set of clubs on different golf courses, and many of these services offer convenient delivery (and pick-up) to any local golf course or hotel. 
ClubHub Las Vegas
ClubHub offers a range of ​​TaylorMade M4 as well as Kalea club sets for males and females. They will deliver their premium rental clubs to any golf course, hotel, or staffed business premises, and the clubs will arrive in their own shipping container, making them easy to return once you are finished with them. 
While this isn't the most affordable option for one day of golf, they do offer some great multi-day discounts that are very affordable if you're planning a more extended stay in Las Vegas. 
Rental golf club pricing at ClubHub:
Daily rental prices for their full TaylorMade golf club set and custom ClubHub golf stand bag start at $75 per day and are $20 per additional day thereafter. This also includes free ground shipping. 
Weekly golf club rentals of $194, including free ground shipping.
14-31 day golf club rental of $329 (fixed rate) including free ground shipping.
VIP Golf Services
With over 15 years of experience, VIP Golf Services offers a wide range of rental services from golf shoes to accessories, and of course, golf clubs. They will also book tee times and offer various golf packages as well as other golf equipment and services.
All of their rental clubs will be delivered to your hotel desk and will be picked up again when you are finished with them, so no shipping is required. 
They offer one of the largest selection of rental golf clubs in Las Vegas, with 24 men's models and 8 ladies models available, featuring premium brands such as Callaway, Taylormade, Adams, Ping, Titleist, and PXG. 
Rental golf club pricing:
Prices vary depending on the model and start at $30 for the first day, with each additional day costing $25.
The most premium golf clubs they have available for rent are $75 for the first day and $60 per day for each additional day. 
RELATED: 4 Best Golf Stores in Las Vegas (Revealed!)
Final Thoughts
If you're a golfer and the thought of dragging your own clubs through the airport and paying extra baggage fees sounds like a hassle, now you know that renting clubs in Las Vegas can be easy and affordable.
Las Vegas is home to dozens of fun and challenging golf courses and it's good to know that you can rent a quality set of clubs locally.
Plus, you may even have the chance to try out the premium set of clubs you've been dreaming of!
More Las Vegas Golfing Info: