Can You Golf Year-Round in Las Vegas? (You'll Be Amazed!)
(This article may contain affiliate links. If you click through and make a purchase, we will receive a small commission at no additional cost to you. )
In this article, I'll share all the information you need to know about golfing in Vegas by season. This will include temperature, rates, and tips on avoiding the crowds so you can choose the best time to visit and play at the many world-class golf courses Vegas has to offer.
For starters, you may be wondering "Can you golf year-round in Las Vegas?"
Las Vegas is a fantastic option for year-round golfing, averaging 294 days of sunshine per year and boasting over 50 golf courses within easy reach (20-mile radius) of the Las Vegas Strip. Being able to golf all year long is one of the things that makes Las Vegas a world-class travel destination.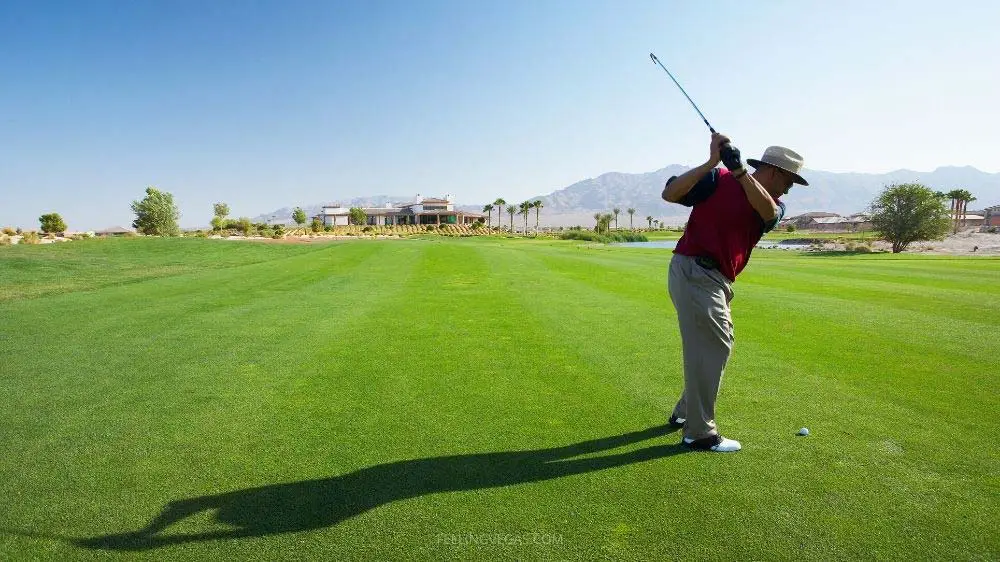 What Seasons are the Best to Golf in Las Vegas?
With most courses open 364 days per year (excluding Christmas) and a mostly dry, arid climate, year-round golf in Las Vegas is categorized into low and high seasons. Knowing the best time of year to book your golfing adventure will depend on what you're looking for. 
Booking a trip in winter, between November and January, is most favorable if you want the lowest rates and would like to avoid long queues and crowded fairways. 
This is also true in summer from late June to August, where the more extreme temperatures take hold and keep the crowds at bay.
If you plan to hit the fairway in spring or fall, you can expect more premium green fees and longer queues around the course. 
Let's take a look at what year-round golfing is like from season to season and when is best to book your golfing holiday in Las Vegas. 
RELATED: 7 Best Las Vegas Golf Courses (Maps, Rates & Photos)
Spring Golf in Las Vegas
While it's always the right time to go to Vegas, spring offers the most pleasant weather in Las Vegas, with March and April averaging around 70°F in the warmest part of the day. This time of year is also considered high season, so you can expect to pay top rates to tee off at most of the courses dotted in and around Las Vegas. 
If you're looking to avoid the crowds and still enjoy the mild spring weather, avoid booking your Las Vegas golf trip in March. "March Madness," as it's often called, is one of the most popular times of the year for bringing huge crowds to watch college basketball and the many pro golfing tournaments taking place.
Unfortunately, that means you'll also experience the highest rates of the year at nearly every Las Vegas golf course. 
There are still some good deals to be had during spring, and it's always worthwhile doing a little research for a great rate on a Las Vegas golf package. Keep in mind that these packages can save a bundle and come with the convenience of having your tee times pre-scheduled and reserved. 
A lot of these packages are offered in May. If you are coming in May, be prepared for considerably warmer Las Vegas weather ranging from a low of 70°F all the way up to mid 90s°F. 
Summer Golf in Las Vegas 
Summer gets incredibly hot in Las Vegas, with the mercury pushing well over 100°F from June through late August. There's not a huge amount of reprieve in the evening or early morning either, as overnight temperatures only drop to around 75-80°F.
For many, golfing in the summer is simply out of the question. However, there are some bargains to be had if you're prepared to brave the heat. 
If you're not too phased by the sweltering summer heat of the Nevada Desert, you're in luck as this is the most affordable time to play golf in Las Vegas. Summer (from June to August) is considered the low season for Vegas golfing, and rates are offered at considerable discounts compared to the spring. 
Try to tee off as early as possible in the morning and make sure you carry plenty of water with you around the course. Wear loose, long-sleeved clothing in a lighter color and use the shade from the trees on the course as much as possible. It's also worth considering renting a golf cart to provide some shade and get you around the course. 
Finally, leave the beers for after your match, and don't forget you can always cool off in an air-conditioned golf club bar or restaurant when you're done playing.
If you can take the heat, this is the best time to enjoy a game of golf on a world-class course for a fraction of the normal price. 
Fall Golf in Las Vegas
As the sweltering temperatures of summer begin to fade, the prices will start to rise, making way for the high season for golfing in Las Vegas. You'll find tourists flocking to Vegas beginning in early September, bringing a high demand for early morning tee times.
The high season for golf in Las Vegas lasts from September through to October, and the weather is beautiful!
By early to mid-October, the PGA Tour is in town and brings droves of golfing enthusiasts to the city, swarming around the most popular courses and pushing green fees to sky-high levels, and that's if you can even get a reservation.
So book early, many months in advance, if you're planning to visit Vegas and play golf at one of the better courses in October. 
You'll want to pack some layered clothing for golfing in the fall in Vegas, as temperatures vary dramatically (ranging between 50-90°F) and can get quite cool in the early morning and evenings. If you're thinking of scheduling a late afternoon tee time, also consider that by late fall, daylight hours are reduced dramatically, with the sun setting around 4.30 pm by late November. 
RELATED: Renting Golf Clubs in Las Vegas (Cost & Where To Rent)
Winter Golf in Las Vegas
If you're coming to Las Vegas from a place that's cold and snowy in the winter, you may be asking yourself "Can you golf in Vegas in January?"
Golfing in Las Vegas in January is not only possible, it is a popular time of year for golfers to hit the links due to relatively warm days, plenty of sunshine, and very little chance of rain. While January is the coldest month of the year in Las Vegas, it is still a good time for golf!
Playing golf in the winter in Vegas is an absolute pleasure! You'll enjoy mild winter temperatures with an average daytime temp of between 55-60°F and almost no likelihood of precipitation, allowing you to plan your Las Vegas golf holiday well in advance without the threat of it getting rained (or snowed) out. 
You'll also be able to enjoy some of the best low-season golf rates available. There are usually a ton of golf vacation packages catering to winter golfing in Vegas.
In addition, these golf packages generally offer an excellent hotel and golf combo rate at some of the most prestigious championship golf courses in Las Vegas. 
You'll want to pack some layered clothing as an early morning tee time will be quite chilly, although the day will warm up as you progress around the course. Also, if booking a tee time for the early morning, be prepared for some occasional frost on very cold mornings that may affect your start time slightly. 
Remember if you're scheduling an afternoon tee time in the winter months, that the sun sets around 4.30 pm from late November until early January. 
Conclusion
So there you have it ─ and as the saying goes ─ there's never a bad time to visit Las Vegas. From fog dusted fairways in the winter to hazy early morning golf in the summer or spring, there's always a golf course open in Vegas for the avid golfer.
Best of all, no matter your budget or preferred season, there are plenty of great deals available for year-round golf in Sin City. 
More Las Vegas Golfing Info
References: