9 Most Famous Wedding Chapels in Las Vegas (Pictures)
(This article may contain affiliate links. If you click through and make a purchase, we will receive a small commission at no additional cost to you. )
Around 100,000 couples travel to Sin City each year to tie the knot, and there's no shortage of places to do it. Most casinos and resorts have their own chapel rooms these days, but some lovebirds prefer to say "I do" the old-fashioned way – in a little white wedding chapel.
The City of Lights has perfected the wedding chapel ceremony, and couples have more than 50 options to choose from. But these are the most famous wedding chapels in Las Vegas:
A Little White Chapel
A Special Memory Wedding Chapel
Bliss Wedding Chapel
Chapel of the Bells
Chapel of the Flowers
Graceland Wedding Chapel
Little Church of the West
The Little Vegas Chapel
Viva Las Vegas Wedding Chapel
Below, explore these famous Vegas nuptials locations, including where they're located, what a wedding ceremony will cost you, and what famous couples have also made lifelong vows there.
9 Most Famous Wedding Chapels in Las Vegas
Las Vegas was second only to Orlando, Florida in the number of weddings performed in 2021.
The locale's all-inclusive nature (a bachelor or bachelorette party, a wedding, and a honeymoon, all in one!), affordability, and the simplicity of the wedding process in Clark County, Nevada is hard to beat. Couples only need to pay a small fee to the Marriage License Bureau, then take that license to any place that will perform a ceremony.
With an array of wedding packages, locations, and photo ops to choose from, here are the wedding chapels most famous among couples taking the plunge.
1. A Little White Chapel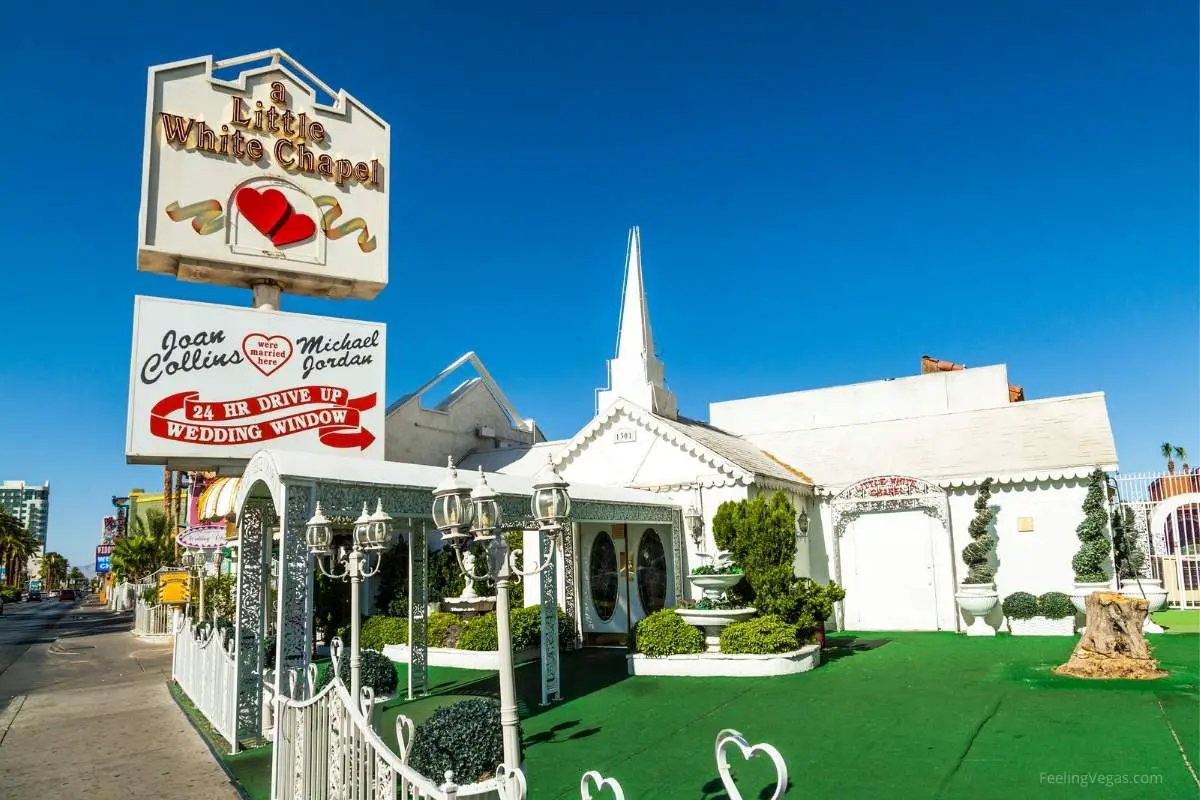 Perhaps most famous for its "Tunnel of Love" rather than its chapel, A Little White Wedding Chapel can personalize its ceremonies to suit your needs – even if that need is to get in and out as fast as possible!
This chapel offers drive-through ceremonies starting at just $95. For that price, you'll get married in a pink Cadillac in the Tunnel of Love and all the necessary documents. Wham, bam, and then it's done!
Famous couples who appreciated this swift service include Michael Jordan (who wed his bride at 2:30 am on a Saturday), Sinead O'Conner, Rita Hayworth, and Britney Spears.
A Little White Chapel is located just north of the Las Vegas Strip proper.
2. A Special Memory Wedding Chapel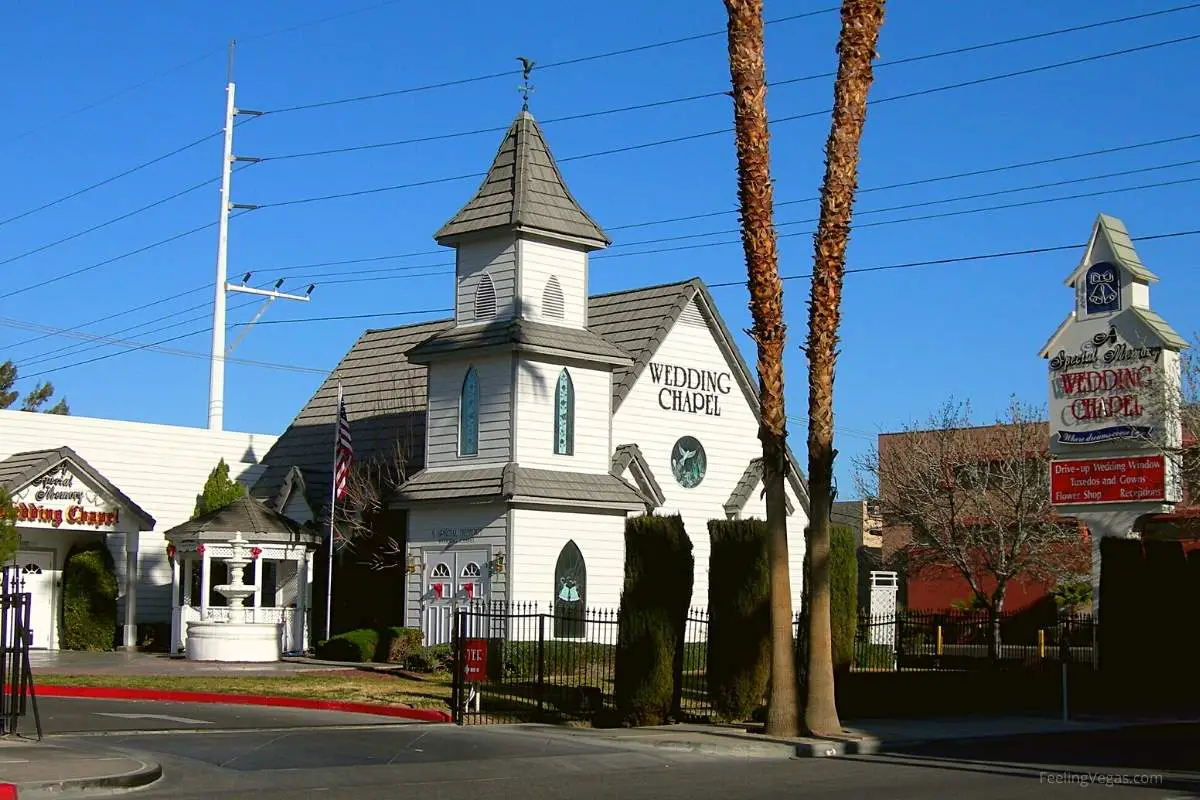 A Special Memory Wedding Chapel has been around for more than 50 years, and since its establishment, has added all sorts of interesting ways couples can tie the knot.
The chapel itself is one adorable option, which the company dubs "New England Style." It can seat up to 115 people, in case you wanted to invite friends and family along.
If you're trying to keep costs down, the chapel has packages starting at just $199. Want to get fancier? Let the chapel throw in Elvis as your officiant. This is Vegas, after all!
If you'd prefer a more unique ceremony than your standard Las Vegas shindig, the chapel offers mid-flight weddings on helicopters, outdoor locations with the Red Rock Canyon mountains as your backdrop, and drive-through weddings for anyone in a hurry.
Prices increase as couples add photos, limousine transfer, a bouquet, videography, and photography.
The chapel is located just five miles from the Las Vegas Strip near the Downtown area.
3. Bliss Wedding Chapel
Bliss Wedding Chapel is one of the most highly-rated wedding chapels in Las Vegas, according to its Google Reviews.
Couples who want the lap of luxury for their wedding can opt for the $1,300 Rolls Royce Ultimate Bliss Wedding Experience, which – you guessed it – includes transfer to the chapel in a Rolls Royce Ghost.
More traditional Signature Chapel Weddings are also available, starting at just under $450.
Of course, The King Package is a wedding that the King, Elvis Presley himself would approve of. Elvis will serenade the bride down the aisle and play a mini-concert for guests afterward.
Bliss Wedding Chapel doesn't have the storied history and past of some other chapels in Vegas; it was established fairly recently. But the newness of the full-service location may appeal to more discerning couples.
Bliss Wedding Chapel is located on the Las Vegas Strip, just north of the Stratosphere Hotel.
4. Chapel of the Bells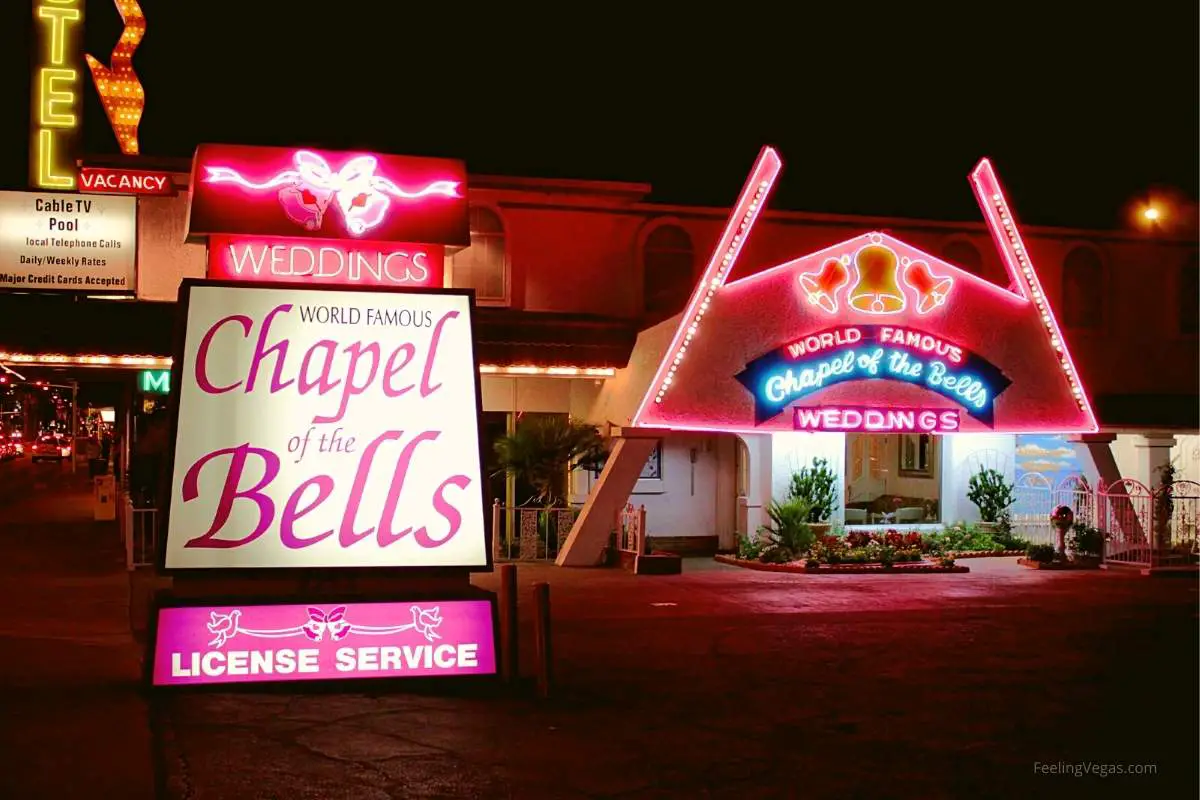 You've probably seen Chapel of the Bells in movies over the years; think Vegas Vacation, Mars Attacks, and Honeymoon in Vegas. That pop-culture history alone makes this little chapel a popular one for couples to say "I do."
Television personality Kelly Ripa (All My Children, Live With Kelly and Ryan) found the chapel to be a perfect location for her nuptials, as did Leslie Nielsen (Airplane!, The Naked Gun, Spy Hard) Jenny Jones (The Jenny Jones Show), and Mickey Rooney (Pete's Dragon, The Black Stallion, Hardy Family films).
The chapel is friendly to all religions and offers non-denominational services.
Plus, they'll make things really easy on you: an executive car will pick you up at your hotel, take you to the Marriage License Bureau, and then straight to the ceremony.
Chapel of the Bells offers packages ranging from $175 to $575. Its location just north of the Las Vegas Strip makes it appealing for couples staying near there.
5. Chapel of the Flowers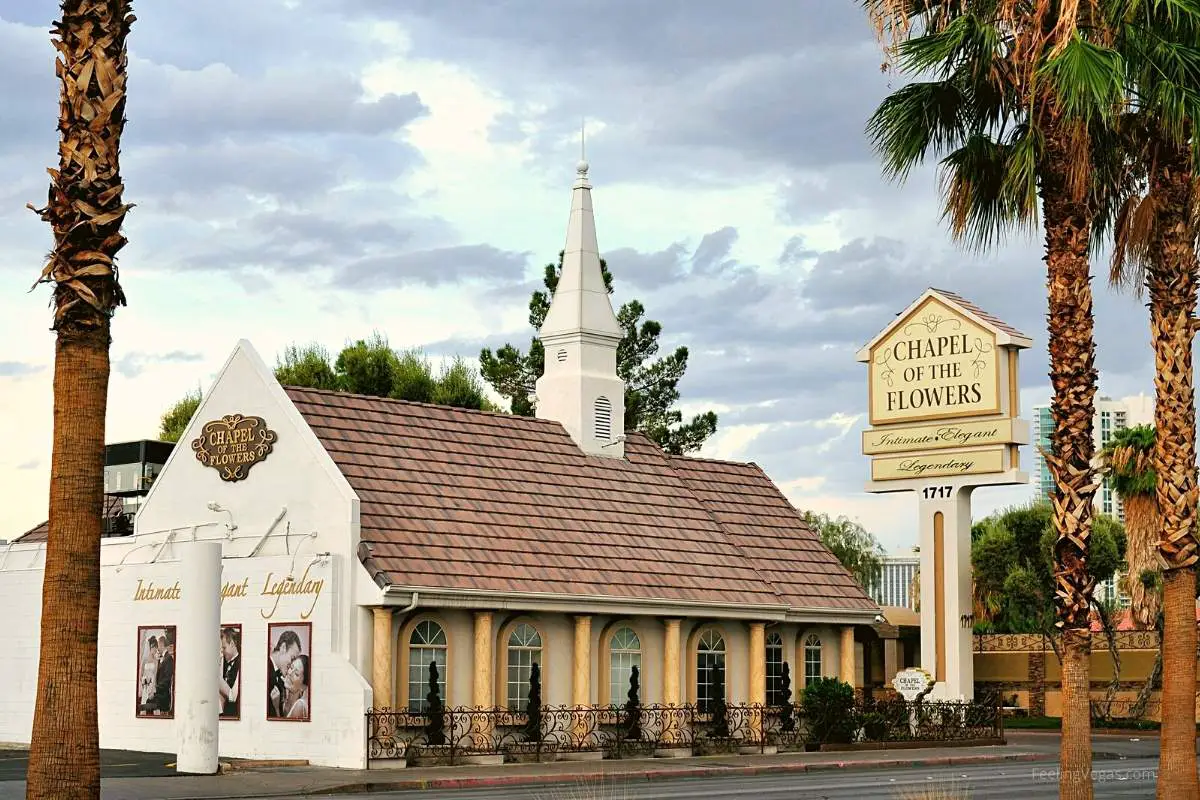 Chapel of the Flowers was voted the best wedding chapel in Las Vegas by TripAdvisor, The Knot, and the Las Vegas Review Journal.
It's nailed the Vegas wedding ceremony over its more than 60 years in business.
If you're planning a surprise wedding and took off to Vegas without telling friends and family, never fear: Chapel of the Flowers can set up a Skype call so everyone can be involved, live from their living rooms and offices. With a microphone, they can even pipe in when the officiant says "Speak now or forever hold your peace!"
The chapel offers four different wedding locations on site, including its Victorian Chapel, with a luxurious aesthetic, the La Capella Chapel, with a more Italian countryside feel, an outdoor gazebo surrounded by trees and beautiful gardens, and the Magnolia Chapel for the more modern couple.
The Chapel of the Flowers isn't the least expensive option on the Strip, with wedding packages that start at $299 and go all the way up to over $9,000. But since it's rated the best, many couples are willing to pay.
Chapel of the Flowers is located just north of the Las Vegas Strip proper.
6. Graceland Wedding Chapel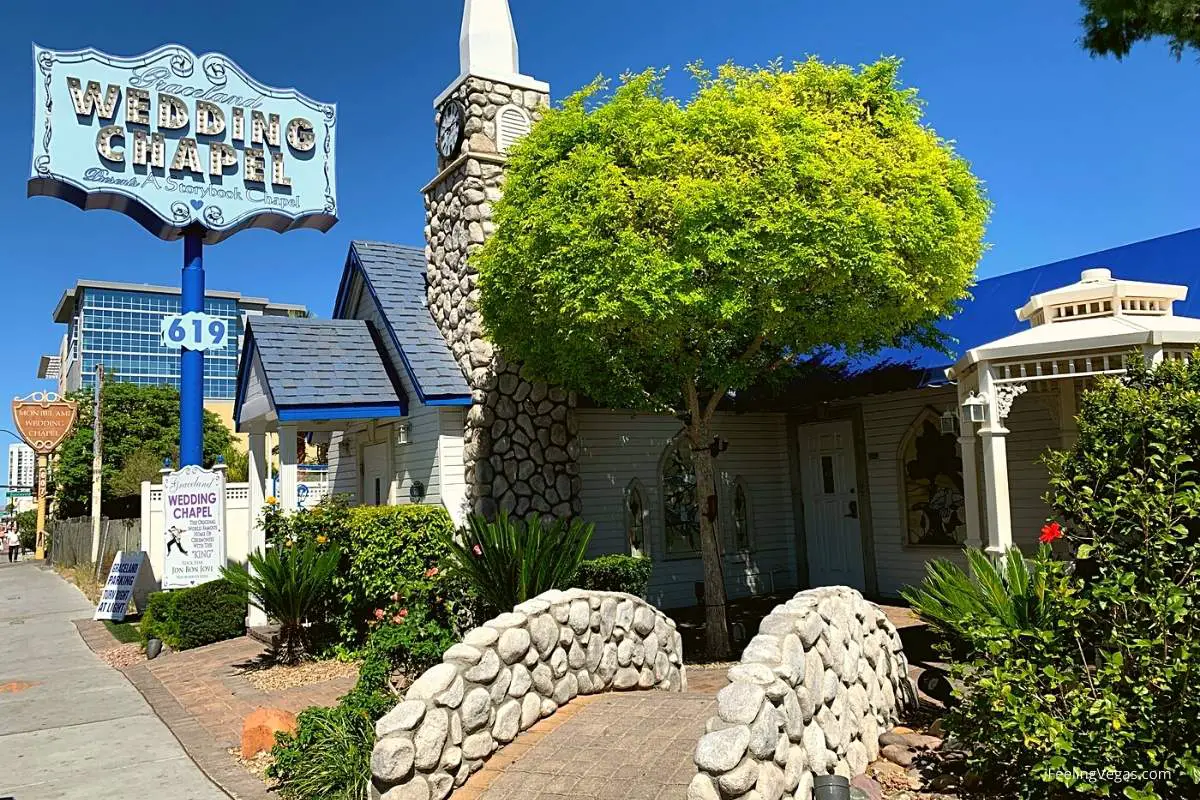 Graceland Wedding Chapel is a hot spot for celebrity weddings, making it arguably the most famous wedding chapel in Las Vegas.
Over the past five decades, many more chapels like it have popped up, but Graceland maintains it was the first to offer weddings performed by Elvis impersonators.
But who needs an impersonator when you have real rock stars tying the knot inside? Jon Bon Jovi, Billy Ray Cyrus, and band members from groups including Def Leppard, KISS, and Deep Purple have all said – or maybe even sang – their vows here.
The chapel also makes appearances in Fools Rush In and Fear and Loathing in Las Vegas, among other reality shows such as Say Yes to the Dress and 90-Day Fiancé.
Packages start at just $199 and go up to $799 if you want not one but two Elvis's performing at the nuptials.
The Graceland Wedding Chapel is closer to Downtown, just five miles or so from the Las Vegas Strip.
7. Little Church of the West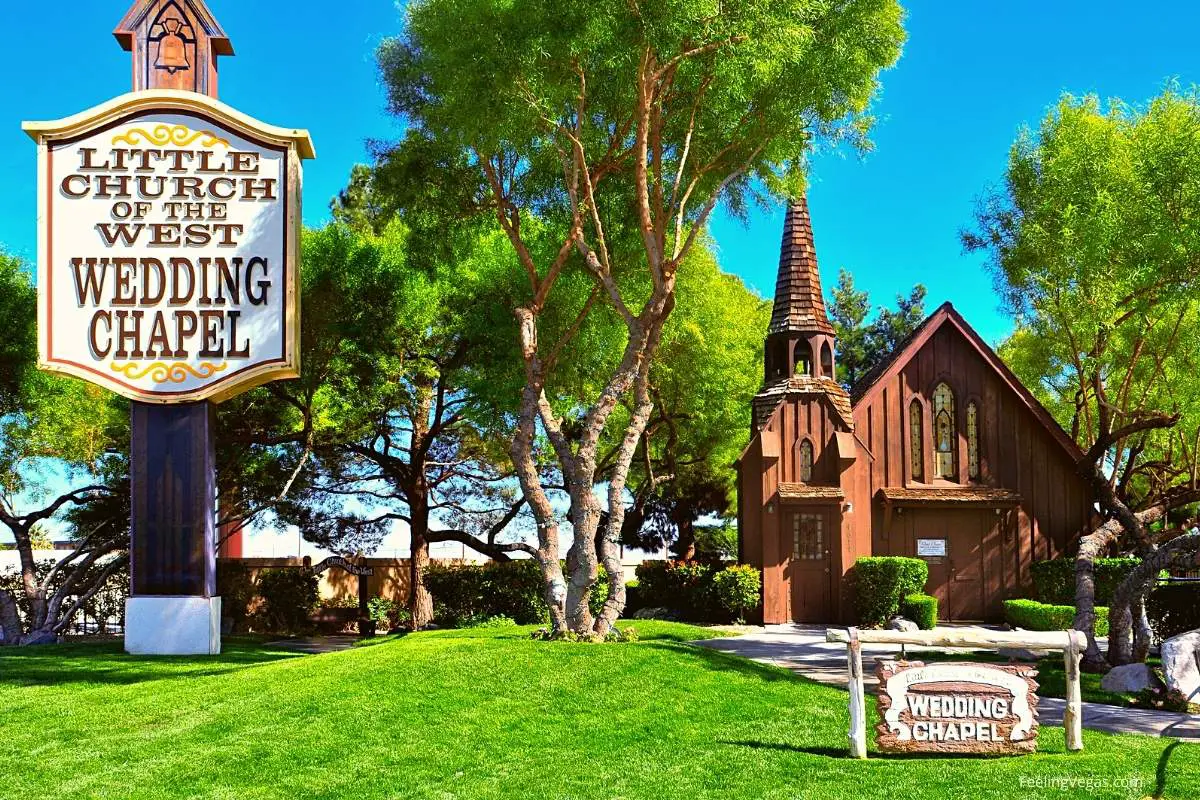 Want to get married in a place that feels a little less manufactured? The Little Church of the West could be for you.
This adorable chapel is listed on the National Registry of Historic places, the only building on the Las Vegas Strip to earn that recognition. The building is a replica of an old mining town church that was originally meant to anchor the Last Frontier Hotel and attract business.
It's been home to weddings in Las Vegas for more than 80 years!
Celebrities like Zsa Zsa Gabor, Judy Garland, Angelina Jolie, and Cindy Crawford have all tied the knot here.
Couples who want to know who they're dealing with ahead of time might find the team page helpful on the Little Church of the West's website.
Packages here start at $209 and go up to $2,700.
While on Las Vegas Boulevard, Little Church of the West is approximately three miles south of the Strip proper.
8. The Little Vegas Chapel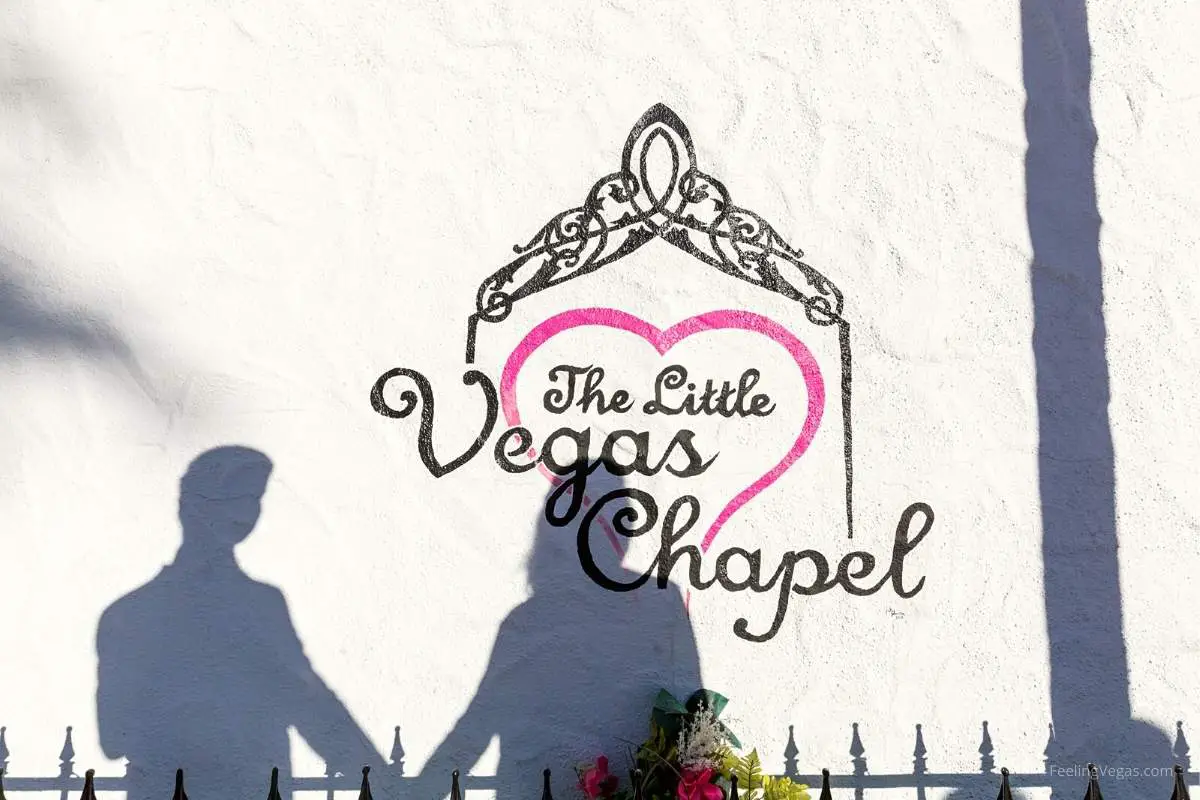 If you're looking for the best of both worlds when it comes to value and quality, The Little Vegas Chapel is another highly-rated option (4.9 stars on Google Reviews) with a low price point.
Packages here start at just $249 and include photography, music, a bouquet, a coordinator, and up to 18 guests!
The chapel has been around for approximately 20 years, but it was built in the mid-fifties as a nightclub hangout spot for mobsters. Celebrities flocked there, including Frank Sinatra, Sammy Davis Jr., and even Marilyn Monroe.
Not ready to legally take the plunge? The Little Vegas Chapel will set up a faux wedding for you for a photo op or just to trick your friends and family.
The Little Vegas Wedding Chapel is located just north of the Las Vegas Strip.
9. Viva Las Vegas Wedding Chapel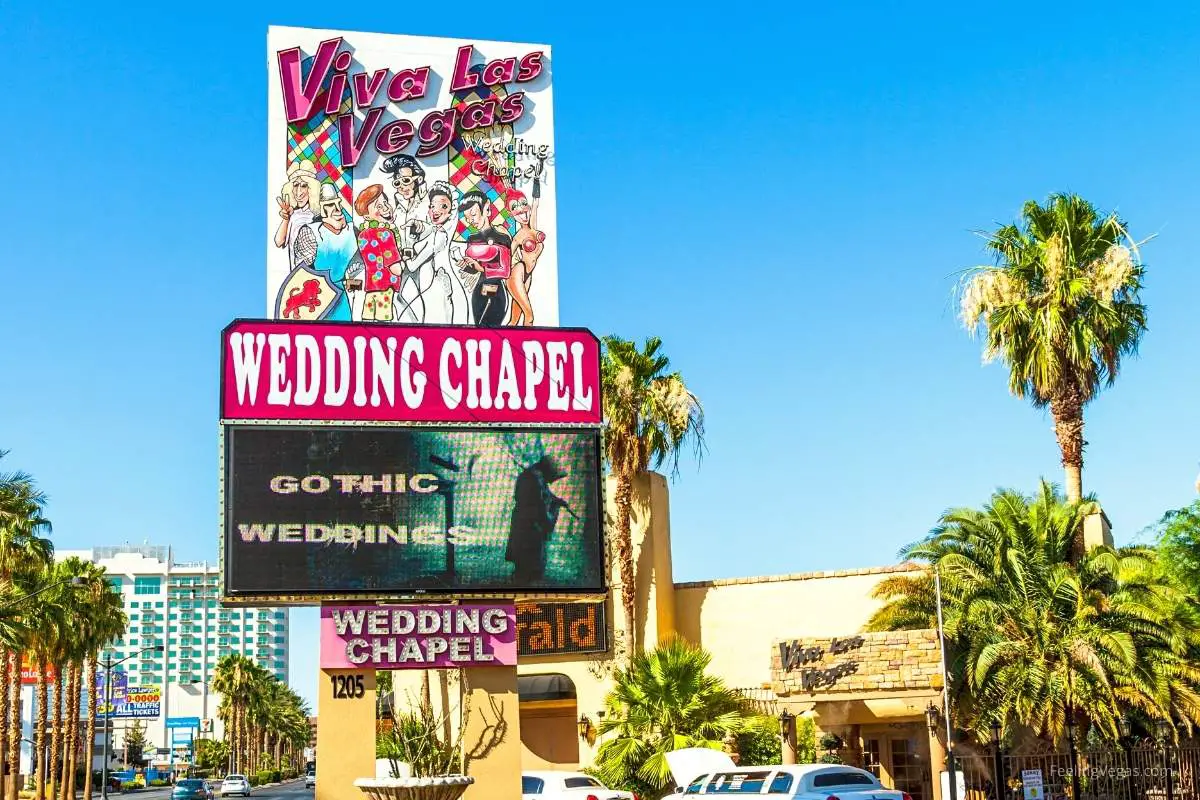 If you're really looking to live it up at your Las Vegas wedding, why not head to the chapel that's named for that! Viva Las Vegas Wedding Chapel can play host to your wedding and your reception with a hosted bar post-ceremony.
Viva Las Vegas Wedding Chapel has married more than 100,000 couples in its 20 years in business, so it has the process down to a science. From traditional weddings to themed affairs (think Egyptian, James Bond, Disco, Fairytale, and Intergalactic), there's something for every couple at this spot.
This little chapel has a different aesthetic than others on the strip, with old Spanish-style features like Saltillo tiles and a bell tower. And while still small and charming, it can accommodate up to 140 guests – one of the highest capacities for a freestanding chapel in Las Vegas.
If you want your wedding to be a big celebratory party, this is the place to do it. Packages start as low as $149.
Viva Las Vegas Wedding Chapel is located just north of the Las Vegas Strip.
Also see: Married in Vegas: 8 Benefits of a Las Vegas Wedding
Summary
There's no shortage of famous wedding chapels in which to marry in Las Vegas, Nevada. Weddings are highly customizable, affordable, and easy, making Vegas a top location choice for couples around the globe.
For a stress-free ceremony and a kitschy photo op you'll look back on with fondness and great memories, choose one of these famous wedding chapels to say "I do!"
Recommended Reading: Are Vegas Weddings Legal? (Everywhere?)
Las Vegas Wedding Chapel FAQs
What chapel did Elvis get married in?
Elvis Presley and his girlfriend, Priscilla Beaulieu were married in 1967 at the Aladdin Hotel (where Planet Hollywood is today) in Las Vegas. Elvis and Priscilla followed the wedding ceremony with a champagne brunch for their approximately 100 guests.
How much is a chapel wedding in Las Vegas?
A couple can get married at a wedding chapel in Las Vegas for as little as $95. However, the cost of a wedding at a Vegas chapel can head into the thousands of dollars, depending on what the pair wants.
Which is the oldest wedding chapel in Las Vegas?
The oldest wedding ceremony chapel in Las Vegas is the Graceland Chapel. The Graceland wedding chapel opened its doors in 1939 and was the very first chapel to offer an Elvis-officiated wedding in 1977.
Where did Ross and Rachel from the TV show Friends get married in Vegas?
Fictional characters Ross and Rachel were married at A Little White Chapel on the Las Vegas Strip located near The Strat Hotel and Casino.