If your big day is approaching and you've decided to get married in Las Vegas you'll be happy to know that Vegas offers many stunning locations to capture unique and glamourous engagement and wedding party photos in and around the city.
It's true what they say about location being 'everything,' and Vegas is chock-full of the perfect balance of entertainment and elegance for your special day.
What are the best places for wedding and engagement pictures in Las Vegas?  Las Vegas is full of picturesque sites for your wedding or engagement photos. Our list includes the following:
Bellagio Conservatory & Botanical Garden
The Venetian
Caesar's Palace
Luxor Hotel & Casino
Paris Las Vegas Resort & Casino
ARIA Resort & Casino
Red Rock National Park
The Ethel M Botanical Cactus Garden
Cactus Joe's Nursery
Valley of Fire
Gilcrease Orchard
Springs Preserve
Wetlands Park
These locations were selected for being stunning backdrops for any wedding or engagement images.
The first six are locations along the Strip, and remain within the city limits. The second half of the list includes more scenic natural-locations that aren't too far away depending on your needs.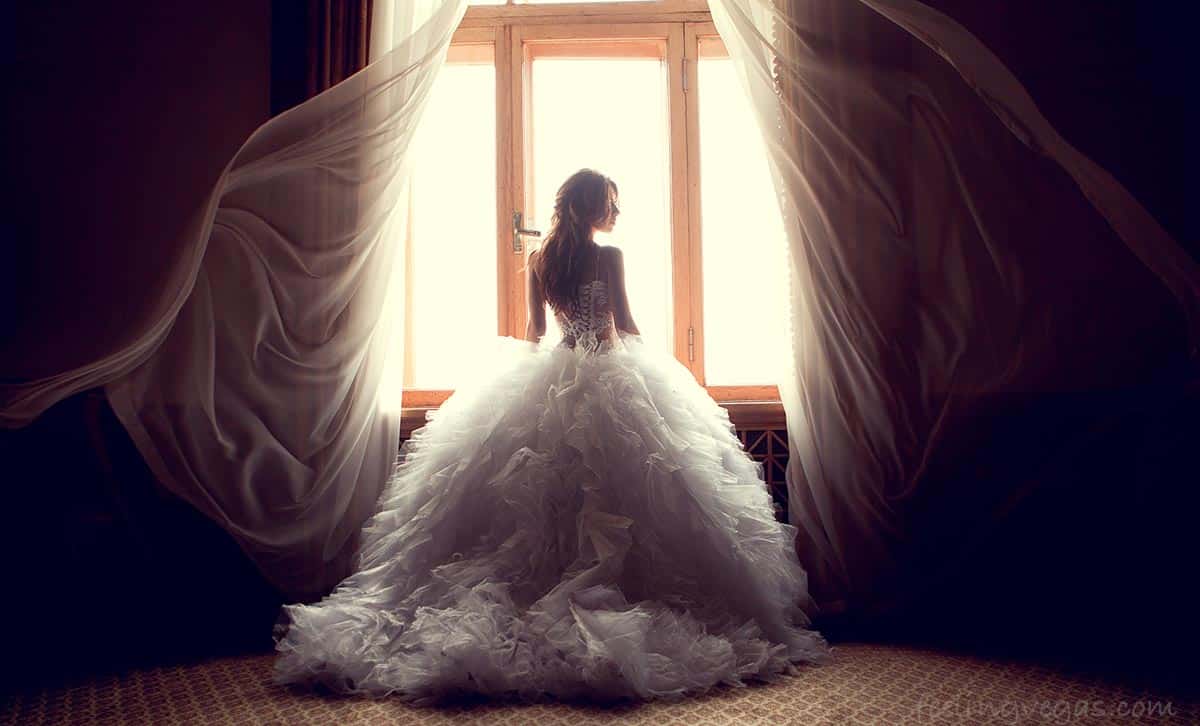 This quick guide will be all you need to plan your Las Vegas wedding photoshoot to it's dreamiest potential! We will break down the benefits to each location so as to determine the right fit for your wedding party.
By the end, you won't see Vegas as a quickie-wedding location, but rather as the extravagant, glitzy, and fabulous wedding destination that you absolutely deserve.
Find out the 8 benefits to a Las Vegas wedding in our article here.
Things to Consider Before Choosing Wedding & Engagement Photo Spots in Las Vegas
Photos may seem like a small piece of the puzzle when there are so many different things that need arranging for a wedding. But aside from the 'I Do's,' photos can be the most significant part as they're your only visual memento from your big day.
You want pictures that can help you look back on this amazing time and smile. You want quality photos and a photographer that will capture the essence of who you, your fiancé, and your wedding partygoers truly are.
Location is clearly an important factor in regards to the photography of your wedding or engagement celebration, so don't take this step lightly.
Before we get into the list, here are some tips I advise you to consider when evaluating which location would be the best photo location for you:
What Kind of Couple Are You
Are you New York City glam or Los Angeles royalty? In this case, you may want to stay on the Strip to get the most sparkly, swanky, and extravagant backdrop to your photographs.
But if you're more low-key, enjoy hiking in nature or being near the mountains, then I would recommend you take your loved ones away from the hustle and bustle of the Strip and find one of the many beautiful natural-locations near Vegas.
Both settings are stunning, but you have to consider which is more suited to your style.
How Much Do You Want to Spend
Having photographs and a wedding on the Strip will usually be more expensive than in a park or scenic location, but you'll need to consider travel time for your photographer and transportation for you and your party if seeking to get to some of the more remote places on this list.
Do You Mind Tourists in the Background of Your Pictures
If you do mind, you may want to avoid the public areas of the Strip or at least rent out a private space.
A good photographer will be able to create images with a nice soft background and has certain locations up his or her sleeve that will eliminate most tourists.
BUT this is Las Vegas we're talking about and expecting that you will be the only ones in your pictures on the Strip might be unrealistic.
Do You Mind Hiking a Bit
If you don't want to walk miles to chase the sunset, some of the more natural locations may not be ideal.
Consider the heels you're dreaming of. Is it feasible, or can you simply bring some sneakers as a backup? Will your wedding party mind walking a bit? What is the temperature during this time of year? Etc.
Some of the more natural locations will require some effort. You won't be able to just roll the car up to the perfect spot.
What Kind of Outfits Do You Want Your Wedding Party Wearing?
This may influence the environment you choose for the shoot. If you and your party are "dressed to the nines" a Strip location may be a better bet.
It's difficult to keep clothing pristine at a dusty and dirty natural location.
My overall advice is to trust your gut. You know what kind of couple you are, what your hobbies/interests are, and what location is better suited to your couple-style.
I have personally been to all of the Vegas hotels and natural locations on this list as my family is actually from Vegas. Therefore, you know I am speaking from experience and not just research.
As a photographer, I can wholeheartedly attest to how beautiful each of these locations is in their own right, and it's why I've selected them as potential candidates for your photographic mementos.
Best Places for Wedding & Engagement Pictures in Las Vegas
Without further ado, let's dive into the first 6 spots located along the Strip:
Bellagio Conservatory & Botanical Garden
If you're interested in an engagement/wedding photoshoot at the Bellagio Conservatory & Botanical Gardens, it could be as easy as grabbing the gang and heading into the hotel's conservatory!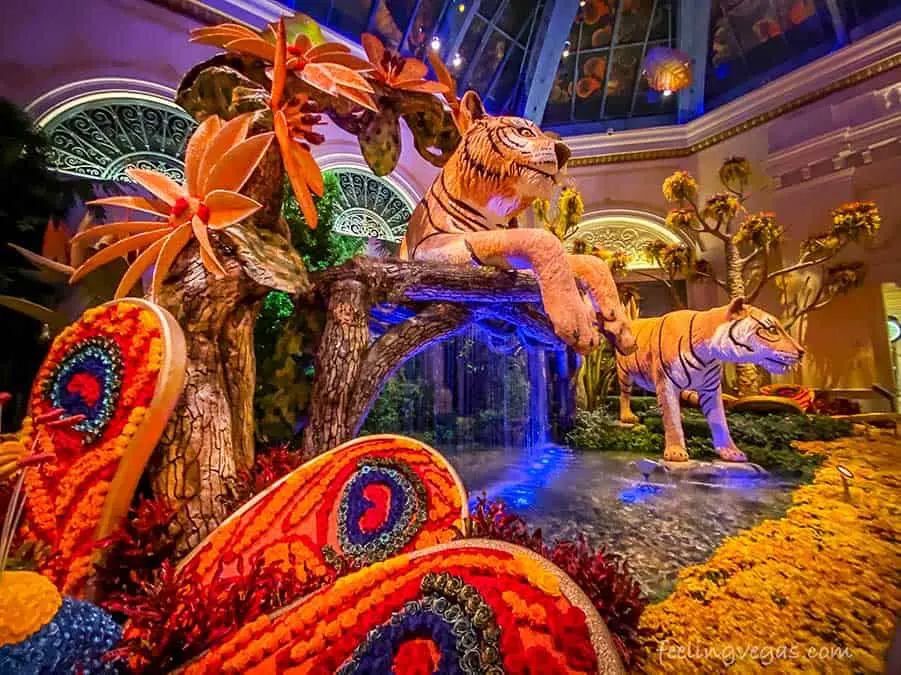 With stunning floral and leaf arrangements, there is a magical quality to the garden. They have different seasonal displays depending on the time of year and they are always amazing!
With sprawling ceilings over 50 feet high and a glass roof, natural light pours into this hall, making it the ideal lighting for your photoshoot.
It is also quite spacious at nearly 13,500 square feet, and there is no admission to enter! You can walk through and enjoy the gardens as you wish, so setting up an appointment is not necessary.  
Of course, since you won't have the conservatory to yourself, you and your photographer will need to be flexible.
People are generally pretty accommodating, however, when they realize you are having wedding photos done. Especially if the bridal couple is in a tux and wedding gown.
The Venetian
The Venetian is a stunning hotel to take your photos at or even schedule the entire wedding. Voted, 'the most romantic hotel in Las Vegas,' by USA Today, there is a reason this hotel is beloved by many.
Excitingly for you – many of their ceremony packages actually include the photoshoot in their deluxe gardens filled with potted roses and tall ivy that makes you feel like you're walking through the gardens of Versailles.
Not only this, but many packages include the prints as well as the photographer. You can have an all-in-one option with the Venetian that includes their wedding planners and advisors to make the entire process significantly easier on you.
Pictures locations include photos in the garden, a waterfall atrium, a hall of Roman Pillars (that will make you feel like a king and queen), and even a gondola ride through their Venetian waterway in the middle of the hotel.
Imagine having your wedding pictures in Europe–without paying for the whole family's flight!
They even have a special white wedding gondola that's great for pictures or you can even have the entire wedding ceremony in the gondola!
You can email their celebrations team at [email protected] to get started.
Caesar's Palace
One of the best deals for an all-inclusive wedding and photo package can be found at Caesars Palace. You can get the basic package at Caesar's Palace with all the photography included, a personal wedding coordinator, an indoor chapel, pianist, and more for only $1,000!
Some photographers will charge that much alone, so this honestly is quite a steal if you plan to get married in Vegas.
Here is a sample of Caesar's photography from weddings, bridal parties, and engagement shoots to give you a real and visual example of the quality photographs you will obtain by utilizing their services.
This hotel won the silver award for 'Best Wedding Chapel in Vegas,' by the Last Vegas Review-Journal, so you would be in good hands if you decided to hire their tailored and professional services.
Or you can skip the wedding package and just have your wedding party run around the hotel taking fun pictures.
There is a large Romanesque shopping center (The Forum) at Caesars Palace with clouds painted on the ceiling to make it feel like an other-worldly experience.
This isn't your average run of the mill shopping center. Find out more about The Forum and other shopping malls along the Strip in our article here.
You may risk having photobombers in the pictures without a professional set, but perhaps you prefer the candid snapshots anyways!
You can email [email protected] for further information or inquiries.
Luxor Hotel & Casino
In case you didn't know, the Luxor Hotel and Casino is the giant pyramid hotel on the Strip. The benefit of having your photographs taken here (besides the packages offered by this resort that include chapel time, service, photography, etc.), is the variation in backdrops offered.
You can do a wedding or engagement photoshoot on their Titanic set that looks just like the staircase on the real ship and in the movie, The Centra Bar for a more disco-feel, the outdoor garden that sits in front of the jaw-dropping glass pyramid, or even poolside!
The perk of choosing the Luxor is the versatility of backgrounds that can be seen in your photoshoot. Plus running around the magnificent hotel with your best buds can be great fun too!
Like the other recommendations, hire a professional to follow you around or just take the photos yourself to have a more candid, authentic, and lively memory rather than a posed one.
Email [email protected] to speak to one of their wedding planning experts.
Paris Las Vegas Resort & Casino
Voted a Gold Medal in 2019 for Best Wedding Chapel by Best of Vegas – the Paris Hotel does not disappoint. I had a friend who got married here, so I can attest to how beautiful the wedding was and how fancy the whole experience felt.
If you want to get married in Paris or kiss under the Eiffel Tower but also want your friends and family to be able to join you without spending a fortune, this is the perfect solution.
They offer packages like many of the other resorts so you can do an all-inclusive ceremony/wedding package or handle the photos personally.
If you do hire them to be your photographers, you have the advantage of saving some precious time. Also, the Paris hotel photographers are undoubtedly the best at photographing the Paris hotel and knowing it's best angles.
The Paris Las Vegas Hotel's photography services get such high marks that it would even make me consider following in my friend's footsteps! 
Since this hotel is owned by Caesar's palace, email [email protected] for further information.
ARIA Resort & Casino
The Aria Resort & Casino is one of the most beautiful hotels I've ever laid eyes on, and there are many nooks and crannies of this grand resort where you can snap some amazing photos!
With a fireside lounge and a poolside verandah, your wedding party will be able to engage in great locations in order to get the best images.
This hotel has won countless awards, including 'Best of Weddings Award' for 2019, 2018, and 2017.
It is one of the most Instagram-worthy spots on the Strip, so you can't go wrong here!
Email [email protected] for more information.
Now that we've seen what the Strip has to offer in regards to stunning photo locations it's time to explore some of the more natural areas around Las Vegas for engagement and wedding photos.
Wedding and Engagement Photos at Red Rock Canyon
I don't think it's possible to take a bad photograph when you're in a place as beautiful as this.
Located only 25 minutes from Las Vegas (google maps), Red Rock Canyon (website) is the perfect spot to add that beautiful sunset backdrop to your photos without any crowds ruining your shot!
You can get married here as well at one of these four locations:
Ash Springs – very elegant with red and white cliffs at every angle.
Red Springs – more intimate and a great spot for a private photo shoot in front of the red rocks of the Calico Basin.
Overlook – a calming spot that is ideal for sunset images.
Amphitheater – lots of room if you have a large party or want to spread out!
There is also great food and fun nearby, but do note that you may not have cellular signal.
You will also need to bring your own water and walking shoes to get to the most ideal location for photoshoots. Prepare your wedding party accordingly.
Pro tip: don't try to hike it after drinking your way down the Strip the night before! Just stay on the Strip!
The Ethel M Botanical Cactus Garden
This is the largest botanical and cactus garden in all of Nevada, so if you are looking for that very desert, bohemian, and free-spirit vibe to your photos, this could be an ideal location! (website)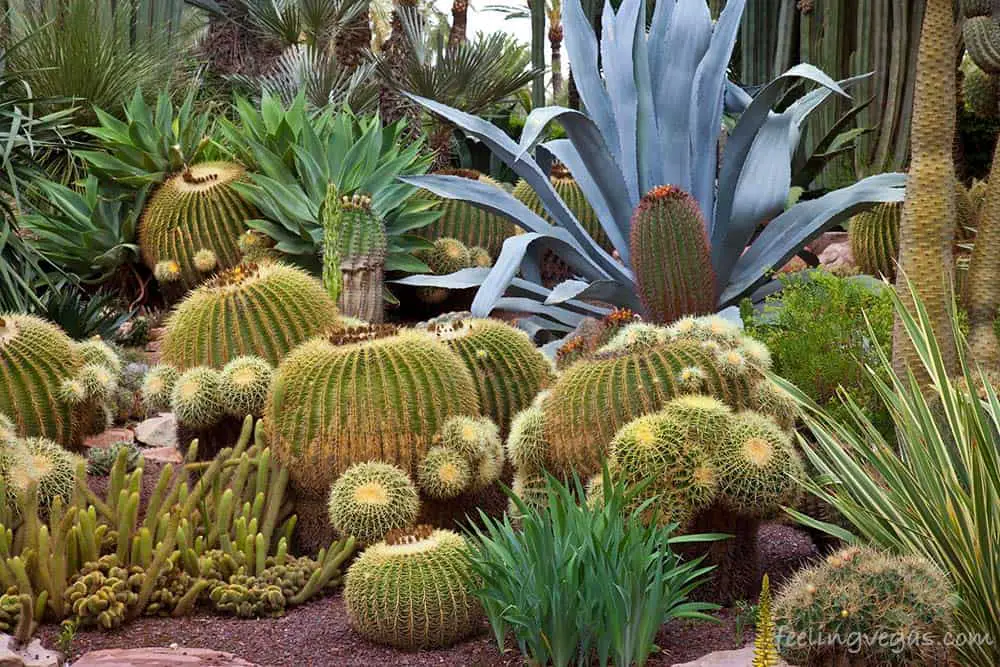 What I like about this spot is that the scenery isn't predictable. It's not wide-open plains but rather a stretch of cacti, paths, and winding trails to lose yourself in. There's a new photo location around every twist in the path.
This could make for some stunning shots at very little effort on your part.
Bonus – this location is a cactus garden AND chocolate factory all in one. So… dreams do come true? Plus it's located not too far from the Strip in Henderson, Nevada. (google maps)
Cactus Joe's Nursery
Cactus Joe's Nursery is very quaint and has a smaller chapel, but the backgrounds for wedding or engagement photos are beautiful. You don't have to utilize the chapel if you only want to have pictures done.
There will certainly be a more rural and desert-like feel to the photos without having to hike your way out somewhere in the boonies.
Cactus Joes is a working nursery but it's much more beautifully designed than most.
With a large number of cactus species, including many full-sized saguaro cactus on several acres of land, there are many spots to take lovely photographs.
If this sounds aesthetically pleasing to you, use the link above to message one of their team members about having your wedding or photos taken at Cactus Joes.
This will be a simple yet beautiful location for a low-key photoshoot. If that appeals to you, reserve it! (google maps)
Valley of Fire State Park
Another jaw-droppingly beautiful location in the midst of nature is Valley of Fire State Park. It's a unique spot to have your photos done or even a great place to have your entire wedding.
To have your wedding here, you may need to purchase a permit or work directly with the state-employees, but certain packages will allow you to add a photography session on the Strip as well for $300 for 1 hour, or $500 for 2 hours.
With that option added you'd have the best of both worlds. Wedding photos in the gorgeous red rocks and more photos on the Las Vegas Strip!
You can also purchase an entire wedding package through the link above, and their starting packages with a courtesy limousine, a wedding officiant, and a photographer included start at rates as low as $1299.00.
The Valley of Fire location is the furthest away from the Strip on our list but it will still take you under an hour to get there. (google maps)
Gilcrease Orchard
The Gilcrease Orchard is an adorable spot for a wedding or engagement photoshoot that will really get your whole group in-touch with their rustic side. This is one of the more simple locations on this list, but if the glam of the Strip turns you off, this may be a perfect alternative.
The Gilcrease Orchard is a working u-pick orchard that is perfect for a low-key photographic session.
If you're having an early winter wedding, you can do a photoshoot surrounded by their Christmas trees for an undeniably magical moment.
It looks like a wide-open winery almost so if that aesthetic warms your heart a bit, or you can imagine that winery-look at sunset, dream no further! (google maps)
Email [email protected] to inquire about their scheduling.
Please Note – The Gilcrease Orchard closes for the season after the Christmas holidays and re-opens again in the spring.
Springs Preserve Las Vegas
With beautiful gardens, trails and vibrant landscapes the Springs Preserve in Las Vegas is a wonderful location for wedding and engagement photography.
You can have your wedding at Springs Preserve or stop by before or after the ceremony to have photos done. It's also a great spot to propose!
With easy access from the Strip, you can choose from multiple indoor and outdoor venues and packages. They offer a variety of wedding and engagement services but you'll have to bring your own photographer.
To learn more, you can call one of their specialists at 702-822-8779 (google maps)
Wetlands Park
Last but certainly not least, is the Clark County Wetlands Park. This is a great location for the country-at-heart. If you like to hop on rocks across a gully, get lost in looping paths, or just be one with nature, this spot has everything you could envision.
You can explore the wetlands and take candid photos of your loved ones as they sweep through the wetland paths. It is free to enter and open daily from 9am to 4pm, see photos of the rapids, flowing streams, and wide-open planes here.
Many of the paths are paved but be sure to bring your tennis shoes for walking as this is not a high-heels kind of moment. (google maps)
Final Tips
Las Vegas, Nevada is one of the top honeymoon destinations in the U.S. for a reason. It can be as relaxing or as wild as you want to make it and is an ideal place to honeymoon, get married or even engaged!
Your special day will be magical, so whether you're doing the photoshoot beforehand, after, or just on its own, the photos will be something you will cherish for a lifetime.
The most important thing is to not make it about anyone else, pleasing the whole group, or satisfying your family. These engagement or wedding photos are for the two of you above all else.
This time is about you and your husband or wife-to-be. Keep the focus on the memories and locations that feel most-suited to the two of you, and you can't go wrong.
If you're thinking about getting married in Las Vegas find out what paperwork you'll need to get married in Las Vegas, be sure to check out our article here. We'll guide you through the 7 easy steps to getting married in Las Vegas.
UP NEXT: How To Elope TODAY in Las Vegas (Simple Step-by-Step)