Is the Aquarium Free if You Stay at Mandalay Bay? (Shark Reef Las Vegas)
(This article may contain affiliate links. If you click through and make a purchase, we will receive a small commission at no additional cost to you. )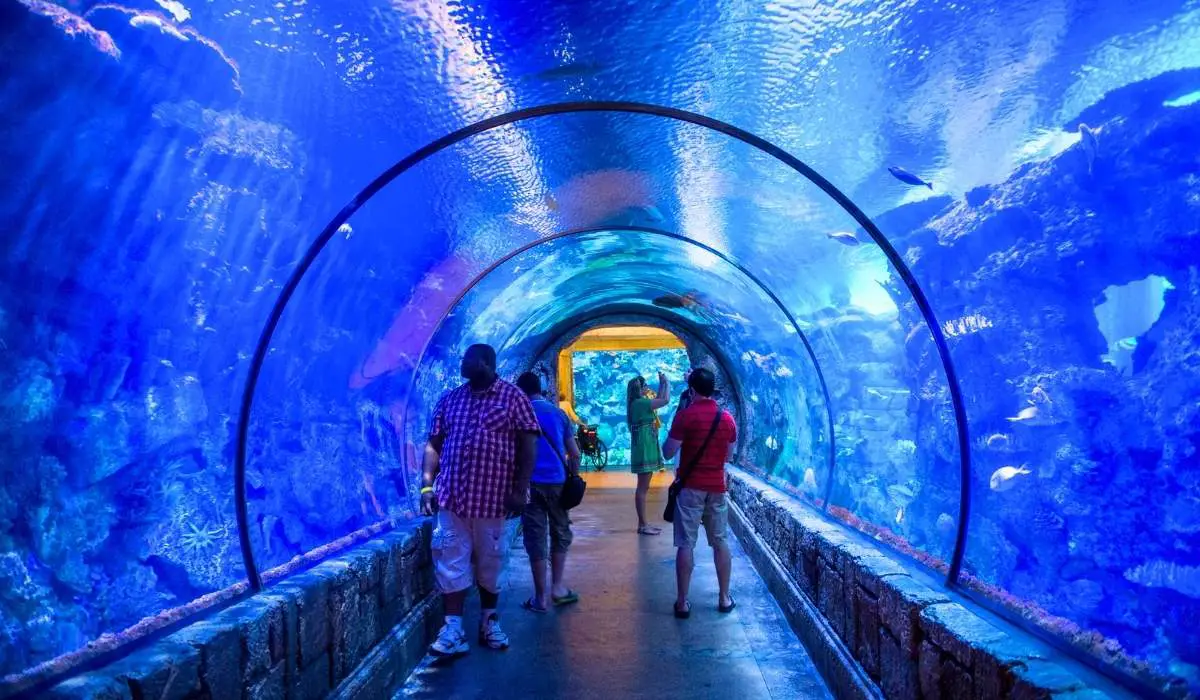 Mandalay Bay is one of the most well-known resorts in Vegas and possibly the world, with many attractions within the hotel worth a visit. One of the main attractions is the Shark Reef Aquarium, and you might wonder if it's free to visit for hotel guests.
Shark Reef Aquarium at Mandalay Bay is not a free attraction for guests staying at the hotel. The Mandalay Bay aquarium costs $29 for an adult timed-entry ticket and $36 for an "anytime" ticket. The aquarium regularly sells out for the day, so it is best to get your tickets online in advance.
This article will discuss how much it costs to visit the Mandalay Bay Aquarium in more detail. It will also discuss if guests are entitled to a discount, and I'll share some of the other (more affordable) things to do near the Mandalay Bay resort.
Guarantee your spot! Get your tickets to Mandalay Bay Aquarium online at either Vegas.com or Viator.com before they sell out.
How Much Does It Cost To Visit the Mandalay Bay Aquarium? (Shark Reef)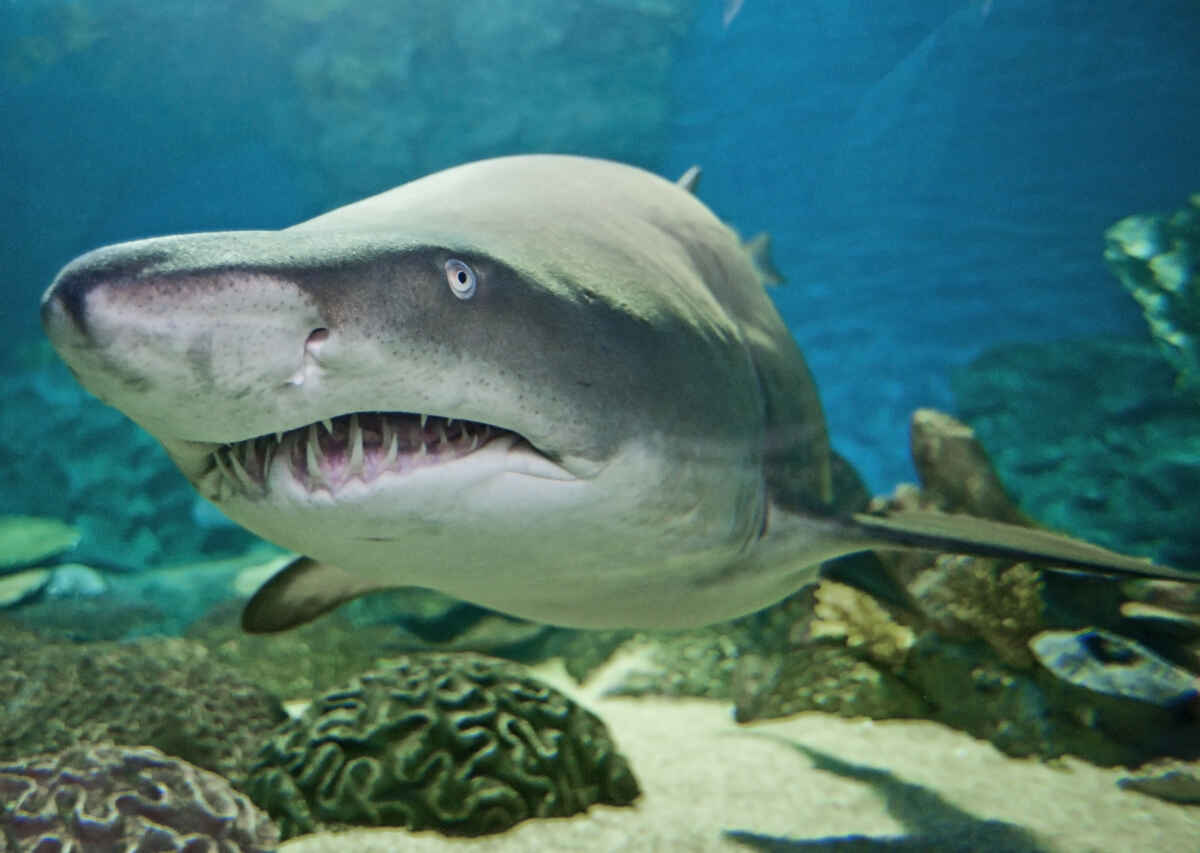 The cost of visiting the Mandalay Bay Aquarium depends on the guest's age and whether you're purchasing an "anytime" or a "timed-entry" ticket.
Find out if the Mandalay Bay Aquarium is worth visiting in our article here. I'll tell you about everything you can do or see at the aquarium and show you a bunch of pictures.
Shark Reef Aquarium & Undersea Explorer Experience
The general admission Undersea Explorer package allows visitors to immerse themselves in the aquarium and the over 2,000 animals on display. It's the package that most people purchase when they want to see Shark Reef aquarium.
Adults will pay $29 each for a timed entry ticket or $36 for an "anytime ticket," meaning entry is allowed at any point on a set day.
Shark Reef Admission
(Timed Entry)
Ticket Price
Adults
$29
Seniors (age 65+)
$27
Children (ages 5 to 12)
$24
Children (4 & under)
Free
Seniors will pay $27 for a timed entry ticket or $34 for an "anytime ticket." A child ticket (aged 5-12) costs $24 or $31 for the "anytime ticket." If you have children below the age of 5, you're in luck because under 5s get in for free.
If you plan on visiting the Shark Reef more than once, it's worth purchasing an annual pass, which is $50 for adults and $30 for children.
If you're interested in purchasing tickets for the aquarium, you can buy them now on Vegas.com! These tickets can be purchased hours, days, or weeks in advance, ensuring that you will get to see the aquarium. You can also purchase tickets at the desk outside the aquarium, but this is risky because they may be fully booked, plus you may be waiting in a long line.
Do Mandalay Bay Guests Get an Aquarium Discount? (Staying at Mandalay Bay)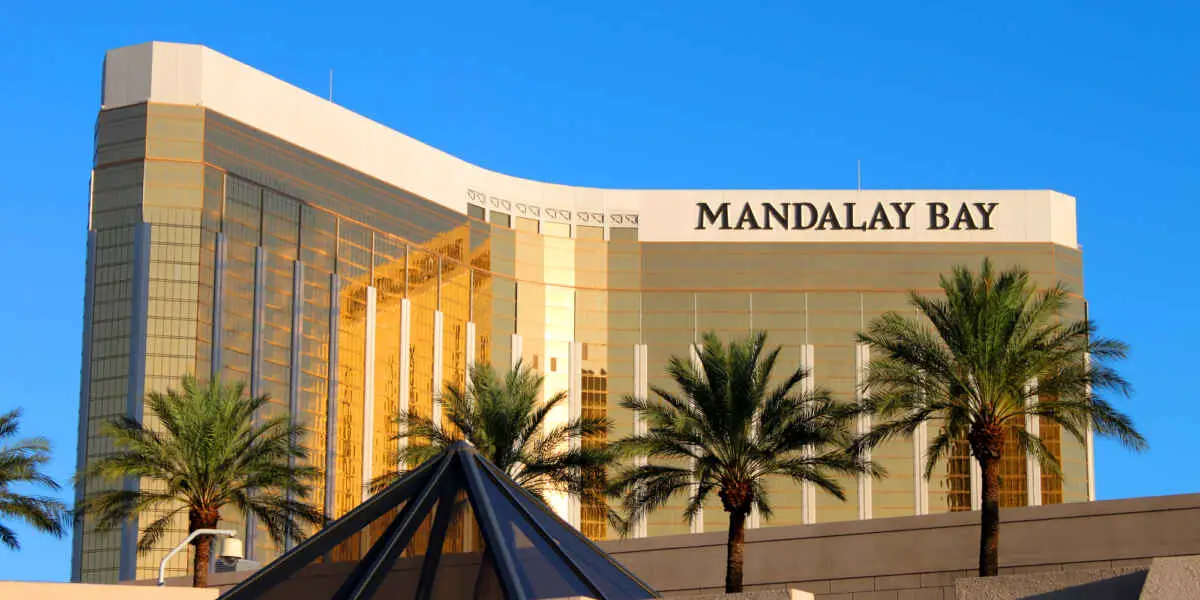 Mandalay Bay guests don't usually get an aquarium discount, so expect to pay the regular price whether you stay at the resort or not. However, it might be worth asking the Mandalay Bay concierge about ticket prices (for the aquarium and other attractions), as they may be able to help you out, especially if you're a regular guest at MGM Resort properties.
However, guests generally must book tickets and pay full price like anyone else. 
Note: Nevada residents get a $3 discount for the aquarium if they can show a valid NV ID, so if you are from anywhere in the state, be sure to bring your ID when you visit the aquarium!
Why Is the Aquarium Not Free for Mandalay Bay Guests?
Although Shark Reef aquarium is located within the Mandalay Bay hotel, it is run as a separate entity and is open to the public. This means that guests of the hotel need to purchase tickets to enter the aquarium, just like any other member of the public.
The decision to make the aquarium a separate attraction open to everyone was likely made to help cover the costs of running and maintaining such a large and complex exhibit. Additionally, it allows the aquarium to generate revenue from visitors who are not staying at Mandalay Bay resort.
While it may be disappointing for some Mandalay Bay guests to learn that they need to purchase tickets to enter the aquarium, it is important to remember that the aquarium offers a unique and educational experience that is well worth the cost of admission.
Affordable Things To Do Near Mandalay Bay
Since the Shark Reef aquarium isn't free, you might wonder if there are other free or affordable things to do near Mandalay Bay. Below are some places to consider when your Las Vegas budget is a concern.
Take a Photo at the Famed Welcome to Vegas Sign
A free attraction everyone should visit when they get to Vegas is the "Welcome to Fabulous Las Vegas" sign. The sign is even within walking distance (17 minutes) for some staying at Mandalay Bay. If you prefer, however, it is an inexpensive Uber ride away.
Although it's free to visit and get a picture at this iconic Vegas sign, expect to wait in line, as it is a highly popular attraction in the city and everyone wants their own picture uncluttered by other tourists. 
To avoid long lines, consider visiting in the morning when the crowds are usually much smaller.
ALSO SEE: Where is the Welcome to Las Vegas Sign? (Location, Map & Parking)
Visit the Bellagio Fountains
The Bellagio fountains are iconic and a must-see for visitors coming to Vegas. Despite the ongoing cost of operating this attraction, it's entirely free to watch. Since Mandalay Bay is quite far down the Strip, you may want to get a Vegas Uber, but once you get there, you'll find plenty of other attractions nearby!
Thankfully, the fountains go off on a set schedule every day of the week! Check out the complete Bellagio Fountain schedule and song list on our website.
Visit the Bellagio Conservatory and Botanical Gardens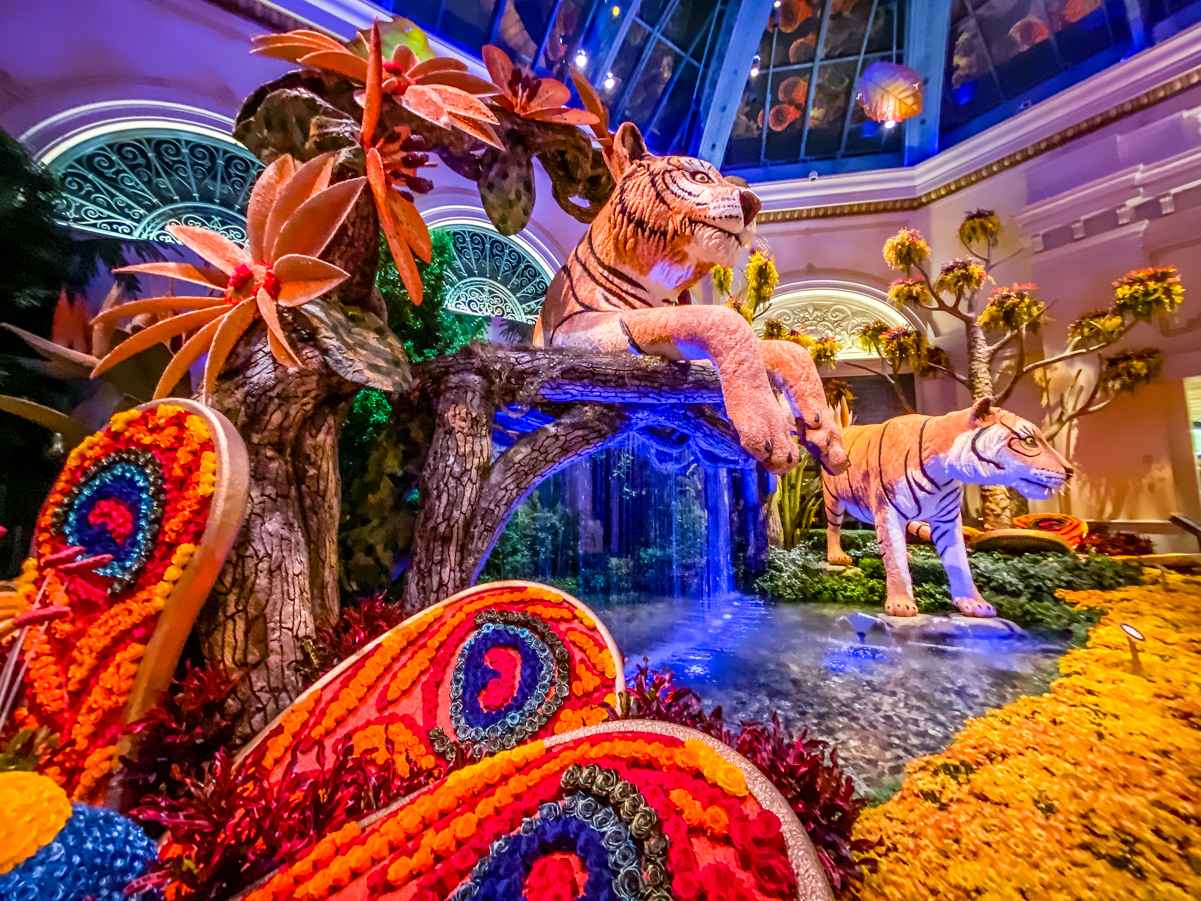 If you've visited the Bellagio fountains and are looking for something to do after, why not visit the Bellagio Conservatory and Botanical Gardens? It's free to visit, and there are different displays depending on the time of year.
For example, the central theme during winter is Christmas, making it a fun and festive attraction for people of all ages.
Please see our full guide to visiting the Bellagio Conservatory here. The guide includes the dates of the seasonal schedule, including the "dark dates" when the garden is closed between exhibits.
Have a Walk Around the Strip
If there's anywhere in the world that's a fun place to observe and people-watch while walking down the street, it has to be Vegas! You'll see all kinds of characters you wouldn't see in most places, so it makes for an interesting experience.
Mandalay Bay is located around the southern end of the strip, so consider taking a walk from the south to the central part of the Strip. Once you get there, you can visit other attractions, like the Bellagio fountains mentioned earlier.
Must See: For a walk on the Strip you'll want to see our Free Strip Walking Tour. It's a guide to walking on the Strip complete with maps and routes, plus it highlights the 19 stops you won't want to miss!
Visit The Casinos and Resorts Nearest Mandalay Bay
Mandalay Bay is in an ideal location to start exploring some of the other nearby casinos and resorts such as MGM Grand, Luxor, and Excalibur. These world-famous resorts are just a short walk or free tram ride away, and each one offers its own unique attractions.
For instance, the MGM Grand is a massive entertainment complex that features a variety of shows, restaurants, and gaming options.
Luxor, on the other hand, is known for its iconic pyramid-shaped structure and impressive collection of ancient Egyptian artifacts.
Finally, Excalibur offers a medieval-themed experience complete with jousting tournaments and castle-like architecture. With so much to see and do, visitors to Mandalay Bay are spoiled for choice when it comes to nearby casinos and resorts.
Take a Trip to the Hoover Dam
If you'd like to experience a nearby adventure, consider visiting Hoover Dam. The dam is about a 45-minute drive outside the city. As a result, you will need to take a tour or drive a car to get there. Tours to Hoover Dam from Mandalay Bay can be fairly inexpensive, and the tour will pick you up right from the hotel.
If you go via car, it's free to drive across the dam and take in the sights. You can also park and walk across the dam or take a tour inside the dam itself.
RELATED: Is It Free to Visit the Hoover Dam? (What You Need to Know)
Compare and save! Check current Mandalay Bay room rates at TripAdvisor.
Conclusion
Although Shark Reef aquarium is located within Mandalay Bay, it's not free for hotel guests. Guests must pay full price. Also, there are plenty of other affordable and free things to do around Las Vegas, including walking on the Strip and visiting the Bellagio fountains.