Can Vdara Guests Use the Bellagio Pool? (Answered)
(This article may contain affiliate links. If you click through and make a purchase, we will receive a small commission at no additional cost to you. )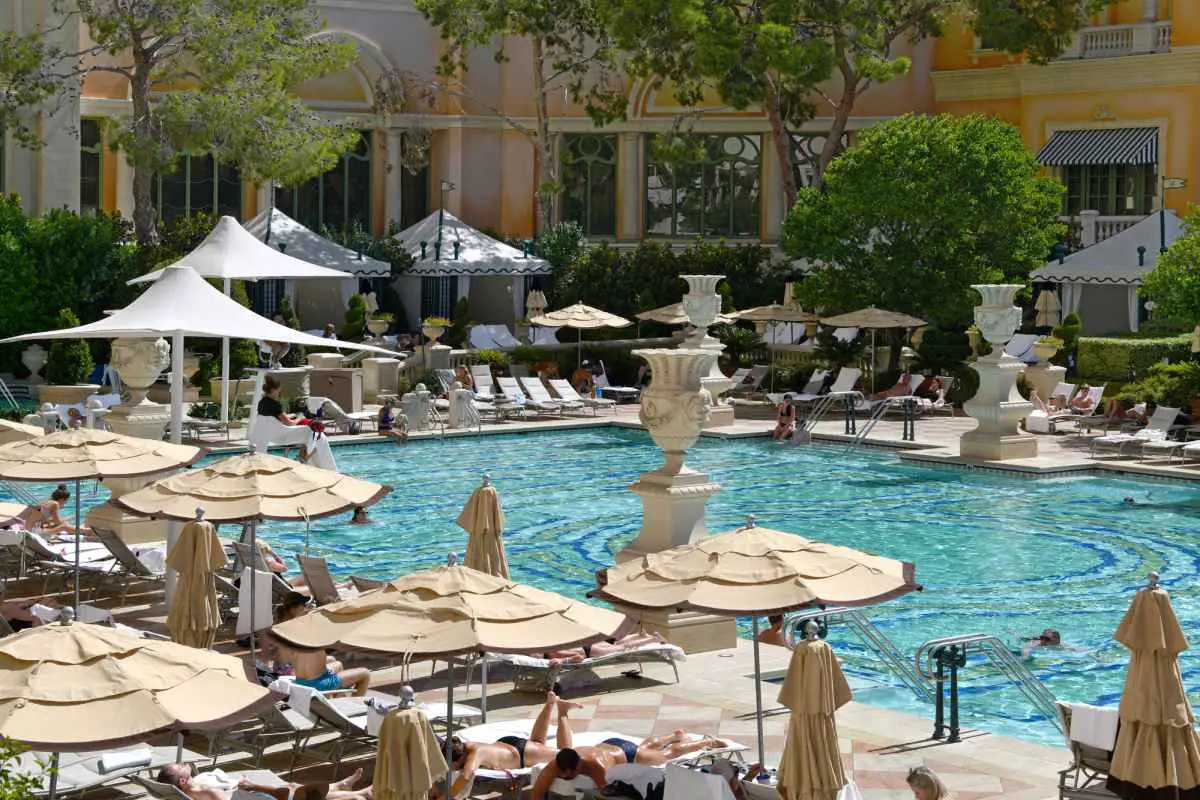 As a guest at Vdara, you may wonder if you have access to certain amenities that nearby hotels offer, considering they are just a walk away and are part of the same property family. For instance, you might want to use the pool at the Bellagio for a change, but is this possible?
Vdara guests can't use the Bellagio pool because it is only open to Bellagio guests who enter the pool using their room key card. As a Vdara guest, you can use the main pool or the three semi-private pools in the resort. Alternatively, you can enter pools at some other hotels, like Aria, for a fee.
In the rest of this article, I will explain more about the pool entrance rules of Bellagio and other Vegas hotels. Moreover, you'll learn more about the Vdara pool and other hotel amenities.
Do the Vdara and the Bellagio Share Amenities?
As you may have seen, both Vdara and Bellagio are part of the MGM family, you may assume they may be connected in some way or share a few amenities. While both of these resorts offer a variety of amenities, they don't make them available for guests of other hotels. 
The Vdara and the Bellagio don't share amenities. As a result, you won't be able to use the Bellagio pool as a Vdara guest, even though they are considered sister properties. However, a Bellagio guest does have access to the pool at Vdara.
The Bellagio pool is not open to non-guests, meaning that only people with a room key can enter. At the pool entrance, you may be able to swipe your hotel card to enter, or sometimes a hotel employee will check if you have proof of being a Bellagio guest. As a Vdara guest, you would not be allowed to enter in this case.
Even though Vdara and Bellagio don't share any amenities, including pool access, a Bellagio guest can still enter the pool at Vdara. This can happen because the Vdara, unlike the Bellagio, allows non-guests to enter some pools for a small fee. 
Why Doesn't Bellagio Allow Non-Guest Entry to the Pools?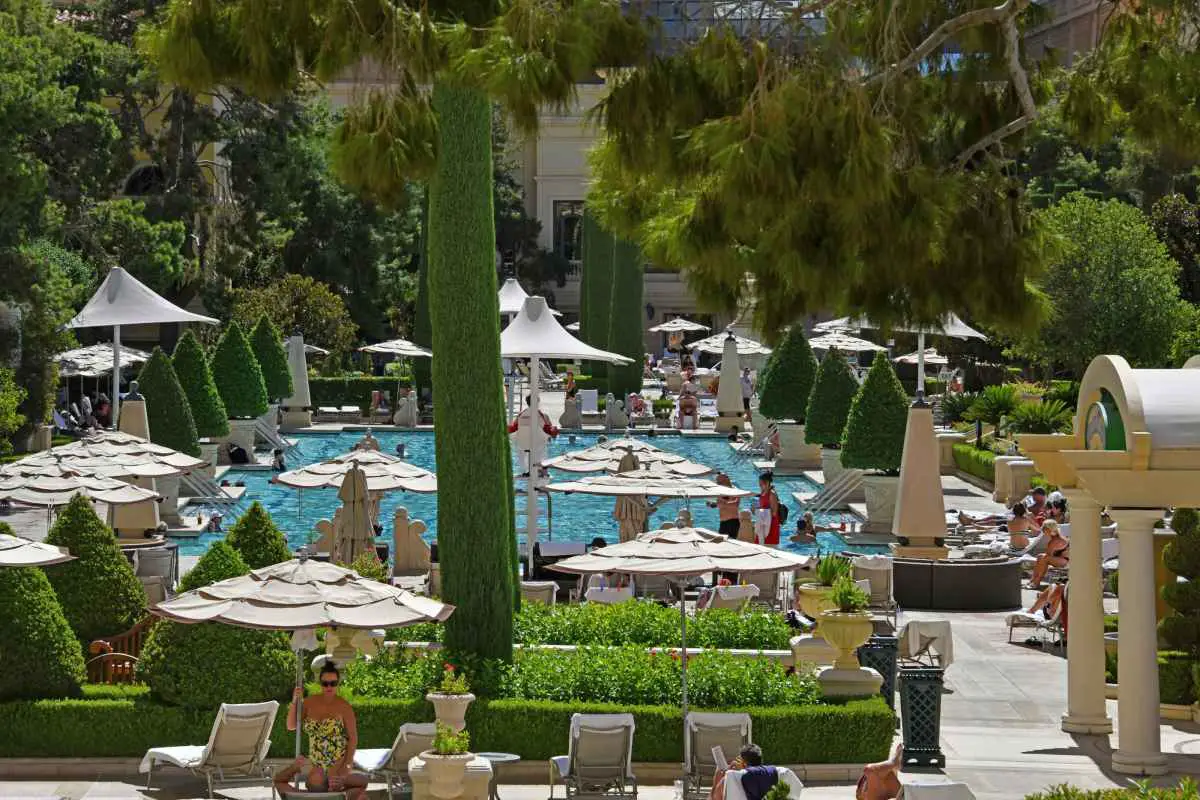 Bellagio, like many other hotels in Vegas, only allows specific amenities to be accessed by guests of the hotel. Non-guests have no way of using these amenities, even if they offer to pay. This happens mainly because hotels want to keep guests entertained privately in their own facilities.
Even hotels with shared ownership or management are still competing with one another, so they make sure to offer guests exclusive amenities. While other hotels may charge for entrance at the pool, Bellagio prefers keeping the exclusivity by only allowing guests. Consequently, you'll need to book a room (TripAdvisor) at the Bellagio next time you visit Vegas in order to be able to access the pool.
The Bellagio pools offer plenty of poolside services that you can enjoy once you're in there. Sunbeds or chaise lounges are usually free, but you can also reserve one for a small charge. You can also hire cabanas or go to the numerous poolside bars or cafes. The Bellagio makes sure this exclusive experience lives up to your expectations.
What Pools Can Vdara Guests Use?
Even though Bellagio is off-limits, you still have plenty of pool options as a Vdara guest. You can use the in-house pool, or you can go and use the pool in a nearby hotel.
The Vdara Pool
Vdara offers a great pool complex with a main pool, three semi-private pools, and a hot tub. There are several poolside amenities available that provide entertainment, drinks, and food. You can reserve sunbeds for a fee, but they are usually free for hotel guests. You also can pay for a poolside cabana if you really want to up your experience.
The Vdara pool is usually open from 9 AM to 5 PM, seven days a week. Any guest or paying non-guests above 14 can use the main pool at the Vdara. 
You may be warned about the so-called "death ray" at the Vdara pool, which is an exaggerated term for a period of time when the sun is strongly reflected off the nearby glass hotel towers onto the pool area and gets a little too hot. However, there's nothing to worry about since you can spend this time in hanging out in the pool bar area.
The Aria Pool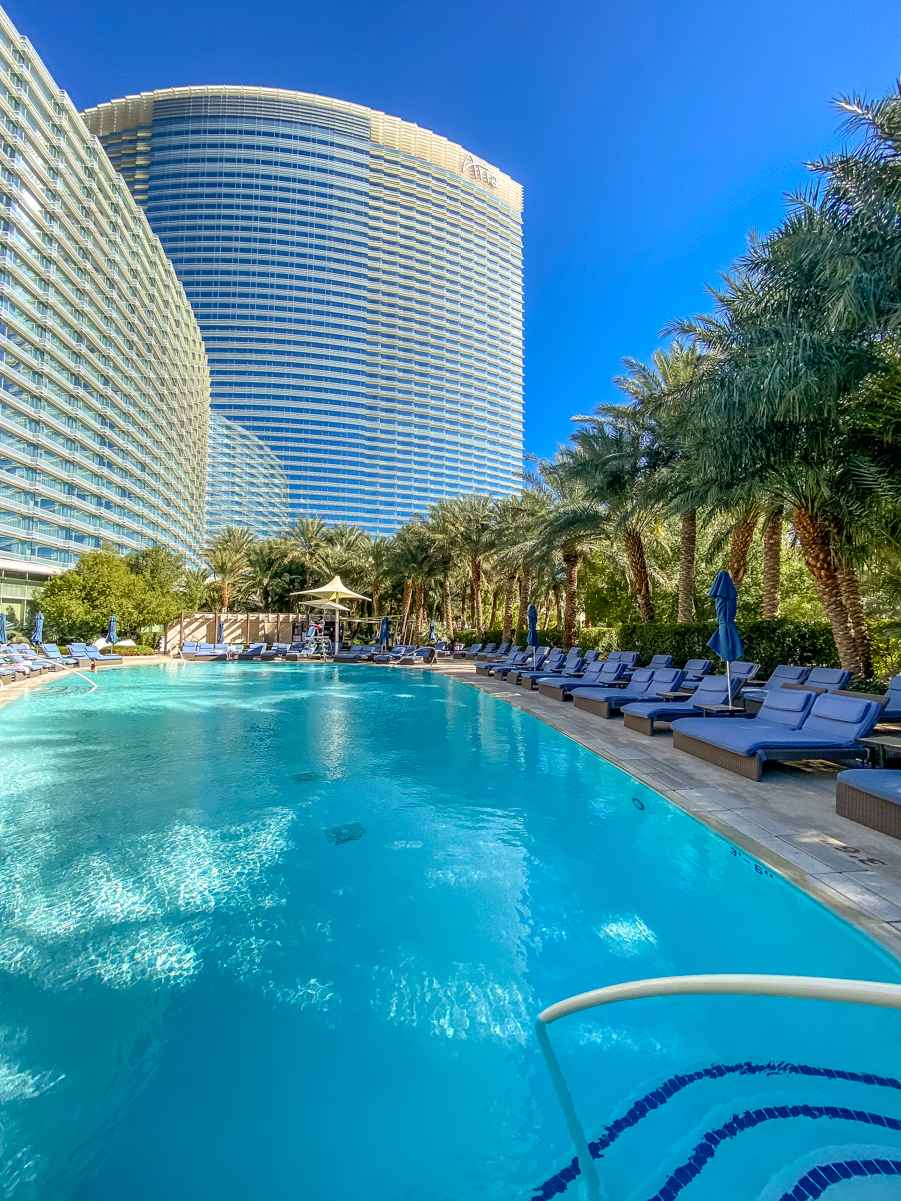 You may have heard that Vdara and Aria share some amenities since they're close to one another and are part of the MGM family. Unlike Bellagio, Aria actually does allow Vdara guests to enjoy some extras, such as parking facilities or even the casino, an amenity that Vdara doesn't have.
When it comes to pools, Vdara guests may be able to access Aria pools if the Vdara pool is closed for some reason, such as maintenance, and Aria pools are not at maximum occupancy. The Aria pool bar is also open to Vdara guests.
You can learn more about using the ARIA pool as a Vdara guest here: Can Vdara Guests Use the Aria Pool? (Answered)
Vegas Hotels That Allow Non-Guests To Enter the Pool
If you don't want to use any of the pools at the Vdara, or if they are closed, you still have some other options. Most Vegas hotels only allow guests to use the pool, but some others allow entry for a fee:
The Cosmopolitan
Delano at Mandalay Bay
Excalibur
Flamingo
Luxor
Mandalay Bay
Park MGM
New York New York
Most of these hotels allow you to pay to enter their pool even if you aren't a guest of the hotel, but in some cases, you may need to rent a bed or a cabana.
Learn more about the pools in Las Vegas that allow non-guest access here.
What Other Amenities Can Vdara Guests Use?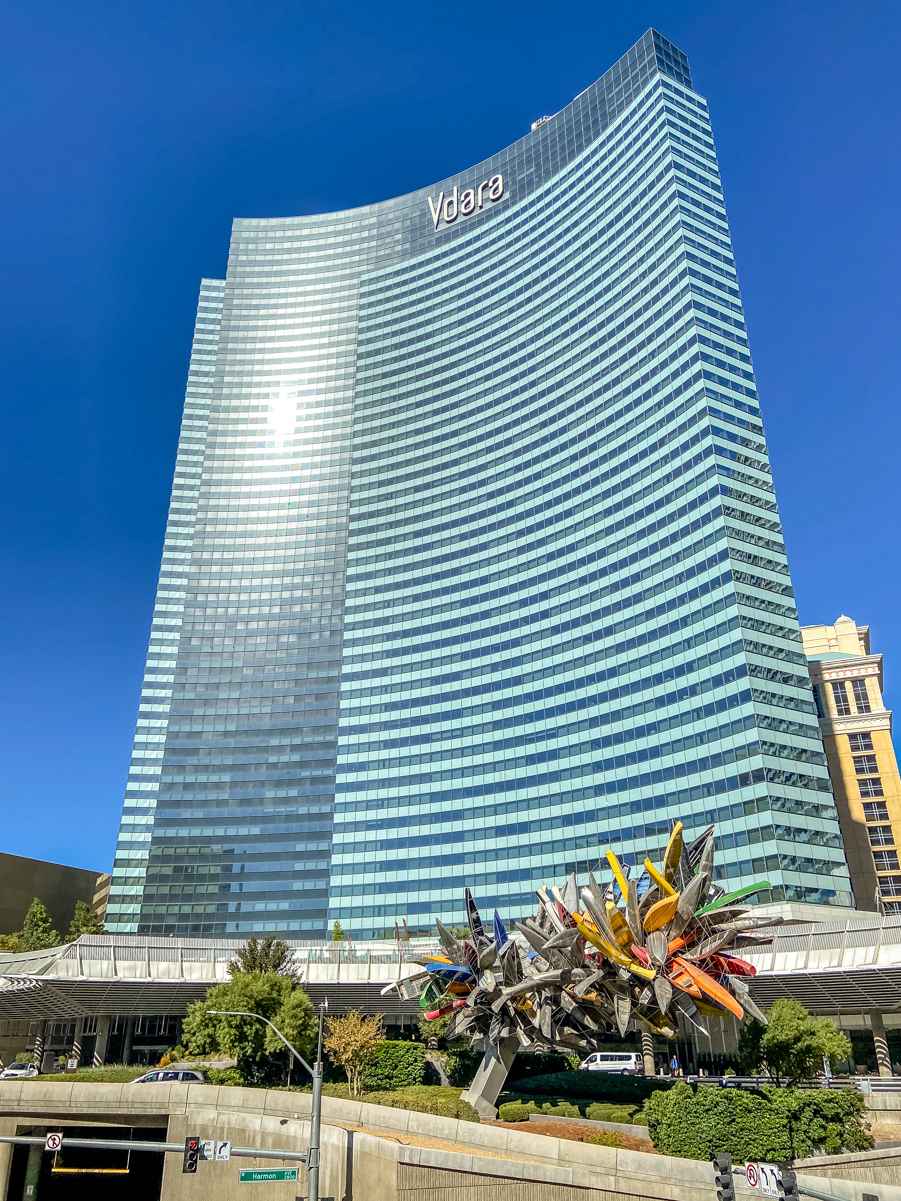 The pool is only one of the many amenities that Vdara offers to guests. As a guest, you can take advantage of several services to make your Vegas stay unforgettable. Make sure to learn all about them before visiting so you can make time for all the activities you want to do:
Spa
Bars, restaurants, and lounges
Fitness Center
Vegas Tours
Golfing
Shopping
Casino (at Aria as a shared amenity since Vdara is a non-gambling hotel)
Can Vdara Guests Use Bellagio Pool – Conclusion
Vdara is an excellent choice for people who want to explore Vegas but aren't interested in the gambling aspect of the city. It offers a great pool and several other amenities, but it doesn't give you access to pools of some sister properties like Bellagio.
However, you can enjoy some shared amenities with Aria, including the pool and a pool bar (when Vdara's pools are closed). You can also take advantage of the spa, the fitness center, and other entertainment venues. If you change your mind about gaming, you can even try the casino at Aria, where Vdara guests are welcome.