How Long Does Mandalay Bay Aquarium Take? (Visiting Shark Reef)
(This article may contain affiliate links. If you click through and make a purchase, we will receive a small commission at no additional cost to you. )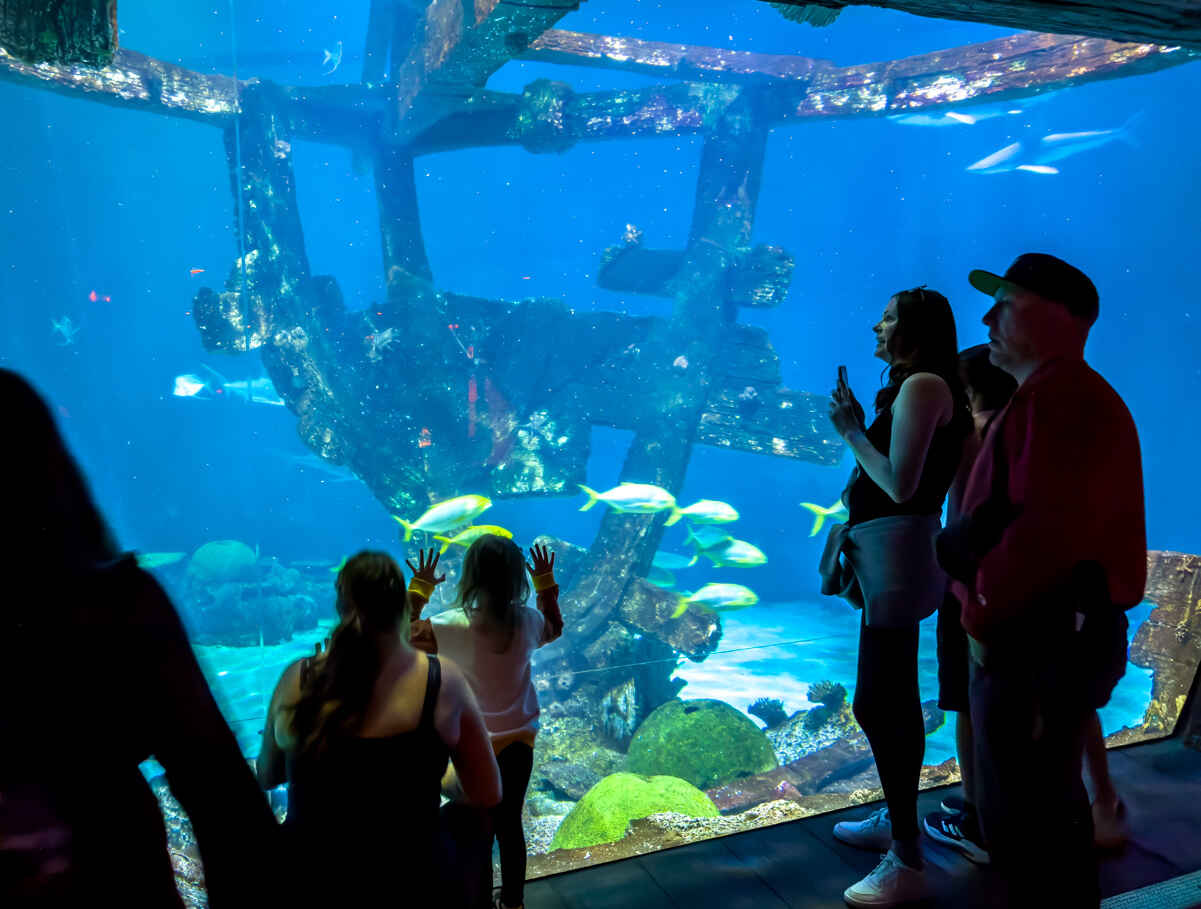 Without a doubt, the best aquarium in Las Vegas, Mandalay Bay's Aquarium boasts 2,000 different animals, such as sea turtles, stingrays, and sharks, all for visitors to see. With that many animals, can an hour-long tour of the aquarium suffice? Or do you perhaps need more?
Mandalay Bay Aquarium takes approximately between 1 and 2 hours to enjoy fully. Within this time, visitors are given access to 14 exhibits centered on Amazon predators, Caribbean Reef sea creatures, venomous fishes, and sharks.
Keep reading if you want to know what to expect on your self-guided aquarium tour. This article will also feature some tips and add-on experiences for making the most of your time at the aquarium. 
Dive into an underwater adventure with Shark Reef Aquarium tickets – get up close and personal with the ocean's most fascinating creatures!
How Long Does Shark Reef at Mandalay Bay Aquarium Take?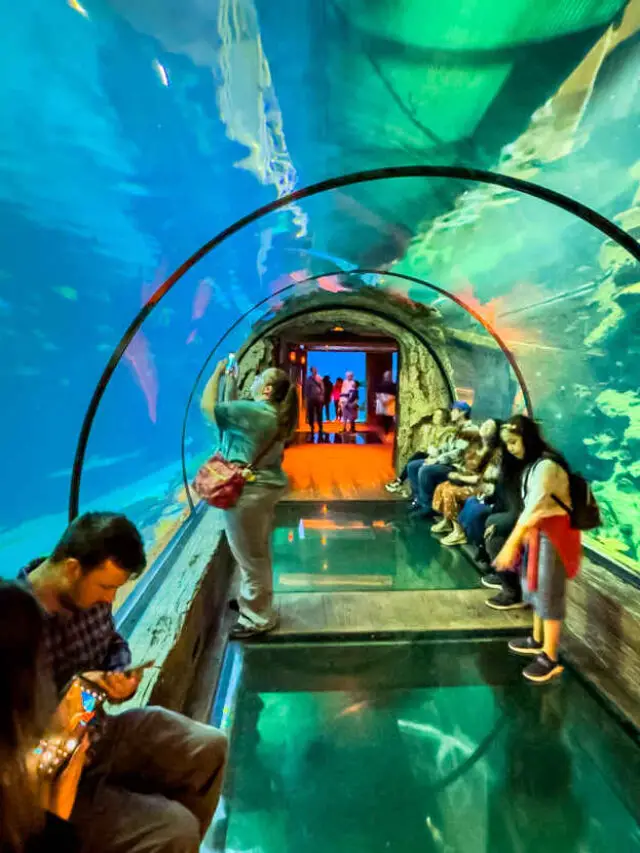 Your entire visit to Shark Reef at Mandalay Bay will generally take no more than one to two hours, from the first exhibit to the last, which is enough time to admire all the different animal exhibits at a leisurely pace.
Having said that, the average Shark Reef aquarium visitor spends approximately an hour walking through the exhibit.
If that doesn't sound like enough time, don't worry, as there is no time limit to your visit, and you can stay as long as you'd like. In fact, further below, I'll share a few optional experiences you can have at the aquarium if you'd like to extend your time there.
Aquarium Ticket Prices and Schedule
The Shark Reef Aquarium is open daily from 10 AM to 8 PM, but after 7 PM, they won't allow anyone else in. If you arrive that late, you will only have an hour to explore the aquarium, which should still be fine for most visitors.
Shark Reef Aquarium offers two kinds of tickets: "Timed Entrance" and "Anytime." Under a Timed Entrance, you must enter the aquarium at a specific time.
Say, for example, you got an entrance time of 11 AM on November 17th. You will only have 1 hour, or until 12:00 PM, to get in, so you'll want to get there before 11:50 AM. They do this to keep things organized as this attraction tends to be popular and can sell out for the day. 
The regular starting price for Timed Entrance Tickets is $29.
On the other hand, the Anytime Tickets simply lets you choose your date of entry, and then you can come in at any time of that day. This is perfect if you're coming from a place of traffic or tend to have a packed and unpredictable schedule.
For the convenience that this ticket provides, the Anytime Ticket is priced at a slightly more expensive $36. Do note that both ticket prices are exclusive of taxes and fees.
Is Shark Reef Aquarium at Mandalay Bay worth the time and money? Find out here in our article: Is Mandalay Bay Aquarium Worth It? PHOTOS!
Request Add-On Packages For Your Aquarium Tour
If you aren't satisfied with a simple tour, you can pay extra for some add-ons to make your experience even more memorable. The optional experiences revolve around sea turtles, stingrays, and sharks, which happen to be the most popular animals at the aquarium.
Sea Turtle Feed Package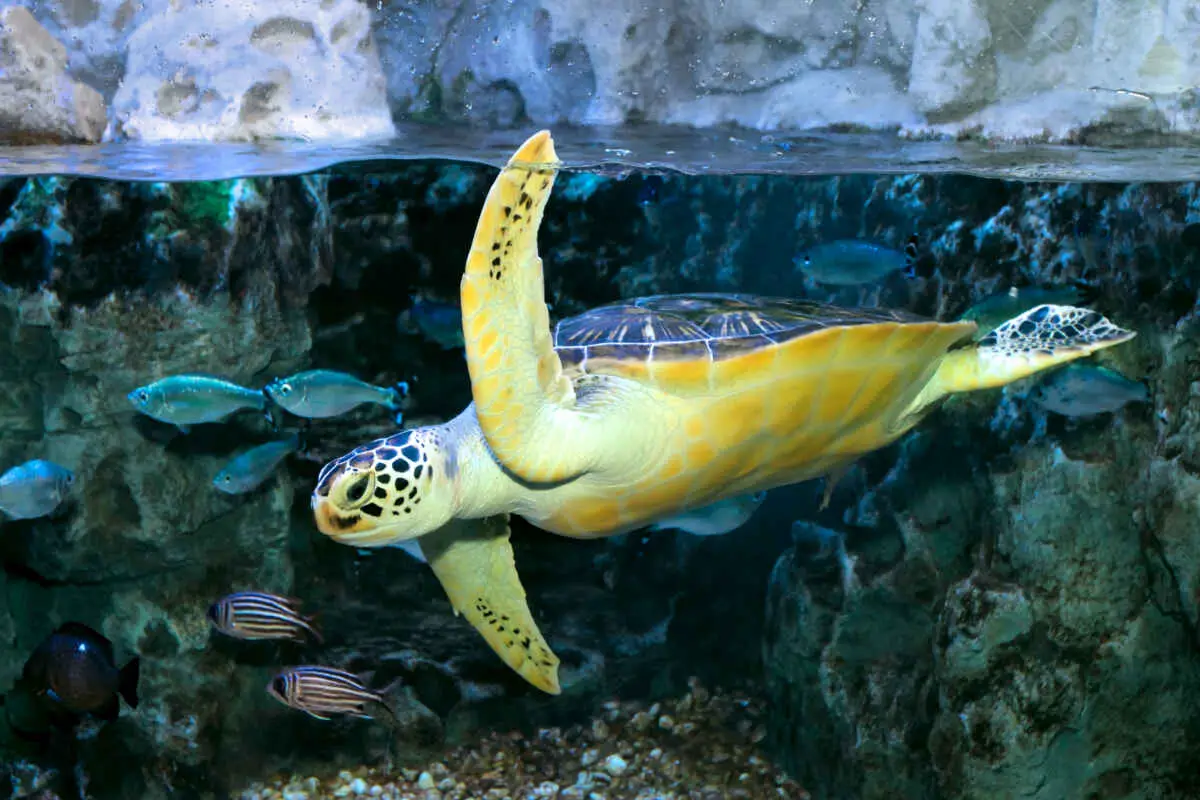 First among the major add-ons is the Sea Turtle Feed Package, which, as its name suggests, allows you to interact with sea turtles. 
Buying this package gives you access to the multiple animal exhibits of Shark Reef Aquarium, as well as a 45-minute feeding session with sea turtles. You'll be guided throughout the entire session, and they'll provide the food. 
Before entering the feeding area, remove all of your accessories, as you wouldn't want your bracelet to accidentally fall into the tank. Additionally, since the area will most likely be wet, flip-flops, dress shoes, and heels are not allowed. 
This session starts at 1:45 PM from Monday to Saturday, and the aquarium tends to be strict about the time. If you miss part or all of the feeding session, expect no refunds. 
Although sea turtles are gentle creatures, they can be unpredictable. The aquarium doesn't allow anyone below 13 to participate, and all minors should be accompanied by at least one adult. 
The entire Sea Turtle Feed Package ticket costs $99.
Stingray Feed Package
If turtles aren't your thing, you can opt for the stingray feed package, which allows you to interact with stingrays and horseshoe crabs. 
A guide will lead you as you grab a handful of krill, fish, and shrimp to place into the stingray pool to feed them. You can even touch the slimy stingrays if you want. The entire stingray program is available every day (except Wednesdays) at 9:15 AM, and lasts for an hour. 
So if you don't mind waking up a little early, this program is for you. Aside from the feeding session, you will also be granted special early access to the aquarium before it opens. This package is best for those who don't want to deal with a crowded aquarium.
You'll even get one of the aquarium's experts to answer your questions throughout your tour.
The same clothing rules in the Sea Turtle Feed Package apply here. Participants must not be under 5, and all minors must be accompanied by at least one adult. 
The Stingray Feed Package ticket costs $65.
RELATED: Does Shark Reef Have Locals Discount or Military Discount?
Shark Feed Package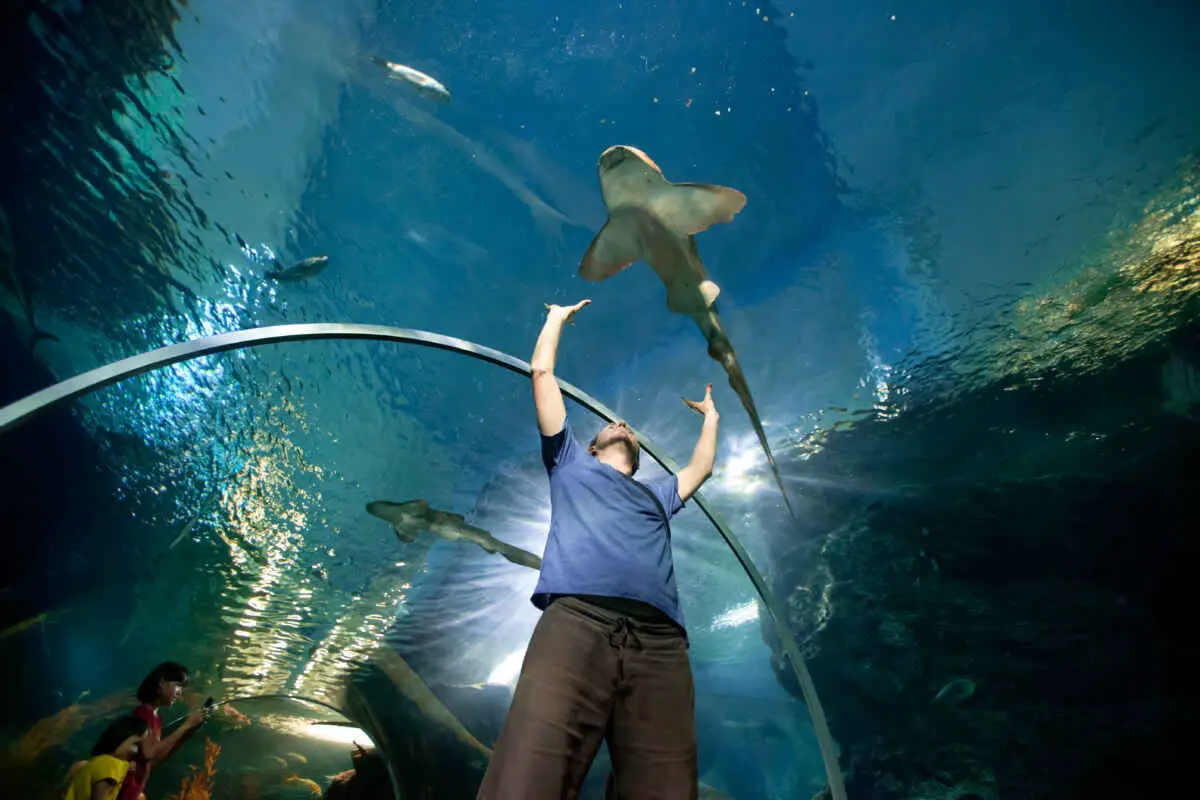 Possibly the most thrilling package of them all, the shark feed package allows you to interact with the true stars of Shark Reef – the sharks. Here you'll be given chunks of meat to launch into the aquarium, with the guidance of the staff, of course. 
You'll also be taught the basics of shark conditioning by watching one of the more experienced staff members feed the larger sharks of the aquarium. Note that getting this package also gives you access to the 14 exhibits of the aquarium. 
Remember that this is only for those aged 13 and up, and minors should be accompanied by at least one adult. 
This program is available Monday, Wednesday, and Friday every 12:45 PM. 
The Shark Feed Package ticket costs $99. 
You can find more about these packages and purchase tickets at the aquarium's website.
Book your Mandalay Bay Aquarium tickets today and experience the ultimate aquatic adventure!
Conclusion
Shark Reef Aquarium at Mandalay Bay provides generous options to those who can't get enough of the creatures of the deep. Generally, the entire reef can be toured in 1 to 2 hours, but you can get so much more out of your experience if you pay just a little extra for one of the add-on experiences.