Does Las Vegas Have Public Transportation? The Best Ways to Get Around in Vegas
(This article may contain affiliate links. If you click through and make a purchase, we will receive a small commission at no additional cost to you. )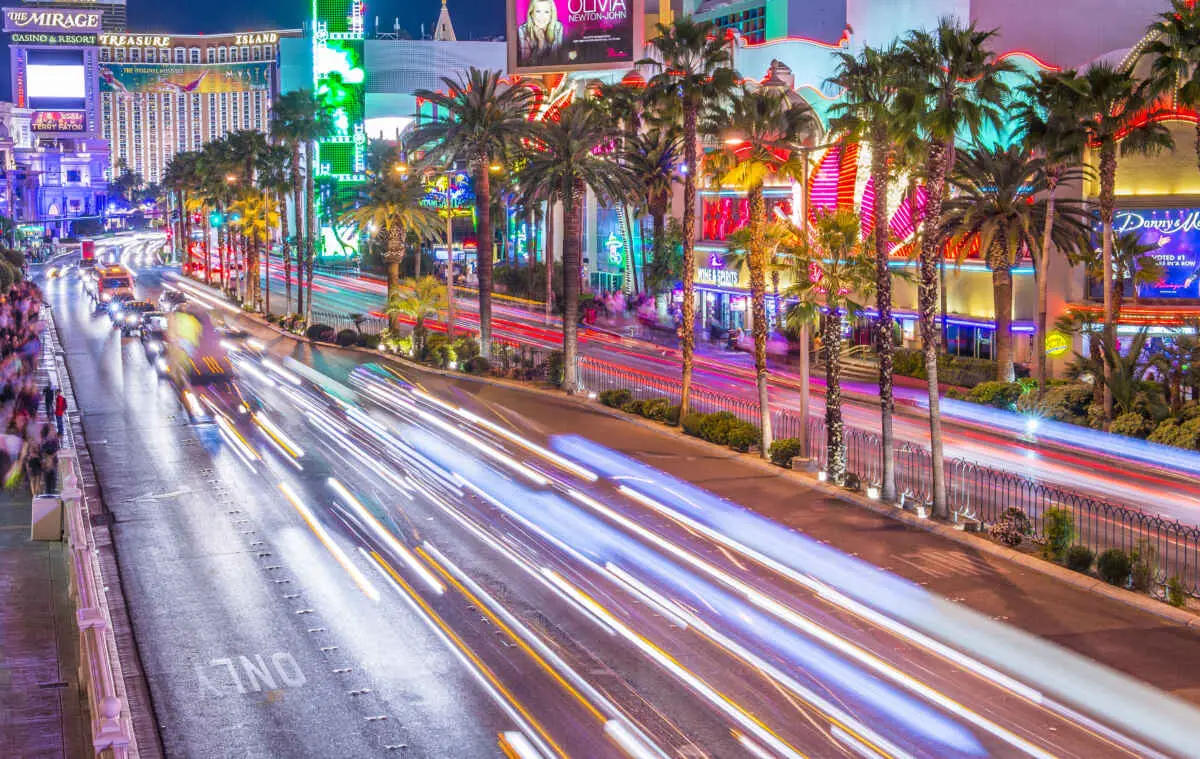 When planning a trip to Las Vegas, one of the first questions that might come to your mind is whether the city has public transportation. Navigating a new location can be confusing and stressful, particularly in a bustling city like Vegas. Luckily, the city recognizes the need for efficient transit options and offers several modes of public transportation to ease your travels.
Las Vegas has several public transportation systems, including buses, the Downtown Loop, Vegas Loop, and Monorail. There's a transport system that can take you to just about any location in Vegas at practically any time of the day or night. Moreover, public transport doesn't cost an arm and a leg.
Apart from these, you can also find various taxis, ride shares, and limousines to suit your transportation preferences while visiting the vibrant city of Las Vegas.
Las Vegas Public Transportation Overview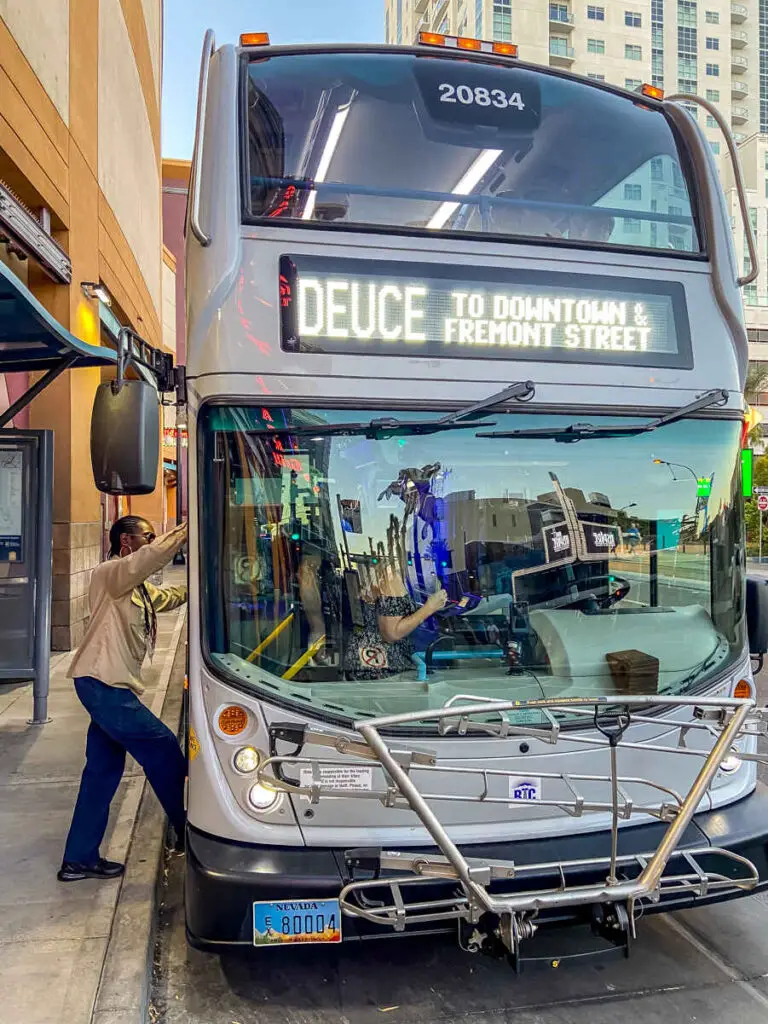 Photo: The Deuce bus arriving next to Fremont St. in downtown Las Vegas.
RTC Transit Services (Vegas Deuce & SDX Buses)
Las Vegas' primary public transportation system is the Regional Transportation Commission of Southern Nevada (RTC) bus network. When traveling in Las Vegas and the surrounding areas, you can rely on the RTC buses to get you to your destination. The two most popular bus routes include the Las Vegas Deuce and the SDX Downtown Express.
The Deuce operates 24 hours a day, providing continuous service up and down the Las Vegas Strip. It stops every 15 minutes from 7 a.m. to 2 a.m. and every 20 minutes from 2 a.m. to 7 a.m. This bus route is especially useful if you're staying on the Strip and want to visit different hotels, shops, and attractions. For more info see: Ride The Deuce to Explore the Strip & Downtown (Cost & Route)
The SDX Downtown Express, on the other hand, runs every 15 minutes from 9 a.m. to midnight, connecting downtown Las Vegas with the Strip. This service is faster, with fewer stops along the way, making it convenient for those who want to explore Las Vegas' downtown area.
To plan your route and find real-time departure/arrival information, use the trip planner on the RTC website.
Las Vegas Monorail
Image: Map showing the Las Vegas Monorail route. You can download the map here.
The Las Vegas Monorail is another option for getting up and down the Strip, especially if you're staying on the eastern side of the Strip. It spans approximately 4 miles and connects several major hotels, the Las Vegas Convention Center, and the Westgate Resort.
The monorail runs every 4 to 8 minutes, depending on the time of day, and operates from 7 a.m. to 2 a.m. Monday-Thursday, and 7 a.m. to 3 a.m. Friday-Sunday.
Here is a list of monorail stations, from south to north:
MGM Grand
Horseshoe/Paris
Flamingo/Caesars Palace
Harrah's/The LINQ
Las Vegas Convention Center
Westgate Resort
SAHARA Las Vegas
To check fare options and purchase monorail tickets, visit the Las Vegas Monorail website.
RTC Transit Services and the Las Vegas Monorail provide efficient and convenient ways to explore the city of Las Vegas without having to rent a car or use ride-sharing services.
Transportation Options in Las Vegas
Photo: A regular SDX city bus and the double-decker Deuce bus next to each other on Las Vegas Blvd.
Buses
Las Vegas offers a reliable public bus system, operated by the Regional Transportation Commission (RTC). Bus fares are reasonably priced, with a two-hour pass costing $6, a 24-hour pass for $8, and a three-day pass for $20.
Buses require exact fare, and children aged 5 and under ride free with an adult. The RTC buses connect major attractions, casinos, and the Harry Reid International Airport, making them a convenient option for your transportation needs.
To ride these buses, purchase tickets at ticket vending machines or the RTC website, where passes are available for a single ride or for multiple days. You can also use the rideRTC mobile app, which allows for convenient ticketing and real-time bus information.
Taxis and Limos
If comfort and convenience are your priorities, you can consider taxis and limos for your transportation. Taxis are a reliable form of transportation throughout the city.
However, it's important to note that you cannot hail a taxi on the street in Las Vegas. Instead, you need to find a designated taxi stand, usually located near hotels and casinos. Alternatively, you can book a limo service for a more luxurious and comfortable ride.
Trams
Photo: The Aria Express is a free tram that moves passengers between Aria, Vdara, and Bellagio. You can read more about it here.
A few Las Vegas hotels and casinos offer free trams. These services are limited and only operate between one to three properties. They can, however, save you a ton of walking outside in the Vegas heat.
Three trams are operating on the west side of the Strip that make getting around each of the areas quite a bit easier. The trams are free, and you can learn more about each of their routes and schedules in our article: 3 Free Trams Plus a Monorail on The Las Vegas Strip (Routes & Stops).
Ride Share
Ride-share services such as Uber and Lyft are widely available in Las Vegas. They offer a convenient and often affordable way to get around the city. You can easily request a ride using their respective apps.
Make sure to check for surge pricing during high-demand periods, as this can significantly affect the cost of your trip.
Vegas Loop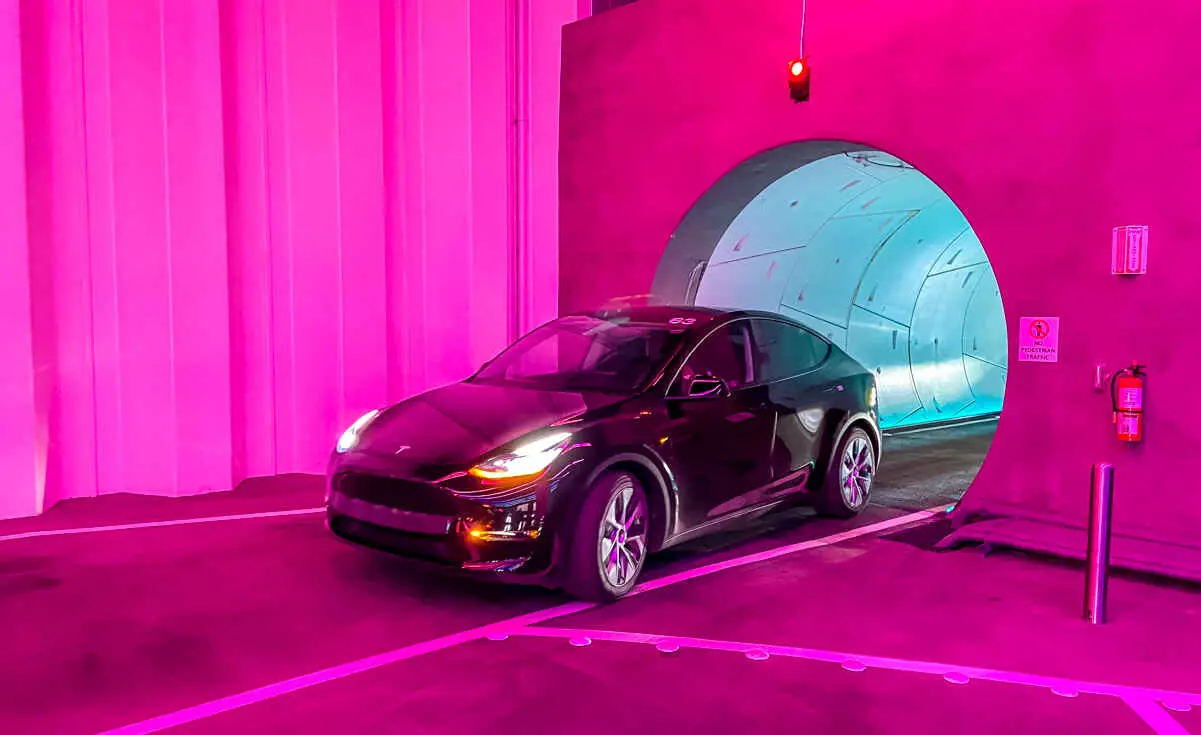 Photo: The Vegas Loop is an underground series of tunnels piloted by Tesla electric vehicles. It's a unique way to get around in Las Vegas. The service areas are expected to increase as more tunnels are dug.
Elon Musk's company, The Boring Company, has introduced the Vegas Loop, an underground transportation system that aims to reduce traffic congestion around the city.
This is probably the most exciting way to get around Las Vegas these days, this relatively new (and still a work in progress) transportation system is spearheaded by Elon Musk's The Boring Company. For now, they cater only to the Las Vegas Convention Center (LVCC) area, so if you want to know what it feels like being shuttled around in a Tesla, then this is right up your alley.
The Vegas Loop operates using modified electric Tesla vehicles, providing a sustainable and eco-friendly transportation option. Though currently limited in terms of coverage, it is expected to expand over time and revolutionize public transit in Las Vegas.
You can learn more about catching a ride on the Vegas Loop here.
Downtown Loop
The Downtown Loop is a free shuttle bus service in downtown Las Vegas. It is a hop-on, hop-off shuttle that runs in a loop around the downtown area. The shuttle operates daily from 11:30 am to 8:30 pm, and it stops at various points of interest in the downtown area, including the Mob Museum, Fremont East Entertainment District, and the Arts District.
The shuttle is a great way to explore the downtown area of Las Vegas, as it provides a convenient and affordable way to get around. It is also a great way to see some of the city's most popular attractions, such as the Fremont Street Experience and the Neon Museum.
Overall, the Downtown Loop Shuttle is a great option for visitors who want to explore the downtown area of Las Vegas without having to worry about transportation. Since the shuttle bus is free, there are no tickets. The bus is a first come, first served transportation option.
Key Vegas Locations and Transportation Accessibility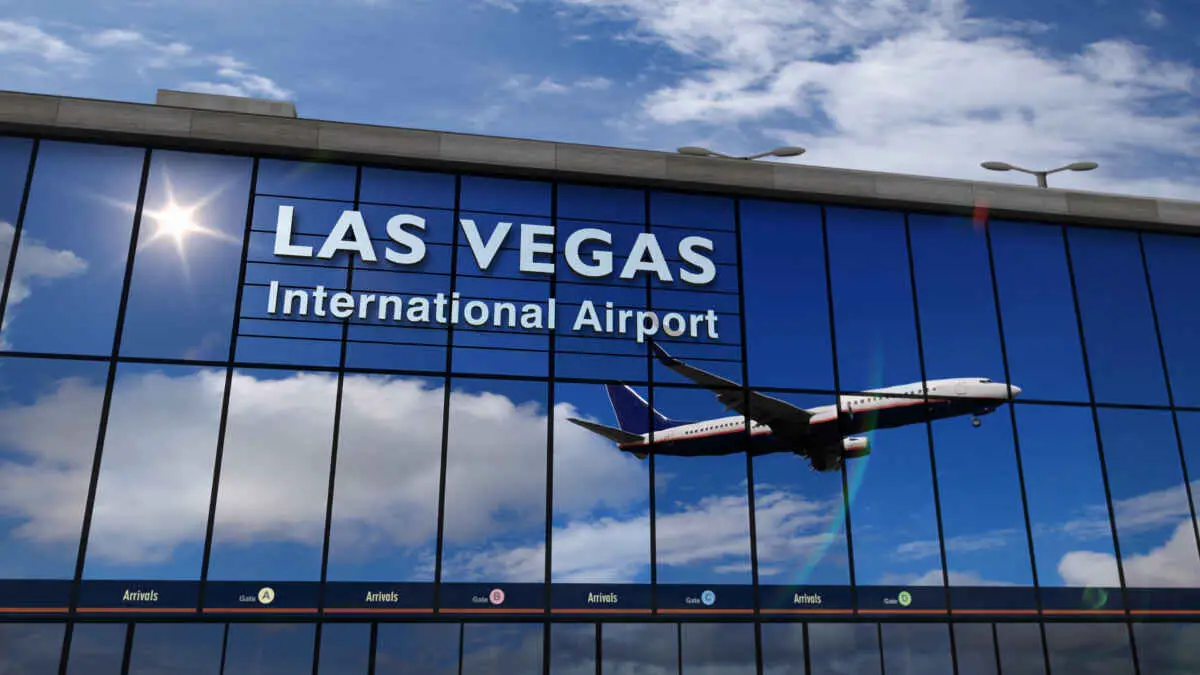 There are a few specific areas of Las Vegas that are of particular interest to people visiting the city. They are:
Las Vegas Convention Center
The Las Vegas Convention Center is well-connected through public transportation. The Las Vegas Monorail has a station here, making it easy for you to reach other parts of the city. The RTC buses also serve the area, offering a cost-effective way to travel up and down the Strip and to Downtown Las Vegas.
Harry Reid International Airport
Getting to and from Harry Reid International Airport is a breeze, thanks to the various transportation options available. RTC buses connect the airport to the city, and there are plenty of taxis and ride-sharing options to choose from.
In-depth information regarding airport transfers can be found in the following series of article on our website:
For those with accessibility needs, the airport offers:
Wheelchair accessible taxis
Elevators and escalators to navigate between levels
Reduced fare options for eligible passengers on public transportation
Hotels on The Las Vegas Strip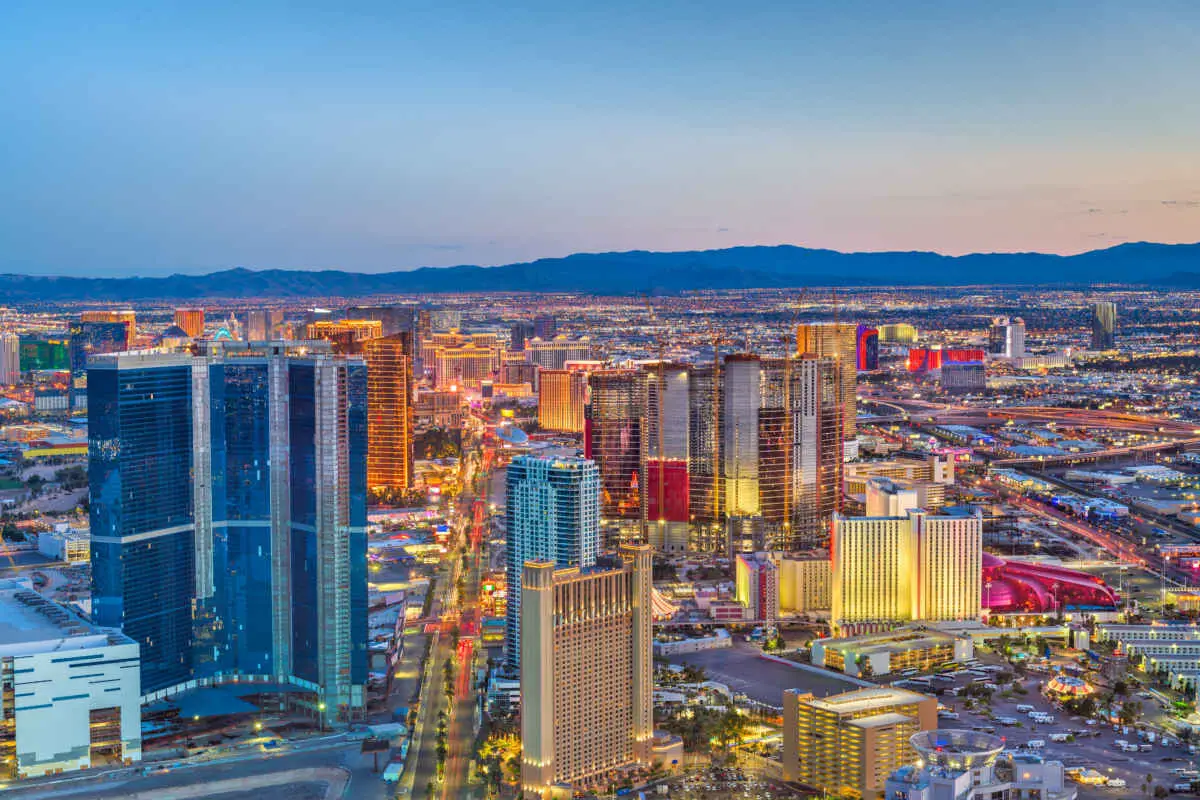 The iconic hotels on the Las Vegas Strip are well-served by public transportation. All the forms of public transportation listed above can be used to get to and from the various hotels on the Las Vegas Strip.
Taxis and rideshare services are the most convenient and will save you the most time, while The Deuce bus is the least expensive option. RTC buses run frequently along the Strip, connecting popular hotels like Bellagio, Flamingo, and many others.
Be aware, however, that taking the bus will be the slowest option for traveling to and from the various hotels, as there are many stops along the way. Also, note that the nearest stop to your destination may still require a walk.
Finally, many hotels are connected through walkways and pedestrian bridges along Las Vegas Boulevard for easy access between properties. Also see: Las Vegas Strip FREE Walking Tour & Map (19 Must-See Stops!)
Downtown Las Vegas Hotels
Downtown hotels are also easily accessible through public transportation. RTC buses serve this area, along with the Deuce bus, which operates 24/7 and goes along the Strip and downtown. The Deuce offers reduced fares for eligible passengers, making it a budget-friendly option.
Again, taking buses between the Strip and Downtown can be extremely time-consuming. I recommend taking an Uber or taxi if you're more concerned about time than you are your budget.
Frequently Asked Questions
Is there a bus system in Vegas?
Yes, Las Vegas has a bus system called the Regional Transportation Commission (RTC). RTC transit services offer a quick, safe, and affordable way to see the sites on the Strip and in Downtown Las Vegas. Buses regularly stop at points along both routes, allowing you to jump on and off while sightseeing.
What is the Deuce bus?
The Deuce is a popular double-decker bus in Las Vegas that operates 24/7 on the Strip. It provides easy access to various attractions, casinos, and hotels on the Las Vegas Strip. Prices for the Deuce start at $6 for a 2-hour pass, but there are also 24-hour passes available for $8, and a 3-day pass for $20.
How does the monorail work?
The Las Vegas Monorail is convenient for getting around the east side if the Strip, with stations at multiple key locations, including MGM Grand, Paris Las Vegas, and the Convention Center. It operates seven days a week and offers single-ride tickets, as well as multiple-day passes. To use the monorail, purchase your ticket at a station kiosk or online, then proceed to the platform and board the next available train.
Are airport transfers available in Las Vegas?
Yes, airport transfers are available in Las Vegas. Options include shuttle bus services, taxis, rideshare apps like Uber and Lyft, and limousines. Some non-Strip hotels also offer their own shuttle services to and from the airport, so it's worth checking with your hotel for their available options.
What's the cheapest transport option in Las Vegas?
The cheapest transport option in Las Vegas depends on your needs and preferred method of travel. The most budget-friendly options include the Deuce bus, RTC buses, and free trams provided by some hotels. To find the best option for you, consider factors such as your destination, schedule, and convenience.