Las Vegas Airport Shuttle To Hotels (Airport Shuttle Easy Guide)
(This article may contain affiliate links. If you click through and make a purchase, we will receive a small commission at no additional cost to you. )
Planning a trip to Vegas is exciting! But figuring out the logistics of how to get to your hotel from the Las Vegas airport can be confusing. That's why understanding how the Las Vegas airport shuttles work prior to your flight is the best way to get you to your hotel and out having fun in Sin City as quickly as possible.
Hotels on the Las Vegas Strip do not have their own airport shuttles. In most cases, you will need to book a commercial airport shuttle to get to your Las Vegas hotel. That being said, a few off-Strip hotels do offer their own complimentary airport shuttle service.
In this article, you will learn all there is to know about using the Las Vegas airport shuttles. I will take you through:
The airport shuttle options available.
The hotels that offer free airport transportation.
Pros and cons of using an airport shuttle in Vegas. 
Why hotels on the Strip don't have free airport transfer shuttles.
And which hotels closest to Harry Reid Airport offer free shuttle service.
By the end of this article, you will be able to plan a quick and stress-free trip from Harry Reid International Airport (formerly McCarran Airport) (LAS) to your chosen hotel on or off the Las Vegas Strip.

Las Vegas Airport Shuttle Services
Las Vegas has two kinds of airport shuttles:
Commercial Airport Shuttles – You pay a fee to have a shuttle drop you and other passengers off at various Las Vegas hotels both on and off the Strip.
Hotel Airport Shuttles – Complimentary shuttles operated by a specific hotel that pick you up at the airport and take you straight to that hotel.
In most cases, you will need to use a commercial 3rd party airport shuttle service because out of all the hotels in Las Vegas, very few have a dedicated airport shuttle. On top of that, you won't find any Las Vegas Strip hotels that have free or paid airport shuttles for their guests.
The following are the two most popular airport shuttle services available in Las Vegas:
Open 24 hours.
Offers SuperShuttle Express service to and from Las Vegas Harry Reid Airport to the Strip and downtown areas, featuring passenger vans and minibusses (wheelchair accessible available).
To Strip hotels: $18.25 one way
To Downtown hotels and Fremont Street: $16.25 one way
Open 24 hours.
$15 per person per transport to select hotels.
Walk-up limousine (6 passengers): starting at $65.00
Walk-up SUV (4 passengers): starting at $60
It's easy to book an airport shuttle to your hotel in Las Vegas online using one of these services. They'll just need to know some specifics about your flight, time of arrival, and the hotel you're staying at.
Once booked, all you need to do once you get off your flight is to grab your luggage in baggage claim and follow the Las Vegas airport transportation signs to get to the shuttle bus stop area outside.
Don't forget to tip your shuttle driver once you get to your hotel. $1-2 per bag is usually sufficient.
While you'll most likely need to use one of the above commercial airport shuttles to get to your hotel, there are some off-Strip hotels that do provide their own shuttle services.
Las Vegas Hotels With Airport Shuttles
While the majority of Las Vegas hotels don't have their own airport shuttle buses, there are a few that do. These hotels are all located off of the Strip.
The following Las Vegas hotels offer complimentary airport shuttle service to and from their property:
As you can see, there aren't a lot of hotels that offer this service but there are some. All you need to do from this point is choose the hotel that fits your needs and budget best.
Pros and Cons of Using Las Vegas Commercial Airport Shuttles
Airport shuttles are often the first thing Vegas travelers think of when planning to get from the airport to their hotel. Jumping on a shuttle is easy and inexpensive. For as little as $15, you can get a one-way shuttle trip to your hotel on or near the Las Vegas Strip or downtown.
Another benefit is that paid shuttle buses at the airport run around the clock. So no matter what time your flight comes in, there can be a shuttle waiting to take you to your hotel.
However, while it's a fact that a Las Vegas airport shuttle can be the least expensive way to get to your hotel, there is one trade-off you'll need to expect.
Airport shuttle services are often very slow and time-consuming as they drop passengers off at many hotels on or near Las Vegas Boulevard (The Strip). Your hotel may be at the very end of the line.
I would say to generally expect an airport shuttle to take a minimum of an hour or more to get to your destination, between waiting for the shuttle to fill up with passengers and stops at other hotels. In addition, if the Las Vegas airport is especially busy or traffic on the Strip is bad, it can be much longer.
So if budget is your main concern, a Vegas airport shuttle is the way to go.
However, if getting settled in at your hotel and hitting the town as fast as possible is more important, you may want to check out these other ways to get from the Las Vegas airport to your resort.
Important Travel Tip: If traveling by yourself, a shuttle from the airport will be the cheapest way to get to your Strip hotel. However, if you have more people in your travel group, it will be almost certainly cheaper to use one of the other airport transport methods I linked to directly above.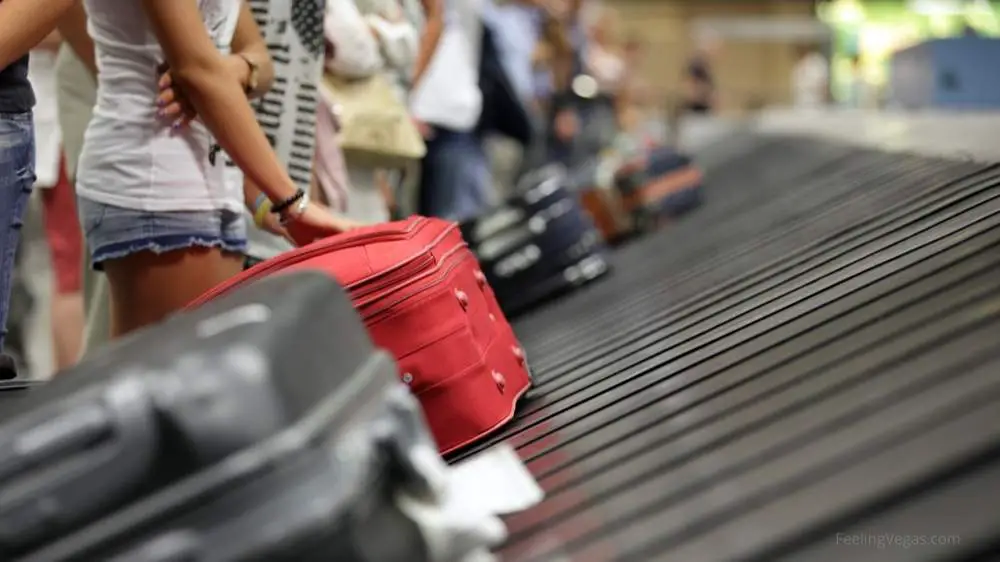 Why Strip Hotels Don't Have Their Own Airport Shuttles
In many resort towns, each hotel will have its own complimentary shuttle available to pick you up from the airport and bring you straight to the hotel. However, in Las Vegas, it's different because the hotels on the Strip by law aren't allowed to have their own shuttle buses.
Las Vegas Strip hotels don't operate their own airport shuttles in an attempt to reduce traffic congestion on the Strip (Las Vegas Blvd).
It's a matter of efficiency. Commercially operated Las Vegas airport shuttles are typically pretty full, while individual hotel shuttles often have fewer passengers. So adding a bunch of partially full shuttle buses to the traffic on and around the Strip would just add to the traffic congestion.
Hotels Near Harry Reid Airport With Free Shuttle (formerly McCarran Airport)
If you want to keep your travel time as short as possible, you might want to look into an accommodation option that's not only located close to the airport, but that also offers a free shuttle service that will take you directly from the airport to the hotel's doorstep with no added cost.
Luckily, there are a few options that would make this trip a breeze.
These are the hotels closest to the airport that offer a free hotel shuttle:
So, if you tend to be exhausted after a long flight or are just flying in and out for business, consider looking into one of these options.
Conclusion
Using an airport shuttle service is an excellent way to streamline the travel process while staying within your budget.
If your hotel offers shuttle buses included in their rate, this would be the ideal choice. However, for a Las Vegas vacation, there's a good chance you'll want to stay on the Strip, and then you'll need to plan to pay for an airport shuttle to your hotel.
Related Posts: