16 Cheap Places To Eat on the Las Vegas Strip (Map)
(This article may contain affiliate links. If you click through and make a purchase, we will receive a small commission at no additional cost to you. )
Las Vegas is a foodie travelers dream come true! On the Strip, you'll find every kind, flavor, and ethnicity of food there is. But what if you're on a budget? Fortunately, even with limited funds, you'll still be able to find some amazing eateries on the Vegas Strip that serve up delicious food at affordable prices.
Check out these 16 cheap places to eat on the Las Vegas Strip:
Let's take a deeper look at each one of these cheap eateries and learn more about what's good, and what to avoid.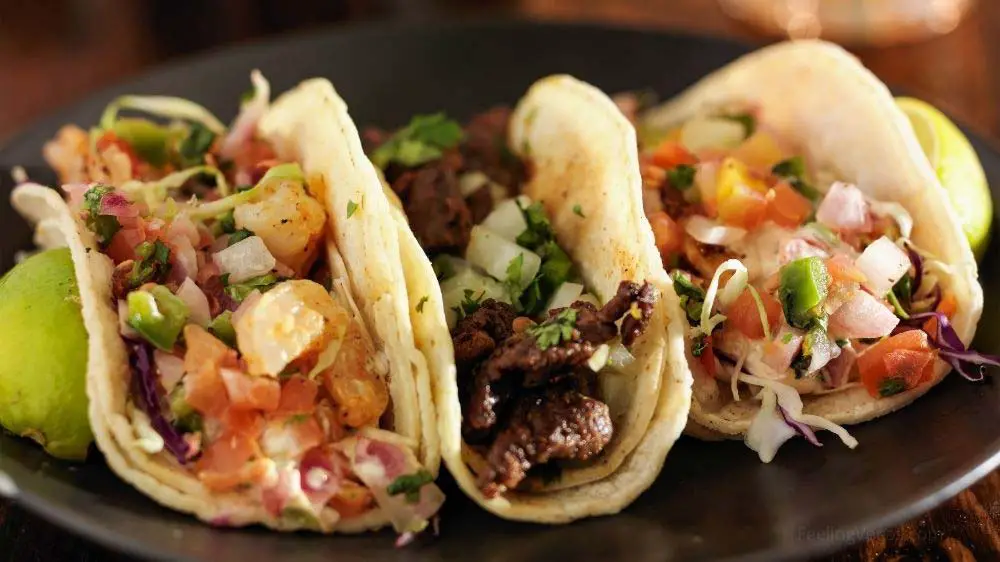 1. Tacos El Gordo
Whenever I get the chance, I always try to get my hands on, or perhaps more accurately, my mouth on, the best street taco around. Tacos El Gordo is definitely one of the best places for this. With a location on Las Vegas Blvd north of the Wynn, Tacos El Gordo offers delicious street tacos for cheap.
The family-owned business opened its shop in Las Vegas in 2010 and has grown ever since. Known for their quality, the authentic tacos are made with handmade corn tortillas, fresh ingredients, salsa, and guacamole made from scratch every day. Plus, meat lovers will enjoy the nine different options available for their tacos.
All things considered, you can get a delicious meal everyone will love for a low price. What isn't there to love? (top)
2. Shake Shack
For those of us who don't live in urban areas, we may not have had the joy of experiencing Shake Shack. Let me tell you – it's delicious. A fast-casual chain, Shake Shack is found in a number of places around the world, including the Las Vegas Strip!
Located inside the New York-New York Hotel and Casino, you can get a full meal for a very low price. Another plus to Shake Shack, the food is actually good! With delicious burgers, perfectly salted french fries, and yummy milkshakes, you really can't go wrong!
Even those who aren't so interested in burgers, or meat in general, can find something here. For the vegetarians out there, the Shroom Burger is a delicious (even I, a meat-eater, love it) meat-free option. Shake Shack certainly hits the requirement of being cheap, and it's delicious! (top)
3. Secret Pizza
Perhaps you're wondering why a place named "Secret Pizza" would manage to be at the top of this list. What's so secret about it? Go there, and you will quickly figure out that this pizza shop is perfectly named.
Down an unmarked hall in the Cosmopolitan, the pizza shop can be difficult to find. But for those willing to put in the work to find it, you will certainly be rewarded. This New-York-Style pizzeria sells delicious hot slices and pies of all kinds. With the create your own slice option, even those who like the strangest pizza toppings can find something they like.
To add to the fun, Secret Pizza even has a few beers on tap. While you are waiting for your pie, drink a cold one while playing some pinball. Trust me – it'll be worth the wait. (top)
Interactive map of inexpensive places to eat on the Strip (Las Vegas Blvd). Click on a location to learn more.
4. Earl Of Sandwich
Had a long night out on the town and need a late evening pick-me-up? Earl of Sandwich has you covered! Open until 10:00 pm Sunday through Thursday and until 2:00 am Fridays and Saturdays, be sure to get a delicious, deli-made sandwich to keep you going through the night.
With locations inside both Fashion Show Mall and Planet Hollywood, carb lovers can get a filling artisan sandwich for an incredibly reasonable price. If the cheap food doesn't have you smiling, which it will, then the bill will get you there.
Even if you aren't in the mood for a sandwich or wrap, Earl of Sandwich has plenty of salad and soup options to fill your stomach and get you ready for the rest of your day. There really isn't a question as to if you'll like this joint; after eating, you'll be sorry you didn't go sooner. (top)
5. Greenberg's Deli
Anyone who has been to a New-York style Jewish deli can tell you that the sandwiches are beyond delicious. Greenberg's Deli is no exception. Located at the Village Street eateries (food court) inside of the New York-New York, the sandwiches here are beyond ordinary in both their taste and their price.
With generous portion sizes making it so the bread can barely hold everything inside, any sandwich you get will have your mouth watering in seconds. Served with a nice pickle on the side, the Reuben has to be the best for those of us who love meat.
The only downfall to this place is that you have to make sure you show up hungry; otherwise, you'll be stuck carrying your leftovers around with you because, trust me, you are gonna want every single bite. (top)
6. Eggslut
On top of the hysterical name, Eggslut offers a fun, exciting meal for a low price. With dishes like the Fairfax Sandwich, The Slut (yes, that is the real name of a real dish they sell), and the Gaucho Sandwich, you will walk out and never be able to look at an egg the same way.
Starting from a food truck, Eggslut, located inside the Cosmopolitan, has expanded across four countries and three continents. With a number of delicious breakfast options, you really can't go wrong with whatever you order, as long as you are not allergic to eggs, that is.
Open from 7:00 am to 2:00 pm on weekdays and from 7:00 am to 3:00 pm on weekends, Eggslut really is every breakfast lover's dream. Plus, if you wake up late, maybe after too much excitement the night before, you can still get a delicious "breakfast". I highly recommend trying Eggslut if you're looking for a great meal without breaking the bank. (top)
Related: 9 Spots To Grab a Cheap Breakfast on the Vegas Strip
7. Moneyline Pizza And Bar
Formerly Five50 Pizza Bar, Moneyline Pizza and Bar, located inside the ARIA, provides a delicious spot to stop for a slice and a cold beer after a day in the hot sun. Located next to the BetMGM Race & Sports Book, it's a great spot to mix food and play.
In addition to the fact that both the pizza and beer are delicious, Moneyline Pizza and Bar has the advantage that it's more than happy to send you a slice on your way out the door! Unlike many restaurants on the Las Vegas Strip, Moneyline Pizza and Bar offers takeout options that are both convenient and delicious.
A perfect cheap place to grab a pie, or even two, with a large group, Moneyline offers both walk-ins and reservations. It's definitely a must-do spot! (top)
8. Ocean One Bar & Grille
Located on the Las Vegas Strip in the Miracle Mile Shops, Ocean One Bar and Grille is a winner for both your wallet and your tastebuds. Open from 7:30 am to 11:30 am every day, all three meals served there are beyond delicious! Plus, with three cocktails going for the price of one, ending your night here – or for the late-nighters, starting your night here – is always a safe bet!
With three meals a day and so many beverages available, it is easy to lose count. The large menu makes it so anyone, even the pickiest eaters, can find something they will enjoy!
Plus, even if you don't love burgers and sandwiches, which is what a lot of Las Vegas Strip food consists of, the Ocean One Menu has a great supply of seafood, steaks, and pasta ready to fill you up in one quick meal! (top)
Related: 18 Cheapest Bars on The Strip (Cheap Drinks & Happy Hours)
9. La Salsa Cantina
Perhaps the best deal for breakfast in all of Las Vegas, La Salsa Cantina serves delicious Mexican cuisine from 8:00 am to 11:00 pm on Sunday through Thursday, and 8:00 am to 12:00 am on Fridays and Saturdays. While it might not be your first thought, it's definitely a safe bet for when the family is getting a little "hangry".
The authentic foods served will have your mouth watering just by looking at them. By the time you open your eyes after savoring the very first bite, the entire meal will be gone because you ate it so quickly!
Serving tacos, burritos, salads, and quesadillas, La Salsa Cantina's dishes are all a delight to the senses. And, with a kid's menu and family-friendly atmosphere, this spot is a great pick for the entire family to enjoy! (top)
10. In-N-Out Burger

Similar to Shake Shack, In-N-Out Burger provides a quick, delicious meal for considerably cheaper than most other restaurants on the Las Vegas Strip. Located inside the LINQ Promenade, the location serves as quickly as their drive-through brethren, but without the hassle of driving a car through one of the busiest cities in the US.
Another plus to In-N-Out Burger: The time of the night doesn't change the speed of service. Most restaurants often cut down on staff hours toward the end of the night, making any food or drinks ordered take longer to be prepared.
In-N-Out Burger, by virtue of being a fast-food chain, ensures that food and drinks will be produced quickly and effectively, without sacrificing quality. When you need your 1:00 am pick-me-up, In-N-Out Burger is the way to go. (top)
11. Village Pub and Cafe
This one's just off the Strip but worth a quick three-minute drive from the famed Eiffel Tower Viewing Deck at Paris Las Vegas. This twenty-four-hour cheap restaurant is beloved by visitors and locals alike. With food that may be cheaper than it would be to produce in your own home, it's a must-visit for travelers on a tight budget.
Even better than the fact it's open 24/7 might be the items on the menu themselves.
The food, especially the steak, is cooked perfectly. Furthermore, every meal is served with a side of potatoes or carbs, making the food a great recovery after a long night. While at many places quality is sacrificed for cost, the Village Pub and Cafe isn't one of those places.
After a hardy meal there, even a self-proclaimed "foodie" will walk away happy. (top)
12. Moon Palace
Located inside the Venetian Resort on the Las Vegas Strip, Moon Palace not only provides good food at a low price but has an atmosphere that reminds you of home, no matter where you're from.
With a small, simple menu and only counter seating, you'll likely be reminded of Denny's, Waffle House, or another local dinner you've visited. The biggest difference between the two, however, is that the food here will be so much better than the other diners you have been to; you may not want to ever go back to the others!
Founded by celebrity chef David Chang, the food may look like your average dinner fare, but it'll be packed with so much flavor, your tastebuds will be screaming for more! Even vegetarians will appreciate their meat-free "impossible patty". If you're looking for fine-dining quality food but at a cheap price, Moon Palace is the place to go. (top)
13. Yard House
Sometimes, the best place to eat isn't where the food is the best, but where the drinks are the best. Fortunately, you don't need to choose between the two when you go to Yard House. Located inside The LINQ, the Yard House provides food you will love and a beer selection that even your most snobby beer drinker friend will appreciate.
Now a chain restaurant, the Yard House brings to the Las Vegas Strip an affordable, made-from-scratch restaurant that works perfectly for large groups. With a private dining area for large gatherings, craft, seasonal, and local beer on tap, and a menu that excites, the Yard House is a perfect spot to dine.
An added plus that comes with eating at the Yard House – free self-parking after validation. In a city as spread out as Las Vegas, free parking is a steal anywhere you can get it! (top)
14. The Peppermill Restaurant
Unique in the fact it is a stand-alone Las Vegas restaurant, The Peppermill's food, drinks, and atmosphere are certainly worth the visit – and the price definitely doesn't hurt either!
Known for its neon lights, flashing seating areas, and exciting atmosphere, The Peppermill hasn't only been a great stop for the average visitor getting food but also for a number of movies and music videos!
Putting aside the atmosphere, which, as noted, is a must-visit all by itself, the portion sizes are beyond generous, and the food is phenomenal. With appetizers so big it's all but impossible to finish by yourself, and meals that will have you feeling like you just finished a full Thanksgiving dinner, you always get more than what you spend!
To add to the fun, not only are the beverages tasty and creative, but the bright colors and shiny effects the servers cast onto the drinks make it a unique experience.
It should be noted, however, that if you or someone you are dining with has an aversion to flashy colors and moving lights, this may not be the place for you. (top)
RELATED: Cracker Barrel Near the Las Vegas Strip (2 Locations!)
15. Flour and Barley
Just down the hall, quite literally, from In-N-Out Burger and Yard House sits Flour and Barley, one of the best and cheapest pizza spots in town. Located inside the LINQ, Flour and Barley provides both brick oven pizza and Italian-style dishes with low prices and high quality.
While most pizza outside of the Northeast isn't phenomenal (sorry, Chicago), Flour and Barley manage to capture that New York style to make delicious pizzas.
Even better than the pizza is the specials they offer. With the happy hour beer and slice special, served weekdays from 2:00 pm to 6:00 pm, both pizza and beer lovers can find something they love for an incredibly low price!
If you're on a diet, something hard to do while on vacation, especially in Las Vegas, Flour and Barley is both able and willing to accommodate, providing both vegetarian and gluten-free options. Be sure to chow down at Flour and Barley! (top)
16. Foot Long Hot Dog
Many very late, and often less than sober, nights have been spent in Las Vegas and will continue to be spent here for years to come. As those who've visited like to say, "What happens in Vegas, stays in Vegas." Well, sometimes, what happens in Vegas is a late-night run to Foot Long Hot Dog.
While you can certainly eat at Foot Long Hot Dog at any of the times they are open, 10:00 am to 2:30 am Mondays through Thursdays and 10:00 am to 4:00 am Fridays and Saturdays, perhaps nothing can beat the late-night hot dog run.
Serving delicious, all-beef Nathan's footlong hotdogs, Foot Long Hot Dog is the perfect spot for a late-night snack for an incredibly cheap price. While you might not go out of your way during the day to stop by, at night, it is certainly worth it! (top)
Final Thoughts
A trip to Las Vegas may not be cheap, but now you know where to go get good grub on a wallet-friendly budget. These sixteen delicious and affordable spots to eat on the Las Vegas Strip will ensure that any memories of food on your Vegas vacation will be both affordable and delicious.
RELATED: Find Out How Much Money You Should Bring to Las Vegas