Gordon Ramsay Pub & Grill Las Vegas (Menu, Cost, Location)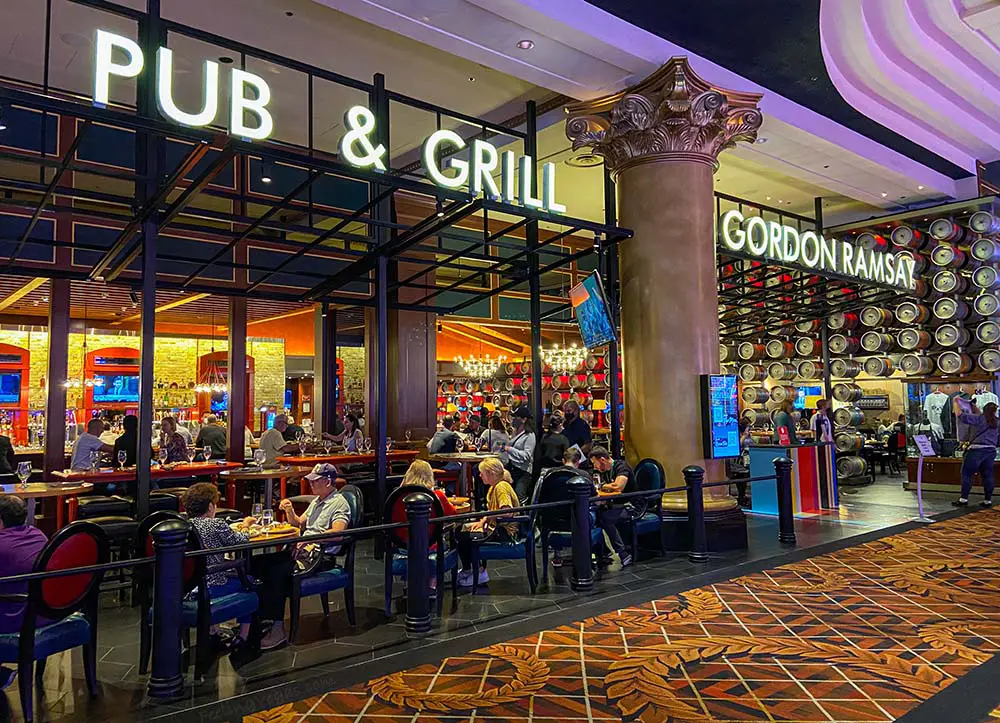 (This article may contain affiliate links, which means we might earn a small commission if you click and make a purchase. Thank you!)
If you love good food served in a British-style pub, then you'll want to sit down and have a meal at the Gordon Ramsay Pub & Grill the next time you're in Las Vegas. The restaurant was created by celebrity chef Gordon Ramsay who's reality cooking shows have made him one of the most well-known chefs in the world.
Gordon Ramsay Pub & Grill is a down-to-earth British-style restaurant located inside Caesars Palace on the Las Vegas Strip. On average, lunch will cost $65, while dinner will run about $80 per meal. It is open every day and has no dress code. Reservations are recommended, and you should book early.
Keep on reading to find out everything you'll need to know to plan your visit to Gordon Ramsay Pub & Grill.
Compare and save! Check current Caesars Palace room rates at TripAdvisor!
What's on The Gordon Ramsay's Pub & Grill Menu?
The Gordon Ramsay Pub & Grill menu is filled with the types of food you would expect from an English pub, including classic fish & chips, scotch eggs, burgers, and Ramsay's famous beef wellington. However, being a Las Vegas restaurant created by British Chef Ramsay, you can expect a more elevated experience.
Gordon Ramsay Pub and Grill Lunch Menu (Served 11 am – 3 pm)
Starting with appetizers, here's what's on the lunch menu:
Main Lobster & Shrimp Rolls
Short Rib Kettle Chip Nachos
Poached Shrimp Cocktail
Hellfire Wings
Truffle Spinach & Artichoke Dip
Soups & Salads on offer include:
The Wedge Salad
Classic Caesar Salad
Onion & Ale Soup
The Classic Ramsay main courses include:
Fish & Chips
Roasted Beef Wellington
Fried Chicken Sandwich
Short
Rib Grilled Cheese
Prime New York Strip Steak
Santa Carota Filet Mignon
Grilled Pub Burger
The side dishes on the menu are:
Truffle Fries
Grilled Asparagus
White Cheddar Mashed Potatoes
And, finally for dessert:
Chocolate Brownie
Sticky Toffee Pudding
Between 11 am – 3 pm, instead of ordering individually, you can opt to order a complete three-course lunch, including your choice of a starter, entree, and dessert.
Gordon Ramsay Pub & Grill Dinner Menu (Served 3 pm – 10:30 pm)
The dinner menu at Gordon Ramsay Pub & Grill is very similar to the lunch menu with the exception of the main entrees. The dinner main course options include:
Braised Short Rib & Cabbage
Crispy Chicken Paillard
Fish & Chips
Maine Lobster Pot Pie
Prime Rib
Roasted Beef Wellington
In addition to the food options, Gordon Ramsay Pub & Grill has a wide selection of signature cocktails, classic cocktails, draft and bottled beer, and wine.
You can find the full lunch menu and dinner menu here.
Cost to Eat at Gordon Ramsay Pub & Grill
On average, you can have a complete meal at Gordon Ramsay Pub & Grill for around $65 (lunch) and $80 (dinner), excluding drinks. If you opt for any of the steaks, you can expect to pay a bit more. Not bad by Las Vegas standards for a nice meal.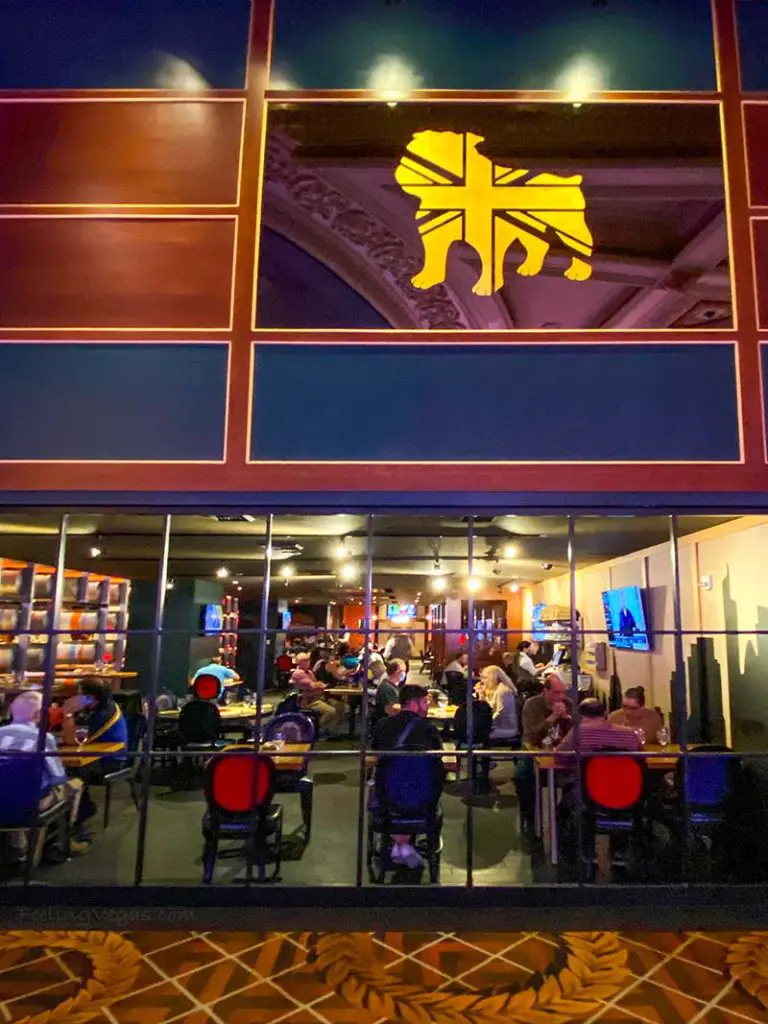 Where Is Gordon Ramsay Pub & Grill Las Vegas?
Gordon Ramsay Pub & Grill is located in Caesars Palace on the Las Vegas Strip. It's inside the main resort, and you'll need to walk into the hotel and casino to get to it. It's one of five Gordon Ramsay restaurants on the Strip in Las Vegas.
These restaurants all feature classic British cuisine and elevate other dishes to a new level.
Two of them are located at Caesars Palace. The other restaurant in Caesars Palace is Gordon Ramsay Hell's Kitchen, inspired by the hit reality TV show and features several recognizable set pieces and a similar menu to the show.
With a central Strip location, the Gordon Ramsay Pub & Grill is very easy to get to from other major hotels in the area. You need to walk in through the front doors and follow the signs to the restaurant location.
However, if you're driving in from other hotels or off-Strip, you'll need to park in the Caesars Palace parking structure. There's a fee for non-hotel guests who are self-parking, so hold onto your parking ticket so you can pay at the end of the night.
Valet parking is also available.
Find out what you need to know about each of the five chef Gordon Ramsay restaurants in Las Vegas.
Gordon Ramsay Pub & Grill (Current Article)
Do You Need Reservations at Gordon Ramsay Pub & Grill?
Reservations are generally not required at Gordon Ramsay Pub & Grill, but they are highly recommended. The restaurant can get exceptionally busy at times, and a reservation will guarantee you a table at the time you'd like to eat. Reservations are required, however, for groups over 14 people.
Due to the high volume of people visiting Las Vegas, there's no way to predict how busy a specific restaurant will be. Reservations take the question out and guarantee you a spot.
Otherwise, you may have to wait in a long line or may not ever get a table. This is not how you want to spend your time in Vegas.
Book reservations as early as possible to make sure you get the time you want. The further ahead you plan, the better your reservations will be and the less stress you and your group will be under.
You can book a reservation at Gordon Ramsay Pub & Grill here through OpenTable.com.
What Are the Hours?
Gordon Ramsay Pub & Grill hours are from 11 AM to 12 AM daily, but the restaurant serves lunch and dinner in two distinct phases. Lunch runs from 11 AM to 3 PM, and dinner is from 3 PM to 12 AM daily. You cannot order from the lunch menu during dinner hours and vice versa.
Is There a Dress Code?
There is no dress code to dine at Gordon Ramsay Pub & Grill as the restaurant offers a casual setting. You can show up in street clothes or fancy formal wear if you choose. It's intended to be friendly and welcoming, so no suits and ties here.
Gordon Ramsay Pub & Grill is meant to feel like a neighborhood restaurant that anyone can walk into and get the highest quality meal, and the food and atmosphere are meant to compliment this style.
Will I See Chef Ramsay at Gordon Ramsay Pub and Grill?
You will not likely see Chef Ramsay himself at Gordon Ramsay Pub & Grill, but it is not impossible either. Don't count on seeing him or his family during your visit. He doesn't run this restaurant himself, but he regularly visits each of his restaurants to check on them.
While the Ramsay family does have a home in Las Vegas, and they visit regularly, it's unlikely you'll see them out and about on the Strip. Chef Ramsay is, after all, one of the most famous chefs in the world. He also won't be on the line or running the daily operations of his restaurants. However, he might drop by to make sure everything is running smoothly.
Sometimes, he even dines in the restaurant to see how the service and food are.
While you might not see him, you'll definitely feel his presence. The menu features his signature Beef Wellington, as well as his famous sticky toffee pudding, which is on many of his other restaurant's menus as well.
Gordon Ramsay Pub & Grill Trivia
Gordon Ramsay Pub & Grill is a fun and exciting place to visit, especially if you're a fan of Chef Ramsay. Here are a few facts you can share over dinner while at the restaurant.
Gordon Ramsay Pub & Grill Feature on Hell's Kitchen
The reality tv show, Hell's Kitchen, has featured Gordon Ramsay Pub & Grill multiple times. The head chef's position has been a prize for the winners of at least two seasons, along with a $250,000 annual salary.
One of the winners (Scott Commings from Season 12) worked at the restaurant for some time. Although Commings is no longer working at the Pub & Grill, he has continued his culinary career in the Las Vegas area. He is now the Executive Chef at Lake Las Vegas.
Gordon Ramsay Pub & Grill Has Multiple Locations
Gordon Ramsay Pub & Grill isn't a one-off restaurant, as there are two locations in the United States. Both are inside Caesar locations on different coasts. One is in Las Vegas, and the other is in Atlantic City.
Both feature the same style of menu and venue theme, so you can expect similar experiences and the same high level of quality.
Find the best deals on Caesars Palace rooms and save big with TripAdvisor!
Final Thoughts
Planning a trip to Gordon Ramsay Pub & Grill is an excellent choice for anyone visiting the Las Vegas Strip. It is open every day of the week and has a down-to-earth feel that anyone can enjoy. There's a little something for everyone, and you're sure to have a good time and a great meal!
More Las Vegas Dining Options