Caesars Palace vs Venetian (Which Las Vegas Hotel is Best?)
Planning a trip to Las Vegas means having to pick when to visit and where to stay. Both Caesars Palace and The Venetian hotels offer guests a wide assortment of things to do, experience, and enjoy during their stay. Each is an equally impressive Las Vegas resort, but which one is the best choice for your vacation: Caesars Palace or Venetian?
Choose The Venetian if luxury is your top requirement, as its upscale accommodations and spacious all-suite rooms are sure to meet your needs. However, if you want a more central Strip location, a lower-cost room, and a lively gaming scene, then Caesars Palace is the hotel for you.
See the table below to get a quick overview of the two properties, then keep reading to learn more about how each hotel compares to the other in the most important categories.
Category
Caesars Palace
The Venetian
Room Price
From $106 per night
From $176 per night
Resort Fees
$45 per day (plus tax)
$45 per day (plus tax)
Parking Fees
$18 per day
$18 per day
Location
Great location on the Strip (mid-Strip)
North of mid-Strip
Shows
– Absinthe
– The Colosseum (big-name performers)
– Atomic Saloon
– Misc guest performers
Pools
– 7 pools (Garden of the Gods Pool Oasis)
– 11 elegant pools with splash
pad for kids
Attractions
– The Forum Shops
– The Fall of Atlantis Show & Aquarium
– Madame Tussauds
– Gondola Rides
– The VOID: Virtual Reality
(This article may contain affiliate links, which means we might earn a small commission if you click and make a purchase. Thank you!)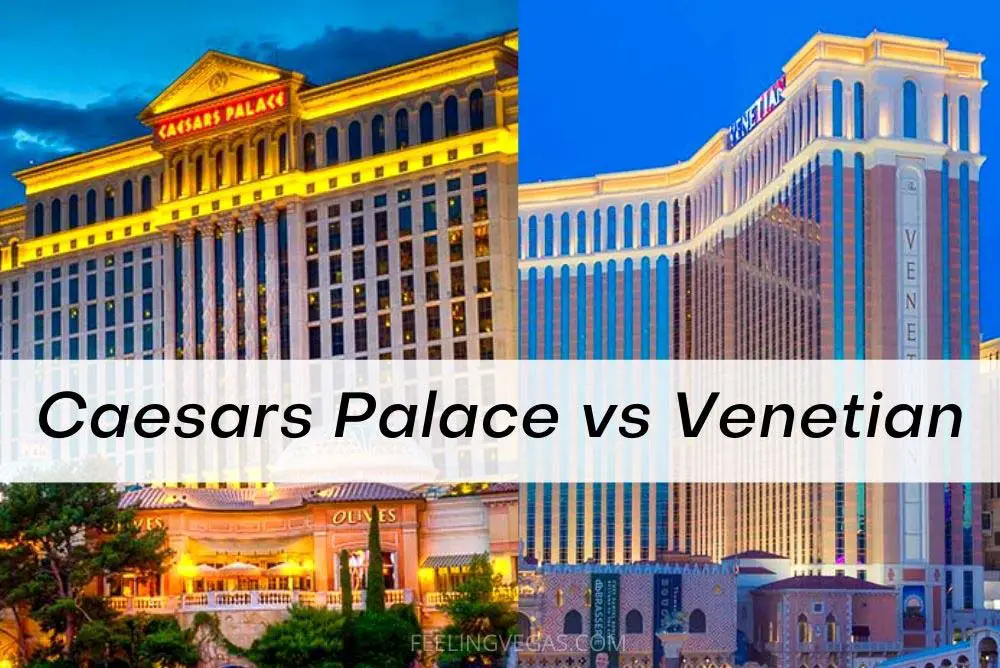 Name: Caesars Palace
Address: 3570 S Las Vegas Blvd
Casino Floor: 124,181 sq ft.
Year Built: 1966
Number of Rooms: 3,960
Name: The Venetian
Address: 3355 S Las Vegas Blvd
Casino Floor: 138,000 sq ft.
Year Built: 1999
Number of Rooms: 4,049
Best Location: Caesars Palace or Venetian
When visiting Las Vegas, location is everything, and while both hotels have great spots on the Strip, Caesars Palace is more centrally located, putting it closer to more in the way of entertainment, dining, excitement, and other nearby resorts.
Caesars Palace is located next door to the Bellagio (including its famous fountains) and within easy walking distance of Paris Las Vegas, Planet Hollywood, The Cosmopolitan, and several other popular Las Vegas Strip properties.
The Venetian resort is located a little further north of Caesars Palace on the Las Vegas Strip and is close to several other attractions, restaurants, stores, and entertainment choices, including The Mirage and Treasure Island.
Both hotels are located within walking distance of the Linq Promenade, which is a fun place for entertainment, dining, shopping, and the High Roller (Las Vegas' Ferris Wheel).
So while there is plenty to see and do near each hotel, Caesars Palace is the top choice here due to its more central Strip location.
RELATED: Get our Las Vegas Strip Map Here (Free download)
Caesars Palace vs Venetian: Standard Room Comparison
When comparing the standard rooms at Caesars Palace and Venetian, The Venetian comes out on top. Standard rooms at The Venetian are some of the largest on the Strip and come with a separate sunken living room area.
The suites at The Venetian are spacious (all the rooms at The Venetian are suites), luxurious, and have some of the best views in town. In addition, the standard Luxury King Suite at The Venetian can accommodate up to four guests, which is an important consideration for families.
Caesars Palace
The Venetian
Forum Classic:
– 475ft² (44 m²)
– King bed
– Pillow-top mattress
– LCD TV
– In-room wifi
– Seating area with plush chair and mini love seat
– Deluxe bathroom w/rain showerheads
– Minibar
– Safe
– Various views of the Strip or mountains depending on room
– Maximum # of guests: 2
Luxury King Suite:
– 650ft² (60.4 m²)
– King bed
– 46″ HDTV
– Sunken living room
– In-room wifi
– Sleeper sofa bed, table & chairs
– Desk
– Remote controlled curtains
– 130ft² (12 m²) Bathroom
with double vanity, separate
tub and 19″ HDTV
– Maximum # of guests: 4
The standard rooms at Caesars Palace are also quite spacious, nicely decorated, and have fabulous views but can't compare to the impressive suites at The Venetian.
If a more luxurious Las Vegas experience is high on your list, then The Venetian will be your best choice.
Best for Gambling: Venetian vs Caesars Palace
If you came to Las Vegas to gamble, you won't be disappointed with either of the casinos at these two hotels. Both Caesars Palace and Venetian have huge casino floors filled with slot machines, table games, sportsbooks, and more!
The casino at Venetian is slightly more refined as befits its luxury status, while the casino floor at Caesars Palace is more crowded and lively. Caesars casino has that energy and excitement that Vegas is famous for, while The Venetian's casino is a little calmer.
While you might prefer one or the other, the win, in this case, goes to Caesars Palace's casino for its fun Vegas vibe!
Best for Foodies: Venetian or Caesars Palace?
Those wanting to experience a wide range of cuisine options will find what they are looking for at the Venetian. Foodies will find everything from Italian to Latin and Asian to Vegan cuisine options at the many restaurants located at this hotel.
The Venetian is home to 35 restaurants offering many dining options for those wanting take-out, in-room dining, casual dining, or formal dining. Additionally, some of its restaurants are operated by celebrity chefs, such as Emeril Lagasse, Wolfgang Puck, Buddy Valastro, and Thomas Keller.
Caesars Palace is also home to many unique dining experiences, including those operated by celebrity chefs, including Bobby Flay, Gordon Ramsey, and Giada.
Guests at Caesars Palace can find a wide variety of cuisine options and dining experiences. In the end, however, The Venetian has more to offer, especially for those looking for greater diversity in cuisine and dining options.
Best for the Budget: Caesars Palace vs Venetian
When comparing prices for a single-night stay in July, Caesars Palace was cheaper than The Venetian. Staying overnight at Caesars Palace in a Forum Classic Room, the price was $127, plus the $45 per night resort fee. Staying in a Luxury King Suite at Venetian, the price was $167, plus the $45 per night resort fee.
When selecting a room based on budget, keep in mind that you get more room for your money at The Venetian. The standard rooms are some of the largest on the Strip, offering more space for less cost per square foot than the rooms at Caesars Palace.
Having said that, if budget is a primary concern, then Caesars Palace comes out on top.
RELATED: How To Choose a Hotel in Las Vegas (The Ultimate Guide)
On-Site Entertainment at The Venetian & Caesars Palace
When it comes to on-site entertainment, it's challenging to choose which hotel — Caesars Palace or Venetian — provides the best entertainment. Both hotels offer unique venues, with entertaining shows featuring permanent and visiting entertainers.
The Venetian features the ongoing show Atomic Saloon and a mix of visiting musical headline performers at The Sands Showroom (Click here for upcoming guest performances).
Caesars Palace has the popular production show Absinthe and is home to The Colosseum, which is one of the largest venues for visiting performers of all types (Click here to see who's performing at The Colosseum).
Both hotels offer unique venues, with entertaining shows featuring permanent and visiting entertainers, so we'll consider this category a tie.
Best Choice for Families: Caesars Palace or Venetian
The Venetian is very family-friendly, offering inviting suites with plenty of room for kids to run around and parents to relax. Kid-friendly activities include taking a gondola ride, visiting Madame Tussaud's, and climbing the Canyon Ranch Rock Wall.
Additionally, The Venetian is home to many family-friendly restaurants, providing meals for even the pickiest of kids.
Though families do stay at Caesars Palace, this hotel is not very kid-friendly because there are not a lot of activities, entertainment, or dining specifically designed to cater to families.
With its larger rooms and more entertaining options for the kids, The Venetian is hands down the best hotel to stay at for families when considering these two properties.
Best Hotel for Couples: Venetian vs Caesars Palace
The Venetian has the best suites on the Las Vegas Strip for couples to relax and spend time together. Throughout the hotel, there are romantic details that make this the best choice between the two hotels for couples to stay.
Additionally, couples can enjoy a romantic gondola ride or sip on champagne while enjoying some of the best views of the Vegas lights on the Strip.
Caesars Palace offers couples many exciting activities, including spending time in the spa together. The Venetian, however, is just a tad bit more romantic for couples to experience when visiting Sin City.
Are you planning to propose while in Las Vegas? Then The Venetian is the place for you as you can propose during a romantic gondola ride. It's the perfect setting to pop the question!
If you are looking to tie the knot while you're in Vegas, both Caesars Palace and the Venetian offer several romantic venues for weddings.
Best Swimming Pools: Caesars Palace vs Venetian
With seven different pools to choose from, Caesars Palace's Garden of the Gods pool deck offers a gorgeous pool setting. Among the Roman-themed pools are four swim-up blackjack tables, 45 cabanas, and 65 daybeds, providing guests unlimited poolside relaxation and excitement.
Equally elegant, the four large pools at The Venetian include in-pool ledge loungers, pool chairs, daybeds, and cabanas. In addition, families can enjoy the splash pad, which is perfect for kids to get some outdoor fun and burn off some energy.
Though both hotels offer exceptional pool environments, Caesars Palace, with its swim-up blackjack tables and Roman architecture, offers something unique when compared to the Venetian.
RELATED: Best Pools in Las Vegas for Non-Guests: The Tourist's Guide
Best Spa: Caesars Palace or Venetian?
Caesars Palace is home to Qua Baths & Spa, a true oasis for those seeking to relax. Spending time at this spa is an elevated experience like no other and will have you never wanting to leave. Qua Baths & Spa provides a holistic approach to the spa experience and offers the ultimate relaxation destination on the Las Vegas Strip.
Canyon Ranch spa + fitness at Venetian offers a luxurious escape to daily life while providing multiple services and access to fitness activities.
Based on first-hand experience, however, Qua Baths & Spa at Caesars Palace is the best spa between the two hotels.
Shopping Comparison: The Venetian & Caesars Palace
If shopping is your thing, these two resorts offer some of the best shopping locations in town.
The Forum Shops at Caesars Palace has approximately 160 specialty shops, ranging in everything from high-end jewelry to apparel and accessories to sweets. The Forum Shops is set in a Romanesque-style mall and is a shopper's dream venue. It is as much of a sightseeing opportunity as it is a shopping center.
The Grand Canal Shoppes offers a shopping experience like no other, with dozens and dozens of high-end stores, upscale brands, and more set alongside the flowing canals of Venice, Italy. Shoppers have everything they could want at this fabulous indoor location, including restaurants, specialty stores, and more.
Both Caesars Palace and the Venetian offer shopping experiences like no other in Las Vegas, and a visit to each should be on every Las Vegas visitor's to-do list!
Caesars Palace vs Venetian: So Which is Best?
The bottom line is that you can't go wrong choosing either one of these remarkable hotels. My general recommendation is to choose Caesars Palace for its more central location and lower price.
However, if you're traveling with family or are on a romantic weekend getaway, The Venetian may be more likely to meet your needs. In addition, you should choose Venetian if more luxurious accommodations are high on your list.
No matter which one of these Las Vegas resorts you decide on, you'll be in a perfect location to make the most of your Vegas vacation!
Compare More Las Vegas Hotels
View our complete hotel comparison guide here to directly compare the Las Vegas hotels you are considering.
Sources: