Do Rooms at the Venetian Have…? (15 Things To Know)
(This article may contain affiliate links. If you click through and make a purchase, we will receive a small commission at no additional cost to you. )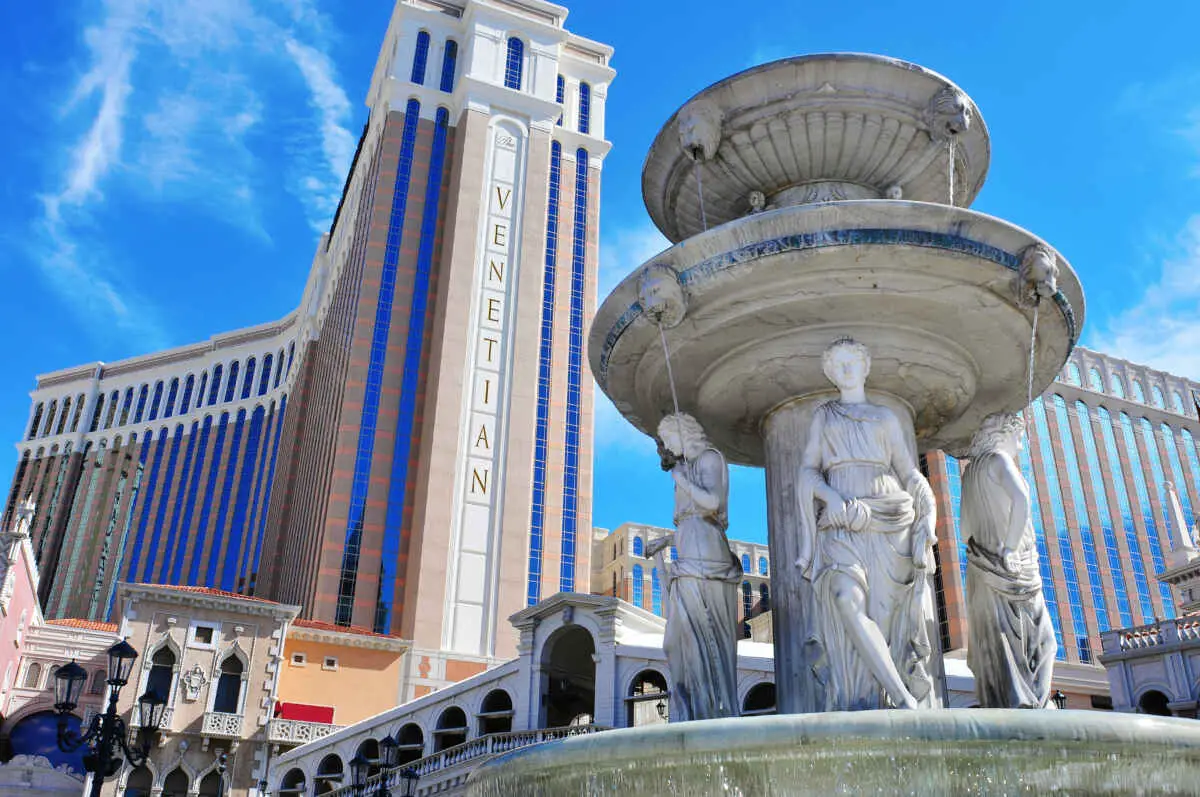 The Venetian is one of the most iconic hotels on the Las Vegas Strip. Constructed in 1999, it has long been a focal point of the most popular tourist destinations in Las Vegas. But with time, things change, and it's essential to understand what the rooms at The Venetian have to provide for its guests today. 
The luxury rooms at The Venetian Resort Las Vegas offer guests nearly anything they desire. The resort rooms have everything from standard suites with beds featuring pillowtop mattresses and large bathtubs to a 2600-sq.-ft. (241.547-sq.-m.) penthouse suite with a fireplace and unrivaled views. 
This article will look at everything you need to know before checking into one of the best hotels on the Las Vegas Strip. Read on to learn more about the rooms at the gorgeous Venetian Resort and what they have inside. 
Compare and save! Check current room rates at The Venetian (TripAdvisor)
1. The Venetian Has Super Comfortable Beds
When you check into a hotel in Vegas, you'll be excited to enjoy everything this town offers. Whether booking a show or seeing the fantastic lights and attractions, you will be excited to get out and experience Las Vegas. But once you're ready to settle in and enjoy your hotel room, you may wonder if the rooms at The Venetian have comfortable beds. 
The good news is that every bed in The Venetian has been made especially for the hotel by Sealey. The beds are pillow top styles available in both king and queen size, so you will likely have one of the most comfortable night's sleep you've had in a very long time. 
Next time you're wondering if the beds at The Venetian are comfortable, know that they're so popular you can order one for your own home through Sealy. 
2. Venetian Rooms Offer Space for Entertaining Family or Friends
An important thing to remember about The Venetian (check availability at Booking.com) is that every room is a suite! Yes, you heard me correctly, there are no "standard" rooms here, no matter what your budget is; if you booked a room at The Venetian, then you are in for a surprise because you're staying in a suite.
The smallest room at The Venetian is 650 square feet (60.386 square meters), so you will have plenty of space to invite your family or friends over for a pre-party before going to a show or casino.  
You'll have a living room that makes you feel like you are in Italy. That is—until you look out the window and realize you have one of the best views in Las Vegas. Now that you have had your friends and family over to enjoy your luxurious and spacious room, it's time to try your luck on The Strip.
3. Rooms at The Venetian Offer a Workspace
The truth is, as many people come to Las Vegas to work as they do to have a party. OK, maybe not many, but plenty of people need to get some work done when they come to Las Vegas. So you may wonder if rooms at The Venetian have ample workspace. The Venetian understands that while you came to have fun, many people also need a space to check their emails or have a Zoom meeting.
Even the most petite suites at The Venetian have a desk and chair, so you'll always have a workspace while at the hotel. A large desk area will give you plenty of space for your computer and paperwork to spread out and complete some essential tasks. Here is a video from Let's Go See It showing the workspace in their room! 
4. Rooms at The Venetian Have WiFi
Perhaps you've set up your work area and are ready to be productive in Las Vegas. Or maybe you need to jump online and check out the spreads before you head down to the Sports Book. But do the rooms at The Venetian have WiFi? Yes, all rooms at The Venetian have WiFi, and it's included in the resort fee when you reserve the room.
Free WiFi is not merely a luxury nowadays. It's an expectation for many people—and the Venetian builds it into their resort fee. Next time you're staying at the resort, you can be sure you'll be as connected as you need to be, whether working or researching all the fun you want to have next. 
5. The Venetian Offers Adjoining Rooms
When you have a group larger than you and your immediate family, you might want to know your options to try to be next to each other in the hotel. One option you may wonder about is whether or not you can have adjoining rooms. Thankfully, The Venetian does have connecting rooms that you can reserve. 
Some rooms at The Venetian do connect. Make sure you talk to the hotel before you arrive or when you check in to inquire about whether the adjoining rooms are available. If you're lucky and someone hasn't pre-booked them, you may be able to be situated next door to your friends or family. 
6. Your Room at The Venetian Will Have an Iron and Ironing Board
When you're getting ready to head out for an evening on the town, it's always nice to know whether or not there's an ironing board and iron in your hotel room. Since The Venetian takes every step to improve your comfort and quality of stay, they stock the rooms with the most essential items you need for a night on the town.
But is there an iron and ironing board in the rooms? Yes, there are irons in the room in The Venetian. You'll be able to press your favorite shirt or blouse to look your best on the Las Vegas strip. Take advantage of feeling like you're at home when you're staying at The Venetian and look sharp in your favorite clothes. 
7. The Venetian Has 24-Hour Luxury Room Service
Las Vegas has many of the best culinary experiences in the United States. From restaurants from celebrity chefs like Gordon Ramsay's Hell's Kitchen to local favorites, it's a city with many of the best foods you can imagine. But if you've had a long day and only want to hang out in your suite, you might wonder if the rooms at the Venetian have in-suite dining.
The Venetian has some of the best in-room dining facilities on The Strip. Not only can you get in-suite dining here, but you can do it any time of the day. With 24-hour service, The Venetian won't disappoint when you want to stay in your luxury suite and order some food. Some of the meals you can choose from in your room at The Venetian include: 
Breakfast
Lunch
Dinner
Late Night 
8. Your Room at the Venetian Includes a Mini Bar
Room service might be more than you need if you want a light snack or a nightcap. Las Vegas is a 24-hour city, but the mini bar might be more enticing on the nights you want to stay in your hotel. But do the rooms at The Venetian have minibars? 
The rooms in The Venetian do have minibars. They are not complementary, so you'll want to check the prices to be sure that the candy bar or bottle of tequila is something you're willing to purchase. But if you're in Las Vegas and want to live it up, you can rely on knowing your room in The Venetian has a minibar waiting for you to use.  
Note: The mini-fridge at most hotels in Las Vegas, including the Venetian, are usually packed to the gills with items to purchase and, as such, don't have extra room for any of your own items you may wish to refrigerate. If you need an empty fridge in your room for your own items, you can contact the resort's concierge.
9. Expect Luxurious Bathtubs and Showers at the Venetian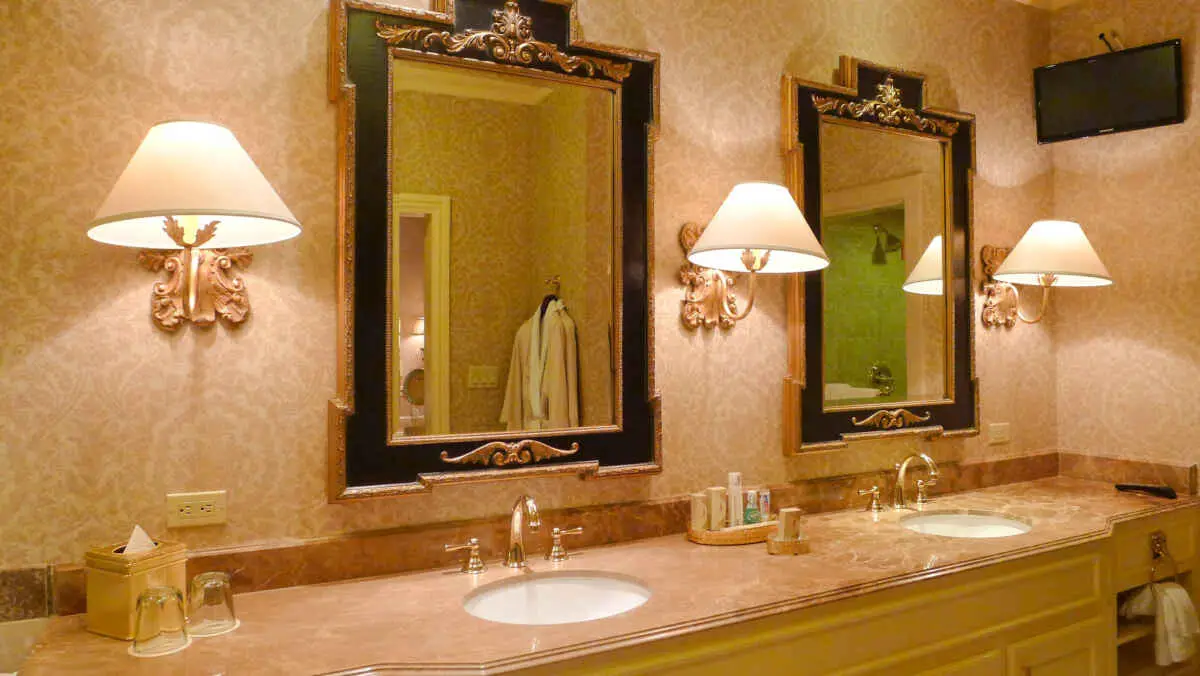 When you're going out for a night in Las Vegas, it's critical to look and feel your best. A nice bathroom is essential when staying at a hotel, especially on The Strip. But do the rooms in The Venetian have both bathtubs and showers? 
The rooms in The Venetian have both! The luxurious marble bathroom has a stand-alone bathtub and shower, so you can decide which way you want to freshen up after your long drive or flight before you hit the town.
There's even a flat-screen TV in the bathroom if you'd like to catch up on the news or sports while soaking in the tub. Check out this video from Adventure Stop showing a full tour of a room in The Venetian, including the bathtub and shower area:
10. The Venetian Offers Complimentary Toiletries
If you're traveling from far away or only want to have a quick night out, there's a chance you didn't think of every detail while packing. When you made your list, you may have forgotten to include essential items like shampoo or soap. So you might be on your way to The Venetian and wonder if the rooms come with toiletries. 
The Venetian does stock their rooms with toiletries. I know firsthand because the last time I was heading there, I had to give them a call to double-check. They assured me they would supply all of my showering needs and, if they weren't up to par, I could call the front desk. 
The Venetian has you covered when it comes to your essential needs for the bath or shower. Some items you can expect to find in your bathroom include: 
Towels
Shampoo
Bodywash
Handsoap
Toilet Paper.
11. The Venetian Charges Resort Fees
Las Vegas is a fantastic city with tons of fun things to do. It also has a reputation for having costs you might not always anticipate. One of the most famous of these is resort fees. But does The Venetian have resort fees?
The rooms at The Venetian do have resort fees. The price, according to their customer service representatives as of 10/12/2022, is $51.02/night, after tax.
You can find out more about the resort fee at The Venetian and what it includes in this article.
12. The Venetian Provides Multiple Check-In Options
Las Vegas is a city that hardly ever sleeps. People come here from around the world and arrive at hotels at all times of the day and night. When you arrive, you may wonder how you can get into your room as quickly as possible. 
So do the rooms at The Venetian have different options for checking in? As a matter of fact, yes. And we wrote a detailed article on how to do it! When you arrive at The Venetian, you can choose from a couple of ways to check in to your room:
Standard front desk service. 
Online check-in with a key pickup option.
Using a Digital Key.
13. You Can Opt for a Late Checkout From the Venetian
If you love Las Vegas as much as we do, you might wake up and not want to leave. Not wanting to wake up on time is especially true when staying at the one-of-a-kind Venetian Resort Las Vegas. But if you are hoping to sleep in, you'll want to know that the standard time for leaving your room is 11:00 am. 
If you plan to hang around longer, you'd be best off calling the front desk ahead of time, or you may be facing some unwelcome charges. The rooms have a late checkout option, although it may cost you. But as The Venetian is renowned for world-class service, it doesn't hurt to ask, and they will accommodate you most of the time whether it incurs a fee or not.  
14. The Venetian Offers Baby Cribs
Over the years, Las Vegas has become increasingly popular with families. So if you're bringing your children, you may wonder what accommodations the hotels have to keep them as comfortable as possible. One crucial question is if the rooms at The Venetian have cribs. 
The Venetian offers cribs upon request for guests at the hotel. When I inquired, they informed me there is no additional charge for this request. Inform them upon arrival, or reach out to them ahead of time if you are concerned about crib availability for your stay. 
RELATED: Vegas With a Baby: How To Get Around & Have a Great Time!
15. Your Room Has a 46-Inch TV and a Flat Screen 
You might not expect to spend much time in your room in Las Vegas, but nothing is more relaxing than chilling for a bit while watching a sporting event or movie. While not the first thing on your mind, you may wonder if the rooms in The Venetian have TVs.

All the rooms at The Venetian do have TVs. In fact, not only is there a 46-inch TV in the sleeping area, but you'll also have a flat-screen TV in the bathroom. Yet another example of over-the-top luxury, The Venetian, will make sure you don't miss an episode of your favorite television show in any room of your suite. 
Find the best deals on rooms at The Venetian and save big with TripAdvisor!
Venetian Room FAQ's
Do rooms at The Venetian have microwaves?
Rooms at the Venetian Las Vegas do not have microwaves.
Is there a coffee maker in the room at The Venetian?
You will not find a coffee maker in any of the standard rooms at The Venetian. Coffee, however, can be ordered from room service.
Do rooms at the Venetian have refrigerators?
The hotel rooms at the Venetian do not have useable refrigerators. Each room has a mini-bar filled with drinks and snacks that are available for purchase. An empty fridge to store your own items in your room is available upon request.
Do rooms at Venetian have hair dryers?
Yes, a hair dryer is available for your use in the bathroom in each of The Venetian's suites.