The Best Las Vegas Hotels on the Strip and How to Find the One For You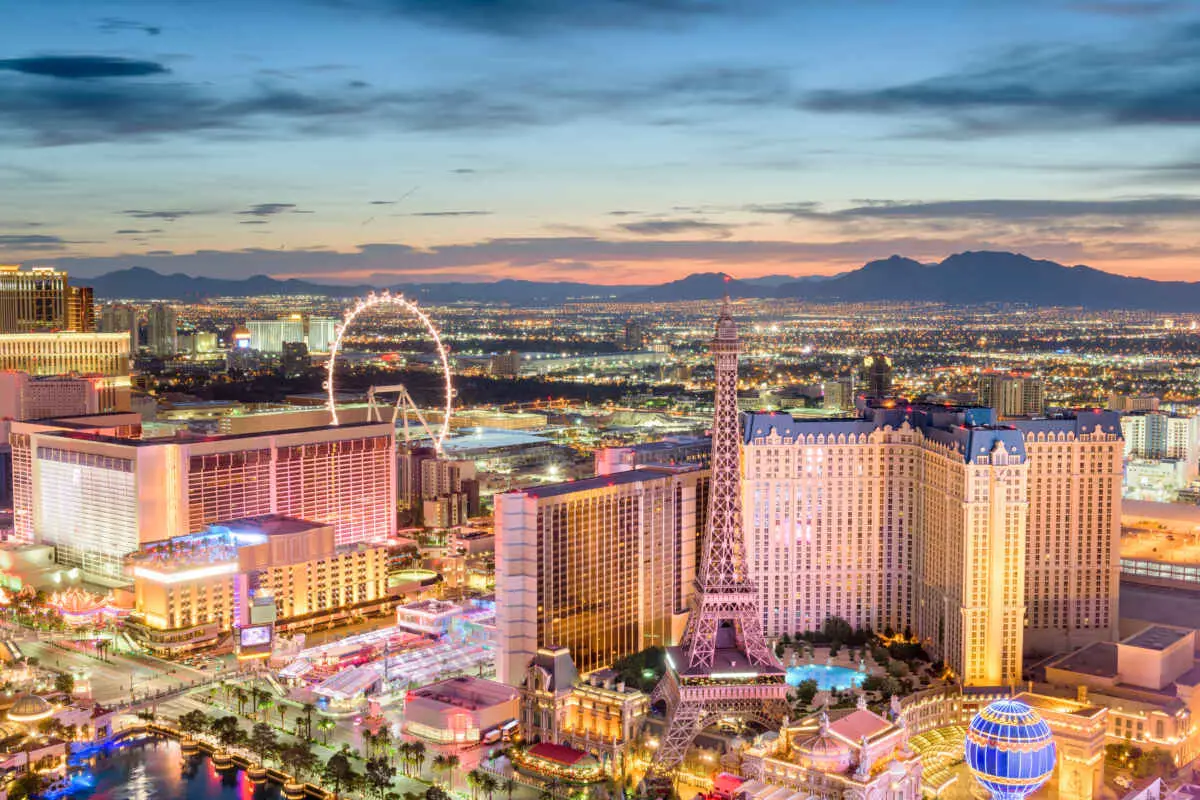 (This article may contain affiliate links, which means we might earn a small commission if you click and make a purchase. Thank you!)
Are you looking for a hotel in Las Vegas to stay in? On a budget or looking for a premium experience? If you're looking for the best hotels on the Las Vegas Strip, you've come to the right place.
Staying in Las Vegas' best hotels will allow you to experience some of the undeniable best hotels in the world. The abundance of choices means there's an option for everyone, whether you're on a budget or want to splurge.
Most of these are Las Vegas Strip hotels located near the heart of Las Vegas. This is where everything happens, and all the must-see attractions are based.
In this review, we'll give you a list of the 10 Best Las Vegas Strip Hotels and some tips on choosing the best hotel, given your needs. This includes factors like budget, location, amenities, and more.
Why You Should Stay in Las Vegas Strip Hotels
Whether you're looking to stay in a more budget-friendly Las Vegas Strip Hotel or have a glamorous stay at one of the more premium options, staying on the Las Vegas Strip has many benefits.
NOTE: Some important considerations when picking a place are safety concerns on the Strip. While the Strip is generally safe, it's important to do your research on which parts to avoid for your peace of mind.
Location and Accessibility
The Las Vegas Strip is arguably the city center where all the attractions and places to be are found. Staying along the Strip means getting to those attractions from your hotel will only take a few minutes.
Many Las Vegas Strip hotels have cabs that pass by and even offer driver or touring services that can take you anywhere within Las Vegas. Sin City will be within easy reach when you book the right hotel.
Having your hotel in Las Vegas conveniently located within walking distance of most attractions, like the Eiffel Tower replica, is an ideal benefit.
Celebrity Appeal
When visiting Vegas, you'll notice the names of famous celebrities who set up attractions here. Some include celebrity chef restaurants like Guy Fieri's Vegas Kitchen or Gordon Ramsay's Hell's Kitchen.
These places are easily accessible from Las Vegas Strip hotels. Additionally, these Las Vegas Strip hotels are most likely where these celebrities stay when they're in town.
If you're a person who wants to be updated on the latest trendy places and partake in Vegas' vibrant nightlife, then there's no better place to be than along the Las Vegas Strip.
Cost Efficiency
If you're thinking about saving money, you might have thought of getting hotels in Las Vegas away from the Las Vegas Strip and then taking a cab or Uber to wherever you're going.
However, that might be more expensive because Ubers and cabs in the area are expensive. Why spend more and worry about transportation when everything could be within walking distance?
Many hotels offer different pricing ranges for their rooms. For example, Marriott hotels have different pricing ranges per hotel and type of room.
If you'll be spending most of your time going around the Strip, then getting hotels in and around the Las Vegas Strip is the best option for both convenience and cost efficiency.
Historical Charm
While the focus in Las Vegas is often on the new hotels and resorts, several Strip properties have been around for decades. They have accumulated a rich history and are famous places to go as historical landmarks.
For example, you have the Tropicana, Caesars Palace, and Flamingo hotels. These are hotels in Las Vegas with rich histories and are popular venues for events like Top Rank boxing matches.
The top Las Vegas hotels all have one thing in common. They're all venues that people go to because they're attractions to go to, not just places to stay at.
Best Las Vegas Hotels on the Strip: A Comparative Analysis
As we lay out the top 10 best Las Vegas Strip hotels, we'll split them into categories like luxury, mid-range, and budget hotels.
Each Las Vegas hotel has its own unique amenities, design, vibe, and focus. Factor these in as you read through this list, as each person or family has different tastes and needs.
Best Las Vegas Luxury Hotels
Many of the best Las Vegas Strip hotels offer luxury accommodations that satisfy even the most well-traveled visitors. Here are the top picks for luxury hotels in Las Vegas.
Wynn Las Vegas
Wynn Las Vegas is one of the best Las Vegas Strip hotels to choose from. It's considered one of the most luxurious hotels in Vegas, and all the rooms were newly remodeled in 2022.
Aside from the spacious rooms, Wynn Las Vegas is known for having the only golf course on the Las Vegas Strip.
Additional features include the Delilah Supper Club and the Aft Cocktail lounges.
Moreover, it ranks as one of the top hotel choices on the Las Vegas Strip, as reflected in the steady stream of stellar ratings on Google Reviews and TripAdvisor from guests.
If you prioritize the caliber of hotel facilities, Wynn's contemporary amenities and upscale dining experiences are tailored to your tastes. In tandem, Wynn's sibling property, Encore, boasts the Encore Beach Club, nestled within the Wynn hotel premises.
Bellagio Las Vegas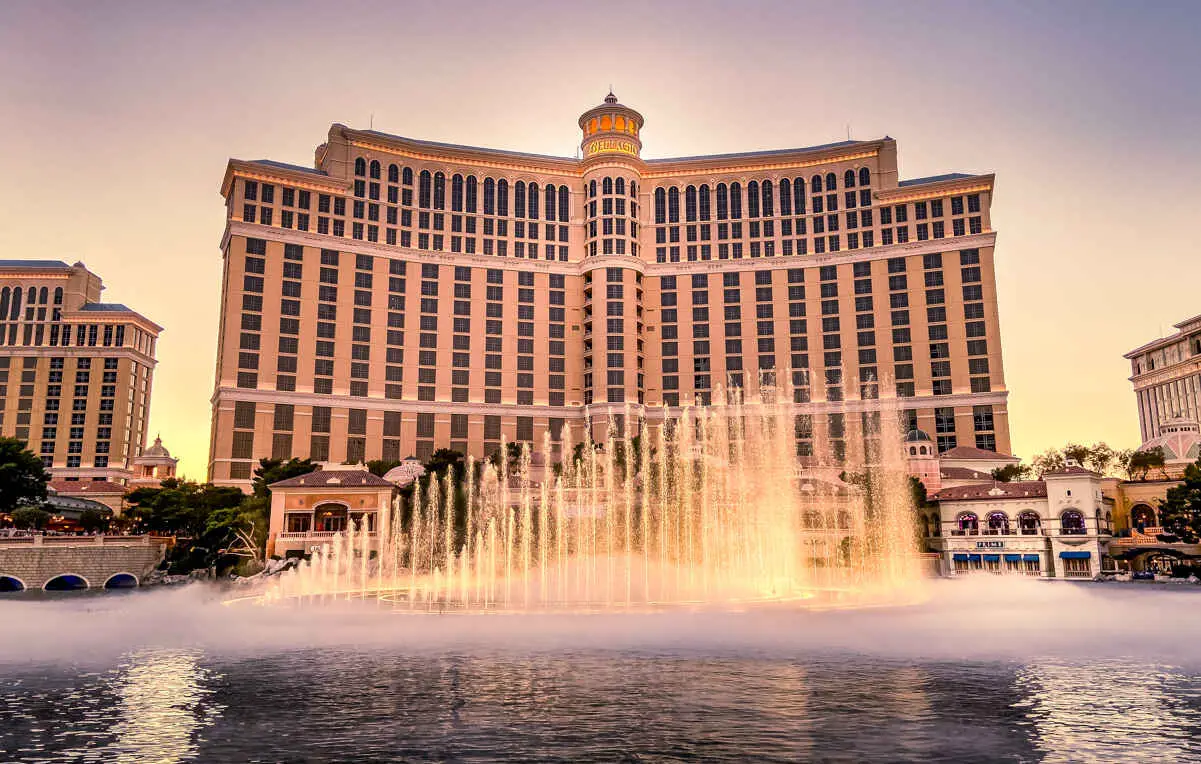 Some of the best dining options are at the Bellagio resort, like the lakeside Le Cirque. Attractions include the Botanical Gardens and the Bellagio Fountains, which are must-visits no matter what hotel in Las Vegas you stay in.
Bellagio is also one of the top hotels in Las Vegas because of its five pools, which rival the MGM Grand pool complex and Waldorf's three pools and two hot tubs.
Bellagio's rooms were all renovated in 2015 to give it a Lake Cuomo-inspired look. The current look of the rooms is inspired by water and the Italian coast with a lot of blue tones.
These combine to make the Bellagio one of the best hotels on Las Vegas Boulevard if you want a refined hotel experience located on the center Strip.
Caesars Palace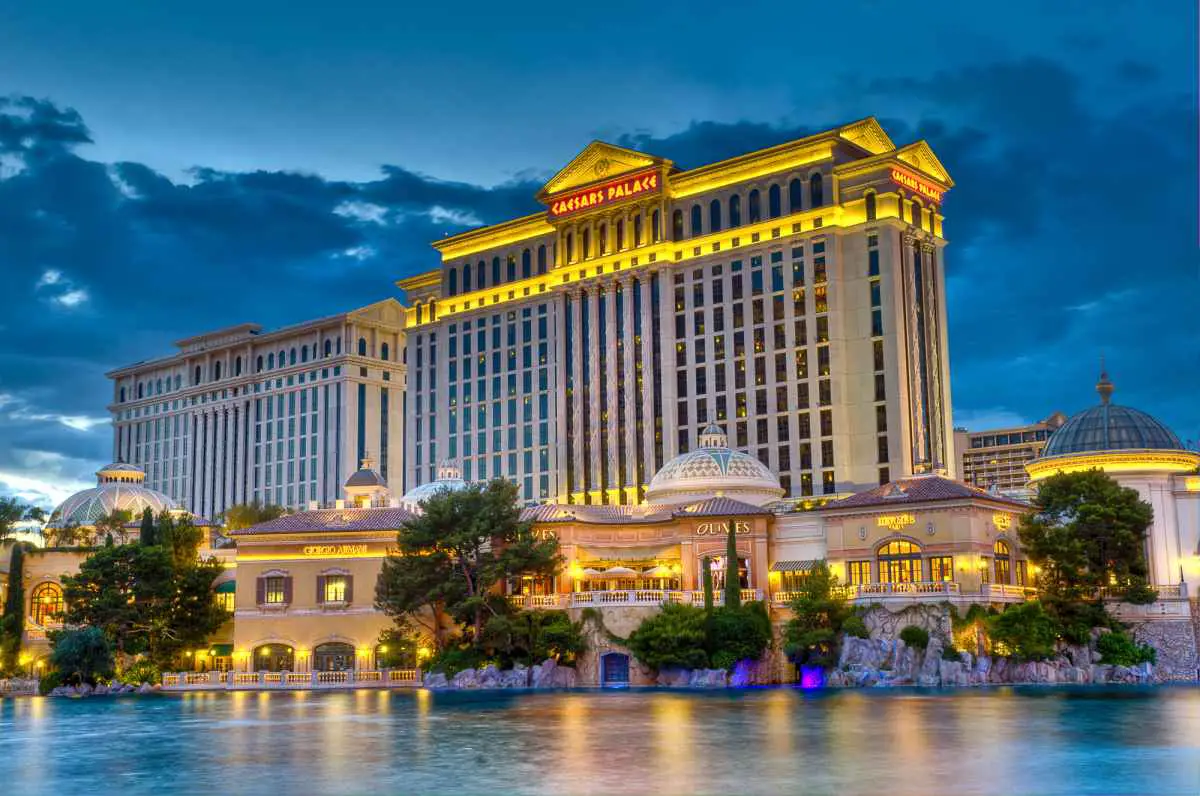 Caesars Palace is an iconic hotel on the Las Vegas Strip with luxurious guest rooms and the Forum Shops, where you can spend your hard-earned money. It was popularized by the famous movie set in Sin City, "The Hangover."
You can't go wrong with the classics like Caesars Palace, especially considering their luxurious guest rooms. The nicest rooms offer floor-to-ceiling windows to view the action down on the Strip.
Caesars Palace is also located in one of the best areas, slightly north of the center of the Las Vegas Strip. This means you're only a few minutes away from many of the best attractions.
The Cosmopolitan Las Vegas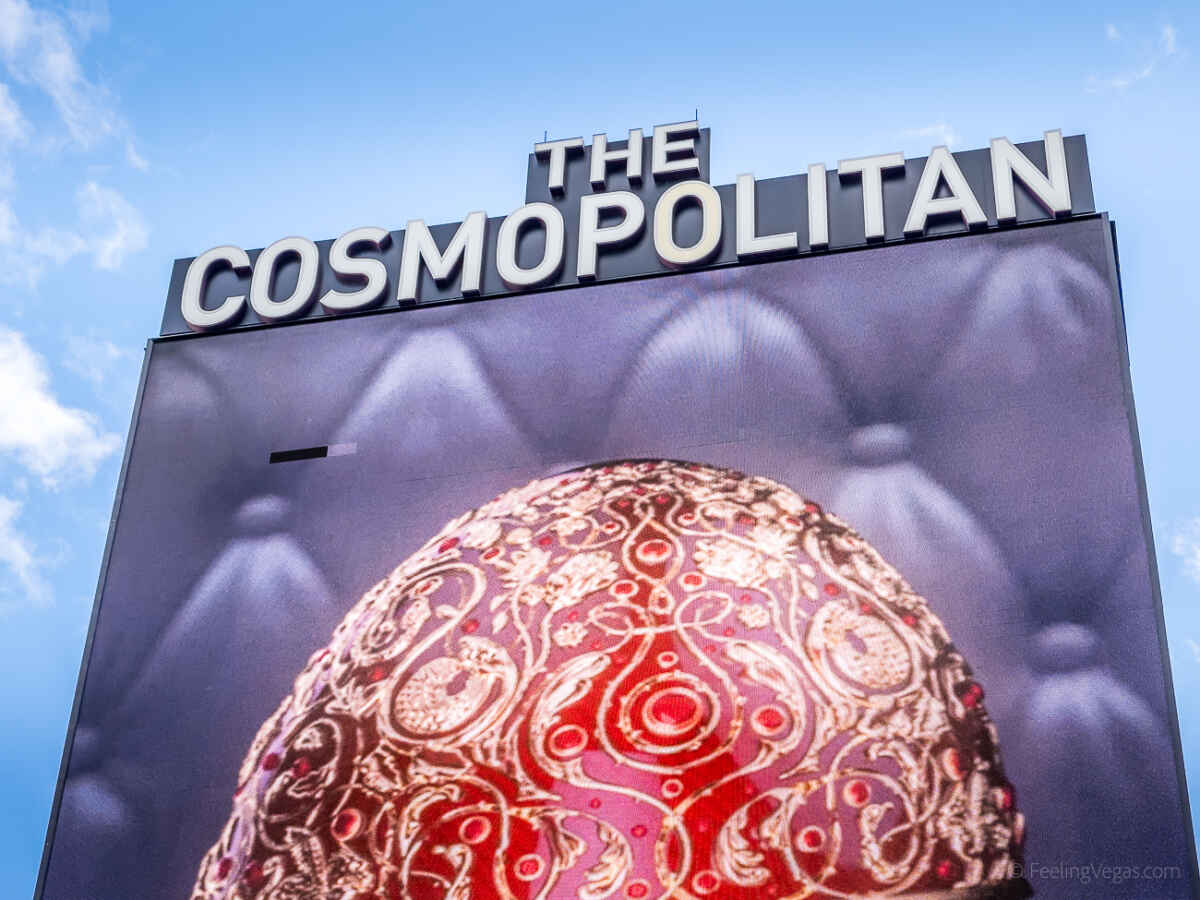 The Cosmopolitan Hotel in Las Vegas is one of the best luxury hotels if you're the type to mingle with other young, hip, up-and-coming travelers who love shopping and trendy fine dining options.
It's a boutique hotel with an amazingly unique and dramatic design plus fantastic balcony views. In this regard, the hotel doesn't really have any competitors within this list of the best hotels in Las Vegas. Its three-story Chandelier Bar is truly something else.
Other exciting amenities include a classic barbershop, choices of restaurants like David Chang's Bang Bar by Momofuku, and a hidden live music cocktail bar that looks like it's snowing outside!
It also has a Boulevard Pool that transforms into an ice rink in the winter. Pick this hotel if you're trying to get a place that isn't the typical luxurious resort you're familiar with in Las Vegas.
Venetian Resort Las Vegas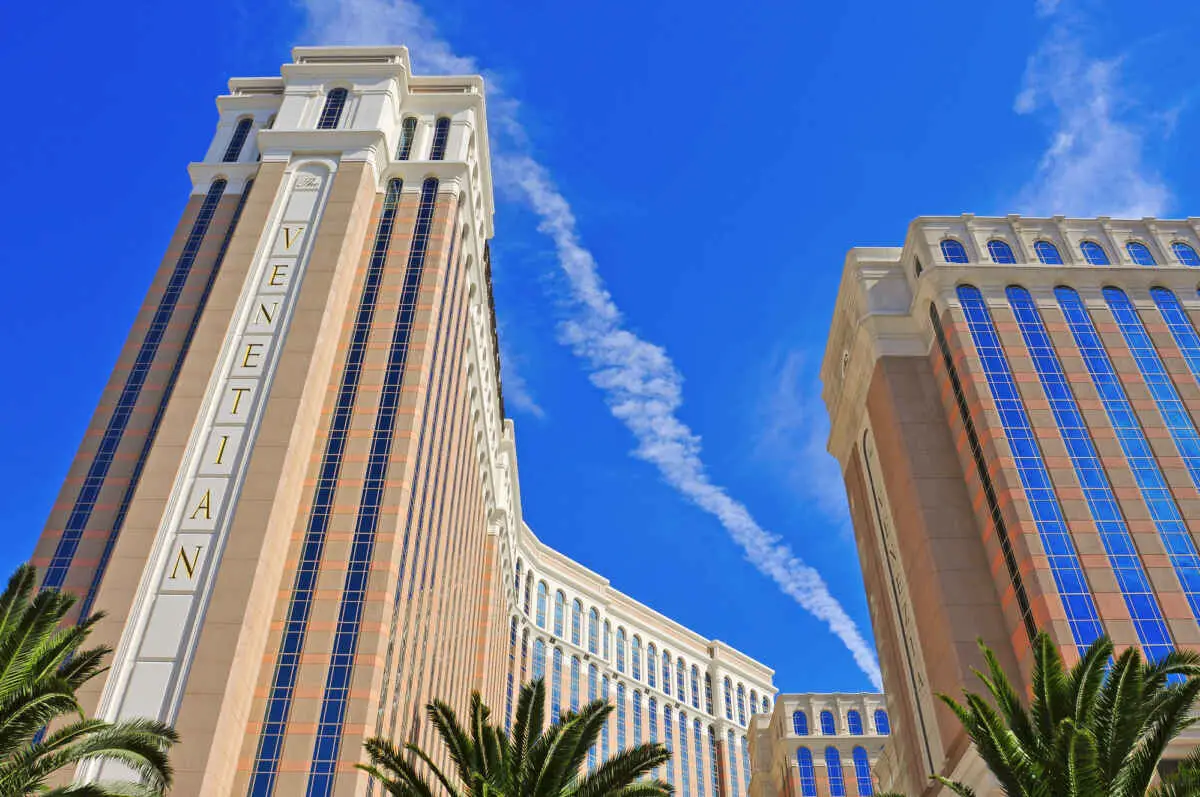 The Venetian resort is one of the best hotels in Las Vegas because of its famous replicas of St. Mark's Square and the Grand Canal Shoppes you'll see as you walk along the lazy river canal.
You can also take a gondola ride down that canal to experience a romantic getaway with your partner as if you were in Venice, Italy. It's also the best hotel in Las Vegas to find a mix of cheap and expensive cuisine.
With the Venetian being the second largest hotel in the world, it's no surprise that it has a wide variety of world-class entertainment and activities both on the cheaper and more expensive end.
The Venetian is a great place to take your family or to have a romantic vacation with that special someone.
Best Las Vegas Mid-Range Hotels
Not everyone has the budget to stay in exclusively high-end places like the Four Seasons Las Vegas.
Here are the best value mid-range hotels on the Las Vegas Strip.
Planet Hollywood Las Vegas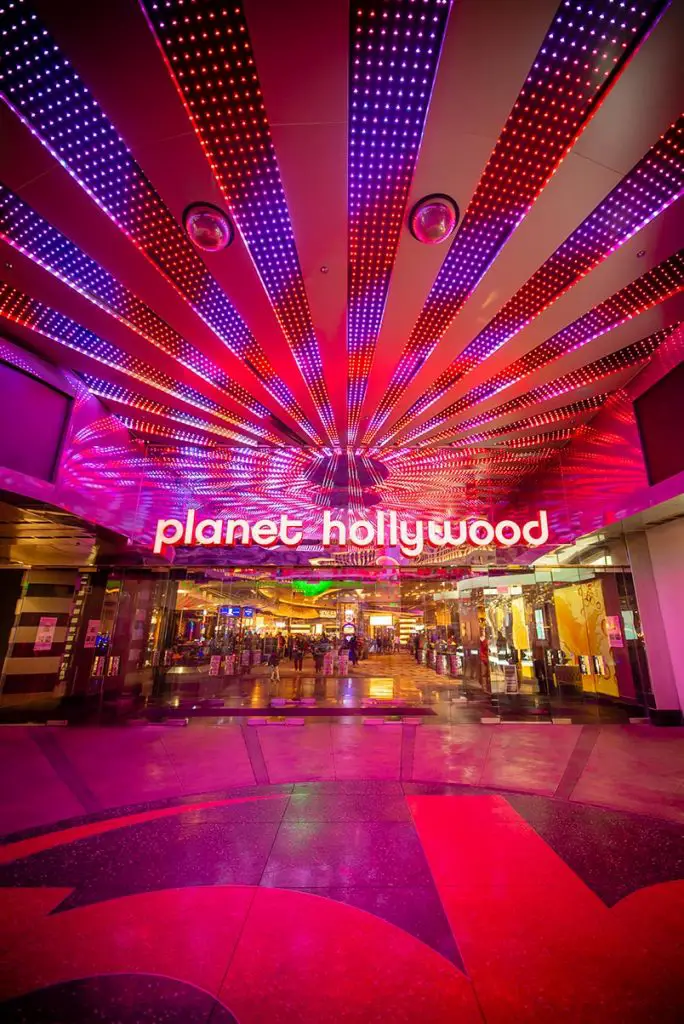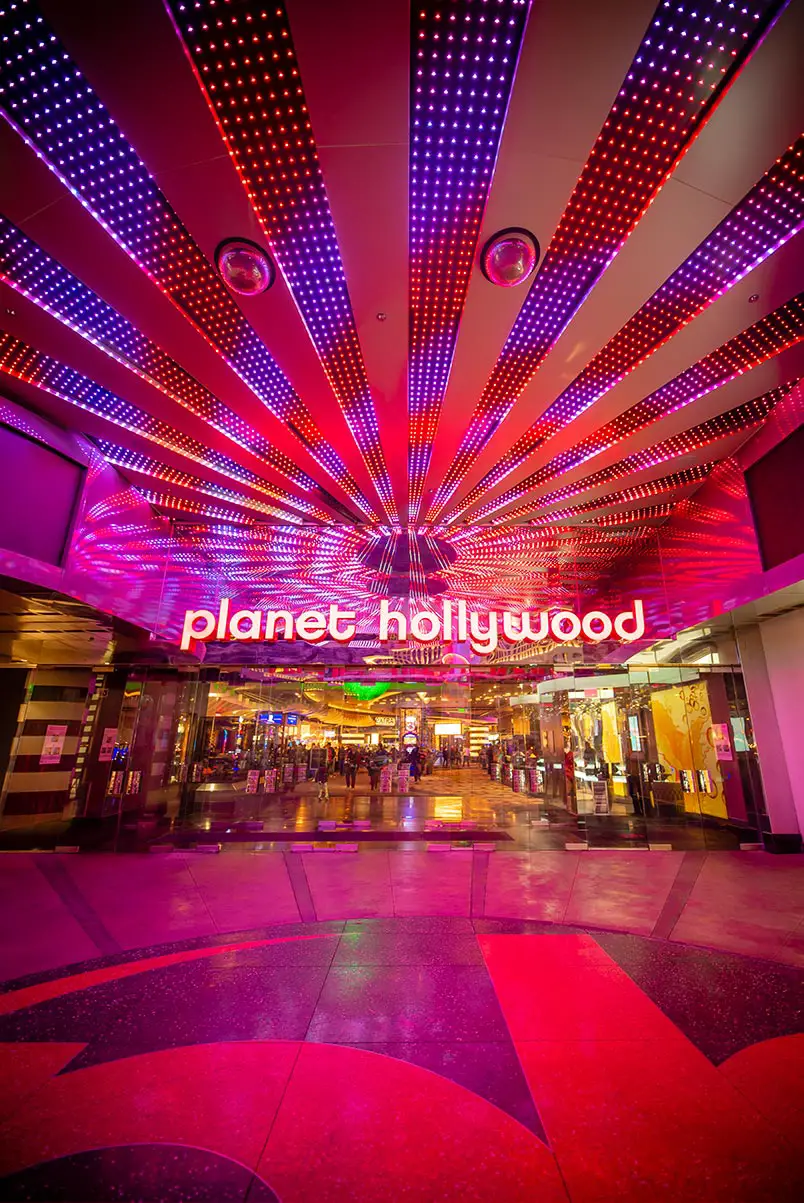 Planet Hollywood is a mid-range budget hotel that is one of the best Las Vegas Strip hotels in terms of value for money. It's located in the center of the Vegas Strip, meaning other attractions are all close by.
The Miracle Mile shops, Zappos Theater, and many comedy shows combine to make it a good option if you want to be entertained without breaking the bank. It also has a consistent Hollywood theme.
It's also one of the iconic hotels on the Las Vegas Strip alongside MGM Grand and Caesars, as it's been there for a long time.
Park MGM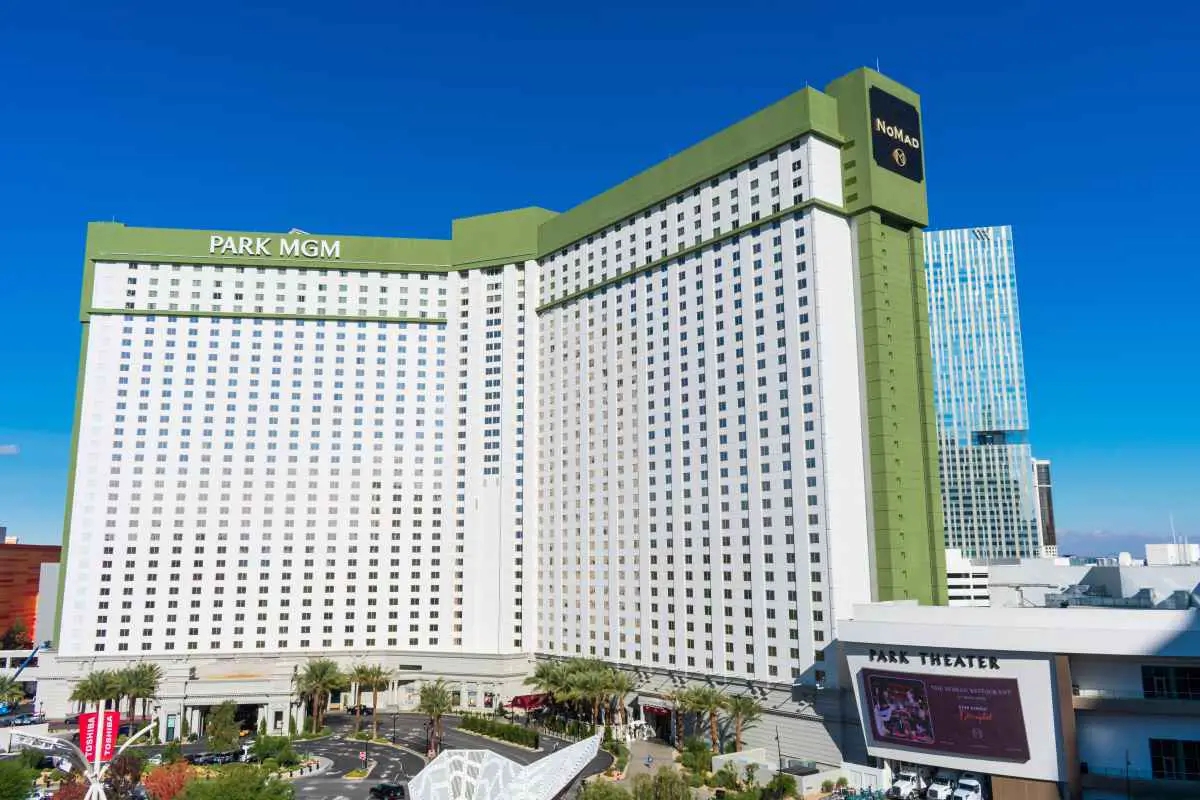 Park MGM is one of the best hotels if you love listening to live music because it houses the Dolby Live Theater, where famous musicians perform, and the House of Gaga (a must-see for Lady Gaga fans).
It's the less expensive sister hotel of MGM Resorts, which is also more family-friendly. It's a smoke-free hotel and has many restaurants to choose from, including the well-known Eataly.
What's unique about the Park MGM is that there's another boutique hotel inside called NoMad. It's a good change of pace from the family-friendly main hotel and has more adult-oriented attractions.
New York-New York
As the name suggests, it's a New York-themed hotel with a replica of the Statue of Liberty, full-on New York themes and designs inside the hotel, and mock-up NY streets and eateries.
One of the main attractions in New York-New York is the Big Apple Coaster, which you can see snaking around the hotel's exterior. Aside from this, kids will also love the hotel's arcade.
Rooms in New York-New York should look fresh and updated in terms of design, as they started renovating their rooms in 2022 and should be finished by the end of summer 2023.
Aside from the main attractions and the rooms, the hotel has all the amenities you'd expect from a Las Vegas Strip hotel. These include the casino, spa, gym, bar, and pools.
Best Las Vegas Budget Hotels
If you're on a tighter budget, then you'll need to check out a few different Las Vegas Strip hotels that keep the prices low while still being the best hotel at that price point.
Here are the best hotels for people on a budget.
Luxor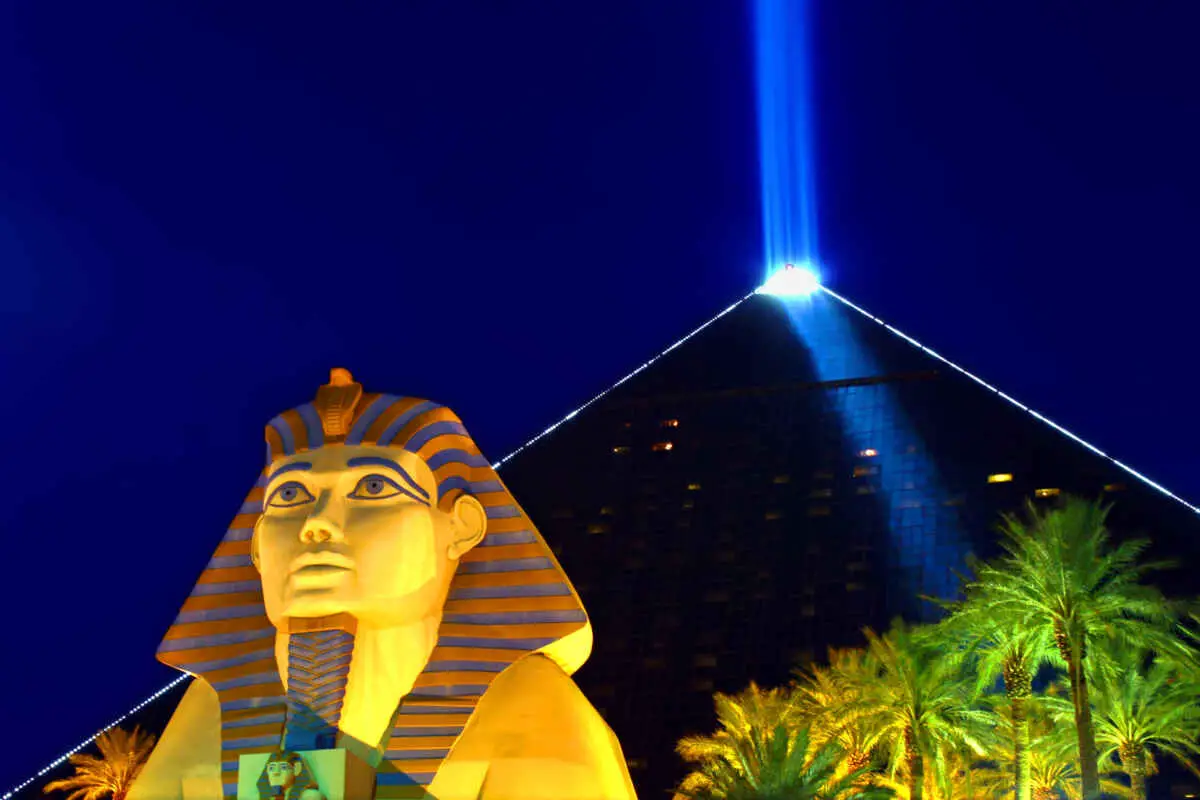 Luxor is an MGM Resorts hotel on the Strip. The headlining feature of Luxor is actually the accommodation. With the right room, you can stay in that large pyramid you often see in movie clips showing Las Vegas.
Luxor is an Egyptian-themed hotel incorporating the pyramid into its design. This design carries over into their other amenities like the pool, spa, and clubs/nightlife.
The best part is that all of this comes at room rates that are quite inexpensive, meaning all you have to worry about are extra expenses for amenities not included in the rates.
Luxor isn't the best hotel, especially compared to more premium hotels, but it does give a lot of value for the low price points that it offers.
Treasure Island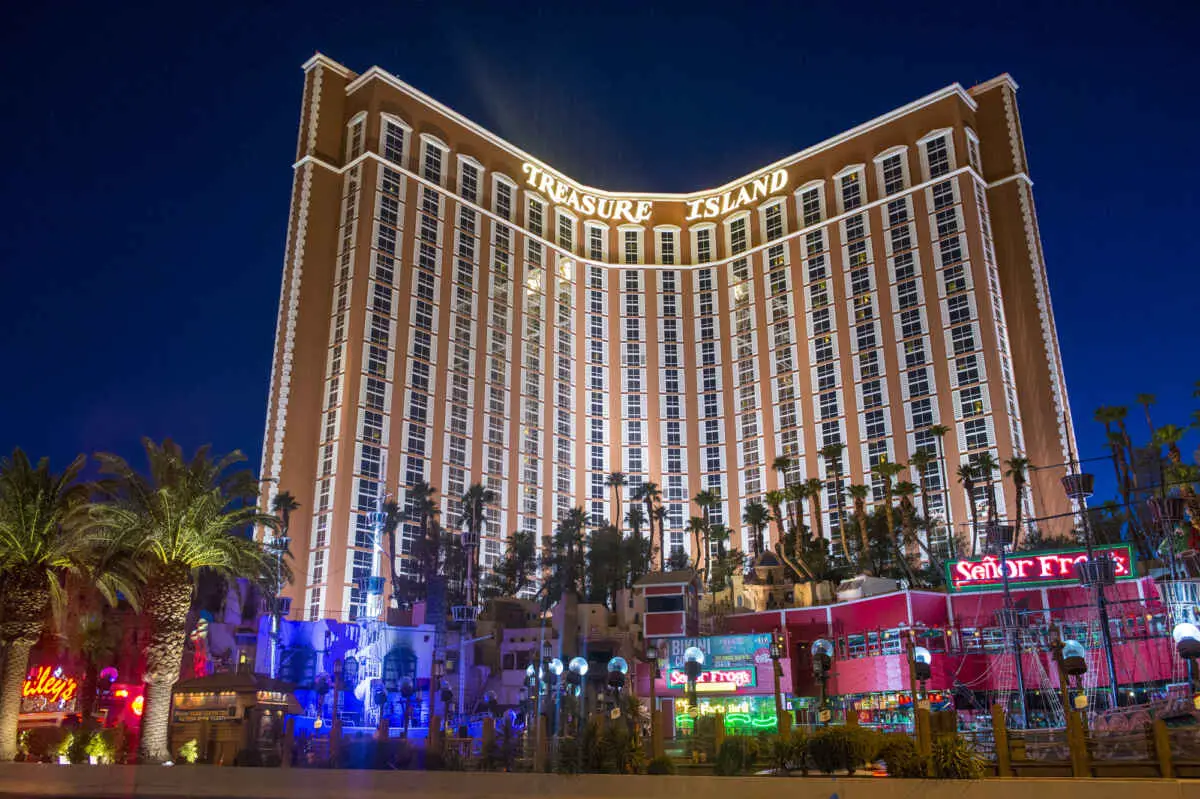 Treasure Island is another hotel option that provides great value, consisting of amenities, room quality, and extras at a lower price point. Treasure Island's main advantage is its theater and entertainment.
You can watch Cirque du Soleil's Mystere, as well as check out Marvel's Avengers STATION.
After enjoying the nearby attractions, Treasure Island has good quality rooms and refreshing amenities. While they aren't exactly floor-to-ceiling windows or five-pool layouts, they're still enjoyable to use for the price.
They also still have the usual mix of casinos and restaurants. For the latter, there are both cheaper and more expensive options so that you have more of a choice.
Luxury vs. Mid-Range vs. Budget Hotels
Whether you're picking the top-of-the-line luxury hotel on the level of Mandalay Bay or a cheaper option like Treasure Island, you're getting what you pay for.
Some shared features luxury hotels have as advantages over budget and mid-range options are the luxurious ambiance, unique attractions, and quality of rooms/amenities.
Mid-range and budget hotels are pretty similar, but most budget hotels will either have smaller rooms or lack some amenities. However, if you're not planning on using those amenities, it can save more money.
At the end of the day, choosing between the hotels on the Las Vegas Strip doesn't just involve budget. There are also other considerations to make.
Tips for Choosing the Right Hotel on the Strip
When trying to choose the right hotel in Las Vegas, you have to consider important factors such as budget, location and accessibility, amenities, and the overall ratings and reviews left by previous guests.
Considering Your Budget
When going to a place as extravagant as Las Vegas, you'll want to watch where you spend your money, so budget is one of the top considerations to think about when picking accommodation.
If you only have enough budget for the cheaper hotels, you should stick to them instead of stretching your budget to go to a luxury or mid-range hotel. It's better to spend that extra money on Vegas attractions.
However, one thing you should keep an eye on is discounts and promos on websites like Agoda, Booking.com, Expedia, and TripAdvisor. You can often find great deals, especially if you book beforehand.
Evaluating Location and Accessibility
One reason why hotels get expensive is because they're close to popular tourist destinations. The same goes for any hotel in Las Vegas since cabs and Ubers are pretty expensive.
Even if you save money by going to a hotel away from the Strip, you may spend more on transportation costs. That doesn't even factor in the stress and time spent searching for a ride.
Having your hotel be along the Strip is very convenient because you can simply walk to almost all of the important attractions in Las Vegas. Everything will be accessible within a few minutes.
Assessing Amenities and Services
One factor that can make you choose one hotel over another is the amenity selection. Each hotel has its own theme and corresponding amenities and attractions that make it stand out.
For example, if you have a choice between one hotel with the Canyon Ranch Spa (The Venetian) or another with a sandy beach and nice pools (Mandalay Bay), you might have a preference for one or the other.
Some hotels have many restaurants inside or restaurants nearby. Check out and explore dining options near hotels to see which hotel is closest to places you want to try out.
Maybe you'd like to pick a hotel with an adults-only pool if you want to relax with no kids around. Alternatively, you might want to pick a gaming-free property if you are bringing your children along.
Checking Reviews and Ratings
Even if a hotel has checked all the boxes and seems like a good option, check the reviews by previous guests. This is a great way to tell if what they advertise is the same as what guests experience.
For example, if a hotel has many amenities, has the ambiance and accessibility you like, and is smack-dab in the middle of the Strip, you might want to book immediately. If a deal sounds too good to be true, it probably is.
Before booking, go to websites like Google Reviews, Agoda, Booking.com, TripAdvisor, Expedia, and Trivago. Check the stars/numeric rating and detailed customer reviews and feedback.
One way to tell if a place is too good to be true is that the customer reviews say that an advertised amenity or attraction isn't actually there or costs extra, even if it says it comes with the package online.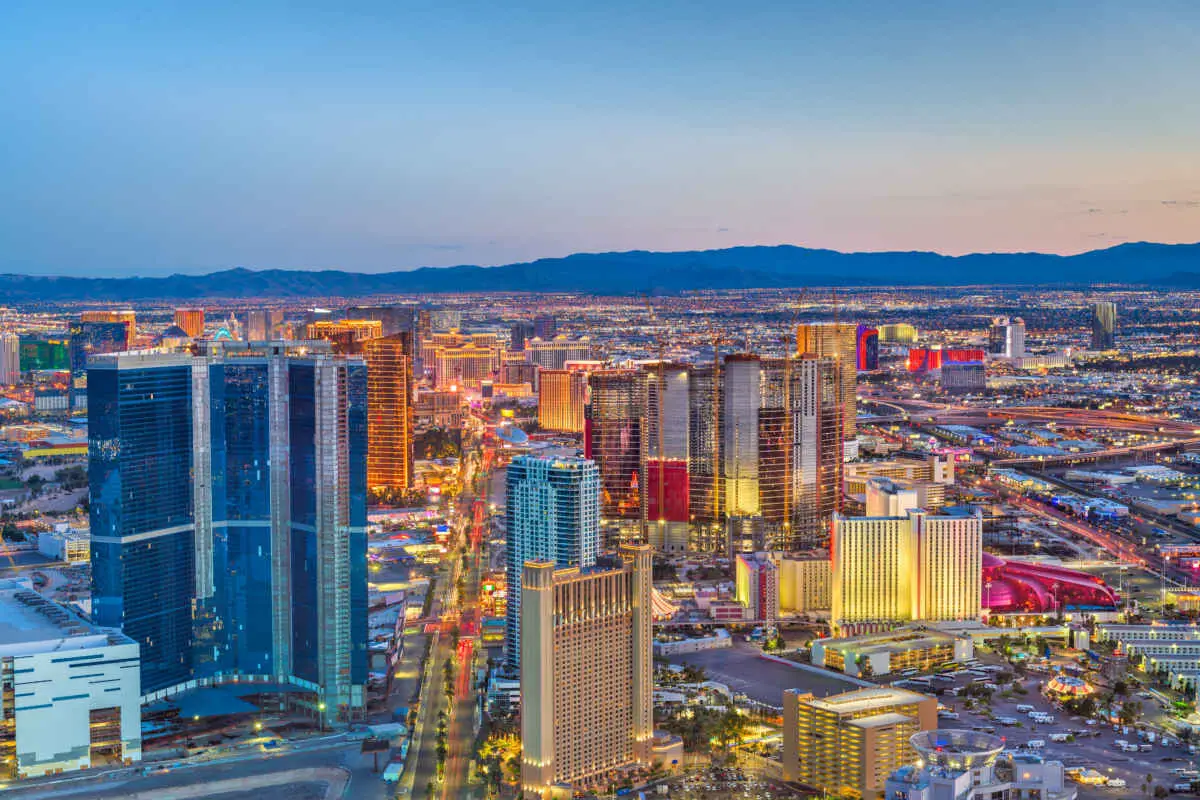 Frequently Asked Questions
You might have related questions after learning more about the best Las Vegas hotels on the Strip. Here are answers to the frequently asked ones.
What Makes the Southern Part of the Strip the Best Place to Stay?
The southern part of the Strip is the best place to stay if you want more peace and quiet while still being relatively close to attractions. Places like Four Seasons aren't as noisy as the ones in the center.
Where Do Celebrities Usually Stay When in Vegas?
Aria Las Vegas is a popular hotel among celebrities, with people like Drake, Kourtney Kardashian, and Steve Aoki frequenting the place whenever they visit Sin City.
How Does the Charm and Atmosphere of Old Vegas Compare to the Strip?
Old Vegas, also called Downtown Las Vegas, was the original center before the Strip. It, therefore, has a lot more history and cultural attractions like museums, art galleries, and boutiques.
Is It More Cost-Effective to Stay On or Off the Vegas Strip?
If you're visiting Las Vegas for a few days and your main destinations are on the Strip, then staying on the Strip is more cost-effective. You can easily walk to and from each destination.
However, staying farther away could be better if you're not staying for long and will only visit the Strip once or twice.
What Are Some of the Most Historically Significant Hotels on the Strip?
The most historically significant hotels are The Flamingo, Tropicana, and Caesars Palace. They're important to the historical past of Las Vegas because they are some of the oldest hotels still standing on the Strip.
These were built in the '40s, '50s, and '60s and have a lot of history.
Conclusion
The best hotels in Las Vegas are all located on the Strip. They're convenient to stay in, have the best amenities, and have the most unique attractions, which are three crucial factors in picking a hotel.
If you're choosing between different hotels, consider the price, location, amenities, and reviews in that order. This way, you can narrow down your options a lot better.
Finally, don't choose a hotel just because someone else told you it's the best. Do your own research because your needs and preferences are different, and the best option for you might be, too.