The 10 Best Las Vegas Restaurants on the Strip: Diner's Guide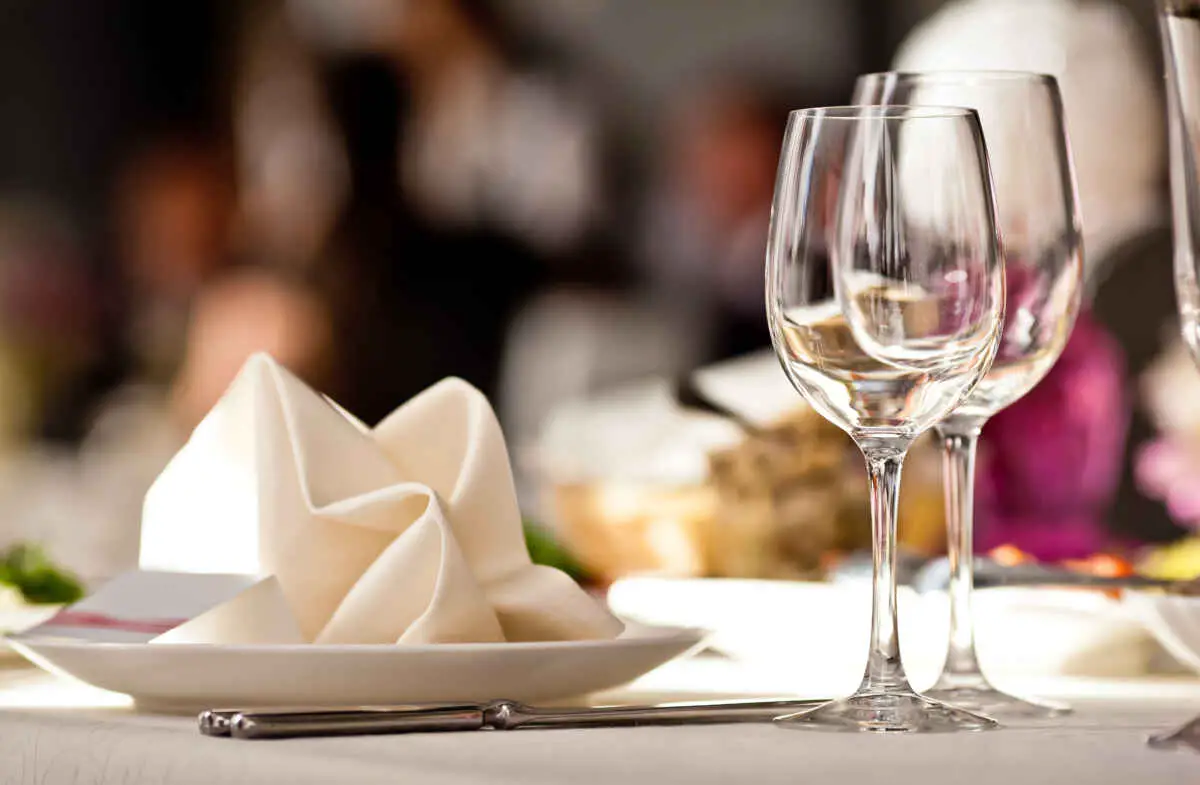 (This article may contain affiliate links, which means we might earn a small commission if you click and make a purchase. Thank you!)
Apart from gambling and entertainment, the Strip is popular thanks to the Smörgåsbord of restaurants and eateries lining Las Vegas Blvd—from the Strat to Mandalay Bay.
Whether you want fancy dining or a casual meal, there are places celebrities love and local favorites to suit your taste.
The famous casinos along the Strip, like Bellagio, Caesars Palace, Cosmopolitan, Venetian, and more, have fine dining options to match your mood and appetite.
Here are the top 10 best restaurants on the Las Vegas Strip. Book early, as they fill up fast!
Best Las Vegas Restaurants on the Strip
Las Vegas has fine-dining restaurants serving classic American, Japanese, Italian, French, and other cuisines.
Many of these diners have received prestigious awards like Michelin stars, Forbes, and James Beard Awards, so you don't need to search any further—only Vegas' finest have made it onto this list!
1. Joël Robuchon at the Mansion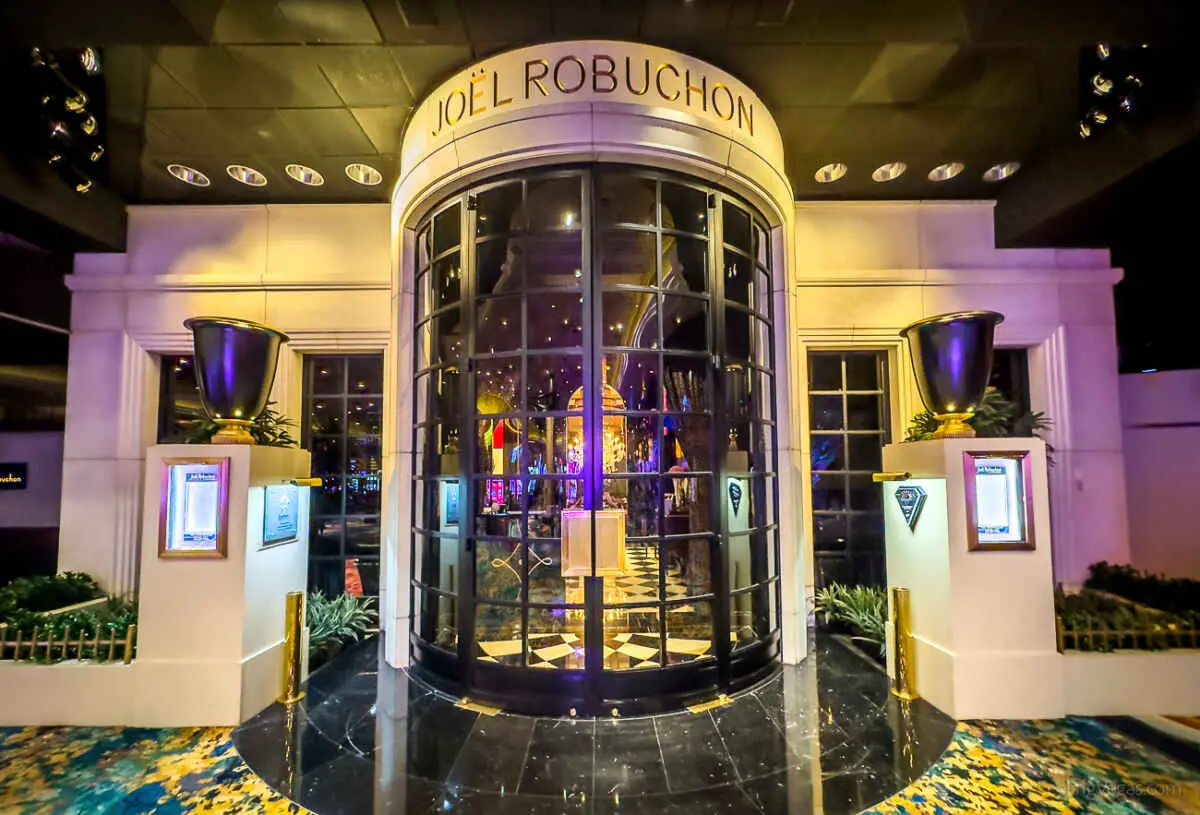 Location: MGM Grand | 3799 S Las Vegas Boulevard, Las Vegas, NV 89109
Contact: 702-891-7925
Cuisine: French
Budget: $$$$
Joël Robuchon at the Mansion is a top-notch French restaurant with three Michelin Stars, Forbes Five Star, AAA Five Diamond, and Wine Spectator's Grand Award awards.
The food is simply divine, and any guests will definitely enjoy the cabbage with foie gras, potatoes & truffles, and the Brittany lobster.
It's designed to resemble an Art Deco townhouse with a lovely garden terrace and marble floors.
It was in 2005 when Chef Robuchon came out of retirement to open Joël Robuchon (his namesake restaurant) and L'Atelier de Joël Robuchon at the Park MGM Grand.
Check out these other MGM Grand restaurants you're sure to love!
2. The Golden Steer Steakhouse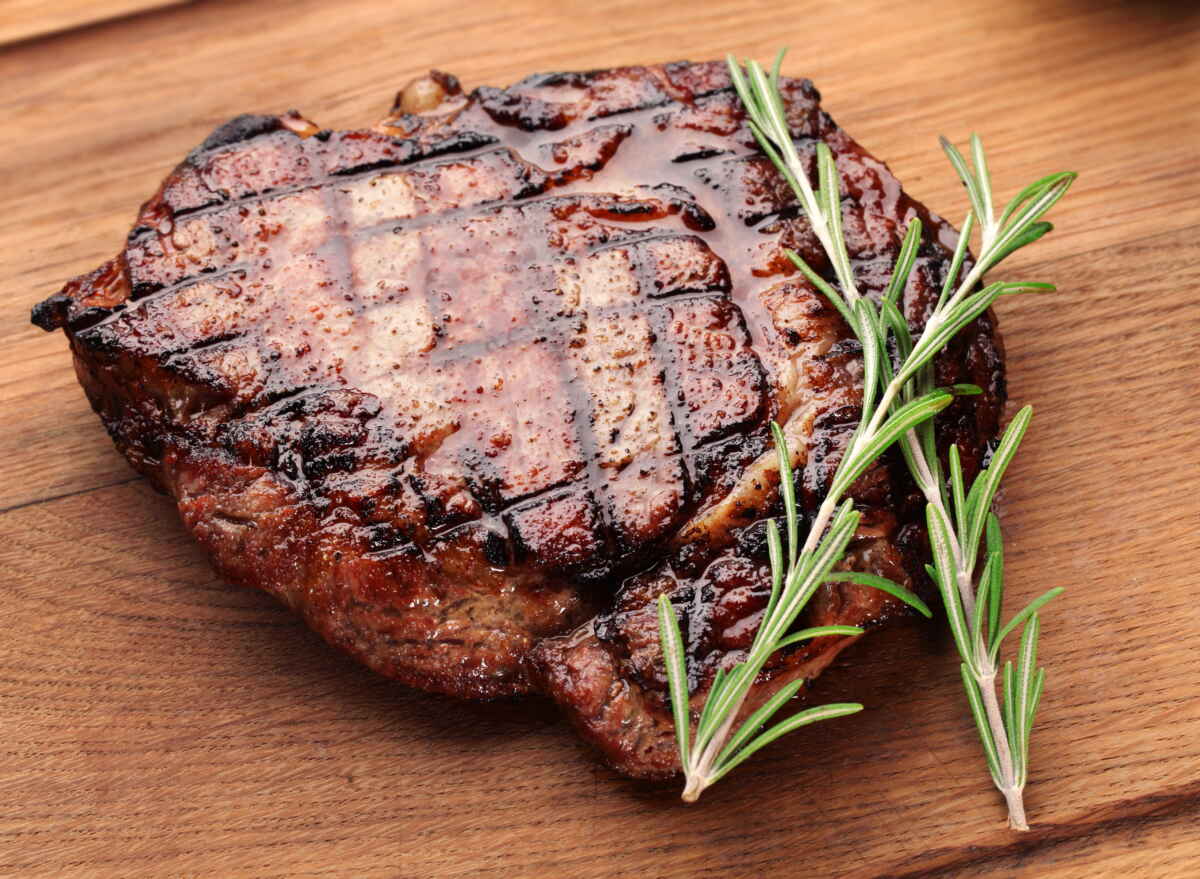 Location: 308 W Sahara Ave, Las Vegas, NV 89102
Contact: +1 702-384-4470
Cuisine: American
Budget: $$$
The Golden Steer Steakhouse in Las Vegas has a classic, vintage vibe loved by celebs like Elvis, Marilyn Monroe, and Sinatra.
They serve top-notch USDA dry-aged beef and are famed for their prime rib and filet of beef. Don't miss their 16-ounce New York strip steak with housemade pizzaiola sauce.
Their steaks are perfect for special occasions, and even Bon Appétit Magazine agrees, calling it "The Best Steaks On Earth."
If you want a classic dining experience with amazing steaks in Vegas, this is it!
3. Gordon Ramsay Hell's Kitchen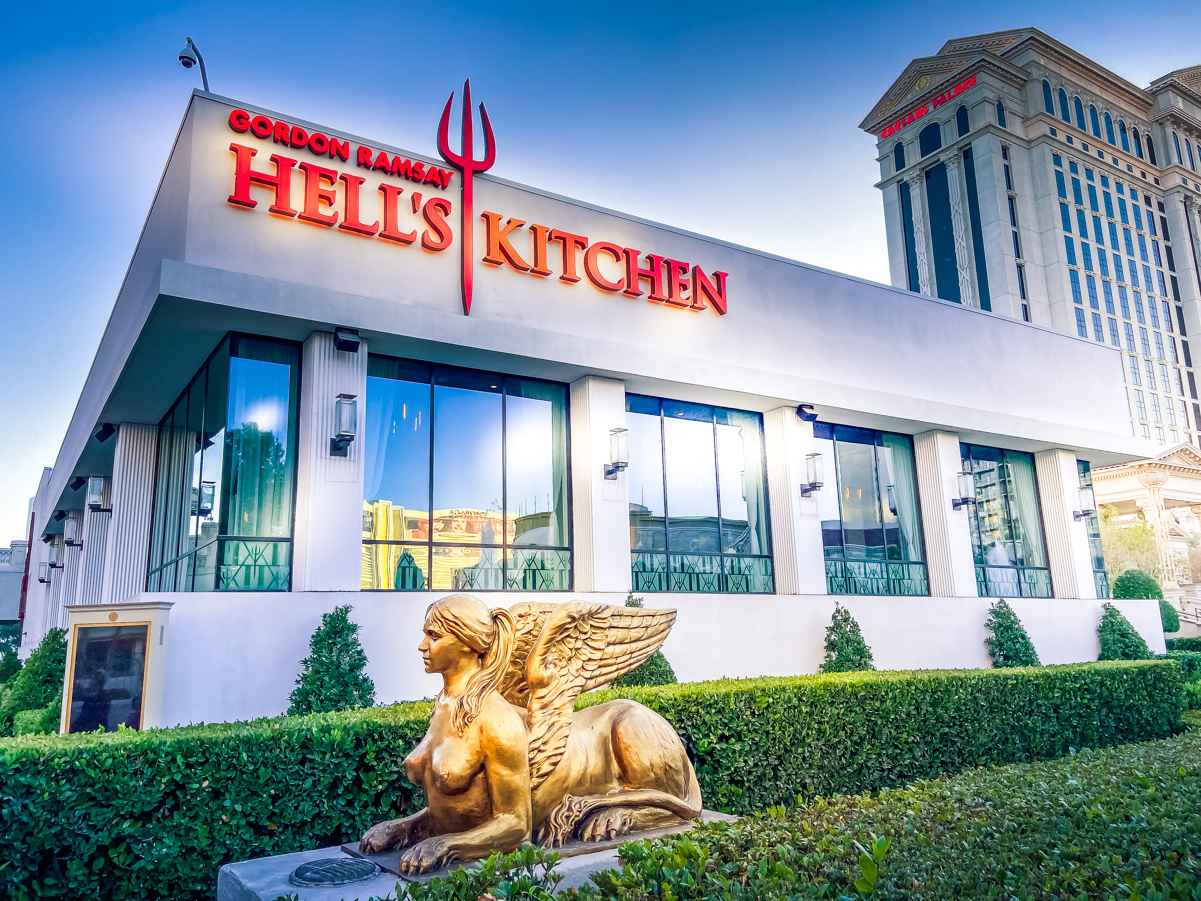 Location: Caesars Palace | 3570 Las Vegas Boulevard S, Las Vegas, NV 89109
Contact: +1 702-731-7373
Cuisine: Modern American and British
Budget: $$$
In front of Caesars Palace, Gordon Ramsay Hell's Kitchen seats over 300 guests and offers stunning Strip views through floor-to-ceiling windows.
The kitchen has red and blue decor, plus there's a private dining room and a trendy bar serving modern cocktails.
From the spring-tasting menu to the lobster, each bite will burst with flavor, and it's evident that the chefs in the kitchen are true masters of their craft.
The quality of ingredients shines through in every dish. And save room for their sticky toffee pudding.
Find out about the menu and eating costs at Hell's Kitchen in our article here.
4. Piero's Italian Cuisine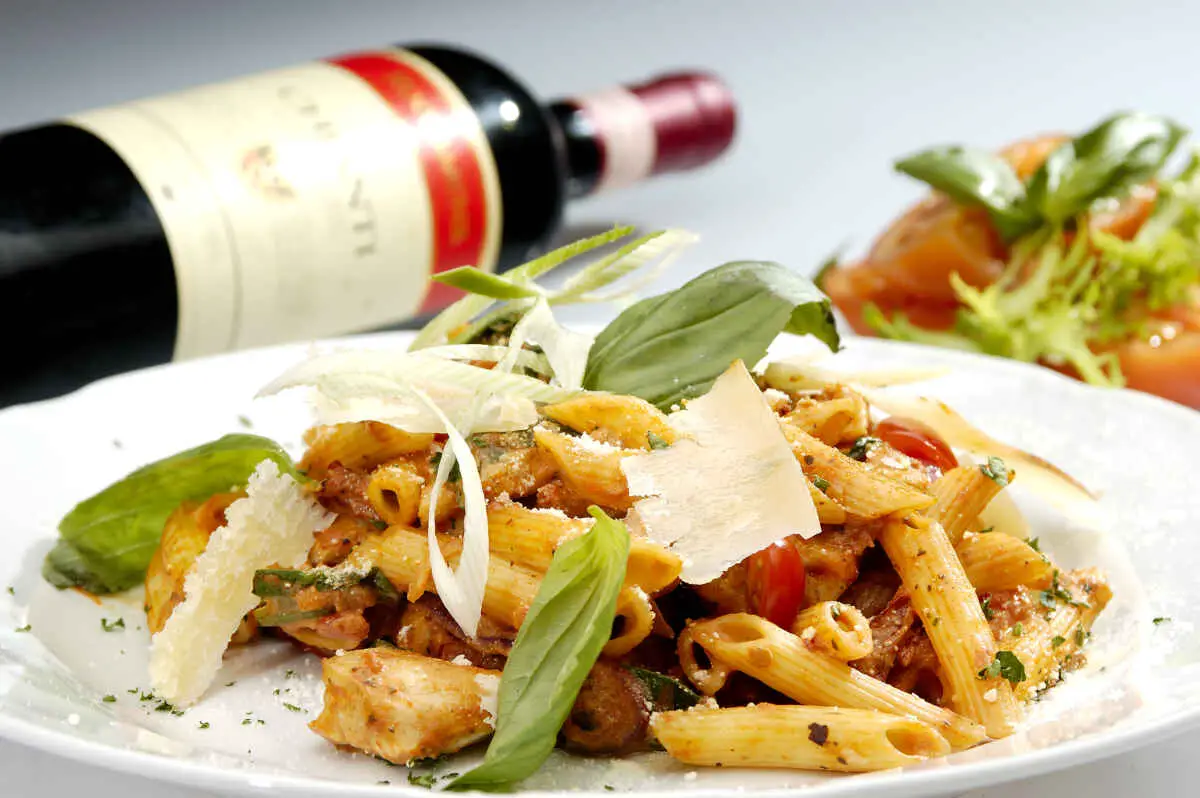 Location: Pia's Place | 355 Convention Center Dr, Las Vegas, NV 89109
Contact: +1 702-369-2305
Cuisine: Italian
Budget: $$
Piero's Italian Cuisine is the place to go if you want a genuine Italian meal in Vegas with delicious flavors, friendly vibes, and top-notch service.
Since 1982, Piero's has served their famous traditional Italian dishes, with standouts like their homemade pastas and osso buco.
Piero's also has an extensive vegan menu, showing they can adapt to different tastes while maintaining their Italian roots.
It's no wonder they won the "2022 Diners' Choice for Best Overall Restaurants along the Strip."
5. Eiffel Tower Restaurant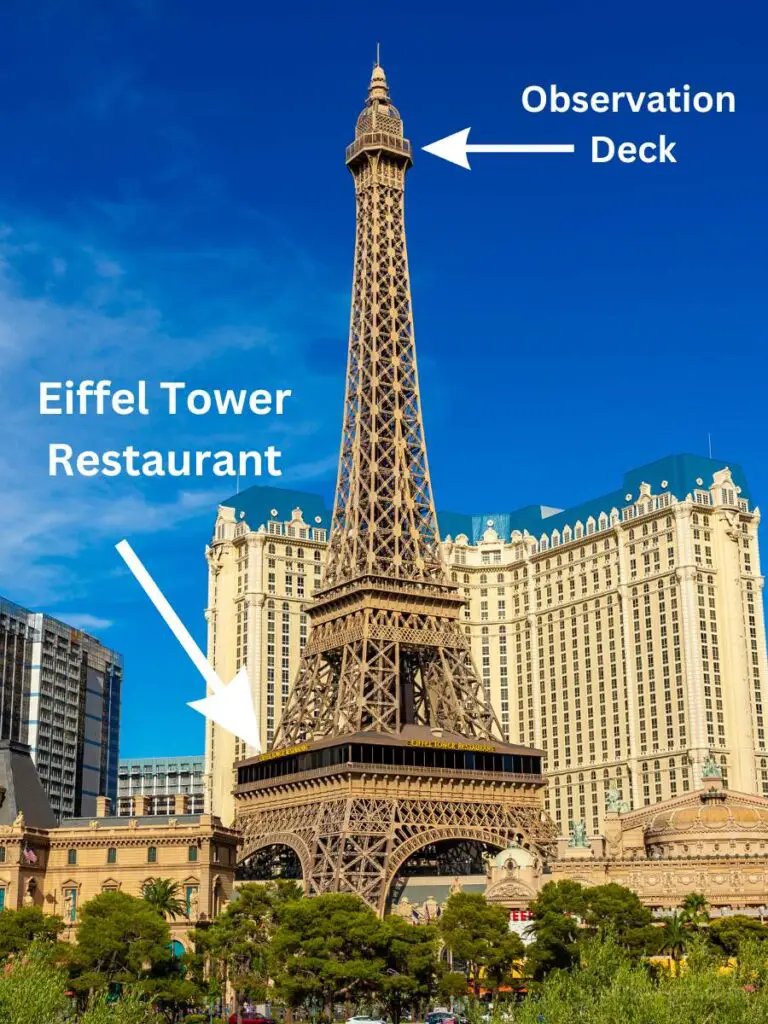 Location: Paris Las Vegas' Eiffel Tower | 3655 S Las Vegas Boulevard, Las Vegas, NV 89109
Contact: +1 702-948-6937
Cuisine: French
Budget: $$$
Perched over 100 feet above the Las Vegas Strip in a replica of the Eiffel Tower, this romantic fine-dining restaurant serves modern French cuisine by Chef J. Joho with breathtaking views.
The ambiance is truly magical, from the glass elevator ride with a view of the kitchen to the panoramic sights of the Strip and the Bellagio fountain show.
Like the Grand Seafood Platter and Beef Wellington, the food blends classic French flavors with creativity.
It also received the AAA Four Diamond Awards and was listed in "Eating Las Vegas 2013: The 50 Essential Restaurants."
6. Jaburritos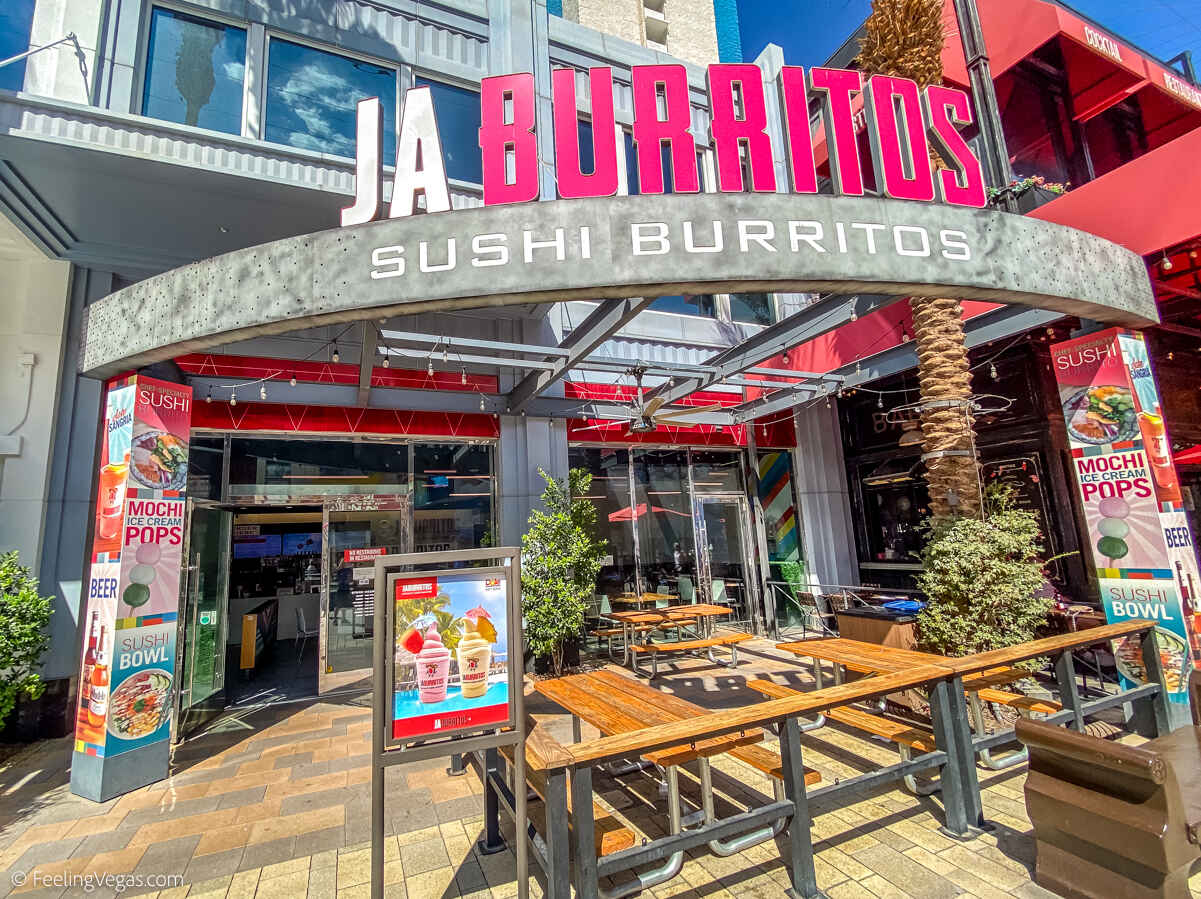 Location: The LINQ Hotel + Experience | 3545 S Las Vegas Boulevard l12, Las Vegas, NV 89109
Contact: +1 702-403-1524
Cuisine: Japanese and Mexican
Budget: $
If you find yourself along Las Vegas Boulevard, head to Jaburritos in the LINQ Promenade. Their fresh Jaburitos are a fantastic fusion of flavors.
Las Vegas' first sushi burrito diner lets you make sushi burritos and bowls.
They have a range of options like sushi, poke, salads, nachos, sake sangria, and beers you can enjoy on their outdoor patio.
Located right by the Strip's Ferris Wheel, it's a great place to break away from the usual burgers and fries. Also, don't forget to leave room for their Mochi ice cream.
7. Beauty & Essex
Location: Cosmopolitan of Las Vegas | 3708 S Las Vegas Boulevard, Las Vegas, NV 89109
Contact: +1 702-737-0707
Cuisine: American
Budget: $$$
The Beauty & Essex dining room offers a sophisticated, vintage ambiance with jewel-toned decor and wood accents.
They have an extensive wine list and a creative cocktail menu. We recommend trying their signature cocktail—the Beauty & Essex Martini.
Have you ever heard of smoked bacon grilled cheese dumplings with tomato soup? It's a must-try! And then there's the roasted bone marrow—incredibly flavorful and packed with goodness.
It's also the best tapas restaurant to go to!
TIP: This might not be your top choice if you prefer vegetarian dishes, as the menu leans towards meat dishes.
8. Bouchon Bistro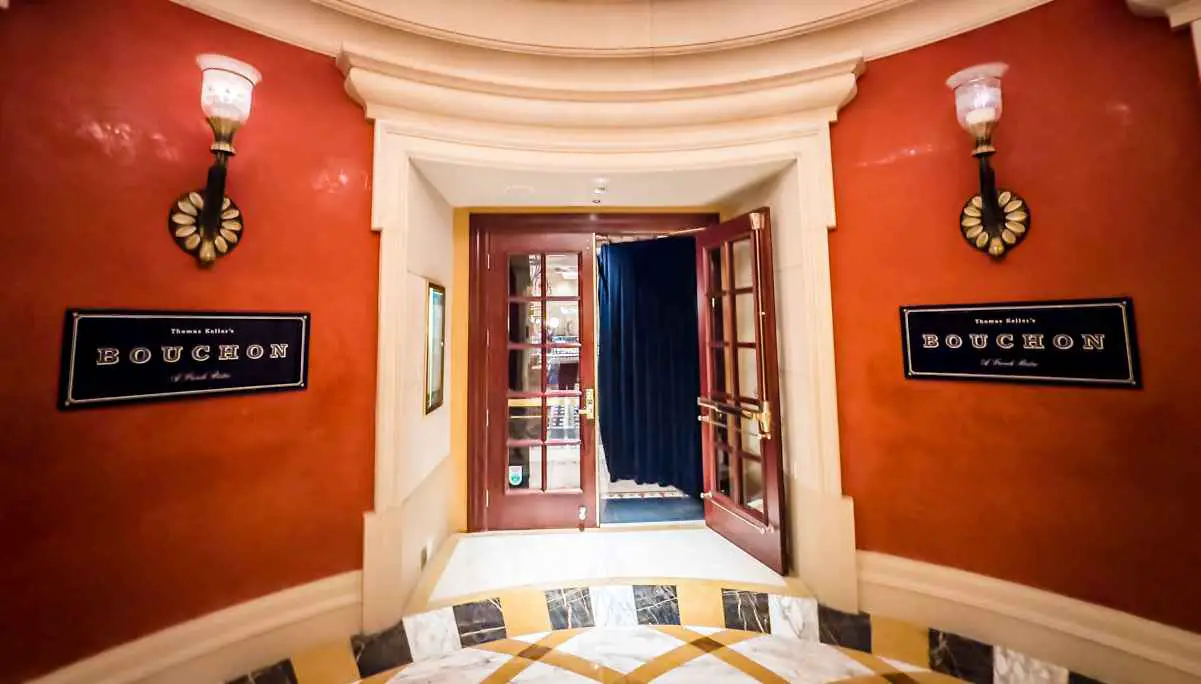 Location: The Venetian | 3355 Las Vegas Blvd S, Las Vegas, NV 89109
Contact: +1 702-414-6200
Cuisine: French
Budget: $$$
Bouchon Bistro, the only Vegas outpost from renowned Chef Thomas Keller, offers exceptional French cuisine.
The main dining room and hall decor has a classic French bistro feel—with a bright and cheerful ambiance.
Their menu highlights caviar, fine cheese, duck confit, steak frites, and more. Make sure to try their delightful brunch featuring freshly baked goods.
We recommend making reservations and remembering to dress in business casual.
See here for more delicious restaurants inside The Venetian.
9. Peppermill Restaurant and Fireside Lounge
Location: 2985 Las Vegas Blvd S, Las Vegas, NV 89109
Contact: +1 702-735-4177
Cuisine: American
Budget: $$
The Peppermill, a charming retro diner with neon lights, is a famous Las Vegas spot often featured in movies, TV, and music videos.
It's located between the Wynn and Resorts World and is consistently among the most popular restaurants on the Strip with the most fun atmosphere.
Since 1972, the Peppermill has been a symbol of Vegas, appearing in classic movies like Casino and Showgirls.
It's open from 7 AM until 2 AM most days and stays open 24 hours, Friday through Sunday, serving an extensive menu featuring breakfast, lunch, and dinner. Try their signature French Toast Ambrosia for breakfast.
10. Spago by Wolfgang Puck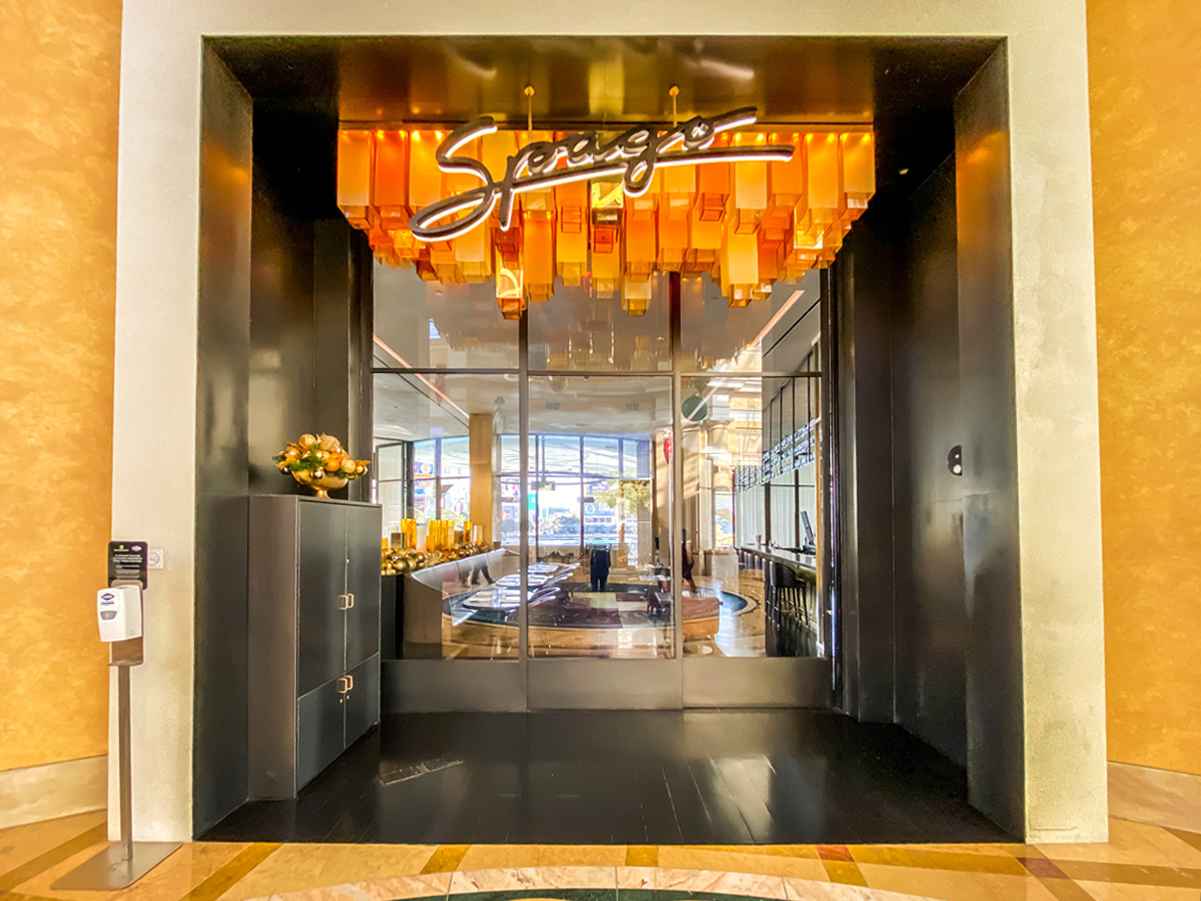 Location: Bellagio Hotel & Casino | 3600 S Las Vegas Blvd, Las Vegas, NV 89109
Contact: +1 702-693-8181
Cuisine: American
Budget: $$$
Spago by Wolfgang Puck, located on the Las Vegas Strip, welcomes you with its new contemporary look and an inviting atmosphere.
As you dine, you'll be treated to breathtaking views of the Bellagio's picturesque lake through expansive floor-to-ceiling windows from the main dining room.
You can savor the same view while dining al fresco on their outdoor dining patio.
While here, don't miss their iconic dish, the smoked salmon pizza, from their own dedicated menu. This dish exemplifies Chef Wolfgang Puck's fusion of California-inspired cuisine with a modern twist.
Celebrity Favorites: Where the Stars Dine
Las Vegas is where the rich and famous love to play, and here are a few of their go-to dining spots.
Known for their toughest reservations, these diners either attract celebrities, have made a name for themselves in the celebrity dining scene, or are run by celebrity chefs.
Golden Steer Steakhouse: This is a favorite among celebrities like Elvis Presley, Marilyn Monroe, Frank Sinatra, Joe DiMaggio, Muhammad Ali, and the Rat Pack.
Joël Robuchon at the Mansion: Three-Michelin-starred French diner with exquisite cuisine. Chef Robuchon was also a popular TV personality and America's Top Chef judge.
Gordon Ramsay Hell's Kitchen: Owned by celebrity chef Gordon Ramsay, this establishment is the eponymous location for his cooking competition show.
Iconic Dining: Where Elvis Used to Eat
The Golden Steer Steakhouse, a timeless Vegas classic since 1958, holds a special place in the heart of Elvis Presley, the King of Rock 'n' Roll.
Preserving its legacy, the Golden Steer Steakhouse offers a taste of Old Vegas and continues to serve the 16-ounce New York strip steak, cooked medium rare and topped with their famous housemade pizzaiola sauce, known as the "King's Cut."
The "Elvis Booth," where the King and Priscilla sat when they married in 1967, remains intact at the Golden Steer.
Today, you can feel like you're in Elvis's time while savoring the diner's legendary steaks and the era when he ruled in Vegas.
Unique Dining Experiences: Hell's Kitchen and Beyond
You'll love Hell's Kitchen if you're a Gordon Ramsay fan. It's the first Gordon Ramsay Hell's Kitchen, and it's at Caesars Palace in Las Vegas.
His TV show inspires it and feels just like the set. You can dine with views of Las Vegas Boulevard, and they serve modern American and British food, like Beef Wellington.
Other diners in Vegas with unique dining experiences include:
Raku: This hidden gem offers authentic Japanese cuisine from the Strip. Locals and food lovers adore it, especially the robata grill, real Kobe beef, and their vast selection of Asian flavors.
The Heart Attack Grill: This burger joint is famous for its super-indulgent burgers, served with butter, bacon, and cheese. If you weigh over 350 pounds, you eat for free!
The Top of the World: Unique to Vegas, the 106th-floor rotating restaurant at Strats Tower offers a 360-degree view of the Strip every 80 minutes.
Hugo's Cellar: Hugo's Cellar on Las Vegas Boulevard offers romantic gourmet dining. Their tasting menus feature classic Vegas dishes like Angus beef and fresh seafood.
Exploring Local Cuisine: Most Common Food in Las Vegas
In addition to all the different international foods you can try on the Strip, don't forget to explore the local food scene. Las Vegas has popular dishes that you can try during your visit.
At the Strip's local restaurants, you'll find:
Buffets: Vegas is famous for its all-you-can-eat buffets like Wynn and Bacchanal at Caesars Palace, offering a variety of dishes from seafood to international cuisine and desserts. Take a look at all the buffets in Vegas in this article.
Burgers and Fries: Order at one of the many In-N-Out and Burger King locations along the Strip for a quick and delicious snack.
Steak: In Las Vegas, you can enjoy excellent steakhouses known for their top-quality steak dishes.
Shrimp Cocktail: At Las Vegas, you can savor this classic hit at Circa Resort & Casino for just $12.
Hot Chicken and Waffle: Casual eateries like the Bruxie and Hash House a Go Go are known for their creative combinations and offer a tasty blend of spicy hot chicken and crispy, sweet waffles.
Making the Most of Your Dining Experience
Dining at the finer restaurants on the Las Vegas Strip will require some planning. Here's how to choose, reserve, and get around effortlessly.
Choosing the Right Restaurant for Your Taste
You'll find most attractions within walking distance as you explore the main Strip. The Bellagio Fountains, luxury hotels, Miracle Mile Shops, and lively bars are nearby.
Choosing a restaurant on the bustling Las Vegas Strip can be challenging because there are so many options.
But don't worry, there's something for everyone. It doesn't matter if you're craving fancy French cuisine or simple fried chicken. Just think about the type of food, the atmosphere, and the budget.
There are fine dining bistros for special occasions, and there are also more casual and cheap eats for a quick bite or weekend brunch.
Making Reservations: Tips and Tricks
It's smart to reserve a table in advance, especially if you're visiting during peak times. You can do this either online or by calling the diner directly.
Here are some tips for making reservations at sought-after Las Vegas diners, including those loved by celebrities:
Plan Ahead: Make your reservations well before your trip, especially for renowned bistros.
Use Online Reservation: Apps like OpenTable or Resy can help you find and book available tables.
Be Flexible: Consider dining during non-peak hours to improve your reservation chances.
Navigating the Strip: Getting to Your Restaurant
Exploring the bustling Las Vegas Strip to find your restaurant can add some extra excitement to your adventure, but it can be difficult.
To make your navigation easier, consider using transport services to travel between bistros.
Walking: Many diners are close to each other, so consider taking a stroll along the Strip to explore your dining options.
Driving: If you have a car, be aware that the Strip can be confusing and traffic can be heavy. Be prepared.
Ride-sharing: Services like Uber and Lyft are convenient if your restaurant is a bit farther away or no longer on the Strip—say, going to the Honey Salt.
Public Transportation: Las Vegas offers various transportation options like the monorail, Deuce bus, taxis, and trams, which can help you reach your destination.
Frequently Asked Questions
Before making that reservation, learn more about dining in the best restaurants in Sin City.
What Are Some Celebrity Favorite Restaurants in Las Vegas?
Las Vegas has some diners loved by celebrities.
The Golden Steer Steakhouse, known for its vintage charm, has been enjoyed by icons like Elvis Presley and Marilyn Monroe.
Then there's Joël Robuchon at the Mansion and Gordon Ramsay Hell's Kitchen, where celebrity chefs shine and draw famous figures and food lovers.
You can also chow down on New Orleans-style cooking at Emeril's New Orleans Fish House if you prefer seafood.
Where Did Elvis Presley Used to Eat in Las Vegas?
Elvis Presley's favorite Las Vegas restaurant was the Golden Steer Steakhouse, a classic American steakhouse known for its vintage ambiance and top-quality steaks.
It continues to be a popular dining destination, offering a taste of Old Vegas and a connection to the era when Elvis was a prominent figure in the city—when he used to perform nightly live entertainment.
What Unique Dining Experiences Does Hell's Kitchen Offer?
The restaurant's tasting menu is one of the reasons why it's among the best restaurants worth trying.
Their menu offers famous dishes from the show, like Beef Wellington and Gordon Ramsay's favorites. You can try great food choices like pan-seared scallops and sticky toffee pudding.
Moreover, it has a food hall in red and blue design, like on TV, and you can watch the chefs cook. They also have a menu that changes with the seasons.
What Is the Most Common Food in Las Vegas?
Steak is a top favorite in Las Vegas, with plenty of high-quality steakhouses on the Strip. If you crave variety, the city's famous buffets serve various dishes.
Popular fast-food chains and delicious shrimp cocktails are also common for quick bites.
Another common dish is the hot chicken and waffles at Bruxie and Hash House a Go Go, which adds a tasty touch to Las Vegas' diverse culinary scene, ensuring you get a memorable meal at the Strip.
How Can I Make a Reservation at a Popular Las Vegas Restaurant?
To make a reservation at a popular Las Vegas restaurant, plan ahead by choosing the restaurant, date, and time.
You can typically book online through the restaurant's website or reservation platforms or call the restaurant directly to provide your details.
Be flexible, confirm your booking, and arrive punctually on the day.
Familiarize yourself with the dress code and menu requirements for upscale establishments.
Conclusion
Even if you're on the Strip to gamble or see shows, you definitely don't want to miss out on the best restaurants in Las Vegas.
Whether you want a good steak, some cheap food, rice dishes, braised pork belly, or a simple eggs benedict or brioche french toast—name it all—you'll find it along the famous Las Vegas Boulevard!
To plan a successful Las Vegas dining experience, remember the dress code, make a reservation, and remember our selections!