Dress Code for Top of the World Restaurant in Las Vegas (Stratosphere)
(This article may contain affiliate links. If you click through and make a purchase, we will receive a small commission at no additional cost to you. )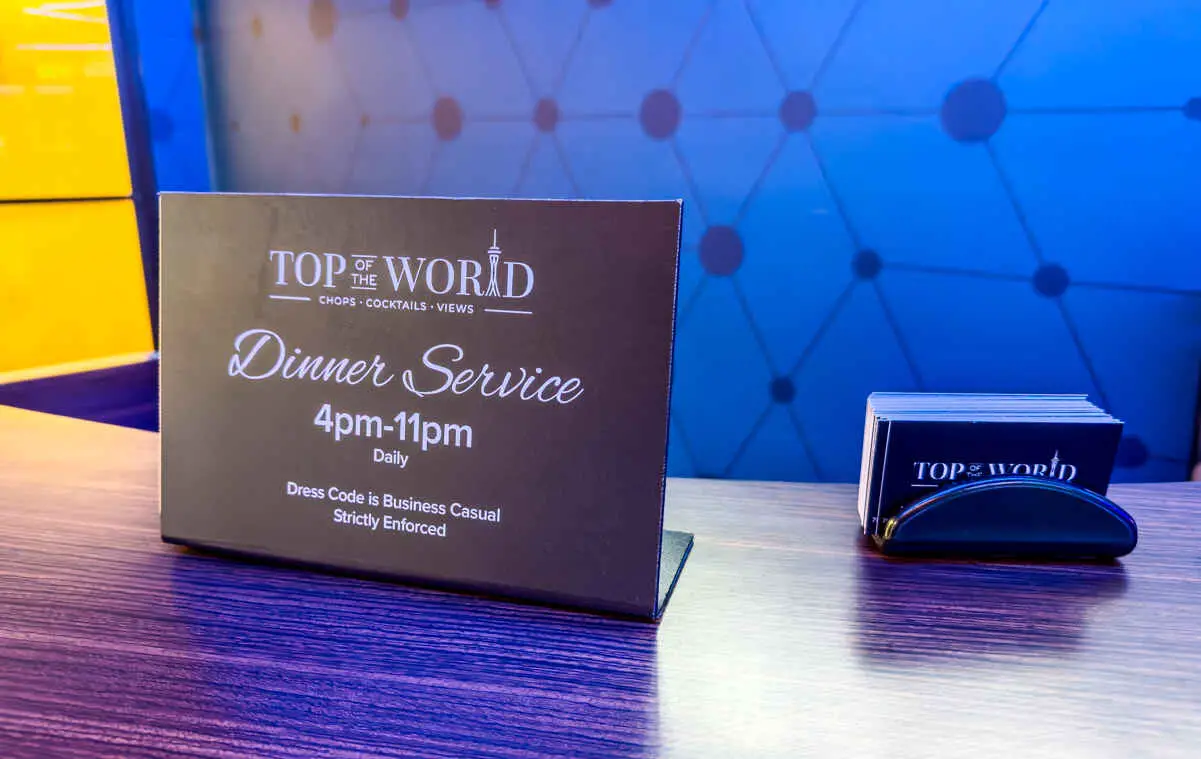 The Top of the World restaurant at The Strat is the ultimate Las Vegas dining experience. From its spectacular, revolving views to its award-winning menu, it's clear why this popular restaurant has been recognized for its fine dining and romantic atmosphere.
With the standard set so high by this classic Vegas restaurant, you might want to know if there is a dress code patrons must adhere to in order to visit.
There is a strict upscale dress code for Top of the World in Vegas. Guests should wear business casual or formal attire, and management reserves the right to refuse entry to patrons not dressed appropriately.
In this article, I'll address the strict dress code for entry to Top of the World. I'll also explain what you can't wear when dining at this fine establishment and some other requirements you must adhere to when eating here.
Let's get started! 
Compare and save! Check current room rates at The Strat on TripAdvisor.
Top of the World Dress Code at The Strat Hotel Casino
The award-winning Top of the World restaurant at the Stratosphere Hotel offers an elegant meal with spectacular views. However, they require their guests to dress elegantly and respectfully to maintain the restaurant's classy and exclusive ambiance. 
Top of the World's dress code is business casual or formal. This means you should pack a smart-looking outfit if you plan to eat here during your Vegas trip. 
Here's what Top of the World's dress code looks like for men:
Dress pants
Khakis
Button-down shirt
Suit and tie
Suit with no tie
Blazer
Formal knitted sweater
Dress shoes
Here are some examples of what women should wear to Top of the World:
Formal skirt
Pantsuit
Dress slacks
Collared blouse
Formal dress
Heels
Dressy flats
You can follow this up by checking out my comprehensive guide on discussing the proper attire for nice restaurants in Las Vegas. It should give you a detailed overview of how to nail the right look when visiting the most prestigious establishments in the area. [Here's What to Wear for Nice Restaurants in Las Vegas] (coming soon)
What Not To Wear to Top of the World Restaurant
If you want to dine at Top of the World, wearing anything less than business casual puts you at the mercy of management. If you don't want to get turned away at the door, you should refrain from wearing clothing that doesn't reflect the restaurant's dress code.
Below are some examples of what you shouldn't wear to Top of the World:
Beachwear
Gym attire
Sweat pants
Sweatshirts
Hoodies
Athletic apparel
Jerseys
Shorts
Hot pants
Knitted hats
Sneakers
Ball caps
Beanies
Bandanas
Oversized clothing
Flip flops
Tank tops
Sleeveless shirts
Revealing clothing
Baggy clothing
Management can and will turn you away, even if you have a reservation. To avoid the disappointment of missing out on such an iconic dinner experience, plan out your outfit ahead of time and make sure you've adhered to the restaurant dress code requirements.
See also: How Much Does It Cost To Go on Top of The Stratosphere?
Other Things to Know About Top of the World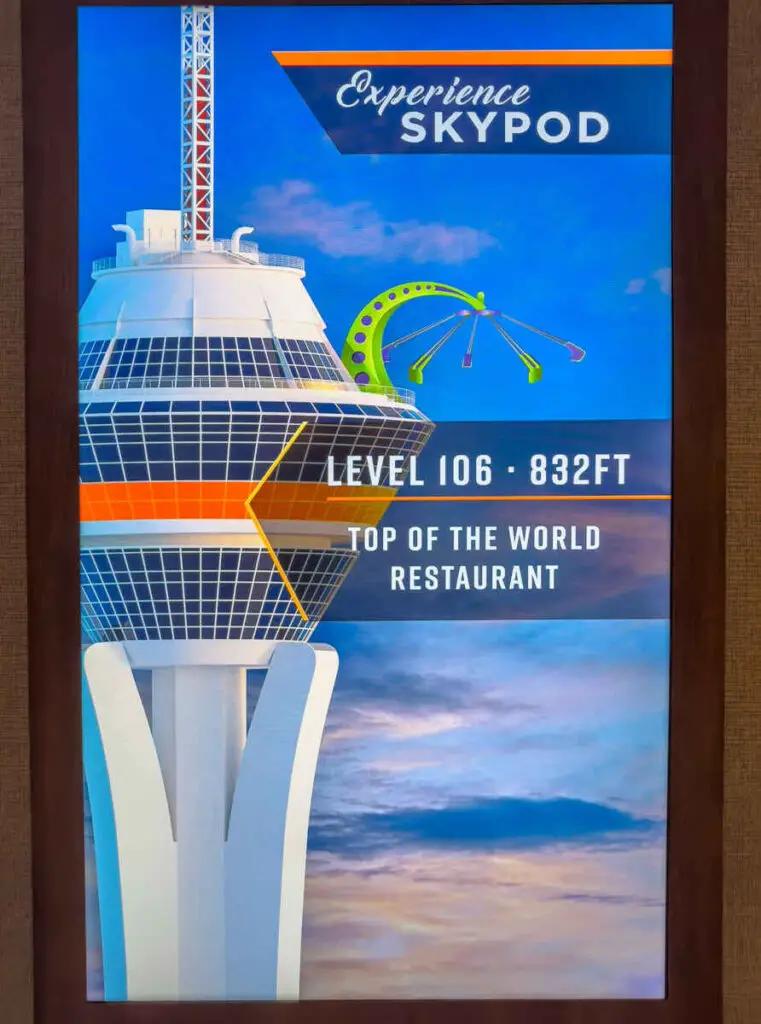 Aside from the upscale dress code, there are a few other things you should be aware of when dining at Top of the World.
Make a Reservation
Making a reservation is strongly advised due to Top of the World's popularity. The restaurant is often fully-booked, especially during busy times in Las Vegas.
When making reservations, there are three options available to you: 
High Top reservation. This reservation type involves paying $15 per person for an elevated and non-window table. This price is only to reserve the table, does not include food, and is non-refundable.
Standard guaranteed window table. A $25 per person reservation fee guarantees a window table on the rotating floor. You can expect an incredible bird's eye view and a one-of-a-kind culinary experience. 
BAR Seating. If you don't feel like paying Top of the World's non-refundable reservation fee, consider reserving a table on the balcony. Balcony tables are the furthest from the windows, but the view can still be breathtaking. These tables are not on the rotating floor. 
Top of the World is open for dining from 4 PM to 11 PM daily, but the hours may vary during the holidays. 
Reservation pricing may also vary depending on the holidays, so it's ideal to call ahead (702-380-7711) and confirm pricing if you plan to celebrate your holiday at Top of the World.
Each Guest Must Order an Entree From The Menu
Top of the world requires each guest to order an entree or food purchase of equal value when dining at their establishment. The minimum order amount is $55 per guest. 
Some examples of popular entrees you can enjoy at Top of the World include: 
Pappardelle pasta 
Roasted diver scallops
Vegan stuffed winter squash (in season)
Double-cut pork chop
The menu changes every season, but you can always be assured that your meal includes fresh and delicious ingredients. 
Considering the non-refundable reservation fee, this can be a costly dining experience. However, you are not only paying for the food and the table but also the gorgeous views of the Las Vegas Strip and surrounding valley. 
Limited Seating per Table
If you want to eat at Top of the World, the maximum number of people that can be seated at a table is seven. However, if your party is larger than ten, contact the restaurant with plenty of advance notice to reserve a private room to accommodate your gathering. 
Each private dining room offers special menus and a gorgeous view of Las Vegas.
What Can You See from Top of the World?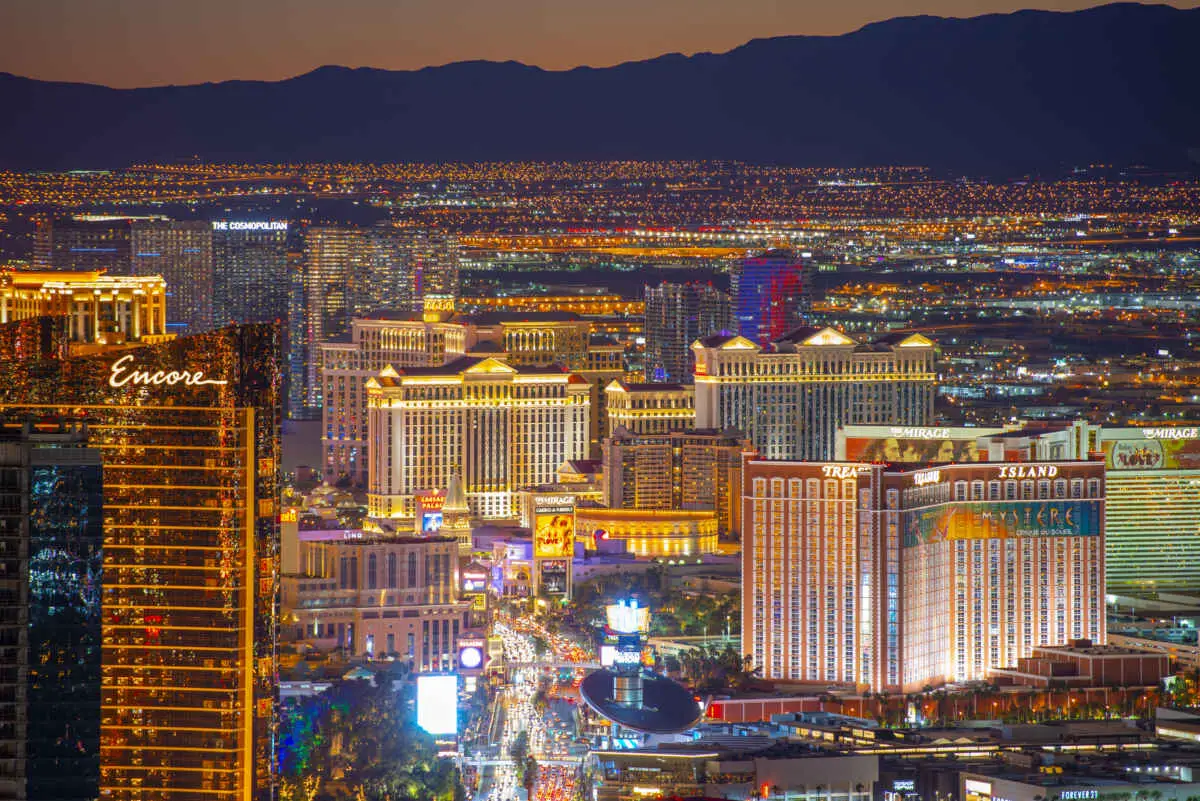 You can see the Las Vegas Strip and Valley from Top of the World. Having such a high vantage point gives you a unique and exciting view of Vegas. 
Highlights include an eye-catching view of the Bellagio Fountains. If you're dining in the evening, you might see the spectacular show in the distance where the lighted fountains dance in unison to iconic songs. 
Tip: If you dine after 8 p.m., the fountain show will play every 15 minutes, assuring you of a chance to see it from Top of The World during your meal. Check out this article for Bellagio Fountain Show Times and songs to find more information on when to see a show.
See Also: Stratosphere Parking Fee (Parking Fees at The STRAT)
Find the best room deals at The Strat and save big with TripAdvisor!
Conclusion
Dining at Top of the World is an incredibly special and unique experience. Aside from the spectacular view of the Las Vegas Valley, you can enjoy delicious food, tasty cocktails, and attentive service. 
Dressing formally or in business casual attire is a small price to pay for the once-in-a-lifetime experience you're sure to have.
Source: Top of The World