How and Where to Get a Tan in Las Vegas: Best Tanning Spots
(This article may contain affiliate links. If you click through and make a purchase, we will receive a small commission at no additional cost to you. )
Visiting Las Vegas provides some incredibly enjoyable activities that are quintessential to your Vegas experience. One thing that people enjoy doing when they visit this warm desert setting is laying by a pool at one of the hotels and getting some sun. With sunshine for the majority of the year, getting a tan in Las Vegas is one of the many activities you can enjoy!
How and where can you get a tan in Las Vegas? With the ample number of pools found at hotels and resorts, nearby Lake Mead, and plenty of tanning salons available for year-round spray tanning, there are many opportunities to tan in Las Vegas.
Below I've laid out the details for all the ways you can get a tan in Las Vegas. Lounging around during the day near a pool or in the sunshine can be one of the best and most relaxing ways to enjoy the daytime in Las Vegas.
Whether you get a tan from the sun or from a salon (list of best tanning salons below), you can head home from your trip to Vegas looking like a bronzed god or goddess.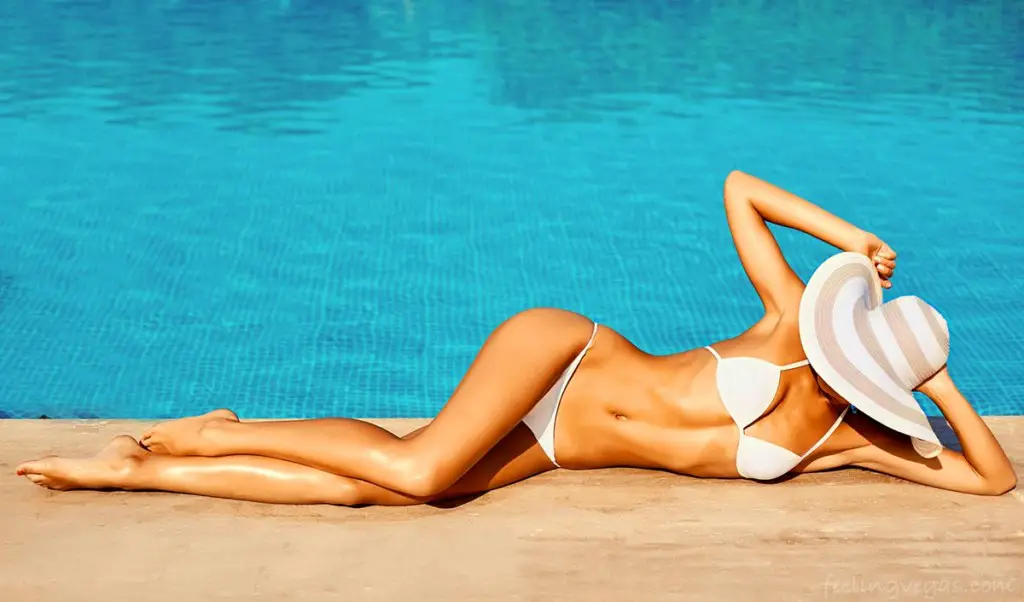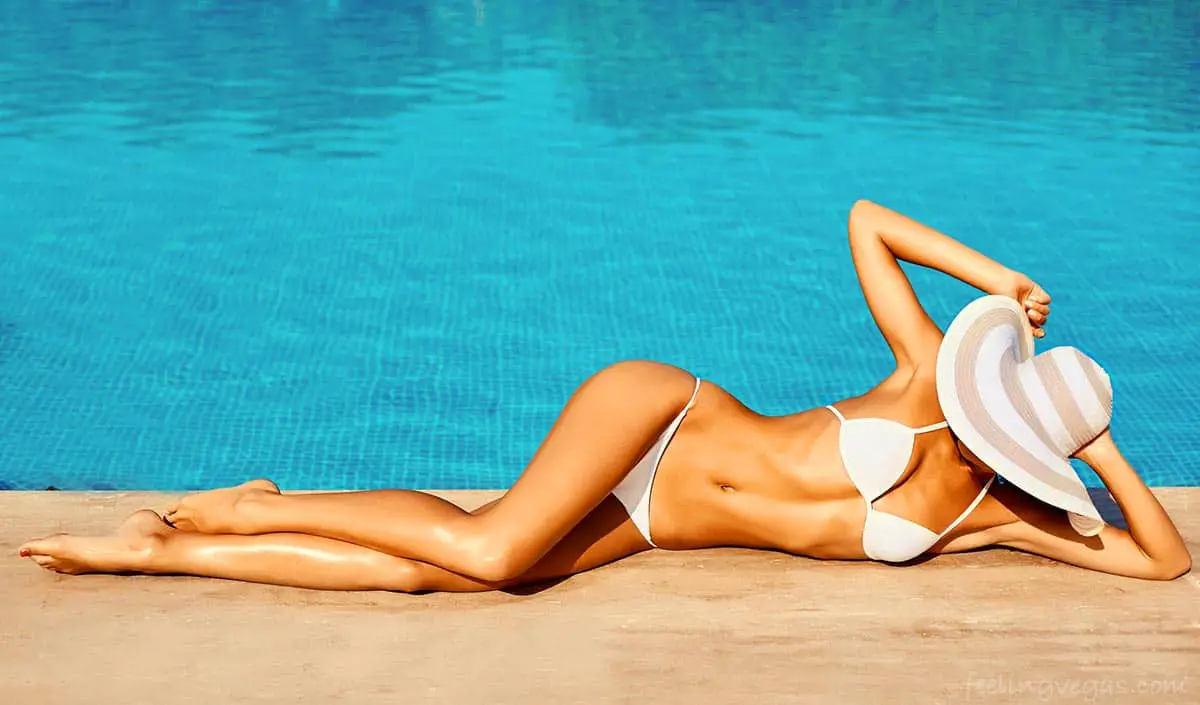 Can You Get a Tan in Las Vegas?
When visiting Las Vegas, you can most definitely get a tan. There are two main ways in which you can get a tan in Las Vegas: 
Suntan outdoors
Visit a tanning salon
I've pulled together the best spots for you to get a tan on your trip. I'll detail these options for you so you can choose what you think will be best for you and your plans!
Suntan Outdoors at Pools and Lake Mead
Many people may prefer to get a natural tan by laying in the sun. Because Las Vegas is warm most of the year, you are likely to get plenty of time to sunbathe on your visit. The best time to enjoy tanning outdoors in Las Vegas is June through September. Because it is a high desert, Las Vegas will get hottest (and often uncomfortably so) at the height of summer and colder in October through May.  
For tanning outdoors, the best places to do this are at the many amazing resort pools, or if you'd like to see a bit more of what Las Vegas has to offer, you can check out nearby Lake Mead.
Resort and Hotel Pools for Tanning in Las Vegas
Las Vegas offers some of the most impressive resorts and pools in the world. Used for beach clubs as well as casual lounging, guests can enjoy the pool areas during their visit. Nearly all resorts in Las Vegas will have a pool area for you to enjoy. Here are some of the best pools in Las Vegas to enjoy the incredible surroundings while you're getting a tan:
Mandalay Bay Beach: This, without a doubt, is one of the cooler pools in Vegas in that it actually replicates a beach with a walk-in pool and sand. They offer multiple pools depending on your desired vibe, from partying to a relaxing day by the water.
Garden of the Gods Pool Oasis: Found at Caesars Palace, there are seven pools to choose from for your tanning time. Each pool has its own personality and amenities, giving you plenty of options. One of the pools even offers topless tanning if you want to avoid those pesky tan lines.
Palazzo Pools: For Palazzo and Venetian guests, this set of ten pools will give you plenty of space to get a tan. We personally enjoy the pools that are set in a peaceful Italian garden-like atmosphere.
The Tank: If you are staying in Downtown Las Vegas (Fremont Street) you should check out The Tank at the Golden Nugget. The opportunities to tan are plentiful, and there is a shark tank that runs through the pool.
Any of the bigger hotels on The Strip will have great pools for you to check out. The tamer ones without day clubs going on will be best if you plan to peacefully relax and get a tan by the pool. You must be a guest of the resort to use most of the pools, although some will let you use the pool as a non-guest for a fee. You can also get a tan at the many pool party beach clubs that are offered at the resorts. These are accessible with a cover charge.
Tanning in Las Vegas at Lake Mead
One of the more unique ways to get a tan in Las Vegas is by visiting the Lake Mead National Recreation Area. Just 30 minutes or so from the Strip, Lake Mead offers a wide range of hiking trails and beaches, you can easily get a suntan while enjoying one of Las Vegas' natural beauties.
If you want to lay in the sun at Lake Mead, you can try to find a quiet cove somewhere along the hiking trails by the water, or you can check out one of the more popular beaches and swimming areas such as Boulder Beach. Be mindful that this area can get a bit rocky, so you will want to bring something to sit on and ideally some swim shoes.
This is definitely more of an adventurous tanning option but could be a great opportunity to see some of nearby Las Vegas beyond The Strip and nearby outdoor attractions.
Visit a Tanning Salon in Las Vegas
If it isn't prime time for sunbathing outdoors in Las Vegas or you don't want to risk the skin damage associated with tanning in the sun, there are definitely other ways you can get a tan when you visit. There are many tanning salons available throughout Las Vegas.
I'd recommend getting a spray tan if you choose to artificially tan as it is the safest option without harmful exposure to UVA rays.
Tanning Deals in Las Vegas – Save $$$
When looking for either a tanning bed or spray tan salon you'll want to check out the Las Vegas tanning deals on groupon first for the lowest price. Many of the top-rated tanning salons in Las Vegas run these specials on a pretty regular basis.
Highly Rated Tanning Salons in Las Vegas
Just a few of the most popular tanning salons in the area include:
All of these options will offer a variety of tanning services and are rated highly in the area. Do additional research on the services you will want and make your decision based on what you need as well as the reviews from other clients.
Can You Tan In Las Vegas?
As this article has proven, one way or another, you can tan in Las Vegas. I recommend visiting in the warmer months where you will be able to enjoy the unique pools on and around The Strip or the natural beauty that Las Vegas has to offer at Lake Mead.
Spending the day by the pool is a time-honored tradition for Vegas visitors. Bring your bathing suit and a towel and head to one of the many wonderful resort pools that are available to you while staying! Don't forget to pack the sunscreen!
Find out which Las Vegas pools are heated during the winter in our article here.
Related Questions:
Can you get a tan with SPF 50? Yes, you can get a tan using any SPF sunscreen. Sunscreen simply blocks a certain amount of UV rays, the higher the SPF number the more UV rays are blocked. However, some of the sun's tanning UV rays will still get through using SPF 15, 30 or even 50. The longer you plan on staying in the sun, the higher SPF number you should use.
Do you tan better in the pool? Due to sunlight reflecting off the water onto your skin, you will tan faster floating in a pool. Lying on a pool float is not only relaxing it will give you a better overall tan.