Hot & Cold Temps in Las Vegas (Month-by-Month Weather)
(This article may contain affiliate links. If you click through and make a purchase, we will receive a small commission at no additional cost to you. )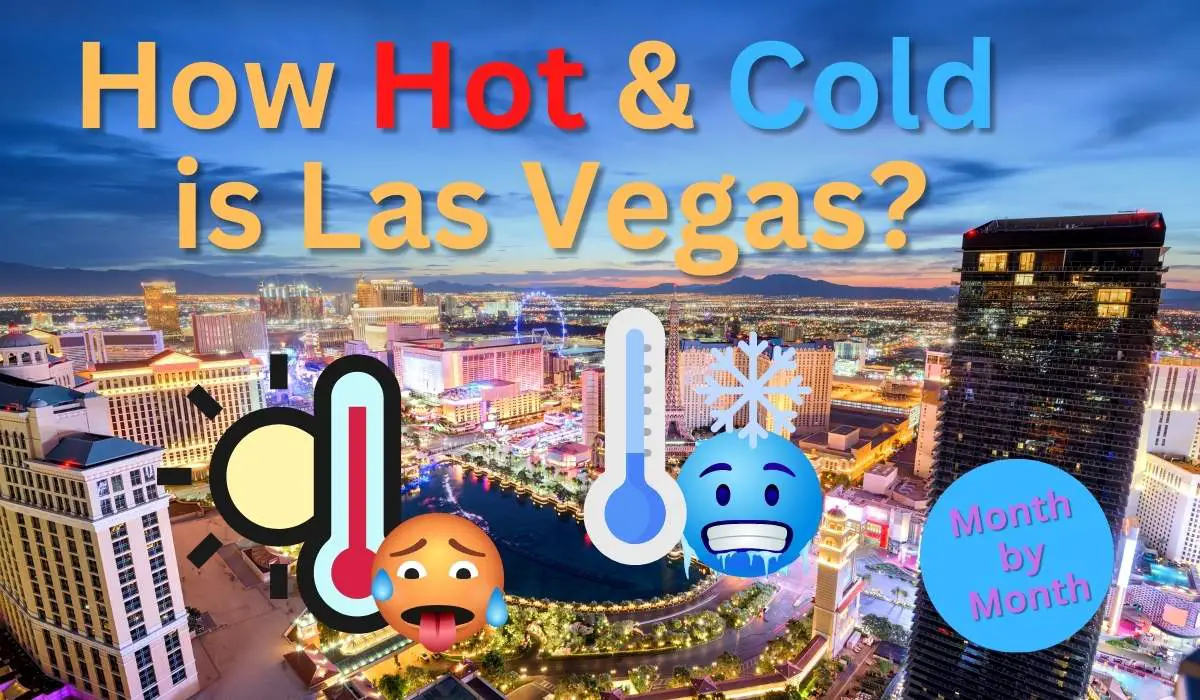 Las Vegas is full of shows, concerts, and attractions, no matter what season you visit. However, Vegas weather is a concern for many people, considering our temperature extremes. But how do monthly temperatures change in Vegas? 
Compared to much of the United States, Las Vegas never really gets cold. The lowest average temperature you expect in the year is 39 °F (3.9°C) in January at night and 59 °F (15 °C) in the daytime. Moreover, Las Vegas can get extremely hot in July, with temperatures hitting a high of 104 °F (40 °C). 
In this article, I'll take you through a month-by-month analysis of the Las Vegas weather so you'll know what to expect temperature-wise whenever you choose to visit.
Las Vegas Temperatures by Month
Month
Average
High/Low °F
Average
High/Low °C
Rain
January
59° / 39°
15° / 4°
2 days
February
64° / 44°
17.7° / 7°
2 days
March
72° / 50°
22° / 10°
2 days
April
80° / 57°
26.6° / 14°
1 day
May
90° / 66°
32° / 19°
0 days
June
100° / 80°
38° / 23°
0 days
July
104° / 80°
40° / 27°
1 day
August
102° / 78°
39° / 26°
1 day
September
94° / 70°
34° / 21°
1 day
October
82° / 58°
28° / 14°
1 day
November
67° / 46°
19° / 8°
1 day
December
58° / 39°
14° / 4°
1 day
January Temperatures in Vegas
Like most other places in the Northern Hemisphere, January is the coldest. The average daily high temperatures in Las Vegas are about 59 °F (15 °C), and the average low temperatures are 39 °F (3.9°C)(source).
It can be quite cold in the morning (occasionally slightly below freezing) and warm up so much during the day you will need to start shedding clothes or turn on the air conditioner if you're driving. The sun here is intense, even during the winter, and if you're outside in the sun and it isn't windy, you may begin to get hot.
This significant difference means you'll likely have to pack both a winter jacket and a lighter summer one. Once the sun dips below the horizon in the evening, you will instantly feel it get significantly colder again.
On average, it rains only 1-3 days in January in Las Vegas, and usually, that doesn't mean more than a few drops. Due to its location in the desert, Las Vegas has a very mild winter climate when compared to most other states. 
In regard to crowds, January is pretty chill (pun intended) in Las Vegas because Christmas and New Year tourists have gone. Hotel prices are very favorable during the month, and there's little seasonal activity. Do not expect pool parties in January in Las Vegas, for most pools close in winter. 
However, the strip offers numerous entertainment options, including plenty of shows and concerts. Other attractions are also less packed during this month.
Note: You can usually tell the locals from the visitors during the winter months in Las Vegas. The locals are bundled up in winter jackets, while visitors (especially those from the coldest parts of the U.S.) are wearing shorts and t-shirts.
February Temperatures in Vegas
February is a bit warmer than January, with average daily high temperatures of 64 °F (17.71 °C) and average low temperatures of 44 °F (6.6 °C). Temperatures gradually increase throughout the month.
Things to keep in mind if you're going to Vegas in February: 
Rains are rare in February.
Snowflakes are unlikely.
February is not too busy apart from Valentine's day weekend and during the super bowl. 
Moderate crowds are escaping harsh weather from Northeastern states. Bring a sweater and a light jacket to wear during the colder mornings and evenings. You can pack a medium jacket and layer if you intend to stay out late into the night. As always, there's an adequate number of fun activities in Vegas during February, so you definitely won't be bored.
RECOMMENDED: Do People Still Dress Up in Las Vegas? (Vegas Dress Code)
March Temperatures in Vegas
March is the best month to visit Vegas if you want warm sunny weather but want to avoid the scorching heat. You can even swim in March if there's enough sunshine or if it's a heated pool. Average daily highs for the month are 72 °F (22 °C), and average lows are about 50 °F (10 °C). Humidity levels are low, and rainfall is rare. Overcast days are possible, but most days pass without a single cloud.
Since March is a busier month in Las Vegas, hotel rates are higher. The NCAA basketball tournament and St. Patrick's Day attract crowds to Vegas. Also, expect crowded streets on Easter if it falls in March. T-shirts and shorts are favorable for the warm daytime. At the same time, jeans and light jackets are favorable for the cooler evenings.
April Temperatures in Vegas
April weather in Vegas is fantastic; it's not too cold and not too hot, and you can comfortably do anything outdoors. Although this is the first real spring month, it may feel like the summer that you're used to back home, depending on where you live. April temperatures range between 76-84 °F (24-29 °C). 
Mornings and evenings are cooler, and it rarely rains in April. Most people start visiting Las Vegas pools in April weather, the sun is adequate and days are seldom overcast. There is little precipitation, and it will rarely snow in April (but never say never). 
Shorts and short-sleeved T-shirts are the most appropriate piece of clothing for April in Vegas. You'll rarely need to layer up, even in the evenings.
May Temperatures in Vegas
May is another fantastic time to visit Vegas. May is deemed spring in most places in the US, although in Vegas, it's starting to feel like summer. The average daily temperature for this month is 90 °F (32 °C). Days are pleasantly sunny and rarely overcast. 
Do not expect any rainfall in May, and humidity is very low. Most pools are open throughout May. Shorts, short-sleeved T-shirts, swimwear, and breathable leggings are suitable clothes to pack for your May trip to Vegas.
RELATED: When Do The Pools Open In Las Vegas? (Daily & Seasonal Hours)
June Temperatures in Vegas
This is one of the driest months in Vegas. It features the following: 
Humidity is around or under 15%.
Average temperatures range between 94-103 °F (34-39 °C).
These temperatures increase gradually throughout the month and may get as high as 105 °F (41 °C) by the end of the month. There's plenty of activity in Vegas, and pools are open throughout the day in June. Consider packing light clothing, such as T-shirts and shorts, only for your June Vegas stay.
RELATED: Is Vegas Too Hot To Visit in June?
July Temperatures in Vegas
July is the hottest month in Vegas, with average temperatures exceeding 103°F (39 °C) almost every day. The average daily temperature for the month is 104°F (40 °C). 
Other things to keep in mind: 
Expect extreme heat starting at 11 AM until around 5 PM.
Humidity is very low, and rainfall is rare.
Many visitors find the dry July heat too harsh and spend their time indoors. Loose, light clothing is most appropriate for July, although you might want a light jacket or sweater if you're spending time inside as the AC is blowing hard, and it may get too cool inside.
August  Temperatures in Vegas
August is a scorching month in Vegas. Average daily temperatures are about 103 °F (39 °C). Some visitors find the August desert heat in Vegas too harsh to manage. 
However, you should plan your days to avoid spending time outdoors in the afternoons and evenings when it gets uncomfortably hot. Consider packing only light clothing for your August trip to Vegas.
August is also the month where you're most likely to encounter monsoon seasonal rains. Thunderheads will often form in the afternoons, and you may see some lighting or rain, but it is still plenty hot. Find out more about monsoon season in our article here.
RELATED: How Hot Is Las Vegas In July and August?
September Temperatures in Vegas
Vegas temperatures slightly cool off in mid-September, but it's still hot. Average daily temperatures range between 89-99 °F (32-37 °C). Humidity is low, and rainfall is rare. 
September is a busy month in Vegas, with plenty of activities and millions of visitors. Light clothing is recommended for the month. September is one of the best months of the year to visit Las Vegas.
October Temperatures in Vegas
October temperatures in Vegas are warm — the average daily temperatures range between 70 – 8f °F (21-29°C). Sunshine hours are still plentiful in October, rainfall is rare, and humidity is still low. The summer crowds have dissipated, and hotel rates are favorable (TripAdvisor). 
Light clothing for the day and heavier jackets and jeans for the cooler evenings are appropriate.
November Temperatures in Vegas
Like in many other places, November is unpredictable. It can be warm or cold and windy. The average daily temperature for the month is 67 °F (19.4 °C).
Pack jeans, sweaters, T-shirts, and a windbreaker jacket.
November is a fantastic time to visit Vegas, especially for visitors who don't fancy the blazing summer heat.
December  Temperatures in Vegas
December weather in Vegas is cold, although the climate is dry. Average December temperatures range between 58-60 °F (14-16 °C). There's little chance of rain, though you may encounter an overcast day.
Don't expect too much sunshine as the days are short and the average daylight is only 9 hours long. When visiting Las Vegas in December, remember the following: 
Consider packing long jeans, heavy jackets, and layers. 
Expect massive crowds in Vegas for the Christmas festivities.
Monthly Temps in Vegas – Final Thoughts
Vegas has a dynamic annual weather pattern, with temperatures increasing drastically between January and August. However, Las Vegas never gets too cold. As a desert city, Vegas experiences little rain throughout the year. Also, the city has adequate entertainment options all year no matter what the weather. Consider packing the right clothing for each month.
RELATED: What to Wear in Las Vegas (Every Month of the Year)