Does it Ever Snow in Las Vegas?… Just Wait Till You See!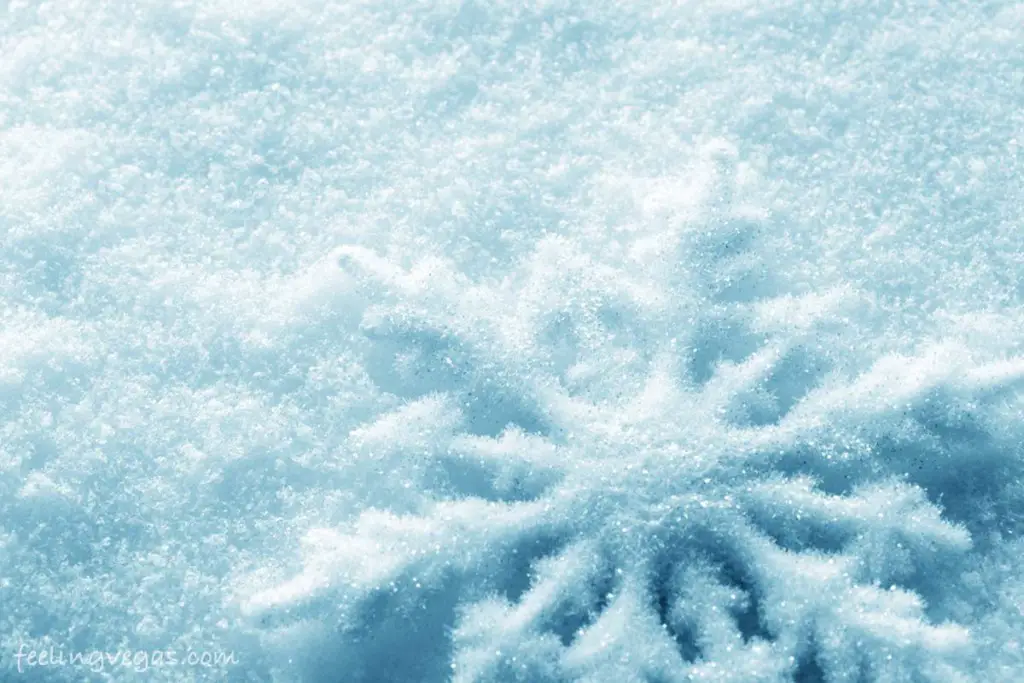 (This article may contain affiliate links, which means we might earn a small commission if you click and make a purchase. Thank you!)
There's no debate that cities like Las Vegas and other southwestern locations are generally pretty warm. But does it ever snow here? Is it even possible for Las Vegas to experience snow and brisk temperatures? Let's dive a little deeper into the topic.
Does it ever snow in Las Vegas?
While it does snow in Las Vegas, it's very uncommon to experience any substantial accumulation. The last time this area experienced measurable snowfall was in 2008 when it measured 3.6 inches. However, the mountain range and other surrounding regions experience snow every winter.
It may be rare to encounter this type of winter weather in the City of Las Vegas, but it's still possible. Mother nature can be quite unpredictable, making snow and other weather possible in any location, normal or not.
Can it Snow in Las Vegas?
Las Vegas is generally sunny and dry for the vast majority of the year. With that being said, it can snow in Las Vegas. In fact, it has been known to snow every few years or so. This snowfall, however, hardly accumulates enough to be considered measurable.
The city's lack of regular snow is mainly due to its location, which directly affects the climate of the area. Las Vegas is located in the Mojave desert, which means it sits in a subtropical desert climate. The area tends to remain dry because the surrounding mountain range acts as a wall to catch and stop moisture from entering the Las Vegas Valley.
While Vegas is generally sunny, it can still get very brisk overnight during the winter months. Cold temperatures are a side effect of desert climates. This phenomenon happens because the air is so dry.
During the day, the sun is able to heat the ground and everything around it, leading to fairly warm daytime temperatures, even in winter. However, once the sun drops, it can get cold very quickly in this high desert city.
What is Winter Like in Las Vegas?
Las Vegas experiences sunny conditions for roughly 86 percent of its daylight hours (source). This means its winters are fairly short, only lasting a month or two. It's typically recorded that Las Vegas experiences freezing temperatures 16 days total out of the year.
Compared to the frigid temperatures felt in the midwest, that feels like almost nothing.
December is normally the coldest month of the year for the city. This is mainly due to cloud coverage blocking the area from direct sunlight. Even then, the temperature lows average around 38 °F.
A fair amount of the city's annual precipitation is seen in December, as well. This isn't much at all, considering February is its wettest month, and even then, it only sees around four days of rainfall in total.
If you want to know if it's worth visiting Las Vegas in December, read our article here.
Average Monthly Temperatures in Las Vegas
While Las Vegas does see a variety of temperatures throughout the year, it's generally a pretty dry city. Annually, Vegas sees 294 days of sunshine and roughly 21 days of rainfall. There isn't any record of average annual snowfall because it's such a rare occurrence.
Let's take a look at the average temperature and precipitation level by month (source).
| | | | |
| --- | --- | --- | --- |
| Month | Average Low Temp (℉) | Average High Temp (℉) | Average Precipitation Level (in.) |
| January | 39 ℉ | 58 ℉ | 0.55 in. |
| February | 43 ℉ | 62 ℉ | 0.75 in. |
| March | 49 ℉ | 70 ℉ | 0.43 in. |
| April | 56 ℉ | 78 ℉ | 0.16 in. |
| May | 66 ℉ | 89 ℉ | 0.12 in. |
| June | 75 ℉ | 99 ℉ | 0.08 in. |
| July | 81 ℉ | 104 ℉ | 0.39 in. |
| August | 79 ℉ | 102 ℉ | 0.31 in. |
| September | 71 ℉ | 94 ℉ | 0.24 in. |
| October | 58 ℉ | 81 ℉ | 0.28 in. |
| November | 47 ℉ | 66 ℉ | 0.35 in. |
| December | 39 ℉ | 57 ℉ | 0.51 in. |
A Brief History of The Biggest Snowfalls in Las Vegas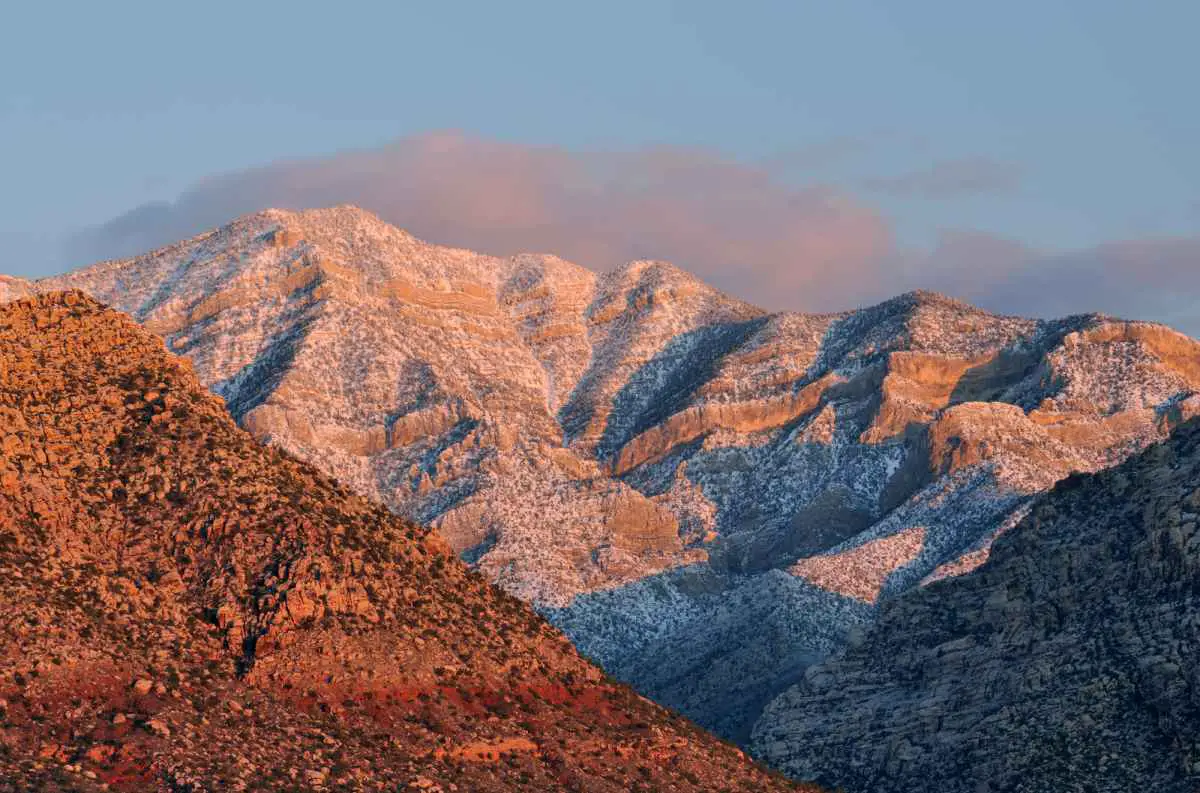 | | |
| --- | --- |
| Date of Considerable Snowfall | Amount of Snowfall (1.5  in. or more) |
| Dec. 17, 2008 | 3.6 in. |
| Jan. 31, 1979 | 7.4 in. |
| Jan. 5, 1974 | 4.7 in. |
| Dec. 15, 1967 | 2.0 in. |
| Nov. 15, 1964 | 3.0 in. |
| Jan. 7, 1955 | 1.5 in. |
| Jan. 25, 1949 | 4.7 in. |
| Jan. 13, 1937 | 3.0 in. |
| Dec. 11, 1932 | 4.5 in. |
(source)
This table showcases some of Las Vegas's most notable snowfalls over the years. Current Results has a more extensive list available, but I've decided to focus on years that saw more than 1.5 in. for the sake of this article.
The most recent considerable snowfall Las Vegas saw was in December of 2008, when 3.6 in. was recorded. However, in January of 1979, they saw a record amount of snowfall, measuring in at 7.4 in. The 2008 snowfall came as a shock to the city, and it resulted in the closure of all the main highways in the area.
While it's not on the table, the heaviest recorded snowfall in Las Vegas happened in 1909. The city was recorded to have seen 12 in. of snowfall that winter (source).
When to Visit Las Vegas in the Winter
It's common knowledge that Vegas is considered one of the most popular tourist spots in the United States. It's home to booming nightlife, casinos, and not to mention good food. It's also 2,001 ft. above sea level and surrounded by mountains, making it an ideal jumping-off point for winter sports enthusiasts to begin their adventures.
Before setting a winter vacation date, there are some things worth bearing in mind.
Time of the Year
If you want to stay in Vegas during the wintertime, I suggest planning for the beginning of the season. The city is a very popular destination as it gets closer to New Year, and hotel prices will likely go up around that time. 
US News recommends planning your trip for either March-May or September-November. While these aren't technically winter months, I'm sure booking a trip for the end of November (the exception being Thanksgiving week) or early December won't see much of a price difference.
If you're interested in swimming, you'll want to read my article here to find out if Las Vegas pools are heated in the winter.
Day of the Week
It's also recommended to plan your trip for a weekday rather than a weekend. Las Vegas is generally a weekend getaway location, which can prove to be irritating if you don't like big crowds or long waits. Tuesdays and Thursdays are typically when you'll find the lowest room rates. See our resource page for the best sources to book discount hotel rooms.
Conventions and Other Events
Being a popular tourist destination is both a blessing and a curse. It's a blessing because there are so many things to do in Las Vegas, but this also means that it becomes a sought-after place for company conventions and other big events.
When these events are going on, hotel room prices tend to skyrocket. To avoid paying a ton of money, the city has a tourism board convention schedule you can refer to. This schedule shows you which conventions are coming to town and when it is.
What to do in Vegas During the Winter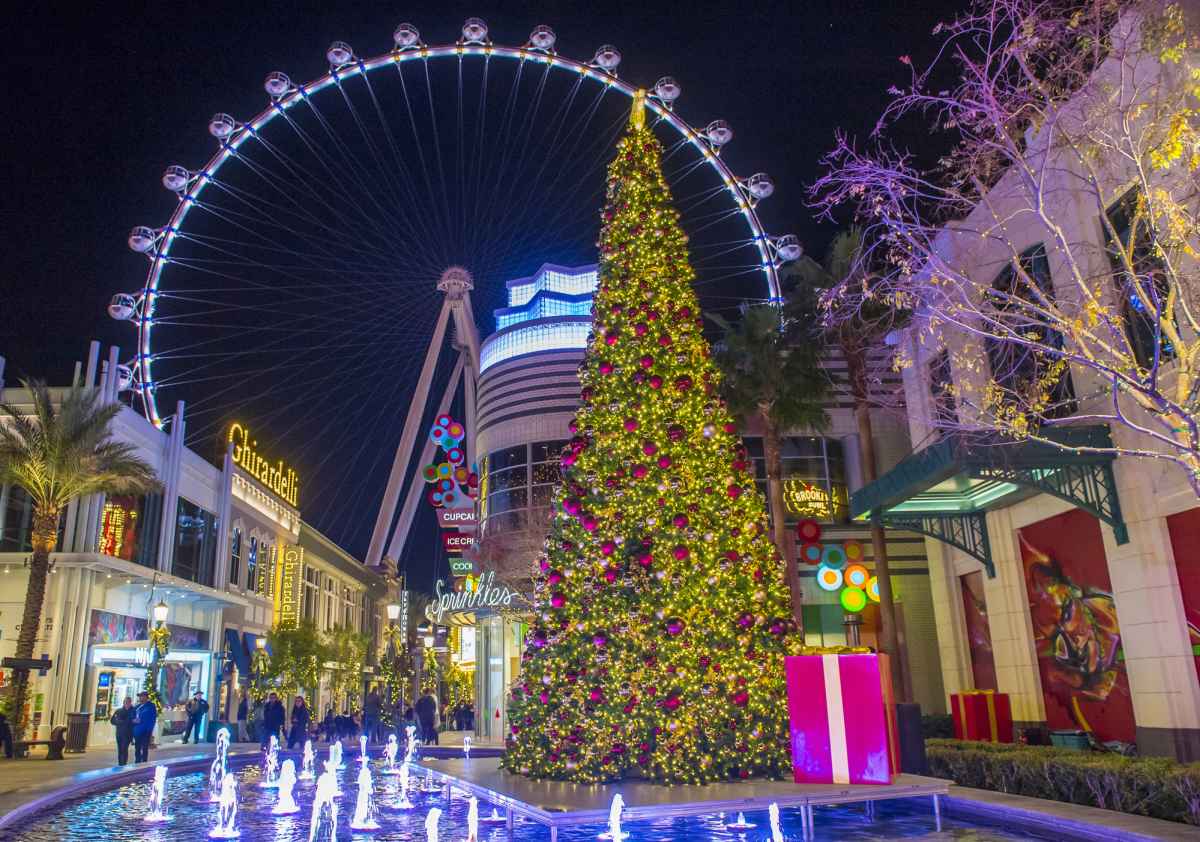 When one pictures Las Vegas, one immediately thinks of the Strip. Sure, this is what LV is most known for, but there are other things to do here during the wintertime. Because Vegas normally doesn't get too cold, you aren't forced to find an indoor activity for every day that you're visiting. Here are some ideas for your next winter trip (source): 
Valley of Fire

– Because this state park gets so hot (up to 120 °F) in the summer, wintertime is the perfect opportunity for you to check it out. Here you'll find ancient rock art, sandstone formations, and several walking trails to wander.

Red Rock Canyon

– If you enjoy rock climbing or scaling, Red Rock Canyon is a popular spot with plenty of formations for you to try out.

Visit a Ghost Town

– Las Vegas is located near several different ghost towns, abandoned for various reasons. This is a great attraction if you enjoy history. See our post here about ghost towns near Las Vegas.

Springs Preserve

– This garden is a great, family-friendly, and relaxing attraction. You'll also find the Nevada State Museum here too.

Snowboard or Ski

– Lee Canyon has three different slopes you can try out that are located less than an hour from downtown.
Related Questions:
Does Las Vegas get rain? The average annual rainfall in Las Vegas is 4.17 inches, and it rains an average of 21 days a year. The wettest month of the year is generally February, followed by a short monsoon season in August.
Find out more about how often in rains in Vegas on our website here.
What is the windiest month in Las Vegas? Spring (March – Jun) is generally the windiest time of the year, with April being the windiest month in Las Vegas.
Related Posts
Can Las Vegas Hotels Really Withstand Earthquakes: Top Tips for Quakes
Does Las Vegas Have Tornadoes? Natural Disasters in Vegas!