21+ Reasons It's Worth Going to Las Vegas in December☀️
Las Vegas is famous for its vibrant lights, attractions, and lively atmosphere. While Vegas has a well-earned reputation for fun, people often wonder if the city slows down during winter.
For instance, is it worth going to Las Vegas in December?
Yes, it is worth visiting Las Vegas in December due to the vibrant holiday ambiance and cooler temperatures. Despite the cold, Las Vegas remains bustling in winter. Despite common beliefs, many tourists visit Las Vegas in December to enjoy the city's holiday festivities.
In fact, Business Insider declared Las Vegas as one of the 25 most festive cities in the world to visit for the holidays. (source)
Note: Las Vegas has a subtropical desert climate, so the winter weather in December is mild compared to other parts of the country.
Best Things to Do in Las Vegas in Winter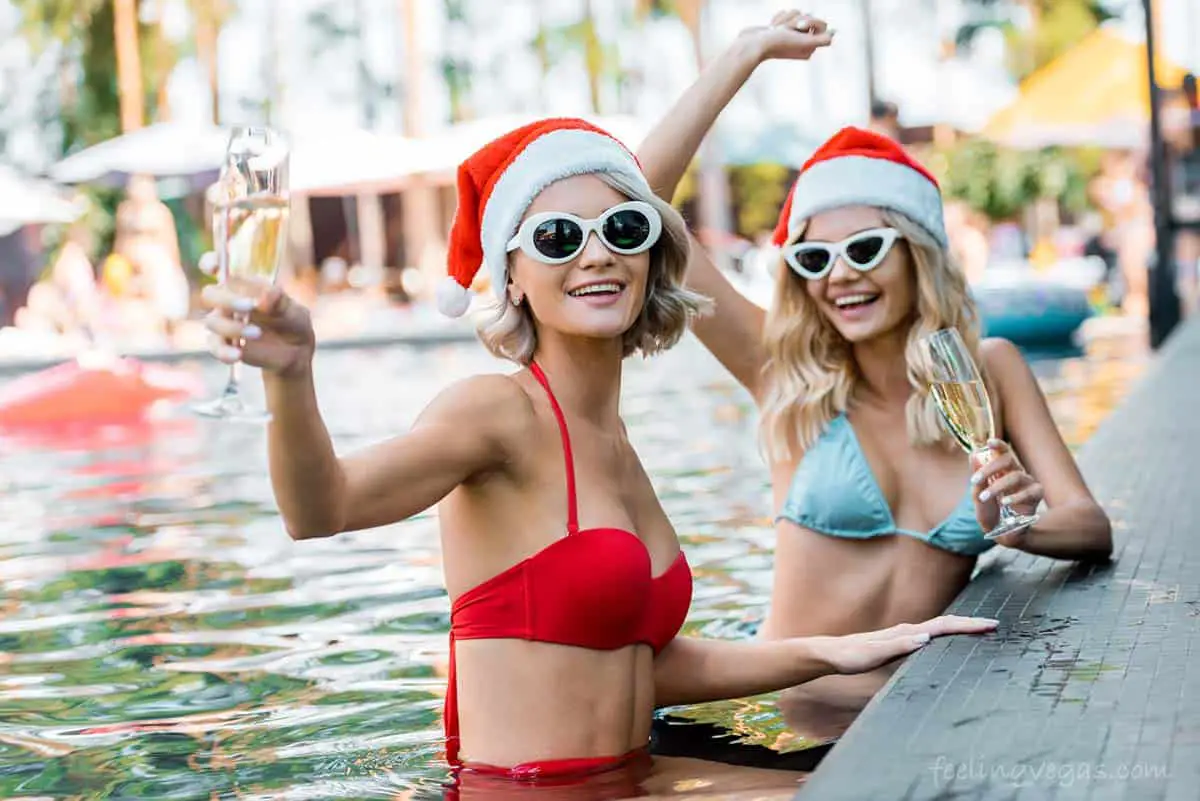 (This article may contain affiliate links, which means we might earn a small commission if you click and make a purchase. Thank you!)
Las Vegas, as well as several nearby areas, provide an abundance of events and activities that are perfect for visitors in winter. In Las Vegas, the show always goes on, whatever the month. Let me tell you about some of the special things happening in December.
Las Vegas December Events
Just because it's colder doesn't mean there isn't anything to do in this desert town. Travelers don't stop coming during this time. More people are coming to Las Vegas in December than ever before. 
As usual, there is an abundance of concerts and shows in December. If you're a sporting fan, you'll want to check out the annual Las Vegas Bowl football game and the annual Las Vegas Great Santa Run. Both are big events that take place in December.
Vacationing in Las Vegas during December is a great way to celebrate the holidays. Many holiday activities are taking place in town, and if you're here at the end of the month, you can even participate in the Las Vegas New Year Celebration on the Strip.
Branded as America's Party, it's one of the country's largest New Year's Eve celebrations. (source)
Quick tip: If you want to travel to Las Vegas at any point in December, book as early as possible, as it's a busy time of year, and the best rooms fill up fast.
Click to compare and save on Las Vegas hotel rooms with TripAdvisor.
Holiday Activities in Vegas
This is a town that knows how to celebrate holidays. There are plenty of holiday activities around the city to choose from. Here are a few examples.
Fremont Street Experience: The Christmas decorations and lights last for the entire month of December. In addition, you will find many of the hotels on Fremont Street offer live shows and holiday-themed entertainment all month long.
Fountains of Bellagio: At the famous Bellagio Fountains, you can dance along to classic holiday tunes as you watch the synchronized display of water shooting hundreds of feet into the air. Also, you'll find many wonderful holiday displays and activities taking place in and around the various hotels close to the fountains.
Mystic Falls Park: Mystic Falls is an indoor waterfall and nature display at Sam's Town Casino (off-Strip) with free year-round shows. During the holidays Mystic Falls transforms into a winter wonderland and features an animatronic laser show where it actually starts snowing. It is well worth a visit!
Glittering Lights: This incredible holiday experience occurs at Las Vegas Motor Speedway annually. It features millions of twinkling lights, and festive displays spread across a 2.5-mile drive-through course. Visitors can experience the magic of the holiday season from the comfort of their vehicles as they drive through the dazzling light show.
Lake Mead Christmas Parade of Lights: One night a year in December, boats decorated with lights for the holidays sail across an area of Lake Mead near the town of Boulder City (just outside of Las Vegas). You can view the Christmas ships from either the marina or Boulder Beach. The marina restaurants are open for the festivities and have plenty of food and drink specials. Check here for this year's schedule.
This event is believed to be the largest gathering of Santas in the world. In 2016, there were about 9,000 Santas. These Santas walk or run one mile (there's also a 5k run). The race starts in the downtown Fremont Street area of Las Vegas at 8 a.m. with pre-race entertainment, while the race starts at 10 a.m.
The registration includes a five-piece Santa suit for you to wear. The cost is free for kids 3 and under and $35-$55 for adults, depending on how early you register. There's even a costume contest for your pet!
For even more holiday events in Las Vegas, see my article: 16 Christmassy Things to Do in Las Vegas.
Visiting Mount Charleston from Vegas in December
If you'd like to get away from the bright lights and noisy festivities of Las Vegas for a while, then there is an option for a quieter winter vacation to nearby Mount Charleston.
Mount Charleston is approximately 45 minutes from the Strip and sits at 7,510 feet. In December, you can expect snow, and the small town of Mt. Charleston (pop. 357) boasts a nice lodge as well as nearby snow parks and skiing.
Once here, you can play at the ski and snowboard resort or drink some hot chocolate by a cozy fire in the lodge. You can even ride a winter sleigh through the tall pine tree forest.
When snow covers the ground here, you will see a part of greater Las Vegas that many people have no idea even exits.
December Lodging in Vegas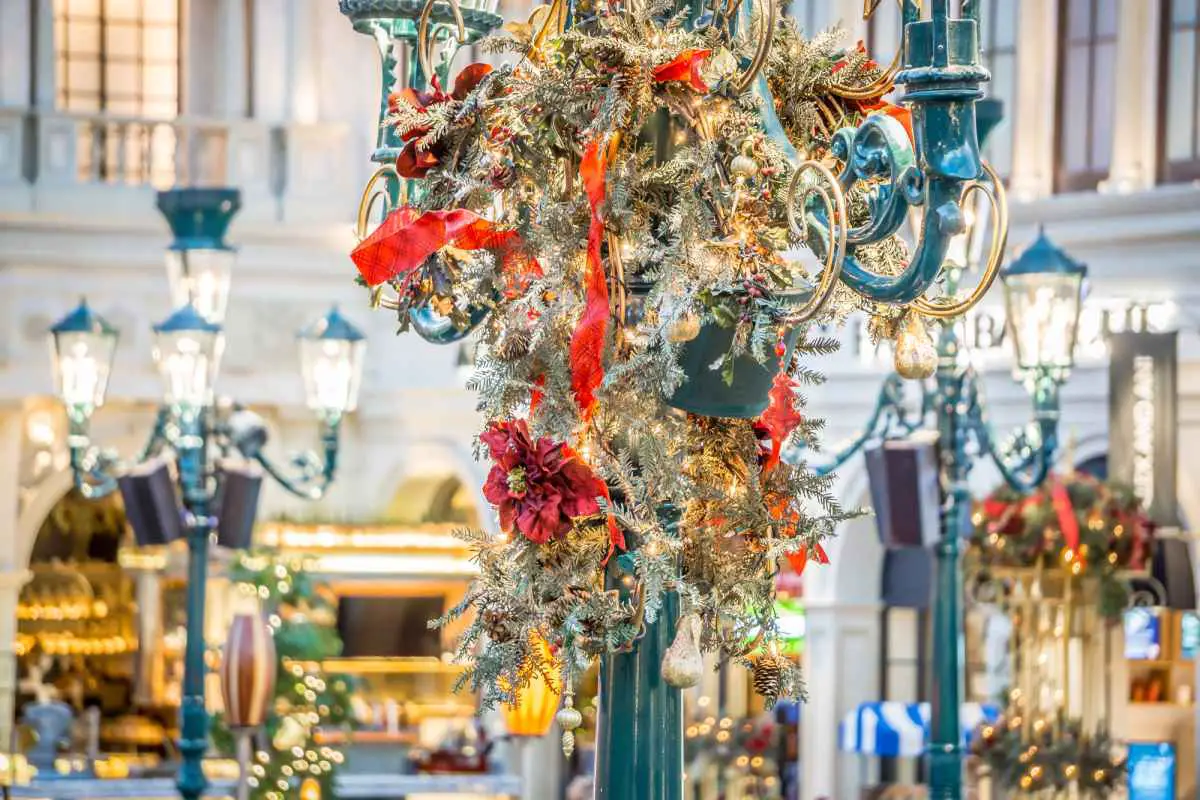 Almost all Las Vegas casinos and hotels have special December holiday packages available. Vacation packages like these typically cover ground transportation, lodging, airfare, and various dining and entertainment options.
Holiday resort deals can be found at resorts throughout the Las Vegas Valley, so you don't need to confine yourself just to the Strip.
Again, you'll want to book early for the best holiday deals. See what packages are currently available at Vegas.com.
Does Las Vegas Have Winter Weather?
Contrary to what you may have heard, Las Vegas isn't hot all year long. It does cool off during the winter months. Being in a high desert location means that while the days can be nice, the temperatures can really drop at night.
| | | |
| --- | --- | --- |
| Month | High/Low (Fahrenheit) | Rain |
| December | 60°/ 27° | 1 day |
| January | 59° / 28° | 1 day |
| February | 66° / 33° | 1 day |
(source)
One of the coolest months in Las Vegas is December. December temperatures often make you want to gather around a fire instead of lounging by a pool outside.
Ensure you wear enough layers of clothing to be comfortable in the 50-60-degree range during the day. Be sure to add a few more layers at night, as some evenings will get down to 40 degrees or colder. Having said that, if you're coming from many other places in the country, these are downright balmy temperatures for winter months.
How to Pack for December / Winter in Las Vegas
The weather is fairly predictable, so you can be pretty safe when you pack. Here is a good starter list, which includes some warm-weather gear, just in case you need it! Definitely plan on wearing some layers in the evenings.
Khakis or jeans
Skirt or shorts
Bathing suit and some cover item
Tank tops and t-shirts
Dressy blouse or collared shirt
Light jacket or sweater
Sunscreen, even when it's cool out
Fun Fact: You won't see many Las Vegas locals wearing shorts in the winter months. However, it's always easy to spot a tourist from a much colder part of the country because it will be 60 degrees outside, and they're wearing shorts. For many people, an average Las Vegas winter day feels like a nice spring day back home.
What to Do in Las Vegas in December
One of the best times to come to Las Vegas is in December. You can take a day trip to Mt. Charleston and come back to the city by night, so you can ski in the mountains and party on the Strip all on the same day!
If you want to relax by the pool, then you might want to put away your bathing suit and get a sweater to enjoy a nice cocktail by the water instead of an ice-cold swim. Many pools are closed in Las Vegas during the winter, but you can find some heated swimming pools at the bigger hotels on the Strip.
We have a list of all the heated Las Vegas pools open in the winter on our website here.
Taking in a show is always a good idea when you're in Las Vegas. When you plan a trip, you should compare the prices of tours and attractions so that you can find the best shows in Vegas for the best deals at times that fit your schedule.
Our Las Vegas shows section can help you find shows and tickets at the best prices.
LINQ Promenade Dress Up For The Holidays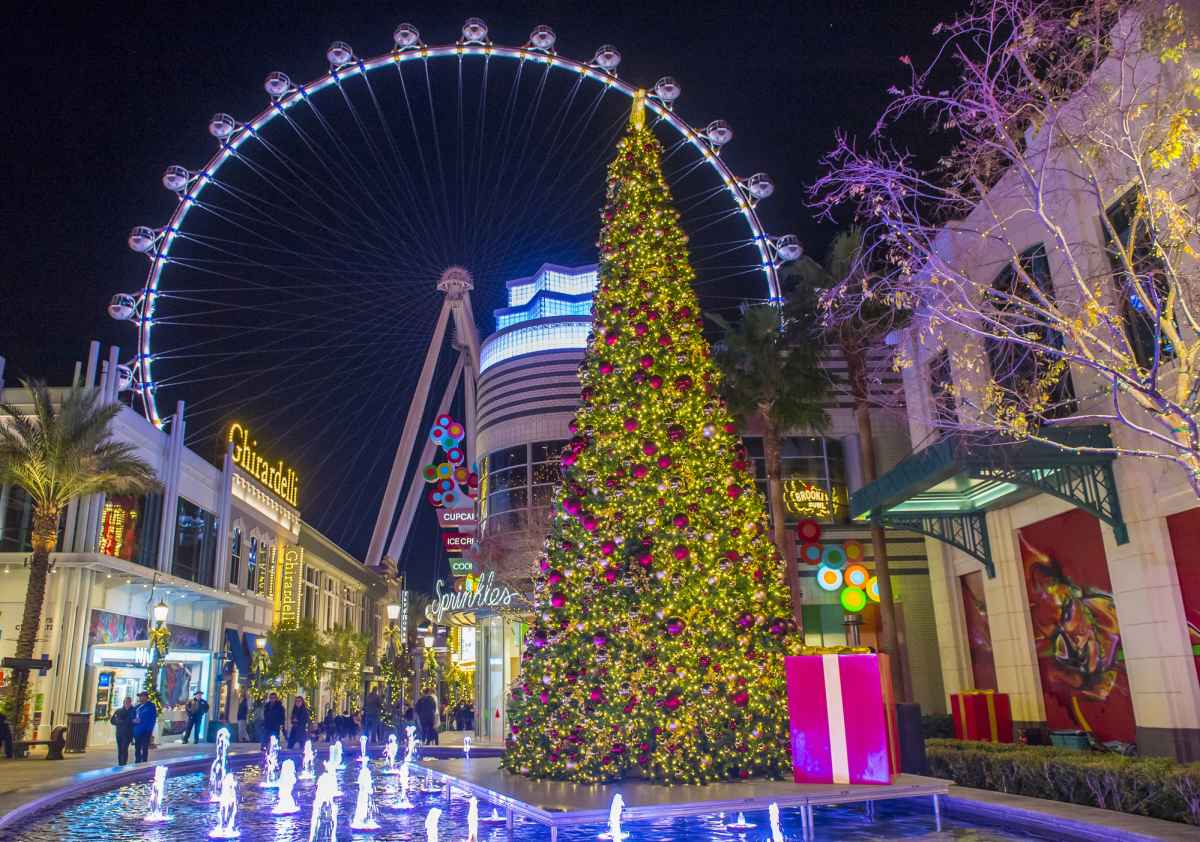 During the magical times of the holiday season, many buildings transform inside and out to bring out the holiday spirit in everyone. There will be carolers and festive holiday music all around you in December.
One thing you can try is taking a ride on the High Roller. The High Roller is a slow-turning observation wheel. It takes about 30 minutes to go around once.
Each of the 28 fully enclosed and heated cabins can hold up to 40 people, and some cabins even have their own tended bar. At 550 feet in the air, you can see iconic landmarks, the Strip, and downtown from the world's highest observation wheel. Check for times and prices at vegas.com.
Real Bodies at Horseshoe
Here, you can get an up-close look at the human anatomy. Over 20 human bodies have been preserved, dissected, and displayed. This exhibit will educate you and make you think about your body in an entirely new way.
There are 11 exhibits where you will explore the inner workings of the human body. This will show you what your body goes through to stay alive daily. It may make you think twice about that all-you-can-eat casino buffet!
You will see firsthand the synergy between hunger, breathing, heart rhythm, thought, emotion, and love that makes every person unique.
Hours and tickets can be found here at vegas.com.
The Big Bus Las Vegas Tour
This is one of the best ways to get around the city and observe the sights with a great view. The tour guides will give you expert knowledge that you will be hard-pressed to find anywhere else. The Big Bus Tour runs the length of the Strip all the way to Downtown Las Vegas.
Some things that are covered in the tour:
The Golden Nugget hotel and casino
Miracle Mile
Malls
Museums
Monuments
Las Vegas Big Bus Tour information can be found here.
Tour the Hoover Dam in December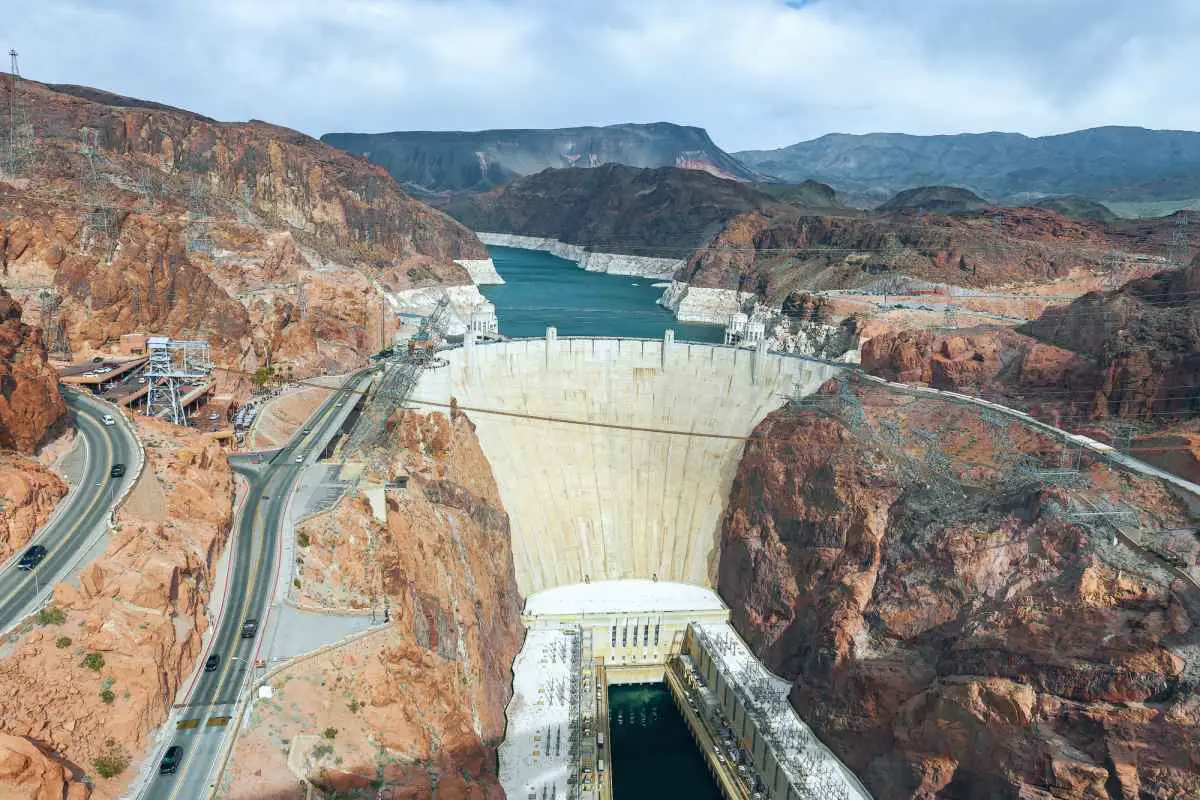 One of the number one attractions for people visiting Las Vegas is the Hoover Dam (website). Every year about 1,000,000 people will take a guided tour inside the depths of Hoover Dam. It's touted as being the "greatest dam ever built."
Your expert guides will again provide great background knowledge into this incredible feat of engineering. After the tour, you will have a couple of hours to walk across the dam to the Arizona side, experience it from every angle, and visit the gift shop.
Informational videos are located in the power plant, theater, exhibition hall, and visitor's center.
Find everything you need to know about visiting the Hoover Dam in our article here.
Take a Trip to the Grand Canyon
On one of your days, you can get away from Las Vegas entirely and visit the Grand Canyon. December is a great month to visit the Grand Canyon, as this is just about as uncrowded as the canyon rim will ever get. You'll be visiting either the south or west rim; along the way, you will see many other sights, such as the:
Bypass Bridge
Hoover Dam
Lake Mead
Bighorn sheep habitat
Black Canyon
Joshua Tree Forest
You can rent a car and drive yourself or take one of the many guided tours available from Las Vegas. You can even choose between several different helicopter or airplane tours.
Via air, you can experience the amazing views of the Grand Canyon and be back in Las Vegas in time for lunch or dinner. There are even some combination flight/ground tours where you fly to the Grand Canyon and then drive to the various sites and viewpoints.
You can find all the information you'll need to book one of these tours here.
Stratosphere Observation Deck
You can get the very best views in all of Las Vegas when you're on top of the Stratosphere Observation Deck. This is currently the tallest freestanding observation tower in all of America. (source)
You will find yourself 1,149 feet above the ground and get a 360-degree view of the Strip at the top.
You can challenge yourself for an additional adrenaline rush by getting on one or more of the thrill rides at the very top of the tower.
The Big Shot: You will be shot into the air at 45 miles per hour, reaching a height of 160 feet above the Stratospheres observation deck. Which is already almost 900 feet above the ground.
The X Scream: A massive teeter-totter structure that will dangle you 866 feet above the ground over the edge of the tower.
Insanity: A giant mechanical arm that extends over the edge of the Stratosphere Tower. You will be spun at speeds up to 3 G's. Wild!
If you'd like to see the view but don't want to go outside on the observation deck, you can visit Stratosphere's 107 Sky Lounge. It's located on the 107th floor, has amazing views of the Strip, and is by far the highest bar in Las Vegas.
Find out the cost to head to the top of the Strat Tower.
Bellagio Conservatory Winter Display
No visit to Las Vegas in December would be complete without a visit to the Bellagio Conservatory and Botanical Gardens. The conservatory is an indoor exhibit that is changed completely every season, and the winter display is always particularly impressive.
The conservatory is free to visit. Just head over to the Bellagio Las Vegas. I've written a post covering all the dates and hours for the gardens.
The Mob Museum
If it's the seedy side of Las Vegas criminal underbelly you're after, you can check out the Mob Museum. For decades, famous mobsters like Bugsy Siegel and others ran this town, and their stories are remarkable. This is a great indoor attraction if the weather is cold outside.
Famous Las Vegas Mobsters
Meyer Lansky
Frank Costello
Lucky Luciano
In this interesting museum, you can immerse yourself in the comprehensive history of Las Vegas crime bosses. There are hundreds of artifacts and interactive exhibits to enjoy. You will have your mind blown when you hear about the sinister facts and some of the jaw-dropping stories told within the Mob Museum. (website)
Ethel M Chocolate Factory Christmas Lights
The Ethel M Chocolate Factory in Las Vegas is famous for its annual holiday lights display. The display features over half a million sparkling lights illuminating the factory's outdoor cactus garden.
The display costs just $1 per person (proceeds go to support local charities) and is open to the public, and visitors can enjoy a festive stroll through the garden while sipping on hot chocolate and nibbling on chocolate samples.
The display typically runs from mid-November through New Year's Day, and it is a popular attraction for locals and tourists alike. In addition to the lights, visitors can shop for holiday gifts at the factory's chocolate shop, which offers various gourmet chocolates, candies, and gift baskets.
I have a post about the Christmas lights at Ethel M. You'll want to be sure and read it.
Gene Woods Racing Experience
One of the best places in the United States to race in super-fast-go-karts is the Gene Woods Racing Experience. You can spend a whole day here while enjoying fierce driving competition with high-octane excitement.
You will learn everything you need to know about racing at the track. You'll be instructed on how to race around the track at top speed using high-level maneuvering. The track is a half-mile long, giving you about 15-18 laps to battle your family, friends, and overconfident strangers.
On some days, you may even be able to meet the racing legend himself. Gene Woods is sometimes at the track to give tips and stories to newer racers who need some help.
There are now actually two locations available. The first is the classic race experience near the Strip, and the second is an indoor track featuring super-fast all-electric go-karts.
Tip: I can usually find discount tickets for the Racing Experience here.
Ice Skating at the Cosmopolitan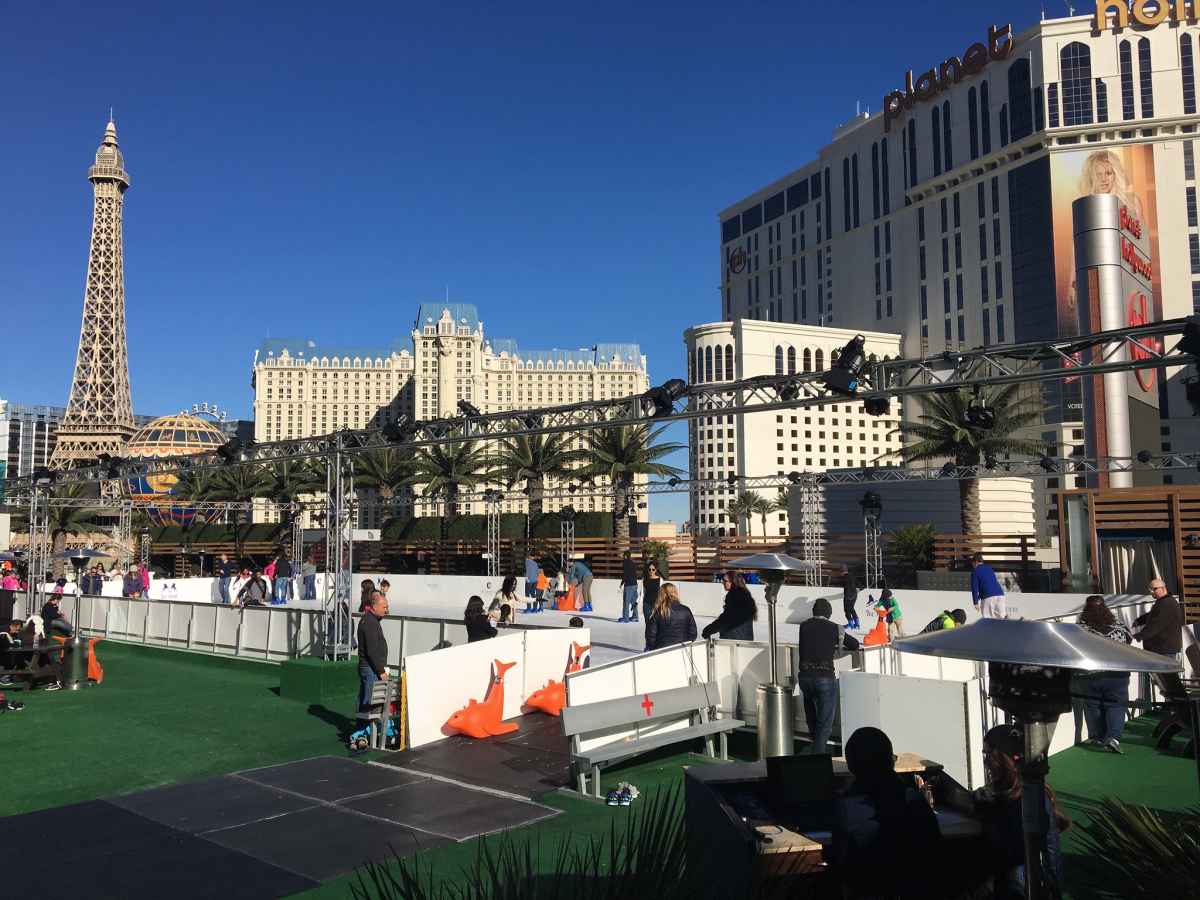 During winter, the Cosmopolitan Hotel and Casino turn its 4,200 square foot Boulevard pool into a real ice skating rink where visitors can take part in one of the most iconic activities of the holiday season.
After you're done skating around on the rink, you can head inside and relax by the fire, get some soothing refreshments, or even roast s'mores over the fire. In December, if you're REALLY lucky, you may see some snow falling while you're inside feeling all cozy and comfy. Rare, but it happens from time to time.
(If you're wondering if it ever snows in Las Vegas, you can find out in our article here.)
Ice skating at The Cosmo is one of the most festive experiences you can have in Las Vegas. December is the perfect time to come and experience the thrill of skating on a frozen Las Vegas pool!
Skiing at Lee Canyon, Las Vegas
Traveling an hour from downtown Las Vegas, you will find a great little ski area. Visit the Lee Canyon area for snowboarding, skiing, and tubing. (website)
If you aren't the best skier, don't worry because the Lee Canyon ski resort offers lessons with professional instructors. They'll teach you what you need to know to have fun on the slopes.
Downtown Container Park
This outdoor shopping mall concept in downtown Las Vegas is built from 41 metal shipping containers. The park has a bunch of restaurants and shops, as well as many family-friendly events for the holiday season. These include:
Jazz sessions
Silent disco
Entertainment
Art shows
Las Vegas Shopping in December
World-class shopping abounds in Las Vegas. Whether you're looking for souvenir shops for your kids or on the hunt for high-end boutiques, you can shop until you drop in Las Vegas.
Want to know where the best shopping malls are? Here's an article about where to find the best shopping malls on the Las Vegas Strip.
Circus Circus
Only in Las Vegas will you find the world's largest permanent circus. Circus Circus Hotel & Casino has free circus acts performed throughout the day. These acts will blow your mind! Featured acts include:
Jugglers
Trapeze artists
Acrobats
Contortionists
Unicyclists
Each act lasts about 10 minutes, and the shows occur every half hour, starting at 11 a.m. These performances are free, so you can come and go as you please without fussing over money.
Save on Admissions to Attractions
If you plan on going to Las Vegas in the winter, you should be sure to get the Go Las Vegas Pass. The Go Las Vegas pass will save you up to 55% on admission to over 35+ of the best attractions in town instead of paying full price at the gate. You can get the Go City Las Vegas Pass here.
It's important to note that winter/holiday events may be ticketed separately and are not always covered by the Go City – Las Vegas Pass.
Wrangler National Finals Rodeo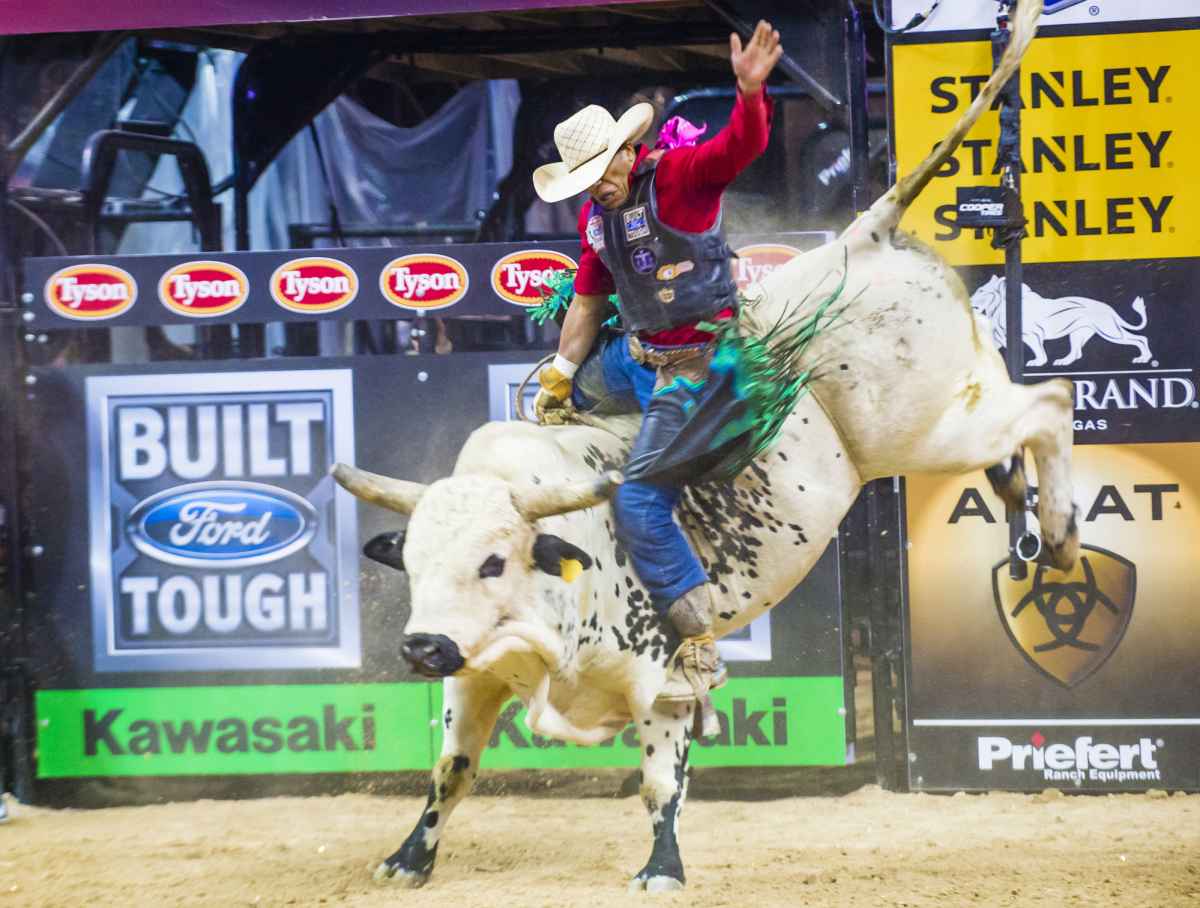 Considered the world's premier rodeo event, the Wrangler National Finals Rodeo comes every December to Las Vegas and plays to a packed stadium.
You will see all the fans dressed up in their favorite cowboy hats and boots and some of the best rodeo performers in the world.
This event is held at the Thomas and Mack Center at UNLV and lasts for about a week and a half. Some of the events that are held here are:
Roping
Bareback riding
Barrel racing
Bull riding
It can be hard to grab a spot at this event without prior planning, so try to come up with tickets as soon as possible. You can visit the ProRodeo website for more information.
If you can't make the rodeo, then you can still check out the Cowboy Christmas. Cowboy Christmas is an annual western-themed shopping festival that's free and open to the public. It's held at the Las Vegas Convention Center. Visit the Cowboy Christmas website here for more information.
The Takeaway
Rather than being a slow time of the year in Las Vegas, December is a busy month full of special holiday and winter activities for all ages and interests.
Winter overall, and particularly the month of December, is a wonderful time to plan your trip to Las Vegas.