Top 8 Reasons Why Las Vegas Is So Popular (Revealed)
It's the City of Sin, and we all know the drill: what happens in Vegas stays in Vegas. It may be a surprise that Vegas is so much more than just a place to go wild and gamble the night away. Las Vegas is popular because it has loads more to offer those lucky enough to visit.
Las Vegas is so popular because of its fantastic casinos and nightlife but not only that. It's also fabulous for nature lovers and outdoor enthusiasts and is an excellent family destination. It is also a food lover and party mecca in equal measures. It can also be surprisingly affordable. 
Vegas caters to almost every taste and desire. It can also be a wholesome vacation spot for those seeking a more natural high. If you are seeking a travel destination that has it all, you should read on and discover why Vegas is so popular!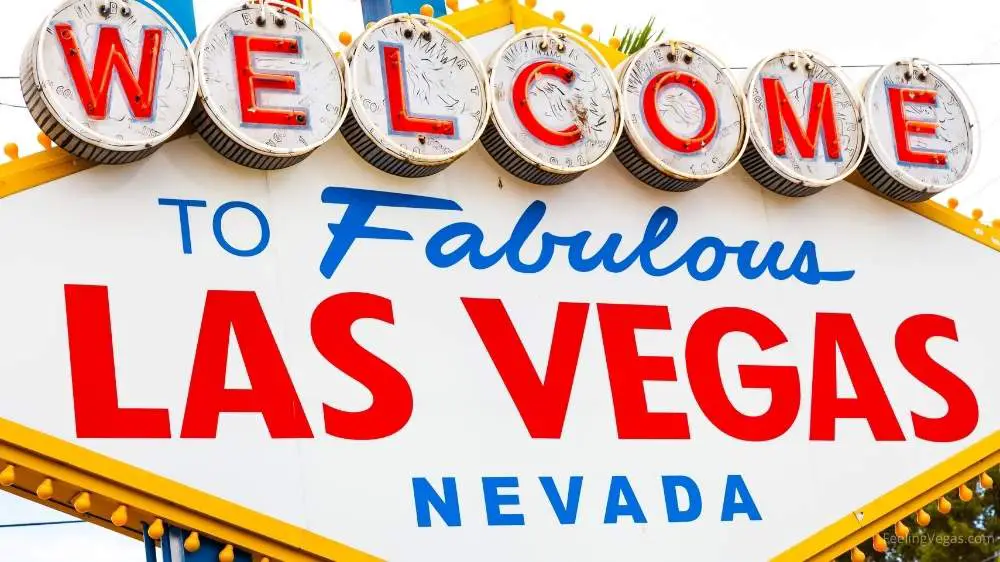 (This article may contain affiliate links, which means we might earn a small commission if you click and make a purchase. Thank you!)
1. Las Vegas Is Popular Because It's Affordable!
Traveling to Vegas need not cost an arm and a leg, and you don't have to gamble all your money away while you're here! You can find hotels in Vegas that go for a fraction of the price of hotels in New York and California. 
Even if your budget is limited, you'll find plenty of affordable accommodations in either downtown Las Vegas or on the infamous Vegas Strip (Las Vegas Boulevard), which lies between Sunset Road and Sahara Avenue. There is an abundance of hotels and 24-hour restaurants and shops to keep you busy. 
In fact. You can easily find a hotel room for under $100 a night in a decent hotel such as:
Keep an eye out for mid-week specials and off-season rates. Airbnb and VBRO also offer gems for a fraction of the price you would expect to pay elsewhere.
Transportation is also affordable, with taxis and rideshare services ready to take you anywhere. Plus, you can easily walk the Strip (outside of the crazy hot summer months) for free. You also have a choice of free trams, and the Las Vegas Monorail has extremely affordable day passes for you and your crew. 
RECOMMENDED: Best Times of Year to Visit Las Vegas (Weather, Deals & Fun)
2. You Can't Beat The Shopping in Las Vegas
According to some sources, there are 3319 stores in Nevada, and a great many of them are centered in Las Vegas. Almost everything you can think of is for sale in Vegas, and some of the top luxury malls you will find outside NY, such as The Forum at Caesers and the Shops at Crystals. 
But you don't have to be drawn into the Casino-based shops as they tend to have a much higher mark up than the free-standing Malls. 
There are massive malls offering top labels at discounted rates in Vegas where you can find some killer threads without breaking the bank, such as Las Vegas Premium Outlets.
Hot tip: If you're looking for a great deal, try visiting one of the dozens of pawn stores located in Sin City. You won't believe what some people will sell for another round of Blackjack. 
RELATED: 11 Best Places to Buy a Rolex in Las Vegas
3. The Nightlife Makes Vegas Popular
Las Vegas has a nightlife that will leave you sleep-deprived and still hungry for more. From shows, sports, music, comedy, and theatre, you are going to wish you could spend more time in Vegas. Oh, and let's not forget about the Las Vegas nightclubs!
Nightclubs in Las Vegas
Vegas has the reputation as the Adult Playground of the US for a good reason. Las Vegas has a hundred hangovers that are well worth the pain if you want to dance the night away under strobe lights.
USN rates Las Vegas as the number one nightlife city in the USA for its abundance of nighttime venues where you can leave your inhibitions behind. Featuring some of the world's top DJs, Las Vegas nightclubs even rank high on the list of top party spots worldwide. 
Some of the top clubs in Las Vegas include;
Apex Social Club. Set on the 55th floor of Palms casino and Resortthis 8,000-square-foot (743-square-meter) offers a giddy blend of indoor and outdoor excitement. The view is a delight through their wall-to-ceiling windows, and you can watch the lights double over the incredible skyline.
Omnia. Set in the iconic Caesers palace, this club hosts some of the hottest international DJs. Their oversized chandelier and pumping light displays will make you forget it's already morning.
Hakkansan Las Vegas. This multi-tiered event venue hails from the MGM Grand and offers a blend of five-star cuisine, pumping club space with international DJs, and an ultra chill lounge to take it easy. 
Drais. This club has been a landmark since '97 for its luxurious ambiance and plush leather decor. A popular after-hours spot, you can sit back and chill or continue the party on the dance floor until the sun shines once again over Las Vegas. 
RELATED: What to Wear in Las Vegas Clubs: The Ultimate Guide
4. Las Vegas is Popular for Nature Lovers
Sin City isn't all about hanging out in casinos until you can't stand up or hitting the nightclubs until the sun comes up. Las Vegas is also an outdoor lovers mecca with amazing activities that won't leave you feeling crushed the following day.
Las Vegas is host to some iconic spots for nature lovers and hikers with trails that will take your breath away literally and figuratively. Las Vegas is home to some world-famous nature sites such as:
RECOMMENDED: 13 Best National & State Parks Near Las Vegas (AWESOME!)
5. Outdoor Activities Abound in Las Vegas
Those who the casino giants don't sway will have plenty of healthy outdoor activities to keep them occupied. If you have a passion for an outdoor sport, Vegas has activities in spades with its proximity to several parks and areas of stark natural beauty.
Some of the outdoor activities that draw tourists and locals in droves include:
Mountain biking at Bootleg Canyon

. This beautiful setting offers over 30 breathtaking trails that suit amateur to professional bikers. There are bikes to hire if you fly in and guided trails for those who need extra support.

Climbing Red Rock Canyon

. With over 2,500 climbing routes, you can rock climb your heart out in the spectacular red canyon. 
Vegas Off-Road Tours. You can rent an ATV and go solo through some of the most stunning terrains in Nevada. Guided tours are also an option to explore the unique Mojave Desert. 
Hoover Dam. Located 30 minutes from Vegas, this dam is one of the world's wonders of engineering that is also fun for the whole family. Kayaking, paddleboarding, zipline, and helicopter tours are on the itinerary.
Golfing. Oh, and don't forget the golf course! Las Vegas is home to dozens of top-notch golf courses.
Fishing in Vegas. Located about 30 minutes or so from Las Vegas, Lake Mead offers world-class largemouth bass and striped bass fishing, to name only a few. Floyd Lamb Park in Vegas itself offers trout, catfish, and bass fishing. 
RELATED: 10 Best ATV and Off-Road Tours in Vegas (Extreme Fun!)
6. Las Vegas is Kid Friendly
Despite its reputation, Vegas has plenty to offer the whole family if family vacation is your thing. If you want to play a hand of poker while your kids enjoy themselves, some resorts cater just as well to the kids as the adults.
Las Vegas is a playground for adults and children alike, with some of the top attractions for the young ones, such as: 
Related: 9 Best Las Vegas Hotels for Kids and Families (On The Strip)
7. Vegas Is a Food Lovers Paradise
If top-class cuisine is what makes your heart go pitter-patter, then Vegas is your destination in spades. Las Vegas is topping many of the Best Food in the US lists, and its star is set to rise. 
Caesars announced they would open Martha Stewart's first restaurant soon named The Bedford at Paris Las Vegas, Peter Luger Steak House at Caesars Palace, and M.Y. Asia at Bally's.
Or you can try some of the proven best restaurants in Vegas. In fact, Vegas is home to ten Michelin Star Restaurants, including:
Nobu
DJT
L'Atelier de Joel Robuchon
Le Cirque
Michael Mina.
If fine dining cuisine is your passion, the top 5 restaurants in Vegas include:
RECOMMENDED: 15 Best Vegas Restaurants with Views of Bellagio Fountains
8. Of Course, The Vegas Casinos! 
Okay, now that we got the other stuff out the way, let's focus on what Las Vegas is really famous for its casinos! With over 30 major casinos on the Vegas Strip alone, Las Vegas has the most casinos of any city in the entire world. 
The draw of winning big lures millions to those card tables and roulette wheels each year. Forbes reports that Vegas thrived in 2021 with $13.4 billion in gambling revenue. 
The following casinos are some of the biggest draws to Vegas for those with high hopes and money to burn.
RECOMMENDED: How to Bring and Carry Money in Las Vegas (Explained)
Summary
Las Vegas is not just a place to go wild and lose the shirt off your back, but it offers a cornucopia of features for nature lovers, families, and those who love the outdoors.
That being said, it is also the place to let your hair down and make new memories that will become the stuff of legend.
If you come for a visit, you will never again ask why is Las Vegas so popular!