Where to Fish in Las Vegas: 14 Best Spots Revealed
Las Vegas has more to offer than Casinos and Night clubs. If you are the outdoorsy type, the fishing doesn't get much better than around Las Vegas.  The cool desert air on the lakebed and the smell of a freshly cooked trout are some of the natural treasures that Las Vegas has to offer.
So, Where are some of the best spots to fish in Las Vegas?
Lake Mead
Lake Mohave   
Boulder City Urban pond
Sunset Park Pond
Lorenzi Park Pond
Floyd Lamb Park Pond
Mesquite Urban Pond
Pahranagat Lake
Nesbit Lake
Echo Canyon Reservoir
Eagle Valley Reservoir
Wayne E Kirch Wildlife Area (4 Spots here alone)!
Colorado River
Trail Canyon Reservoir
Before I moved to the area, I would have had no idea there were this many places to go fishing in and around Las Vegas! Here I've revealed the 14 Best Spots to fish in sunny Las Vegas. Some places are nicer than others, and planning your fishing trip is crucial to your enjoyment. There are a few things you should know before fishing in Nevada.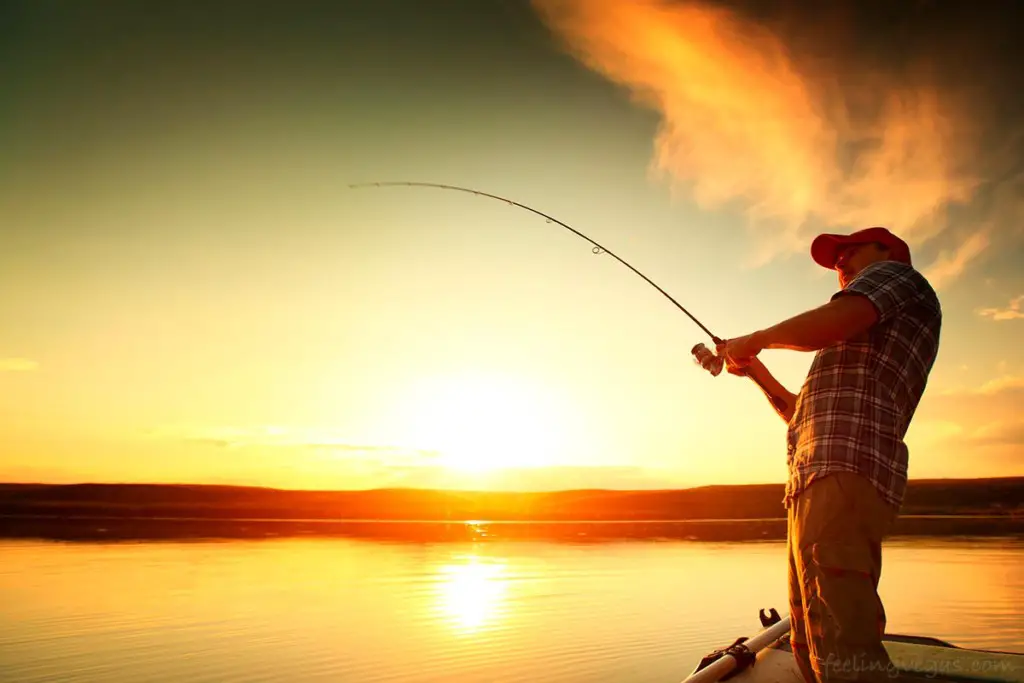 (This article may contain affiliate links, which means we might earn a small commission if you click and make a purchase. Thank you!)
What You Need to Know Before Fishing In Nevada
First, you are going to need to plan your trip ahead of time. There are a lot of tourist activities that take place on some of the lakes, and it can get crowded with people doing all sorts of different things. You can, of course, find boat tours on the more popular bodies of water, but if you like a bit more adventure, you can find some pretty good remote spots as well.
Safety first, you never want to trust the lake water for drinking, as you have no idea what's in the water, always filter your water before drinking it. I would never drink any lake water myself, but a few years ago, I went on a fishing trip with a buddy who thought it was perfectly fine to drink lake water. Within a couple of hours, he was sick as a dog!
The Sawyer SP128 Mini Outdoor Water Filter on Amazon will do the trick for not much money.
Finally, watch out for the currents. Some of the lake currents can be tricky. The larger lakes can have a calm surface but a wild current underneath, so always be careful when entering any body of water.
Nevada Fishing License and Cost
To fish in Las Vegas, you will need a Nevada State Fishing License. Licenses can be purchased online or at a Nevada Department of Wildlife (NDOW) office here. Permits are available for both residents and non-residents on a daily or annual basis.
Cost of Nevada Fishing License:
18ys & up

Resident

Non-Resident

Annual
$40
$80
1-Day
$9
$18
Consecutive
Day
$3
$7
For those between the ages of 12 & 17, the annual license price is $15, regardless of residency. For non-residents who intend to only fish on lakes with interstate boundaries (near Las Vegas, these would be Lake Mead, the Colorado River or Lake Mohave), you can purchase an annual Interstate Boundary license for $30.
In and Around Las Vegas Fishing Map
#1 – Lake Mead Fishing
Lake Mead is the biggest reservoir in the United States, spanning a total of 234 Square Miles. There are a lot of fish to be captured in this lake. Lake Mead has been known to have some large striped bass weighing over 40lbs in some cases (source).
Part of the lake is in Nevada, and the other part is in Arizona, you will need to have the appropriate fishing license for the area in which you are fishing. You can get a fishing license from one of the local bait and tackle shops or at the park's concessions stations.
The lake is open 24 hours a day, year-round, and you are allowed to fish from watercraft, from the piers, and from shore. You can bring the kids, and in Nevada, if they are under 12 years old, they do not need a fishing license.
Some of the different types of fish that you can capture in Lake Mead are Striped Bass, Largemouth Bass, Rainbow Trout, Channell Cat Fish, Bluegill, and Black Crappie. The park personnel are very strict about what to do with the fish remains. There are fish cleaning stations throughout the park, and the park asks that you only clean fish at these locations.
#2 – Lake Mohave Fishing (Striped Bass)
Located south of Las Vegas, between the black mountains and the El Dorado Mountains, Lake Mohave is a great fishing spot year-round. The water temperature is fairly cool year-round, making it the perfect spot for catching some Striped Mouth Bass.
Lake Mohave contains many types of fish:
Striped Bass
Large Mouth Bass
Small Mouth Bass
Channel Catfish
Sunfish
Threadfin Shad
Bluegill
Green Sunfish
Crayfish
Carp
Red Shiner
This is a fun place to fish, but be careful of the currents here. High winds can cause some pretty big waves at certain times of the year. Lake Mohave is about 2 hours south of Las Vegas, but definitely worth the drive. Get can get the latest fish report for Lake Mohave here.
See the Best State and National Parks near Las Vegas in our article here.
#3 – Fishing at Boulder City Urban Pond
This lake is only about 3 surface acres and just about 15 feet deep. It was a man-made lake in Las Vegas to give some weekend fishermen a good spot to fish at. There is no overnight parking or camping, and you can only shore fishing is allowed.  This park is a non-fee entry park, and there are day-use facilities available.
The Boulder City pond is stocked fresh twice a year with some good trout and catfish waiting to be caught. You are not allowed to use a boat or any float tubes, but some shore fishing is fun for an afternoon in Las Vegas.
Located in the middle of Boulder City, near the Veterans Memorial Dr, off of Hwy 93, Boulder Park is easy to access from the highway.
There is still plenty to do inside the park, including a splash park and horseshoe pits. You can even throw an event at veteran's memorial park, just fill out the application beforehand.
#4 – Sunset Park Pond Fishing
Located at the heart of Sunset Park in southeast Las Vegas, near the airport, Sunset Park Pond has provided fishing opportunities for nearly 20 years. This pond has a depth of only 12 feet, with 14 surface acres in total.
The entire shoreline can be used for fishing, and at certain times of the year, there may be boat shows, which can limit access to the southwest shoreline. The main fish species that are found here are similar to those in Lake Mead.
You can find:
Channel Catfish
Rainbow Trout
Redear Sunfish
Black Crappie
Largemouth Bass
Bluegill Sunfish
Fishing here, you'll want to carry some nightcrawlers, power bait, small spinners salmon eggs, and flies. Overnight camping is also not allowed at this fishing spot. There are day areas in this park as well that contain some picnic tables, restrooms, and BBQs.  Sunset Park Pond is re-stocked monthly with the exception of July.
#5 – Lorenzi Park Pond Fishing
Located in Lorenzi Park in Northwest Las Vegas, this fishing pond is regulated by the City of Las Vegas. This is a small area to fish but is still worth mentioning. It is an urban fishery, about 3 acres and only 10 feet deep.
There are no floating or boats allowed on the water surface. This is an angler-only spot. The Lorenzi Park Pond is home to Rainbow Trout and Channel Catfish year-round. The City of Las Vegas also stocks Blue Gill and Largemouth Bass on occasion in the Lorenzi Park Pond.
This was the historic Twin Lakes that helped found the city of Las Vegas and was renovated in the 1970s to be a deeper single-surface pond. The park added picnic areas and improved the landscaping in 2013.
If you plan on fishing here, you may want to bring small spinners, Power Bait, salmon eggs, and a few flies to catch some good fish here.
#6 – Fishing at Floyd Lamb Park (aka Tule Springs Pond)
Located within the Floyd Lamb Park in Las Vegas, also known as Tule Springs Pond, is the last of four ponds originally formed by natural springs. The Tule Springs Pond has four areas that were made to be fisheries in the basin.
However, only the uppermost pond is stocked with fish, and occasionally some of the natural fish will make their way over to the middle two ponds. This Pond Basin is approximately 5 acres with a maximum depth of 15 feet.
There is thick vegetation on the West side of the upper pond shoreline. However, the rest of the shoreline on the upper pond is easily accessible.
You can usually find some good quality Largemouth Bass in this lake from time to time, and it is stocked seasonally.
The park has an entrance fee of $6 per vehicle.
#7 – Mesquite Urban Pond
This urban pond is located in the town of Mesquite, Nevada, and has approximately 2 surface acres and a depth of 12 feet. Water quality is generally considered good year-round but does have some occasional algae blooms that last for short periods.
There are no developed camping grounds at the lake, but there are several RV campgrounds nearby. This basin is usually stocked in April and October. You'll find both Catfish and Trout in this pond.
No boats are allowed on the waterways of Mesquite Urban Pond or any other floatation devices.  It is only about 1 hour north of Las Vegas. In the Hafen Lane Park, about three-quarters of a mile east of State Route 170.
The water here is pretty crystal clear and makes for some great fishing, the park is open from sun up to sundown and falls under the Nevada Fishing Regulations.
#8 – Pahranagat Lake Fishing
This lake contains Carp and Bullhead as the predominant fish species lurking underneath its surface. The lake was drained in 1996 as a result of an overpopulation of Carp, which unfortunately didn't cure the entire problem.
Carp remain to be an issue, as they were recently discovered in the upper portion of the lake. Carp is not the only species found in the Pahranagat Lake, however. You can also find Bullhead and the occasional Largemouth bass. The lake is stocked seasonally as well.
There are a few campsites on the eastern shoreline, but no potable water and only a few fire rings for grills.
Some of the best fishing baits used here are:
Crankbaits
Spinnerbaits
Nightcrawlers
You can take boats and float tubes out on the water here, but only if they are not gas-powered. You cannot take a boat into the marsh, including floating devices and electric motors. You can use an electric motorboat in the upper lake region.
Route 66: Seligman to Kingman to Las Vegas – If you like road trips, you'll love this article here!
#9 – Nesbitt Lake Fishing
Being about 200 surface acres, Nesbitt Lake has an abundance of fish and is stocked regularly.
You can find the following fish in Nesbitt lake:
Black Bullhead
Largemouth Bass
White Crappie
Bluegill
Fathead Minnows
There is boating allowed on the lake, but only at speeds that leave a flat wake and not to exceed 5 Nautical Miles per hour. You can catch some pretty large fish here, but you also want to manage your bait and tackle here to do well. This is an early spring spot, having a prime season between February and June.
If you are shore fishing, most people use Jigs, Spinnerbaits, Rubber Worms, and Top Lures to catch Bullheads. Fish here in the Nesbitt Lake measure anywhere from 8-12 Inches. There is also no camping or fires allowed at this property.
Nesbitt Lake is about 2 hours away from Las Vegas, off of State Route 318 on the south end of the Pittman Wildlife Management Area. The access point is located on a dirt road that the State of Nevada asks you close after entering the park. Also, you may want to keep your eyes open for UFO's as the lake is very close to Area 51! You can see the article I wrote about Area 51 here.
#10 – Echo Canyon Reservoir Fishing
Echo Canyon was constructed in 1969, about 10 miles south of Eagle Valley Reservoir, close to Las Vegas. You can take a boat out on these waters and get some good fish. You just can't go any faster than 5 Nautical miles per hour and leave anything but a flat wake.
The 70 surface acres have a depth of only 27 feet, but there is a nice variety of fish stocked in this reservoir. Not only do you have your regulars, like Black Bullhead and Rainbow Trout, but this reservoir is also home to White Crappie and Brown trout.
This reservoir usually has smaller fish in it because of the unstable water conditions. Most fishermen use power bait here for the trout, although you can use some lures and flies if you want to.
The Echo Canyon State Park does have some picnic and campsite areas with tables and grills, as well as potable water. The water levels here can change quite a bit seasonally, so if you are planning on taking a boat out from here, you will want to check the water levels to see if they are high enough to use the boat ramp. If not, you may launch your boat from shore.
#11 – Eagle Valley Reservoir Fishing
About 10 miles upstream from Echo Canyon lies the Eagle Valley Reservoir in Nevada. This runoff leads straight into Lake Mead from the Colorado River. The reservoirs about 65 surface acres with a depth of around 43 feet. The fishing is really good here if you can handle the drive up from Las Vegas.
You can expect to catch about 4 – 5 10-inch rainbow trout a day fishing from the shoreline. The two best seasons are from April to June and September to October. Ice fishing is available here during the cold winter months.
The park does have a boat ramp with no extra restrictions except to stay within the marked areas around the Eagle Valley Reservoir and Eagle Valley Dam. One thing that you can catch here is Tiger Trout. They also stock it with Rainbow Trout and Brown Trout, but the Tiger Trout is great here.
The higher elevation keeps summer temperatures between 45 and 85 degrees, so bring a coat or jacket regardless of the time of year you are going.
#12 – Fishing at Wayne E Kirch Wildlife Management Area (Formerly Sunnyside)
Cold Springs, in the Kirch Wildlife Management area, is one of four good fishing spots there. This reservoir is only 6-9 feet deep but has 275 acres of surface water, which are used to maintain some rainbow trout and bass fisheries in the area.
Fishing at Dacey Reservoir in Nevada
Mid-may is good for largemouth bass that are about 11 to 12 inches caught with spinnerbaits. Stocked Rainbow Trout is active year-round, with about 23,000 fish stocked annually there is no shortage of Trout in the Cold Springs Reservoir.
The other three reservoirs also have a good stocking schedule for the Wayne Kirch Wildlife Management Area.
| | | | | |
| --- | --- | --- | --- | --- |
| Reservoir | Cold Springs Reservoir | HayMeadow Reservoir | Adams-Mcgill Reservoir | Dacey Reservoir |
| Surface Acres | 275 | 190 | 785 | 185 |
| Depth | 6-9 Feet | 7-12 Feet | 10 feet | Changes with seasons |
| Spring Stock | 11,500 Sping | 16,000 | 0 | 0 |
| Fall Stock | 11,500 Fall | 17,000 | 8,000 | 5,000 |
| Types of Fish | Rainbow Trout, Largemouth Bass | Rainbow Trout, Largemouth Bass | Rainbow Trout, Largemouth bass | Rainbow Trout, Largemouth Bass |
| Average Size | 11-12 inches | 20 inches | 9 inch | 12 inch |
| Boats Allowed | Yes | Yes | Yes | (no motors) |
| Camping Sites | Yes | Yes | Yes | Yes |
Regardless of which area you choose in the Kirch Wildlife Management Area, all four areas are fun. Ice fishing at Dacey to some of the larger bass at Heymeadow, you really can't go wrong here with any of these choices. This group of fishing spots is only about 3 hours away from Las Vegas.
#13 – The Colorado River
The Colorado River forms the boundary between Nevada and Arizona and is home to Laughlin, Nevada. Most of the Colorado River is commercial and private land. However, there are a few backwaters on the Nevada side that are excellent for fishing.
The Colorado River is about 12 miles long, from the Dam to the Arizona and California borders. This river is highly active, flowing about 2,000 to 20,000 cubic feet per second. This makes it an excellent place to fish Large Mouth Bass.
Most of the commercial venues are accessible on the Nevada side, with RV parking on the Nevada side and camping on the Arizona side. People use lures and cut-bait to capture some of the 15-inch bass that frequent this river.
The summer heat can take a toll on you, reaching 115 degrees, so definitely bring a hat and some drinkable water. Boating is allowed in certain areas as well as swimming, this is a large tourist area and a very well-known spot.
How far is the Grand Canyon from Las Vegas? – Read here to find out.
#14 – Trail Canyon Reservoir (Honorable Mention)
This one is about 5 hours away from Las Vegas near the California-Nevada Border off of Highway Route 6. It's only about 20 feet deep, very remote, and 1.5 acres overall in size. There is dense vegetation on the shoreline, and you may have some serious trouble getting here in the winter months.
This hard-to-reach gold mine is stocked with about 4,000 Rainbow trout in the spring and early summer months. This is the best time to fish in this area. The water quality is great, but there are no improved campsites here. 
10 Trout is the limit, and you can't use live bait, there is no boat access, and you can't float. This spot can be tough to get to, so you are going to want to check road conditions before making the drive up.
Las Vegas Fishing Tours
If you're visiting Las Vegas (or local to the area), and would like to go out fishing with a guide, you might want to consider one of the following Las Vegas fishing tours:
Las Vegas Fishing Tours – Perfect for both newbies, kids, and serious anglers, a guide (licensed and insured) will pick you up at your Strip hotel and take you out for a great day of fishing at Lake Mead or on the Colorado River.
FishFinder Guide Service – A licensed captain will take you out on a dedicated fishing boat on Lake Mead. This service had been voted the best Las Vegas fishing tour for five years running.
A knowledgeable fishing guide will get you to the best spots quickly and ensure you have a great time out on the water.
Las Vegas Fishing FAQs
Is there fishing around Las Vegas?
For what seems to be a dry, land-locked area, there is a surprising amount of fishing around Las Vegas. From small local lakes within the city itself to larger lakes nearby and the Colorado River, you'll find several places to fish within an hour or less of Las Vegas.
Can you fish at Lake Las Vegas?
Fishing is allowed at Lake Las Vegas under certain conditions. In order to fish at Lake Las Vegas, you must either be staying at one of the resorts (Hilton or Westin) on the lake or staying in an Airbnb within the community. The only other way to fish Lake Las Vegas is to rent a boat from the marina (electric motors only).
In addition, a Nevada State fishing license is required when fishing at Lake Las Vegas.
What fish are in Sunset Park Las Vegas?
The Sunset Park Pond in Las Vegas is regularly stocked with largemouth bass, trout, catfish, blue gill, crappie, and sunfish.
Where is the best fishing in Las Vegas?
The best fishing in or near Las Vegas is at Lake Mead. Lake Mead is a large lake just 30 minutes from Las Vegas and the lake is full of rainbow trout, largemouth bass, sunfish, smallmouth bass, striped bass, crappie, and catfish.
Fishing In and Around Las Vegas
So as you can see, there is quite a bit of good fishing both in and nearby Las Vegas. Armed with this list of top fishing spots, you're sure to have a great time on your next fishing trip in Las Vegas.