Mastering the Las Vegas Nightclub Dress Code (What to Wear)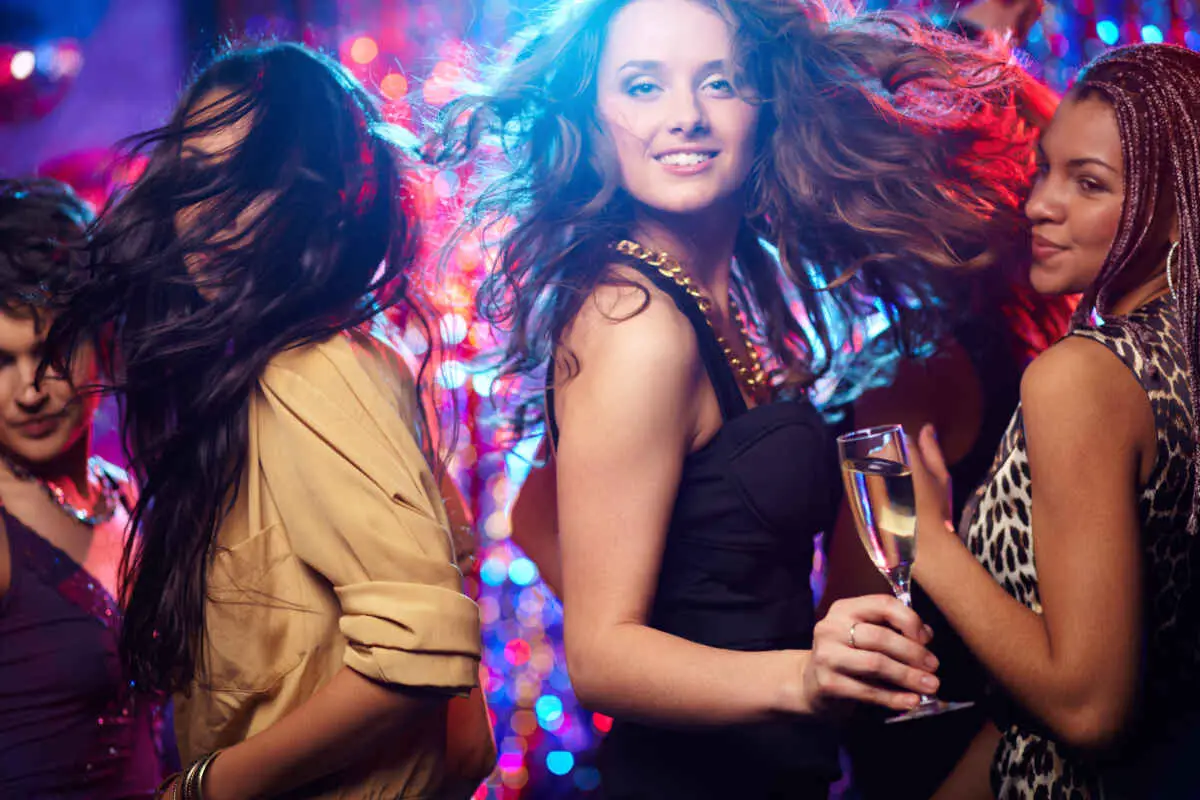 (This article may contain affiliate links, which means we might earn a small commission if you click and make a purchase. Thank you!)
Heading to a Las Vegas nightclub? Then you'll need to know what to wear!
Las Vegas boasts some of the world's most renowned nightclubs, and yes, they have strict dress codes. This guide dives into the essentials of the Las Vegas club dress code, ensuring you're perfectly attired for an unforgettable night out.
Key Takeaways
Dress codes in Las Vegas nightclubs are strictly enforced
Discover appropriate clothing and accessories for a night out in Vegas
Shopping tips plus local and online locations to help find the best nightclub attire
Do Clubs in Las Vegas Have a Dress Code?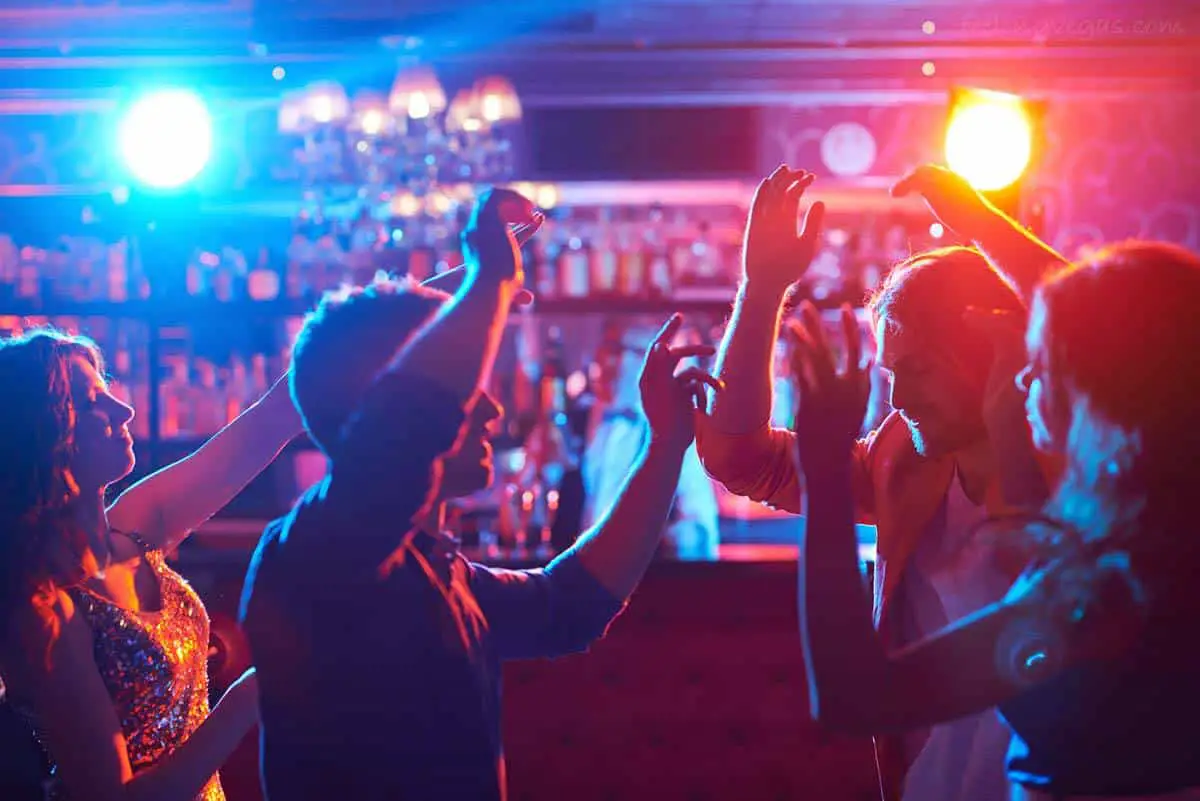 Yes, the majority of clubs in Las Vegas have a dress code. The dress code varies from club to club, but it typically requires patrons to dress in a stylish manner. This can include wearing upscale or trendy clothing, such as a well-tailored suit, a chic dress, or fashionable shoes.
Vegas nightclubs want to maintain a classy environment.
One way they ensure this is by enforcing a dress code policy. After all, bringing crowds of sexy, well-dressed people into a fun-filled space full of dancing and drinks is what nightclubs are all about!
If it's your first time visiting a Las Vegas club, then you'll want to avoid what could be an embarrassing experience. You don't want to wait thirty minutes to an hour in line only to be turned away at the door because you don't meet the dress code requirements.
Understanding Las Vegas Nightclub Dress Codes
For an unforgettable clubbing experience in Las Vegas, knowing the city's nightclub dress codes is crucial. This guide will quickly we'll cover the do's and don'ts, helping you "dress to impress" and enjoy your night without any worries.
Nightclub Dress Code for Women and Men: General Guidelines
When planning your outfit for a night out at a club in Vegas, there are some basic guidelines you should follow, regardless of gender:
Dress to impress: Las Vegas is known for its glamorous nightlife, so it's crucial to look polished and put-together. Aim for a stylish outfit that reflects the exciting atmosphere of the club.
Avoid sportswear: As Las Vegas Club Dress Code For Guys mentions, avoid dressing too casually. Most clubs frown upon sportswear such as jerseys, athletic shorts, or sneakers.
Wear appropriate footwear: Make sure to wear comfortable yet elegant footwear, as many clubs enforce strict guidelines when it comes to shoes. Stick to dress shoes, heels, or chic flats.
Important: Men need to be more careful with the dress code. Since most Vegas nightclubs are looking to attract women, the rules tend to be more lenient for them, but that doesn't mean you can get away with anything just because you are a female.
What Attire
Is

and

Isn't

Allowed in Las Vegas Clubs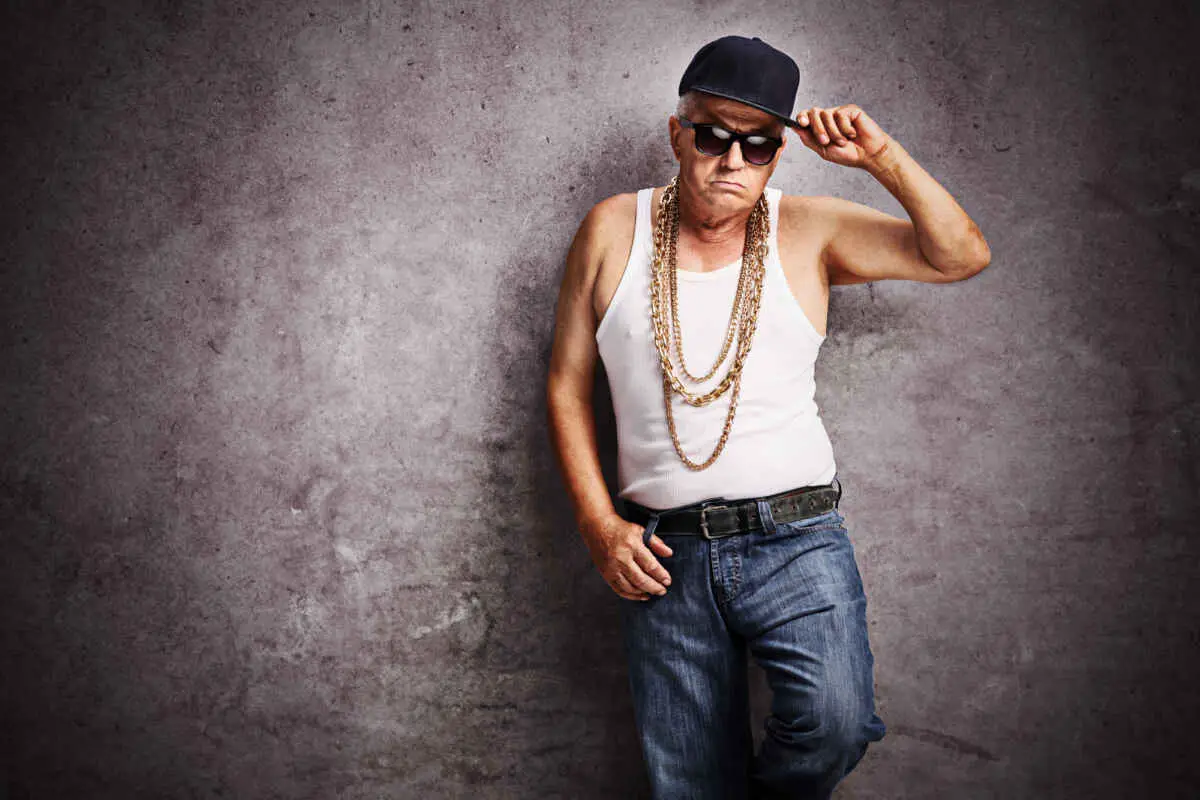 Now that you know the basics, let's dive into the specifics of the typical Vegas nightclub outfit guidelines. Below, we've summarized the allowed and not allowed apparel to help guide your selections:
Allowed
Collared shirts (aka button-up shirts) and dress shoes for men
Stylish tops, skirts, or dresses for women
Blazers or sports coats (optional but appreciated)
Dress pants or dark jeans
Not Allowed
Beanies, baseball caps or casual hats (You can wear fedoras or similar hats)
Baggy jeans
Casual shoes or athletic shoes
Cutoffs, capris, or shorts
Clothing that is ripped or torn (even if it's supposed to be a fashion statement)
Sports jerseys
Large, Heavy Chains
Shorts, flip-flops, and sandals
Graphic t-shirts or tank tops
Bandanas
By adhering to these guidelines, you'll be well-prepared for a night out in Vegas. For a more in-depth idea of what to wear, consider checking out Hakkasan Nightclub clothing rules to get a glimpse of club-specific attire in one of the hottest spots in town.
Warning: Even though I listed the items above you should never wear to a Las Vegas club, that doesn't mean you won't see people wearing some of these items once you get inside.
In the Las Vegas nightclub scene, certain individuals, such as table customers getting bottle service, acquaintances of the staff, and regulars, may occasionally receive leniency with the clothing rules.
However, for most visitors, including general admission and those on the guest list, adhering strictly to the club's dress rules is required.
Tips for Navigating Questionable Outfit Choices
Navigating grey zones in Las Vegas club outfit rules can be tricky. To enhance your experience, consider these helpful tips:
Do your research: Prioritize checking the club's website and social media profiles for guidance on official dress code rules. Keep in mind that certain events or guest performers may warrant different attire.

Stick to classic pieces: When in doubt, choose timeless clothing items, such as a stylish little black dress for women or a tailored collared shirt for men. These outfits won't go out of fashion and generally meet the standards.

Accessorize wisely: If you're worried about your outfit being borderline inappropriate, consider adding statement accessories, such as a flashy necklace or elegant watch, to elevate your overall look.

Consider footwear: Avoid overly sporty or tennis shoes, as club establishments often frown upon these. Instead, opt for dressier alternatives, like non-athletic sneakers or heels.
Remember, when planning your Sin City club attire, it's always best to err on the side of caution, as you never know how strict a particular venue might be. Following these guidelines and blending in with each club's unique style and atmosphere will increase your likelihood of enjoying a memorable night on the town.
Clothing Advice for Clubbing in Vegas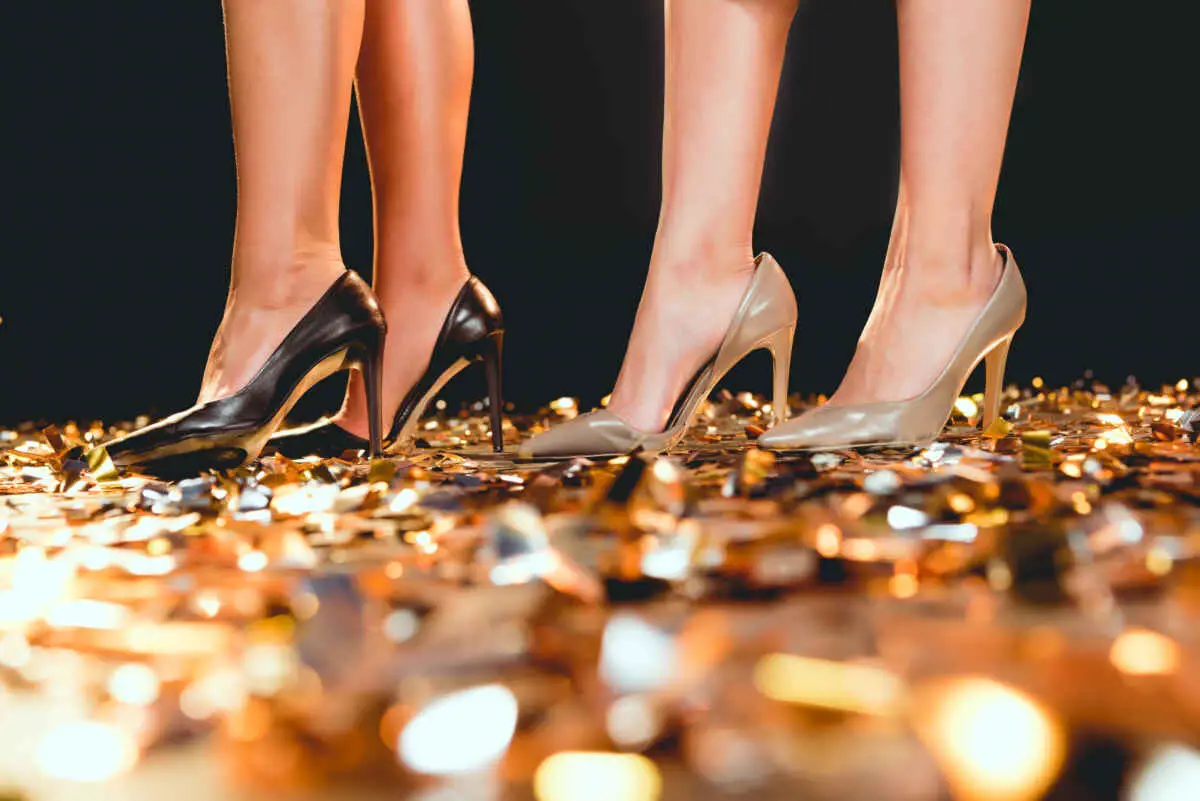 Shoes: Dos and Don'ts
When dressing for a night out in Las Vegas clubs, your choice of footwear can make a big difference. Opt for stylish, fashionable shoes that complement your outfit. Avoid overly sporty shoes and stick to trendy kicks appropriate for a night out.
For instance, at clubs like OMNIA, it's essential to steer clear of sportswear and wear nice shoes. Ladies, wear heels to complete your look. For men, dress shoes are your best bet.
Shirts and Tops: Acceptable Styles
A key aspect of dressing for Las Vegas clubs is selecting the right shirts and tops. For men, consider wearing collared or stylish slim-fit shirts that show you're making an effort. Fashionable t-shirts are also good as long as they're not overly casual.
Women have a wider range of options regarding acceptable tops, including sequin tank tops, silk blouses, or mesh tops with a chic bralette. Ensure your outfit is stylish and appropriate for the venue, such as Tao Nightclub.
Pants and Dresses: What Works Best
When choosing pants or dresses for a night out in Las Vegas, keep in mind the specific guidelines being enforced. For men, dark jeans or dress pants are the safest options.
Ladies, when selecting a dress, consider styles such as a cutout, cocktail, or mini dress, which are all stylish and appropriate for clubbing. A little black dress (lbd) is always acceptable, as well.
If you're visiting clubs with more relaxed dress regulations, you might have more flexibility when choosing your outfit.
Accessorizing for the Nightclub
Recommended Accessories for Men and Women
When it comes to accessories for a night out in Las Vegas, less is often more. For women, you can never go wrong with simple and dainty jewelry, such as a delicate necklace or a pair of elegant earrings. Women might opt for a chunky necklace or a stack of bold bangles for a bolder look.
Fashionable handbags are a stylish choice for women, but make sure to choose one that can comfortably hold your essentials and still look fabulous with your outfit. A sleek clutch or a small crossbody bag will be practical while keeping your look fashionable.
Fashion Accessories for Women
Statement jewelry (chandelier earrings, bold necklaces)
Sleek clutch or fashionable crossbody bag
High heels or stylish wedges
Sophisticated watch
Hair accessories (clips, headbands)
Stylish belts
Bold makeup (lip color, eye makeup)
Men can make a statement with a quality wristwatch or a pair of classic cufflinks. Additionally, a well-placed pocket square can add a splash of color and personality to your outfit.
Fashion Accessories for Men
Quality wristwatch
Classic cufflinks
Stylish belt
Pocket square
Leather bracelet
Dress shoes or trendy loafers
Cologne with a subtle, appealing scent
What to Avoid
When dressing for a Vegas nightclub, avoid wearing overly sporty or casual accessories.
Instead, choose accessories that reflect the excitement and glamour of Las Vegas. Opt for fedoras as a stylish alternative to casual hats, and select dressier sandals or shoes for women attending pool parties.
Keep these tips in mind, and you'll have no trouble accessorizing your nightclub attire and making a lasting impression while enjoying the vibrant Vegas nightlife.
Shopping Tips for Vegas Nightclub Attire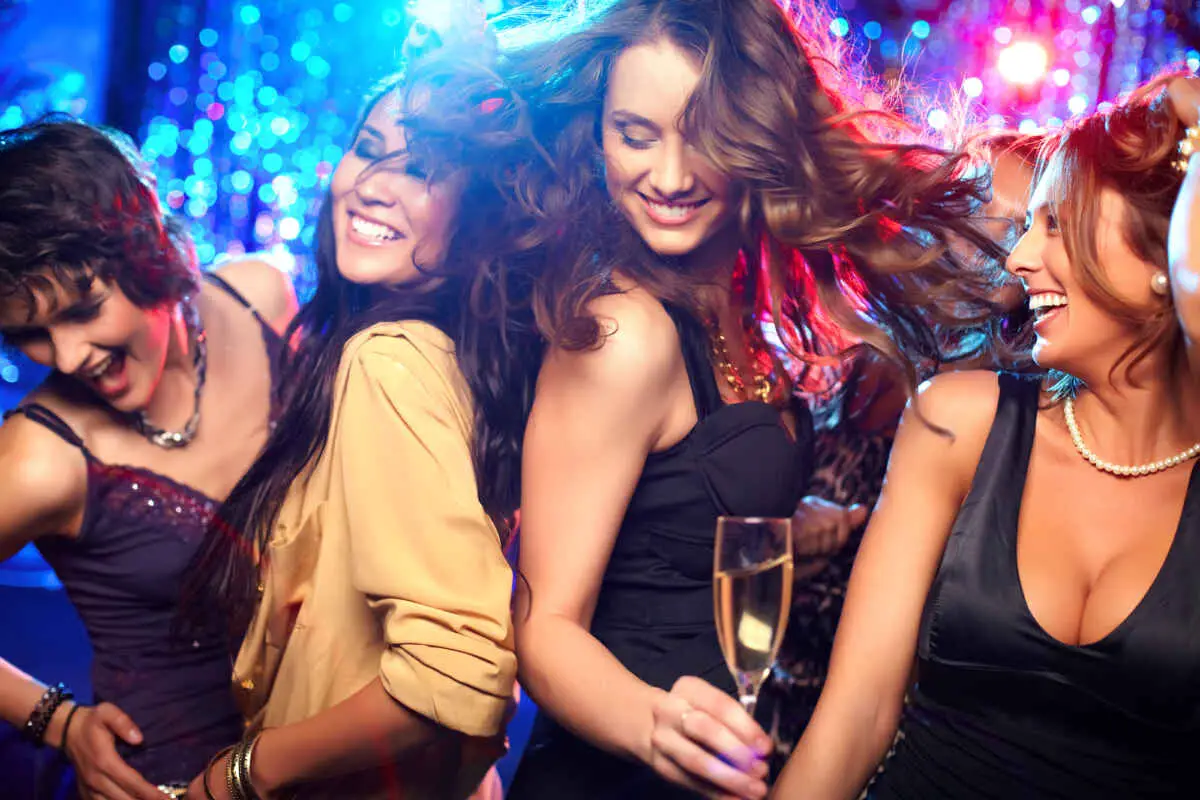 Planning your outfit for a night out at a Vegas club can be exciting, but finding the perfect attire might also be challenging. To ensure you look upscale and trendy, follow these shopping tips for nightclub attire.
Where to Shop in Las Vegas for Clubbing Outfits
Las Vegas is renowned for its numerous shopping opportunities, ranging from high-end designer boutiques to affordable fashion stores. You'll find the perfect outfit for your night out regardless of your budget.
Designer Boutiques: Las Vegas is home to an array of designer boutiques, such as Gucci, Louis Vuitton, and Christian Louboutin, catering to those who wish to invest in high-quality fashion pieces.
Shopping Malls: The city offers a wide range of shopping malls, like the Forum Shops at Caesars Palace and Fashion Show Mall, which host a mix of high-end and affordable brands to suit all budgets.
Discount Stores: If you're a budget-conscious traveler, Las Vegas has several discount stores like T.J. Maxx and Ross that offer a selection of stylish attire at discounted prices.
Online Resources for Last-Minute Purchases
If you find yourself short on time or unable to locate the perfect outfit in Las Vegas, don't worry. Online shopping can be a lifesaver for last-minute purchases. Here are a few resources to help you find stylish, trendy nightclub attire that can be delivered quickly:
ASOS: This popular online retailer offers fashionable clothing, shoes, and accessories at a range of price points. Plus, they have an express shipping option to ensure that your outfit arrives in time.
Revolve: Known for their chic clothing and trendy styles, Revolve features a diverse selection of club-friendly attire suitable for a night out in Vegas.
Amazon: With its vast inventory and quick delivery options, Amazon is an excellent resource for finding last-minute clothing and accessories that meet the nightclub's apparel standards.
So, if you find yourself in Las Vegas without packing for a nightclub, there are several ways to find something to wear in a short amount of time.
FAQs About Nightclub Dress Code Guide
What does a Las Vegas club mean when it says "dress to impress?
"Dress to impress" in Las Vegas clubs means dressing stylishly and fashionably. It's important to check the specific dress code requirements of the club you plan to visit.
Can I Wear Jeans?
Yes, you can wear jeans to a Las Vegas nightclub. However, it would be best if you opted for a nice pair of dressy jeans. You won't get away with wearing baggy jeans or torn jeans So, pick wisely if determined to wear Demin to a club.
Can I Wear a Hat to a club in Las Vegas?
Some kinds of hats are OK to wear. If you wear a hat that's considered stylish, like a fedora, then you'll probably be fine. However, if you are wearing the same baseball cap you wear every day or a beanie, you probably won't be allowed in. If you want to be safe, I'd suggest you go without a cap.
How about sunglasses in the club?
It's not a good idea to wear sunglasses to a nightclub in Vegas. It doesn't matter how great you think you look in them; they are never a good idea. Not only might you not be allowed in with them, but people will also probably make fun of you when you aren't looking. That's because you'll probably be the only person in the crowd with sunglasses on.
Come on, seriously…nobody looks good wearing sunglasses in a nightclub.
Can You Wear Flats to Vegas Clubs?
It is not a good idea to wear flats in Vegas clubs as they are generally frowned upon. Wearing heels with your outfit is a better choice. So, if you have a nice pair of heels, tonight's the night to wear them.
Dress Code Guides for Specific Vegas Clubs
Share your thoughts and experiences below – did our guide on mastering the Las Vegas nightclub dress code help you decide what to wear? We'd love to hear from you!