Las Vegas Club Dress Code For Guys (If You Want To Get In)
Vegas has a reputation for being everybody's favorite party destination, and without a doubt, it's home to some of the world's best nightclubs. But, if you're a guy, choosing the wrong outfit for a night out at a Las Vegas club will result in you being stranded outside while your friends party it up inside.
So, what is the Las Vegas club dress code for guys?
Nightclubs in Las Vegas often have a strict dress code, especially for men. Guys heading to a Vegas club should wear a nice pair of khakis or dark tailored jeans, a button-up collared shirt, a belt, dress shoes, maybe a sport coat, and a bit of bling like a nice watch.
If you're a guy, it's vital to know how to dress the part if you want to make it through the Las Vegas nightclub door. To help you out, here's a guide explaining the Las Vegas club dress code for guys.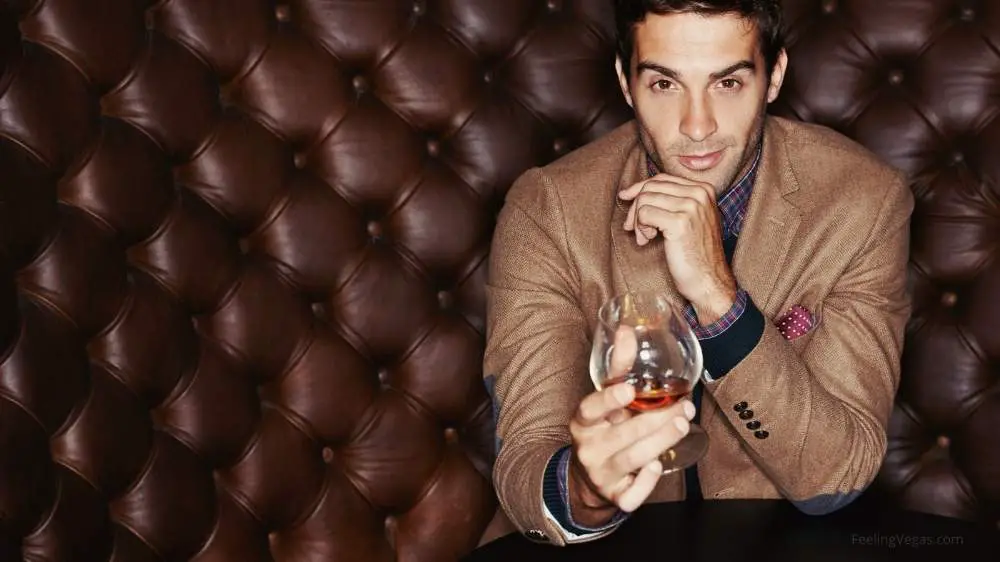 (This article may contain affiliate links, which means we might earn a small commission if you click and make a purchase. Thank you!)
Las Vegas Dress Code For Guys (What to Wear To The Night Club)
If you've never been to the upscale clubs on the strip, choosing what to pack for the ultimate nightclub experience can be daunting. There could be no better way to ruin your Vegas trip than to spend an hour waiting to get into a nightclub, only to find out you didn't make the cut because of your choice in apparel.
Every Las Vegas night club is trying to present a certain atmosphere. And because many Vegas clubs are frequented by the rich and famous, they're not just going to allow anyone through the door. Most clubs require an upscale style from their guests.
Women can often get away with some dress code violations at Vegas clubs, while a man's outfit will be scrutinized much more closely.
Let's put together a classic and stylish men's outfit that is sure to get you into any club in Vegas.
Men's Shirts For Vegas Clubs
A collared button-up shirt is a classic look that can be worn in any upscale nightclub. You will want to go with a casual button-up (with buttons on the collar) versus an actual dress shirt. Dress shirts are meant to be tucked in and worn with a tie. 
Make sure it's neatly tailored and fits well, and is not wrinkled or dirty. Embrace the nighttime vibe by opting for a dark or neutral color. A bright-colored shirt can also work well if it's paired correctly with an offsetting jacket. Avoid white, so you don't wind up looking like a waiter.
Coat or Jacket For Las Vegas Nightclubs
Most clubs in Vegas encourage a suit jacket, sport coat, or blazer. It needs to be a nice fit and something classy that can be worn over your button-up. Most clubs won't even consider letting you in without one, so this is a must-have when clubbing anywhere on the Las Vegas strip.
Men's Pants Are Important For Club Entrance
Dress pants and slacks are an obvious choice, but you may get away with a nice pair of black or dark jeans. Stay away from straight blue or light-colored denim. Save that for more of a daytime look. They need to be tailored to fit and not baggy. Rips, tears, or anything embellished should be avoided.
Shoes For Men at Vegas Nightclubs
Wearing a dress shoe is pretty much a requirement. Loafers can also work if they are clean and not worn. Dress boots can be a good choice if you can pull them off.
Some clubs may allow designer sneakers if they are paired with a chic upscale look. But don't be surprised if even designer sneakers get you flagged at the door. It's safer to opt for something dressier.
A Belt is Always a Good Choice For Guys
A belt is a crucial accessory when clubbing and will help to pull your outfit together. Especially if you are tucking in your button-up shirt, a belt is that extra touch of class that separates a casual outing from a night dancing at an upscale club. Plus, it keeps your pants up while you're getting your groove on.
Nice Watch or Modest Jewelry
Jewelry can be an added touch of class, and a nice watch is the safest choice to add a little shine to your outfit. Jewelry is a bit of a grey area for men at Vegas clubs, so it's best to keep it simple.
Related: Men's Style Guide to Las Vegas (What To Wear)
Guy's Vegas Nightclub Attire (Risky To Wear)
There are a few things guys can wear to a Las Vegas club that MAY be acceptable but increase the risk that you won't get in. Let's talk about some of these.
Sneakers Are a Questionable Choice For Men at Vegas Clubs
Shoe choice is probably one of the biggest reasons people get left out in the cold at the nightclub. The perfect outfit can be ruined by the wrong footwear. Vans, chucks, and even the occasional designer sneaker seem to be more acceptable lately, but if you're going to risk wearing any kind of athletic shoe, make sure you dress them up with the rest of your outfit.
As a rule, however, casual shoes are a risky move.
T-Shirts Are Not a Good Idea For Guys at Nightclubs in Vegas
T-shirts are usually unacceptable except for the very rare occasion. If you wear a t-shirt, you must be very careful about your choice. Make sure you go all out with the rest of your outfit to dress up the look.
It needs to be a nice fit and not be baggy or stretched out. A solid-colored V-neck in a dark color might be ok but avoid words, designs, or anything explicit. And pair it with a sport coat or blazer, or you won't get in.
A Hat Is a Very Risky Choice For Men at Clubs in Vegas
If you are a hat kind of guy, choose a simple fedora-style hat. Anything else is unacceptable.
Guys, Don't Wear These to a Las Vegas Club!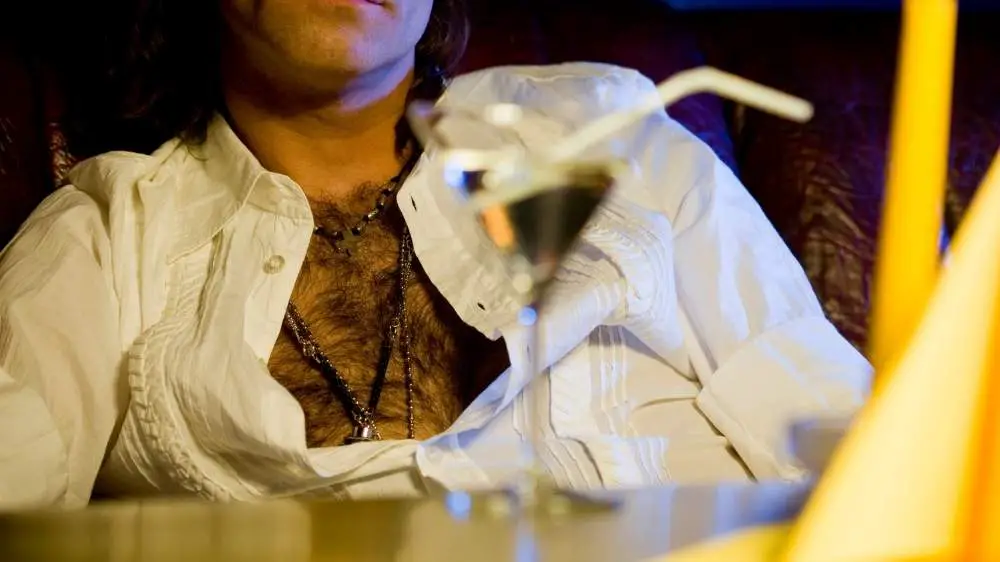 While some of the items mentioned above could be considered risky for a guy to wear to a club in Vegas, the following clothing items and accessories must absolutely be avoided if you're hoping to get past the front door:
Athletic attire
Jerseys
Tank tops
Baggy jeans with tears of rips
Shorts
Sweatpants
Hoodies
Sneakers or tennis shoes
Sandals or flip flops
Hats or beanies
Gold chains
Sunglasses
These items are beyond risky and are likely to get you barred from the club without a second look.
Should a Guy Wear a Suit to a Vegas Club?
There was a time when a 3-piece suit was the outfit of choice for any man in Vegas. But for the most part, those days are past.
Of course, a suit has its place if you're headed to the theater, but a casually upscale look is more suitable for the club. Plus, if you're going to be dancing the night away, a suit will probably be a little restricting.
That's not to say they won't let you into a club if you show up dressed to the nines. And if you feel like going all out nobody is likely to stop you. But sometimes less is more, and the nightclub is probably one of those occasions.
Las Vegas Clubs: A Few Things Guys Should Know
Signing up for VIP bottle service at a club may allow you more leniency when it comes to the nightclub dress code. It's always better to err on the side of caution. Besides, what's the point in dropping a bunch of cash for bottle service and then not looking the part. Although the club may allow it, you might get some sideways glances.
Celebrities and sports stars can pretty much wear whatever they want. If you're looking for that level of special treatment, it might be time to drop that album you've been working on. If it goes platinum, take a risk and wear anything you want. Until then, dress your best if you want access to the clubs in Vegas.
So, you've carefully selected your outfit to ensure you won't get any hassle from the doorman on the way into the club. The guy behind you wanders in wearing everything you thought would get you stopped. What gives? 
Sometimes it's all about who you know, and some people will be allowed in regardless of their nightclub attire.
Don't let any of these scenarios bother you. Just remember that some people are lucky in life and go about your evening. Arguing with the doorman at a nightclub is a sure way to guarantee you won't be allowed in.
Does Every Las Vegas Club Have Its Own Dress Code?
The answer to this question is yes, but for the most part, if you follow the rules above you should have no problem getting into any of the nightclubs in Vegas. You can always look up information on individual clubs online for specific dress code rules, but unfortunately, the rules can be vague.
Aside from the dress code, most clubs won't allow a group of men through the door without some women to balance the scales. If it's just you and some bros out for a night on the town, it's going to be even harder to get past that velvet rope.
You might try signing up for VIP service or contacting a promotor to get you on a guest list.
Las Vegas Club Dress Code For Guys – Final Thoughts
Know that you know a bit about Las Vegas club dress codes for guys, it's time to hit the nightclubs and start the party.
A trip to Vegas can be the vacation experience of a lifetime. Hitting up the clubs is a highlight for many guys when visiting Sin City, and you want to make sure nothing ruins your good time. Remember to dress to impress if you're headed out to a club.
It's Vegas after all, and you never know what could happen!
Recommended Reading: Do Las Vegas Casinos Have Dress Codes: Mistakes to Avoid
Sources: