Do Las Vegas Casinos Have Dress Codes? (Explained!)
Las Vegas is a destination that has a broad spectrum of entertainment and activities. While the weather will play a big factor in your wardrobe decisions, you should be aware that the more upscale casinos and nightclubs will require a specific dress code during the evening hours.
Do Las Vegas casinos have dress codes?
While most Las Vegas casinos don't have a formal dress code, it is expected that you dress in a presentable manner, particularly in the evening. Collared shirts, khakis, or nice jeans for men and dresses or slacks and blouses for women.
Las Vegas casinos frown upon shorts, flip flops, ripped or torn clothing, and t-shirts.
Las Vegas not only offers late-night activities, but it also has equally fun events taking place during the daytime. Planning your entire wardrobe according to how you wish to spend your day in Vegas can help you dress right for every situation. Below is a comprehensive style guide as to how to dress for a casino.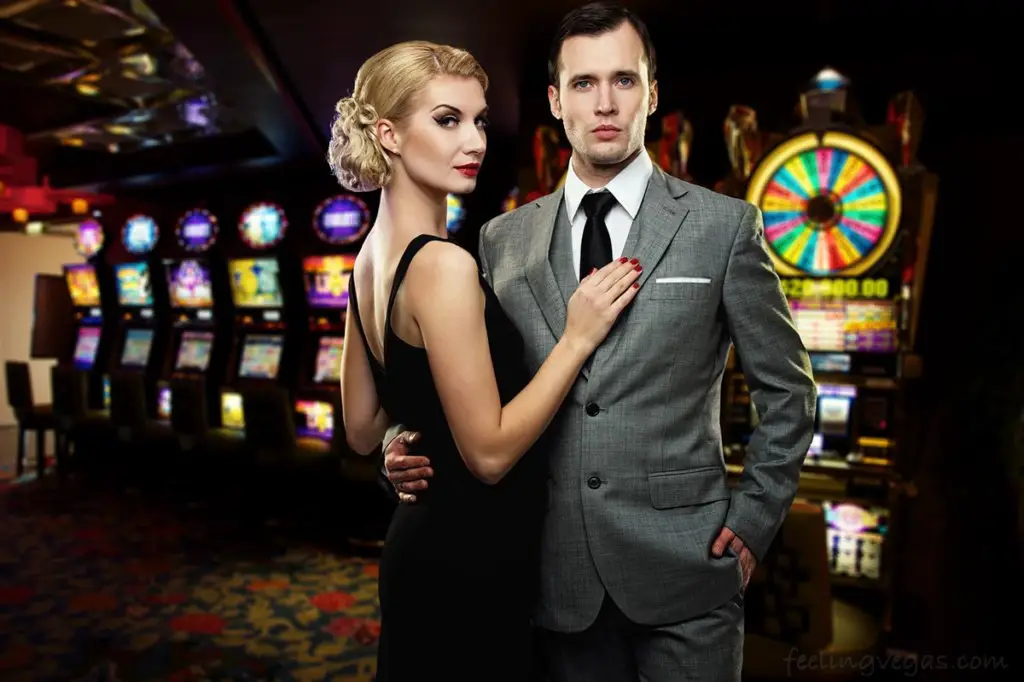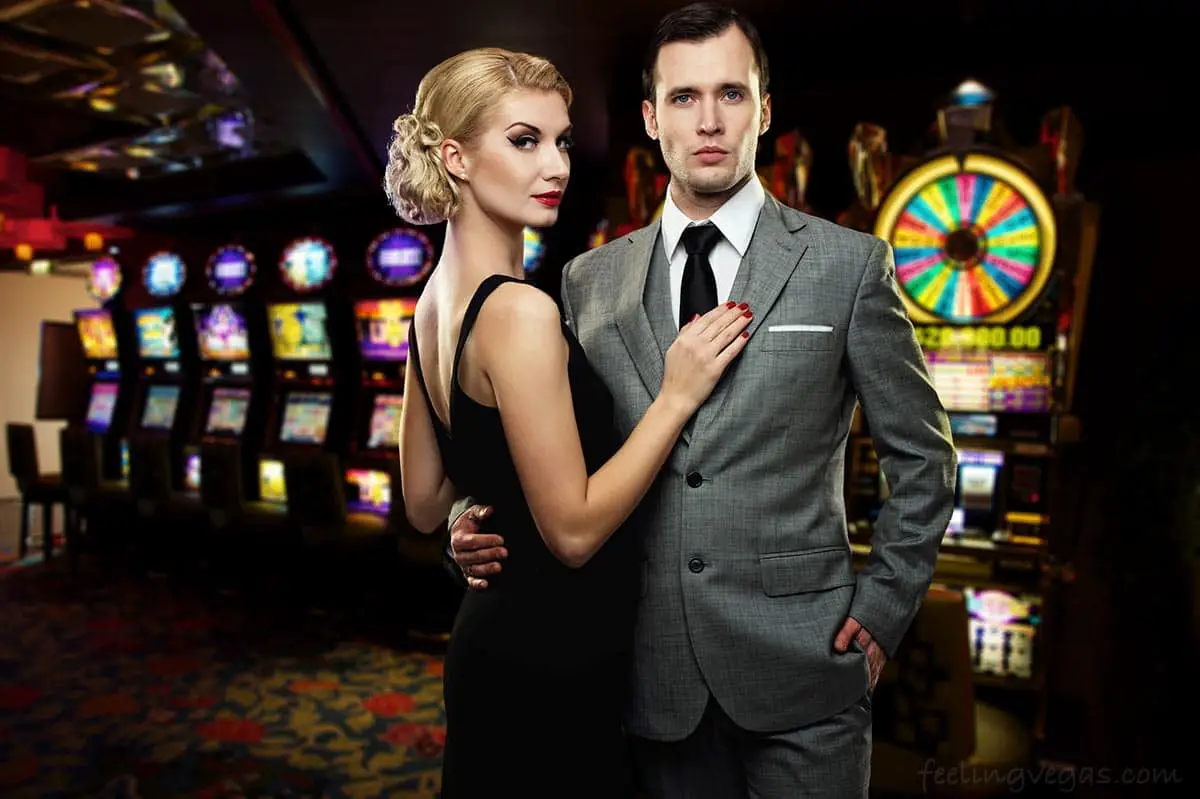 (This article may contain affiliate links, which means we might earn a small commission if you click and make a purchase. Thank you!)
What to Wear to a Casino in Las Vegas
If you are going to the casino during the day, wearing a casual dress such as jeans, shorts, or trousers with a t-shirt or collared shirt is doable. However, during the evening hours, you are encouraged to dress up in more formal casino attire.
While not every casino has a dress code, shorts and flip flops are an absolute no go in the gambling areas in the evening. I'm referring here to the more upscale casinos along the Strip.
Another thing to keep in mind is not to wear anything that creates any doubt or suspicion as to your activities in the gaming areas. Wearing Bluetooth earpieces or anything that may hide your identity can raise suspicion of cheating. Casinos are always on the lookout for such people as they do not appreciate cheaters.
During the evening in a Vegas casino men are encouraged to wear business casual; which means closed-toe dress shoes, collared shirts, slacks or smart jeans, and so on. Women, on the other hand, can wear a cocktail dress with a pair of sandals or flats, depending on their comfort. It is best to cross-check with the hotel concierge just to be sure. The following are some detailed recommendations for suitable casino attire.
Las Vegas Casino Dress Code For Men
While guys can dress pretty casually during the day in a Vegas casino, when the sun goes down it's time to up your fashion game if you don't want to feel out of place. Here are some suggestions for men on what to wear to a Las Vegas casino.
Khaki Pants
Sometimes jeans fall in the category of casual wear. To avoid such a situation, a pair of Khakis works really well. If you feel the color is not up to your liking or does not favor your skin tone, you can switch to blues or grays.
The idea is to not be in gaudy attire featuring patterns and kitsch but to merge in with the rest of the Vegas crowd. During the day, hot weather might force you to succumb to shorts but make sure you don't wear them after 6 pm if you're interested in appearing stylish.
Blue jeans
Jeans already have a casual look to them, so if you decide on wearing them to the casino in the evening, try creating a slightly formal ensemble. Pairing the jeans with a button-down shirt and tie can create the right look. That being said, avoid wearing tattered jeans. Don't wear distressed Wranglers or ripped jeans.
Loafers
The comfort of sneakers might be enticing, but when entering a casino at night, dress up in either a pair of loafers, boat shoes, or some other version of semi-casual shoes. Such shoes can also be found in a slip-on variety, making them more convenient to wear.
Socks
Plain athletic socks may sound practical but if your plans include any fine dining restaurants, access to VIP areas, or high-end casinos, you should wear dress socks with your shoes.
A traditional button-down shirt
The first thought when you read the words' conventional button-down shirt is probably a classic white collared shirt. That works just fine, but the goal here is really to stick to any kind of traditional dress shirt and stay away from flamboyant prints, graphic shirts with huge slogans, symbols, etc.
When it comes to sleeve length, it is mainly a matter of preference, but the default should be long sleeves. The reason behind this is that most casino cultures have their employees dressed up in half sleeve shirts; hence a long sleeve shirt is always the better option as a guest.
The fundamental wisdom is: the nicer the casino/venue, the longer the sleeves should be.
Wondering if you should wear a suit in Las Vegas? Check out our article here to find out.
Las Vegas Casino Dress Code For Women
While casual comfort is the name of the game during the day, an evening out in Las Vegas is the time to pull out the stops and dress to impress. Here are a few suggestions for the ladies about to head out for an evening in a Las Vegas casino.
A moderate cocktail dress
A moderate cocktail dress is basically something that is not too revealing. Showing too much skin is frowned upon in some casinos. This means that the hemlines of the dresses should be on the longer side and you should avoid wearing plunging necklines.
When it comes to color, everyone knows that black is a classic and the little black dress is timeless. However, if you want to stand out a bit from the classic you can always try other colors that are in vogue and agree with the weather.
Outerwear for the cocktail dress
Outerwear definitely gives an outfit a more elegant look. Plus, it's also functional when the weather is slightly on the cooler side. So it is a good idea to carry a wrap, cardigan, or jacket with you when you are planning a night out.
Pair of flats
There is no doubt that heels complete that chic look but in the modern casino era, that is not a requirement. For your own comfort you can wear a nice pair of comfortable flats; not sneakers.
Blue jeans
When it comes to wearing jeans, the criteria for women is no different than men. If your heart is not into cocktail dresses, then you can pack a nice pair of blue jeans provided that you wear them with a nice formal or semi-formal blouse or shirt. The idea with blue jeans is to dress them up a bit.
Blouse
Speaking of a blouse, some are such that they can work both day and night time. If your activities stretch from day to night and you don't have an opportunity to change clothes, wearing a neutral blouse or top is a good idea.
Blouses can easily be paired with jeans, skirts, slacks, trousers. Another factor that may be important to consider is the weather. The desert weather can be scalding hot during the day and chilly at night.
If you need to pick up some appropriate evening attire while you're in town, please see our article here for the locations of the best shopping malls on the Vegas Strip.
Las Vegas Casinos and their Dress Codes
I've outlined some general requirements above. Still, you should know that there are some high-end casinos and Nightclubs in Las Vegas that take the dress requirement quite seriously.
Hakkasan Nightclub at MGM Resorts
Although there is no official casino dress code on the gaming floor, if you plan to access the casino's exclusive nightclub there are certain requirements as to how you are expected to dress.
According to the website itself:
"…dress code is upscale fashionable attire. Hakkasan does not permit: hats, sandals, sneakers, hard soled shoes and boots, ripped or baggy clothing and athletic wear. Collared shirts are required for men" 

(source)
As far as the women are concerned, there is no detail mentioned on the website, but it is self-explanatory. As long as women don't wear overly revealing or casual attire, they are fine.
Aria
Aria is an upscale casino and houses some of the most renowned clubs and restaurants on the Strip. That being said, the dress code is business formal.
The fine-dining restaurants have the requirement of a coat for their customers. If you plan to stay, dine-in, and gamble here, proper business attire is a must.
Dress Codes for Other Las Vegas Activities
The fun in Las Vegas does not limit itself to only casinos. It offers the entertainment of nightclubs, day clubs, shows, and fine dining. Similar to the casinos, the nightclubs also require you to follow a specific dress code. After all one should dress to impress.
When it comes to dressing up for shows, you'll see some people dressing up, while others remain in casual attire. Adding some glamour to make the attire a little dressier for the night shows is a good idea.
You can learn more about Las Vegas dress codes and what to wear in Vegas on our website here.
RECOMMENDED: OMNIA Nightclub Dress Code (What to Wear – OMNIA Las Vegas)
Summary
While the casino properties themselves don't typically have any sort of overall fashion requirement, the unofficial Vegas dress code for casinos is to dress up a bit in the evenings. Las Vegas is all about living the life of luxury (even if you're doing it on a budget), and your casino attire, particularly in the evenings, should reflect that.
Know that you know what to wear to a casino, get out there and have a great evening!
What to Wear in Las Vegas