Las Vegas is famous for its casinos, nightlife, shows, and attractions. But if you're planning a trip to this high desert city, you'll need to base your wardrobe on what time of year you're visiting.
What you wear in Las Vegas will differ based on the season you visit. While most days of the year are sunny and you can wear warm summer clothing, nights can get cold during the winter months. Also, it's essential to pack a nice outfit or two if you want to visit certain clubs and restaurants.
In this article, we'll take a look at the kind of clothing you'll want to wear in Las Vegas during each month of the year.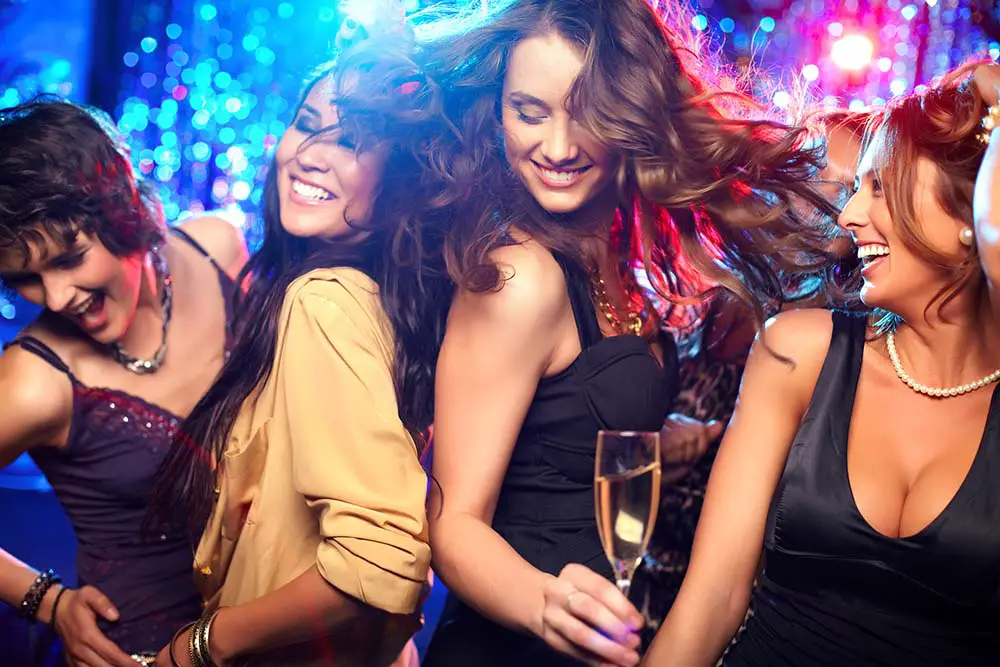 What to Wear in Vegas Month By Month
Vegas is an exciting world-class destination filled with fun attractions and exciting adventures around every corner. Bringing and wearing the right clothing will add to your comfort and overall experience in this amazing city.
Las Vegas is a pretty laid-back place during the day and comfortable casual wear is the name of the game and is based largely on the weather. Evening time in Vegas, however, is another story, and how you should dress depends on what you want to do.
As the sun sets, you'll begin to see all the casually dressed people around start to be replaced by visitors who are dressed to impress. While not everyone gets dressed up in the evenings, you should be aware that specific attire is required to visit certain locations.
For instance, most nightclubs won't let you enter with sneakers, jeans, or casual clothing, so it's best to pack appropriately. (In fact, if you're planning to head out to a Sin City nightclub, you'll want to check out our article about Vegas nightclub dress codes to learn the do's and don'ts.)
Let's get to it and break down the kind of clothing to bring with you when traveling to Vegas throughout the year. It's best to assess your needs based on when you're traveling so you can make the most of your trip.
What to Wear in Las Vegas in January
Average daytime temp: 58°F (14°C)
Average night time temp: 39°F (4°C)
Las Vegas is typically warmer than most cities. However, it can get quite chilly during the winter months. And if you're visiting Vegas in January, it's best to pack two or three pieces of warm clothing (sweaters or jackets) to ensure you stay warm and toasty during the chilly nights.
PRETTYGARDEN Blouse Shirt Dress (Amazon)
Both men and women should consider carrying two or three pieces of clothing that can be worn in layers, so you can look stylish and stay warm in the evenings.
If you're planning on hitting up some of the clubs, comfy, casual, warm clothing just won't cut it. You'll need to protect yourself from the evening chill while sporting something stylish.
For men, this means avoiding baggy jeans, hoodies, or beanies that make you look gangsta. Instead, invest in a sleek jacket and pair of khakis or formal pants, a collared shirt, or maybe a suit so you can get into clubs and upscale restaurants.
Women can also benefit from investing in a chic jacket or cardigan to complement their evening dress. You can even consider investing in a few sweater pieces to go with your outfit.
Recommended Reading: Are Las Vegas Pools Heated in Winter? A Complete List
What to Wear in Las Vegas in February
Average daytime temp: 61°F (16°C)
Average night time temp: 41°F (5°C)
Temperatures during the day rarely go higher than about 63°F and can drop to as low as 30°F at night, making February one of the colder months in Vegas. However, cold is a relative term in this desert city, and you'll still receive plenty of sunlight during the day.
While you can comfortably indulge in outdoor daytime activities like golfing or walking the Strip, it's essential to carry a set of cold-weather clothing to protect you from the nighttime chill, especially if you're planning to explore Las Vegas Boulevard at night.
As mentioned earlier, most nightclubs and even certain eateries follow a strict dress code, so carry at least two pairs of 'good' clothing with you to wear when you're going out.
For women, this could be a dress or a stylish blouse, and for men, a collared shirt with a pair of dark pants to complement them. 
What to Wear in Las Vegas in March
Average daytime temp: 71°F (22°C)
Average night time temp: 49°F (9°C)
Las Vegas starts warming up in March, but don't be fooled; temperatures can still drop to near freezing at night. It's best to pack a few pieces of warm clothing if you plan to explore the city at night (which you most certainly will).
As things start to warm up, activities like biking, swimming, and hiking become popular in Vegas, and you'll want to pack the right clothing so you can take part in these activities. You also want to bring a pair of comfortable walking shoes like this pair of Sketchers (Amazon), so you can explore the city at all hours of the day without killing your feet.
A lightweight cardigan shrug like this one (Amazon) is a nice addition.
Restaurants and Vegas nightclubs will still mandate the formal dress code, with some even requiring a tie and jacket before admitting you in. It's best to carry one of each, so you don't have to worry about entering certain places.
For women, it's best to carry a calf-length or ankle-length dress along with a shrug or cardigan to keep you warm during chilly nights. 
While sneakers and flip-flops are acceptable during the day, you'll want a set of formal shoes or heels to enter clubs and bars at night.
Recommended Reading: Should You Wear a Suit in Vegas? What You Need to Know
What to Wear in Las Vegas in April
Average daytime temp: 77°F (25°C)
Average night time temp: 55°F (13°C)
The last week of April is typically one of the best times to visit Vegas as most of the poolside hotels are open for business, and much of the Spring Break crowd has left the city. As such, you'll have more lodging options than ever in some of the best locations!
April is a bit warm, but the Spring winds can bring a chill into the atmosphere from time to time. During the day, it's best to find yourself by a pool, with a cocktail in one hand and a book in the other.
While shorts, flip flops, and other summer wear start to come out in April, you'll still need to carry one or two pairs of 'going out' clothes if you plan to head out at night. 
What to Wear in Las Vegas in May
Average daytime temp: 91°F (32°C)
Average night time temp: 66°F (19°C)
The days in Vegas heat up quite quickly in May, with temperatures going up to 93°F in a matter of minutes. Luckily, nighttime temperatures rarely drop below 62°F, so you won't need to worry much about keeping yourself warm during this month.
A Paul Jones button-down dress shirt (Amazon) is a great option for men.
Wear comfy, breathable pieces of clothing when visiting in March, so the heat doesn't get to you. You want to avoid jeans, khakis, joggers, and any denim, as they will make you miserable in the desert heat.
Again, it's worth mentioning here that you'll need more formal clothing when entering certain lounges and clubs, so be sure to take a set with you.
Recommended Reading: Do Las Vegas Casinos Have Dress Codes: Mistakes to Avoid
What to Wear in Las Vegas in June
Average daytime temp: 100°F (38°C)
Average night time temp: 74°F (23°C)
Temperatures continue to rise in June, and it's a great time to visit the desert city, especially if you're looking to enjoy pool season and get a nice tan. Most women carry crop tops, short skirts, and shorts, so they stay comfy in the heat.
For men, it's best to carry a pair of sandals, airy shorts, and a light cotton t-shirt to deal with the heat. You also want to pack a pair of sunglasses and a fedora to block out the sunlight and protect your head from the sun.
What to Pack For Las Vegas in July
Average daytime temp: 105°F (41°C)
Average night time temp: 81°F (27°C)
July is the hottest month in Vegas, with temperatures soaring above 110°F on some days. Summer wear is the only thing you want to think of when visiting Vegas in July and be sure to pack lots of options!
Whatever you do, don't forget to pack your swimsuit! Las Vegas pools are a great place to see and be seen so something like this stylish two-piece bathing suite by MOOSLOVER (Amazon) will make a great choice.
Light, casual clothing works best for both men and women, with flip flops or sandals so you can stroll around the city during the day. If you're planning on exploring the city, carry a pair of walking or jogging shoes, so you stay comfy during your explorations.
However, it's crucial to note that restaurants, bars, and casinos can be pretty chilly due to the strong air conditioning, and you'll want to carry some moderately warm formal clothing when engaging in the nightlife, catching a show, or enjoying an evening cocktail.
Aside from the cold, certain establishments will restrict entry if you show up to a party wearing flip-flops and shorts. To ensure you can enter most establishments, carry at least one pair of party clothes, even when visiting in July.
Recommended Reading: Plus-Sized Women's Las Vegas Style Guide (Fabulous!)
What to Wear in Las Vegas in August
Average daytime temp: 102°F (39°C)
Average night time temp: 78°F (26°C)
It's still very hot in August with a touch of summer breeziness to keep you well-ventilated during the day. A pair of shorts and a short-sleeved cotton tee or top are necessary to beat the summer heat.
Women should consider tank tops and shorts or short skirts to stay light and airy while enjoying the sunny weather. You want to pack a pair of sunglasses and a wide-brimmed hat as the sun can still be quite punishing on most days.
However, just like any other month, you'll need some going out clothes to enjoy the nightlife and if you want to enter some of the nicer clubs and restaurants. It's best to pack a sweater or light jacket as well, as some of the air-conditioned venues can get brutally cold.
What to Wear in Las Vegas in September
Average daytime temp: 95°F (35°C)
Average night time temp: 71°F (22°C)
Septembers in Vegas are still relatively warm, but you can start to sense a shift in the season. The dying out of summer and the onset of winter make September an ideal time to visit Vegas.
Sundresses are ideal the majority of the year in Vegas. Something like this floral print sundress from Amazon will work well.
You can pack shorts or a sundress if you're casually wandering the Vegas Strip during the day. And make sure to bring a pair of comfortable and sturdy walking shoes as you're sure to spend more time exploring the city during the day, thanks to the pleasant weather.
The nights are starting to cool off, and while it's still not chilly enough to wear winter clothing, it's best to don a pair of pants or leggings to keep the chill off your legs, particularly in the last couple of weeks of September. 
Women, you can pair your leggings with a long dress to ensure you gain entry into the clubs while keeping yourself warm and toasty through the nights.
Recommended Reading: The Ultimate Las Vegas Packing List (19 Things To Bring!)
What to Wear in Las Vegas in October
Average daytime temp: 82°F (28°C)
Average night time temp: 59°F (15°C)
The temperatures continue to head down in October, which can feel pretty chilly to some people, especially those from typically warmer climates. Temperatures in a Vegas October tend to fluctuate a lot, so it's best to pack an assortment of clothing.
It's best to pack a variety of lightweight clothing that you can wear in layers during the evening. This way, if it gets too warm, you can shed a layer while maintaining the integrity of your look.
You can even consider wearing thin jeans in October as they will offer relief from the chilly evening winds. But be sure to avoid wearing them during the day as they may get stuffy.
Aside from leggings, women should also get a cardigan or jacket if it gets chilly at night. If you aren't a fan of heels, consider getting a pair of dress shoes, as these will keep your feet warm and help you gain entry to clubs and other establishments in the evening.
What to Wear in Las Vegas in November
Average daytime temp: 66°F (19°C)
Average night time temp: 46°F (8°C)
Vegas weather tends to fluctuate even more in November, and it's not uncommon to experience a range of different temperatures in a single week. Layering your clothing is a popular option during this time as you can more easily adapt to changing temperatures.
How about a stylish suit for the men? This 3-piece slim fit suit by MY'S (Amazon) is perfect for a sophisticated evening in Vegas.
However, November is a lot cooler than most months, and you can even consider wearing jeans during the day as it won't be so stifling during this season. 
While late November is not the time for shorts and light, airy clothing, it's still okay to carry a pair of swim shorts or a swimsuit during this time. You're likely to still have some warm days, and it can be refreshing to take a quick dip before wrapping yourself up in layers of clothing.
Note: The weather seems to typically break noticeably to the colder side right around Thanksgiving.
What to Wear in Las Vegas in December
Average daytime temp: 57°F (14°C)
Average night time temp: 39°F (4°C)
December is the coldest month in Vegas, with temperatures sometimes dropping to as low as 28°F, which can be cold, even for those used to cooler climes. 
Many visitors still manage to wear shorts and light cotton tees and tops during the day. However, it's best to just pack a pair or two and avoid relying too heavily on them. Be aware that even though it's generally sunny, the daytime temps can get cold, especially if the wind is blowing.
Instead, pack a pair of jeans or leggings, along with walking shoes, so that you can explore more significant stretches of the city in the daytime. December is the best time to explore during the day as it's relaxed and free from the otherwise harsh sunlight and temperature that characterizes a Vegas summer.
So make the most of this weather by carrying clothes that will protect you from the chill while leaving you comfortable and mobile to walk around and explore as you see fit.
During December, anyone traveling to Vegas should carry a jacket, cardigan, or other cold-weather attire to protect them from the chilly nights. You want to ensure that your coat is stylish and presentable so you can wear it to most of the clubs on the Strip.
Recommended Reading: 21+ Reasons It's Worth Coming to Las Vegas in December☀️
Final Thoughts
Vegas can be an exciting city to explore during any time of the year. And the best part is that the town morphs and adapts to the changing seasons, giving you a completely different experience based on when you visit.
With a bit of wardrobe management, you can ensure you're carrying the proper attire to deal with the kind of weather you're going to experience. And remember, to experience the Vegas nightlife, you'll need at least one pair of good clothes so you can enter anywhere you choose to.
Sources: