Men's Style Guide to Las Vegas (What To Wear)
(This article may contain affiliate links. If you click through and make a purchase, we will receive a small commission at no additional cost to you. )
Gone are the days when men dressed in black tie to go to Las Vegas, but it can still be tricky to choose what to wear on which occasion. Depending on where you are, and the time of day, there are different ways for men to stand out with their Vegas fashion choices without being out of place. 
Here is a men's style guide to Las Vegas: 
Button-down shirt and jeans. 
T-shirt and khakis.
Swim trunks and espadrilles.
White jeans and a classy shirt. 
Blazer and dark chinos.
Button-down dress shirt and dark jeans. 
Well-tailored suits.
When planning a trip to Las Vegas, make sure you have enough clothing options to cover you for any occasion. Before making up wacky combinations, take a look at a few general men's Vegas styles that will help you feel cool and confident wherever you are.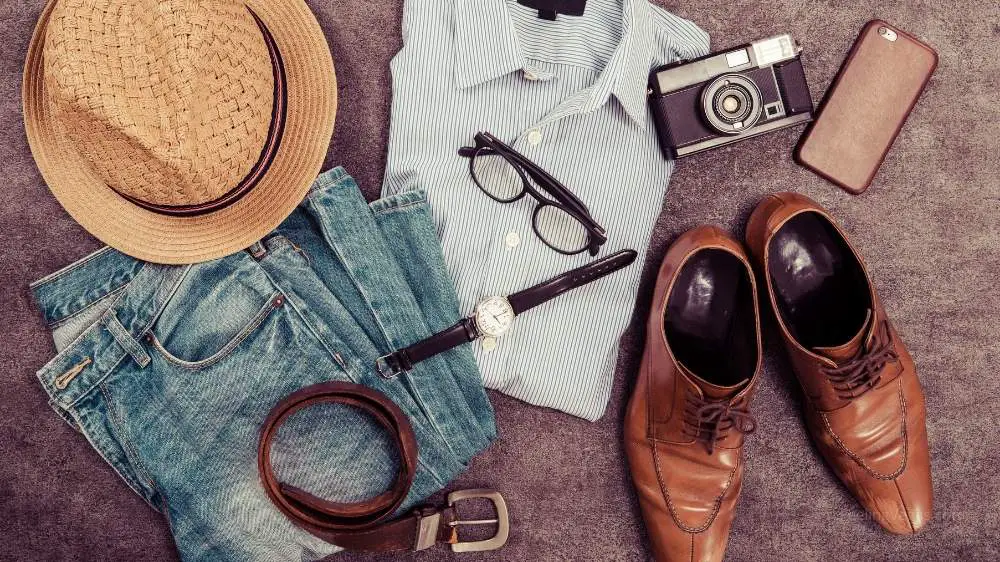 1. Button-Down Shirt and Jeans For Casinos
Try pairing a button-down shirt with a nice pair of selvage jeans (Amazon), both in dark tones. You can add some color with a navy or blue blazer. Instead of thinking too much about colors, focus on fit. Try slim jeans and a well-fitted shirt that compliments your look. 
Brown leather sneakers are a great pick for this outfit, as they're not formal, but still classy. 
You can easily dress up this outfit by choosing chinos (Amazon) instead of jeans. Conversely, wear it down by picking distressed denim. Just make sure your jeans don't look like rags. 
When To Wear
Casinos don't have strict dressing codes, but that doesn't mean you'll fit in with shorts and a pair of flip-flops, especially in the evenings. The above outfit will have you looking good in any casino in style.
If you're going for a relaxed look, consider going during the day when there are little to no dress codes, because after the evening hours, you'll want to step up your look. In any case, when you're going to a casino, you'll want to look comfortable but crisp. 
You want to blend in and not look like a tourist who's ready to get grafted. 
Wearing flashy clothes and bright colors is not a good idea, at least if you're not seasoned in casino culture. Go for a clean, distinguished look, but without looking like you're trying too hard. 
The key here is to be confident. For that to work, you have to feel confident with the clothes you're wearing. You should communicate that you're aware of your surroundings and know your way around things. 
If it's your first time around casino life, then that first impression is all the more important. 
2. T-Shirt and Khakis During The Day
For your shirt, you can't go wrong with a t-shirt. A plain, white t-shirt will do just fine, but don't be afraid to use a striped pattern, a distinctive color, or anything else that matches your style. However, think twice before using graphic t-shirts unless the design isn't too jarring. 
Think of a black-and-white striped t-shirt or a pastel pink t-shirt. 
You could also make this look work with a clear-colored casual button-down shirt, unbuttoned at the top. However, make sure it's a true casual shirt and not a dress shirt. Otherwise, you could look shabby. 
For your pants, khaki chinos (Amazon) are a classic choice. You can go for chino shorts, but full-length trousers are more versatile. You still want to look crisp, so a slim fit is your best bet. Although if you want a more modern look, you can choose a relaxed fit with a high cut. 
For your shoes, go for comfortable sneakers to walk for extended periods on and around the Las Vegas Strip. Black or white canvas sneakers go great with this outfit. However, brown sneakers can go great with darker chinos. 
This is also a great chance to show off your stylish chunky sneakers. 
Top off your look with dark-tanned aviator sunglasses (Amazon), and you're good to roam the streets of Las Vegas like you own the place.
When To Wear
Las Vegas has a lot to offer for the daytime outdoor explorer, so there's a high chance you'll spend a good chunk of your time walking. For this occasion, you should choose comfortable clothes that you don't mind walking in. 
Avoid pieces with tight fits, and make sure you're picking comfy shoes. 
Remember that comfort and confidence are on-trend today, but if you feel daring, you can choose a slightly baggy t-shirt. Just make sure it's breathable and it doesn't look too drapey. 
The Nevada sun can get really hot, so you don't want to be wearing something that will make you start sweating after walking a few feet. It's better to opt for warm but unsaturated color combinations. 
Besides helping you absorb less heat, it will make you look relaxed and cool. Think of a Mediterranean summer vibe. 
3. Swim Trunks and Espadrilles by The Pool
Let's start with a warning when you go to the pool: don't wear flip-flops. There are much better-looking alternatives, like canvas espadrilles (Amazon) or loafers. 
Regarding swimwear, go for swim trunks with an understated print (Amazon). You'll look classier if they're slim and trimmed above your knee. Make sure they look new and don't have any holes or stains in them. 
With baggy, longer swim trunks, you run the risk of looking shabby. You can make them work, but make sure you're pairing them well. 
For a classy but laid-back look, wear a short-sleeved button-down shirt (Amazon) in a light color. White linen is the way to go, but you can just as well combine a lilac or light blue shirt with a white bathing suit. 
When it comes to accessories, dark sunglasses are a must, so feel free to sport your favorite eyewear. 
When To Wear
You'll have more than enough chances to attend a Las Vegas pool party, as they're quite common, especially in the hot seasons. If you're going to Las Vegas in spring or summer, make sure you pack enough swimwear. 
Whether you're there for a quick dip or to have some drinks by the poolside, you shouldn't forget about your style. There are plenty of things you can do to look great with your swimwear. 
4. White Jeans and a Classy Shirt During Evenings in Vegas
In the evening, make sure to have at least two layers. Here is a good chance to show off your color blocking skills if you feel like it. But if you want an outfit that will work every time, just grab a t-shirt and a light-colored crew neck sweater. 
Pair that up with white jeans, and you're ready to go to a cocktail party. 
You can play with different textures and knits in your sweater and contrast them against your pants. For example, you can pair a textured sweater (Amazon) like a cable knit with plain chinos or smooth cashmere with denim. 
You can step up your shoes with suede bluchers (Amazon) or go with classy sneakers. 
If beanies are your style, they're a great way to keep your head warm and look stylish. If you want something more distinctive, try going for an Irish linen hat. Linen will give a modern edge to this vintage-looking piece. 
When To Wear
When the sun starts to set, it's a good idea to switch to warmer clothing (especially in the winter) and add a layer or two, which is the perfect time to wear the above outfits. You're still going after that summer vibe, so stick with the warm and light colors. 
Make sure you pick comfortable clothing since you'll still be walking around outside. 
We're not talking about nightclubs and fancy restaurants yet, so there's no strict dress code here. This is what you'd wear to get a meal outside or at an outdoor bar before late at night. 
5. Blazer and Dark Chinos For Vegas Restaurants
Ditch your button-down shirt for a black, well-fitted t-shirt, and wear a blazer on top for a nice restaurant in Vegas. A navy or blue blazer (Amazon) is a safe bet, but if you want something more exciting, try something like indigo. 
We have finally arrived at the most important piece of clothing you'll put in your baggage, which is a blazer. Blazers are incredibly versatile, and you can easily dress them up or down with small changes. 
Pair that t-shirt and blazer combo with dark chinos, and you're good to go. Jeans will work just as well. 
When To Wear
Las Vegas can offer various amazing culinary experiences, and restaurants are just a great place to spend time with people. But if you're going to the trouble of making reservations, then you'll want to dress up from your relaxed summer day attire. 
Most Las Vegas restaurants have a business casual dress code, which means you can reuse much of what you'll use on other occasions.
A button-down shirt and fine jeans or chinos will do, but it's already hard enough to stand out among the sea of fashion-aware people that is Las Vegas. 
You don't have to get your suit and tie for a restaurant in Las Vegas. 
As we just said, a button-down shirt will work. But if you do things a little differently, you'll elevate your look and project a more confident vibe. 
6. Button-Down Dress Shirt and Dark Jeans For a Vegas Show
Step up from your casual shirt and wear a white button-down dress shirt when going to nighttime shows. Put a blazer on top of it, preferably in navy or other solid dark colors. You can use the same blazer you wore on other occasions, but a double-breasted blazer can add a touch of distinction without being too much. 
To wear down your outfit a little, couple that with a pair of dark jeans. Drop the sneakers and wear loafers (Amazon). Leather moccasins can give you a classy look. 
When To Wear
Las Vegas is full of shows, often with many celebrity appearances. Music, comedy, magicians, variety, burlesque…you'll find just about anything. 
Daytime shows aren't as dressy, so you can just attend them with your casual summer outfit. Nighttime shows are different. People tend to dress up, and it's a little difficult to discern exactly how dressed you should be in order not to feel out of place.
7. Well-Tailored Suits For a Las Vegas Nightclub
You can always wear a tailored suit when going to a fancy nightclub. Well-tailored suits always look crisp, and many people do it, so you won't feel out of place. Maybe dress it down with a t-shirt instead of a dress shirt or classy leather sneakers. 
That's the safe course, but if you want to look interesting, you can ditch the suit for a collared shirt with a bold print (Amazon). Dress it up with plain, dark dress pants or chinos so that your top stands out. 
Black or brown dress shoes will fit great with either option. 
Not wearing a suit rids you from having to deal with a blazer in the heated environment of a nightclub. You'll have more mobility and, if you need to cool down, you can open up the top buttons of your shirt. 
When To Wear
Late-night club dress codes are stricter for men than they are for women, but as long as you're wearing nice clothes and full shoes, you should be able to get in most places. But of course, you don't just want to get in the club. You want to look great while you're inside it. 
The first piece of advice here is to wear something you feel confident in. Clothes that are very far from your usual style could make you feel awkward. In case of doubt, stick to neutral colors. But if you feel up to it, wear something bolder. 
It will help you stand out among the suit-and-tie lot. 
RECOMMENDED: Las Vegas Club Dress Code For Guys (If You Want To Get In)
Sources: