8 AMAZING Las Vegas Tacos and Where To Get Them!
If tacos are your favorite thing, and you can't imagine a trip to Sin City without them, you're in luck. Las Vegas has plenty of amazing taco places ranging in culinary styles. You can find everything from traditional Mexican soft tacos to culinary fusions that are sure to blow your mind.
Here are where to get the 8 best tacos in Las Vegas:
Taqueria El Buen Pastor
Border Grill
Bruno's Taco Bar
Hussong's Cantina
China Poblano
Mercadito
El Dorado Cantina
Taco y Taco
The rest of this article will go over every one of these Las Vegas taco places and what makes each one so amazing.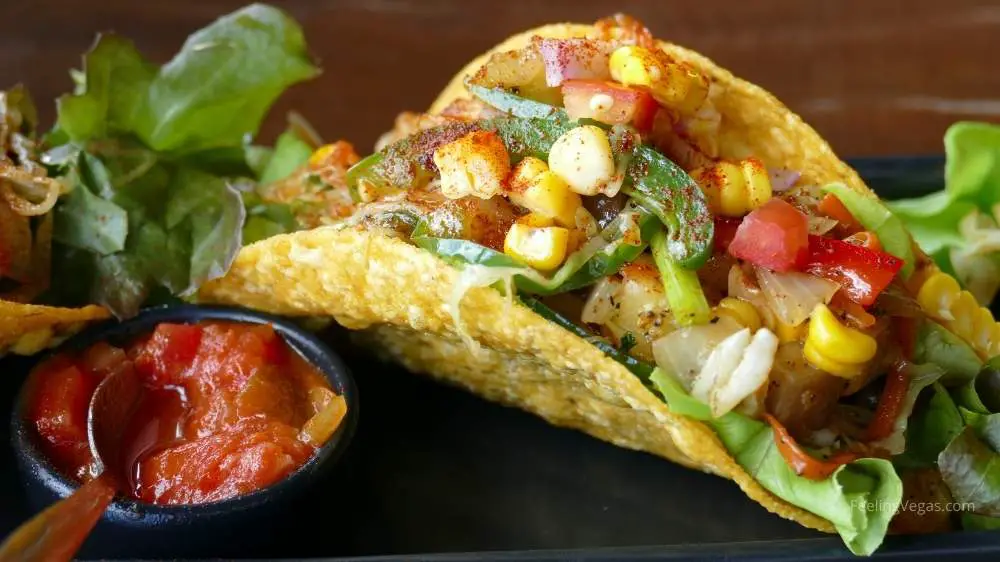 1. Taqueria El Buen Pastor
If you're looking for traditional Mexican tacos, you won't find many better than the tacos at Taqueria El Buen Pastor. 
They serve their tacos in soft, traditional corn tortillas with minimal toppings in true Mexican fashion. At this taco stand, you can find tacos al pastor, tacos de buche, and tacos de lengua, which are made out of beef tongue. 
They are located in downtown Las Vegas, so you'll have easy access to these fantastic traditional tacos.
Directions to Taqueria El Buen Pastor (google maps)
2. Border Grill
If you love traditional Mexican street tacos, but you want something that has slightly more elevated flavors, the Border Grill located in the Mandalay Bay Resort and Casino is a great choice. 
They serve everything from more traditional Mexican soft tacos to a variety of tortas and plantain empanadas. Here you can get pork, beef, fish, shrimp, brisket, or their rainbow cauliflower tacos.
Border Grill also has plenty of vegetarian, vegan, and gluten-free options available to suit any dietary needs. They can also customize their dishes so if you'd like to make something vegan, just ask. 
Chances are they can switch some stuff around. 
The Mandalay Bay Resort and Casino is located right on the Las Vegas Strip, so if you're just strolling down the strip and decide that you're craving tacos, you can stop in and get some fantastic tacos in a variety of flavors.
Directions to Border Grill (google maps)
3. Bruno's Taco Bar
Bruno's Taco Bar is a highly rated taco shop located to the west of the Las Vegas Strip. Since it isn't right on the Strip, you'll have to drive there, but it's definitely worth the drive.
At Bruno's Taco Bar, they serve tacos with grilled skirt steak, Baja fish, calabacita, short rib, chorizo, and potato. Calabacita is a traditional Mexican taco filling that's not frequently seen in the United States. 
It's made out of the yellow flowers of the pumpkin plant, and they're absolutely delicious.
These are more traditional tacos, only coming topped with the meat, onion, and cilantro, so if you want something more complicated, you're better off going elsewhere. However, despite being a very traditional taco shop, they have a vegetarian substitution option for every menu item. 
You can swap the meat in any of the tacos for one of their vegetarian options, including portobello mushrooms, fried cauliflower, jackfruit, or marinated cauliflower.
Directions to Bruno's Taco Shop (google maps)
4. Hussong's Cantina 
If you want to experience a traditional Mexican Cantina but Las Vegas-style, visit Hussong's Cantina. Hussong's Cantina at Mandalay Place is a fantastic local Cantina that serves everything from more conventional tacos to fusion tacos with foods from all over the world. Their menu includes everything from al pastor to carnitas to a taco filled with Kung Pow chicken. 
They also have several fish and vegetarian varieties if that's what you prefer. 
A fun fact that not many know about Hussong's Cantina is that it's actually the birthplace of the margarita. It was invented by Don Carlos Orozco back in October of 1941 when he created it and served it to someone called Margarita Henkel, the daughter of the German ambassador that was visiting. 
The margarita recipe they serve today is still the same one invented 80 years ago, hand-shaken with completely fresh ingredients. 
Directions to Hussong's Cantina (google maps)
5. China Poblano (Chinese/Mexican Fusion Tacos)
If Chinese and Mexican food are your favorite cuisines and the sound of them together sounds appealing, then you'll want to give China Poblano a try. China Poblano is located at the Cosmopolitan in Las Vegas and, if you're an adventurous eater, is a must-try restaurant. 
China Poblano was created after Chef Jose Andres traveled through the world and decided to find a way to create the perfect fusion of Chinese and Mexican culture and cuisine, which is how China Poblano was born. 
For starters, they serve everything from empanadas to chilaquiles to queso fundido. 
Once you've filled up on delicious Mexican food for your appetizers, you can move on to their signature dishes, including Dim Sum to ceviche to tacos.
Some of their flavor options for their tacos are nopales y queso, carnitas, Pollo a la parrilla, and y Pescado. All of these come with unique toppings that have been created specifically to compliment the flavors by Chef Jose Andres and his team. 
You'll want to keep in mind that these are pretty expensive tacos, with the cheapest one coming in at $5.50 per taco, and you'll probably end up eating around five. So, if you decide to go to China Poblano, you'll want to know your budget beforehand, so you don't risk overspending. 
Directions to China Poblano (google maps)
6. Mercadito
Maybe you've been reading over these other taco shops and been thinking that while they sound great, seafood tacos are more up your alley. In that case, you'll want to try Mercadito in Las Vegas.
Mercadito serves traditional Mexican tacos, which basically means that they serve small soft tortillas with the meat filling, then maybe some onion or cilantro. Super simple, but beyond delicious. 
However, what they're most known for are their seafood tacos.
One of their most popular dishes is their blackened swordfish taco which is topped with a spicy aioli and jalapeno slaw. If fish tacos are your thing, you won't be disappointed by Mercadito. 
Directions to Mercadito (google maps)
7. El Dorado Cantina
Another great cantina for you to try while you're in Las Vegas is El Dorado Cantina, which has been voted the best Mexican restaurant in Las Vegas several years in a row. It still continues to wow visitors from all over the country and the world. 
No matter what your dietary restrictions are, you'll be able to find something you'll love at El Dorado Cantina. 
They have many vegetarian, vegan, and gluten-free options available so everyone can have something that they love. If one of their dishes sounds good to you but doesn't meet your dietary needs, they're great about making substitutions so just ask your waiter if it can be made to meet your requirements. 
Their menu features both street tacos, signature tacos, and vegan and vegetarian tacos. For their street tacos, you can order carne asada, carnitas, pulled chicken, or tacos al pastor, all of which are gluten-free, and each order comes with three tacos.
For their signature tacos, there's a far wider variety of flavors. If you're looking for something especially luxurious, you can order tacos with filet mignon or lobster, which come in orders of two. 
They also have tacos made from grilled Mahi, shrimp, crispy fish, or lettuce wraps, which come in orders of three. 
You get three tacos per platter for their vegan and vegetarian tacos and three filling options. You can order cauliflower tacos, Mexican squash tacos, or roasted corn and poblano tacos. Each of these tacos is originally vegetarian, but can also be made vegan at request.
Directions to El Dorado Cantina (google maps)
8. Taco Y Taco
If all you're really looking for is tacos, and you don't care about the fancy appetizers or drinks, Taco y Taco is the way to go. Taco y Taco opened in 2014 and has been a hit among the locals ever since. 
They serve a massive variety of taco options, including plenty of vegan and vegetarian options, so everyone leaves happy and satisfied. 
For their standard meat tacos, they have over 10 flavor options, including grilled chicken, beef steak, pork sausage, beef tripe, beef tongue, and chicharron. If you order this street style, they'll come with onion, cilantro, and salsa.
For their vegetarian options, they offer fillings of grilled cactus, mushrooms, grilled vegetables, grilled cheese, as well as a soy-based meat substitution. 
If you're a pescatarian, you're also in luck because they feature two different seafood tacos, shrimp and grilled fish. You can order these tacos street style as well, or you can upgrade to have your tacos include cheese and a few other options.
If you want something lighter than a street taco, you can also order a burrito bowl that will exclude the tortillas but keep all the toppings.
Directions to Taco Y Taco (google maps)