Is It Warm Enough To Swim in Vegas in March? (Answered)
(This article may contain affiliate links. If you click through and make a purchase, we will receive a small commission at no additional cost to you. )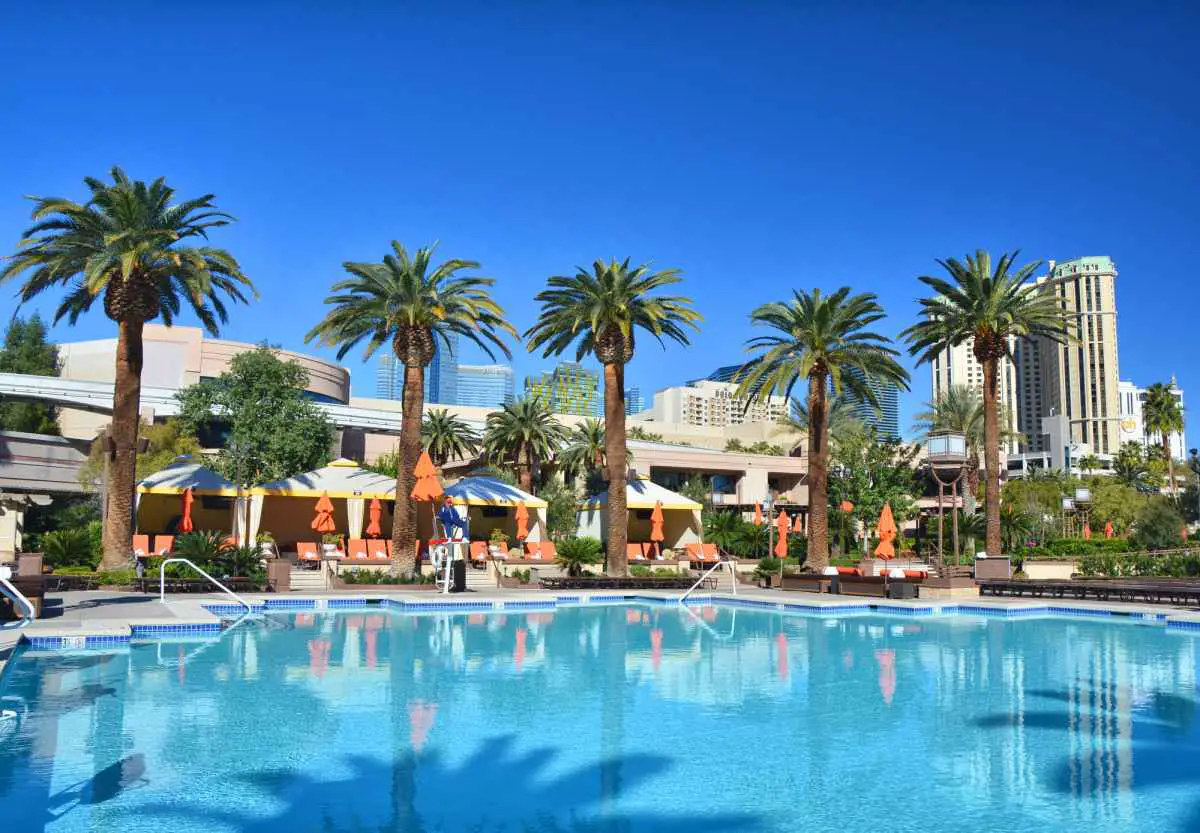 March is one of the most ideal months to visit Las Vegas. As winter ushers in spring, it's neither too cold nor too warm for a relaxing vacation in the world's entertainment capital. You might need a windbreaker to enjoy nighttime strolls on the Strip, but generally, March temperatures feel just right. 
It's not warm enough to swim in Vegas in March. Though temperatures start rising in March, it's typically too cold for swimming outdoors. The temperatures in Las Vegas in March range between 50°F (10°C) and 71°F (21.7°C), which most would consider too cold for swimming.
This piece explains how the weather affects swimming in March in Las Vegas. I'll also share a few of my favorite spots where you can swim year-round in Las Vegas.
It Might Be Too Frigid To Swim in Las Vegas in March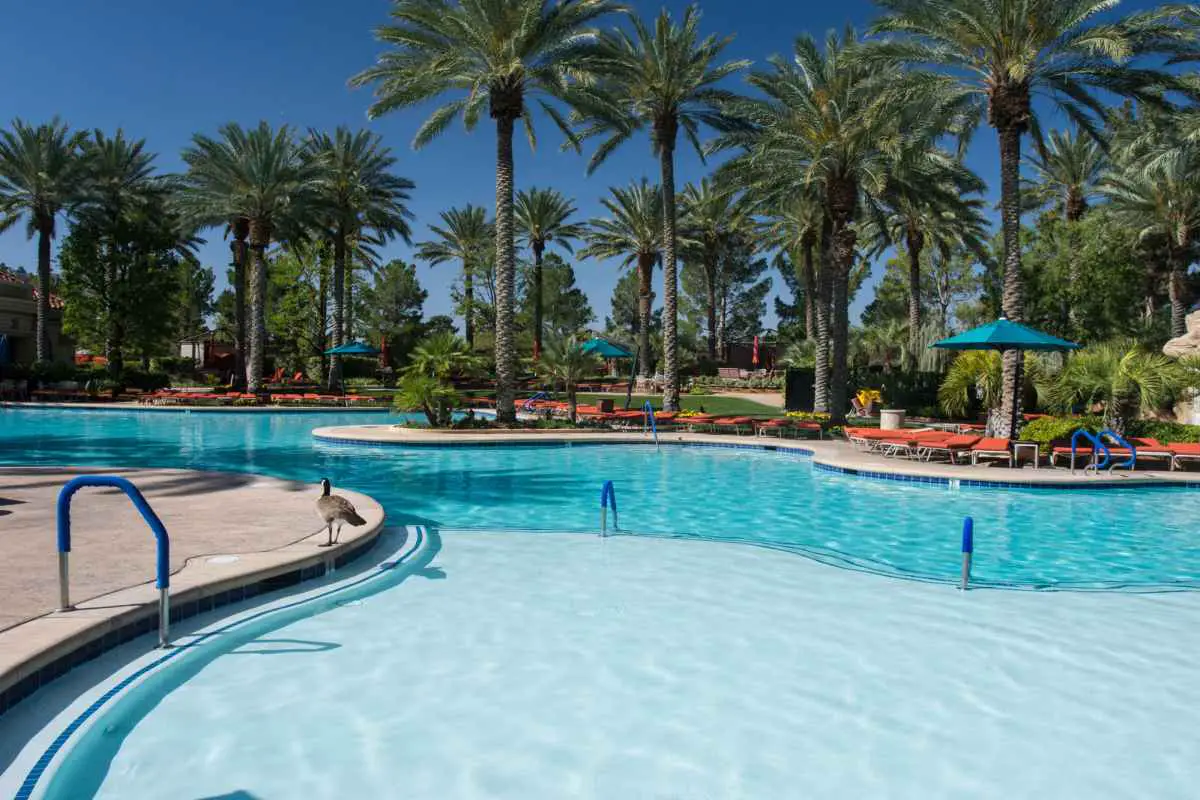 Don't let the tales of high temperatures in the Nevada desert fool you — it can get frigid in Las Vegas, with winter temperatures sometimes dipping below freezing. By March, however, the worst of winter is usually behind us as the rising temperatures signal the beginning of spring. 
In the early weeks of March, it's often not warm enough for swimming in Las Vegas, though temperatures fluctuate yearly. For instance, on 1st March 2021, the temperature in Las Vegas was 61°F (16°C), which is way too low for swimming in an outdoor pool. 
On the other hand, on 1st March 2022, the temperature in Las Vegas was 77°F (25°C), which is an excellent temperature for swimming, provided there aren't any frigid winds, and the sun is out. In both years, however, the temperature fluctuated unpredictably day by day. 
March 2022 generally had higher temperatures than March 2021, with highs at the end of the month reaching 90°F (32°C) and temperatures averaging 72°F (22.2°C). March 2021 had an average temperature of 66°F (18.9°C), with temperatures peaking at 82°F (27.8°C).
The unpredictable temperatures of March make it an uncertain month when it comes to swimming in Las Vegas. In March 2022, most days had temperatures of around 73°F (22.8°C), which might be warm enough to swim if you're feeling brave. A year prior, most days had temperatures below that mark, making it a bad month for swimming. 
Therefore, swimming in March depends on the year you visit. If conditions are favorable, the pools will open for people to enjoy the water. Conversely, if it's too cold, your sole swimming option might be a heated pool. 
Hotels and Resorts With Heated Pools in Las Vegas
The beauty of Las Vegas is if you want to swim, regardless of the temperature, you'll likely find a hotel or a resort with a heated pool willing to accommodate you. Las Vegas has over 50 major resorts, and if you are having trouble picking one, I have compiled an exhaustive guide on selecting the right hotel for your Vegas visit. 
Several of the over 50 hotels in Las Vegas offer swimming in the often mildly sunny month of March. 
To be safe, check with the staff before booking your stay: some hotels scale down their pool operations between November and April, meaning only some pools are open.
Circa Resort & Casino Pool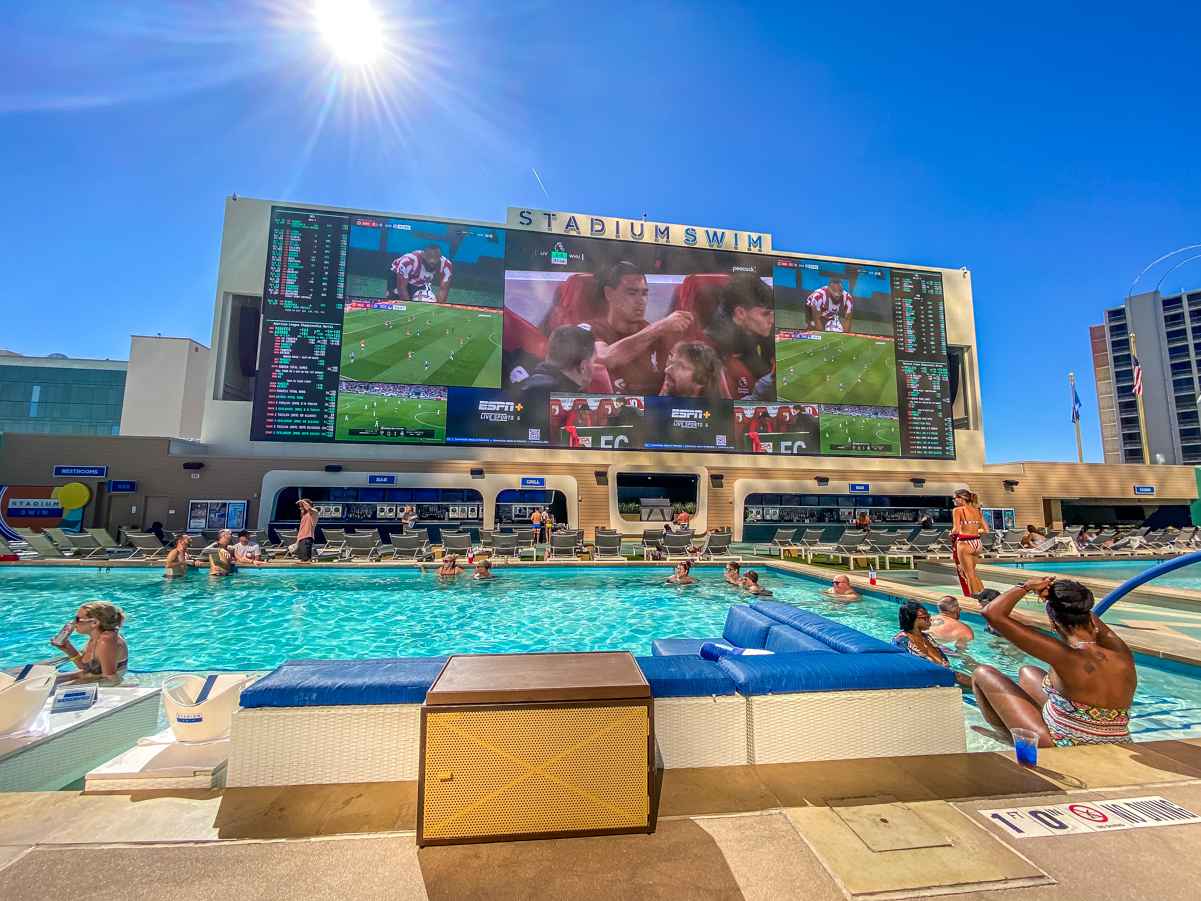 The Circa pool in the Circa Resort & Casino is the best place in Las Vegas to swim in March. It's popularly known as Stadium Swim and has six heated pools that remain open throughout the year. 
The waters of Stadium Swim can be heated up to 103°F (39.4°C), though such high temperatures are reserved for the coldest winter months. 
Stadium Swim is perfect for March swimming because you can watch March Madness on the resort's 40-foot (12-meter) tall HD screen as you enjoy a swim in the heated pools. March Madness often starts in mid-March and ends in early April. The Circa Pool might also be the perfect location to enjoy spring break.
Did you know that you can swim at the Circa pool without staying there? If you stay in Golden Gate or the D Las Vegas, it's free, but you can pay a fee between $15 and $70 if you stay elsewhere to access the Stadium Swim. Read my guide to learn more about Circa pool's general admission rules.
Red Rock Casino Sandbar Pool
The pool area at Red Rock is a thing of beauty. It covers three acres and has wading pools, private zones, and a beach. However, Red Rock is one of the hotels that slows its pool operations during cold months. 
Only the Sandbar pool remains open all throughout the year. The waters in the main pool of this off the Strip hotel are heated to 78°F (25.6°C). 
Mandalay Bay Pools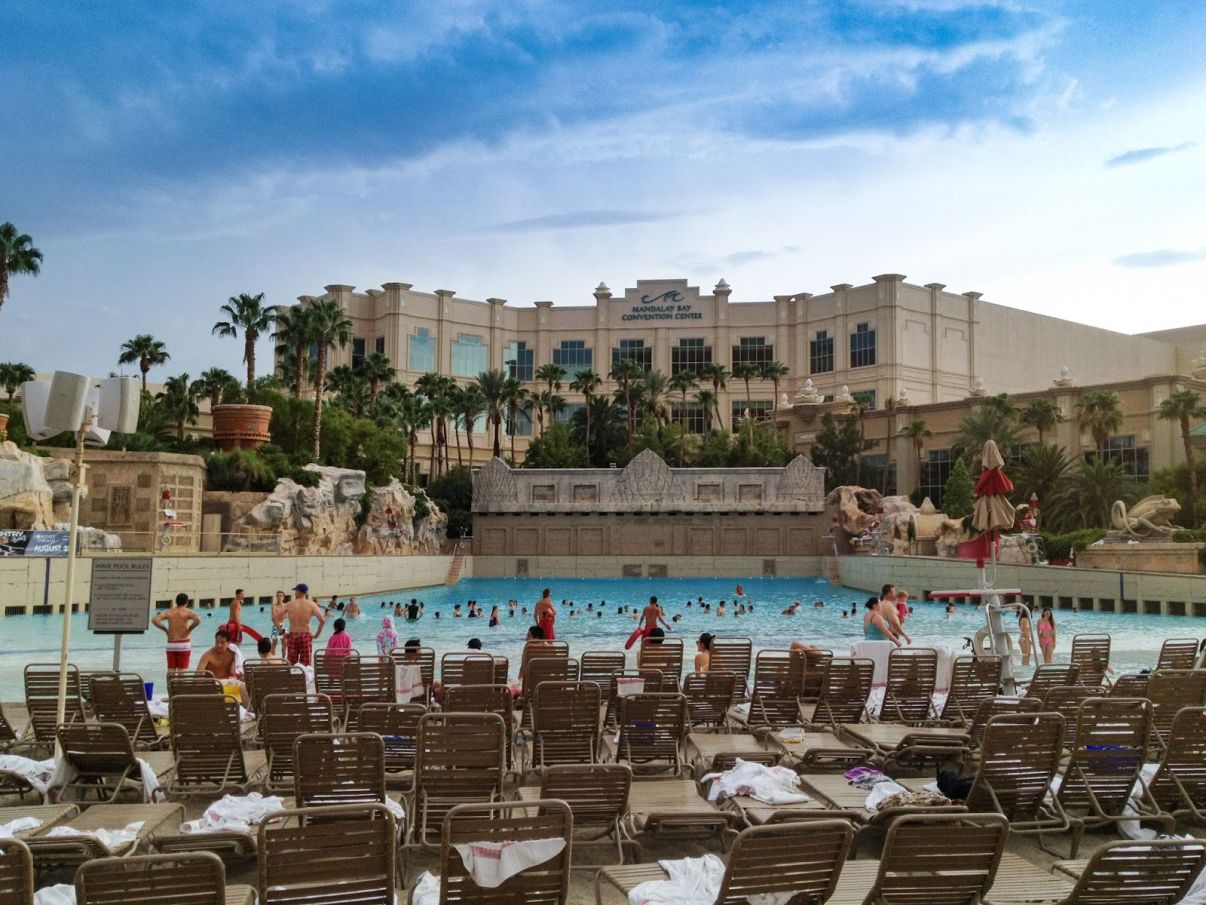 Mandalay Bay Beach is a very popular Strip destination during the summer. The pool deck has eight pools, a beach, and one of Las Vegas' three lazy rivers. 
Most of these pool offerings close during the winter and early spring, but at least one of the heated pools remains open all year round. They rotate the available pool depending on the maintenance schedule. 
A pool you find open one day in March might be closed the next day. Therefore, before you use the heated pool facilities, ask for guidance from the staff. 
Resorts World Pools
Resorts World is perhaps the Stadium Swim equivalent on the Strip, though it lacks the massive screen of the Circa Pool. Resorts World has seven pools available throughout the year, the highest number in Las Vegas and one more than Circa. 
The sheer size of the 5.5-acre (2.2 ha) pool area and the infinity pool overlooking the iconic Strip should motivate you to visit Resorts World. The prices are higher than other heated pool resorts, but you get more bang for your buck at Resorts World. 
Aria Hotel Pool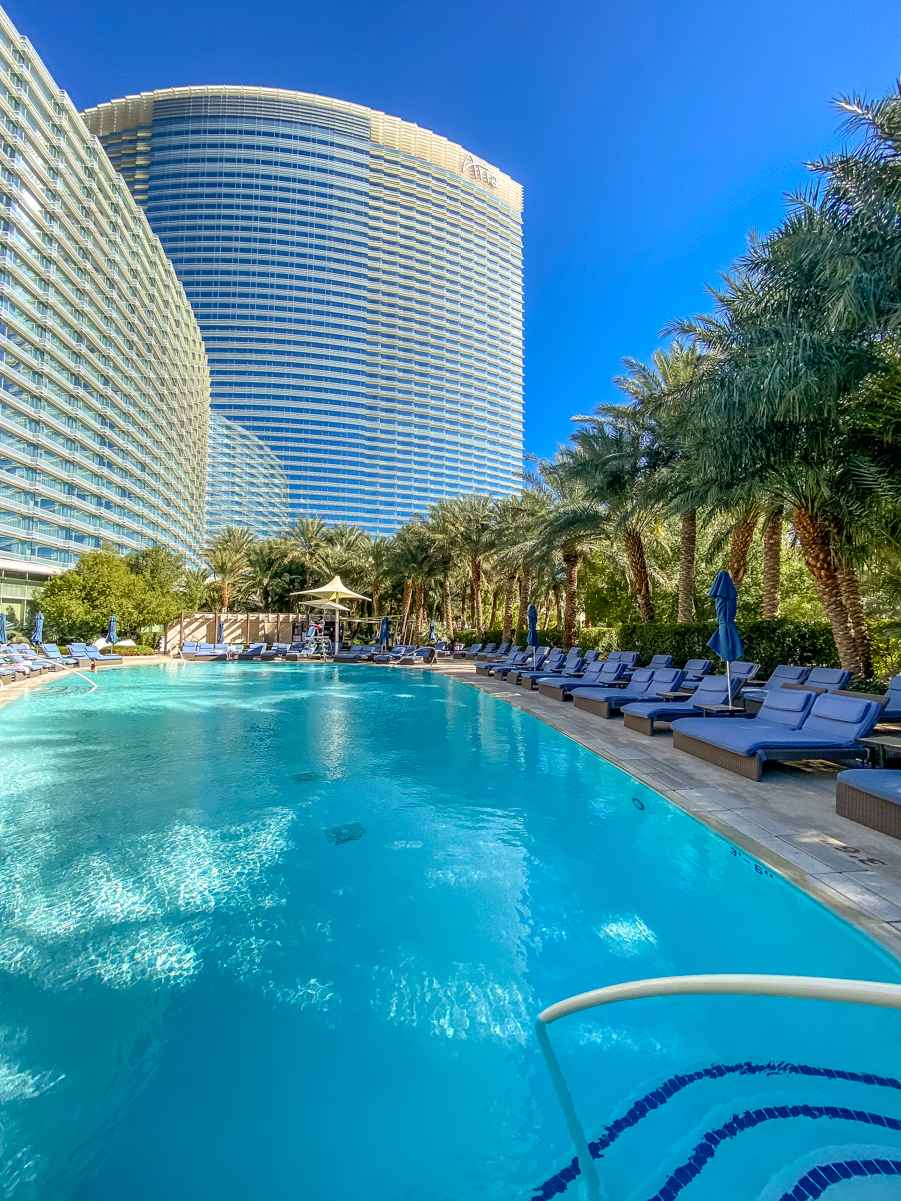 The pool deck at Aria has three widely spaced oval-shaped pools and vegetation to provide shade and fresh air. On a mildly chilly March day, however, you'll have less use for the shade and more use for the hotel's heated pools. 
The staff at the Aria keeps the water heated to 80°F (26.7°C). If you prefer warmer water temperatures, the Aria has three jacuzzis available. 
Swimming in March – Conclusion
There's no way to predict conclusively whether the March temperatures in a particular year will facilitate swimming. At times, spring starts early, making March a conducive month for swimming. Other times, winter hangs on for longer, keeping most of the pools in Las Vegas closed. 
Fortunately, you can still swim in Las Vegas in March, regardless of the temperatures. The hotels listed above offer swimming amenities to guests all year round.