Why Vegas Pools Close So Early In The Day (Even In Summer)
(This article may contain affiliate links. If you click through and make a purchase, we will receive a small commission at no additional cost to you. )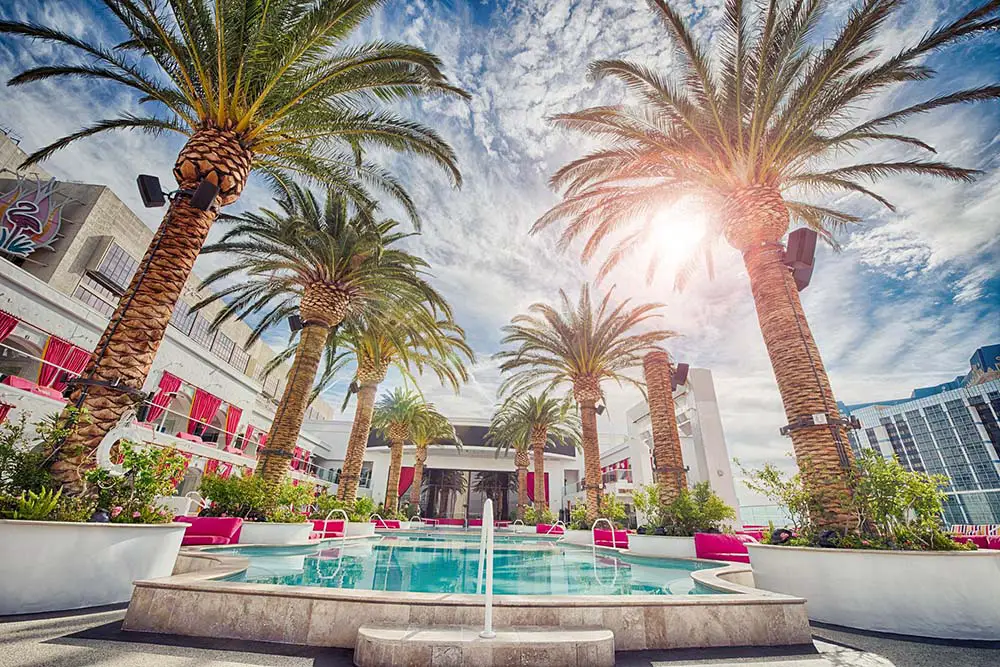 It's a really great feeling to jump in your hotel pool after a long day out on the Las Vegas Strip, but that can be hard when the pool closes early.
We probably all know the pain of getting ready for a nice swim only to realize that your Vegas hotel pool closed hours ago.
In Las Vegas, it's hard to find a pool that's open anytime after 5 pm. Why do Las Vegas pools close early in the day?
Most Vegas pools close early in the day at around 5 or 6 pm. This is for a variety of reasons, including liability issues, employee costs, and trying to encourage business elsewhere on the property. Las Vegas pools close early because it is in the hotel's best interest.
In this post, I'll go a little more in-depth into the reasons so that you can better understand why Las Vegas resorts close their pools so early in the day.
ALSO SEE: 13 Best Pools in Las Vegas for Non Guests (Vegas Pool Guide)
Why Do Las Vegas Pools Close Early?
There are a few different reasons that Las Vegas pools close early. Here is an overview of each one:
Liability Issues
Increased liability is probably one of the biggest reasons that Vegas pools close so early.
Once it gets dark, it's harder to see what is happening in the pool and there is a greater risk that employees won't notice if something bad is happening in or around the swimming pool.
In Vegas, people also tend to be more intoxicated as the night goes on, which creates more of a chance that someone will get hurt if the pool area was to remain open.
Las Vegas resorts don't want to have to deal with all of this, so it's easier to just close the pool before sunset and avoid any potential problems that could result in a lawsuit.
But if darkness and liabilities are the main concern why do most pools still close early in summer when it stays light out much later? The reason has to do with profits.
RECOMMENDED: 3 Las Vegas Hotels With A Lazy River (Fun in the Sun!)
Encouraging Business Elsewhere
Pools are definitely not the main moneymaker in Las Vegas, and the resorts and casinos know that.
Closing the pools early will force people to do something other than swim, and this means that they will be more likely to spend their money on fancy dinners, shows, drinks, and in the casino.
Closing Las Vegas pools early encourages business in the casinos, where people will go to gamble or eat.
This will ultimately make them a lot more money than they would get if people were swimming in a Vegas pool all night.
RECOMMENDED: 9 Best Hotel Rooftop Pools in Vegas (Amazing Views!)
Employee Costs
If resorts were to keep their pools open later in the night, they would have to find and pay new employees to take that later pool shift.
Even if they didn't have to find new employees, their current employees would have to be paid more for the extra hours they would be putting in.
As you've seen already, money is very important to establishments in Vegas, and they want to make as much as possible.
Keeping Vegas pools open at night would end up costing them more because they would have to keep additional employees around for service and safety reasons.
RECOMMENDED: 9 Best Las Vegas Hotels with Waterslides (Waterparks!)
Why Do Las Vegas Pools Close Early? – Final Thoughts
Pools in Las Vegas close early because the establishments just don't see a point in keeping them open.
It's not cost-effective, and it opens the door to all sorts of liabilities that Las Vegas property owners don't want to be a part of.
So if you are going on a trip to Vegas anytime soon, just know that you probably shouldn't count on a nighttime swim to be in the plans.
Las Vegas Pool Guides